Did you know that 2020's Black Friday sales reached a record-high of $9 billion despite the global pandemic? With an estimated surge of 22% in consumer spending every year, Black Friday has quickly transitioned into a crucial day for vendors, marketers, analysts, and of course, shoppers. However, the year 2021 has seen a dip in sales. 
A study by Adobe revealed that consumers spent 1.3% less when compared to 2020, therefore bringing this year's Black Friday sales to $8.9 billion. That said, this year's figures are 2.4% higher than those of the pre-pandemic years. 
Interestingly, the study also stated that this is the first time when online sales dipped during the Black Friday season. The chart below shows the $9 billion peak in e-commerce sales (2018) and the drastic fall in the global pandemic (2019-2021).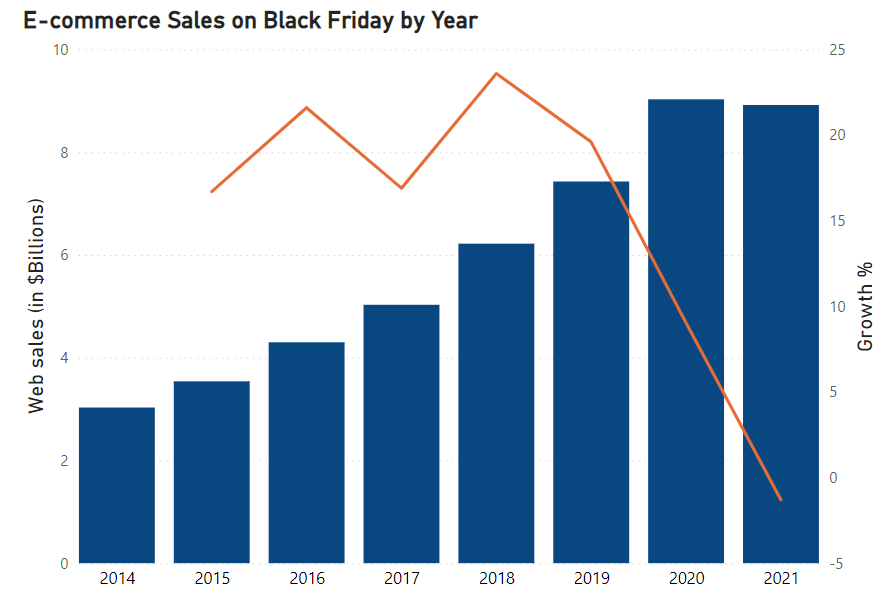 This article presents a comparative analysis of Walmart and Amazon in terms of the number of deals, discounts, and much more. 
Key Insights 
Almost every category of products on Amazon featured 20-80% discounts during the Black Friday season. 

Walmart offered 20-75% discounts on several top-selling products. 

Walmart revealed deals on 3808 products and Amazon on 17742. 
Instantly download Walmart retail store location data and more from our Data Store.
Black Friday 2021: Diminished Pandemic Effect 
Despite the predicted pandemic-caused recession, it is interesting to observe the Google search trends for the terms 'Amazon Black Friday deals', and 'Walmart Black Friday deals':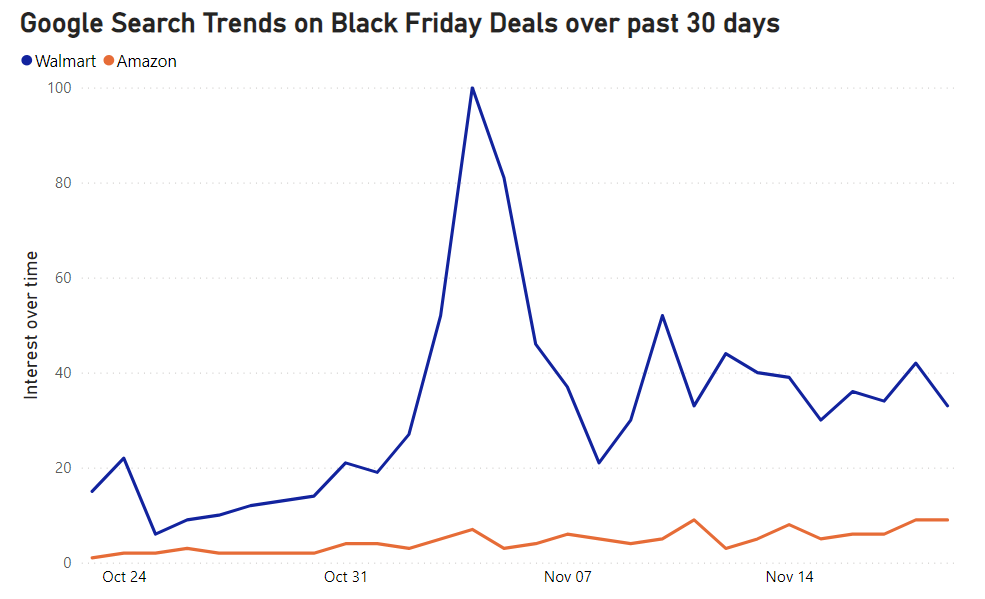 Looking at the chart above, you can see a clear spike in consumer interest towards Walmart's Black Friday deals. This could be because Walmart revealed its top discounts & deals on November 04, 2021, ahead of Amazon. Nevertheless, the e-commerce giant disclosed its best deals on over 17000 products, more than four times that of Walmart.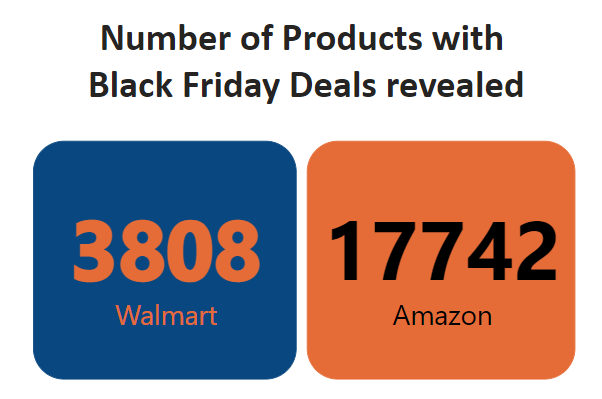 Check out the best deals on products with the highest ratings and reviews here.  
Black Friday 2021's Hot Cakes
Black Fridays & Cyber Mondays offer consumers incredible deals on a range of products. So naturally, the ones with an exceptionally high demand get sold in a breeze. Have a look at this year's bestseller product categories on Amazon and Walmart: 
We can observe that Walmart offered the highest number of Black Friday deals on products from categories like home improvement, sports equipment, pet supplies, clothing, to name a few. Similarly, Amazon featured some of its best discounts on categories like books, electronics, fashion and home products. 
In terms of price cuts, Black Friday deals in Walmart and Amazon had over 50% price reduction on a variety of product categories. Walmart offered over 45% off on clothing, premium skincare products, and automobile gear prices. Items in the jewelry section had the highest discount of 73%.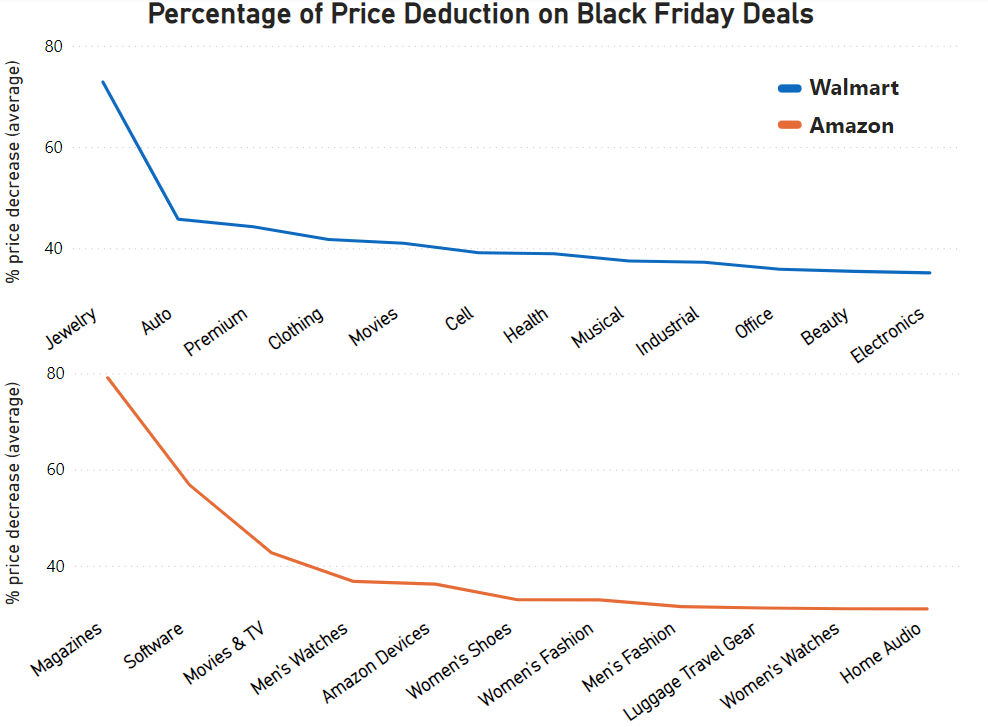 On the other hand, Amazon had up to 80% discounts on magazines (79%), software (57%), movies (45%), etc. Take a look at the graphical representation above for more details. 
A study by Northwestern University suggests that products having at least five quality reviews can boost their likelihood of purchase by 270%. 
Walmart and Amazon rightly capitalized on this. They offered more than 50% off on categories with top reviews. Products rated four and above bagged 68% of the Black Friday deals in Walmart and 82.5% on Amazon.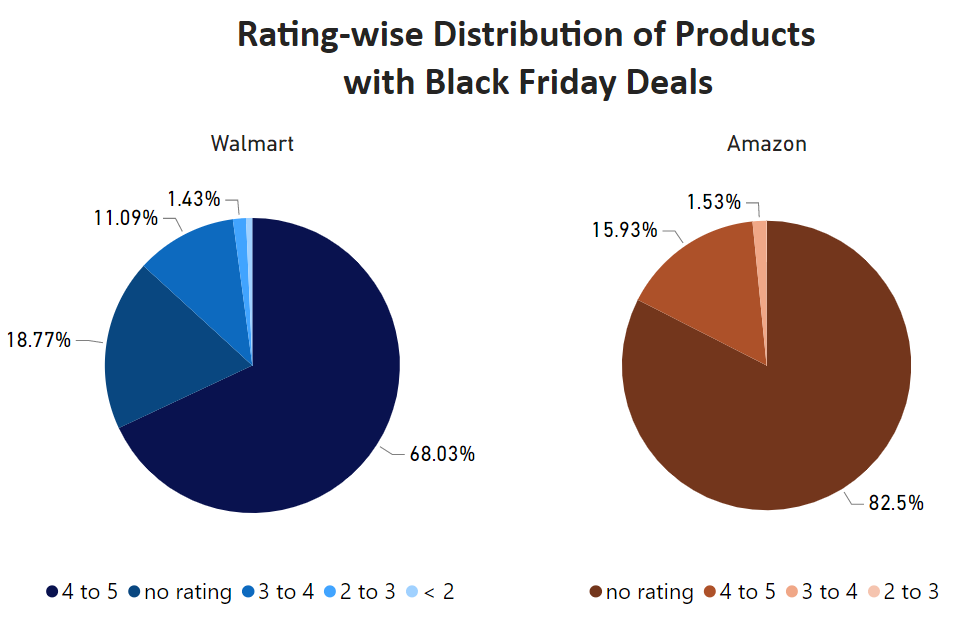 The highest-rated, best-selling categories are shown below: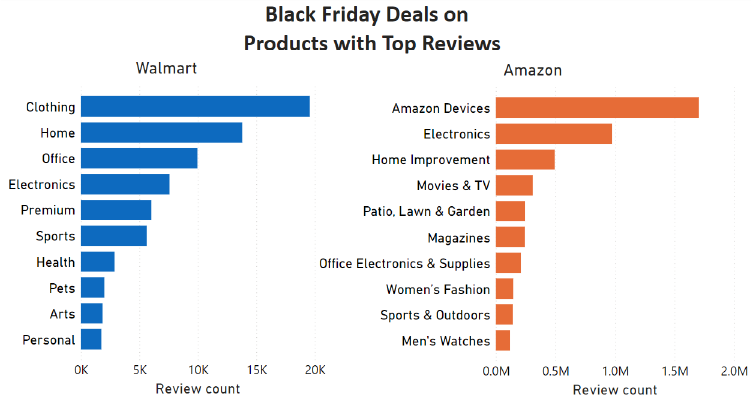 Fulfill Your Data Needs 
The post-pandemic Black Friday sale season has taken everyone by surprise. Despite pandemic-induced challenges like supply chain disruption, Black Friday retail sales in 2021 were up by 29.8% compared to 2020. You can gear up by analyzing ecommerce data, deriving crucial insights, and building effective sales strategies through MetricsCart with an effective Digital Shelf Analytics (DSA) dashboard. Reach out to experts now.