Q-commerce is not a new concept. Way back in 1979, Tom Monaghan, the founder of Domino's Pizza introduced a promotion. He guaranteed delivery of pizza in half an hour or the customer gets half a dollar off. With this marketing promotion, the brand grew in leaps and bounds. People began associating Domino's pizza with convenience and quick delivery.
Amazon has always been smart to understand pampering customers and creating habits is the best way to hook loyal customers. In 2005, Amazon shook the fulfillment industry when it introduced the 2-day delivery concept. Later, in 2019 the company came up with 1-day delivery for its Prime members. Quick commerce is the best-case scenario that the pandemic brought back. Consumers are now spoilt for choice! To meet the demand for instant gratification, there are plenty of brands launching every year.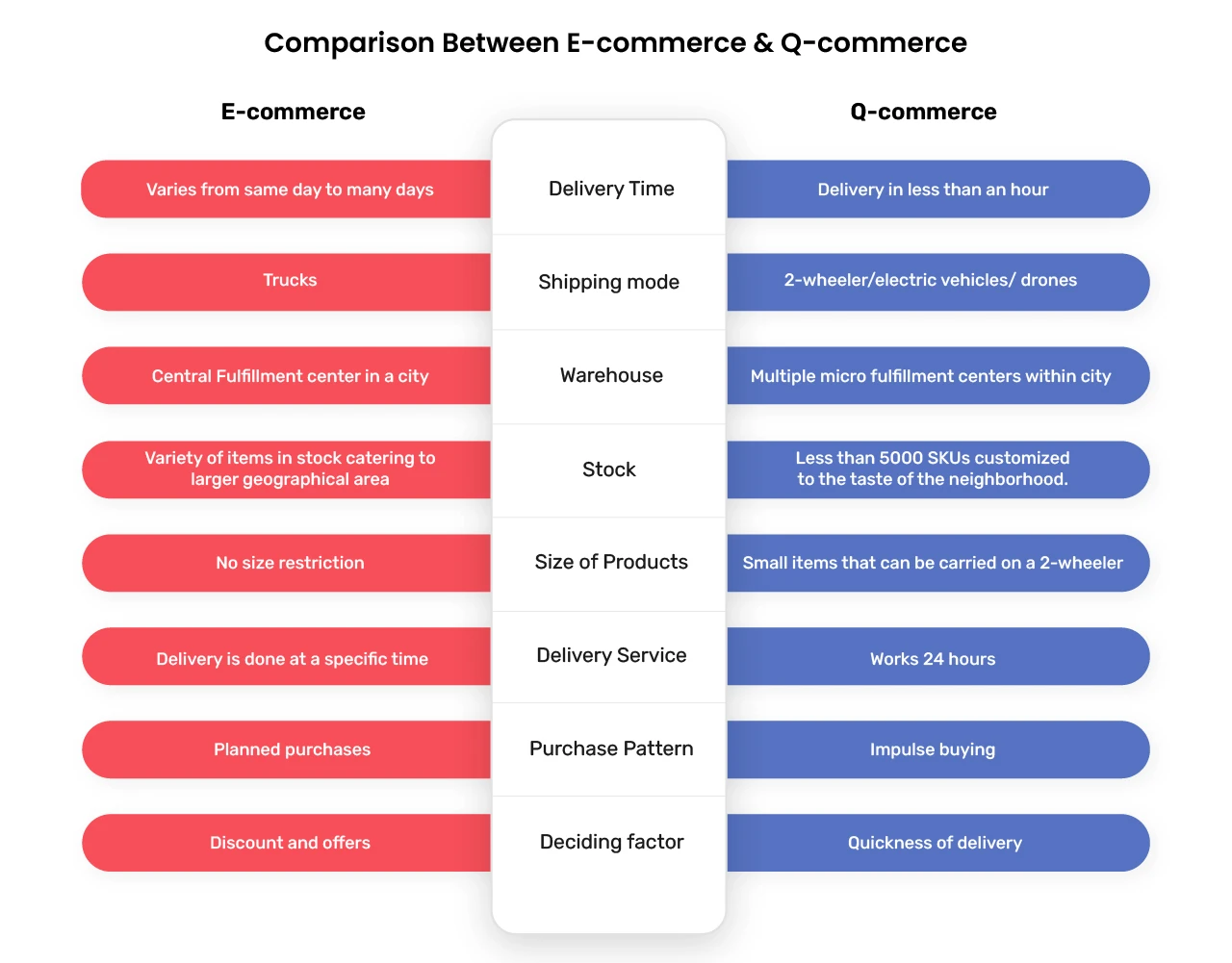 Industry experts forecast that the q-commerce format will grow to be more significant in the coming years. So, let's take an in-depth look at q-commerce and how Digital Shelf Analytics software from MetricsCart can help this industry.
What is Quick-commerce?
Quick commerce is the fast and instant version of e-commerce. Efficient and quick delivery of items is the reason for the popularity of q-commerce. On-demand delivery, instant commerce, rapid delivery, e-grocery, and hyperlocal delivery, are all synonymously used for "Quick Commerce".
The concept of quick commerce gained popularity in the ready-to-eat food segment. Many food delivery apps started grocery delivery as they have an established platform and logistics in place. Today, these two sectors put together account for a significant slice of the q-commerce market. The market share of the ready food and grocery sector may mount to  72 billion dollars by 2025, i.e a huge stride from 25 billion in 2020.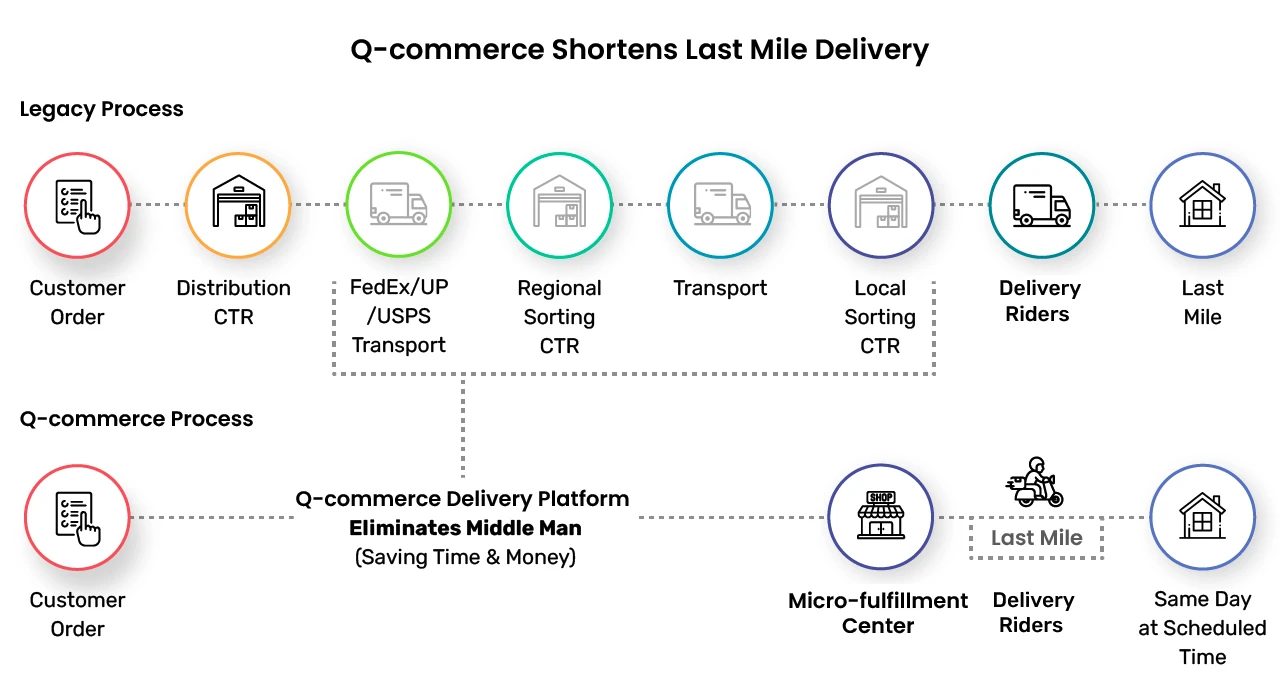 Besides ready food and groceries, a tiny fraction of the q-commerce market includes miscellaneous items. The category includes over-the-counter medicines, drinks, gift articles, flowers, cosmetics, and office supplies. Usually, the customers who place q-commerce orders have a sense of urgency.  So, even if it is a low-ticket item, the q-commerce companies are bound to deliver it in less than an hour.
Read more on Online Grocery and Delivery Business in the US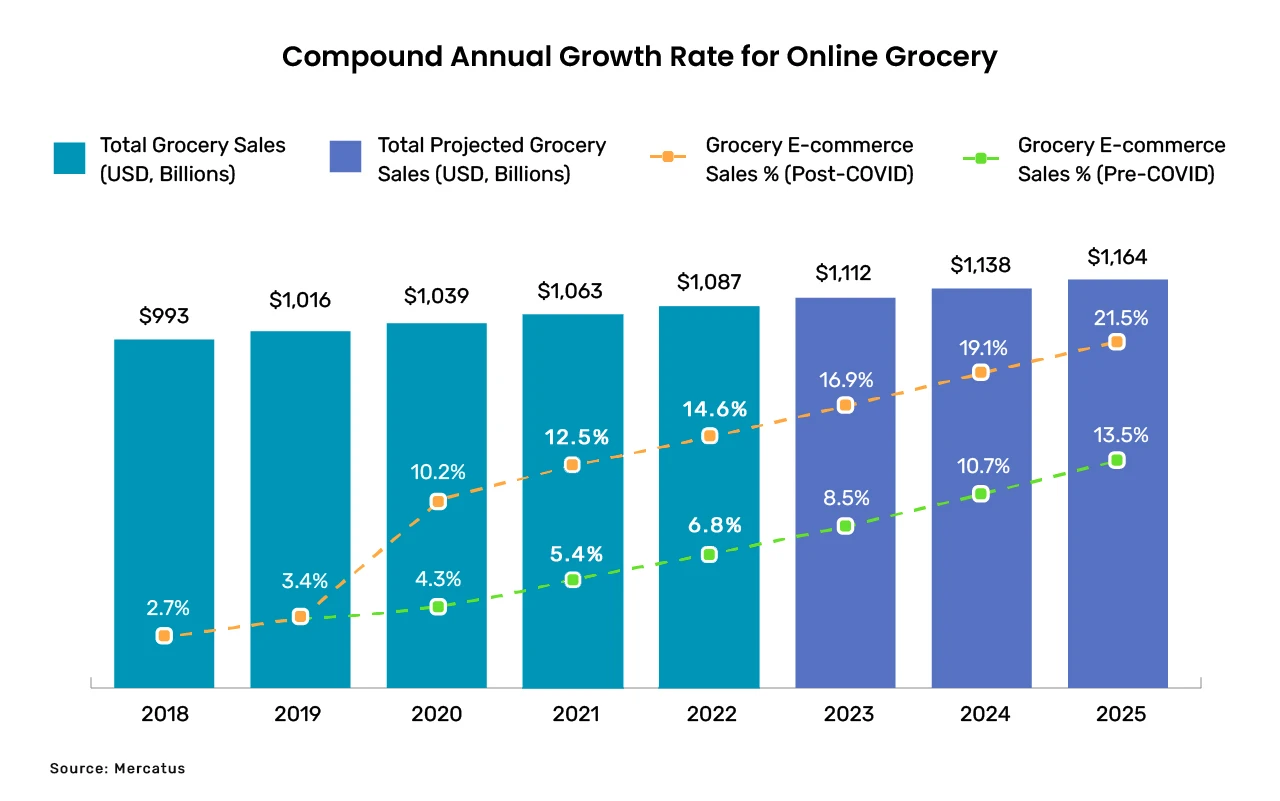 How does the Q-commerce Model Work?
Every newly launched rapid delivery company has its own operational style. E-commerce giants such as Walmart, Amazon, Target, and Costco offer this rapid delivery service for an extra fee. To fulfill their q-commerce deliveries, Amazon started Amazon Fresh and Walmart started Walmart Grocery as a separate vertical. MetricsCart specifically caters to brands that sell through these industry heavyweights.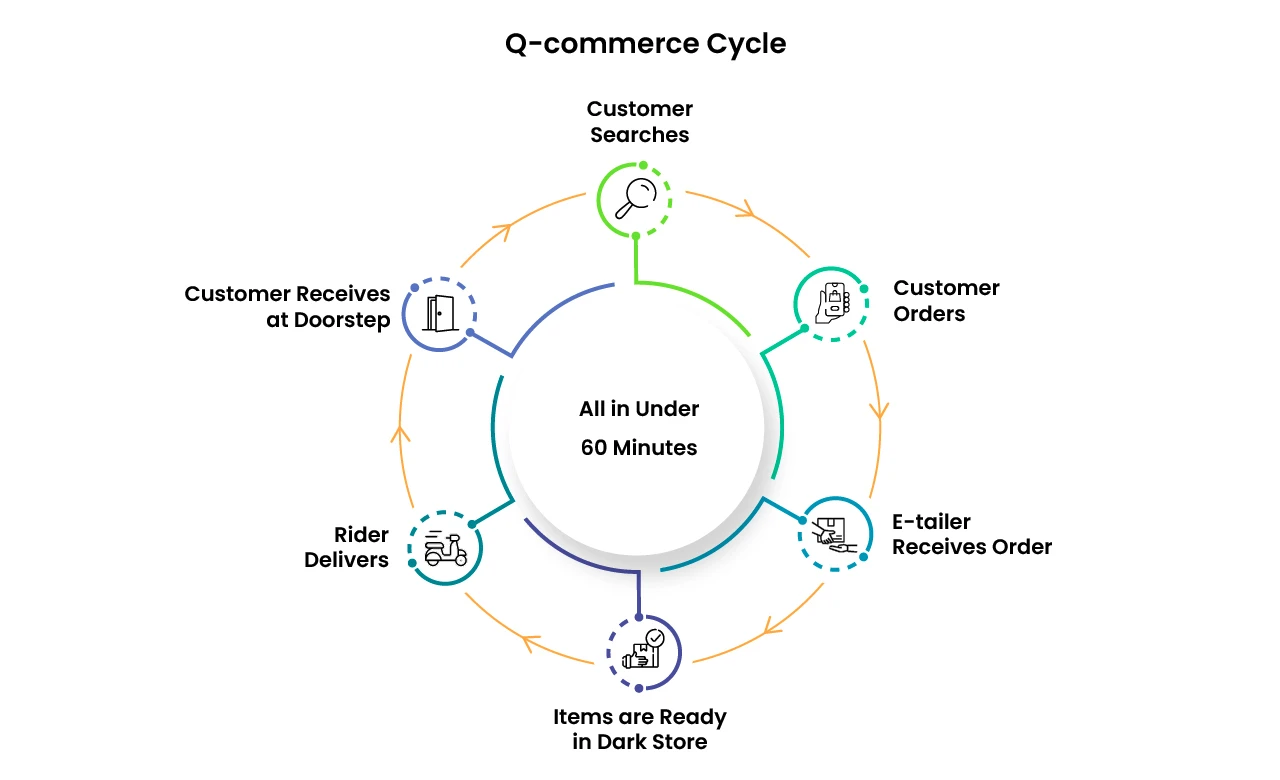 Vertically-integrated Q-commerce model: In this mode of operation, retailers stock a limited number of goods in their dark stores. As soon as a customer places an order, an employee takes the items from the store to the end consumers. As Walmart is seeing a spike in online orders, they are turning many of its stores into fulfillment centers. FreshDirect, Gopuff, Jokr, Buyk, Fridge No More, Getir, Gorillas, and 1520 are a few quick service providers that exclusively deliver groceries.
Popular third-party delivery platforms: Delivery apps serve as intermediaries between retailers and customers. They don't have their own inventory. When retailers get an order, the service provider picks up the order and swiftly delivers it to their customers. Certain retailers prefer to outsource logistics to experts. They partner with third-party logistics providers for last-mile delivery. Instacart has partnered with Kroger Co. and about 20,000 more retailers across North America to deliver groceries from these brands to their customers. Shipt has partnered with Target and Albertsons uses DoorDash to fulfill its q-commerce delivery.
What Can MetricsCart Do For Your Q-commerce Business?
Empower your quick commerce business with these advanced digital shelf analytic solutions from MetricsCart.
Price Analysis: Name any competitor, and we will get the online price they are offering in the marketplace in real-time. Comparing your product prices with that of your competitors can help detect pricing conflicts. If addressed early, it becomes easy to cut down losses.
Gather the Best-seller List: Brands of Consumer Packaged Goods (CPG) can get details of the Amazon bestsellers across categories. Making a comparison of the attributes and analyzing them can help brands devise a better marketing strategy. And this helps to fix the shortcomings in their product assortment or content description.
Improve Share of Search: Walmart suggests substitutes to its shoppers. To feature among their recommended products, the search ranking of your products should improve. Analyze your page rank to understand which keywords in the description are working in your favor. Competitive pricing and appealing quality product images can better your chance to be added to the cart.
Avoid Stock-outs: GoPuff spends thousands every month to buy a few products through Instacart or other retailers to have core products in stock. When using MetricsCart DSA, you get a notification well in advance to reorder fast-moving goods. This single step can prevent out-of-stock scenarios and save a lot of money for your brand.
Systematic Shelf Analysis: The major cost incurred by q-commerce companies is warehouse rent. Micro-fulfillment centers are set up within the city centers to save fuel, and to reach customers sooner. As the rentals in urban areas are high, the organizing of warehouse space needs systematic planning. To prevent the piling up of deadstock, we highlight slow-moving items on your shelf across store locations. Our graphical insight helps you to shift slow-moving items from one center to another where it is in demand.
Better rankings and reviews: Customer Review Analysis is one of the best features of MetricsCart. The insights help to understand the pros and cons of your products as well as your competitor's products.
What's the Future of Q-commerce?
Brands are on the lookout for unique and agile ways to promote and deliver products and services. In the coming years, we may see many innovations in the last mile delivery. Short-distance delivery using drones and self-driving cars is already underway. The volume of orders q-commerce companies are receiving each day is a good enough reason to confirm this model is here to stay for at least a decade. Companies that are agile and stand for something meaningful, are sure to succeed. Brands, rise to the occasion! Reach out to MetricsCart today to equip yourself with a reliable Digital Shelf Analysis dashboard.