From $50.96 billion in 2011 to $136.8 billion in 2022, the American pet care industry witnessed phenomenal growth. Online sales accounted for 36% of the total industry revenue in 2022. Experts suggest e-commerce to be one of the primary reasons for the increase in pet spending. The overall market size grew by over 100% in the last decade and continues to grow. This report throws light on the growth and recent trends in the American pet care industry with a focus on the e-commerce market.
American Pet Industry at a Glance
Pet Ownership in the US
86.9 million homes in the US own a pet
Millennials are the highest percentage of pet owners
Dog owners increased by 6.1% between 2016 and 2022
Pet ownership in the US has experienced unprecedented growth. As of 2023, 66% of families (86.9 million homes) in the US own a pet. Pet ownership statistics show that millennials make for the highest percentage of pet owners in the US, followed by Gen X and baby boomers.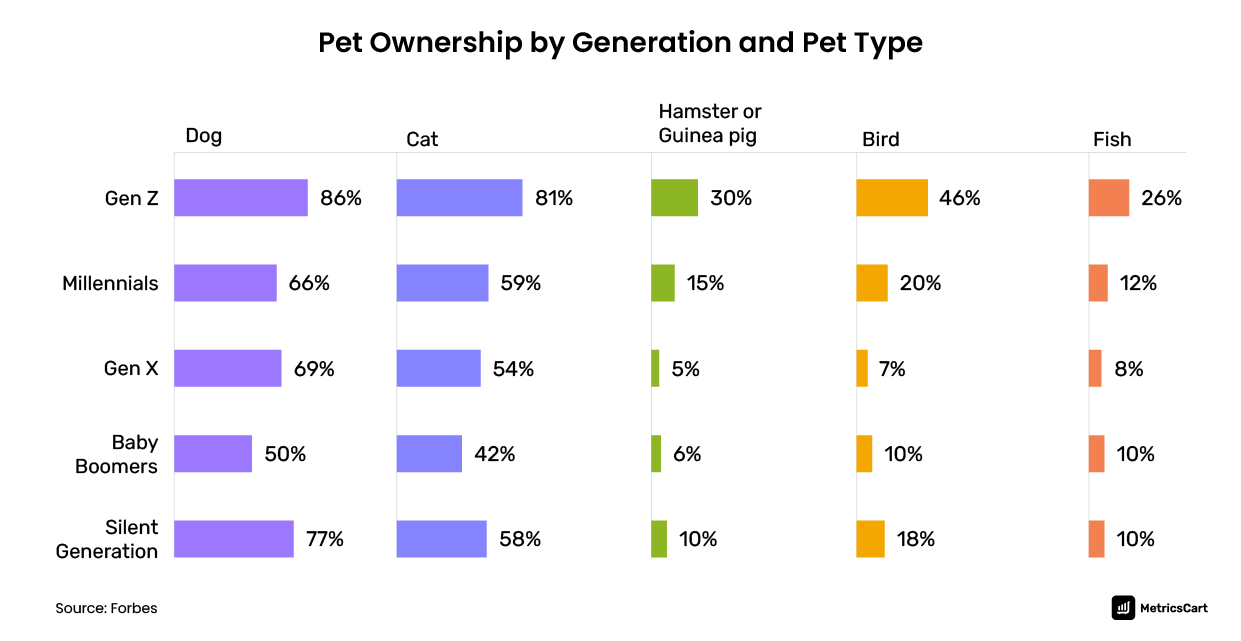 Dogs are the most common pets, followed by cats, birds, hamsters, and fish. Between 2016 and 2022, the percentage of US households that own dogs increased by 6.1% and that of cats increased by 4%.
Financial Metrics of the Pet Care Industry in the US
Americans spent a total of $136.8 billion on their pets in 2022. That's up by 10.68% from 2021. The pet care industry is one of the fastest growing markets in the US, overtaking other major CPG industries like the beauty and personal care ($91 billion) industry in 2022.
Read more: Insights Into the Online Beauty & Personal Care Industry in the US
Although pet ownership rates declined by 4% in 2022, pet spending has reached new heights. One reason behind this could be the increasing trend of pet humanization, i.e., treating pets like children or other human companions. By 2030, the pet industry in the US is expected to triple to $275 billion.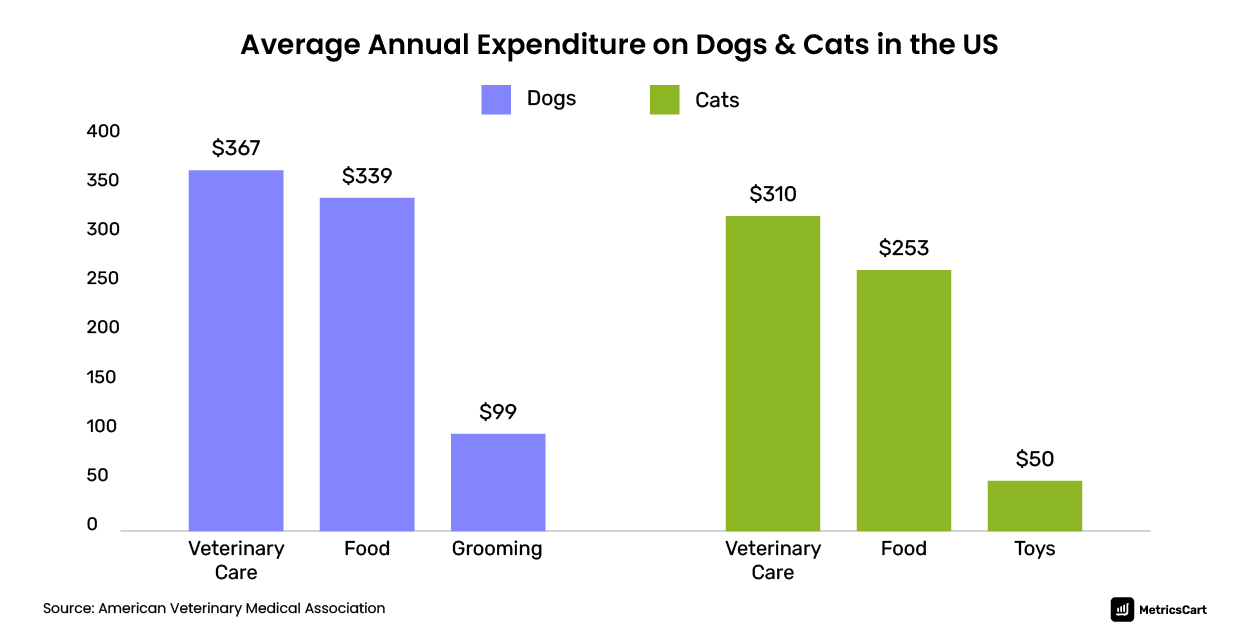 Despite pet ownership rates remaining constant in the wake of Covid-19, the pandemic years of 2020 and 2021 were the boom years of the American pet industry. Pet product sales were up by 9.8% and 13.7%, respectively. E-commerce sales also grew by 16% in comparison to 2017 with the majority of pet parents preferring to shop online for vitamins, grooming supplies, toys, and other pet products.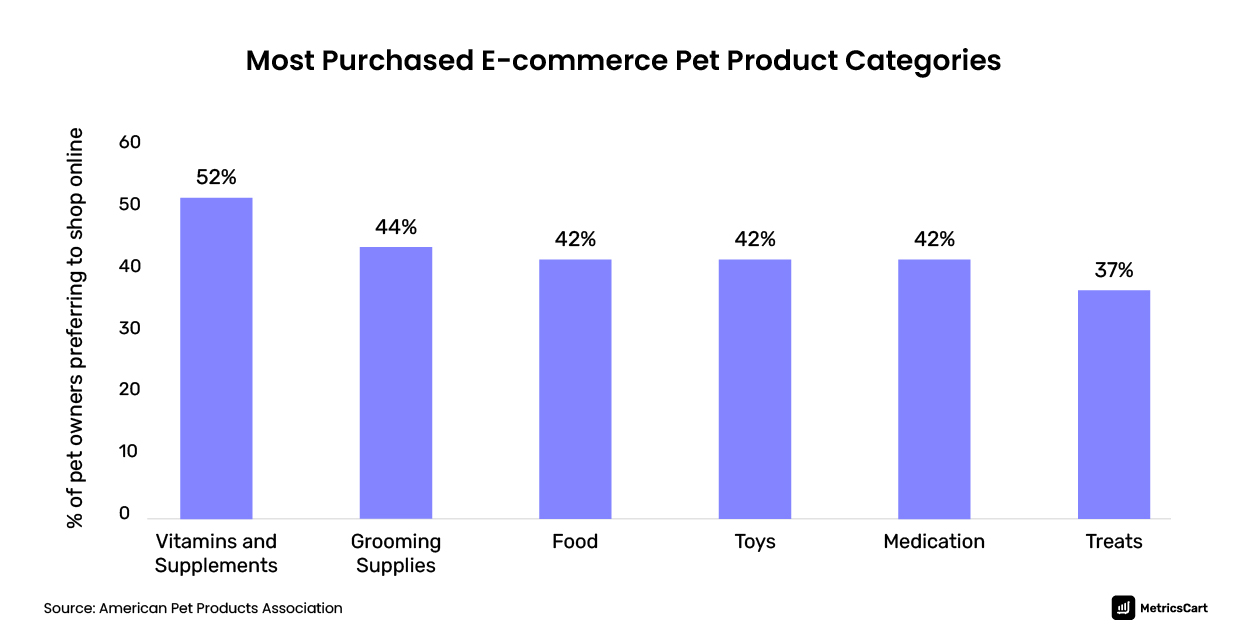 A recent survey of pet owners revealed pet products and services to be at the bottom of the list of household spending cutbacks. This reflects Americans' deep commitment to their pets with 68% spending more in 2023, compared to 2022 even as they looked for ways to economize. A breakdown of this expenditure looks like this: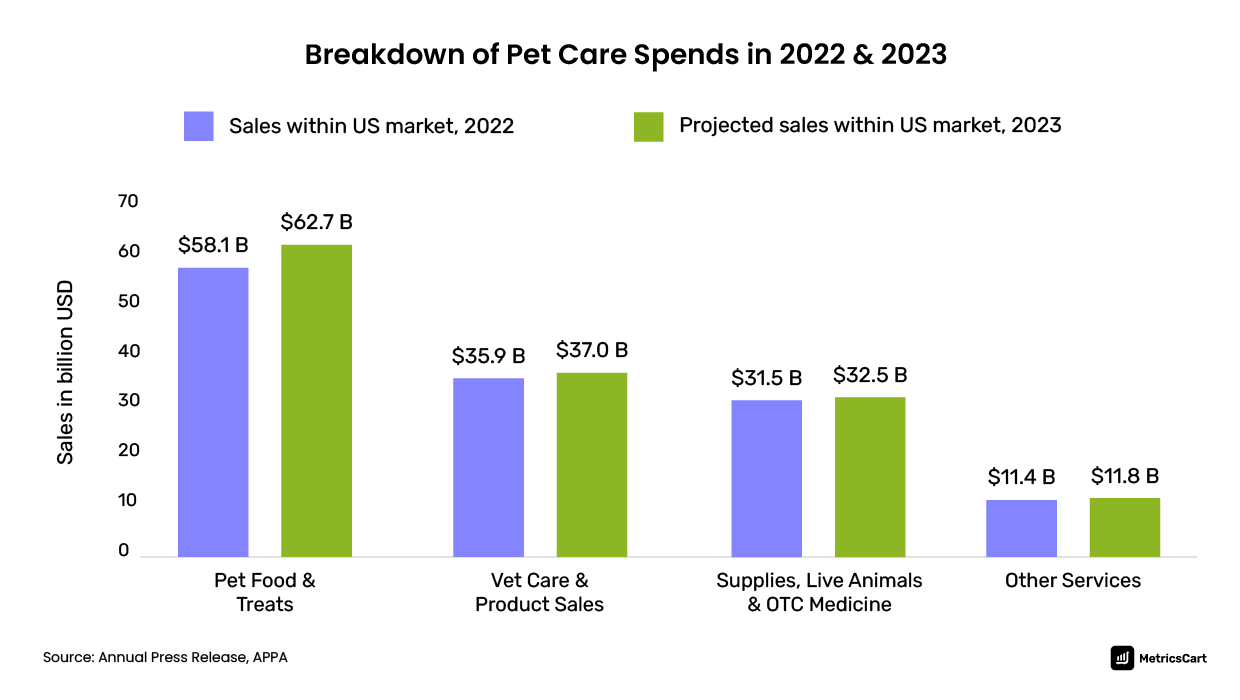 The Boom of the Pet E-commerce Industry in the US
While retail stores witnessed a gradual increase in pet spending, the American online pet market has quadrupled in size since 2013. As pet ownership rates are on the rise again, retailers and entrepreneurs are turning to e-commerce as it allows for new penetration points and audience targeting. Customer preference for pet product shopping on e-commerce platforms is projected to grow at 9.4% over its already existing 13% market share.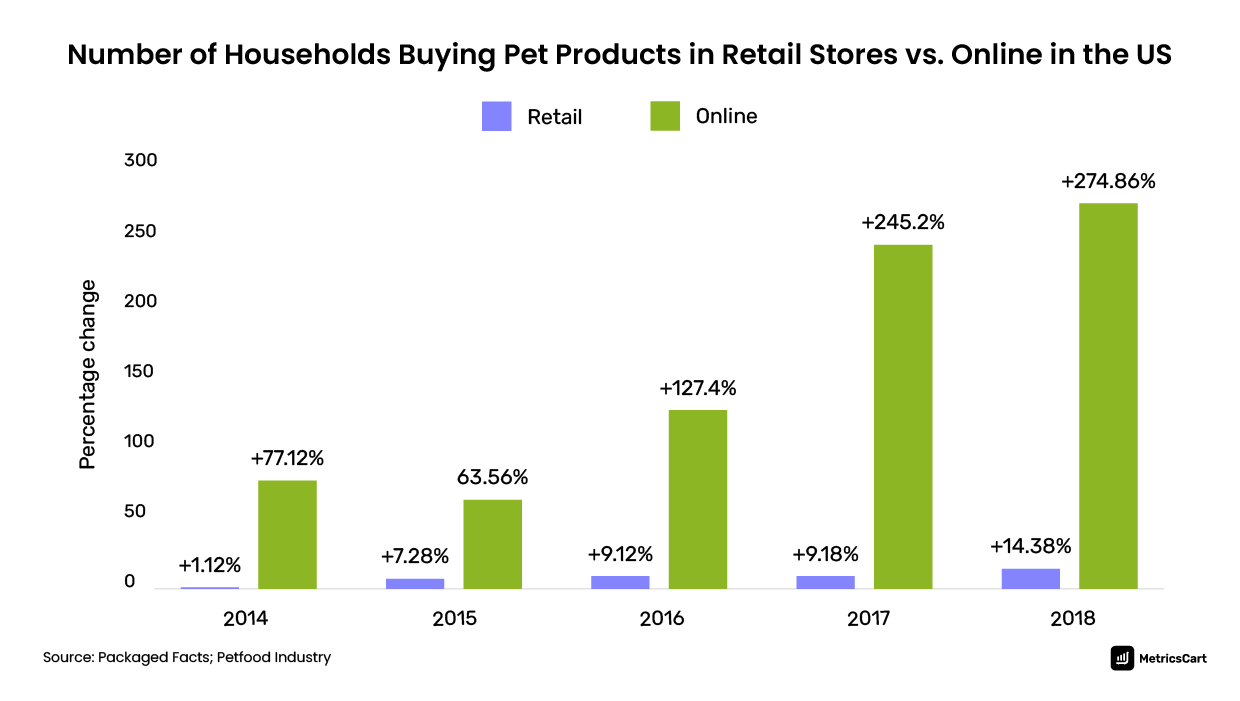 Pet supplies and pet food form the second and third-largest e-commerce CPG categories across the pet industry. Online pet food sales in the US witnessed a growth of 16.4% between 2021 and 2022 as against 3.7% in brick & mortar stores during the same period.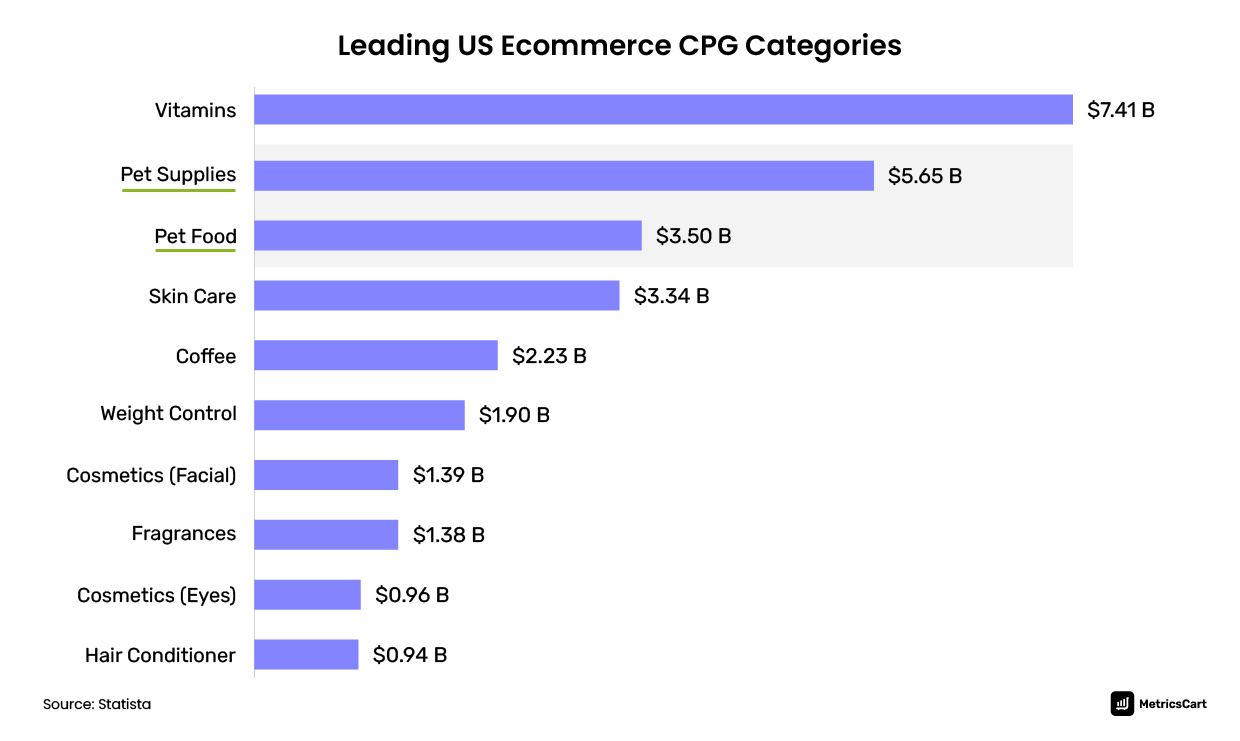 The Omnimarket Landscape of the American Pet Industry
A report on the US Pet Product Retail and Internet Shopping Trends by Packaged Facts used the term 'omnimarket' to describe the current industry scenario. It implies that American pet owners' spending is distributed across physical and digital retail and ranges from high-tech pet products and services to pet insurance policies.
Businesses like pet specialty retailers are aggressively crossing former business boundaries to compete for consumer loyalty and customer mindshare. Pet industry opportunities are intertwining with physical and digital shopping behaviors in the form of:
Autoship or subscription purchasing in key pet product categories
Home delivery of pet supplies
Retail-ization of pet and vet services
Private-label pet care brands
Innovation in pet health and wellness
Customer rewards programs and easy-to-avail pet financing options
Read more: Understanding the Potential of Private Label Brands
Why Americans Prefer Online Shopping for Pet Products
Personalization, competitive pricing, and convenience are making consumers prefer online shopping over brick-and-mortar stores.
Millenials represent the largest sector among pet owners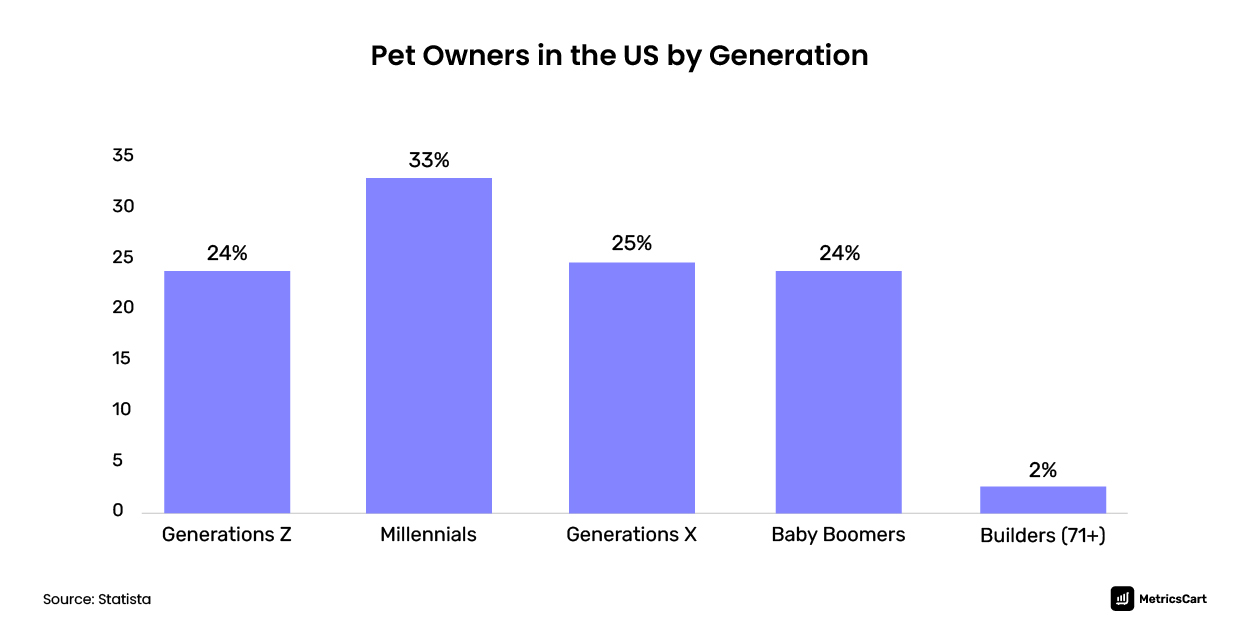 90.4% of millennials are active social media users compared to 48.2% of baby boomers. Naturally, brands that meet tech-savvy pet owners online enjoy a large competitive advantage. Furthermore, the millennial demand for personalized, high-quality, premium-priced products from millennials benefits the industry.
Attractive pricing and discounts
Big brands like PetFlow, Petco, and Chewy offer the most aggressive discount offers. In comparison, Amazon, PetSmart, and Pet Supplies Plus take a more conservative pricing approach. 2022 saw a huge increase in these offers and discount variations due to the increasing competition in the e-commerce sphere.
Digital shelf analytics solutions like MetricsCart come in handy here. MetricsCart helps track product price points across various e-commerce retailers and make well-informed pricing decisions.
Read more: Role of Price Monitoring in Keeping Your Brand Competitive
Better product discoverability and assortment
The range of pet products available online is enormous. For instance, Amazon alone has over 400,000 dog products. However, as more and more people turn towards e-commerce for pet supplies, there is fierce competition among brands. Optimizing online performance and share of search is vital as 60% of add-to-cart come from the first four search results that show up.
Share of search also varies between dog food and cat food for some brands. In terms of search visibility, Hill's Pet Nutrition's share of search for dog food (39%) outpaces its cat food share at 35%. Small-scale brands like JustFoodForDogs, Stella & Chewy's, Tiki Pets, VICTOR Super Premium Pet Food, and Open Farm are gaining consumer visibility with a different technique. They are differentiating themselves from the giants by utilizing trending keywords like 'grain-free', 'low fat', 'diabetic', etc. in their product description pages (PDPs).
Read more: How Share of Search Can Help Your Brand's Online Performance
Major Trends Shaping the Pet Industry in the US: Segment-wise
Be it food, health, or wellness, the pet industry trends have made it clear that owners now demand the same for their pets as they would for themselves!
Premium, healthy and nutritious pet food
Pet industry statistics show that 41% of dog owners and 39% of cat owners invest in premium pet nutrition. Brands such as Ollie use wholesome, nutritious ingredients to prepare the food and deliver it directly to the owner's doorstep. The brand promises 'human-grade' pet food and allows customers to tailor recipes based on their pets' weight, breed, age, activity level, and much more.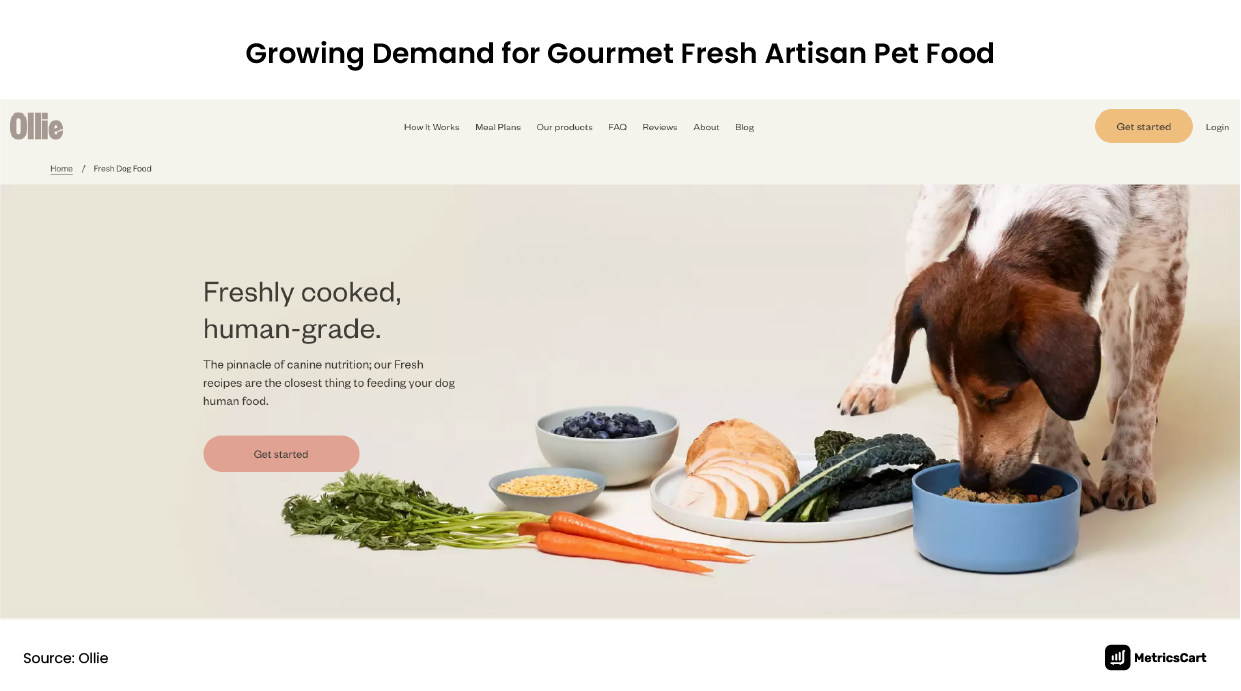 Pet healthcare and insurance
The average insurance cost for dogs and cats sums up to $44 and $30 a month, respectively. Comprehensive, lifelong pet insurance plans that provide multiple options to keep pets in good health are in huge demand now. Get Joy, a DTC pet brand launched 'human-proof' customized subscription boxes for flea and tick medication/supplements. It also comes with personalized packaging that features pets' pictures.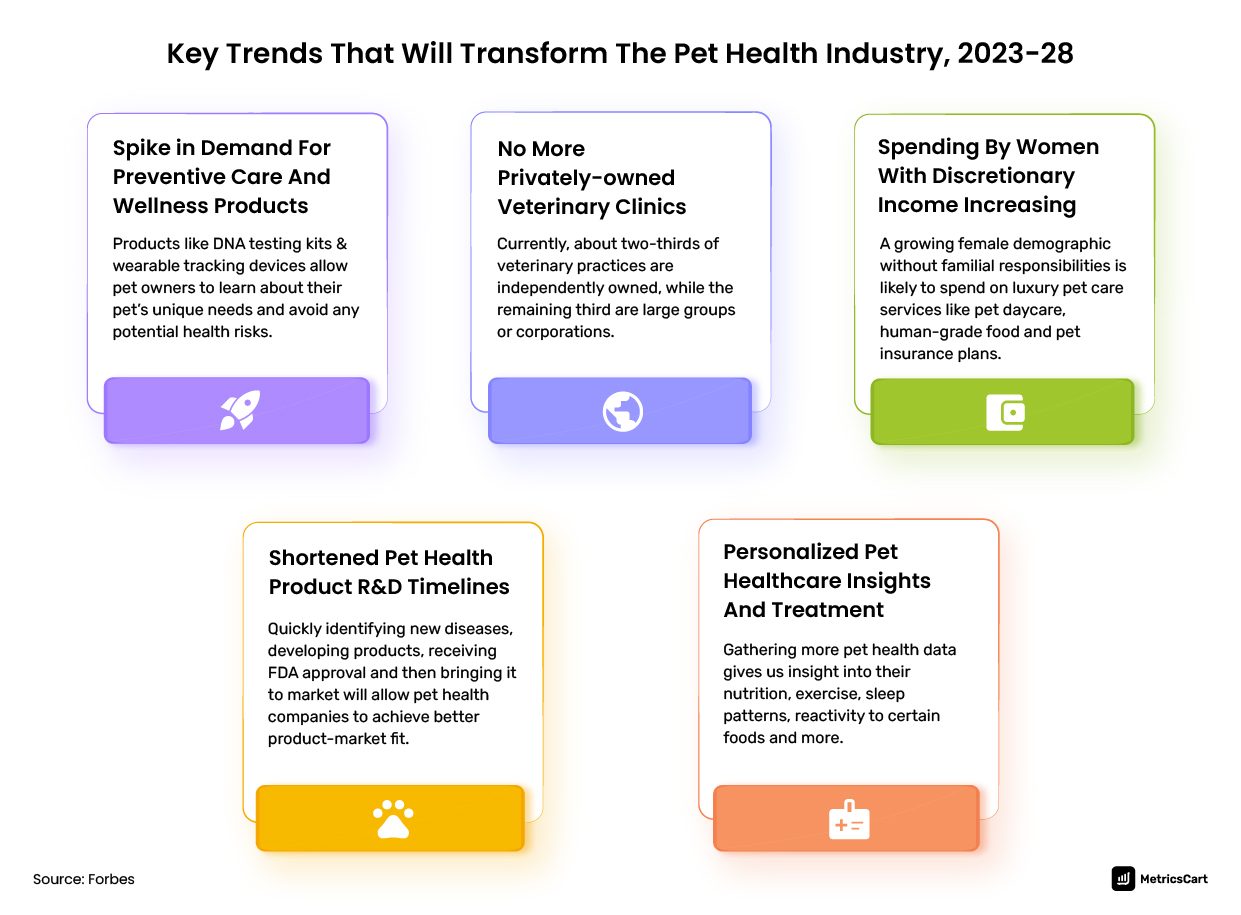 Pet nutritional supplements
Trending pet supplements include catfish oil, dog vitamins, probiotics, and the like. Zesty Paws is the best selling 'multi-condition' pet supplement brand in the US. It offers treats like hemp-infused chew sticks and salmon oil to help with skin, stress, and allergy issues, CBD products as well as probiotics to support gut health.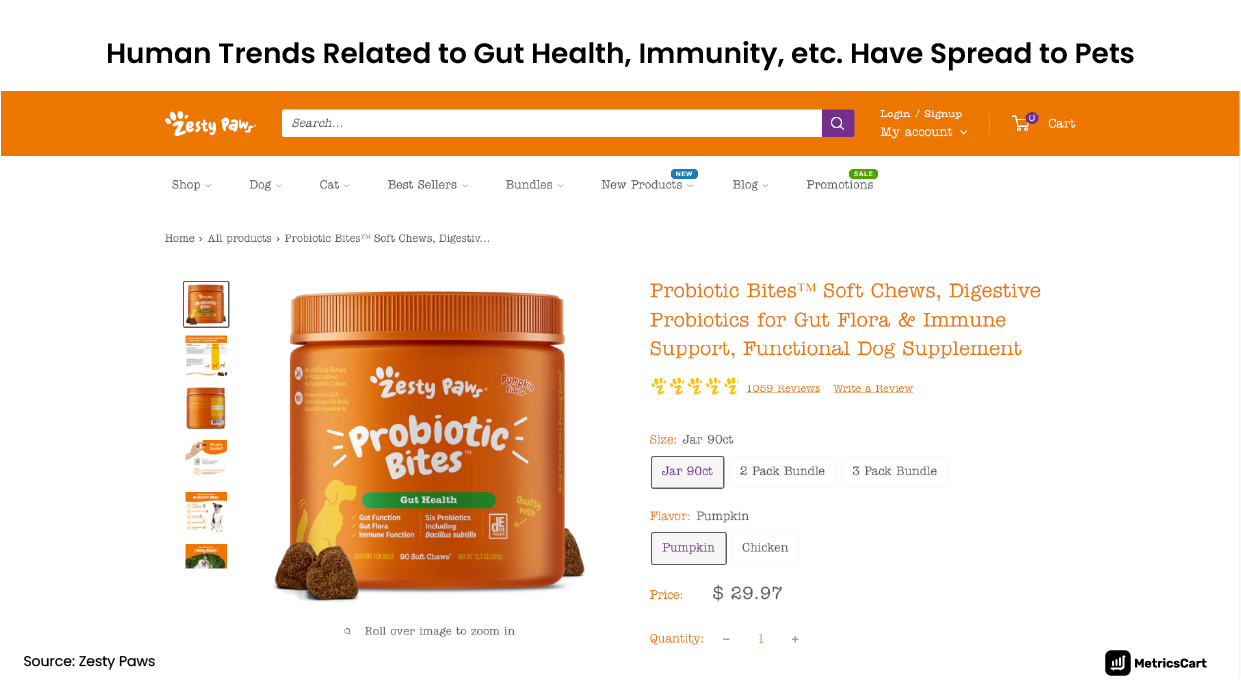 With research showing that CBD oil can help treat canine osteoarthritis, searches with the keyword 'CBD for dogs' went up by 300%. Brands like Gold Bee and Royal CBD launched less potent CBD products specifically created for pets.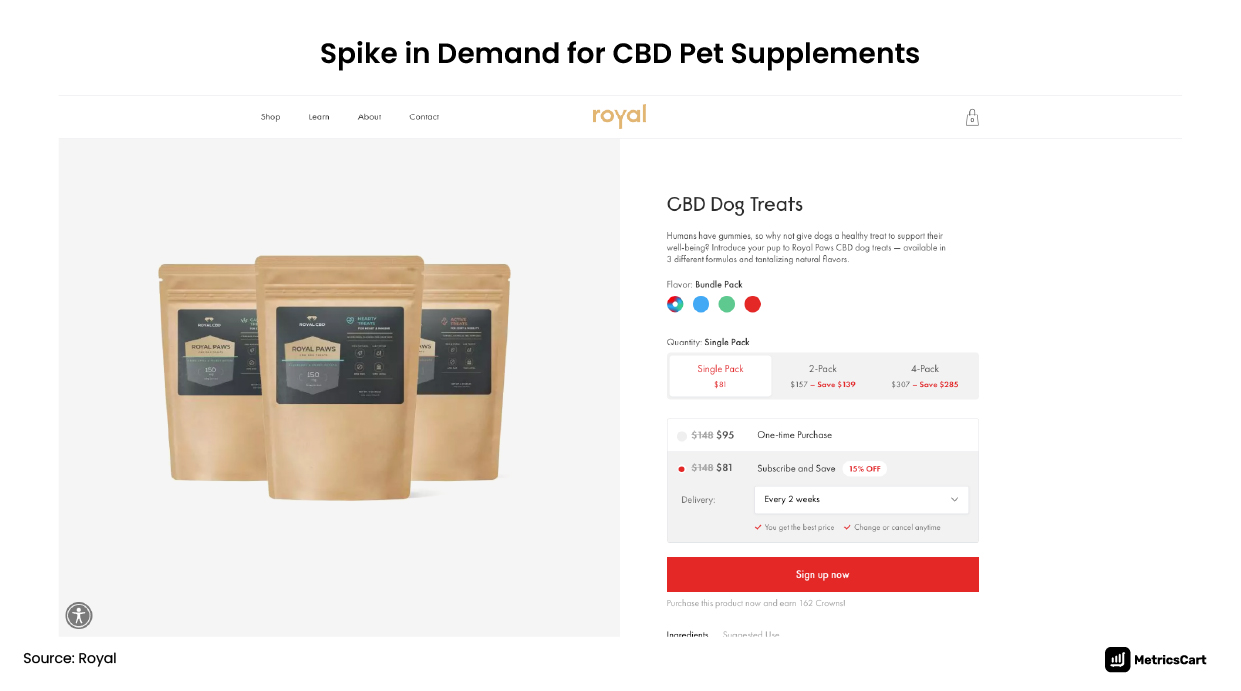 Product innovation and emerging niches
Significant amounts of innovation in pet product research created entirely new product categories. Pretty Litter, launched kitty litter that changes color based on the pH levels of a cat's urine. The company claims this product helps cat owners detect illnesses in their pets.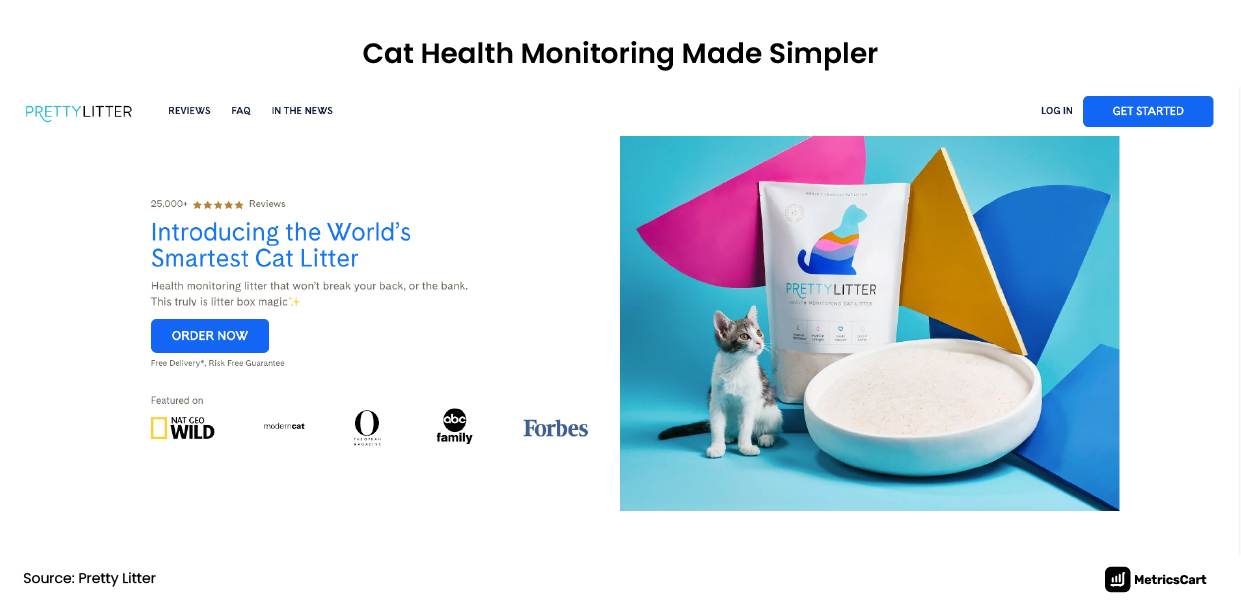 The Bear & the Rat makes frozen yogurt for dogs and is sold at Whole Foods stores across the nation. Another notable invention is the Litter-Robot which comes with a battery-powered, Wi-Fi-connected cat litter box and self-cleanses after every use.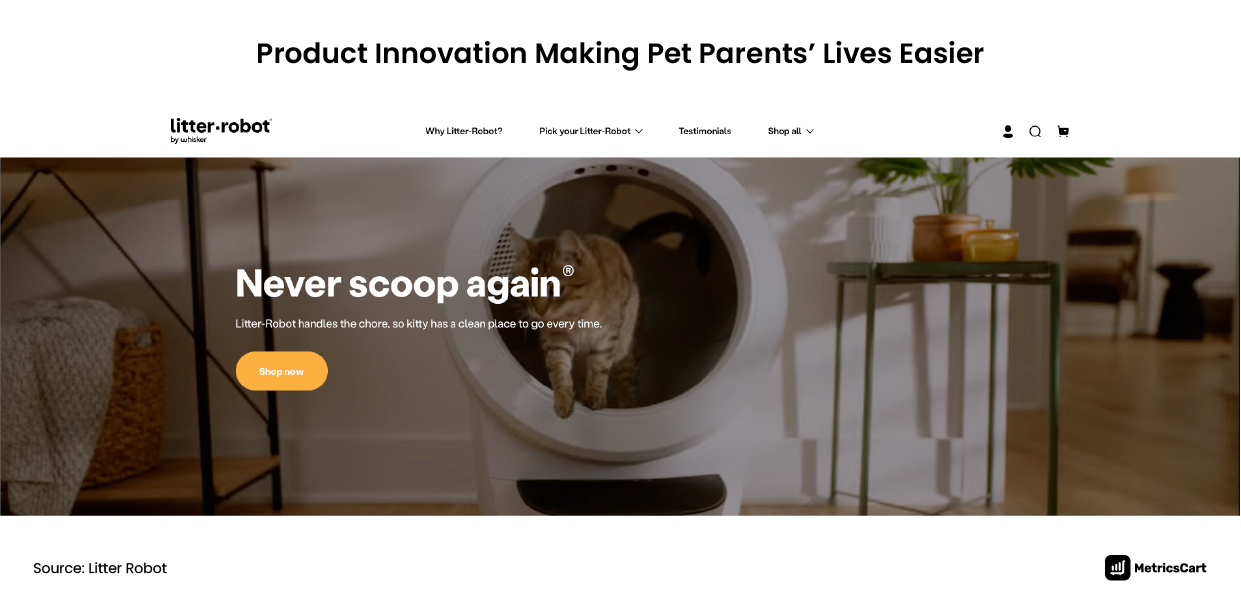 Read more: Exploring Phygital Trends in the Pet Industry
Key Players of the Pet Care E-commerce Industry in the US
One of the advantages of going online is that it allows brands to reach a larger market. Further capitalizing on this, Amazon and Chewy created a brand story and value proposition based on first-class customer service and the convenience of auto-ship to boost online sales.
Search convenience coupled with its private label pet food brand, Wag, Amazon takes up 59% of the online market share. The US Pet Market Outlook, a report by Packaged Facts', showed that Amazon led the online boom, followed by Chewy (41%), Walmart (33%), PetSmart, and PETCO.
The pet supplies category on Amazon holds a lot of potential and brings over $800 million in revenue annually. While cat and dog products are most popularly purchased on Amazon, the e-commerce giant also serves other pet needs.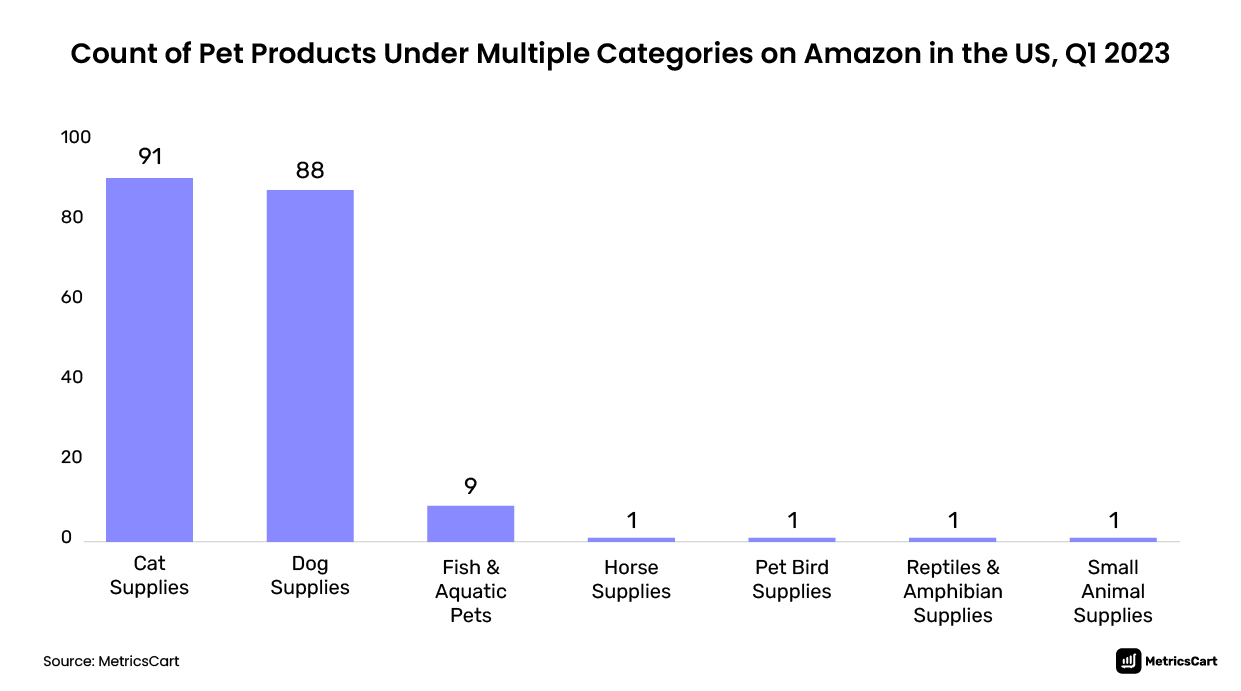 The top-performing pet product brands include: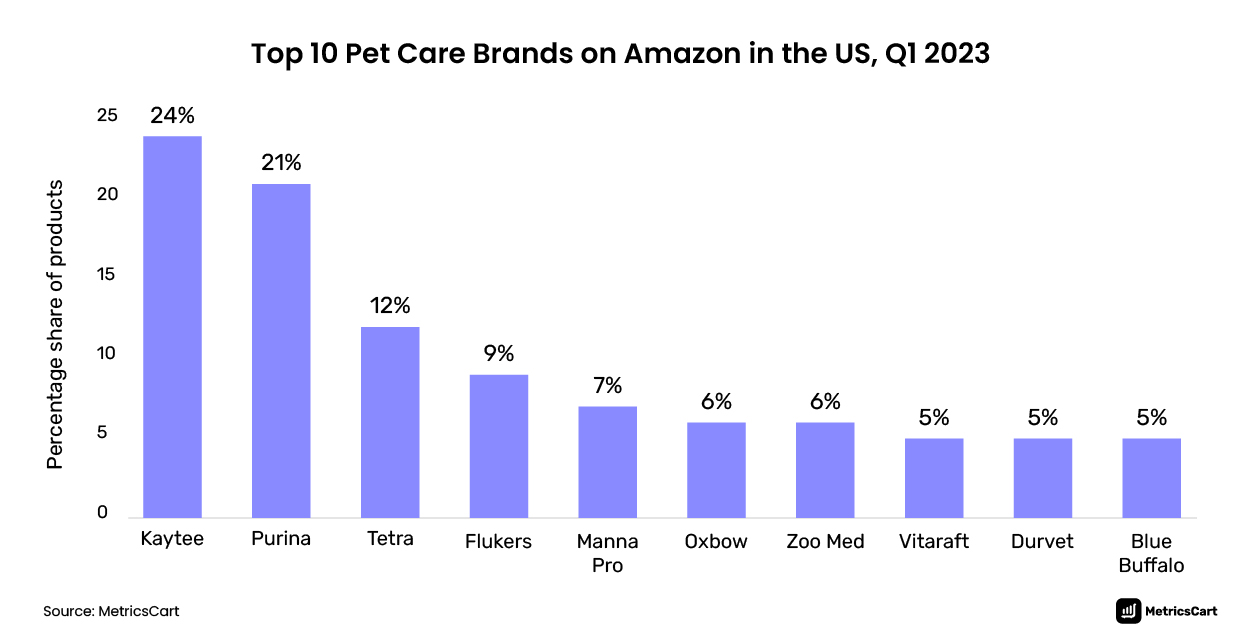 Our experts' analysis of the top pet brands on Amazon revealed that the majority of dog and cat products fall under the $11-$20 category.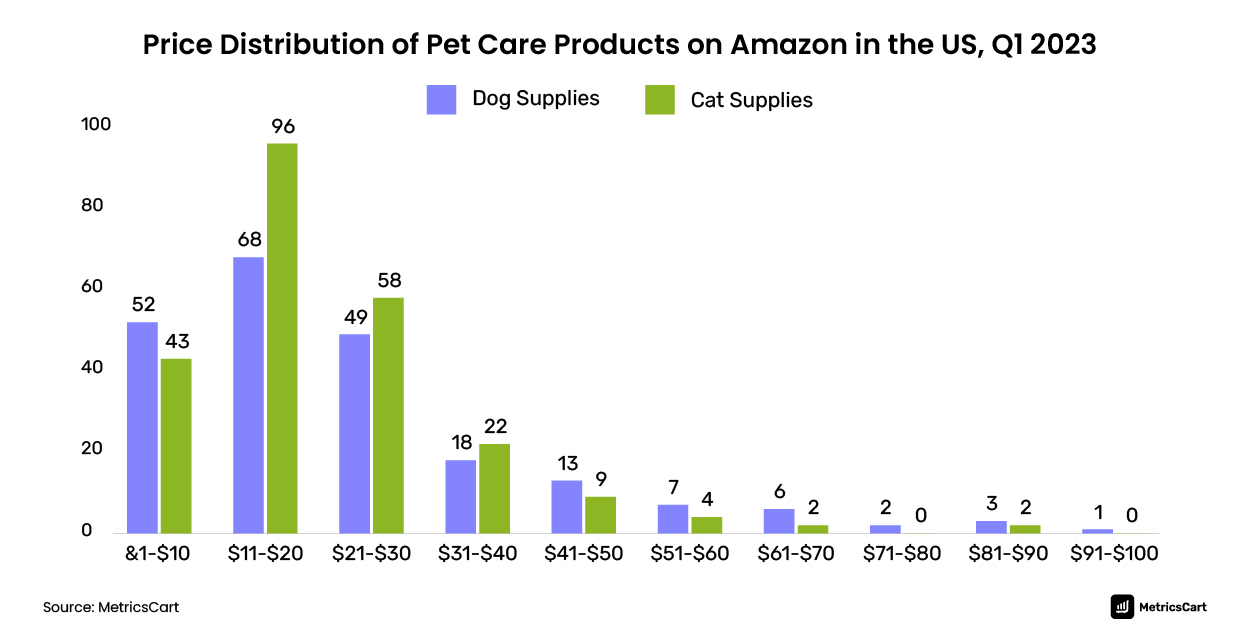 Interested to know more all about pet brands performing well on Amazon? Check out our free monthly report on the bestselling pet brands on Amazon. For more in-depth information about the pet industry, get in touch with the experts at MetricsCart.