Fixing a price for a product mix can be challenging as each product in an assortment has various degrees of competition, market demand, and related costs.
Let's suppose you are considering migrating to Tello mobile service provider or buying a new phone from the brand. Depending on your need, you can choose your phone from low-cost options, sturdy phones for kids, flagship phones for techies, or certified refurbished phones. Once you buy a phone from them, you can either go for a customized plan or choose economy, value, smart, or data plans priced at $10, $14, $19, and $39 respectively. Though this seems simple on the surface, profit-making organizations do a lot of analysis while strategizing a clever product mix pricing.
Being a relatively new company, Tello's product mix is not as varied as a large conglomerate. An organization with more product lines and variations within them broadens its target market, but it is more challenging for these companies to arrive at the right selling price for its product mix.
In this article, with examples, we explain key terms related to product mix, the factors product or brand managers might consider while deciding on a price for their product mix, and how a reliable digital shelf analytical company like MetricsCart can make this job very easy.
What is the Product Mix Pricing Strategy?
Most shoppers feel delighted when presented with choices. Thus, most high-performing companies provide customers with varied models within a brand.
In such scenarios, the probability of brands satisfying customers and topping the sales chart in a category is high. All brands under a single umbrella organization are referred to as their product mix or product portfolio.
For instance, Nestlé sells nearly 2000 brands across 186 countries. It is a conglomerate with diverse business interests. So, all the brands that are manufactured or marketed by Nestle and their variations are together referred to as Nestle's product mix.
Thus, in case of a crisis that affects a particular product category, the company is better shielded as it can balance the revenue from an alternate product line.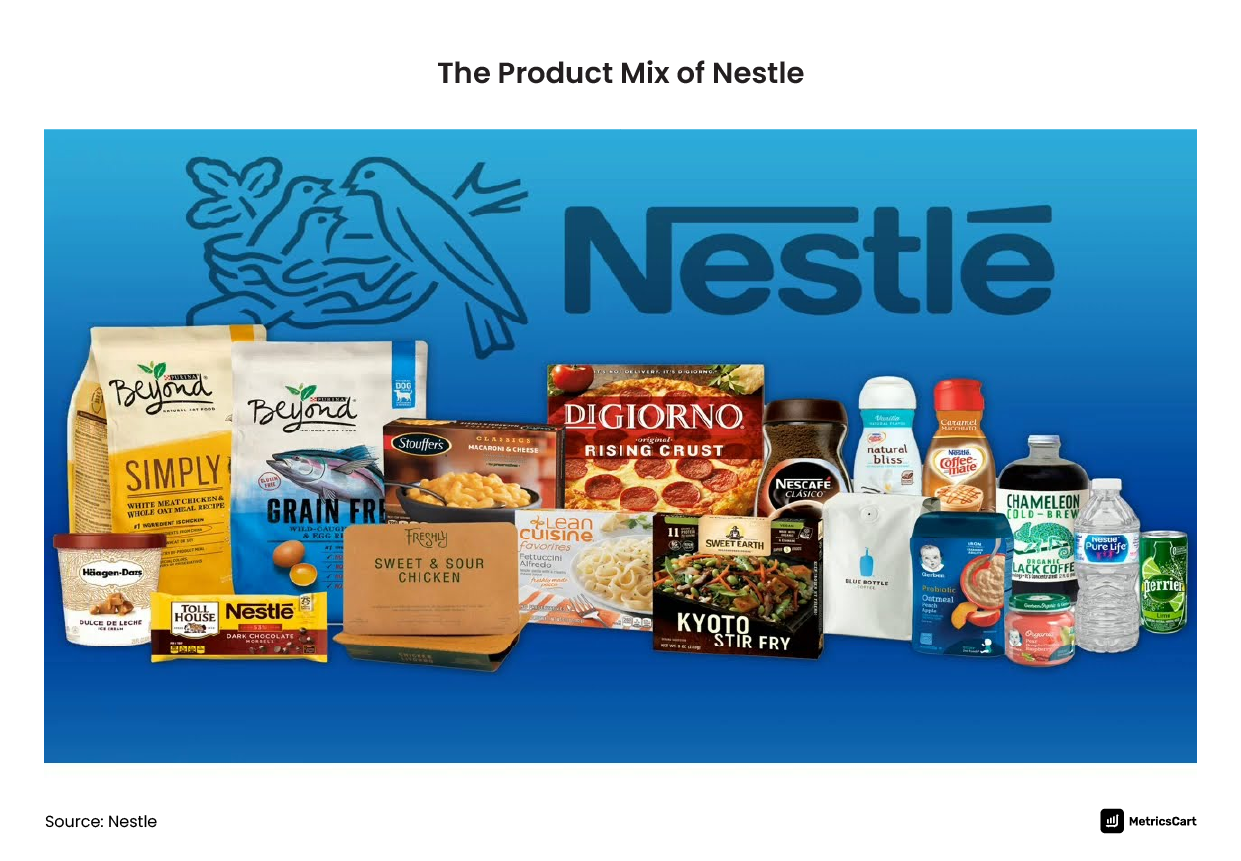 A perfect product mix or assortment strategy maximizes the sales and profit of a company without compromising the customer experience.
Understanding Product Mix Dimensions with Examples
Let us assume the product mix to be a cuboid with four dimensions – Width (breadth), Depth, Length, and Consistency.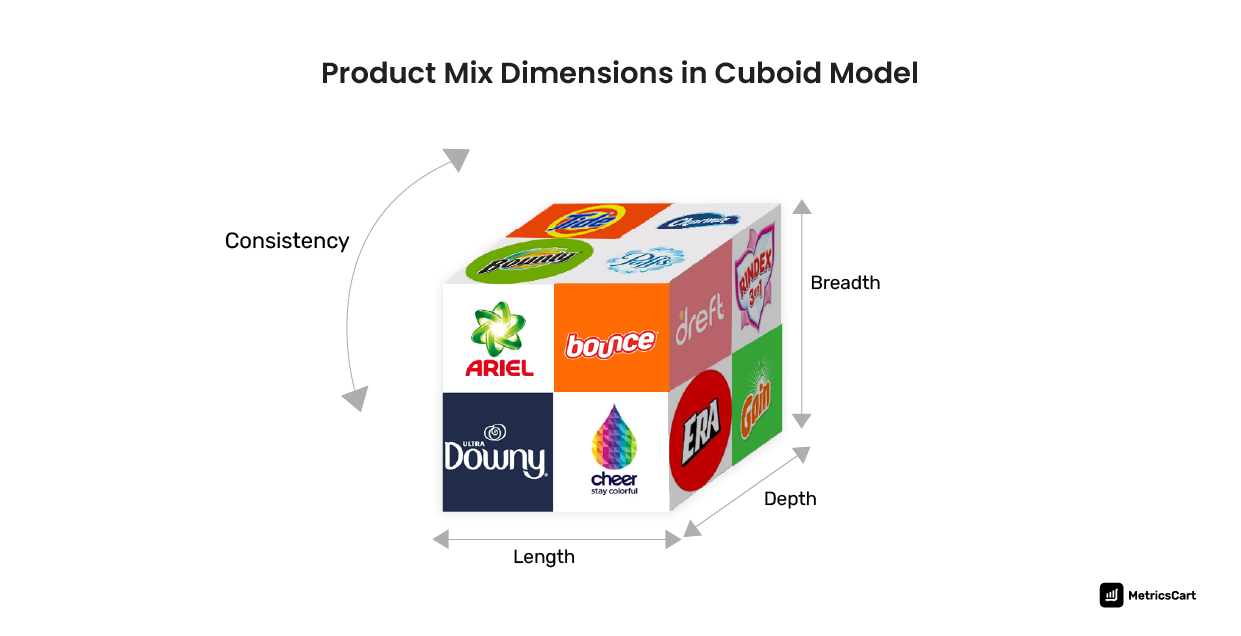 To understand these dimensions better, let's look into an industry example. Proctor and Gamble (P&G) is an American multinational consumer goods corporation that manufactures and markets products categorized into 10 product lines:
Product Mix Width
All the product lines of a company put together are referred to as the Product Mix Width or breadth. As P&G has 10 product lines, its product mix width is 10.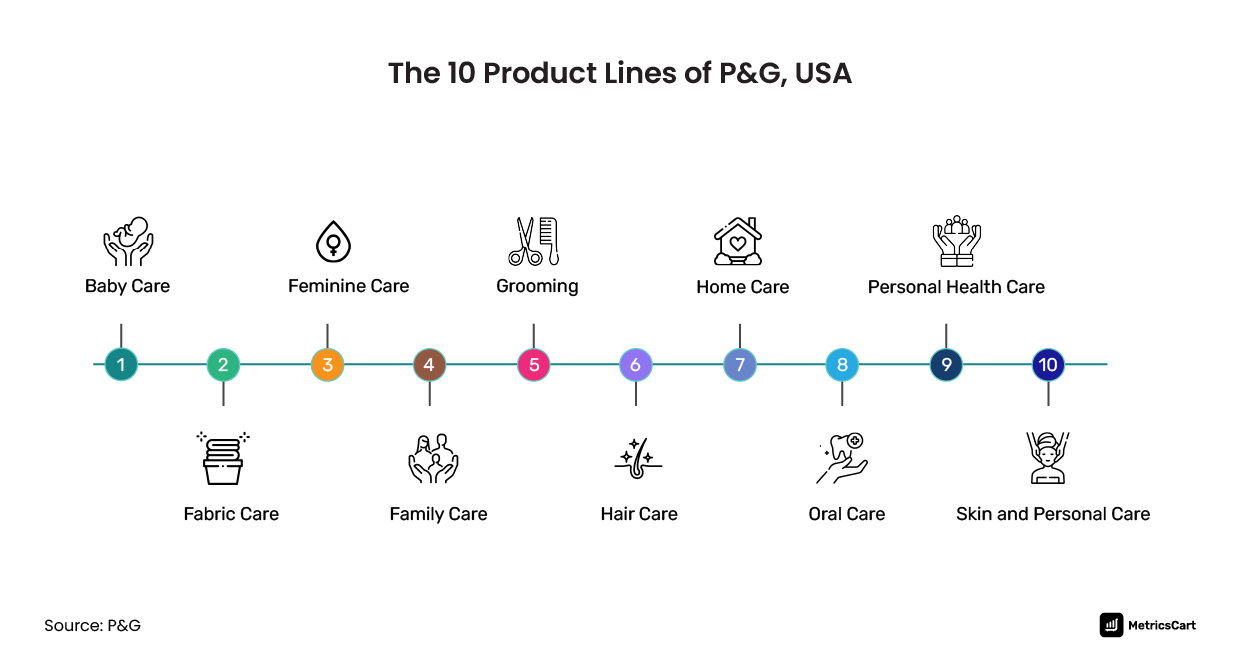 Usually, small-scale businesses don't widen their product mix in the early stages. Once a company establishes its presence in the retail market, most build the width of the product mix by diversifying into other businesses.
Product Mix Consistency
As seen in the above example, the product mix width of P&G is consistent as all the product lines are related to personal care and hygiene.
We say the product mix of a company is inconsistent if the product lines belonging to a company are very different from one another.
Product Mix Length
The total number of items a company carries within a product line is referred to as product line length. All product line lengths together form the product mix length.
In the case of Nestle, the total number of product lines is 7. The product line length of powdered beverages is 6, milk products and ice cream have 12, confectionery length is 4, and so on. By adding up all the brands in each product line, we get the product mix length of Nestle as 56.

Product Mix Depth
The variations in the product depth of a product mix help companies expand their reach.
If we delve deeper into the Personal Care product line of Unilever, the company markets four brands of bathing soaps – Dove, Caress, Lever 2000, and Schmidt's. These four brands make up the product mix depth of Unilever's soap category.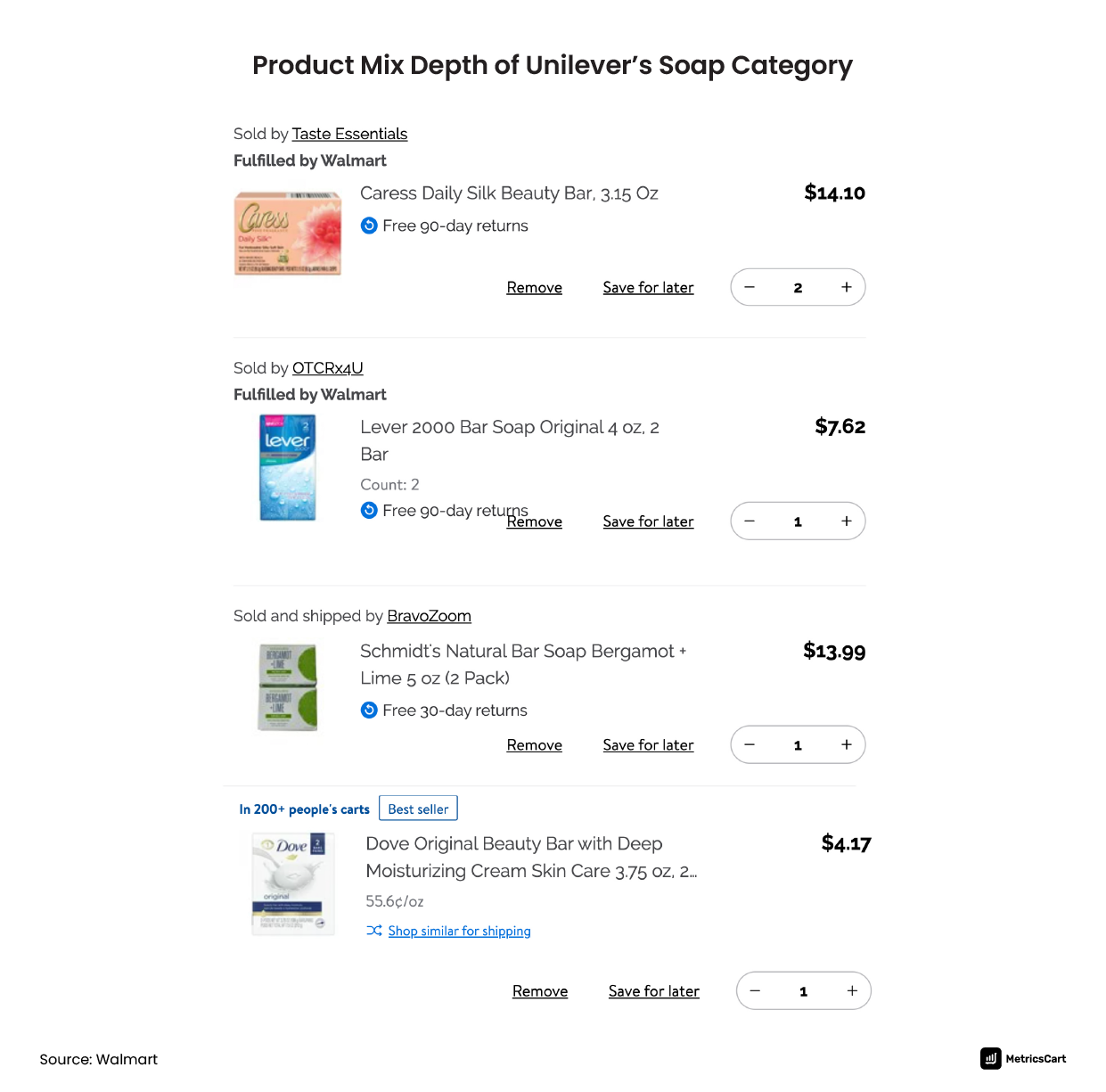 Given above are the prices of 2 bar soaps of each brand. Though the brand positioning of Dove is in the premium category, it is priced lowest this month, presumably to sell more volume. Unilever is presently in a catch-22 situation. They want to increase the prices as the company is grappling with increasing production costs. At the same time, they do not want to lose their customers to other brands.
Click the link to know how US retailers are reviewing their product mix due to inflation in 2022.
Types of Product Mix Pricing with Examples
Fixing a price for a product mix is demanding as each product in an assortment has various degrees of competition, market demand, and related costs.
Arriving at a product price involves two steps:
Defining the pricing objective of the brand: It could be to gain market share or create a perceived value advantage, maximize revenue, or achieve profitability.
Aligning business objectives with other key metrics: When brands align their business objectives with market dynamics, competitor pricing, and customer preferences, they devise a well-rounded product mix pricing strategy.
1. Product Line Pricing
Some organizations have a full line in a product category to meet the needs and preferences of a broader customer segment and rule out competition. Products in a product line may serve a similar purpose and usually sell through the same channel, but they may be targeted to consumers from varied economic strata. To understand product line pricing better, let us take the example of the baby care segment of P&G.
Product line pricing example: P&G diaper brands
P&G has a 25% global market share in the Baby Care segment. To begin with, they just had Pampers diapers. Over time, they acquired other brands. Today their Product Mix Depth includes Pampers baby wipes, Pampers Ninjamas pants, Luvs diapers, Charlie Banana reusable cloth diapers, All Good diapers, and All Clean wipes.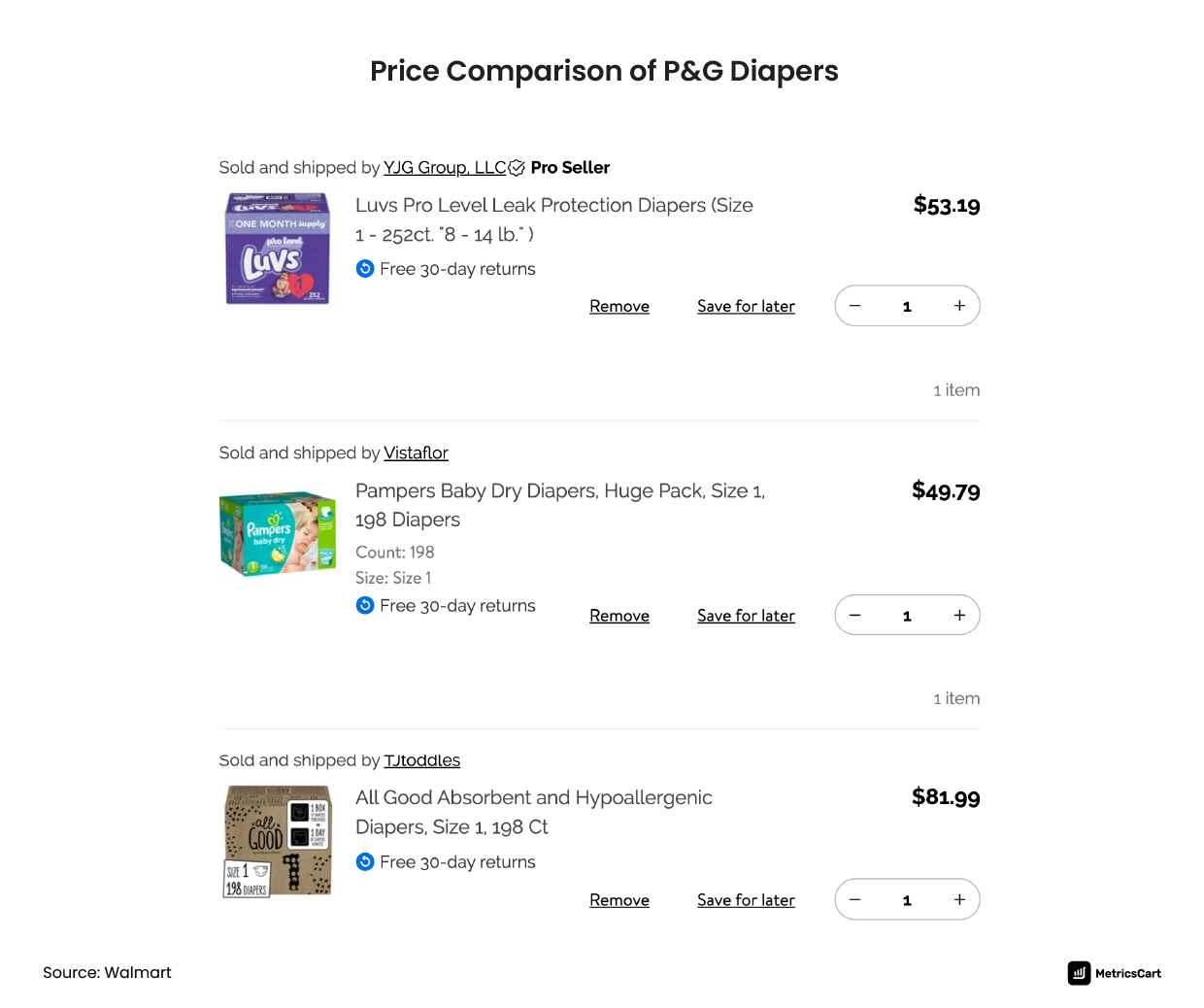 All Good hypoallergenic diapers and All Clean Wipes are P&G's premium products sold exclusively at Walmart. A pack of 198 diapers of size 1 in All Good costs $81.99. At $49.94, Pampers is priced in the mid-range for a pack in the same size. Luvs is P&G's budget-friendly diaper brand. By paying $53.36, a budget shopper can pick a pack of 252 size 1 Luvs diapers.
Thus, in the example above, we see P&G uses different price points to differentiate products within a product line as premium, mid-range, or budget-friendly.
Benefits of product line pricing
Strategic pricing increases the possibility of sales across all customer groups.
Though the product may serve a similar purpose, the price varies depending on various factors such as the size and type of the packaging, cost of raw materials, shipping, the quality of different fragrances, flavors used, etc.
2. Optional Product Pricing
Companies intentionally separate optional products from the main ones in optional product pricing. The base product is sold at a relatively low-profit margin but the company earns profit from the add-ons that customers purchase to fit the base-price cars.
Optional product pricing example: Tesla cars
The table below shows the bifurcation in the prices of different Tesla car models.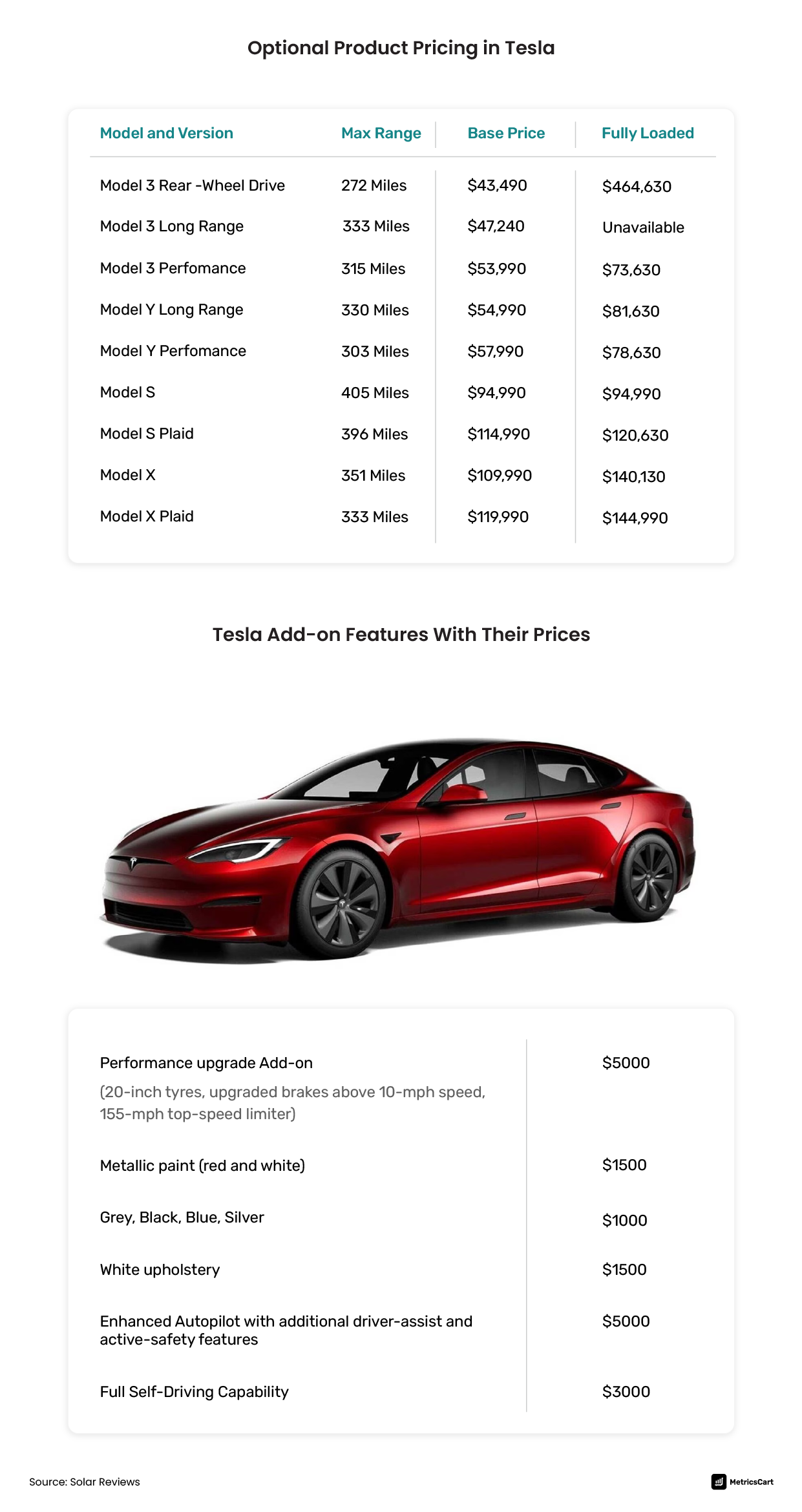 In the example above, we see the variation in prices of each model even in a basic fit-out. The final price of a model depends on the quality and the type of materials used for fit-outs, the features that most customer demand, and the kind of performance outcome each car gives with the add-ons.
Benefits of Optional Product Pricing:
The company makes extra sales by selling ancillary products.
The base price gives the impression that a product is cheaper.
3. Captive Product Pricing
Setting prices for two complementary products where one is the main product and the other is necessary for the functioning of the main product is referred to as captive product pricing. Companies sell the main product at a low price to entice customers to buy the product in the first place.
Captive product pricing example: Kodak instant camera and photo paper
Kodak instant print camera is available online at an attractive offer price of $49.99. One can buy 100 sheets of compatible photo papers for the same price. So, after 100 snaps, whenever a customer buys additional photo paper, the company starts making a profit.
The benefit of Captive Product Pricing:
Many customers fall for the attractive price of the main product.
The company earns profits from the recurring sale of the secondary product required for the proper functioning of the main product.
4. By-product Pricing
When a company manufactures a product, it leaves behind some residue. Disposal of this residue is often a concern for manufacturers. By finding a use for this by-product, companies can earn additional revenue by selling them. The price of this by-product varies based on the demand it has in the market.
By-product product pricing example: Vital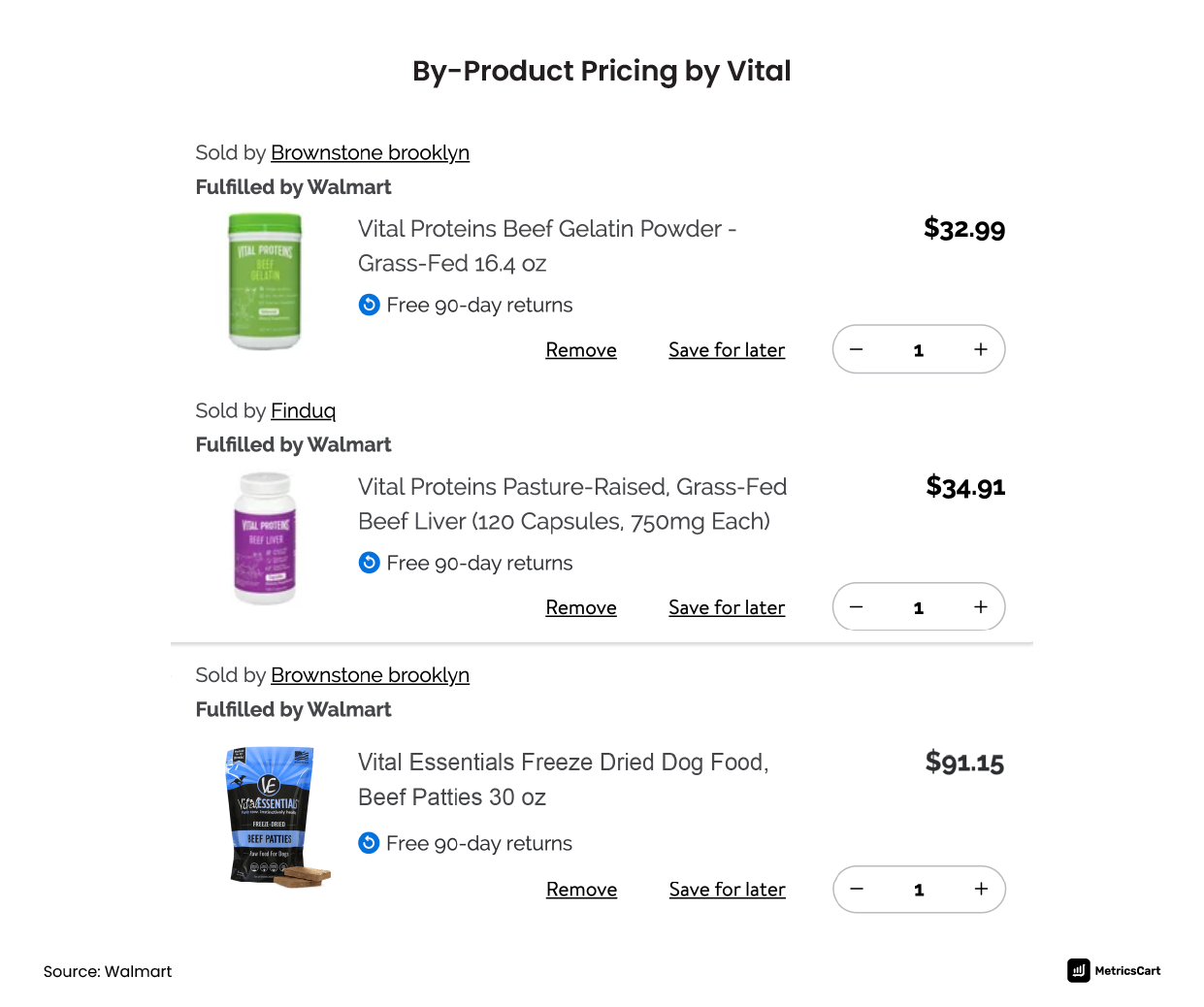 Among the three products listed by Vital in the example above, gelatin is the cheapest, and beef liver capsules are costly. However, the most expensive is freeze-dried beef dog food, probably because the demand is higher for the same.
In a slaughterhouse, the main product that they sell is meat. The by-products are the skin and bones of bovines and pigs. Instead of disposing of this waste, gelatin is derived from collagen, naturally found in the skin and bones of animals. Usually, by-products sell at a reasonable price compared to the main product. But owing to the growing demand for gelatin from the healthcare and food & beverage industries, the slaughterhouses have increased the prices of raw materials (which is a waste for them).
Following this, gelatin manufacturers have increased the selling price by adding their margin to this cost. The global gelatin market was valued at USD 6.08 billion in 2022 and is expected to grow at a compound annual growth rate of 10.1% from 2023 to 2030.
The benefit of by-product pricing:
Manufacturers can save the cost of disposing of the by-product if they discover a utility for such products.
5. Product Bundle Pricing
When multiple items are sold at a more appealing cost rather than selling them separately at a higher individual price, it is called price bundling. Widely used in e-commerce, this strategy helps companies sell products that do not have much demand.
Bundling is of two types:
Mixed bundling: In mixed bundling, a fast-moving item is bundled with a slow-moving product at an attractive price. In the men's grooming segment, P&G's Gillette is the market leader in cartridge razors. P&G prices this brand high as customers perceive high value for its offering relative to its competitors. But, P&G's Edge shaving gel does not enjoy the same degree of popularity. Though consumers have the option to buy the product independently, it is bundled with the razor to increase the probability of its sales and earn more profit.
Pure bundling: In pure bundling, products that complement one another are sold as a package to customers. For example, a customer who buys a Gillette Proglide razor will need compatible blades as refills. So, this bundle benefits a first-time customer.
Implementing price bundling becomes easier when pricing and discounts offered by competitors are evaluated in real-time.
When brands align their business objectives with market dynamics and customer preferences, they devise a well-rounded product mix pricing strategy.
Reasons Brands Go For Price Adjustments
Prices are adjusted at different product lifecycle stages based on demand, competition, and product positioning over time.
Price adjustment based on demand: Trading up
When companies have to increase the profit margin and enhance their image, they introduce highly priced prestige products to their existing product line.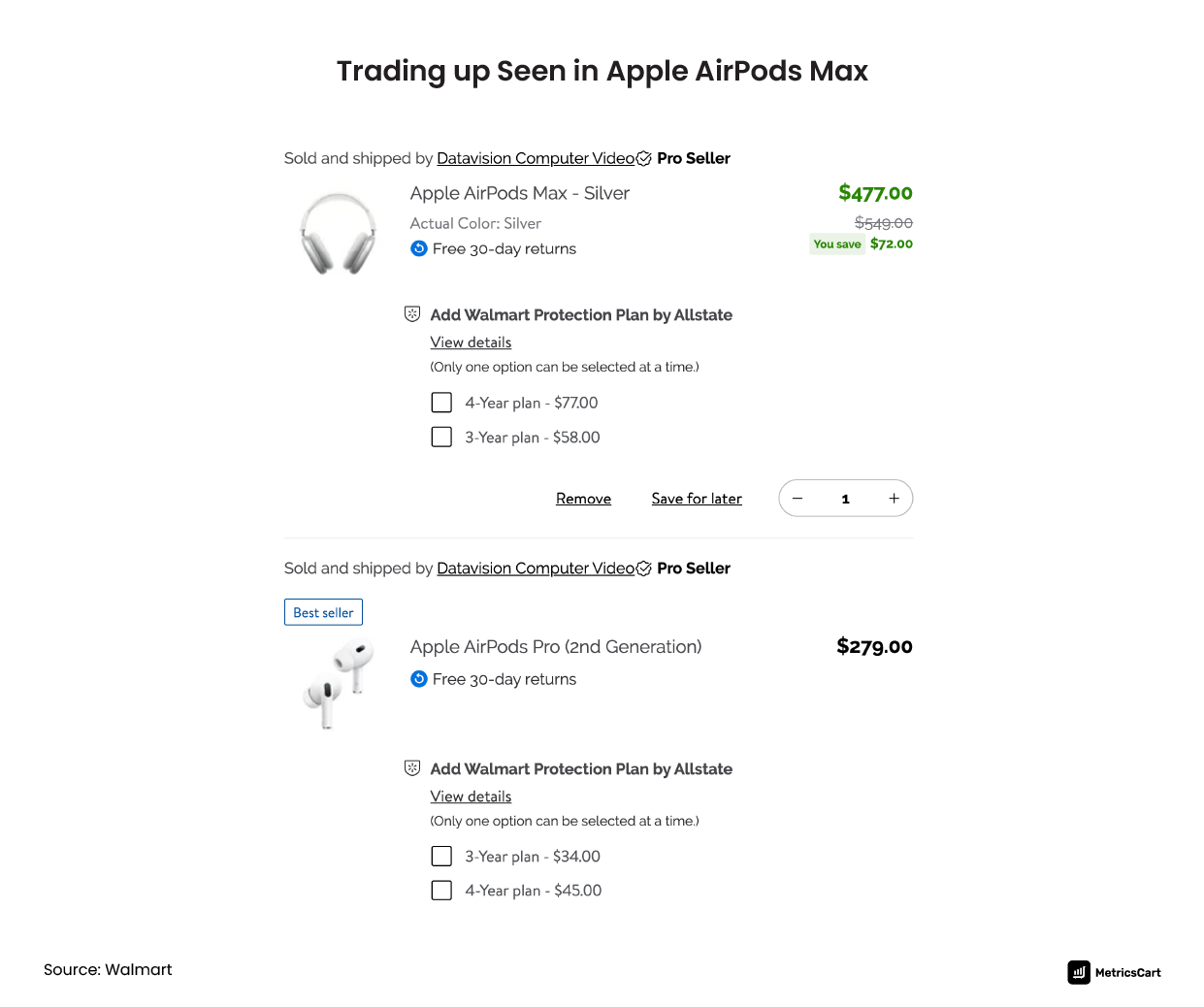 As we see in the above example, a pair of Apple AirPods Pro is priced at $279 while the Apple AirPods Max is priced at a whopping $477. Though there may be additional features in Max, with the markup, the company leverages prestige pricing to create perceived value in this model.
In this case, Apple enjoys an enhanced brand image. In addition, if the company is able to sell more Max models, the company can drive up revenue.
Price adjustment based on demand: Trading down
At times, companies see a potential for growth in the budget segment. In such cases, products are introduced at a lower price to attract price-conscious customers.
For example, customers who visit the Function of Beauty website can customize hair care products and buy them for $21-$27. In December 2020, the brand launched its affordable range of hair care products exclusively sold through Target. As there was a market demand for products in this price range (the 11 oz shampoo bottle is available for $9.99), the brand garnered $41 million in sales within a year of its launch.
Price adjustment based on product positioning
Dove soap was launched in the US as a premium brand and was priced at $29.99. As the demand for premium toiletries wasn't that prominent in the 1950s, Dove chose the demand pricing strategy and reduced its price to $19.99.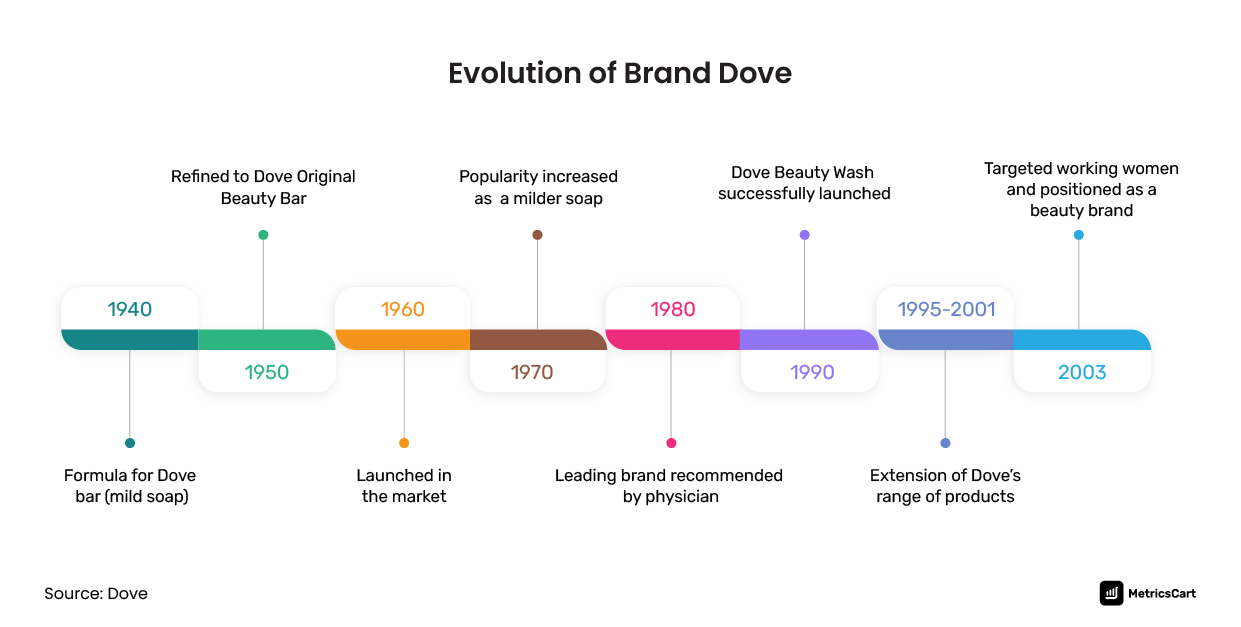 Presently, Dove features among the top five best-selling soap brands in the US. The original selling price of the brand is high compared to other soaps as the brand continues to enjoy its premium image.
Moreover, the product's USP, i.e., moisturizing bar soap and packaging seems to justify the price. Dove adjusts prices during promotions when it gives out bundle offers and discount pricing strategies on special occasions to keep its consumers engaged.
Price adjustment based on competition
The same product is often priced differently on various sites and stores. The adjustment is based on the different degrees of demand by customers at diverse locations, with variations in packaging, with addition in taxes or regulatory requirements in every location.
In the example below, the price of the same model of Michael Kors watches costs $296.25 on Macy's and $161.78 on Amazon.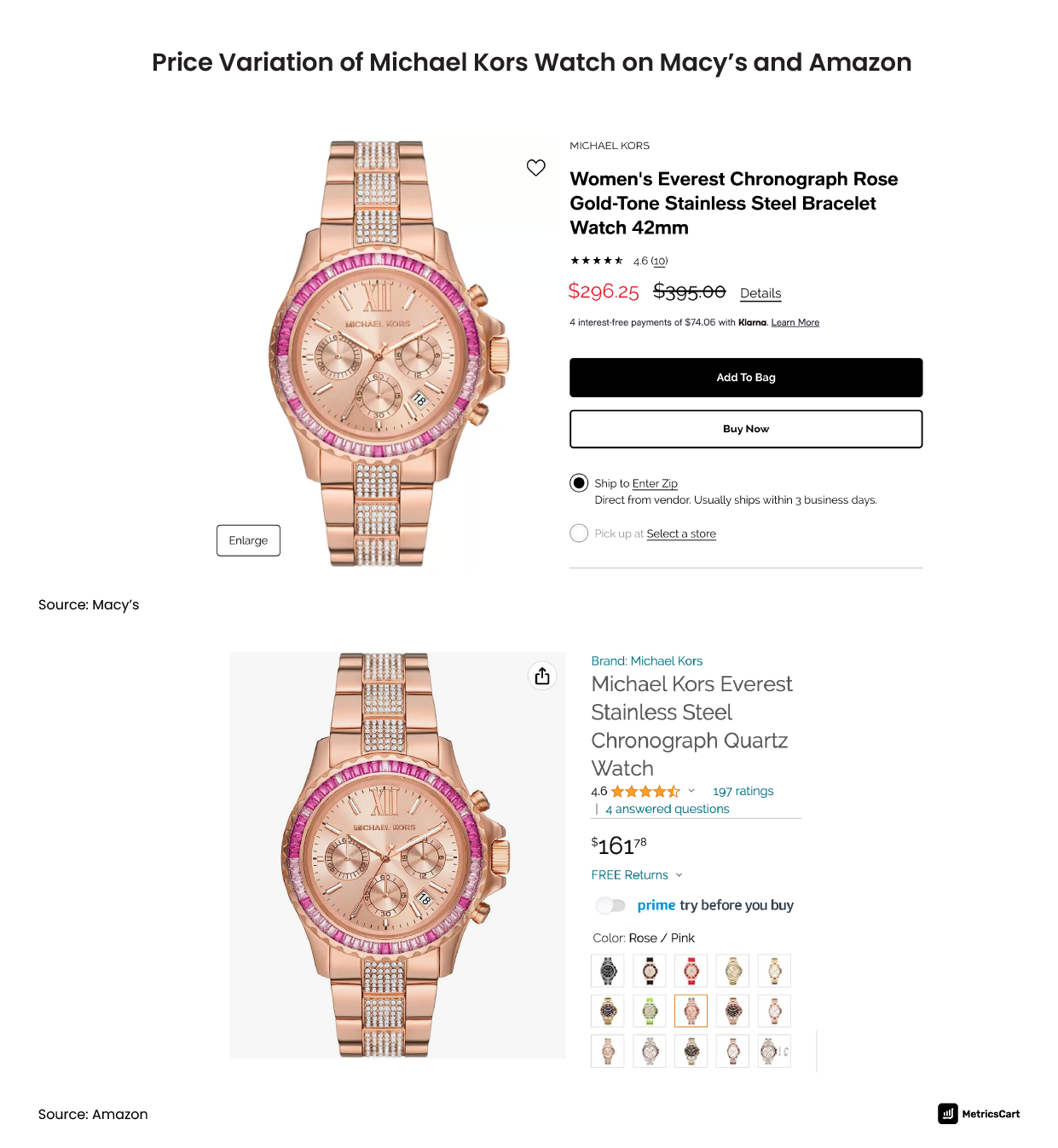 The preference to buy a product and willingness to pay at a given price varies from one customer to another. So, assessing price elasticity is one way to determine the optimal pricing strategy of a product mix.
Read more: Get an Overview of Value-based Pricing 
What are Product Mix Expansion and Contraction?
Most companies reduce (contract) and increase (expand) products in their product line by analyzing business productivity. Brands calculate the profitability ratio by comparing income to sales, assets, and equity.
Product mix expansion
Organizations expand their product mix either by:
Increasing product line length: By adding a product line.
Increasing product line depth: By introducing variations to an existing product.
To capitalize on a gap in the market, organizations either innovate a product or acquire a brand. In addition to innovating new products Procter & Gamble has spent over $59.90B towards 21 acquisitions, like Gillette, Ambi Pur, Tampax, etc.
Product mix contraction
Not always things go as planned. To regain balance, organizations have to take the difficult decision to eliminate brands from the product mix under two circumstances:
If the products are not performing well or
If the manufacturing cost is too high and it is not feasible to increase the price.
P&G has phased out nearly 30 brands and divested about 50 products as they performed below expectations. They exited the prescription drug, food, and pet category completely.
How MetricsCart Price Monitoring and Assortment Analytics Help Brands Optimize Product Mix Pricing?
Unlike physical stores, e-commerce sites have infinite shelf space. Devising the right pricing for an assortment can be one of the strategies that help brands to stand out from the competition. Here are some of the services MetricsCart, as a digital shelf analytic provider offers:
Track Real-time and Historical Prices: Have a customized pricing dashboard. This will help to monitor the historical and real-time performance of every product in the product mix of a company.
Understand Competitor Pricing: Collect competitors' price movements in real time. Track their promotional offers, product stockouts, and price changes to make informed decisions to push your products at the right price at ideal locations.
Review Product Mix: Through our product assortment analytics, identify overcrowded product categories and eliminate them if required. Spot under-represented categories and launch products with features that meet newer customer needs.
Analyze Product Category: This analysis will help you understand the competition within your product category, focus on the products that have the potential to grow, and set optimal prices according to the target customer group and their demand.
Monitor MAP violators: Identify MAP violators who sell products at unreasonably low prices damaging the brand image.
Contact MetricsCart today for systematic digital shelf analytics. We gather publicly available data on pricing, best seller ranking positions, customer ratings and review analysis, and more. With the insights we provide, you can boost your marketing, and product mix pricing, and thereby improve the profitability of your business.