In 1995, Amazon was the first e-commerce site to allow consumers to post reviews. Back then, critics felt the marketing strategy of posting reviews in public will turn against Amazon. Today, there are more than 20 million e-commerce sites in the world, and almost all include customer reviews and ratings on their product pages. In this article, we look at the top 6 benefits MetricsCart offers brands by tracking reviews and ratings on the digital shelf.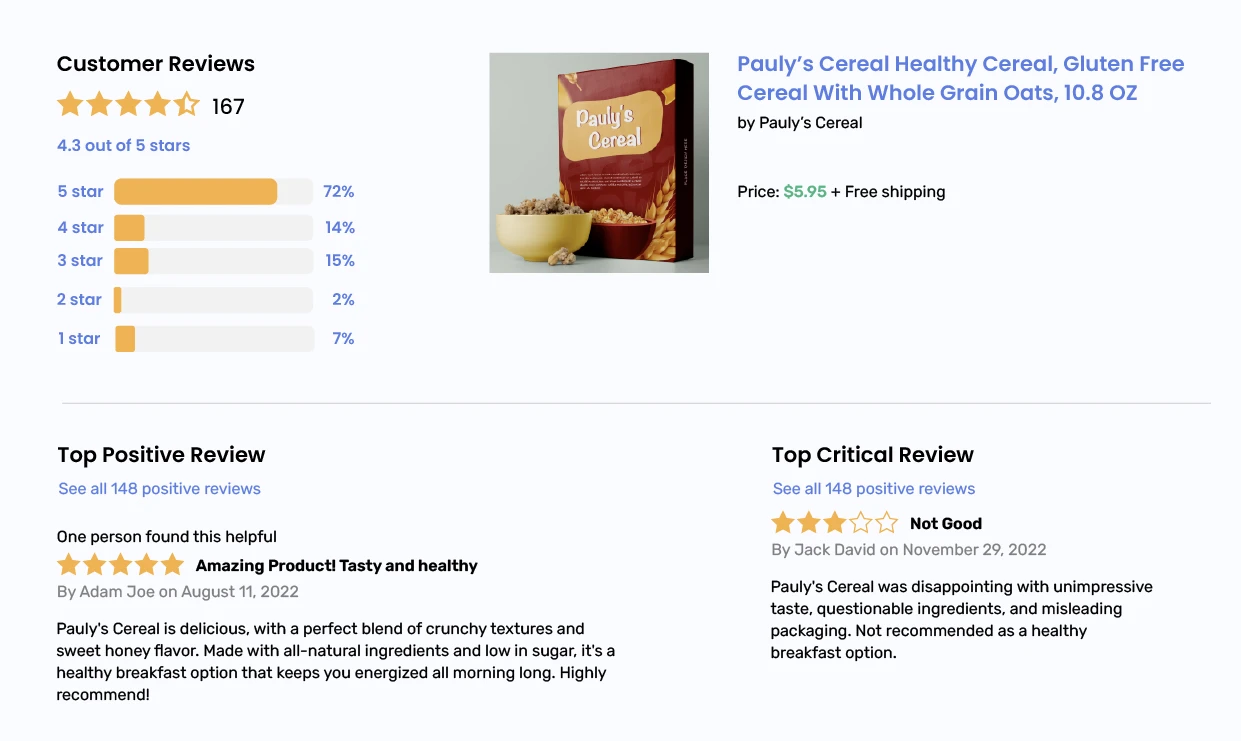 Measuring customer reviews and ratings online gives you an accurate picture of consumers' perceptions of your brand.
Why is it Important to Measure Product Reviews and Ratings?
A good rating plays a crucial role in enhancing click-through rates as many online shoppers click on a product based on the higher number of stars. An industry survey points out that not just online consumers but 57% of offline shoppers read online reviews when purchasing in stores. Good reviews and ratings can help confused shoppers to come to a decision. By reading reviews written by customers, prospects get more clarity about the pros and cons listed by people who have already purchased the products.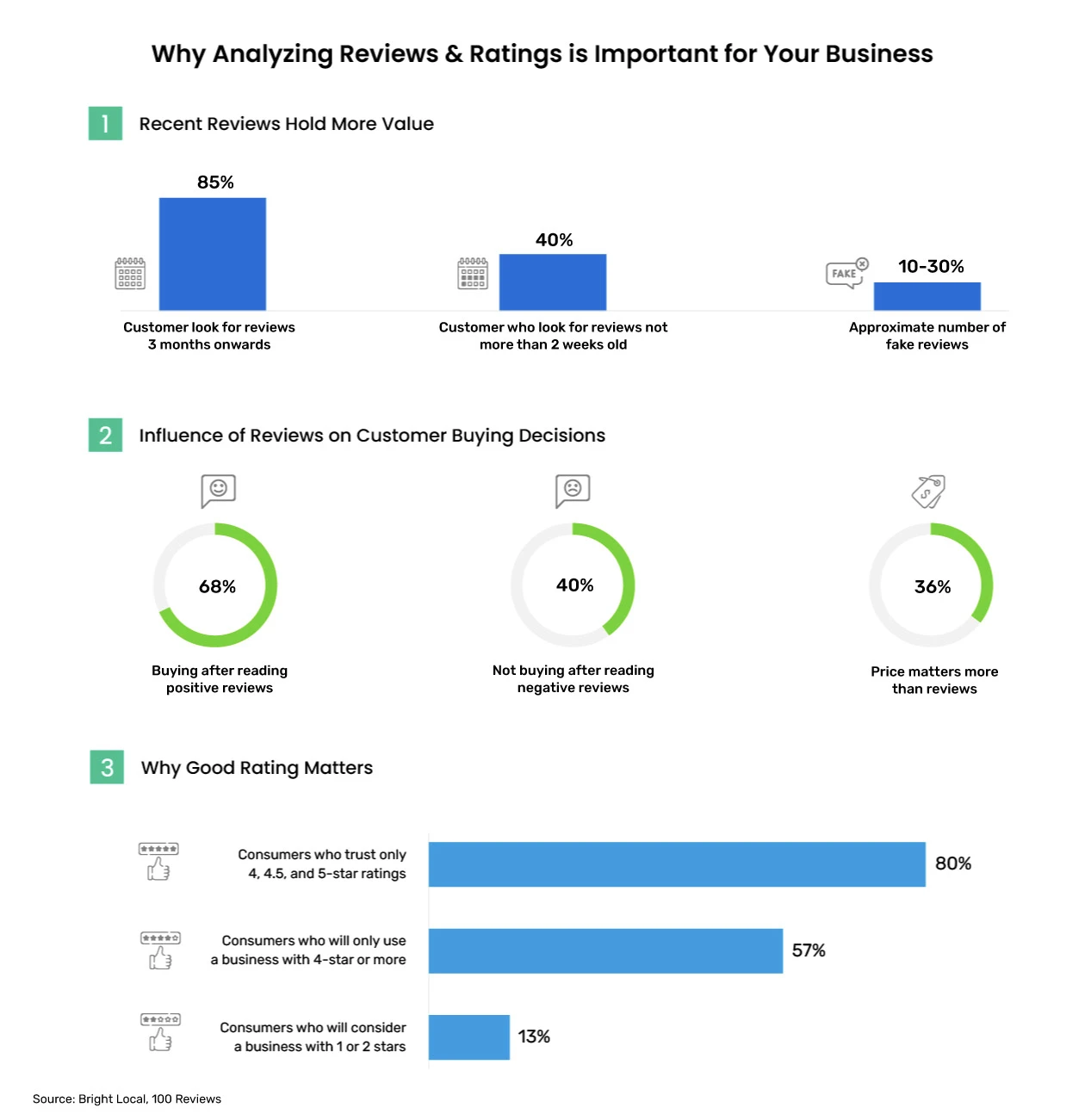 Businesses that regularly receive customer reviews experience a significant increase in organic traffic to their page. This could be one of the reasons that lead to higher sales conversion. A university survey found that there is a 270% better chance of a product being purchased with five reviews than one with no reviews.
One of the metrics that attribute to the success of a product on an e-commerce site is reviews and ratings. A product that receives high ratings and a good number of reviews sees an increase in organic traffic. It gets better click-through rates as well as enjoys more conversion in sales. Such a brand stands a better chance to gain visibility and earn a bestseller badge in its category on e-commerce sites like Amazon.
Advantages of MetricsCart's Review and Rating Analysis
Digital shelf reviews and ratings are quantifiable. A customer's buying decision is based on various aspects of the review such as – the star ratings, the number of reviews, the price of the item, positive or negative reviews, and if the reviewers are verified or unverified.
When your products are listed on many marketplaces, it is not easy for a brand's internal team to track all the customer reviews manually. In such cases, an advanced digital shelf analytics software like MetricsCart can delve into the reviews of each SKU of your product range and save time. Our detailed dashboard can help you understand how users perceive your brand. Here is a peek into how our Ratings and Review Analysis can help brands to make informed decisions:
Measure Aspect Occurrence in Reviews
Depending on the type of product or service, the aspects vary. A market research survey found 90% of marketers consider aspects of reviews important in determining local pack rankings, i.e. top 3 results displayed on the results page.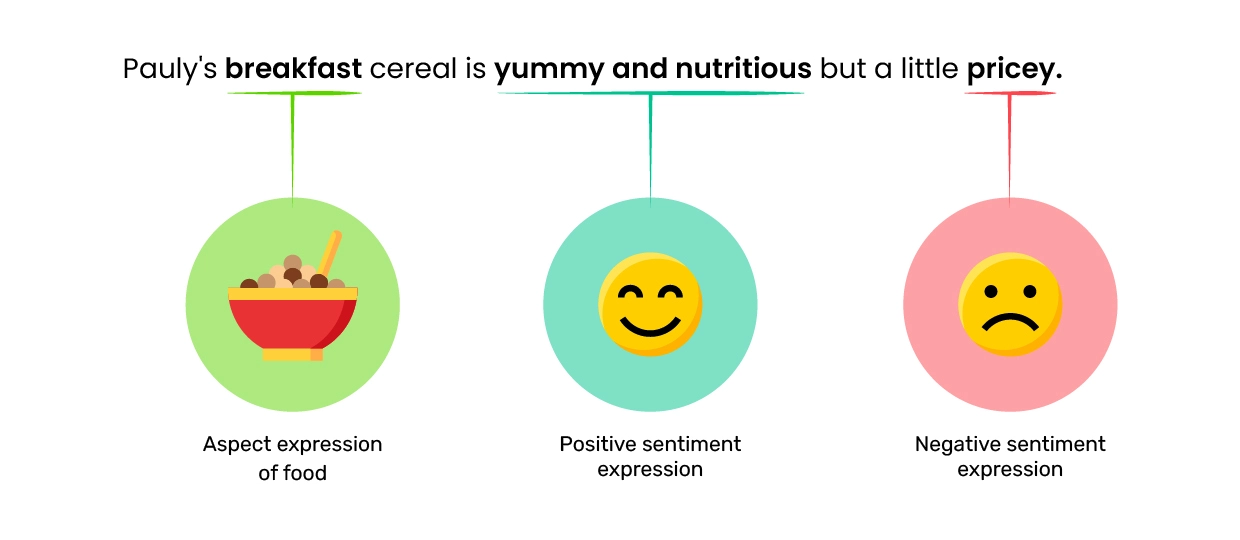 Getting all the elements or aspects on one page can help understand what customers value in your product.
Unveil Customer Perceptions With Sentiment Analysis
According to a survey done by Inc., 91% of shoppers buy online after reading reviews, and 84% of them trust reviews as much as they would a personal recommendation. Honest consumer sentiments expressed in product reviews establish authenticity and trust among fellow shoppers. Sentiment analysis is a reliable method to assess your brand reputation and understand your customer's emotional tone and opinions.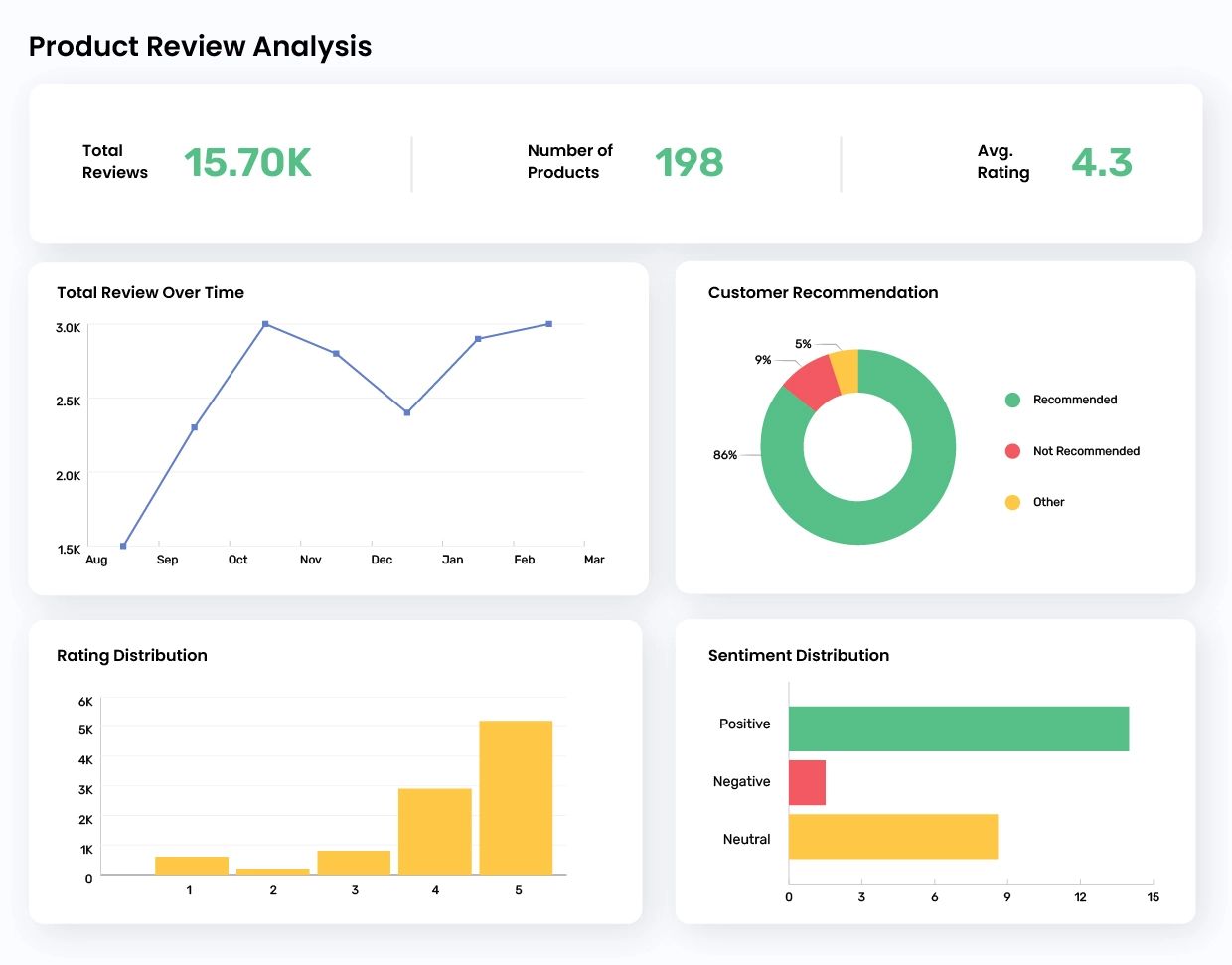 MetricsCart bifurcates the reviews as positive, negative, and neutral. We identify a trend using sentiment analysis when frequent complaints are sighted in customer feedback. This will help solve the complaints and avoid the repetition of these issues in the future. Sentiment analysis aligns brand features with the aspiration of customers and works toward improving the overall product experience.
Analyze Negative Reviews to Identify Actionable Insights
Negative reviews are as important as positive ones. To extend a good customer experience, it is vital to address the service or delivery issues faced by individual customers immediately. On e-commerce sites, there are cases when sellers face the issue of mass upvoting of negative reviews or downvoting of positive reviews. We give the total count of these votes for you to have a bigger picture of your brand in the marketplace. By regularly analyzing your review content, you can gauge sentiment and identify recurring issues early on.
Keep a Check on Review Bombs
One of the ways competitors try to tarnish a popular brand's reputation is by posting fake negative reviews. Usually, unverified users indulge in such activities. Some competitors may hire upvoting services to upvote negative reviews to defame popular products. MetricsCart identifies verified and unverified reviews for you to act immediately.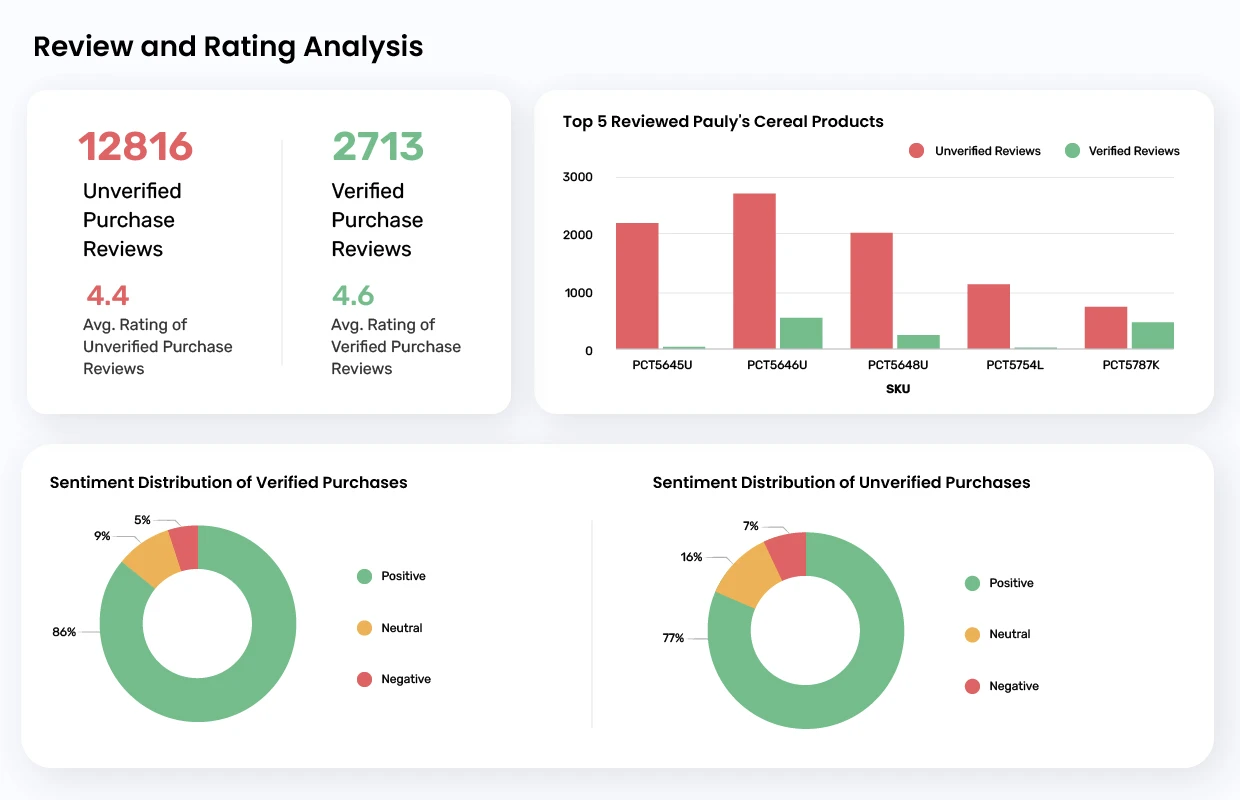 Turnaround Underperforming Products
Tracking customer reviews can give a varied perspective about your products. Our dashboard breaks down the data to dive deeper. This split is based on specific categories such as customer recommendations, total reviews over a time period, the average customer rating, and so on. These insights can be used as a guide to better product attributes. You can proactively address negative reviews to improve the brand image.
Moreover, we create elaborate word clouds to shed light on users' positive and negative perceptions of your brand. You can leverage user-generated positive keywords from the word cloud and include them in the product descriptions to resonate with customer needs better as well as improve the share of search of your product.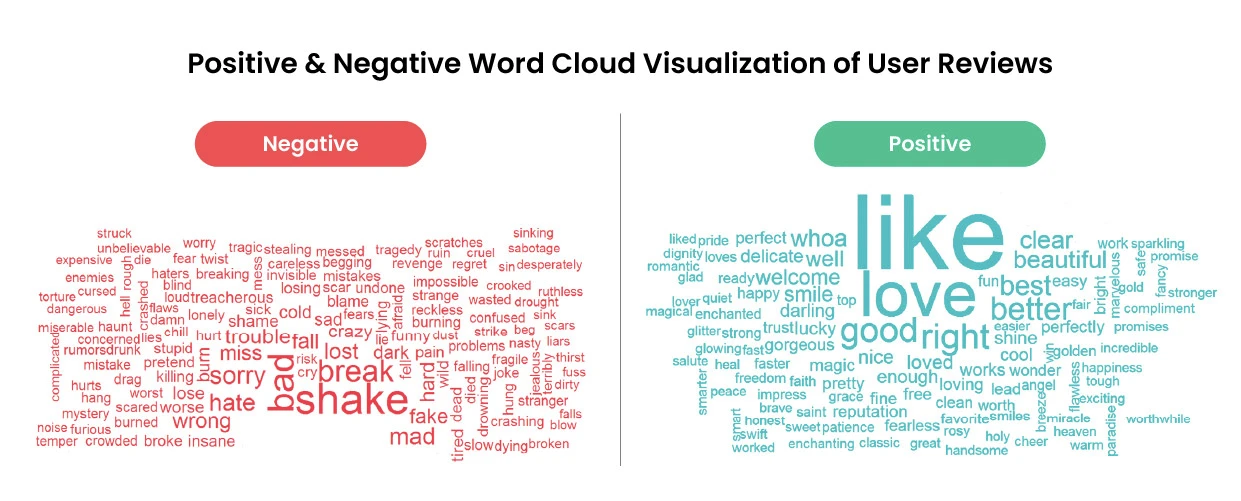 Benchmark Against Your Competitors
Gain visibility into the product performance of all competitor brands in your category. You can compare product ratings, customer sentiments, key themes, and prominent aspects that customers like or dislike about products in your category. Based on the customer needs analysis, bridge the product gaps in your brand and aim to achieve the full potential of your product. If required, you may alter your strategy to perform better in your category.
Key Takeaways on Tracking Product Reviews and Ratings on Shelf
These days, customer shopping decisions are based on reviews and ratings. Thus, this metric has gained extreme importance. Here are the key takeaways:
Featuring reviews is essential for every business today
You risk losing business if your product rating is poor
Track reviews and ratings and take actionable insights
Now that you know the top 6 benefits of tracking shelf online reviews and ratings, and their impact on buying decisions, get in touch with MetricsCart today. Besides monitoring reviews and ratings, we provide many more rich data-driven insights for your digital shelf.