The year 2021 witnessed a whopping spike in global retail e-commerce sales with the numbers reaching as high as 5.2 trillion USD. E-commerce has also become the number one driver of retail growth and by 2025, online sales are projected to make up nearly 24.5% of global chain retail sales, amounting to 7.4 trillion USD.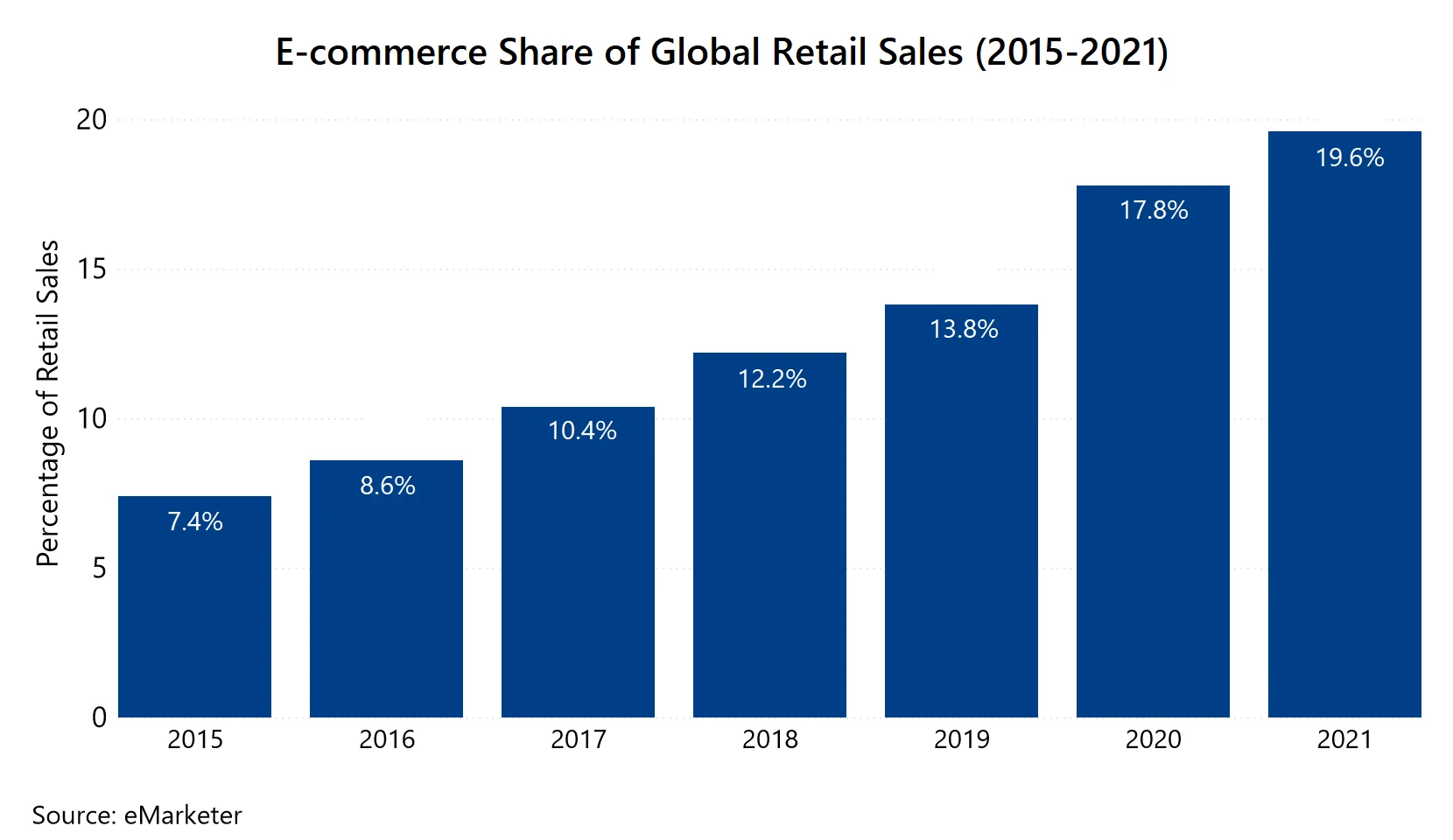 With over 12 million products sold on e-commerce platforms like Amazon, the digital shelf offers a level-playing field to everybody. Navigating the competition on these vast shelves is tricky and demands real-time, strategic decisions that optimize your business's performance.
Closely monitoring the digital shelf and tracking product performance has become more critical than ever. Digital shelf analytics offers features that can quickly and accurately track crucial product performance metrics. From managing inventory levels and assortment strategies to mapping product information at the right touchpoints and enhancing visibility, businesses can take care of everything.
On the other hand, accomplishing the same by accessing data-driven insights swiftly and making actionable business decisions through manual compilation can be inaccurate and highly challenging.
This article highlights everything business owners need to know about Digital shelf analytics. We explore the topics of a digital shelf, key metrics that can be measured using DSA, and much more.
What Does 'Digital Shelf' Mean?
The digital shelf is the online equivalent of how a customer shops in a brick-and-mortar store. It includes the entire online shopping experience, from product research and discovery to cart checkout.
The digital shelf includes any online touchpoint where consumers can find and buy products. So, analyzing product performance on the digital shelf is critical to online business owners.
What Makes a Product Attractive on the Digital Shelf?
In the digital domain, each brand's offerings stand against thousands of similar products. E-commerce brands must effectively communicate their products' value through detailed content pages in order to compete. Product search positioning is equally critical. It can be achieved by providing accurate information on:
Updated, competitive prices with information on discounts, applied offers, and promotions.
Complete product pages that contain everything a customer needs to know about the respective product.
Related products that show complementary products and ones from the same category.
Featured products that highlight the best sellers, new launches, etc.
Challenges of Manual Data Compilation
The dynamic nature of e-commerce marketplaces makes manual data compilation challenging and time-consuming. Brands need to invest in an effort-intensive task that requires them to:
Gather data by browsing through hundreds of product pages
Add the collected data to a spreadsheet
Perform competitor analysis for multiple products
What Is Digital Shelf Analytics?
The continuous process of examining and analyzing e-commerce data from the digital shelf makes up digital shelf analytics. The following are a few benefits of online retail analysis:
Improve product visibility by increasing its chances of appearing in the search results with relevant keyword usage.
Real-time tracking and monitoring for search rankings, pricing, markdowns, inventory, fulfillment options, content changes, etc.
Alerts brands when a respective product's content, rank, price, or other essential attributes change.
Product and assortment analysis to assist in developing new products, categories, and markets
Monitor and analyze ratings and reviews.
With advanced digital shelf analytics platforms like MetricsCart, brands can draw real-time digital shelf insights, take timely action, and race ahead of the competition.
Why Is Digital Shelf Analytics Inevitable for Successful E-commerce?
Recent Statista surveys show that over six billion out of 7.96 billion people in the world use smartphones. Interestingly, the number of digital buyers stands at 2.14 billion (2021), which means that more than one of every four people shops online. Clearly, digital has become the new norm for consumers.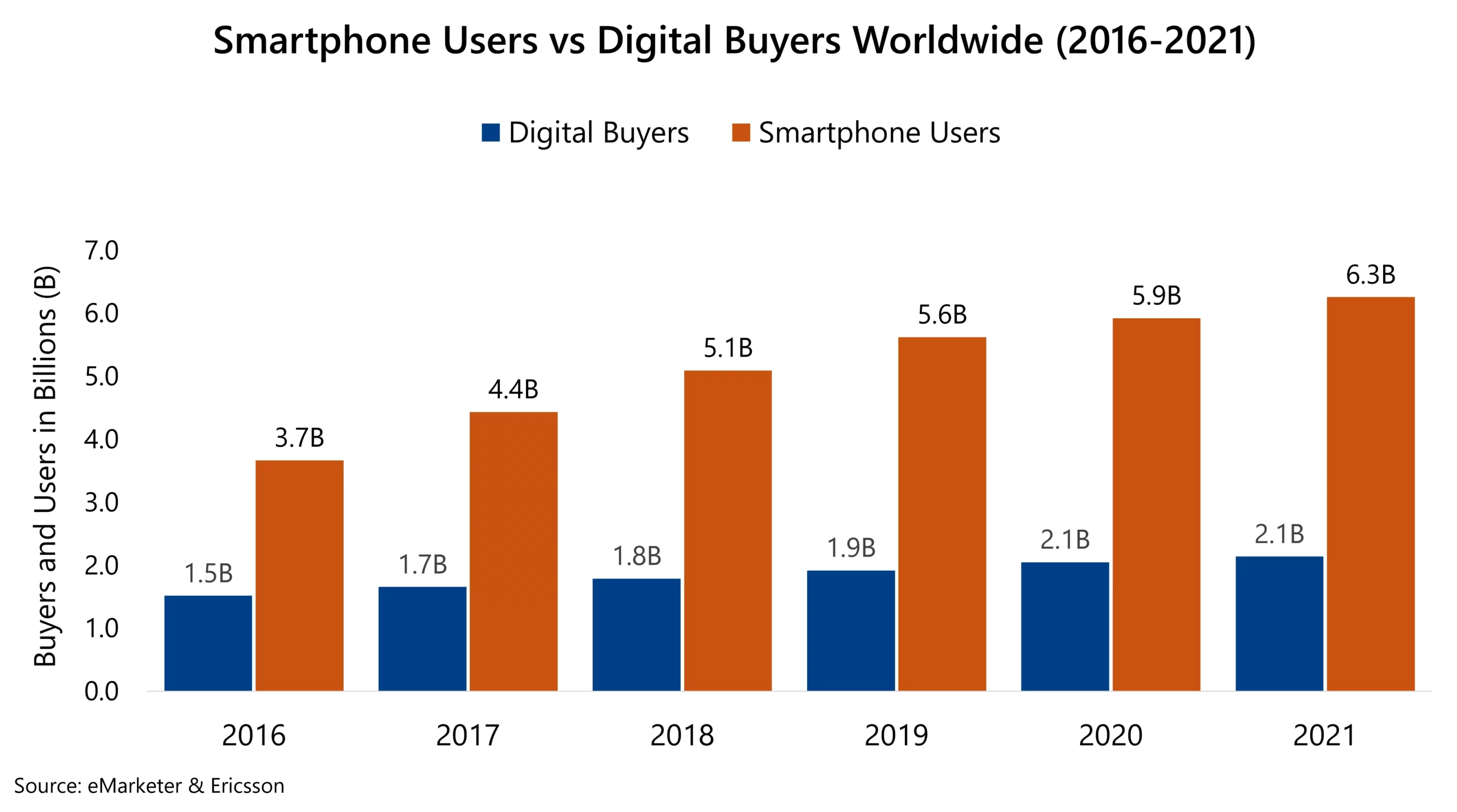 As understood from the graph above, the number of smartphone users worldwide has drastically increased in the last five years and is projected to cross the seven billion mark by 2025. This unprecedented global digital transformation has changed the ways and means of succeeding in the e-commerce industry. Given how these numbers are set to rise in the coming years rapidly, e-commerce brands need to be agile to win the digital shelf.
Benefits of Using Digital Shelf Analytics
1. Enhances customers' online shopping experience
E-commerce makes it easy for customers as they do not need to walk into other stores or put in extra effort to get information. From ratings and reviews to prices and product images, everything is one-click-away.
Fully updated, detailed product catalogs are a must in making sales. They also build trust and credibility in a brand. Digital shelf analytic platforms enable businesses to track inconsistencies in product pages and flag them immediately.
2. Saves time
The most significant advantage of using a Digital shelf analytics software is its high-volume scale and reliability, while manual data collection is slow and prone to human error.
3. Keep track of your brand's digital performance
Digital shelf analytics helps in improving analytical accuracy. With updated, real-time data, e-commerce businesses can:
Track and promote product's online performance
Drive higher conversion rates
Improve product discoverability
Take the right decisions and implement business strategies
What Can You Measure Using Digital Shelf Analytics?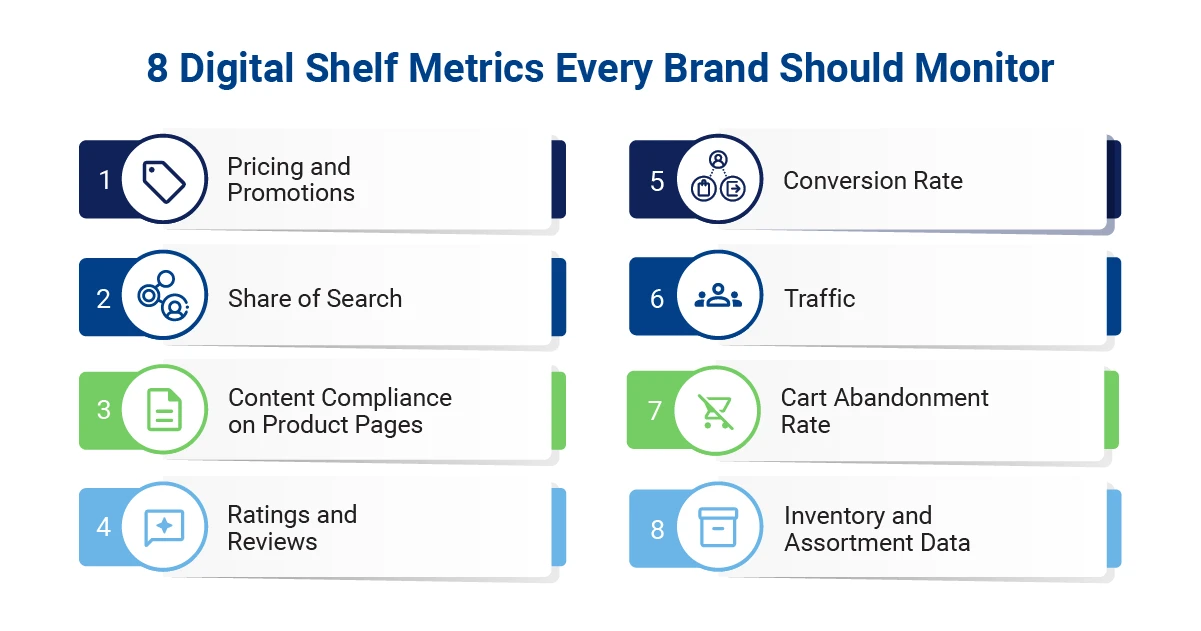 1. Pricing and promotions
Real-time updates on competitors' product prices, top-performing ad campaigns, etc., are essential components of competitor intelligence. Studies have shown that minor price variations can make or break business profit margins by about 20-50%. A competitive pricing strategy will help win customers and market share and gain an edge over other brands.
Also read: Prestige Pricing: 10 Examples of Brands Scaling Their Pricing Strategy
2. Share of search
Studies show that 51% of the traffic on B2B and B2C sites is driven by organic search. In comparison, paid search only brings in 10% of the traffic.
Share of search is an effective way to monitor brand health and market share. It is simply the ratio of organic searches a brand has received and the number of searches made for every brand in its industry.
Besides, organic ranking for the keywords searched by the respective brand's target audience, SEO (Search Engine Optimization) performance, etc, can be measured. Enhancing a brand's online visibility can attract highly qualified prospects and provide a competitive advantage.
Read more: A complete guide on Share of Search
3. Content compliance on product pages
Studies show that nearly 81% of consumers carry out online research before purchasing. Accurate, up-to-date information and images on product detail pages are determining factors for achieving sales on e-commerce sites.
Product descriptions should have plenty of quality images and specifications and must answer any questions the consumer might have. Besides helping shoppers with their research, this also instills confidence and trust in the brand.
Read more: Why does content audit for product detail pages matter?
4. Ratings and Reviews
These are crucial in helping a brand discover what customers like about its products and services. Research indicates that an average customer spends 31% more on a business with good reviews. Thus, a wealth of information about products and services will enhance brand recognition. This is because most people read and trust these reviews as personal recommendations.
5. Conversion rate
The conversion rate is the number of people who see a brand's products vs. those who purchase. This rate can vary depending on several factors and is essential to track. Conversion rate optimization is integral to crafting an e-commerce strategy as it lets brands pave the way for upping the number of customers that convert.
6. Traffic
Traffic simply refers to the number of visitors arriving on a brand's product pages. Quality traffic is the prerequisite for high conversions and speaks a lot about sales. In addition, having an in-depth understanding of traffic that your brand receives can also help in reducing the bounce rate.
7. Cart abandonment rate
The cart abandonment rate represents the percentage of digital shopping carts customers abandon before checking out. Studies show that merchandise worth four trillion USD is expected to be abandoned by digital shoppers in 2023.
Customers can abandon carts for various reasons, such as complicated checkout processes, slow delivery, etc. So, businesses need to track this metric as it helps zero down on the potential factors that block conversions.
8. Inventory and assortment data
Research shows that one-third of businesses miss shipment deadlines because they have sold items that were not in stock. Gaps in product catalogs can lead to significant losses in terms of sales and prospects. Identifying such gaps and taking the proper steps ahead of time will determine the success of online businesses. With MetricsCart, brands can get real-time stock updates that help in optimizing marketing campaigns.
In addition, businesses can also track other minute details like the number of sellers per marketplace and much more. To sum up, Digital shelf analytics lets a brand complete its product's digital picture by making it easily findable, tracking unwanted errors in content, and enhancing the overall shopping experience.
Track products' digital performance with advanced Digital shelf analytics solutions like MetricsCart in a tap and make your e-commerce business foolproof. You can access location-based inventory updates, real-time price changes, search rankings, quick alerts on MAP enforcement violations, and much more. Get in touch with our experts now!