For brands and retailers, planning ahead for the launch of new season clothing or footwear is crucial as shoppers start searching online for items well before the season begins.
In 2022, the e-commerce sales of the fashion industry accounted for 21.4% of total online retail sales in the US. Overall, the fashion industry grew by 8.3% in 2022, while in the previous year, it went up to 18.4%. It was the fastest growth rate in the fashion industry between 2019 and 2023.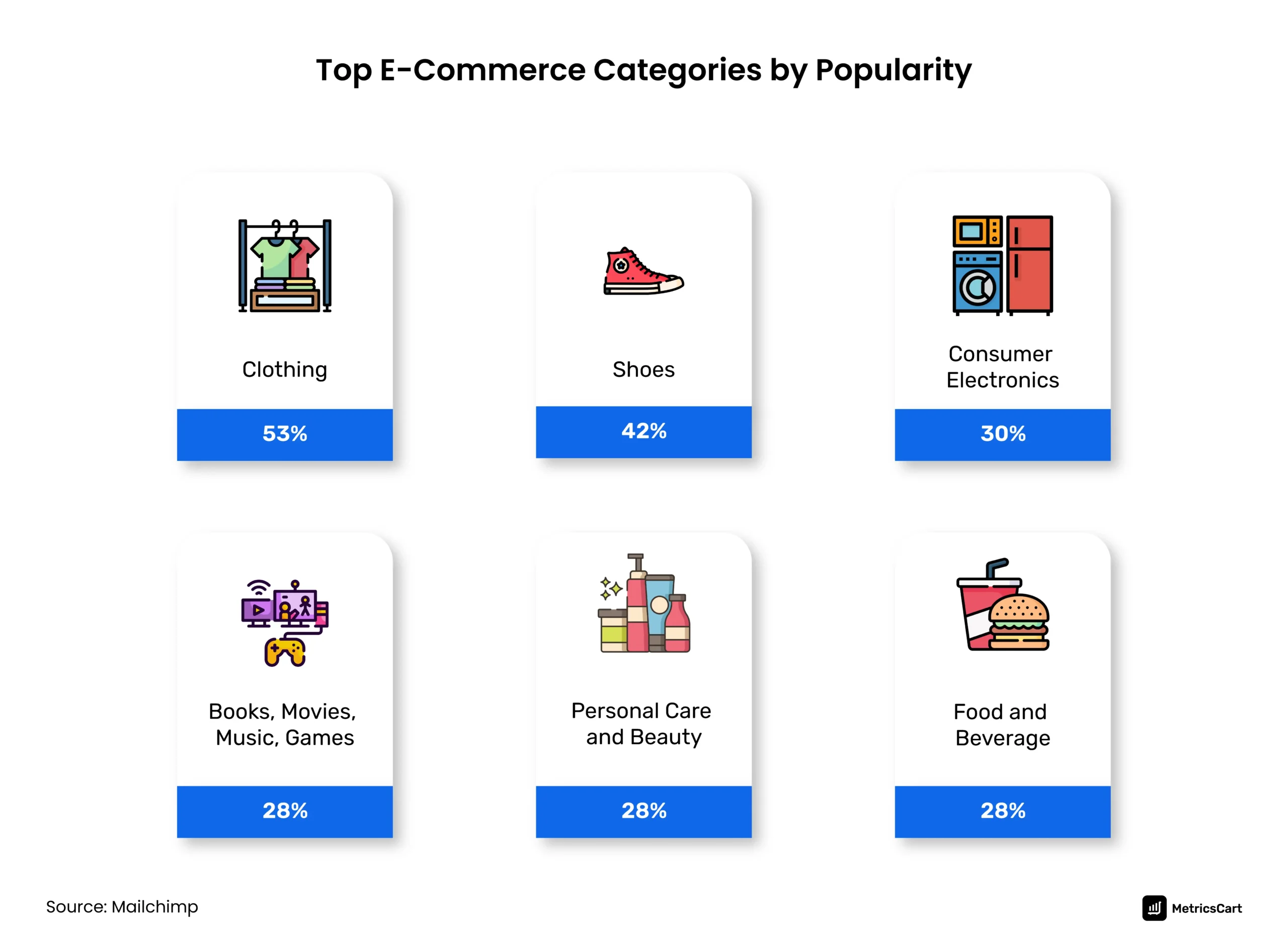 Going by popularity, with the boom of online shopping during the pandemic, e-commerce clothing and shoe segments became the most preferred. The article examines the factors shaping fashion e-commerce, tech advancements, and beyond.
5 Factors Shaping the Fashion E-Commerce Industry with Examples
As the online apparel and footwear market continues to grow, brands and retailers innovate to offer interactive experiences. Let's look at some of the prominent factors shaping the online fashion segment.
Seasonality of Fashion
Typically, the fashion calendar has four seasons. Retailers turn to various discount strategies to attract new customers and clear out seasonal inventory. End-of-season sales, holiday sales, and mid-season sales are some of them.
As shoppers start searching for items for the next season even before the season kickstarts, brands and retailers need to plan ahead for the launch of new season clothing or footwear. In contrast to traditional season cycles, fast fashion retailers introduce new items every two weeks in the market. Shein, Revolve, and Rowme are some of the popular fast fashion brands.
Also rising in popularity is seasonless fashion. Shoppers who spend time in temperature-controlled environments in the AC and heater have reduced the need to shop all seasons.
Rising Prices in the Fashion Industry
As per the BoF-McKinsey State of Fashion 2023 report, inflation, geopolitical instability, and supply chain disruptions are some of the prime challenges facing the fashion industry. Prices have been on the rise in certain fashion categories.
The U.S. Bureau of Labor Statistics (BLS) reports monthly consumer price indices (CPI). It measures the change in prices paid by consumers for goods and services. CPI for apparel, in particular, rose to 5% in a 12-month percentage change as seen in the chart below.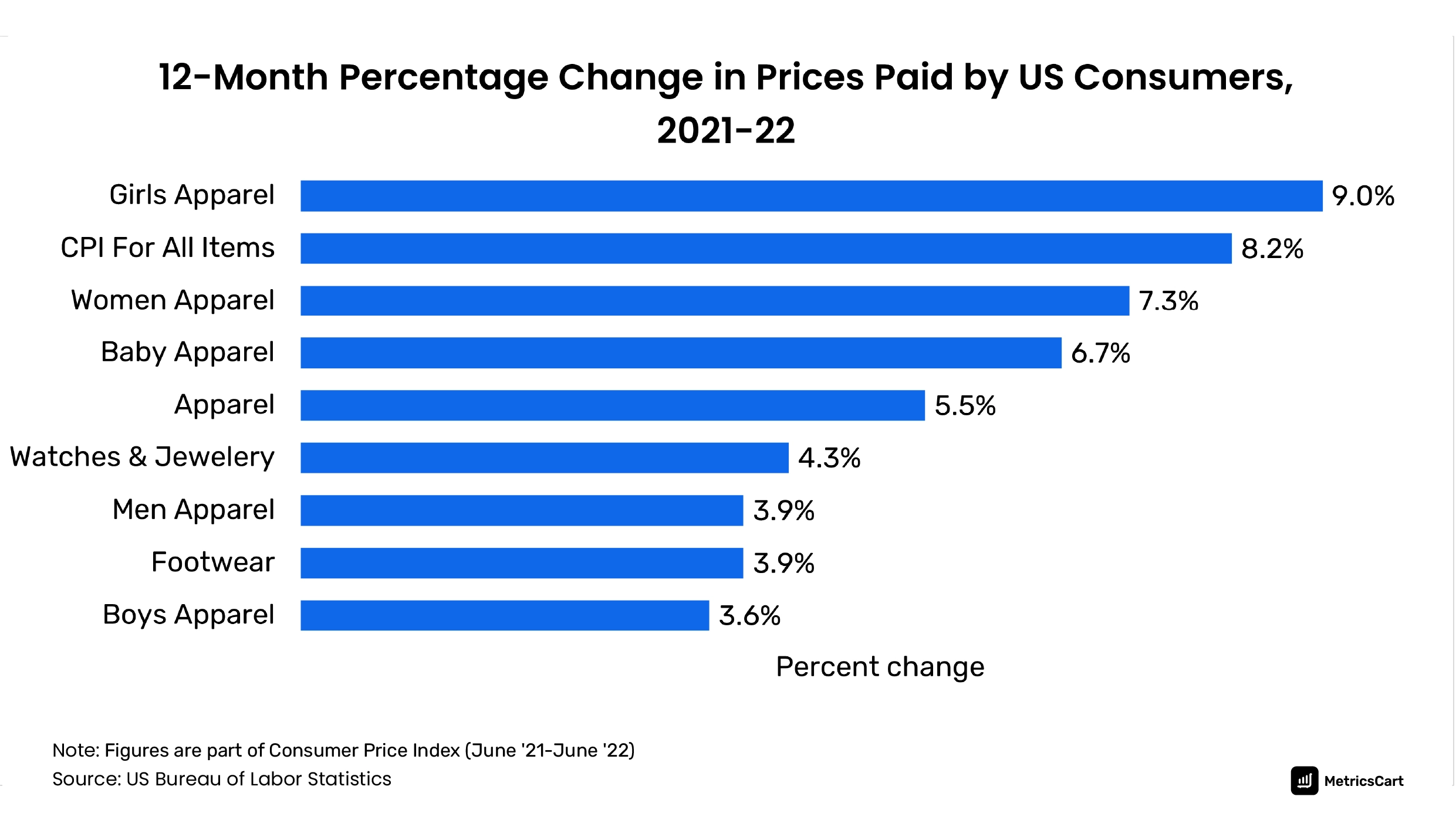 A keener look at men's and women's apparel shows that prices paid for certain items such as suits, outerwear, and separates picked up.
Moreover, about 74% of US consumers have been switching to lower-priced brands and items across generations and income groups. Sales of clothing, footwear, and accessories were up slightly in the first quarter of 2023 compared to 2022. These retailers raised prices more aggressively than other categories of the economy this year, according to the US Bureau of Labor Statistics.
Digitally Native Fashion Payments
COVID-19 made digitization of fashion a necessity. The 2022 Global Payment Report by Worldpay shows that payments on e-commerce channels through cards and wallets have shot up to 30% each.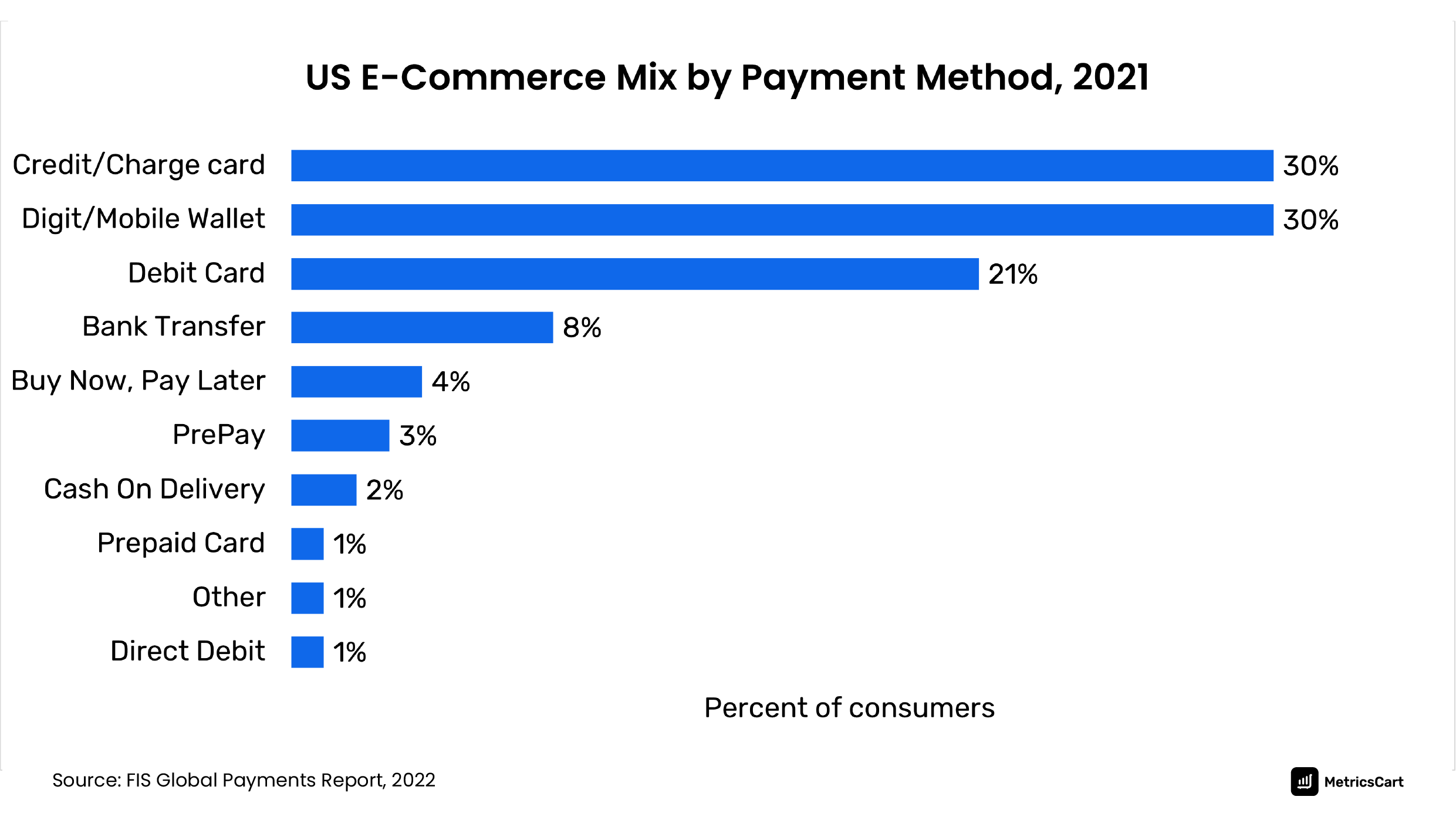 Online fashion consumers are driving broader payment trends for e-commerce, one of which is digital wallets. According to WorldPay's recent report on digital payments, half of fashion e-commerce consumers use digital wallets, with Gen Z and millennials leading the way. Cashierless stores, contactless payments, secure payments, and social commerce are some of the digital modes that e-commerce fashion shoppers use.
An instance is when David's Bridal, a US-based retailer, specializing in wedding dresses, prom gowns, and other formal wear partnered with Popwallet, a mobile wallet marketing platform, to better promote its brand among online shoppers.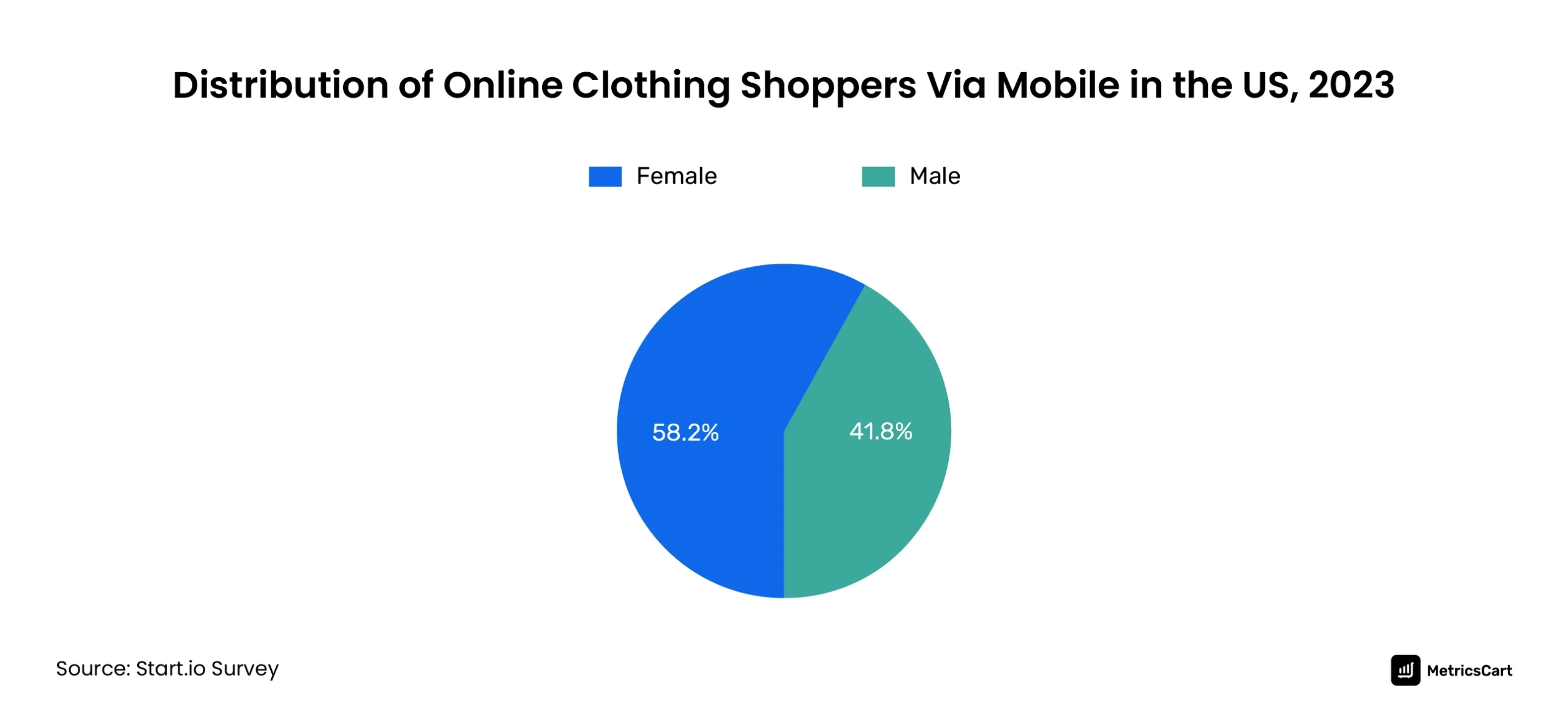 Most of the brands are integrating their payment methods with mobile commerce or M-commerce architecture. As of March 2023, about 58.2% of the shoppers via mobile for apparel are women.
Sustainability is Peaking
Previously in the article, we discussed some of the challenges of the e-commerce fashion industry. In contrast, one of the biggest opportunities of the industry lies in sustainability. Moreover, virtual showrooms have reduced the amount of samples produced.
American Eagle, a multi-brand specialty retailer, makes Real Good Jeans with sustainability in mind. The retailer saves 12 gallons of water for every pair of jeans on average. Proclaim, Svala, Miakoda, Katla, and 337 Brand are some of the other sustainable fashion brands in the US. These brands use recycled materials, organic cotton, and anti-waste manufacturing principles in clothing, footwear, and accessories.
Alternative Commerce Models at Play
The resale ecosystem is an emerging playground for the apparel and accessories industry. One of the many models is re-commerce or circular commerce. This involves reselling and renting products from fashion to automobiles.
What's more? 62% of Gen Z and Millennials look for a secondhand item before making a purchase. Some re-commerce models like Threadflip, 99dresses, and Poshmark act as third-party platforms to connect buyers and sellers, for which they charge a fee. While some online re-commerce sites acquire garments like ThredUp from sellers and resell them. This model is beneficial for customers who do not wish to waste time, money, and effort. For the brands, it enables expanded reach.
A great example of this is Urban Outfitters, a multi-brand clothing, recently launched its own platform for resale called Nuuly Thrift. While users can explore re-commerce items in the usual way, some physical stores are also integrated into the platform to offer a hybrid experience. Several other leading brands are also curating similar re-commerce models.
Additionally, alternate commerce models also include rentals and subscriptions. StitchFix, Menlo, Dia & Co., and Trendy Butler are some of the subscription clothing boxes in the apparel business.
Value dominates the purchasing behavior of most apparel customers according to Thredup's Resale Report 2023.
Segment-Wise Breakdown of the Fashion E-commerce Industry
Here's a compiled list of statistical data from the fashion e-commerce industry, including apparel, footwear, and accessories.
Apparel
Top Fashion Websites by Revenue
As per reports from ecommerceDB, SHEIN, Macy's, Walmart, GAP, Kohl's, Nordstrom, Stitch Fix, Target, and Victoria's Secret are the top online stores by revenue in the fashion segment.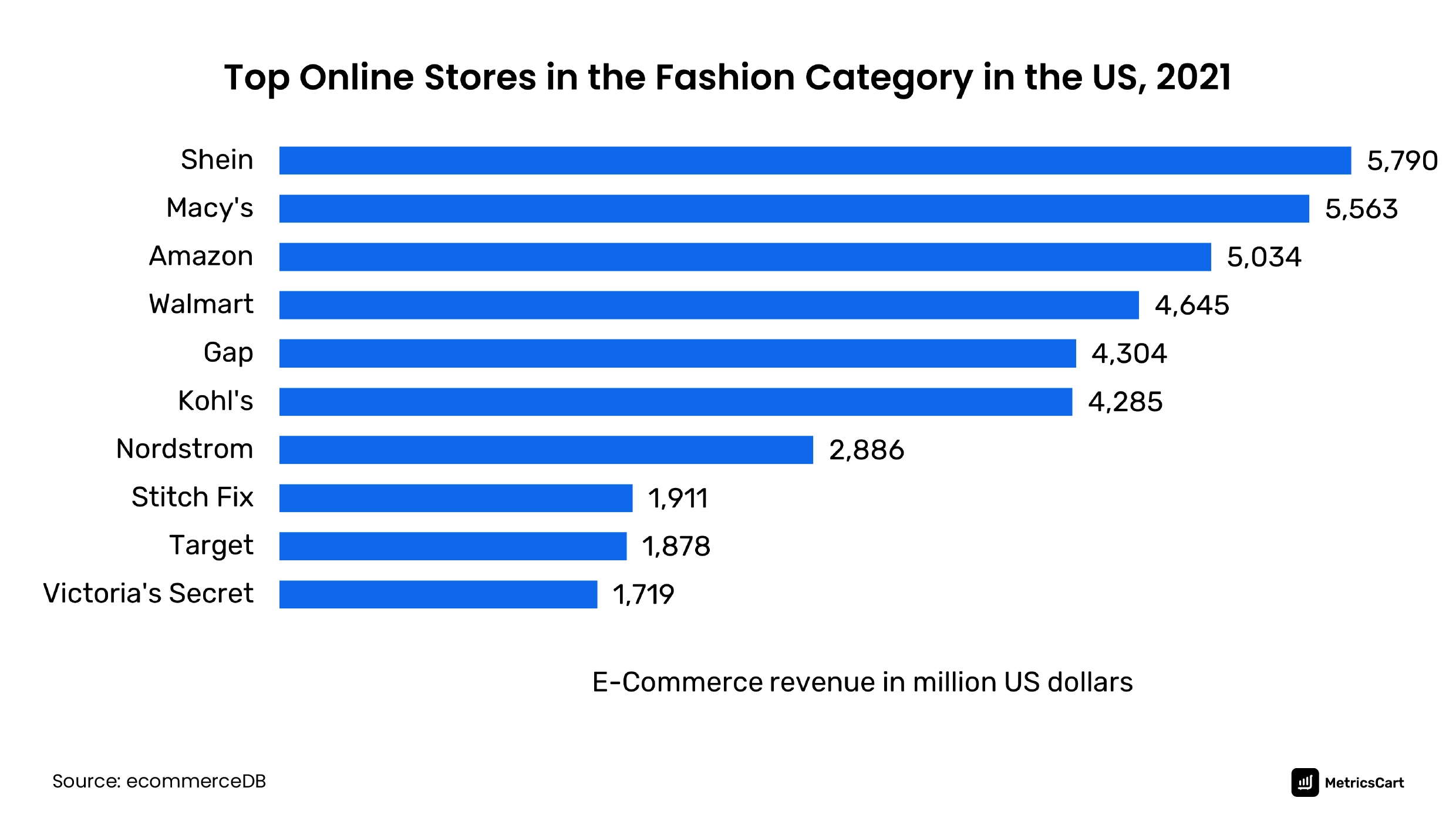 In the apparel category particularly, Macy's, SHEIN, GAP, Walmart, and Kohl's are the top five retailers.
Top Fashion Websites by App Downloads
In the US, Temu has broken the record of being the No. 1 most-downloaded shopping app. Temu has crossed 100 million active users in the US as of April 2023. The app made its entry into the US in September 2022.
The e-commerce app focuses on low-priced alternatives and offers flash sales, discount wheels, and consistent promotions like free shipping countdowns.
Most Popular Clothing and Footwear Brands
Based on popularity among US shoppers, Hanes, Levi's, Fruit of the Loom, Adidas, and Sketchers rank high.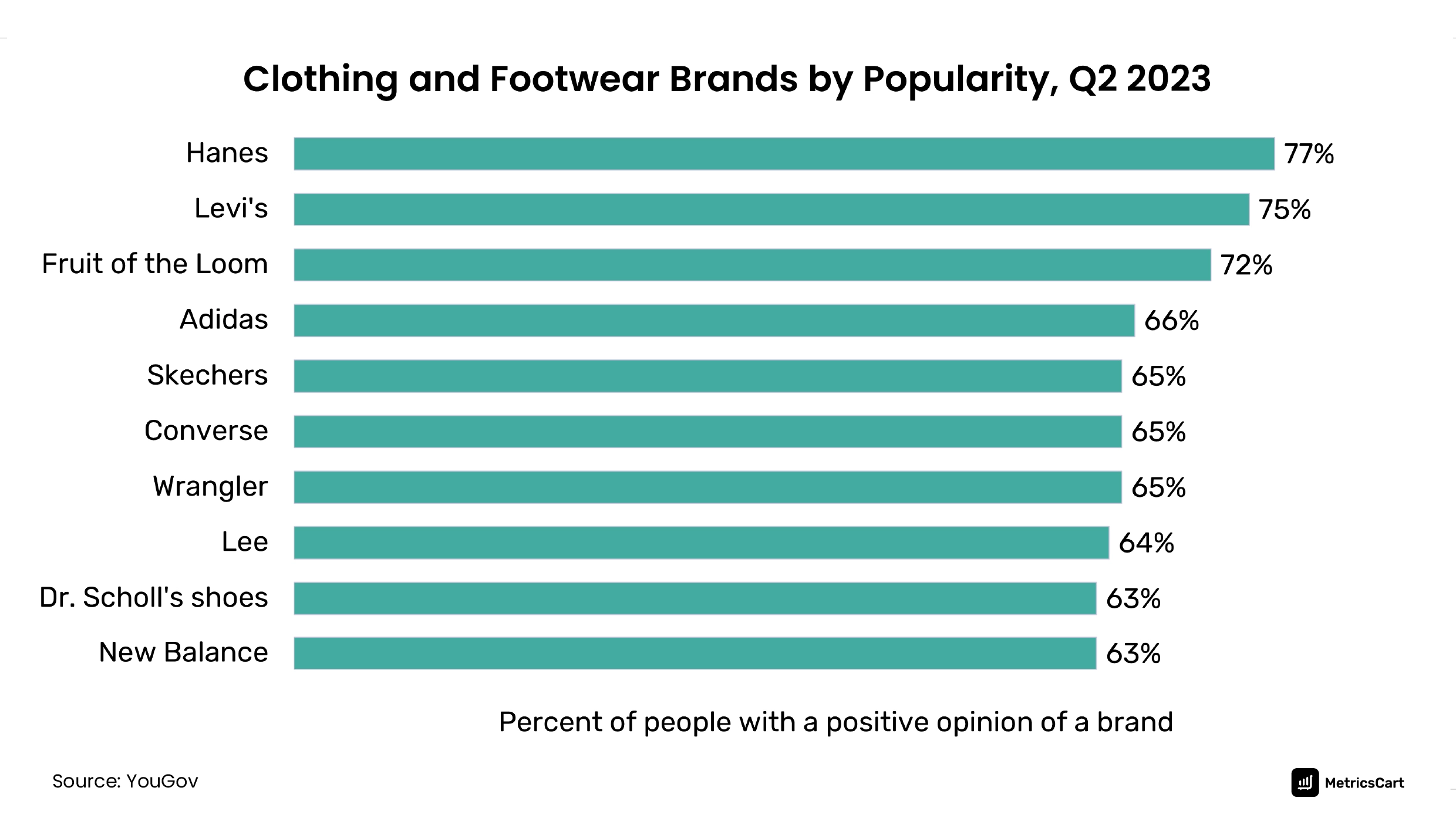 MetricsCart's Amazon Bestseller reports show that Hanes has 21 best-seller products under the Clothing, Shoes, and Jewelry category for the month of May 2023.
Footwear
PowerReviews' State of Apparel & Footwear Shopping in 2022 survey found that 74% of all footwear spending occurs online. More than two-thirds of online footwear shoppers seek user-generated photos and videos regularly or every time they shop.
Amazon, Walmart, and DSW are a few of the online stores shoppers choose to shop for their footwear. The sports leisure category experienced the highest sales in 2022. With the return to work, events, and the boom of other activities, formal footwear was the other biggest driver of growth.
Jewelry
In 2022, 35.3% of the market revenue for jewelry came from online retailing. Fluctuations in gold, silver, and precious stones prices were one of the reasons for market growth.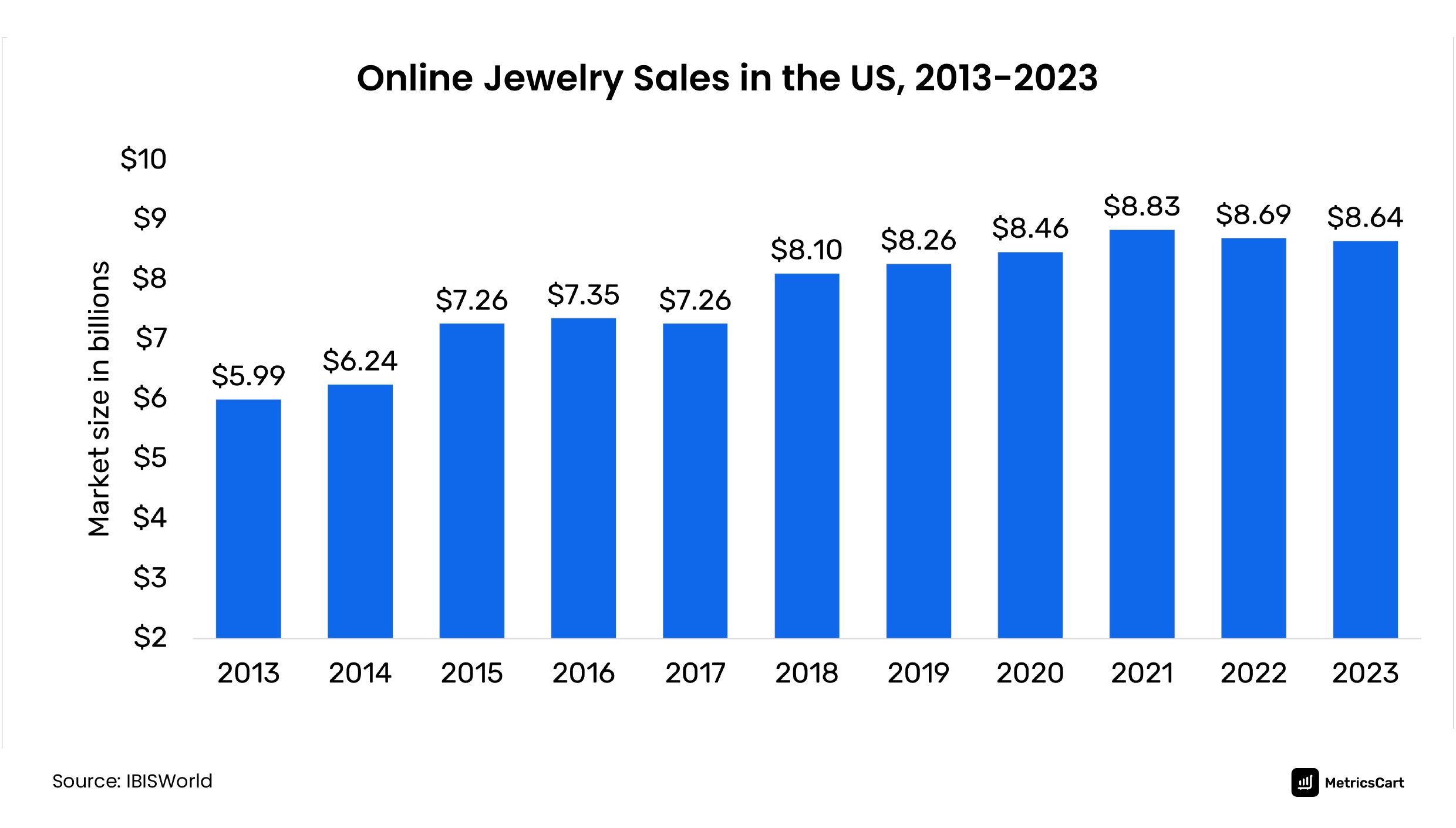 Similar web rates Brilliant Earth, Jomashop, Kay, Zales, and Pandora as the most-visited e-commerce sites for jewelry shopping in the US.
Accessories
Watches and jewelry account for 72% of the US accessories market in 2022.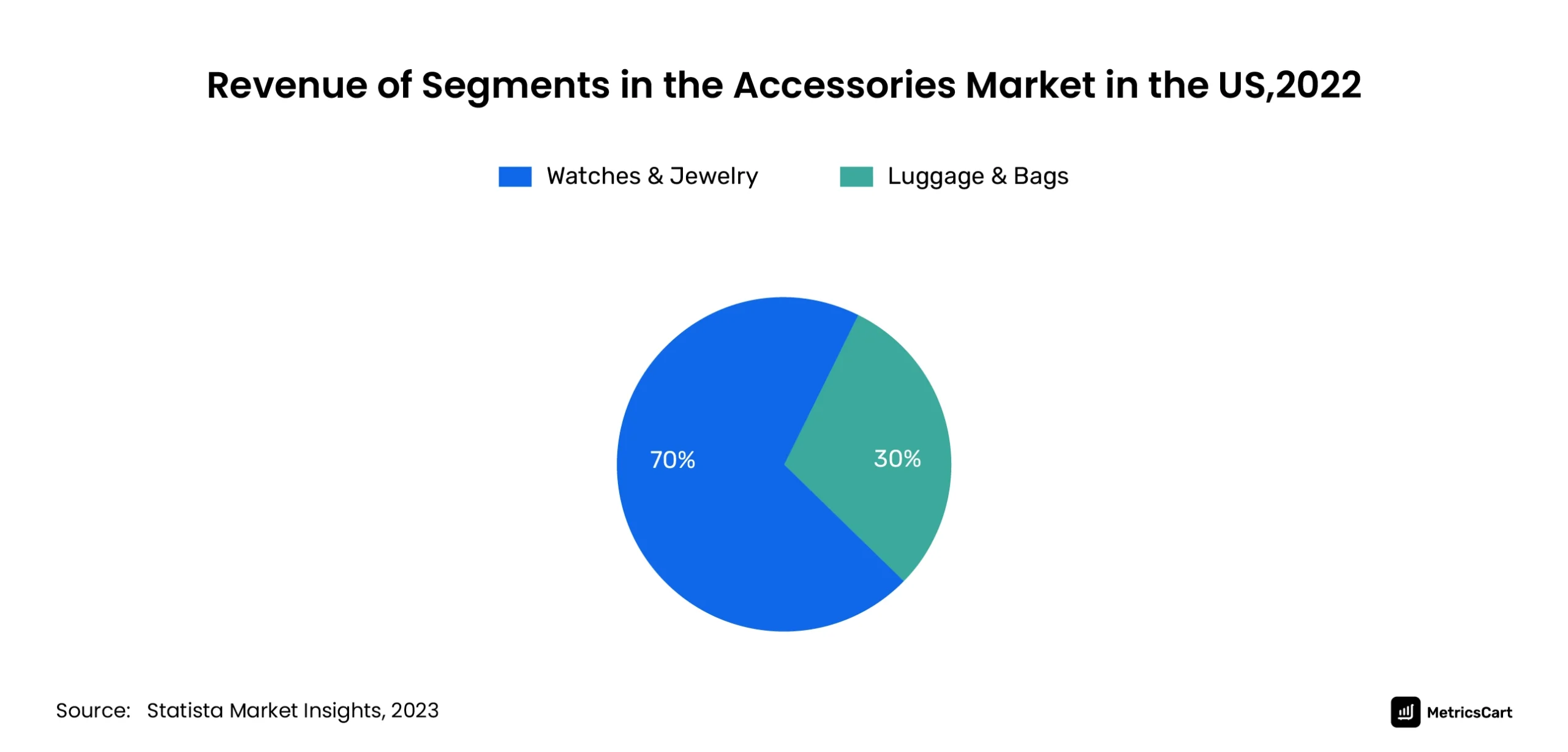 Rolex, Apple, Fossil, Cartier, and Citizen are some of the top-selling watches with sales of over $1 billion.
Luxury Fashion
During the pandemic, the demand for luxury goods dropped drastically. In 2021, luxury fashion was propelled by:
Higher-income groups who were relatively unaffected financially by the pandemic
Shoppers who switched spending from travel and entertainment to fashion and accessories
Mid-income consumers who saved up during the pandemic and were looking to indulge themselves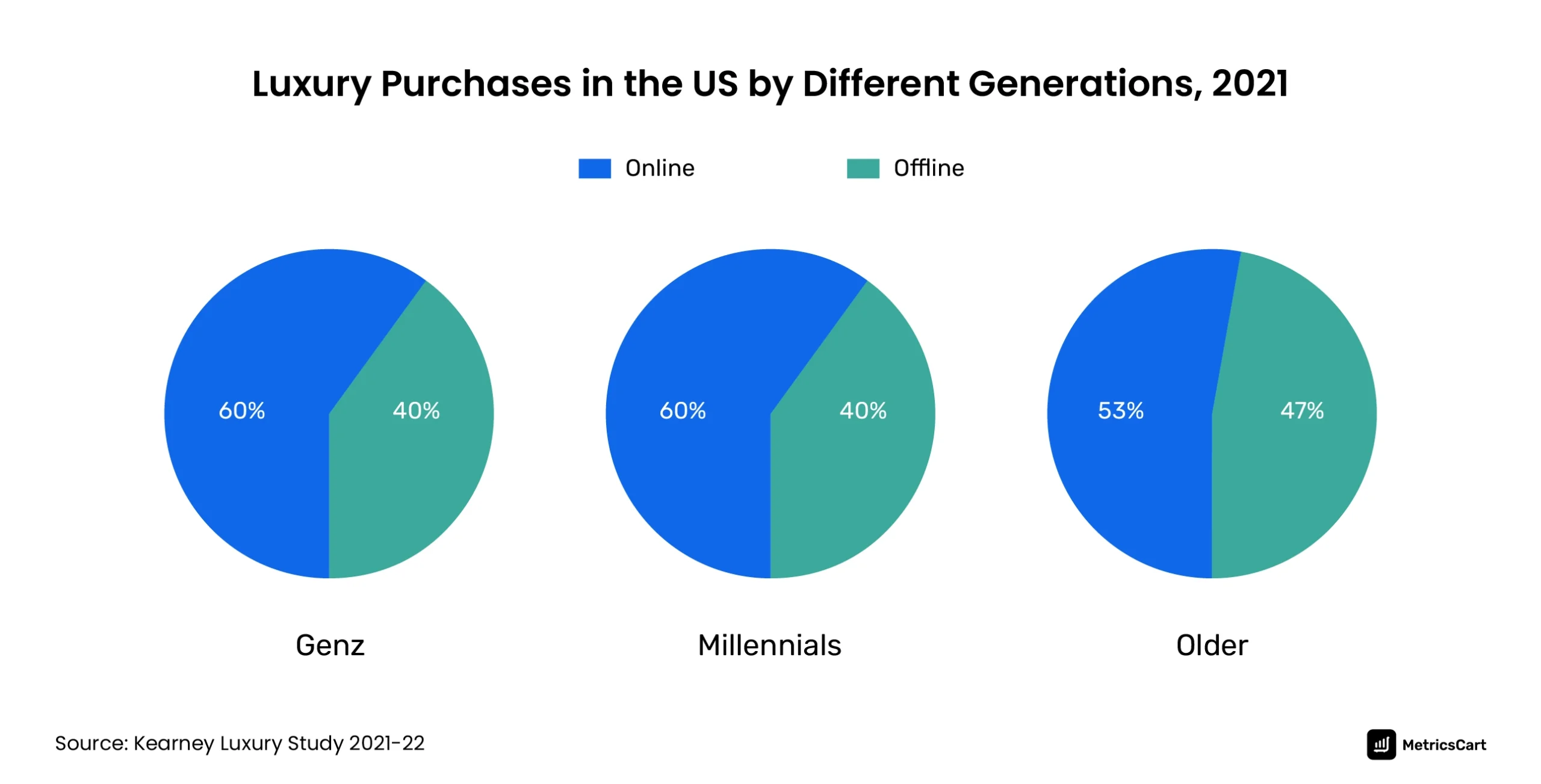 Among different generations, online spending by Gen Z and millennials went up to 60%. Gen Z, in particular, is known for their impulse purchases which are mostly driven by social media.
Also read: Prestige Pricing in Luxury Fashion
Customer Motivation for Shoppers in the Fashion Segment
THREDup's Resale Report 2023 shows value as the prime driver influencing the purchasing behavior of most customers across the apparel category. In 2022, 67% of US consumers tried a new clothing brand citing value as the reason for switching.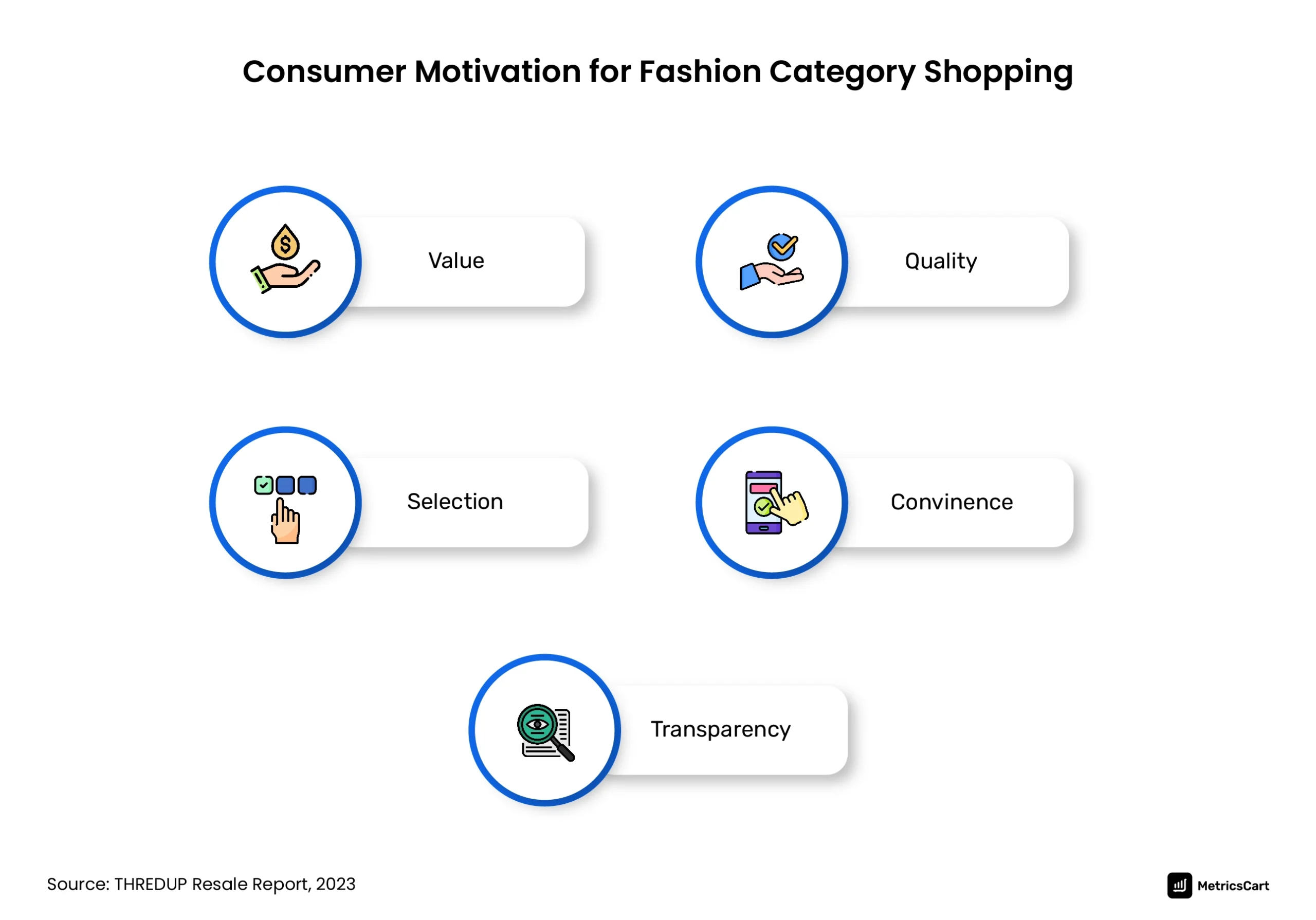 Value as a motivating factor includes free returns, free standard shipping, rewards, and loyalty points as the in-demand features shoppers look for. The other motivating factors include quality, selection, convenience, and transparency.
Key Technological Progress in the US Fashion Industry
To give the best customer experience to every generation, the fashion segment is also shifting gears to adopt tech innovations more swiftly. Let's look at some of the prominent technological shifts and digitization in the fashion industry.
Hyper Personalisation
A study showed that 71% of shoppers expect a degree of personalization. With the use of artificial intelligence and one-to-one experiences, hyper-personalization has evolved in fashion e-commerce. An instance is of StitchFix which provides shoppers with personal stylists that assist them in finding apparel that matches their particular style preferences. Other instances are Amazon Prime's Try Before You Buy and Walmart's Apparel Try-on features.
Omnichannel Retail
Customers interact with brands on different channels. Integrating online and in-store experiences for customers has become the norm. For instance, Neiman Marcus, a US multi-brand luxury retail chain, remembers shoppers' fit sizes based on searches. Using geolocation, the retailer also lets customers know of local events and new drops. Another cool tech innovation the retailer offers is Mirror Memory. In this experience, users record 360-degree videos of themselves trying on clothing, which they can then save in the brand's mobile app and take a look later when they're ready to buy online or in-store.
Data Analytics
Digital solutions and analytics are transforming key aspects of the fashion value chain. From targeting customers, identifying trends, and managing inventory to setting the right prices, data analytics helps brands in numerous ways. In particular, many fashion companies have integrated data into their end-to-end processes and have seen tangible results.
For instance, data-driven decisions around stock and store optimization have increased sales by 10%. Identifying slow-moving inventory through data may help brands take corrective measures such as markdowns and promotions.
Transparency and Traceability
Transparency and traceability is the process of making information available to understand how materials were sourced, processed, and produced through the supply chain. As a result, textile supply chains can reduce negative environmental and social impacts – a sustainable move.
Traceability software and big data help fashion brands to assess their supply chains. This enables them to understand the life cycle of their products, which marks sustainability road maps. One of our previous articles on value-based pricing has an interesting example of the brand Everlane. The brand reveals details on ethical factory conditions and transparent pricing that enable them in their pricing decisions.
Digital Fashion
Digital fashion, a growing fashion subculture, involves:
Modeling real-world clothing
Digital designing of clothing
Uploading designs onto the blockchain
Selling NFTs based on virtual clothing
Rendering digital clothes on real people
Brands like Burberry, Calvin Klein, and Tommy Hilfiger, claim that 3D design software can optimize the production of physical garments by reducing excess waste. It is also possible to digitally recreate and virtually tailor new styles onto the bodies of models (virtual and real). On the customer end, improvements in AR can help buyers visualize and virtually "try on" products before they're even manufactured.
Additionally, social media marketing, influencer-based live streaming, and non-fungible tokens (NFTs) are some of the other digital shifts in the fashion industry.
Fashion E-commerce Fueled By Digital Shelf Analytics
Clothing brands try their best to create the most compelling online shopping experiences. On the digital shelf, this translates to:
Enabling shopping on multiple online marketplaces
Using rich product images and videos
Adding detailed product information on size, material, and manufacturing
Using the right keywords to describe the brand's items
Setting effective pricing and promotion strategies
Managing inventory health across channels
Focusing on ratings and reviews for product enhancements
At MetricsCart, our experts can assist you with share of search, pricing, promotions, rating and review, inventory, and other digital shelf insights. Speak to our team today!