The COVID-19 pandemic has completely transformed the retail industry, pushing brands and retailers to adapt to the shoppers' changing expectations. Digital shopping skyrocketed in 2020 with shoppers embracing the convenience it offered.
In 2023, shoppers now seek a more personalized and immersive shopping experience. This goes beyond merely being transactional. Hence, brands and retailers are going 'phygital!' It is a customer-centric approach of blending the best of both worlds – the ease of online shopping and the sensory experience of physical retail.
What is Phygital in E-commerce?
The term 'phygital' was coined back in 2007 by Chris Weil. In its original context, it meant building meaningful customer relationships in both physical and digital environments through marketing.
Presently, phygital means relying on technology to create immersive shopping experiences through products that have both – physical and digital characteristics. These phygital experiences are largely based on Extended Reality technology such as Augmented Reality (AR), Virtual Reality (VR), Mixed Reality (MR), and 360° videos.
Some of the benefits of adopting a phygital approach include:
Improving customer experience
Preventing stockouts
Scaling up omnichannel efforts
Increasing brand awareness
Read more: Product Experience Management Explained With Case Studies
Examples of Phygital Across Categories in Online Marketplaces
From wearable tech to livestream shopping, QR codes, and interactive product descriptions, the future of retail is phygital. These immersive shopping experiences are transforming the way shoppers interact with brands.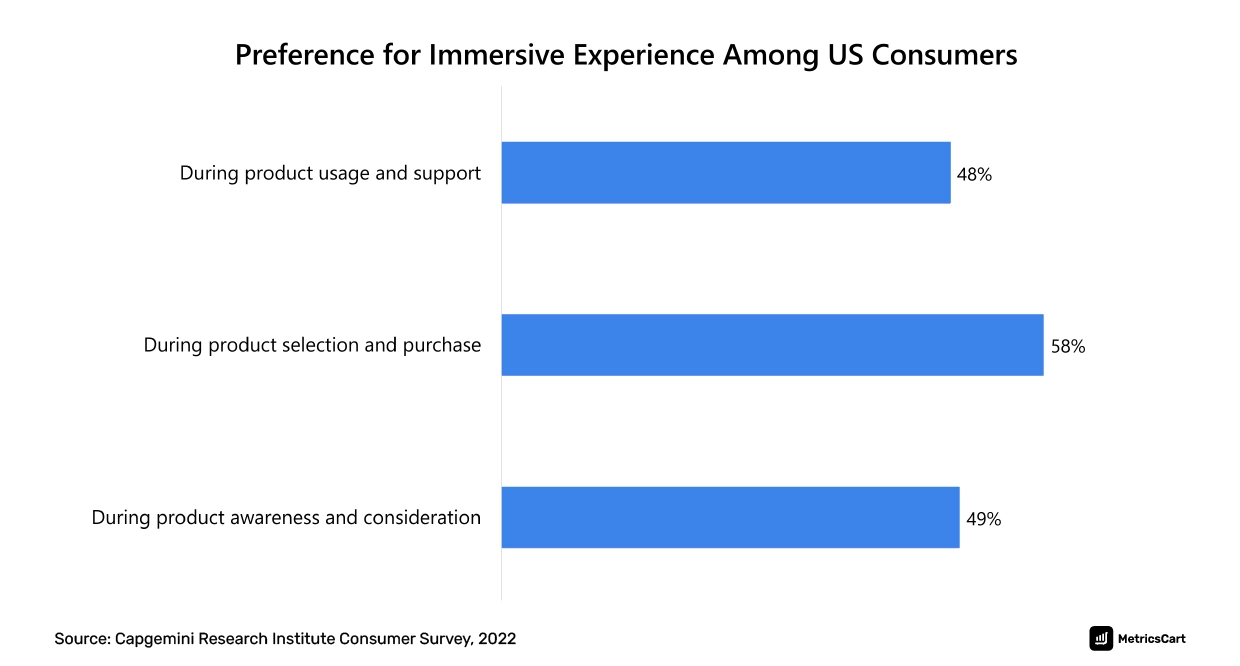 A consumer survey by Capgemini shows that 58% of shoppers value immersive experiences during product reviews and purchases. Such shopping experiences improve information retention, create emotional connections among shoppers and boost engagement levels. This, in turn, helps build brand loyalty.
Through our article, let's look into some of the real-life examples of phygital deployments across e-commerce product categories.
Electronics, Home, and Furniture Category
Walmart's 'View in Your Home' Feature on Mobile App
Walmart announced AR shopping experiences through the 'View in Your Home' feature in June 2022. The online benefit that Walmart intends to tap into is reducing the number of furniture returns.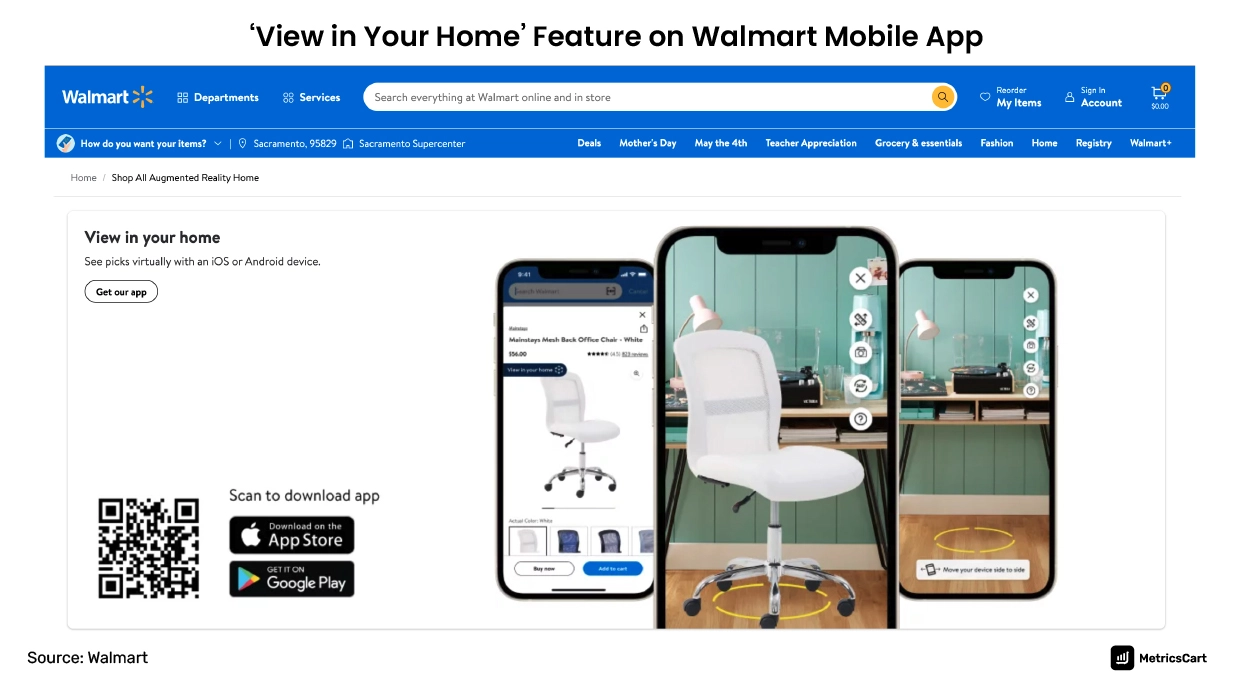 With this AR tech, you can virtually see how the piece of furniture fits in your living space before making the purchase. All AR-enabled TV, furniture and home decor brands will appear under this feature. Mainstays, Better Homes and Gardens, LG, and many other brands in this category have enabled View in Your Home.
View in Your Home leans on haptic feedback that ensures the 3D model accurately reflects how furniture will fit in a space.
Amazon Showroom on Mobile App
Similarly, Amazon brought products to life through the visual shopping experience in 2019. With the Amazon Showroom design tool, you can place items of your choice in a virtual living room and shop the entire look with a click. It even lets you save room designs for later use.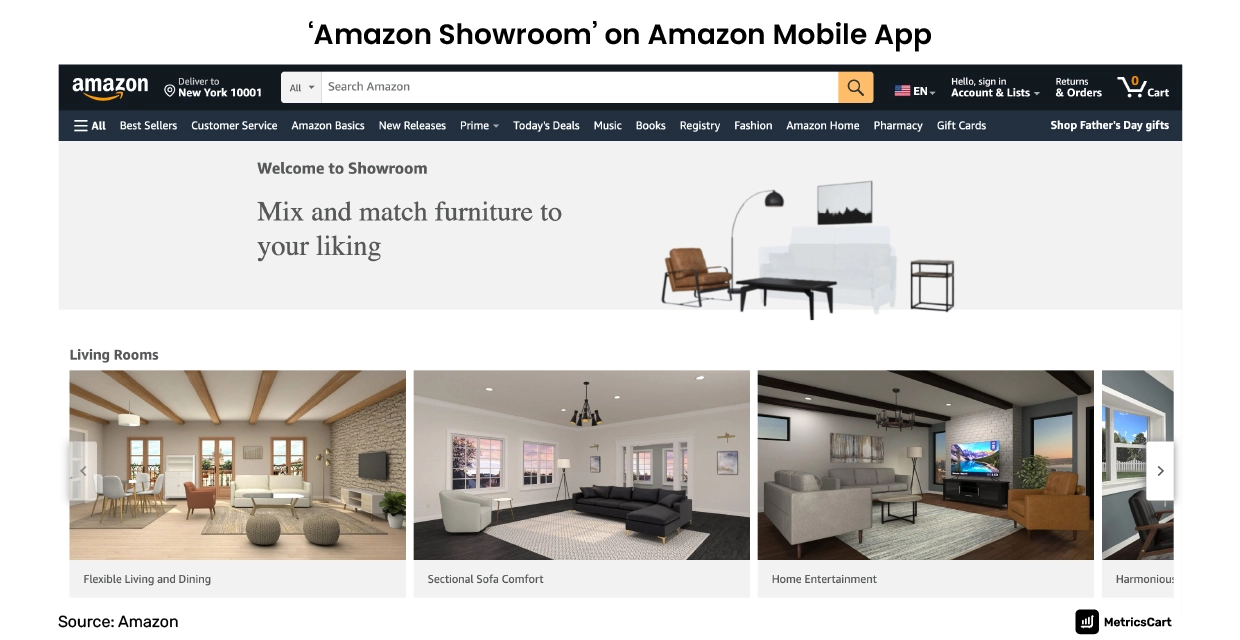 This Showroom feature of Amazon gives a photorealistic virtual feel to the room. However, home furnishing is hard to visualize on a normal day. Shoppers often have a question: 'What would it look like in a real space?' Yet retailers are seeing a growing opportunity in this virtual segment for the coming years.
Best Buy's 'Virtual Store'
Best Buy's Virtual Store makes phygital shopping possible across 10 tech categories.
Suppose you are looking for options to buy a home theater setup on BestBuy.com. On clicking the Best Buy Help at the bottom right of product or category pages, you can video chat with a Best Buy executive. The executive will physically demonstrate the specific features of each model you're considering.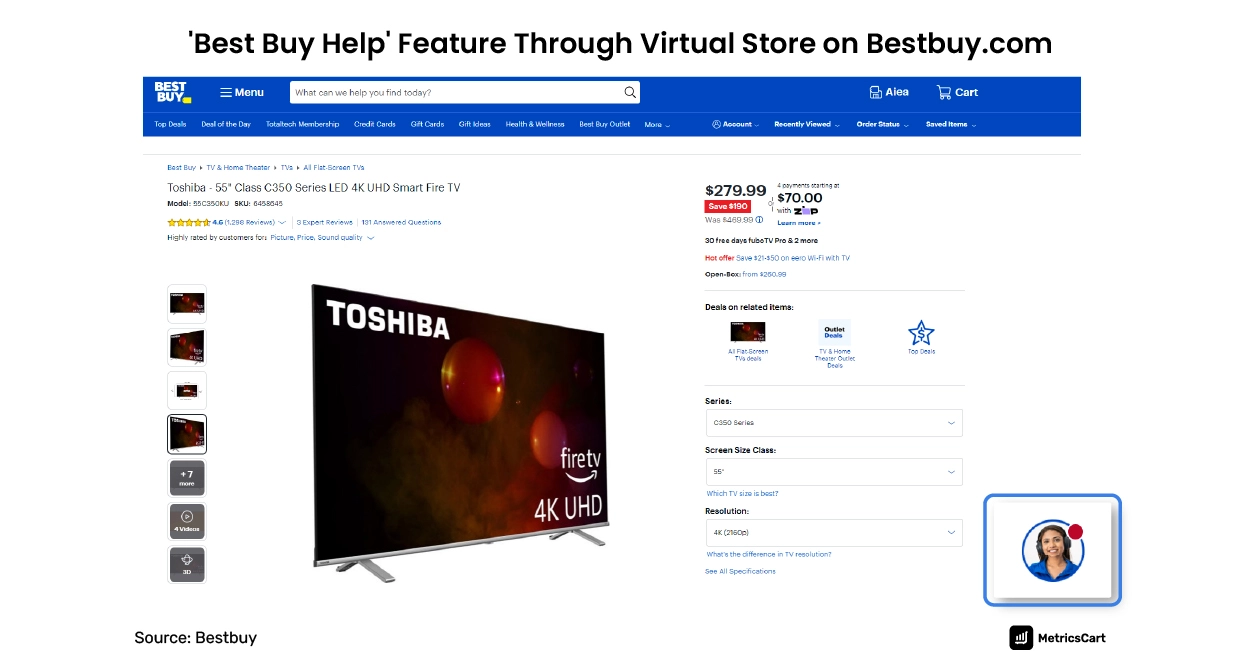 This virtual chat happens from the physical store present in the Best Buy distribution centers where the expert can take the customer through the available options in stock and help them choose the right product.
Beauty and Apparel Category
L'Oréal's 'Live Try On' Feature for Mobile and Computer
Did you know shoppers are 1.6 times more likely to shop for beauty products with virtual try-on than without one?
L'Oréal's makeup try-on tool is a perfect example. It lets you see how a product appears on your face. This AR feature is applicable widely across their product range both on mobile and computer.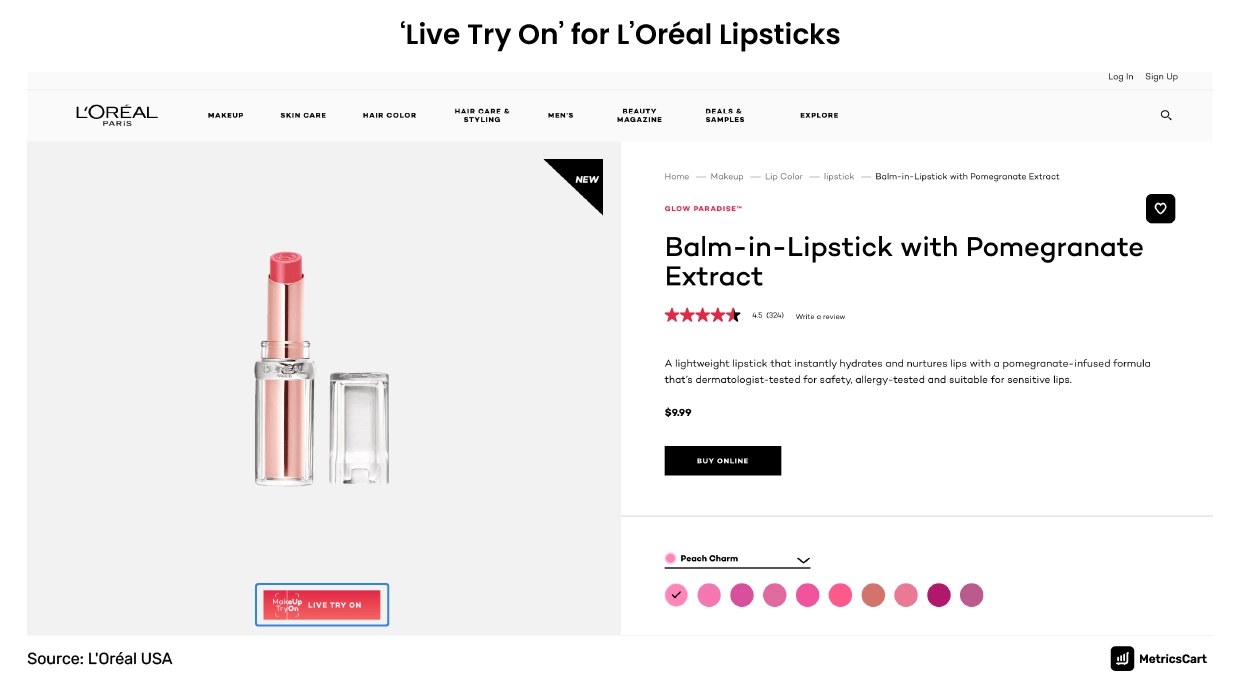 The technology uses a face tracker algorithm to detect where your lips, eyes, cheek, etc. are and applies virtual cosmetics to those areas. Moreover, L'Oréal offers personalized beauty tips through partnerships with e-commerce platforms.
Another category under beauty experimenting with similar AR tech is nail polish. Sally Hansen uses virtual technology for shoppers to see how a polish appears on their exact skin tone and nail shape and in different lighting.
Also, read more on the beauty and personal care industry trends of 2023.
Walmart's 'Apparel Try On' Feature on Mobile
It is fascinating how immersive technology has evolved to let us try on clothes on our bodies virtually. In 2022, Walmart rolled out the game-changing technology for the apparel category with virtual try-on. Walmart's Apparel Try On feature includes two innovative options – Choose My Model and Be Your Own Model.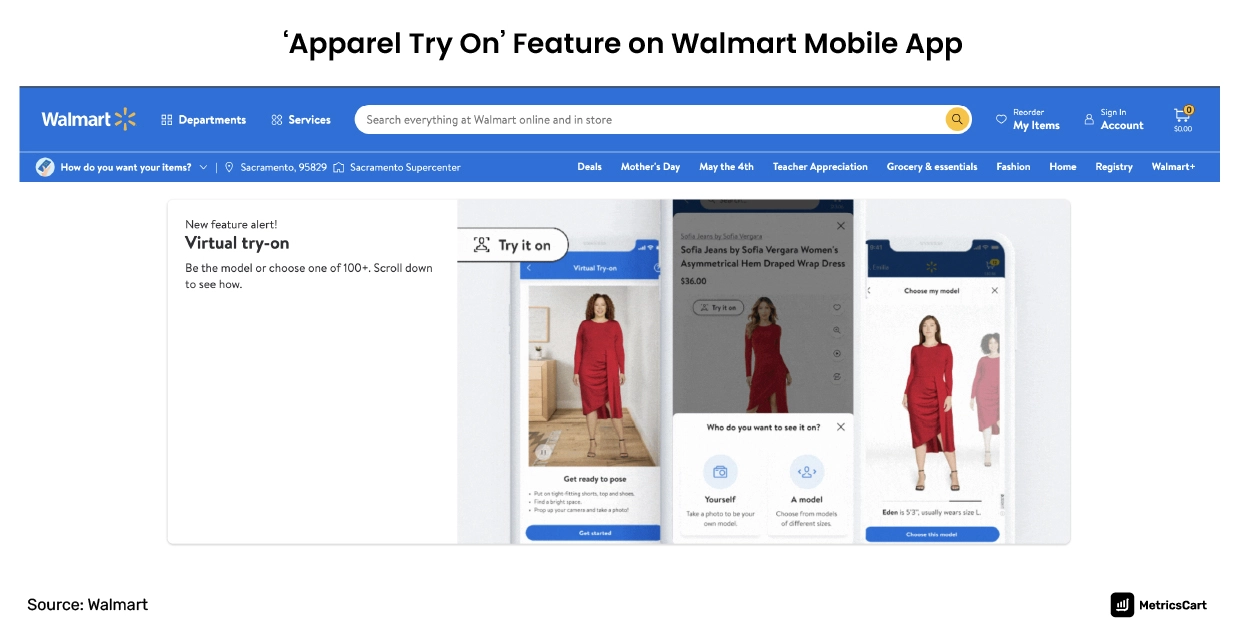 The retailer brings in the in-store fitting room experience to shoppers with this feature. The virtual try-on experience is available across 270,000 clothing brands. Champion, Levi's, Hanes, and most of Walmart's private brands are part of this feature.
Toy Category
Spin Master's PAW Patrol 3D Toys
Spin Master used AR product visualization in e-commerce for PAW Patrol toys partnering with Poplar Studio. The AR feature allows kids and families to experience the true scale and detail of the toys in a virtual environment before unwrapping them in real life.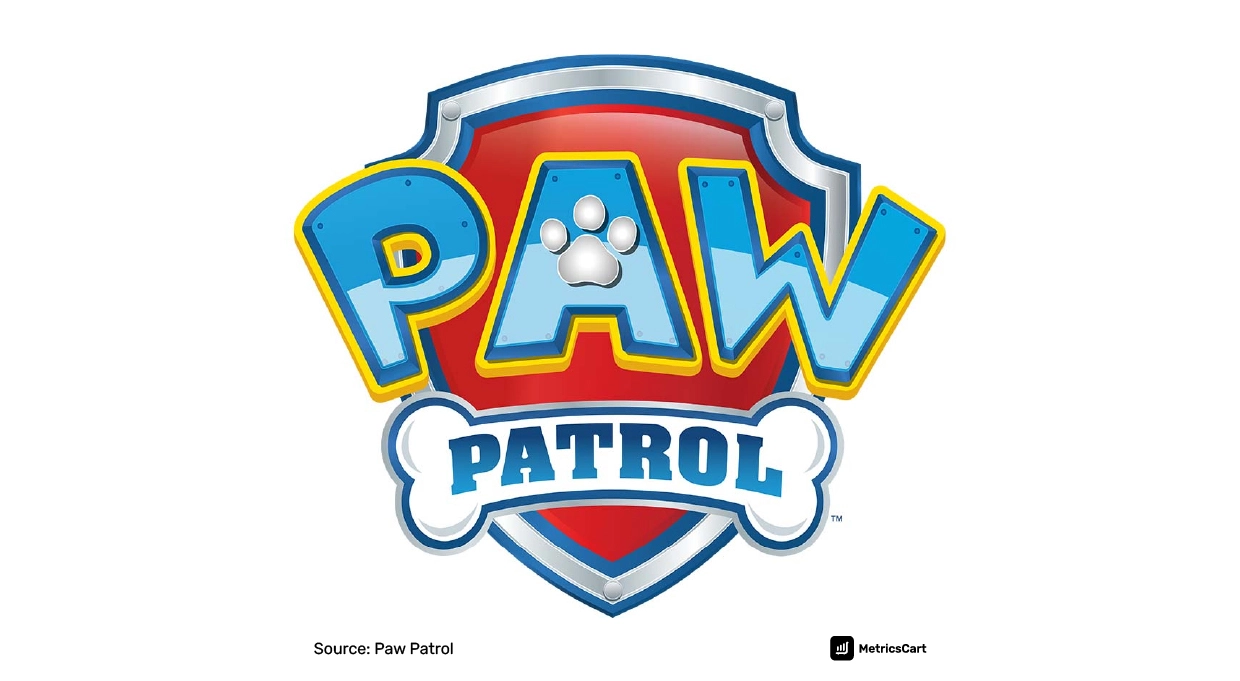 When scanned, the 3D model of the toy comes to life with sound, light, and animations in its actual size. This immersive experience allows the child to visually comprehend and explore the toy. They get to know if it is of their liking before their parent adds it to the cart.
Pet Care and Supplies
Chewy's new Fur-tual Boutique
How awesome would it be if you could try on pet costumes on your pets before buying them? A Shopify report also supports that product interactions via AR had 94% more conversions than the ones without AR.
Chewy's came out with one of its kind AR visualization for pet costumes during Halloween in 2021.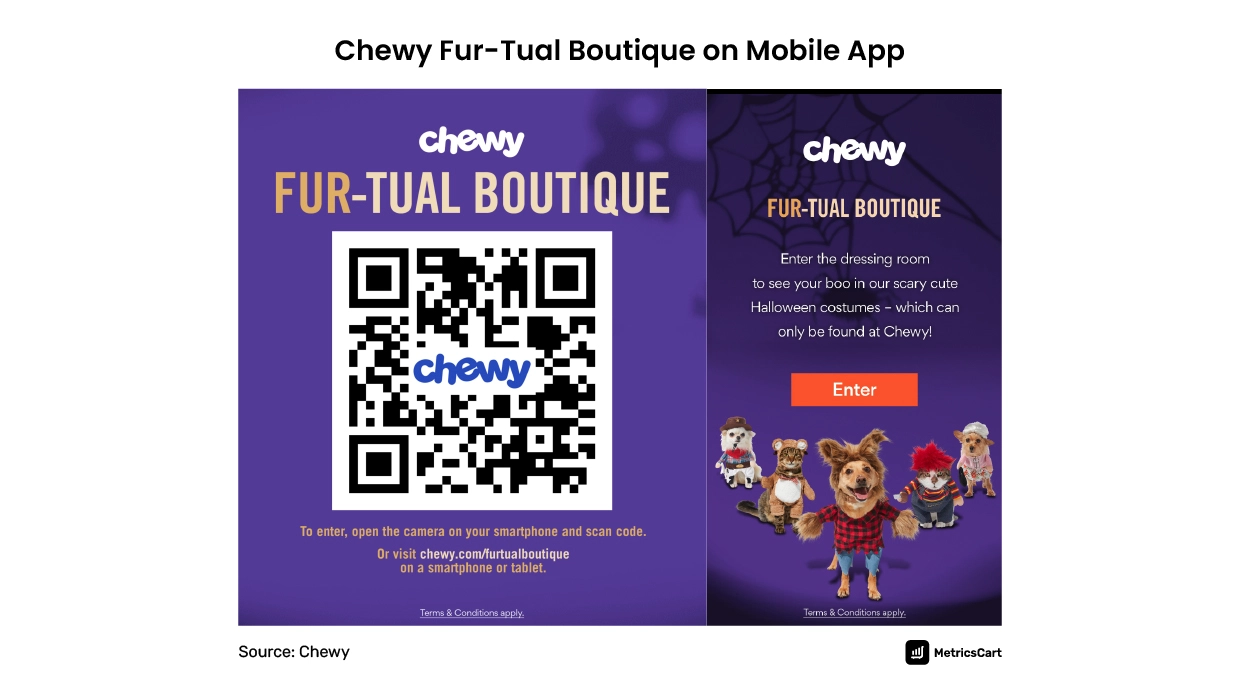 With a full-body try-on for cats and dogs, Chewy tapped into the phygital trend using immersive consumer technology.
Food and Beverage Category
Digital Price Tags at Buy Online Pick Up in Store (BOPIS) and Curbside Pickups
In 2022, 32% of e-commerce shoppers picked up their orders via curbside or in-store pickup – a 37% increase from 2021. In contrast, the delivery at the doorstep dropped by 8.5%.
This is a classic example of how shoppers prefer a phygital experience where they shop online and pick up in person. BOPIS lets shoppers reduce long delivery timelines and shipping costs.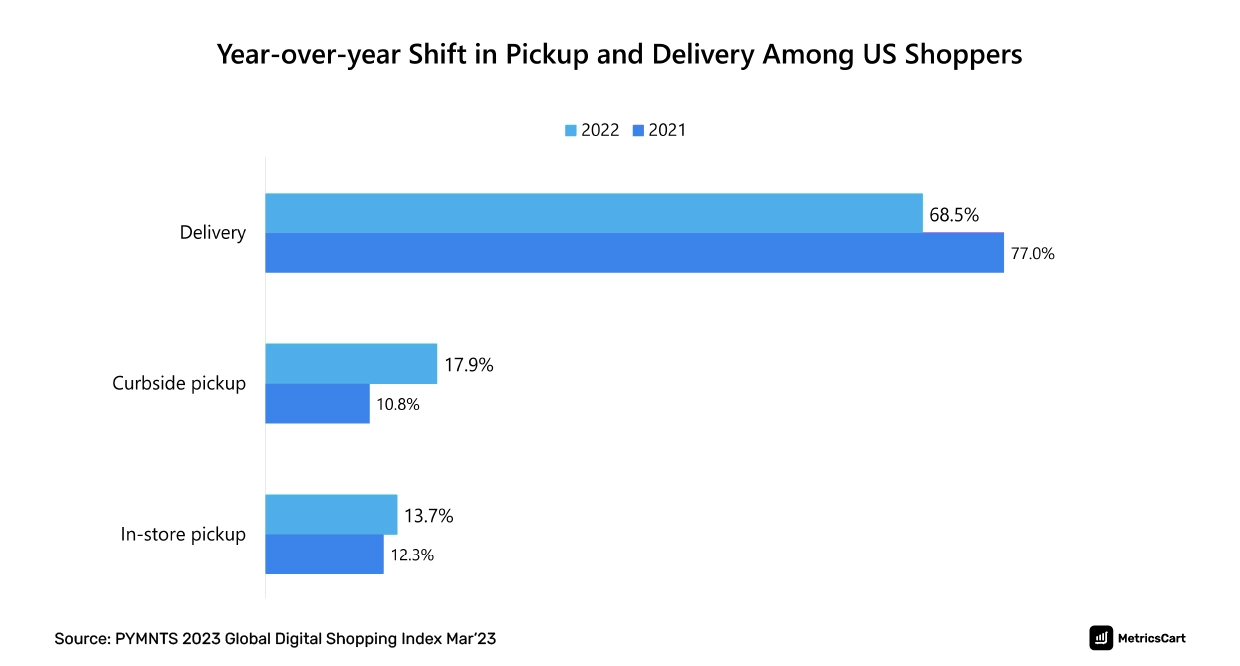 Globally, the US ranks first for opting for BOPIS and curbside pickup. Typical grocery orders take 15-30 minutes to be picked up. Electronic shelf labels or digital price tags assist the delivery executive to get the order in a bag quicker. It also helps shoppers to get to know about deals and discounts much more easily.
Also, read more on the Ways to Excel in Q-Commerce.
Walmart's Text to Shop
Walmart's Text to Shop option lets customers simply text the retail giant to shop.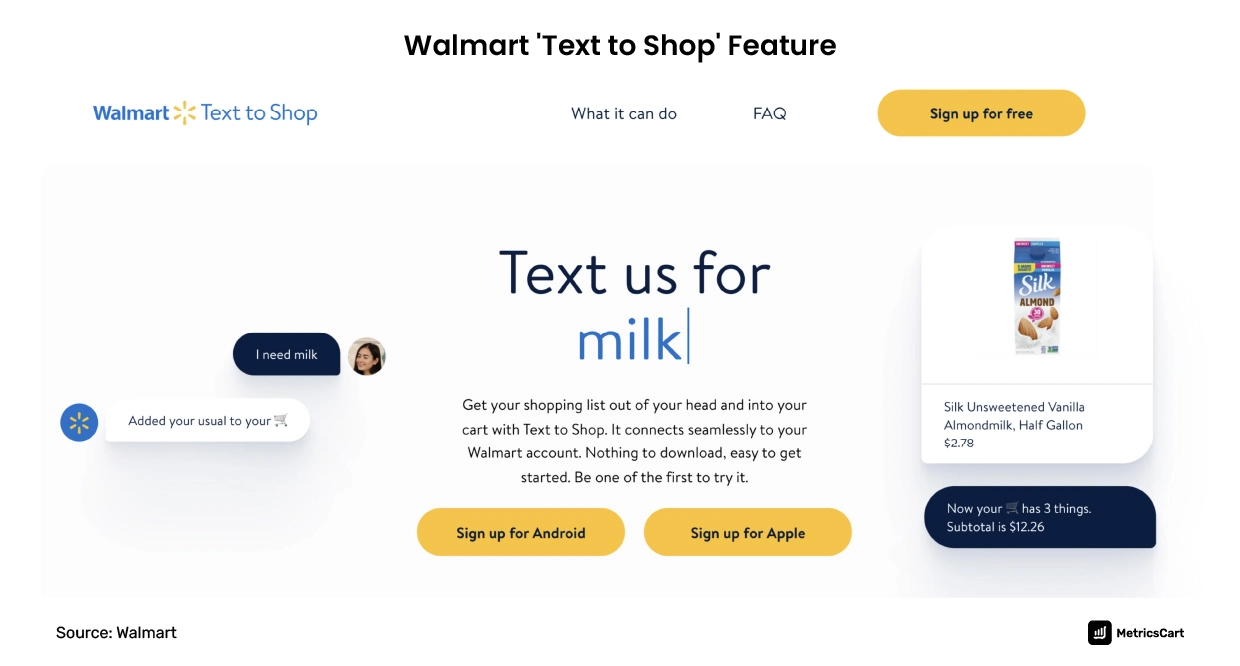 Once the list is texted, it gets added to the cart and can be scheduled for pickup or delivery. This way, only relevant search results appear and customers can reorder frequent items easily.
Other Common Phygital Examples Across Categories
Amazon Live Shopping
Whether it's cooking, fitness, gaming, or tech, you name it. Across categories, brands are exploring Amazon Live as another cool phygital feature. In the US, live shopping accounted for $20 billion in 2022. With real-time brand interactions, shoppers get to ask questions and the host responds in the live chat.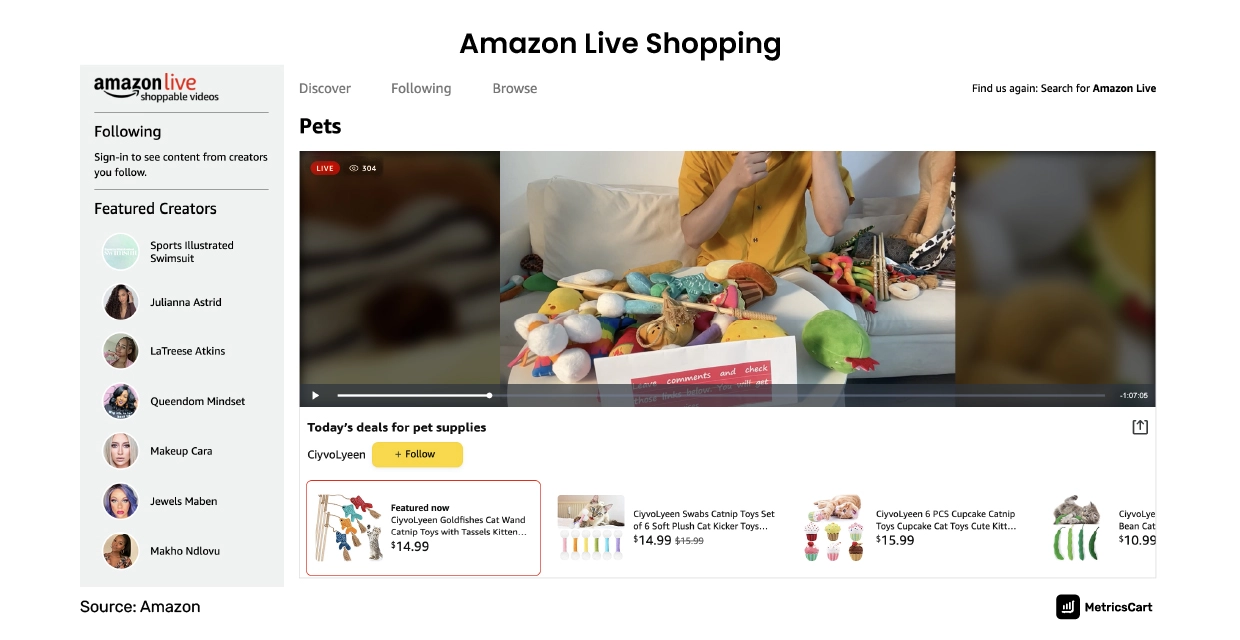 Shoppers also get an option to 'Follow' your brand so every time you go live, they get notified. These interactions help to educate the target audience on product features, benefits, and ongoing special offers.
Other retailers such as Walmart are also partnering with TikTok and Facebook to enable livestream shopping for its shoppers.
Interactive Retail Displays via Lift and Learn Technology
In 2021, Meijer partnered with Purina, a pet company, to incorporate digital screens in the pet category aisle. The lift and learn technology automatically senses the products shoppers touch, and delivers digital information about those items.
Such phygital experiences improve product engagement and enable shoppers to make informed decisions on their product purchases. This is also common among other product categories of beauty, grocery, tech, and more. These interactive retail displays also pave the way for converting in-store shopping to omnichannel customers.
Read more: How Digital Influence in Retail is Shaping the Customer Journey Map?
Future of Retail: Data Insights Powering Brands to Go Phygital
Going phygital is critical for a brand's omnichannel strategy. Unlock the potential of phygital in e-commerce tailored to your specific product category by using data insights from MetricsCart.
With MetricsCart's Digital Shelf Analytics, brands can gain valuable insights on share of search, pricing, content, inventory, and more on the e-commerce front. This enhances brands' visibility which then can be used to craft targeted and personalized phygital experiences for their audience.
As a starting point, take advantage of our Amazon bestseller reports available to you free of charge and get valuable insights from accurate data points.
Get in touch with our team right away and embark on a journey toward enhancing your business's performance in the phygital in the e-commerce realm.