Did you know that nearly 60% of the US adults shopped for groceries online in 2020 and 2021? Well, you read that right.
The country went through a rapid transformation in the grocery industry – from traditional brick-and-mortar stores to online spaces in the shortest span of time. A string of reasons led the way to the boom of grocery e-commerce platforms, not just in the US but the entire world. In fact, the global grocery retail market accounted for approximately $12.29 trillion in 2020. But what revved this rapid digital shift?
The pandemic accelerated the digital transformation of the grocery retail market
In 2019, grocery retailers were experimenting with ways to catch up with digitalization trends. When COVID-19 hit, grocers shifted online overnight. Many stores encouraged online shopping and curbside pickups.
There was a fear among the masses to step out of their homes. Groceries, being essentials, consumers had no choice but to get accustomed to shopping online. The ease and convenience altered shopping patterns over time. The online and delivery orders rose by about 50% during the pandemic. Moreover, the digital shift reordered the competitive landscape as new players entered the market.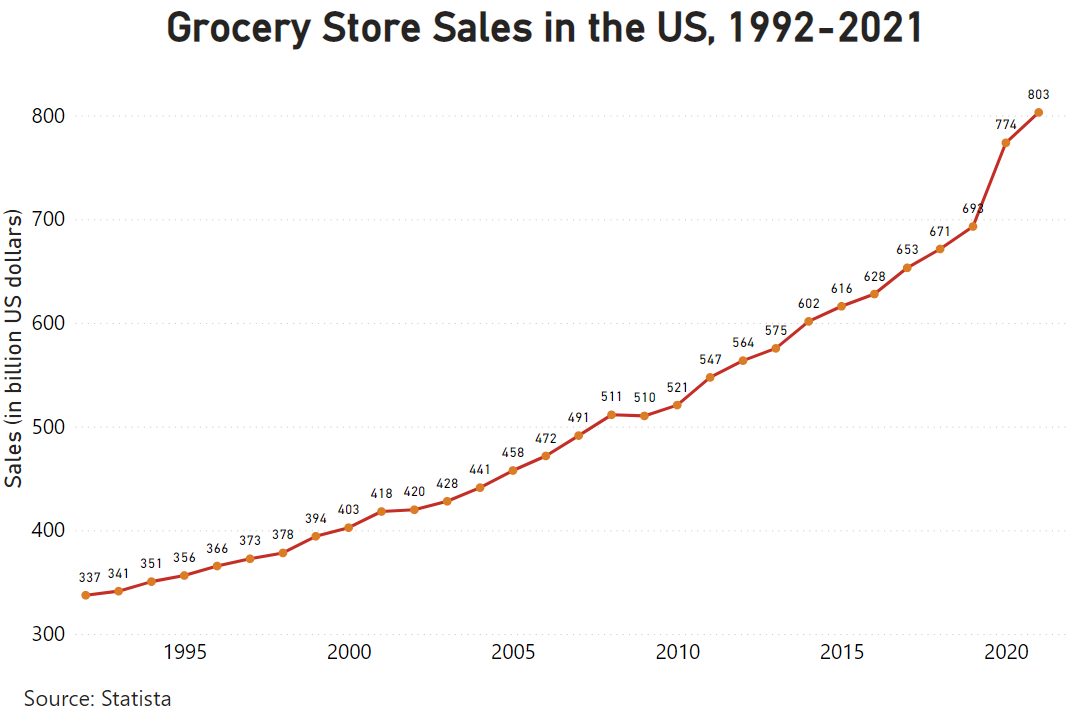 In the US alone, this pandemic-driven e-commerce boom in the grocery industry resulted in sales hitting $803.05 billion in 2021.
Let's take a look at the market share of the online grocery industry in the US.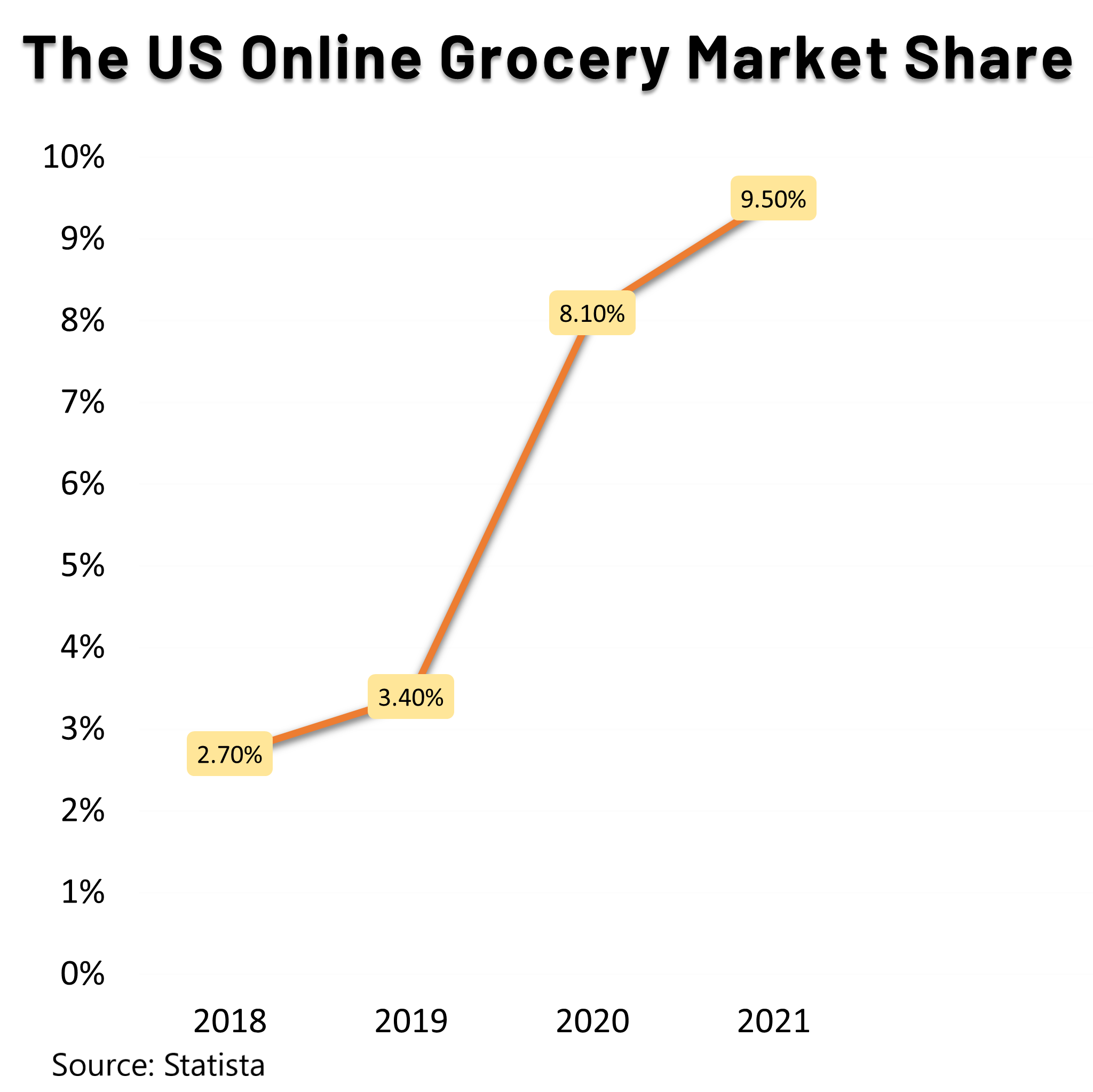 In 2021, the online grocery industry emerged as a major market in the US e-commerce landscape. The US online grocery market size was $112.90 billion.
With hygiene as the priority during the pandemic, grocers created new retail models. This majorly involved a contactless shopping experience. Giant retailers such as Amazon have different types of delivery based on membership and urgency.
Before we get into the details of the major players in this industry, let's quickly understand the digital grocery ecosystem.

Digital Grocery Ecosystem
Let us have a grasp of the components that form the digital ecosystem.
Digital consumer: A person who shops online via a website or app. It equips them with online ordering and payment options, save for later features, schedule deliveries, and more.
Digital store operations: The technology and infrastructure to process digital consumers' online orders.
Pickup in-store or delivery: The warehouse hosting the customer's product for dispatch receives a request. Then the order is out for delivery, either to the given address or picked up by the customer themselves. It depends on the delivery model adopted by the retailer.
For some retailers, the digital process from discovery to in-home delivery is integrated. It is a ship-to-home/pure play delivery model. For others, a third-party service platform (such as Instacart) fulfills the in-home delivery. It is last-mile delivery. Another one is click and collect, or BOPIS (Buy Online, Pick-up In Store). Here, consumers collect their orders from the retailer after ordering online.
Lastly, analytics binds the digital ecosystem for grocery as a whole. This comprises big data, machine learning, artificial intelligence, and Digital Shelf Analytics (DSA). These advanced solutions massively help to create successful digital businesses.
Read more: Digital Shelf Strategies For DSA
Common Grocery E-commerce Store Business Models in the Ecosystem
Let's also take a look at some business models around inventory e-grocery retailers are adopting.
Inventory-Based Model – The grocery retailer purchases products from different companies and maintains its own warehouse.
Zero Inventory/Multi-Vendor Marketplace Model – A common platform for multiple buyers and sellers where they come together through a common website

.

Hyperlocal Grocery Model – The retailer caters to the needs of consumers within a definite geographical area

.
Now that we've had an overall view of the ecosystem, let's zoom into what the grocery e-commerce giants are doing in the space.

Popular Grocery E-commerce Retailers & Delivery Services in the US
It is no surprise how all retailers are in a competitive race for a fair market share in the grocery business industry. At-home deliveries are the new competitive battlefield for all brands and retailers. Interestingly, grocery e-commerce deliveries made up just 13% of total US grocery spending in 2021.
Take a look at the top 5 best grocery e-commerce and delivery businesses with the highest market share in the US in 2021.
Note: Amazon Fresh (online grocery delivery business on Amazon) is not included in this chart. Amazon does not include a separate segment for Amazon Fresh alone.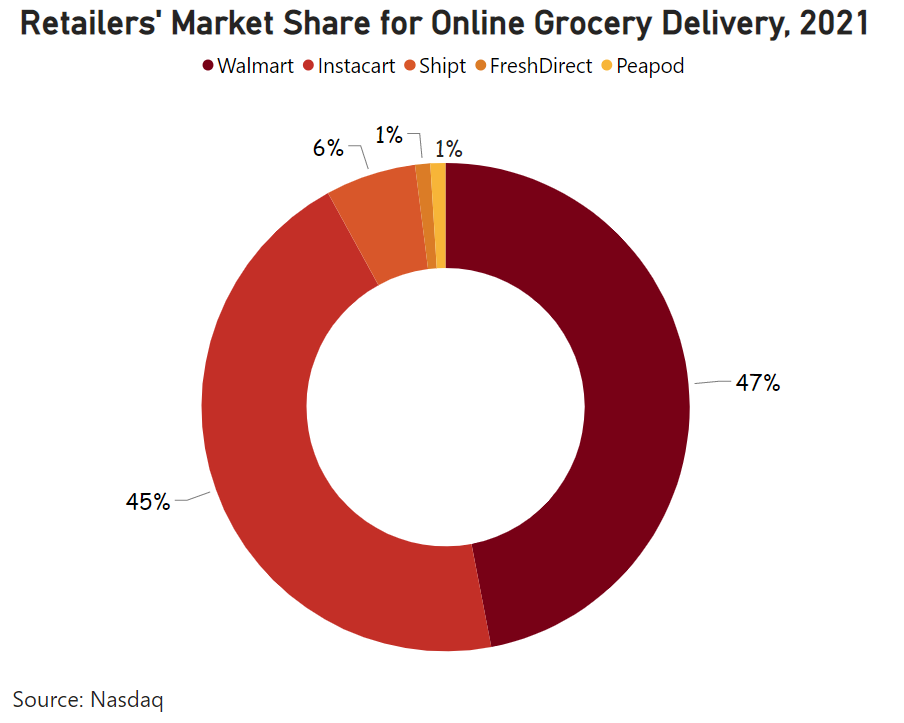 Research by Brookings Institution recently stated that 93% of the US population has access to food and grocery delivery services. Delivery zones are majorly concentrated in the country's largest metropolitan areas. Hyperlocal grocery models adopted by egrocery platforms and the digital literacy skills of the rural population are among the few contributing factors why egrocery platforms flourish only in metropolitan cities.
Amazon Fresh, DoorDash, Instacart, and other food & grocery delivery services are helping folks living in the US "food deserts." Food deserts are communities where access to groceries and essentials is generally scarce.
Here's a comparative table for you to take an in-depth look at the popular grocery retailer and delivery businesses.
Popular Grocery Ecommerce & Delivery Businesses in the US, 2021
Grocery Ecommerce & Delivery Business

Grocery Categories

Membership & Fee

Type of Pickup/Delivery

Delivery Charges

Value-Added Services

Amazon (Amazon Fresh, Amazon Launchpad, Whole Foods Market)

Low-cost groceries
Prime Membership: $119/year or $12.99/month
Pickup: In-store pickup

Delivery: One-day/Two-day delivery, Same day delivery, Amazon Day Delivery

APO/FPO & DPO addresses delivery: Yes
Members: Unlimited free Amazon Fresh delivery on orders over $35

Non members: Delivery charge of $3.99. No guarantee of two-day delivery.
- Alexa Voice shopping
- Discover small business brands
- Access to the highest quality organic products

SNAP EBT: All the states except Alaska & Hawaii

Walmart

Affordable grocery
Plus Membership: $98/year or $12.95/month
Pickup: Curbside pickup

Delivery: Next Day delivery, two-day delivery, Same day delivery

APO/FPO & DPO addresses delivery: Yes
Members: Unlimited free delivery on orders over $35

Non members: $7.95 to $9.95 delivery fee
"Every Day Low Price"- Providing good quality products at lower rates

SNAP EBT: 48 states

Instacart

All under one roof - 500+ retailers
Instacart Express (optional): $99/year or $9.99/month
Pickup: Curbside Pickup

Delivery: Same day delivery, "Leave at my door" option
Members: Unlimited free delivery on orders over $35

Non members: $3.99-$7.99/order & more based on type of delivery
- Delivery in less than 2hrs/order
- Partnership with local stores

SNAP EBT: For eligible items in select states

Shipt

Groceries, non-perishables, alcohol in some areas
Shipt Membership (optional): $99/year
Pickup: In-store pickup

Delivery: No-contact delivery
Members: Unlimited free delivery on orders over $35

Non members: Pay $5 extra for a $35 order
- Passes: $8 for 5 orders & $9 for 3 orders.
- Pay-per-order option available

FreshDirect

High-quality groceries
FreshDirect Delivery Pass: Unlimited deliveries, reservations & savings
Pickup: Curbside pickup

Delivery: Same day delivery or next day delivery (based on selecting Express/Standard delivery option)
Members: Unlimited free delivery for amount unknown

Non members: $5.99-$15.99 based on location
- Safe delivery for delicate items
- Farm share boxes available

SNAP EBT: Only 2 Bronx zip codes - 10454, 10455

Peapod*

Groceries, non-perishables
PodPass (Optional): $119/year
Pickup: In-store pickup

Delivery: Next day delivery in more areas. Same day delivery in some
Members & non members: Free delivery over $100
Delivery in less than 2hrs/order
*Peapod enables shoppers to buy groceries via local brands such as Stop & Shop, Giant, and more.
Faster service, loyalty programs, and labor demands are some factors grocers need to consider when determining fees, order minimums, and membership. Grocers are leveraging the use of low or no delivery fees to influence shopper behavior.
Moreover, EBT acceptance for online payment has been on the rise since 2021. More states have signed onto the USDA's SNAP program, and more retailers have gone through the required certification process.
Walmart
As we can see, Walmart emerges as the top player with a 47% market share of the online grocery delivery industry in 2021. Lately, Walmart is also expanding its drone delivery services to more states. Customers who live within the range of a Walmart drone-delivery site can order any of the items between 8 a.m. and 8 p.m.
Walmart's 2022 fiscal year annual report showed that its e-commerce net sales reached $73.2 billion, an increase of 11% year on year. This represents a substantial increase of 90% compared with two years ago.
Instacart
A super-fast local delivery time of 15 minutes – this is what Instacart stands for. In fact, Instacart recently announced building micro warehouses. This will give Instacart the competitive edge to meet consumer demands in the shortest time.
However, Instacart is not a competitor to Walmart. They have partnered to fulfill deliveries. Apart from Walmart, Instacart also has partnered with Kroger, Target, and Albertsons.
Read more: How to Excel in Q-commerce Business?
Shipt
Shipt (acquired by Target in 2017) caters to the same-day delivery service for Target. It has a market share of 6%. Since 2020, Shipt has tripled its network of shoppers and also doubled its retail partners to offer same-day delivery. Shipt members can also use the service to receive delivery from other participating grocers, drugstores, and big-box retailers in their area.
Earlier in the year, Shipt partnered with 7-Eleven and Walgreens. This increased the number of store locations available on its marketplace by more than 40%.
Peapod and FreshDirect
Peapod is one of the oldest online grocers in the country. It has been in operation since 1989. It currently holds a market share of only 1% similar to FreshDirect. On the other hand, FreshDirect, a part of Ahold Delhaize, completed 20 years as a grocery e-commerce business.
Amazon Fresh
Amazon entered the grocery market by acquiring Whole Foods in 2017. Since then, Amazon has continued to grow its grocery business – both online and brick-and-mortar. The company's Prime service is facing tough competition from other retailers with fast shipping and extensive selections.
Also read: Amazon Prime Day Sales in the US in 2022
Based on the consumer needs, Amazon has diversified segments to shop from – Amazon Fresh, Amazon Launchpad, and Whole Foods Market. It's only available in two dozen of the biggest US cities currently.
Groceries ordered via Amazon Fresh arrive at your door within two hours of purchase. Non-Prime members pay $6 per delivery, much less than the $10 that Shipt charges for non-member deliveries.
Some Other Notable Grocery Retailers in the US
Grocery Retailers

Grocery Categories & Value Proposition

Membership & Fee

Type of Pickup/Delivery

Delivery Charges

Value-Added Services

Kroger

Supermarkets & multi-department stores
Boost (optional):
- Unlimited no-fee delivery within 24 hours for a $59/year
- or less than 2 hours for $99
Pickup: In-store free pickup for orders more than $35

Delivery: Doorstep delivery via Korger partner or third-party partners (InstaCart & Shipt)

APO/FPO & DPO addresses delivery: Yes
Members & non members:
$35 minimum order amount. $9.95-$11.95 delivery charges depending on location. Pickup has a $4.95 service fee on orders less than $35.
35000+ product choices at Simple Truth (Kroger's store brand of organic & natural foods)

SNAP EBT: 48 states

Misfits Market

Selling food that doesn't look 'perfect'; affordable prices; reduces food wastage
Free Membership: Create an account
Delivery: Weekly doorstep delivery; can be paused or skipped anytime
Members & non members: Minimum order of $30
- Costs up to 40% less due to direct relationship with food makers & brands
- Eliminates middlemen & excess supply of brands

Imperfect Foods

Selling food that doesn't look 'perfect'; affordable prices; reduces food wastage
Free Subscription
Delivery: Weekly/Biweekly/Monthly doorstep delivery in 100% recycled boxes
Charges groceries in your cart after your shopping window closes plus a delivery fee
- No subscription or service fees
- Farmers market quality at supermarket prices available

Umami Cart

Asian groceries
Free Membership: Create an account
Delivery: Doorstep delivery (shipping times vary depending on the zip code)
Members & non members: Free delivery for all orders over $49
- Buy items a la carte, whether shopping for one dinner recipe or 2 weeks worth of groceries
- Product recommendations welcome

Safeway

Supermarket brand - subsidiary of Albertsons
FreshPass (Grocery subscription): $99.00/year or $12.99/month (+ tax) to access unlimited deliveries
Pickup: Available in most locations

Delivery: Same day delivery
Members: Unlimited free delivery on orders over $30

Non members: Charges a fee (details unavailable)
- Member perks such as digital coupons, personalised deals, meal plans & more
- Avail full refund or credit if not satisfied

SNAP EBT: All states with online delivery/pickup

Thrive

Organic & sustainable groceries
Thrive Membership: $59.95/year or $5/month
Delivery: 2 to 4 business days after placing order; Shipping via FedEx, Lasership, OnTrac & USPS (via FedEx Smartpost)
Members & non members: Fast & free carbon-neutral shipping on orders over $49
- Filter by lifestyle (Plant-Based/ Keto/ Vegan)
- 'Savings Guarantee' if membership benefits not availed in a year - Every paid membership Thrive sells, they donate free membership to a person in need.
Grocery Retailers Worth Mentioning
Kroger is the US' largest pure-play grocer. In June 2022, Market Wagon, an online farmers market company, announced the launch of a delivery-only local food marketplace in partnership with the grocer, Kroger Farmers Market, in Atlanta. Last year, Kroger began opening giant robot-powered fulfillment centers in the US.
Misfits Market and Imperfect Foods are two companies dedicated to reimagining grocery shopping. Both the retailers intend to reduce food waste and sustainably source their groceries.
Asian ecommerce grocer Umamicart bets on recipes to get people to fill up their online shopping carts. These buyable recipes have a particular focus on East Asian and Southeast Asian delicacies. Now, over 50% of Umamicart's sales come from its recipes.
Safeway is one of the grocery banners of Albertsons Cos. In 2022, Albertsons announced it is implementing reviews and ratings online for 11 of its grocery chains. Brands will also be able to unify their own user-generated review content onto the grocer's site.
Thrive Market is all about ethical sourcing, zero-waste warehouses, and sustainable packaging.
Two chaotic years of the pandemic are past now. But the influx of online orders from these years has carved new trends and challenges for the grocery retailers to tackle. Let's dive deeper to understand some of the important trends defining the grocery e-commerce segment right now.

Trends Shaping the Grocery E-commerce Landscape
During the pandemic, health and safety were the primary drivers for people to shop grocery online. After two years of challenging times, grocery e-commerce is still going strong. The post-pandemic shopping behavior is not going to be a perfect return to pre-pandemic shopping habits. However, there are certain disruptive and noteworthy trends leading to innovation in this industry. Let's explore them in-depth.
New shopper behaviors are on the rise
There is an underlying expectation in consumers to experience their offline grocery format getting mirrored online. Interestingly, online grocery spending more than quadrupled between 2019 and 2021. US consumers now spend an average of $6.7 billion each month on fresh food and groceries. This is up from $3.1 billion before the pandemic.
Let's take a look at some recent shopping behavior shifts that might be helpful for your business.
2 in 3 online grocery orders are made on mobile devices
For the most part of history, grocery retail was a "single-channel" affair. Customers previously interacted more in a brick-and-mortar store set up. But, more recently, over online marketplaces as well. Not only will this omnichannel interaction help grocery stores stay at par with consumer demands, but it also allows them to better manage their inventory.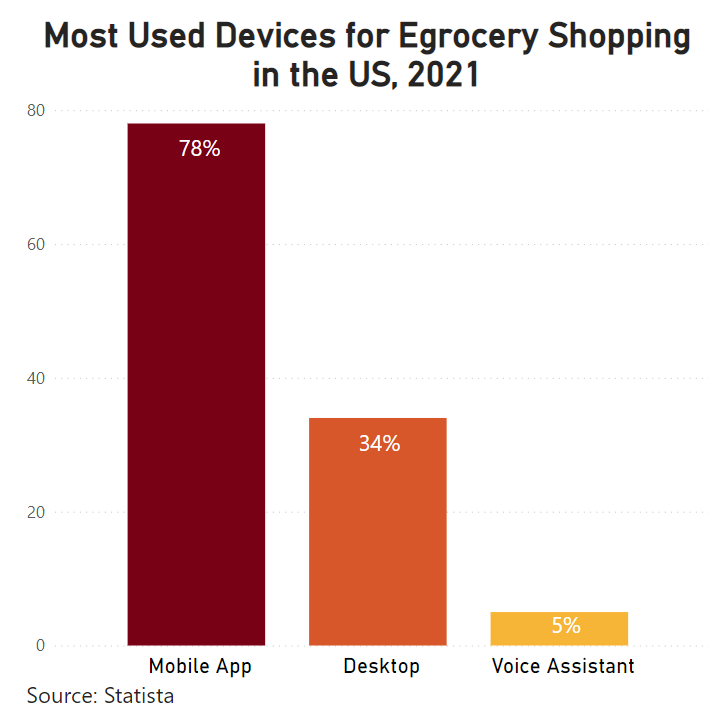 Interestingly, two-thirds of online grocery orders today are placed from mobile phones according to a study by 84.51°. Another recent report pointed to the greater use of smart devices as one of the primary driving factors in the increasing number of online grocery purchases. Other factors include hectic working schedules, an increased number of working women, the emergence of e-commerce media, and a customer inclination toward a better shopping experience.
African American households recorded the highest monthly online grocery shopping compared to other ethnic segments
E-commerce and omnichannel shopping were not born out of the pandemic. But the pandemic definitely sped the adoption of these practices.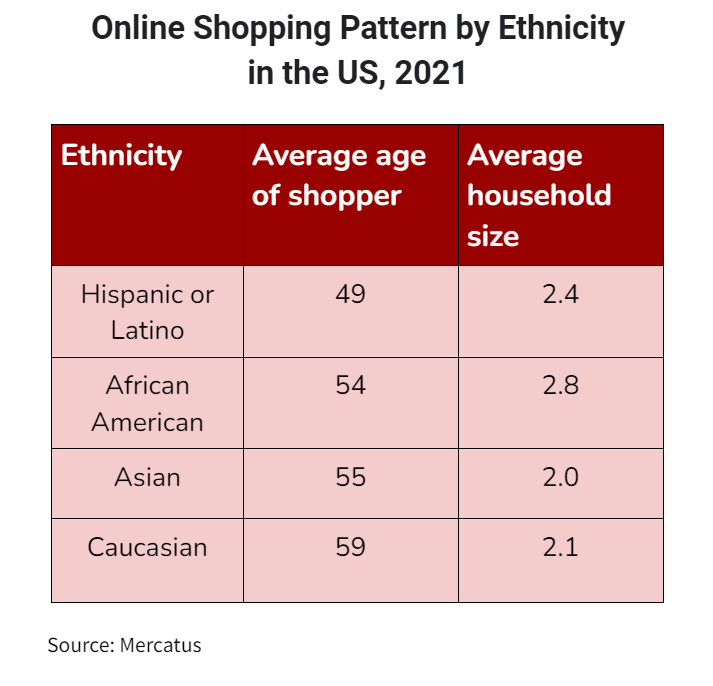 In terms of households shopping online, African American households reported the highest adoption at 54% in 2021.
Consumers demonstrate different behavior based on occasion and needs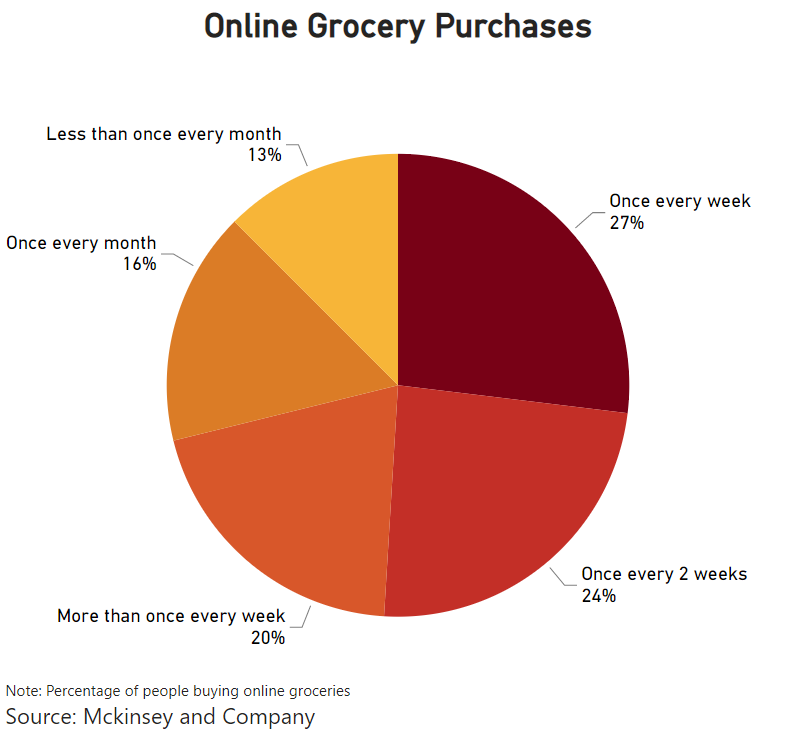 Monthly grocery spending of the US consumer demonstrates different behavior based on occasion and needs. They either stock up, shop for a few items, shop only for a specific item, or buy a meal for the day.
Millennials often seek 'experience' from the purchase of premium products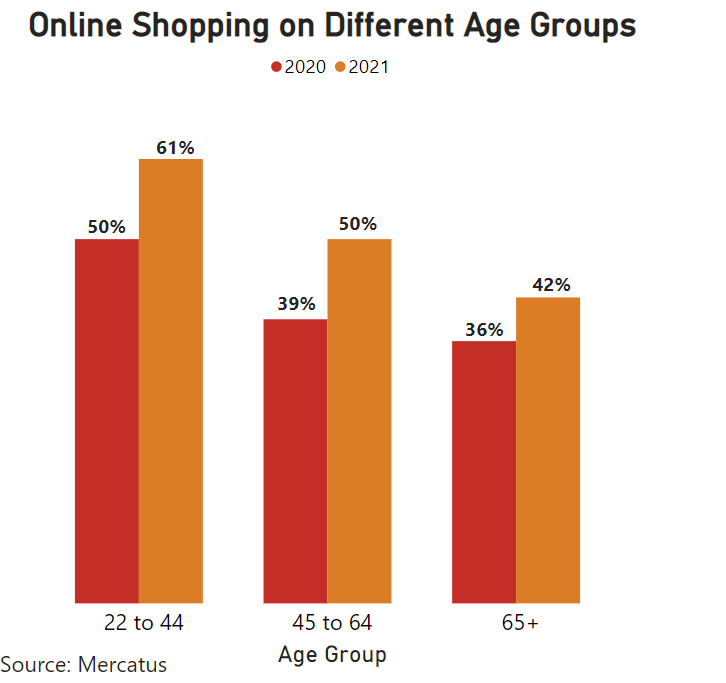 According to a recent report, adoption of egrocery shopping is highest with millennials and reduces with age. Another noticeable millennial pattern is the consumption of high-quality premium food products and flavor innovation. It is difficult to pinpoint and define premium products because it varies from one consumer to the other. Some may consider sustainable or fresh claims as premium. For others, it may be the 'organic' stamp.
Millennials, in general, are less price-sensitive. They are willing to pay more for the experience and high-quality products.
Offering a full array of meal solutions to meet shopper needs is an emerging trend
Freshly prepared meals and meal bundles are gaining importance lately. According to the Deloitte fresh food consumer survey 2020, 9 out of 10 people said fresh food makes them content. Retailers have been recently adopting the "fresh" attribute in their core brand message.
Grocers explore the growing connection between food and medicine
Grocers are increasingly leaning toward the plant-based segment as another lifestyle choice. They are merchandizing such products with their animal protein counterparts.
Grocers are digging into personalized programs that help shoppers track their fitness goals and adopt new meal habits. In 2021, Walmart added a Built for Better icon to hop on to the nutrition and wellness bandwagon.
Meanwhile, from sustainable store design to climate-friendly supply chains, indoor farming, ethical retailing, greener packaging, upcycled foods, and a lot more, food grocery retailers are actively nurturing healthier communities and fighting against environmental damage.
Retail media networks are expanding
Retail media networks are the type of cooperative (or Co-Op) advertising about advertising consumer packaged goods (CPG) to customers at or near the point of purchase. This could be – in-store and online advertising, customer samples, promotional coupons, and loyalty programs.
Brands or third-party businesses are mainly investing in online advertising to improve the audience targeting and thereby, enhance the shopper experience.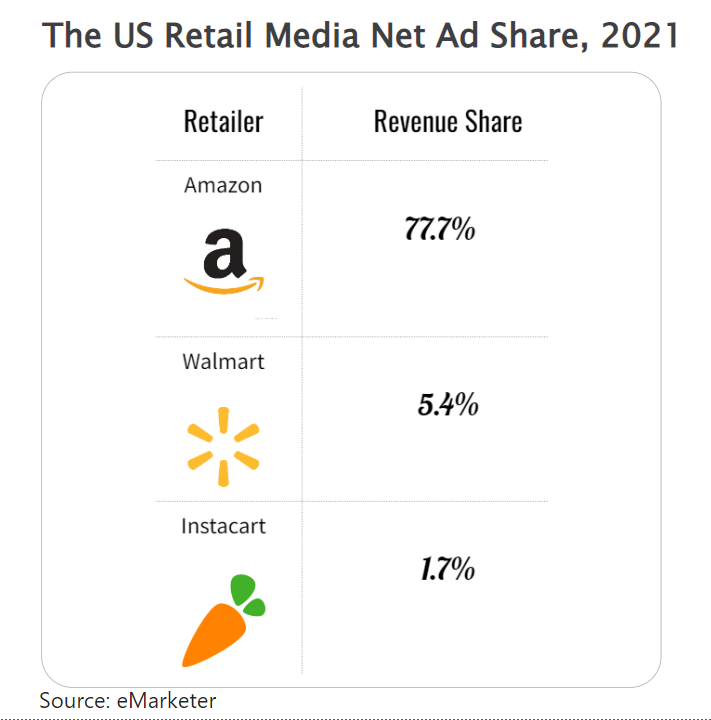 In 2021, Amazon sold $31.1 billion in ads on its platform, making Amazon a bigger advertising platform than YouTube. Walmart sold $2.1 billion in ads in the same year. To make it easier for brands and advertising agencies to partner with Walmart, the retailer's media group, Walmart Connect, expanded its off-site media opportunities by introducing a new demand-side platform (DSP) called Walmart DSP.
Kroger, Target, Albertsons, and many more have joined the league of building and expanding their retail media networks.
That said, digital shelf analytics (DSA) solutions can help monitor competitors' sponsored ads and product listings and provide you with actionable insights to create your own high-ranking ads.
Q-Commerce or Quick-Commerce is redefining grocery e-commerce
Over the past year, a number of grocery retailers promising to deliver grocery and convenience items in a matter of minutes have popped up in the US. Grocery apps are lately promising ultra-fast delivery within 15 to 30 minutes. Even the big delivery companies are dipping their toes into the q-commerce market, adding more pressure on all competitors.
Delivery companies mainly compete for customers in two ways – being quick and offering the biggest discounts. At least 36% of Americans are now using same-day delivery, while delivery apps such as Shipt, for example, promise some deliveries in as little as an hour. The rapid-delivery model requires companies to lease and maintain micro/nano fulfillment centers to keep inventory close to customers.
Among larger operators, Walmart and The Kroger Co. have their own distribution infrastructures, guaranteeing shorter delivery windows due to the sharp increase in facilities across the nation.
Hyper-Personalization creates a real-time behavioral profile for the online grocery shopper
For grocery digital platforms, personalization can take the form of recommendations based on a customer's preferences. Retailers are also combining their platforms with meal planner apps and recipe sites to build shopping around days and dishes, not just individual items.
With the data generated by such businesses, businesses can gain keen insights into customers' preferences and expectations. This data, in turn, is used to provide tailored recommendations and special discounts to customers.
This means grocers need a fresh AI-driven approach to delivering exceptional customer experiences. For starters, grocery retailers must look beyond traditional marketing methods that involve customer segmentation. This is because every consumer is unique. Our tastes, preferences, and shopping habits are never the same.
Hyper-personalization helps create a real-time behavioral profile for every visitor that is extensible to their household. A deep learning framework, a real-time customer data platform (CDP), a full suite of experience personalization, and personalized marketing capabilities achieves this.
Inflationary trends are influencing product pricing
Inflation has driven e-commerce revenue higher in the past year, with the first two months of 2022 particularly impacted, according to Adobe's Digital Economy Index. The research found that 41.8% of e-commerce was driven by three categories: groceries, electronics, and apparel. Out of which, groceries share is 8.9%.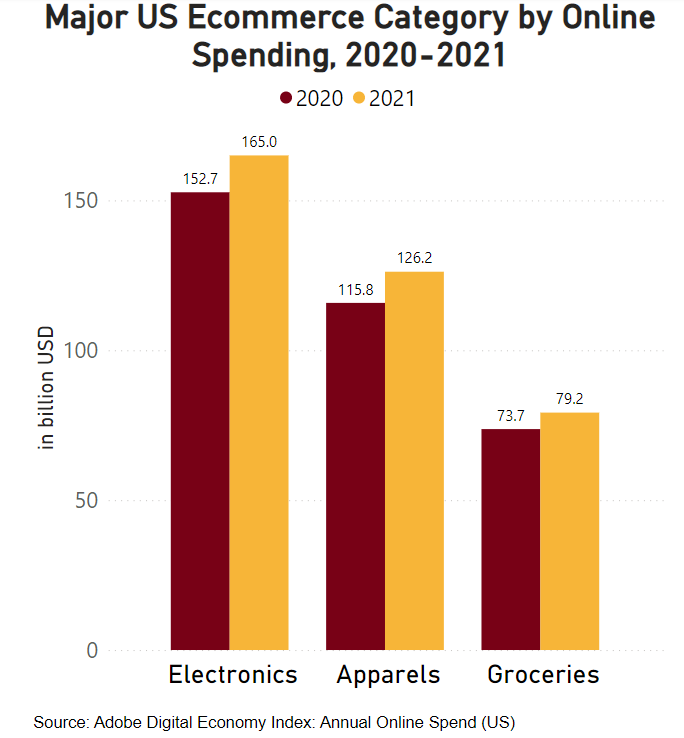 Moreover, consumers aren't ignoring their focus on health and wellness, the firm noted. While healthy eating has been tied to natural and organic products, these products usually carry higher price tags. This trend is picking up, particularly among millennial and Gen Z shoppers.
On the other hand, the global enterprise technology firm Morning Consult found that 16.5% of US adults weren't confident in their ability to pay their monthly grocery bill in March 2022, compared to 8% in March 2021 due to rising inflation. This has many consumers anxious about their household budget as the price of commonly purchased items continues to increase while their incomes remain the same. Such high prices drive innovations in the grocery space such as enabling technologies that support better demand forecasting and product pricing.
Evolving times demand modern payment methods
During the pandemic, consumer spending shot up, and many looked for new ways to manage their money. Buy Now, Pay Later (BNPL) orders between October and November 2020 shot up 528% year over year while revenue grew 412% year over year. In recent months, this growth has slowed. But demand remained strong: BNPL orders are up 53% YoY while revenue is up 56% YoY.
Secure and convenient checkout are preeminent payment preferences for shoppers. With the rise in digital payments, 25% of retailers have adopted SNAP EBT. Electronic Benefits Transfer (EBT) is an electronic system that allows Supplemental Nutrition Assistance Program (SNAP) participants to pay for food using their SNAP benefits.
Grocery brands compete for product visibility in digital aisles
No one really likes to scroll beyond the second page of the grocer's site. The display and placement of a brand's product in the egrocer's marketplace when the consumer searches for the product on the retailer's website is yet another trend gaining momentum. This is exactly where digital shelf analytics comes in place for digitally native grocers and legacy grocers. This will help brands reach consumers at the right point in the consumer journey, i.e. when they are searching for the product online.
Evidently, an immense digitalization trend has taken hold in the grocery industry. The role of digital shelf analytics runs beyond product visibility alone.

Win Grocery E-commerce with Digital Shelf Analytics
Grocers have been pushed to develop an agile approach because of increased demand for speed and convenience from shoppers. Digital Shelf Analytics will help reduce friction between planning and execution, allowing for better resource planning, inventory optimization, and location-based insights.
Inventory and supply chain challenges are every grocer's nightmare. With reliable out-of-stock trackers at the zip code level, online grocers can cut down on costs or discrepancies in distribution.
Brands also need effective KPIs such as the share of search, search rank, shopping cart abandonment rate, and more to stay ahead of competitors.
Ratings and reviews from customers are another integral part of digital shelf management. A survey by PowerReviews showed how consumers are reading product reviews before placing an order. In fact, recently, Albertsons enabled product reviews and ratings for its grocery chains.
To access such intensive data with a tap, you need advanced digital solutions. At MetricsCart, we equip you with the right insights with accurate digital shelf analytics (DSA) to make your grocery e-commerce business future-ready.
Get access to real-time price changes, location-based inventory data, product search visibility, instant alerts on MAP violations, and more on MetricsCart. Reach out to our experts now.