Did you know Amazon sold 300 million products during Prime Day in the US in 2022?
Globally, the ecommerce giant sold more than 100,000 items per minute. This year, Prime Day was held on July 12 and July 13 in more than 20 countries, including the US. However, Prime Day landed in other markets later in July.
Unsurprisingly, Amazon reported Prime Day to be the 'biggest ever' two-day sale event. Discount-hungry shoppers spent more than $3 billion and bought items from over 100 million small businesses selling on the platform. Let's explore this by looking at some of the major takeaways from Amazon's eighth annual Prime Day sales in the US.
Key Takeaways From Amazon Prime Day in the US
According to Adobe Analytics, the total online sales in the US during Amazon's Prime Day event touched $11.9 billion. This was an 8.5% year-over-year growth in online spending in the US.
Shoppers poured in huge numbers despite the record-high inflation in the US.
Inflation increased by 9.1% year-over-year in the month of June, touching a new 41-year high in the country. This inflation update by the U.S. Labor Department came out exactly in the middle of the 48-hour sale event. However, inflation has been surging in the country for months now.
Traditionally, Prime Day sales see strong consumer electronic sales but this year was different. Shoppers mostly bought, household items, pet products, clothing, and other consumer goods categories.
About 33% of consumers said they purchased something they'd been waiting to buy at a lower price. Another 27% passed on buying an item on Amazon Prime Day because of higher prices.
About 74% of the average Prime order by size was less than $30.
After months of heightened prices, shoppers took advantage of the discounts. However, most customers ordered only one time, and only 8% of the orders comprised more than 3 items.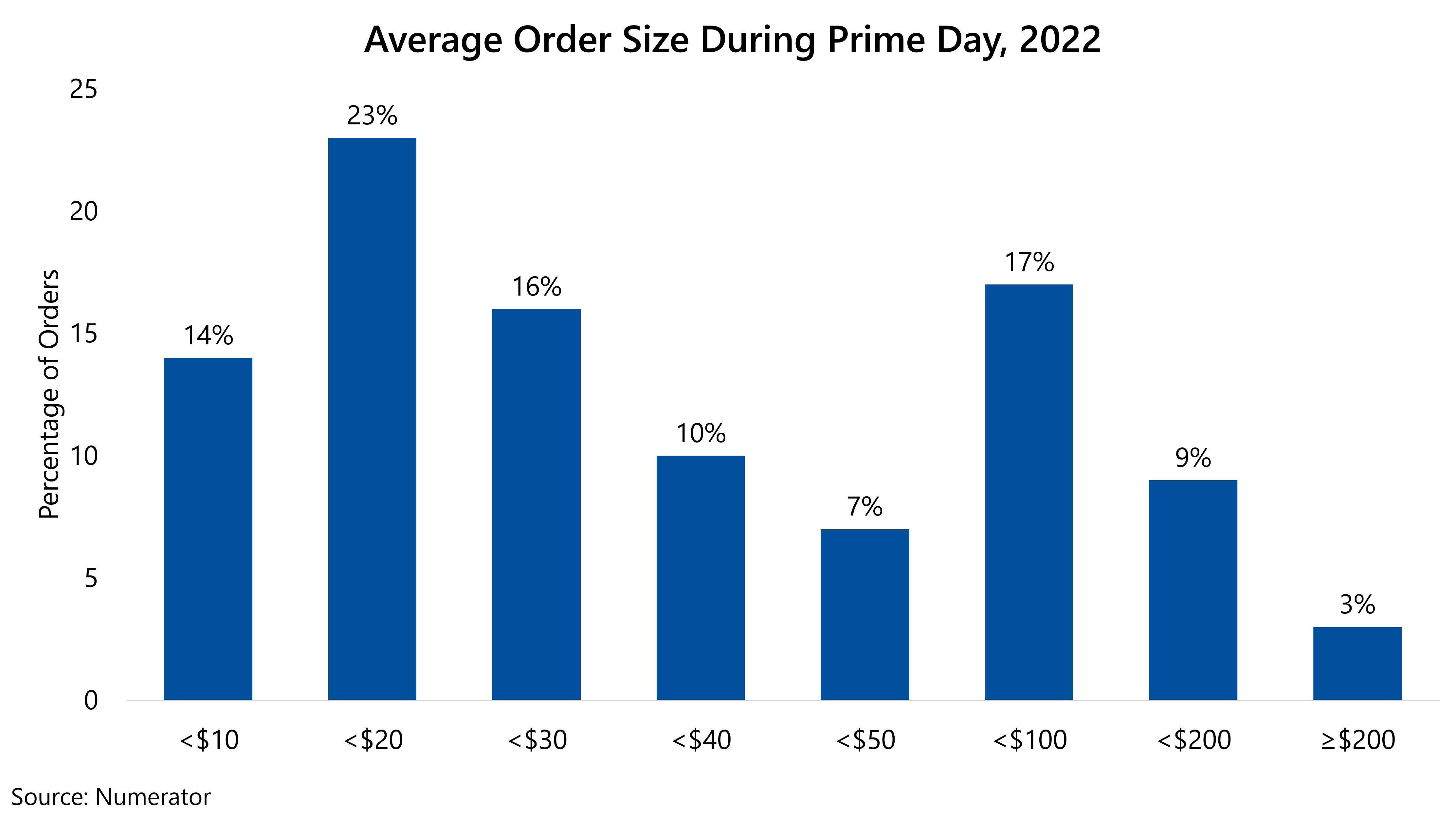 Nearly 62% of households shopping on Amazon Prime Day placed two-plus separate orders. This resulted in the average household spending of roughly $144.56. Moreover, Amazon ran major deals and discounts on everyday staples used in American households.
Interestingly, many customers also utilized the Buy Now Pay Later option. This was up by 13% when compared to 2021.
Amazon Prime Day saw a spike in demand for household essentials.
Necessities over indulgences was the equation shoppers held in mind with their wallets squeezed from inflation. About one-third of the items purchased by shoppers were from small businesses. Deals on consumer package goods such as snacks, paper towels, razors, and detergents sold in different bulk combinations were quite popular. For instance, a 12-pack bundle of Gatorade bottles was on sale for over 60% on Amazon.
Boys and girls' apparel also saw a spike in sales as customers did their back-to-school shopping during the two-day sale event.
Read more: Role of Data Insights in Trade Promotion Optimization Strategies
The overall top sellers for Prime Day were mostly Amazon's own products.
In a recent study of the private label market, private label categories saw a double-digit increase, especially in baking mixes, soups, prepared foods, dried vegetables, and canned fish. This could also be seen in how Amazon-branded products were bought more than national brands. This year, many Amazon products were discounted by more than 45%.
Read more: Understanding the Potential of Private Label Brands
In the case of Prime Day, 68% of Prime customers bought Amazon-branded products. This includes Fire TV Stick, Echo Dot 4th Gen, Blink Cameras and Doorbells, Ring Video Doorbell, and more.
The toys and apparel category experienced higher discounts during Prime Day this year.
The Adobe Digital Price Index for the month of June recorded a price increase across 11 of 18 categories year over year. The prices of grocery items continued to rise. The categories with a price drop are electronics, office supplies, flowers, computers, and apparel.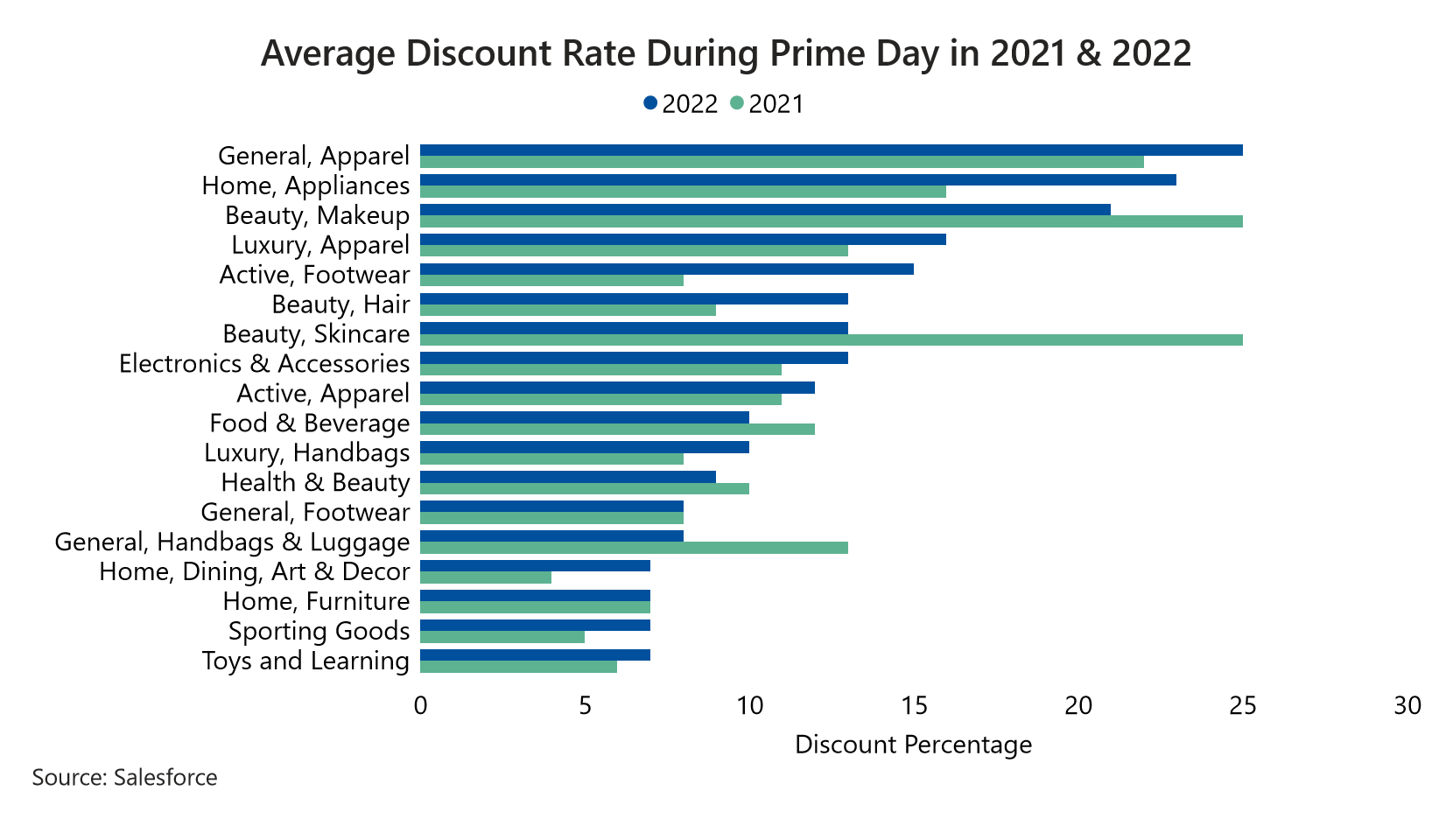 For Amazon Prime Day in the US, average discounts are higher this year in apparel, appliances, beauty, and makeup. Toys bagged higher average discounts at 15% followed by apparel at 12%. While in 2021, skincare, handbags, and luggage are some other categories that offered better discounts during the sale event.
Read more: The Boom of the Children's Toy Industry in the US
According to Amazon, beauty products from Korean skincare brands Laneige and Nuface, clothes from Levi's, the Apple Watch Series 7, Crest teeth whitening strips, and Oral-B electric toothbrushes were some of the best-selling products in the US during Prime Day.
In 2022, for the first time, Prime Day deals were also made available beyond Amazon with a 'Buy with Prime' option at checkout. This could be seen in some of the Shopify stores with a discount of 20% or more.
Prime Day alternative sales by other big-box retailers also caught the attention of the customers.
Many big-box retailers continued to promote summer deals even though they weren't blatantly marketing against Amazon Prime Day. Retailers like Walmart were already running deals and discounts on their products to clear excess inventory. This year, Walmart didn't host a specific sale event as it has thousands of products available at weeks-long discounts under 'Rollbacks.' This includes bicycles, air fryers, apparel, and more.
On the other hand, Target hosted a three-day sale event coinciding with Prime Day called Deal Days. It ran discounts on categories from electronics to beauty products. Even Best Buy hosted "Black Friday in July" sale at the same time to lure away frugal shoppers from Amazon. The sitewide savings event featured heavy discounts on laptops, tablets, headphones, and more.
It is no surprise that inflation-slammed customers are extremely price conscious. They stocked up heavily on household goods and consumer packaged goods. As a result, businesses selling on Amazon and other big-box retailers saw evident changes in categories and choices in shopping. Therefore, this also proves to be the time retailer get to up their digital game.
Outsmart Your Data Decisions with Digital Shelf Analytics (DSA)
Amazon Prime Day and other popular sale events are undoubtedly when retailers discover the common thread of searches and what the customers are looking for. It is also when brands, both big and small, get to rethink their keywords for their products based on the trending search results. With advanced Digital Shelf Analytics solutions, retailers get to do exactly the same and more in a seamless way.
At MetricsCart via Digital Shelf Analytics, we provide retail intelligence and help build data-driven decisions in a tough economic landscape. Such intensive digital solutions will help you identify the bestsellers across different categories and track inventory in a timely manner.
Get access to product search visibility, location-based inventory data, real-time price changes, instant alerts on MAP violations, and more on MetricsCart. Reach our experts now.