Suzy Davidkhanian, the Principal analyst for Insider Intelligence, quotes in one of the recent episodes of the Behind The Numbers: An eMarketer Podcast, "A lentil is a lentil. Does it matter who's lentil it is?" For every Pringles, there is Original Prongles. For every, I Can't Believe It's Not Butter, there is Butter It's not!
Private Label Brands Are Clearly Having a Moment!
In the US, around 89.7% of consumers purchased a private label brand for a better value i.e. better quality for the price. More surprisingly, 25.8% of them didn't even realize it is a private label brand! 2022 so far has been a strong year in the private label brand's evolutionary curve with a 6.5% gain in sales in the first quarter.
Blended with a reliable Digital Shelf Analytics (DSA) architecture, retailers can set their private brands for the win in a competitive landscape. Let's dive deeper into the timeline and the presence of private label brands in current times in the US.
Getting To Know Private Brands
At the beginning of 2022, there was a 4.2% year-over-year increase in total sales of private label brands in the US. This was almost equal to the 4.4% year-over-year increase in the total sales of national brands. Simply put, private label brand sales touched $199 billion in 2021.
So, What Exactly Are Private Label Brands?
Private label brands, also known as store brands or private labels, are owned and sold by the retailer under their own brand name. These products are usually manufactured by a third-party manufacturer and sold online and offline. To name a few, Costco's Kirkland Signature, Amazon's AmazonBasics, and Walmart's Great Value are some of them.
Read more about Amazon's Prime Day Sales in 2022.
And What's Different Between Private Brands and National Brands?
Dove. Pampers. Dawn. Levis Strauss and Co. Starbucks. These national brands need no introduction. We all know this list can be endless!
National brands are products carrying the brand name and are usually available throughout the country. These are the most recognizable brands that consumers blindly trust. It is not limited to a geographical area or a few places. On the other hand, private label brands are available in locations only where the retailers are present, online or offline.
Retailers Of All Sizes Create and Sell Private Labels.
Most commonly, the retailers' entire line of private label brands carries the same name across all categories. Some retailers like Trader Joe's sell only their own line of products in their stores. Meanwhile, Kroger sells both, national brands and private label brands.
Private Label Brands Exist in All Categories.
Private brands are available across different categories ranging from pantries, household essentials, and beauty products to over-the-counter medicines. The products can either be consumer packaged goods (CPG) or fast-moving consumer goods.
Read more: How CPG Brands are Winning on the Digital Shelf?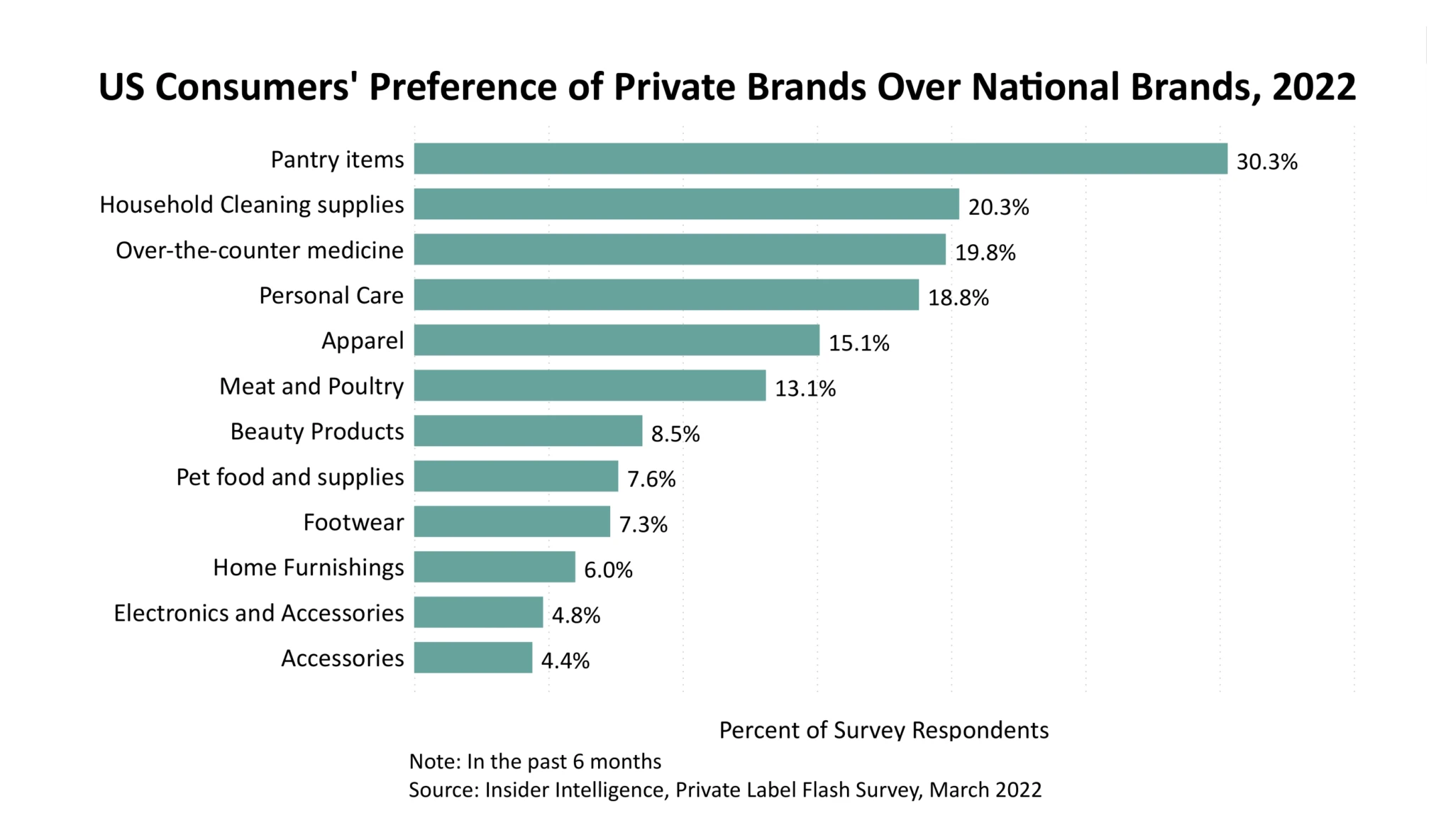 According to the Private Label Flash Survey of 2022, select pantry items such as canned foods, pasta, snacks, etc. had 30.3% of people switching from national brands to private label brands.
Retailers Don't Just Create Private Brands Because They Are Cheaper Alternatives.
The value proposition for private labels is no more about the price alone. It could be the story of how the ingredients are sourced or to cover a wider range of customer needs or even hooking onto 'green labels.' Kroger's Simple Truth, Safeway's O Organics, Target's Good & Gather, etc. do exactly that.
Furthermore, private brands are more profitable for retailers and help them win customer loyalty. These brands wade off advertising, research, and development costs. Typically, a private brand product on par with a national brand costs 40% or even 50% less to produce and sell.
Read more: Extensive Guide on Private Label Manufacturers
A Brief History of Private Labels in the US
Let's go back to the past now. Private label brands were initially launched between the 70s and 80s as generic "no name" brands. But why "no name" brands? In the olden days, they were as generic as being labeled 'napkins,' 'dog food,' and 'sweet peas!'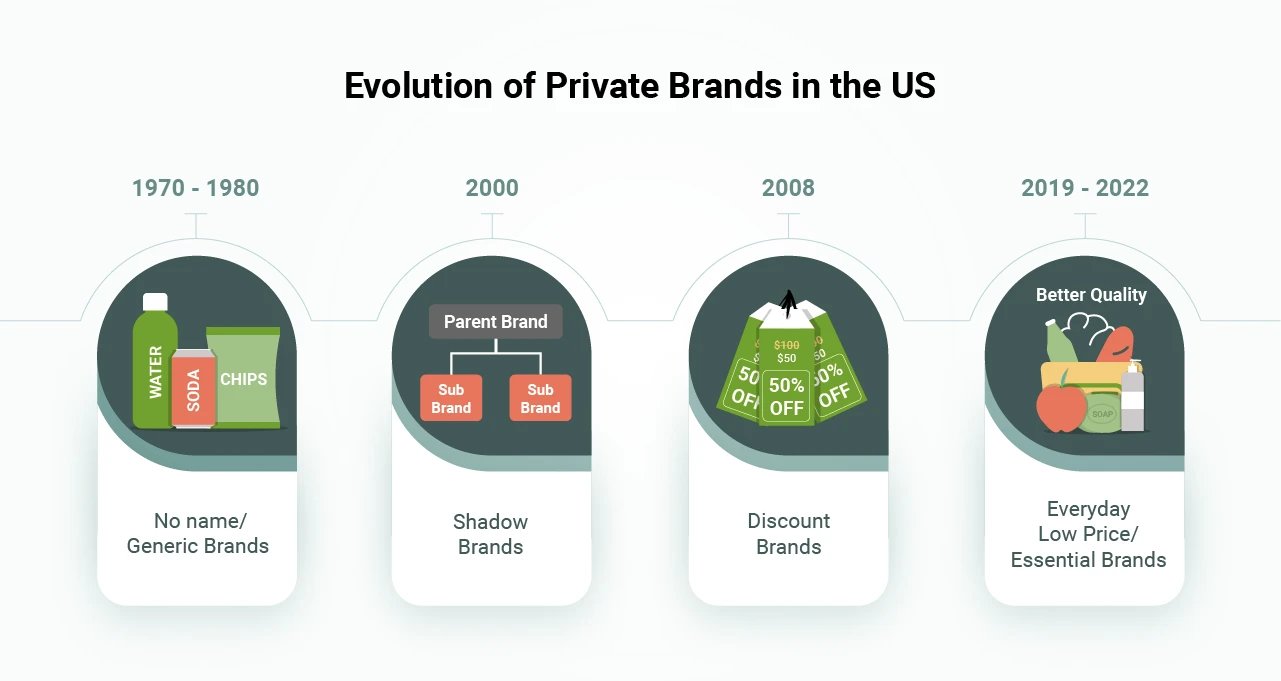 Here's a story from Kroger's early days. In 1901, Barney Kroger identified how bread was in high demand and took it as an opportunity to produce and sell it at Kroger. The retailer cut down on production costs and managed to sell bread at half the price. In no time, they became the first grocer in the US to have their own bakeries.
By the early 2000s, private brands then evolved into shadow brands. Later, these store brands transformed to discount brands around 2008. Now, these brands are everyday low price products and essentials.
During the Great Recession, consumers chose private label brands more as their wallets tightened. Consumers were then surprised to discover the fact that these generic no-name brands are manufactured by the same companies that produce the national brands. Fast forward to 2022, Walmart said during the first quarter earning call that customers are again buying more private label brands as they undergo inflationary pressures.
Read more: Walmart Private Label Brands Across Categories
Private Label Boom in the US
The major shakeup in consumers' choices from private label brands to national brands also raises many questions. Why is the private label brand boom happening now? Is inflation playing a role in consumers' shifts in choices? What are the consumer trends around the purchase decision for private label brands? Let's explore in depth.
Availability
The recent growth in sales of private brands can be significantly attributed to inflation, supply chain complexities, and the out-of-stock situation of national brands. According to the U.S. Bureau of Labor Statistics, the annual inflation rate is at 8.5% for July. Similarly, retail sales in the US touched $596 billion in July, up from $542 billion a year ago.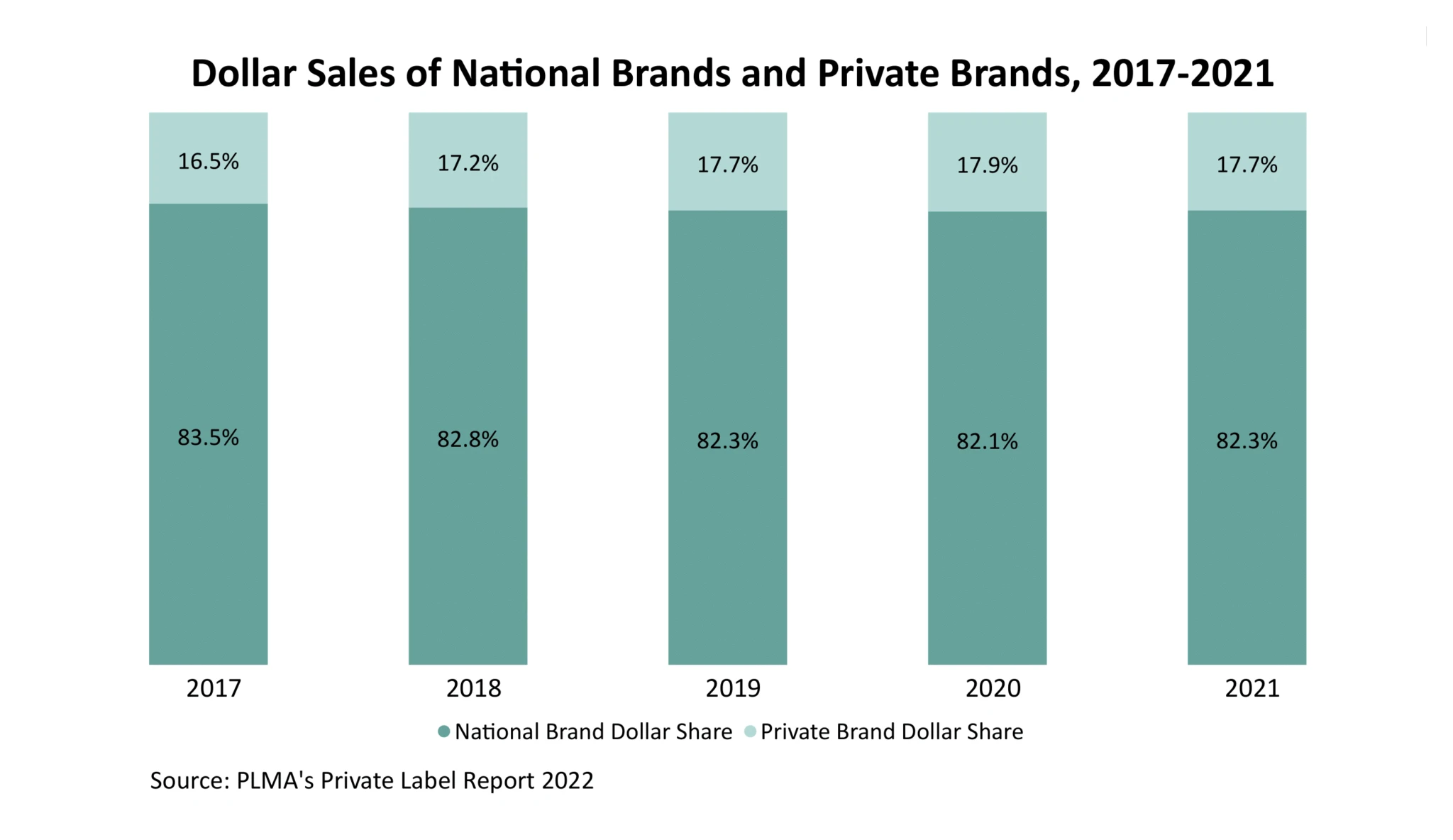 Nonetheless, 2021 was a roller coaster ride for private label brands. The year began with increased dollar sales and then saw a three-month dip. This was when the economy opened and people could go out more. Later the dollar sales picked up and the year ended more positively than the previous year.
Pricing
When we look at the price gap between national brands and private brands, there isn't much of a stark difference. Supply chain issues, fewer promotional advantages, and higher input costs have narrowed the price gap. Moreover, all the food ingredients are premarket FDA approved irrespective if they were used in private or national brands.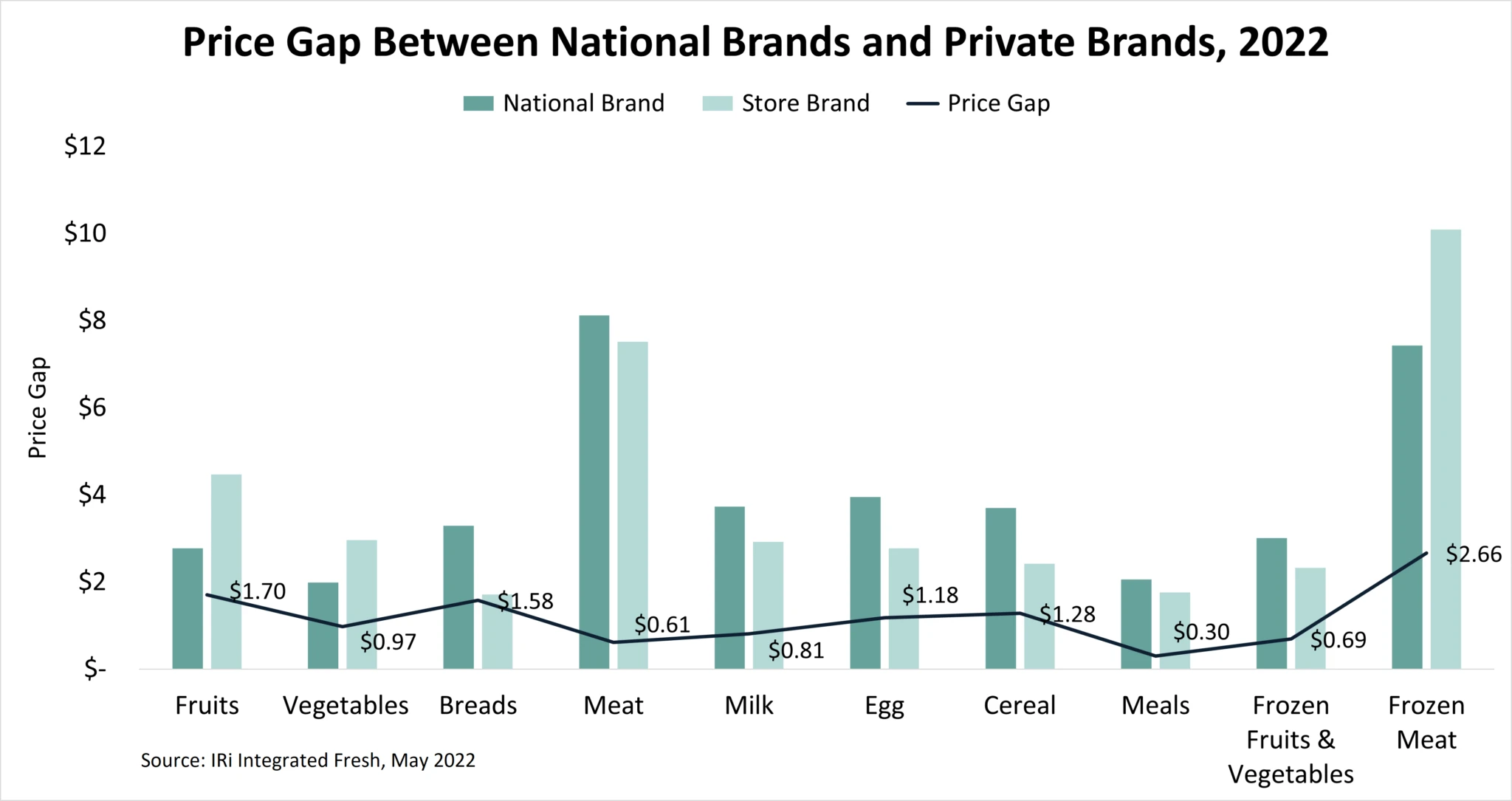 Apart from the price point, the other determinants for purchasing private label brands include value, availability, and taste. According to a recent report from Food Industry Association (FIA), 41% of the consumers surveyed shopped for more private brands in spring 2022.
Read more on Prestige Pricing: 10 Examples of Brands Scaling Their Pricing Strategy.
Assortment
Additional findings from Daymon's 2022 Private Brand Intelligence report cite a better assortment of private label brands (26%) online and the recommendations given by others (22%) as other important motivators for purchasing private label brands.
Value Across Generations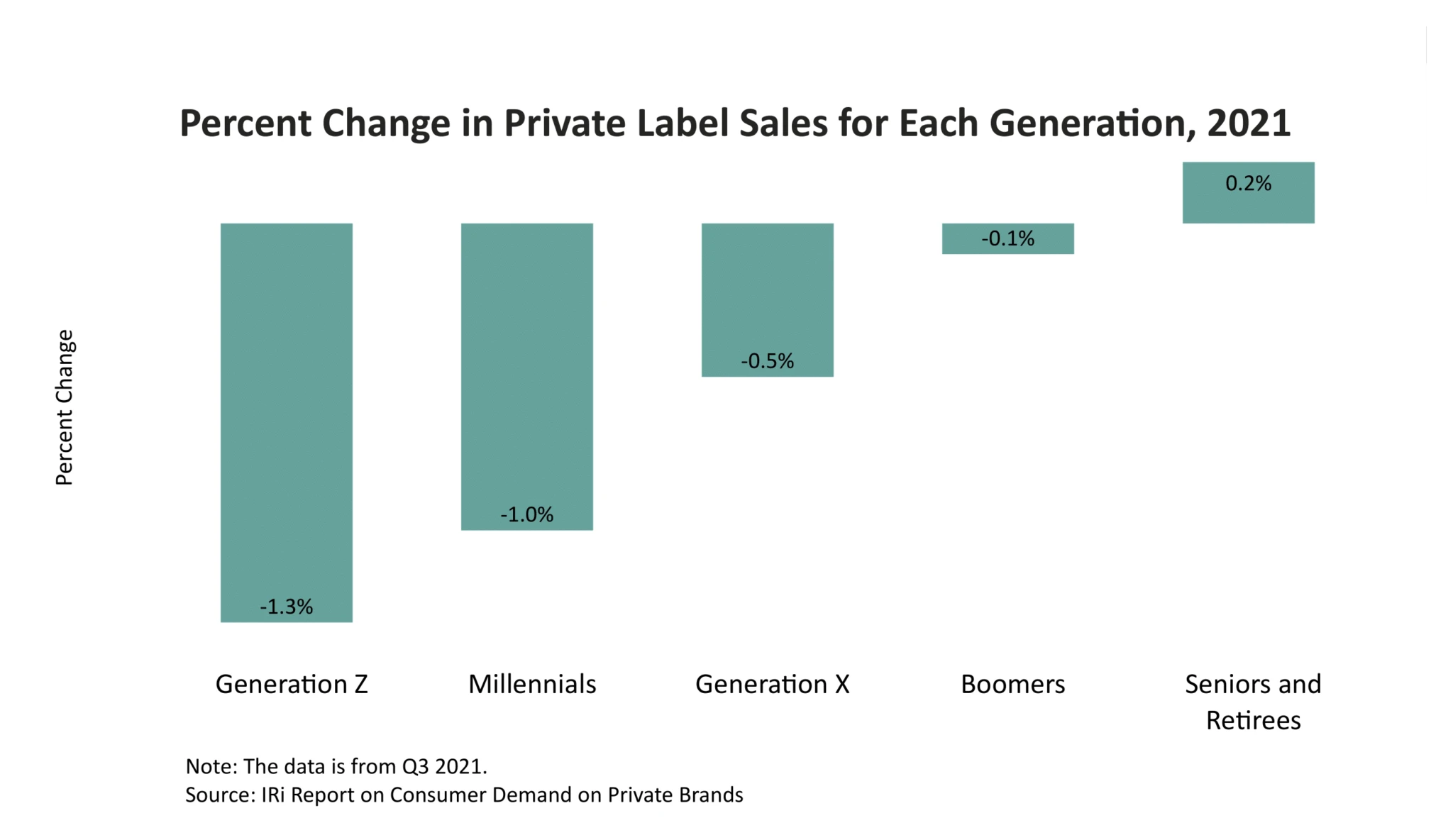 The 52-week dollar share for private label sales among different generations shows that seniors and millennials purchased and explored private brands more in 2020.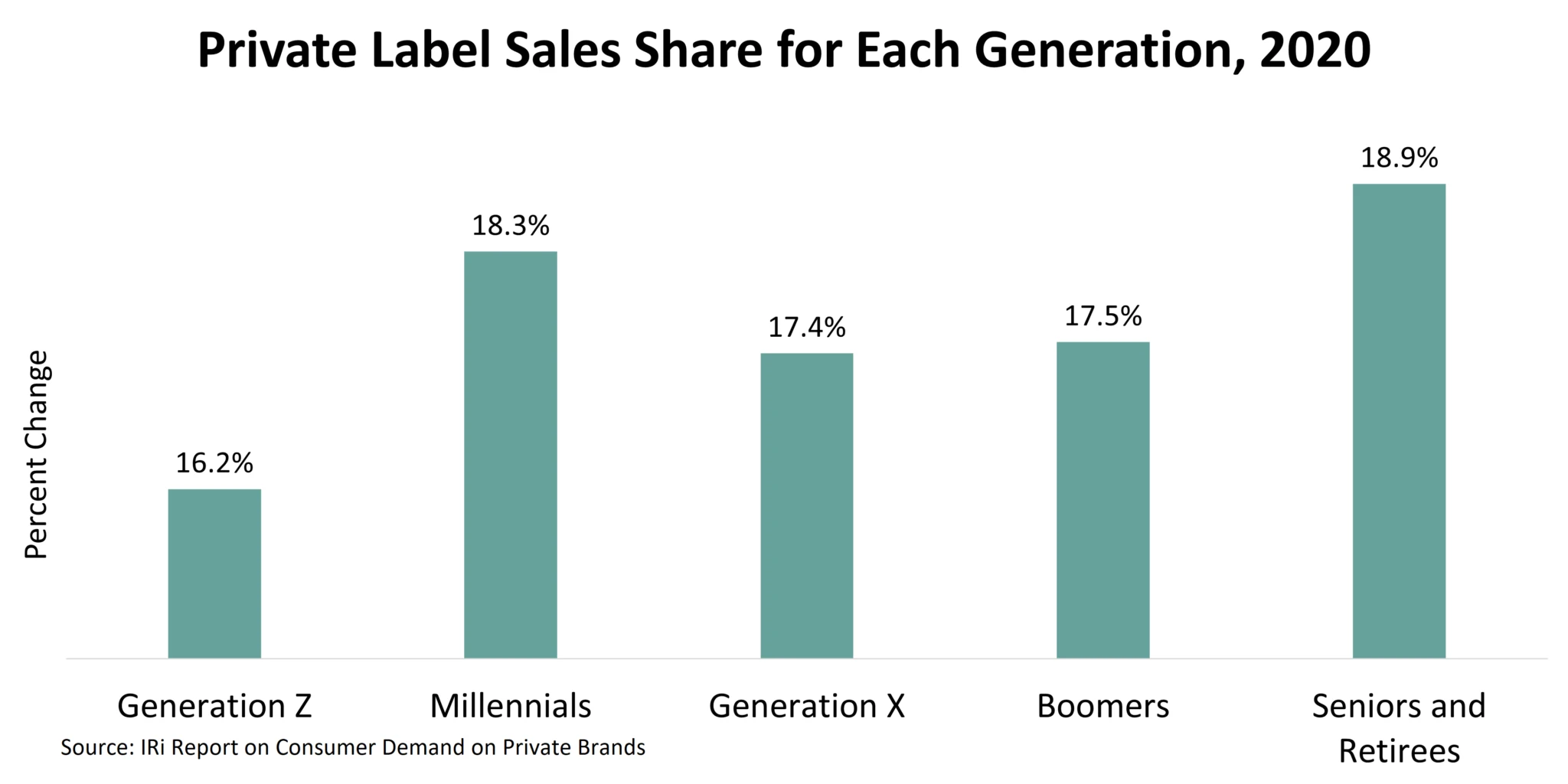 However, in 2021, the percent change for each generation shows how seniors and retirees stuck with private brands were more than other generations. Millennials are not 'brand loyal' like other generations. They love to explore and try new brands. It is not surprising that Gen Z makes the least at -1.3% as they firmly believe in high brand values to make their purchase decisions.
Green-labeled Products
Biodegradable. Recyclable. Eco-friendly. Sustainable. Zero Waste. We have seen it all.
Sustainability remains one of the top motivators for consumers in their purchasing decisions. This is particularly true with Millenials and Gen Z. Consumers are demanding all sorts of information about the product to trust the brands. For instance, Walmart's private brand Great Value tea meets three pillars of sustainability – economic, environmental and social.
Shrinkflation
No, none of us are imagining. The product sizes for CPG goods are smaller now. Inflationary pressures force national brand manufacturers to pass the production costs in the form of increased prices to consumers. National brands, in turn, conveniently reduce the size of the product and sell them at the same prices as before. Economists call this shrinkflation.
A recent report from 84.51° showed that consumers notice shrinkflation in many product categories. Around 51% of them felt chip packets have become smaller. This is also evident in cereals (37%), candy bars (29%), and toilet paper (26%). Consumer switch to less-priced options such as private brands.
Devising Effective Private Label Innovation Strategy via Digital Shelf Analytics
Over a third of the US population uses site search on a retailer or brand's website to either lead them to a product category or a specific brand. Customers don't think of private labels as private labels any more.
Additionally, customers wish for a positive experience at all touchpoints, from discovery to purchase to service. Digital Shelf Analytics (DSA) via MetricsCart automates the process for you to derive deep digital insights to empower your business. Here at MetricsCart, we not only help with the competitive landscape for the brand but also the share of voice, location-based visibility, organic optimization, visual alerts, and more.
Reach out to us today to meet your digital shelf requirements.