Subscribe & Save at Amazon. Flash Deals at Walmart. Weekly Digital Deals at Kroger. The deals and promotional offers in online marketplaces are endless.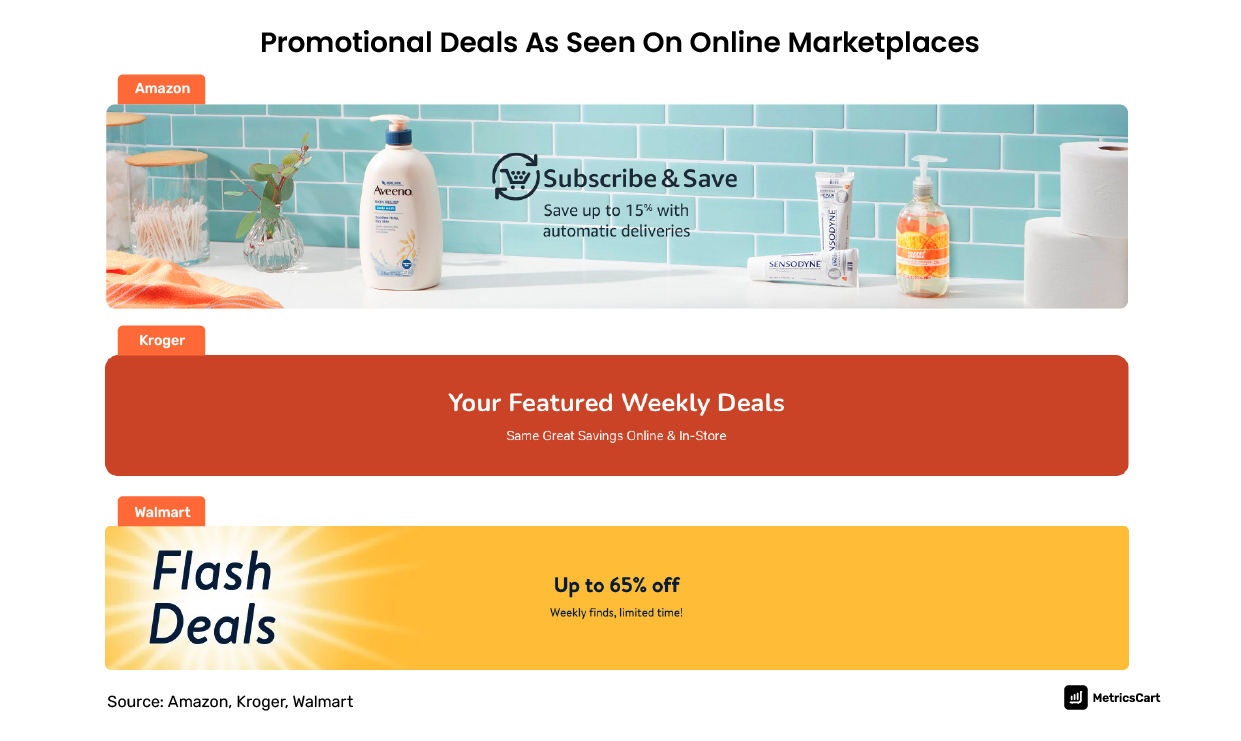 Retailers primarily use promotional discounts for certain items in their product range. In today's economy, with cost-conscious shoppers always on the hunt for deals and discounts, promotional strategies have evolved to include a range of omnichannel tactics. Some of the in-store promotions take the form of physical exhibits in brick-and-mortar stores, financial rebates, and demos.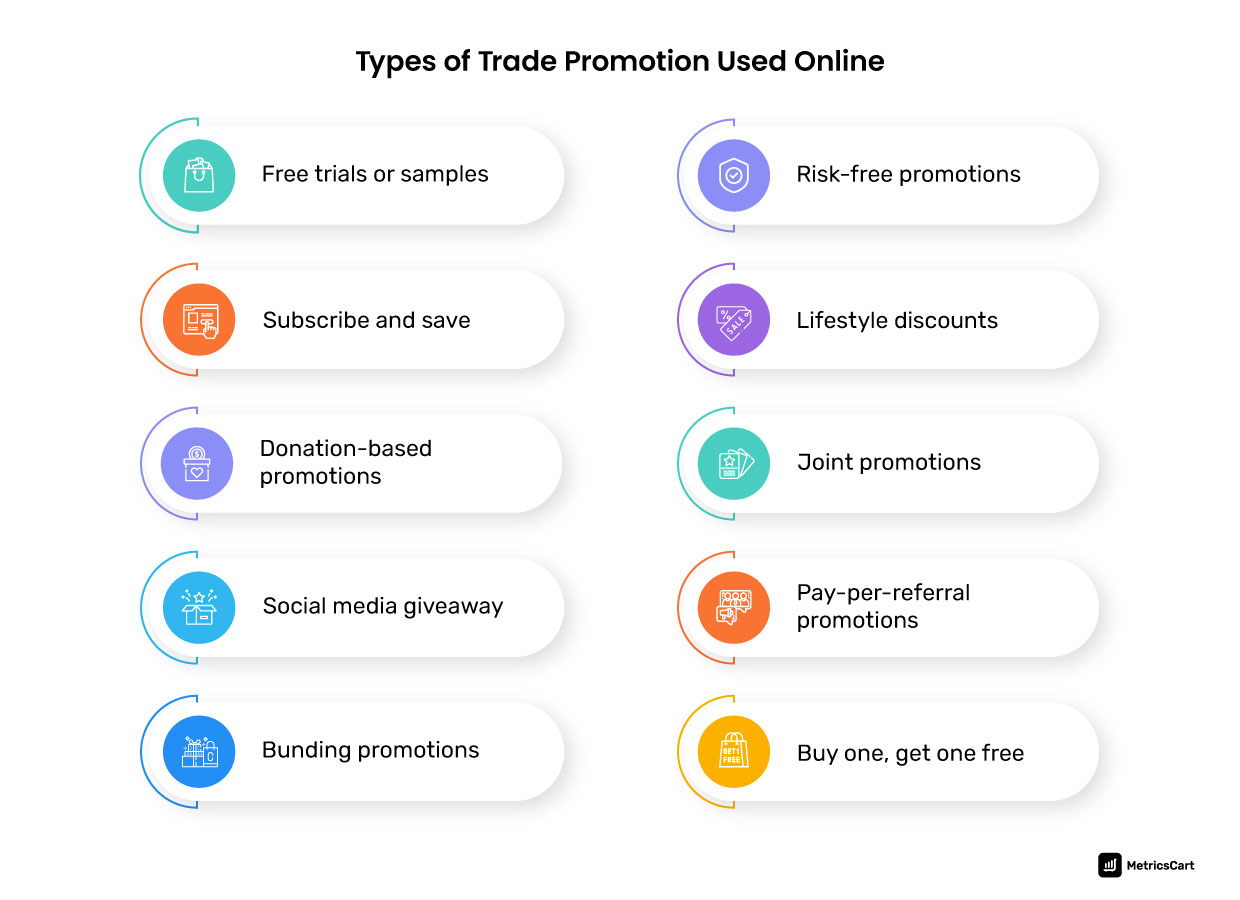 What Are Trade Promotions?
Trade promotion is the revenue growth management and marketing strategy that helps B2B wholesalers and CPG brands to:
Increase sales
Increase order size
Attract new customers
Introduce new features for existing products
Launch a new product
Using trade promotions, brands partner with retail stores, online marketplaces, restaurants, and grocery stores. To ensure the success of these promotions, it is crucial for them to understand various factors such as promo frequency, timing, level of discount offered, and the way promotions are communicated to shoppers.
With the digital transformation of businesses, brands now require an omnichannel approach to trade promotions.
What is Trade Promotion Optimization?
Trade Promotion Optimization (TPO) is a data-fueled process to arrive at effective trade promotions. It involves the processes and operations that improve promotional effectiveness in a retailer's strategies. For an effective TPO, retailers need data to:
Analyze the historical trends of past promotions
Assess customers' willingness to purchase the product without promotion
Track the number of transactions attributed to discounts
Analyze non-promoted products that trigger cart abandonment
Identify products that can be potentially promoted within a category
Track the volume purchased of the promoted product
Monitor seasonal changes in buying behavior, such as more frequent store visits or larger baskets
Trade promotion optimization helps brands to maximize the value generated from promotional campaigns.
Using Data Insights for Successful Trade Promotion Optimization Strategies
TPO focuses on data sets from past promotions to plan future promotions. But in today's digital age, the key to effective promotion goes beyond historical data.
For e-commerce brands, monitoring a range of digital shelf metrics like share of search, pricing, reviews, and inventory levels is crucial for maximizing product visibility. By combining historical data with real-time insights, brands develop smarter, more targeted promotions to achieve profitability.
Accuracy of Data Points for Trade Promotion Optimization
To create digital-first experiences, access to reliable data is becoming a mission-critical component as opposed to merely a supporting factor for brands. Understanding customers' preferences via data allows brands to create targeted and personalized campaigns.
Let's take an instance of how data accuracy plays out in bundling products for holiday shoppers. Mother's Day promotions in the US that start by March-end run until mid-May across brands every year.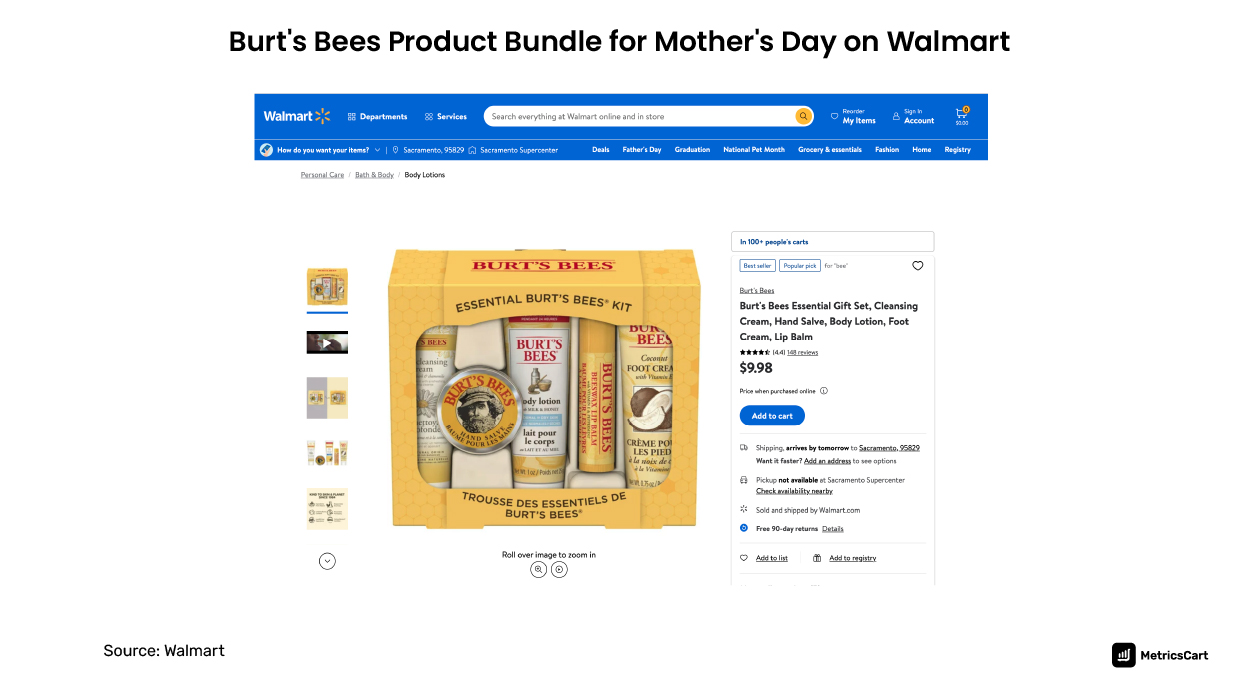 In order to create the right assortment and time the promotion for Mother's Day, Burt Bees needs access to valid data points about:
Which products are popular with mothers' demographics?
What is the ideal age group of customers buying this product?
What is the average order value (AOV) for the target audience?
What is the key-selling period for the Mother's Day promotion?
What is the past purchase behavior for the products in the bundle?
When the data available to a brand is outdated or inaccurate, it is difficult for the brand to position its product right. Digital shelf solutions for promotion and review monitoring provide accurate data and visibility into historical trends in devising effective trade promotion optimization strategies.
Applying Consistent Promotion Calculation Logic
A consistent promotion calculation logic brings transparency and fairness to promotional activities across online marketplaces. This enables you to get your shoppers to return for more. Any inconsistency in promotions can create more harm than good especially as shoppers are multi-channel recipients of a brand's promotional messaging.
Moreover, this also implies it is vital to continuously evaluate the effectiveness of the promotion. This iterative process ensures that the calculation logic remains relevant and aligned with the evolving needs of the marketplaces. A promotion monitoring solution helps you monitor ongoing promotions of competitors and set your calculation logic accordingly to meet the market demands.
Linking In-Store and E-Commerce Experiences With Data Insights
About 55% of the brands prioritize connecting in-store with digital experiences across retail channels and capitalizing on data and data trends.
One such example is from the breakfast category – Kellogg's. In 2019, Kellogg's tapped into survey data that showed that 89% of the population has a reading habit but it drops gradually as one age.
The company ran a promotion called "Feeding Reading" in the US to encourage children to read.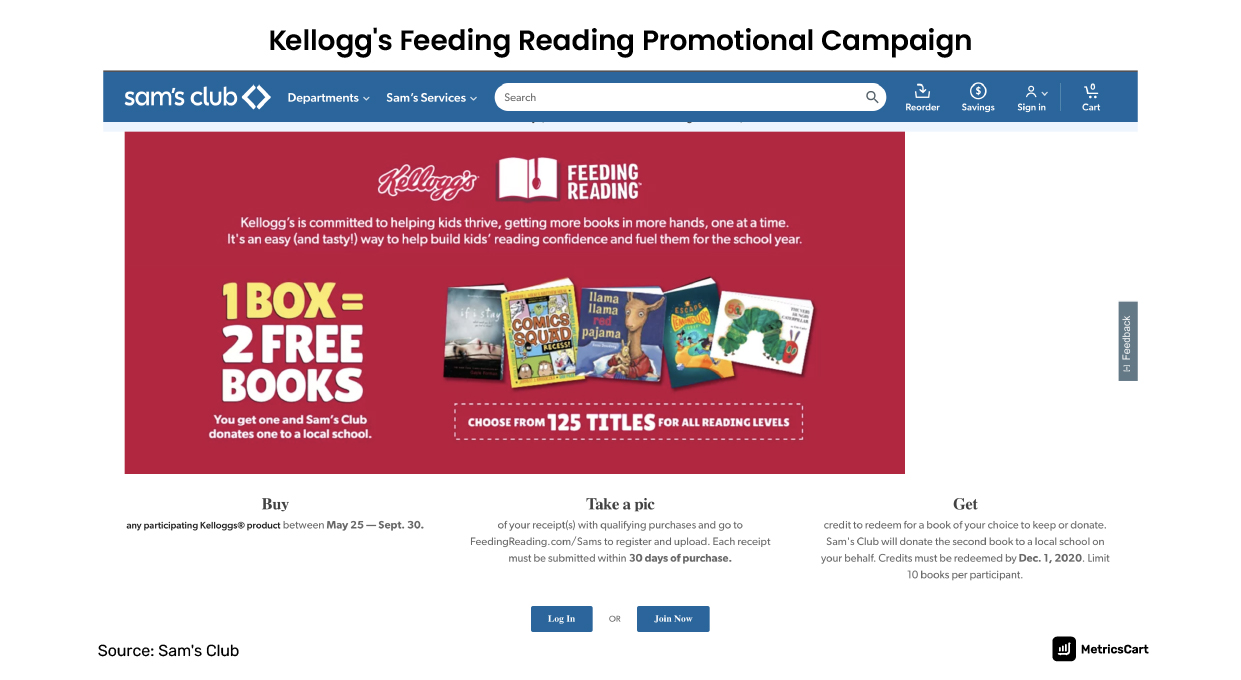 The campaign aimed to provide a book for free with every box of Kellogg's products purchased. It ran for four successful years. In 2021, the campaign distributed 300,000 to kids and families nationwide.
The promotion was present across traditional and online marketplaces. By tapping into omnichannel data, Kellogg's benefited from both online and digital customer interactions.
This meant automating data gathering from multiple channels and then integrating all the web, mobile, and point-of-sale data in one place. The integrated data also presents actionable trends among certain demographics and the feasibility of continuing with a promo for multiple successive years.
Choosing the Right Marketplace for Profitability
There is no 'one-size-fits-all' approach to deciding on the marketing mix. This presents brands with unique challenges and opportunities. In 2017, when traditional retailers suffered a decline in sales, online channels started picking up. To keep up, Nike decided to sell some of its products directly on Amazon at discounted prices.
Nike's digital shelf strategy quickly evolved to provide Amazon-specific detailed product information, high-quality images and videos, and personalized recommendations.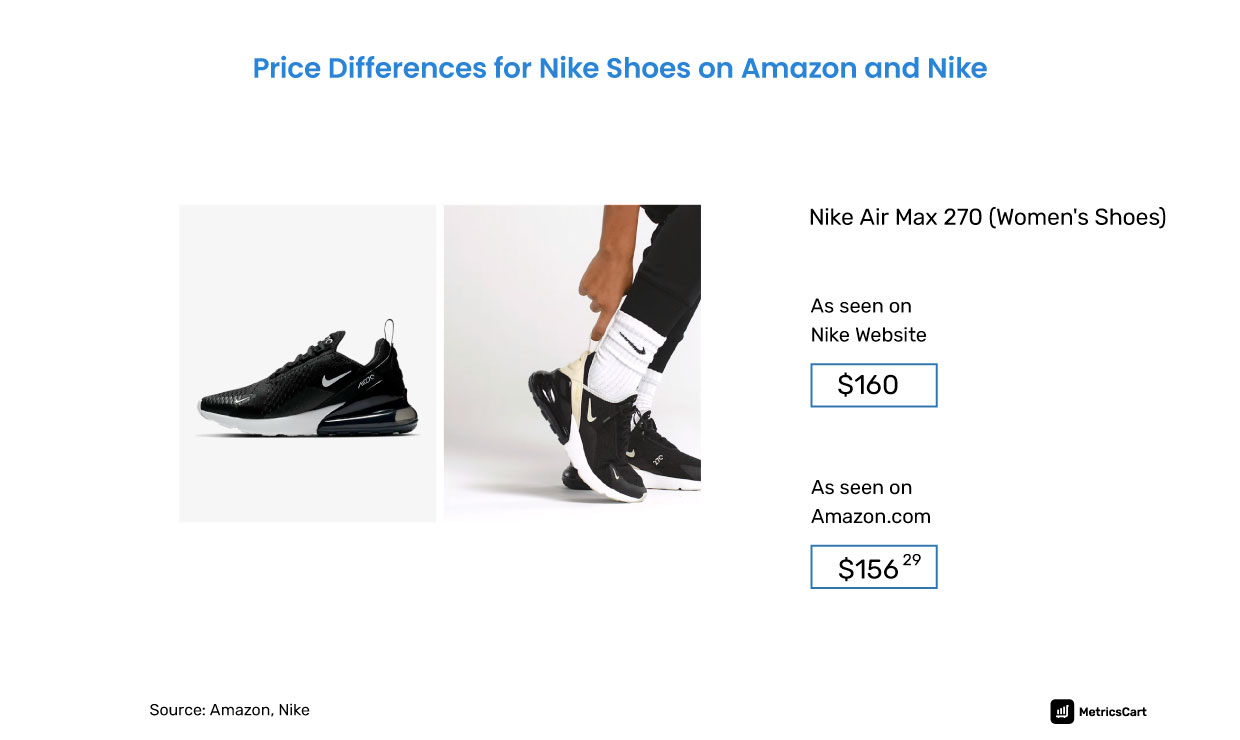 Running strategic promotions suitable for each online marketplace requires data sets to:
Identify non-seasonal shifts in customers' purchase patterns and follow the customer to their preferred channel
Monitor regular price changes for your own products and the product categories which include competitors
Assess competitors' ongoing promotions
Tracking competitors' minimum advertised prices, and more.
Being able to analyze competitor moves critically to avoid price wars becomes crucial. A price battle may also lead to losing the Buy Box on Amazon. Continuously monitoring the product prices of your brand and your rivals help you avoid price war and keep your prices competitive at the same time.
Also read: Price Monitoring Solution For Brand Competitiveness
Understanding the Interlinkage Between Pricing and Promotions
Though pricing and promotion operate independently, both are interlinked. With inflationary pressures, 29% of US shoppers would shop only for items on sale.
A 2023 Neilsen report highlights the grocery categories across which consumers are spending more.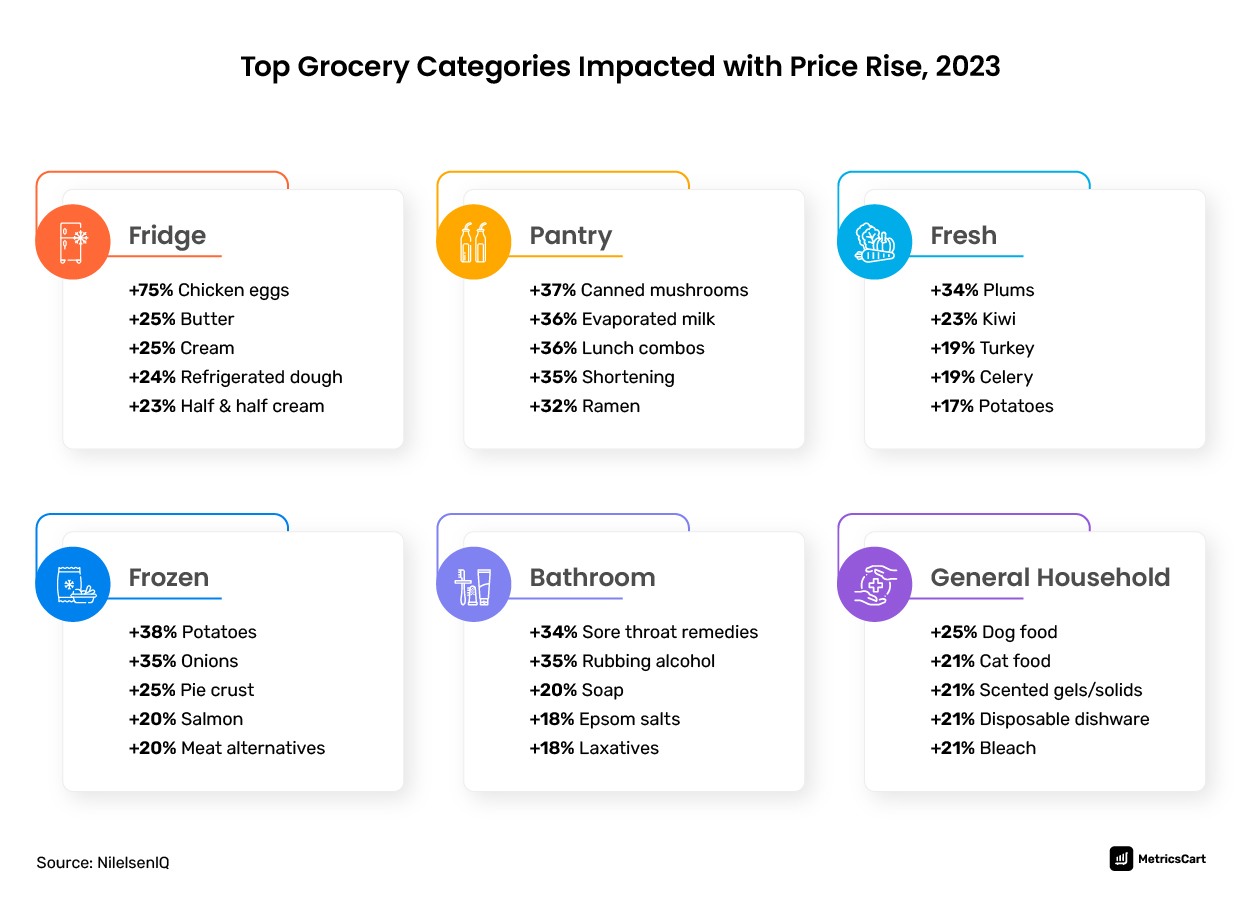 When food prices are on the rise, it impacts shoppers' spending power. They migrate to cheaper alternatives and buy private label brands. To combat this, retailers and brands need data points to test different approaches to pricing and promotions. Tracking inventory changes, seasonal volume changes, and identifying the high-demand products becomes key. Certain commonly used approaches by leading retailers include:
Setting the lowest prices and boosting discounts to increase purchase frequency or basket size
Keeping regular prices low but above a promotional price
Monitoring and correlating with private label brand prices whose data is hard to find through traditional data partners
Matching the highest competitor prices but with optimal discounts
Matching the highest competitor prices but pausing promotions to earn additional value through these products
Brands and retailers rely on price and promotion monitoring to review prices regularly. This helps brands understand what works right for them in the competitive market.
Combining Product Assortment Strategies With Trade Promotions
Very often, one-third of a brand's assortment is on promotions. From a brand's point of view, the internal process may look like this: The category manager handles the overall promotion and pricing of the products for assigned categories. However, the marketing manager further lowers the price as a part of the trade promotion. Due to these internal pricing differences, most of the promotions aren't profitable.
To overcome the challenge, the internal teams look at category and product perspectives through granular data insights.
Here's how a Samsung Galaxy Watch 5 is bundled with 2 fast chargers instead of one at $60 off at Costco. The promotional offer as seen on the site is only available to its members. Moreover, this offer is not present on other retailer sites. Looking at inventory turnover rate, cost and revenue per unit for each SKU and historic sales figures, brands curate assortments strategically.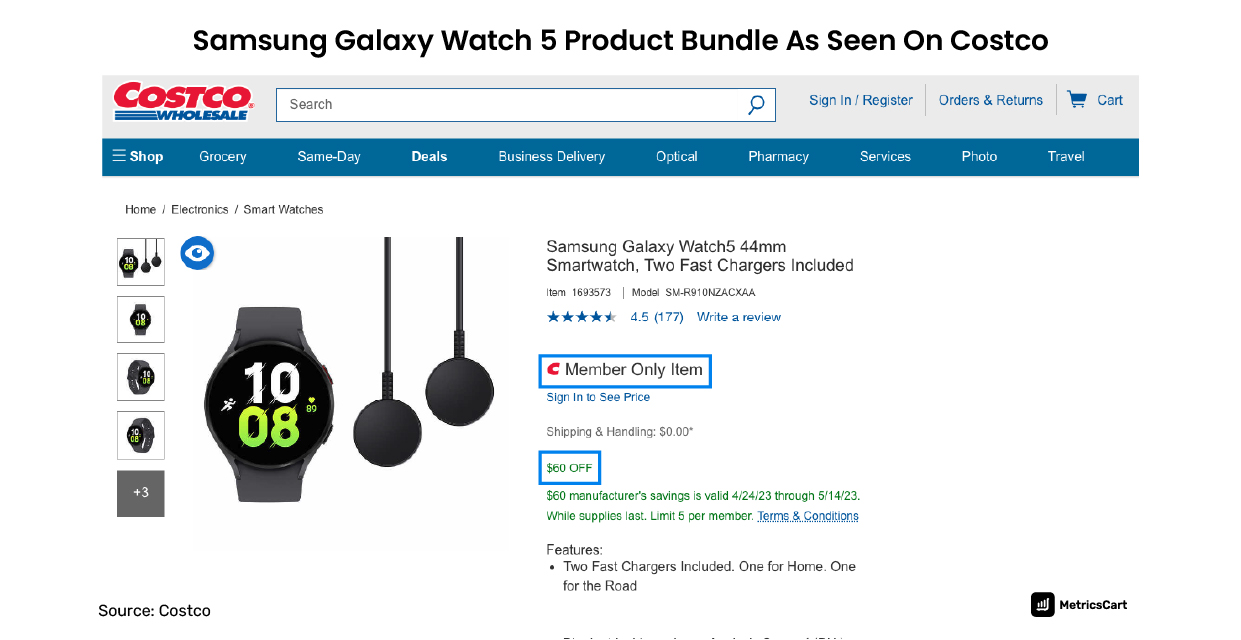 Moreover, brands use different assortment strategies such as wide, deep, localized, or mass market to fit their product categories. Digital shelf analytics solutions give brands a complete view of their categories on deals. These solutions standardize product categories to be at par with competitor offerings.
When you have access to the raw data from the digital shelf, you can segment the data in various ways to identify anomalies and areas of opportunity and optimization. Access to partially curated data via reports and dashboards does not allow brands to leverage the full power of the data.
Creating Targeted Promotions for Specific Locations
Promotions are one of the reasons for prices to vary from region to region on online marketplaces. Brands identify shoppers who are likely to respond to promotion by taking demographics, geographic location, average purchase amount, and other related factors into consideration.
On looking up Acer monitors in Sacramento and Anchorage locations on Walmart, Sacramento has a discounted rate. Assessing the target audience through historic purchase behavior gives brands and retailers the ability to devise targeted promotions.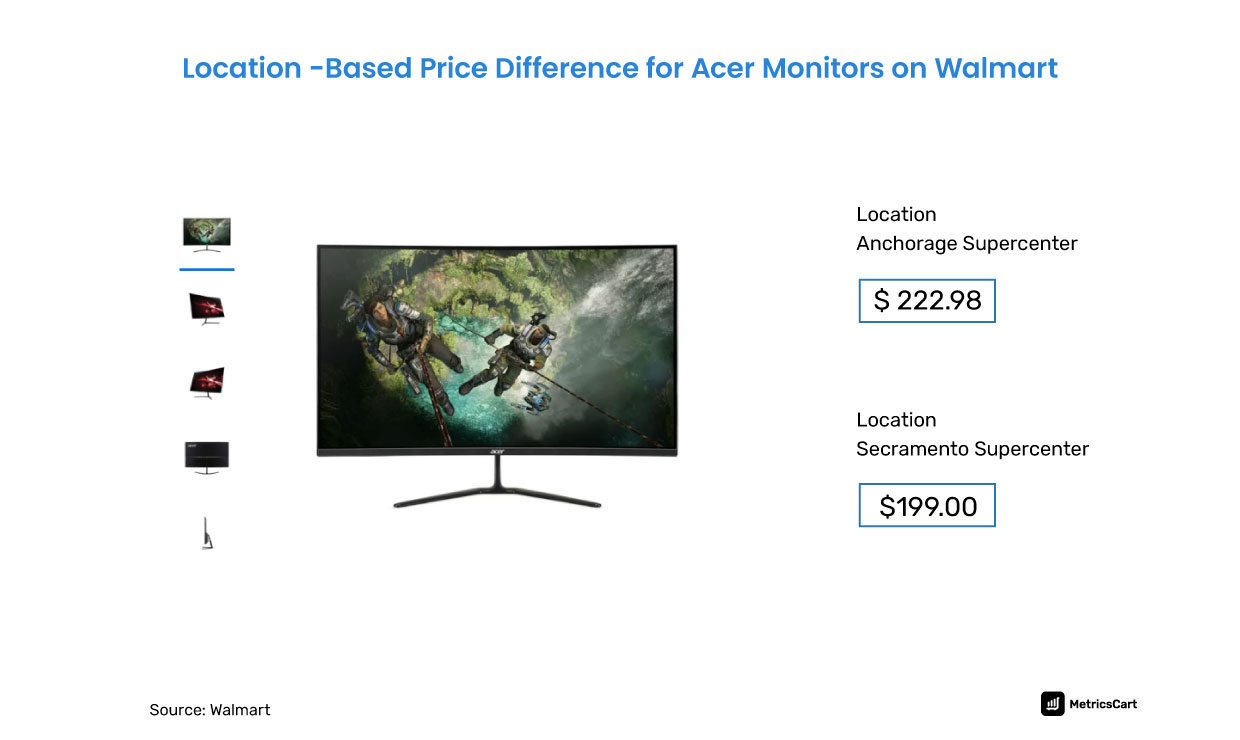 In today's promotion-laden e-commerce, retail calendars are packed for brands. Online promotion monitoring becomes a challenge when it has to be done across many products and retail channels.
Deploying an automated promotion monitoring system to track product pages, channel level, and cart-level promos is the way forward. This improves the efficiency of your promotions and your teams' workload management.
Ensuring Trade Promotion Optimization for Seasonal Demands
In 2022, Adobe Analytics reported a 3.5% year-over-year increase to $211.7 billion in online holiday sales in the US. The toy category saw the highest discounts at 34%. Legos, Hot Wheels, and Paw Patrol were the top-selling items in the toy category.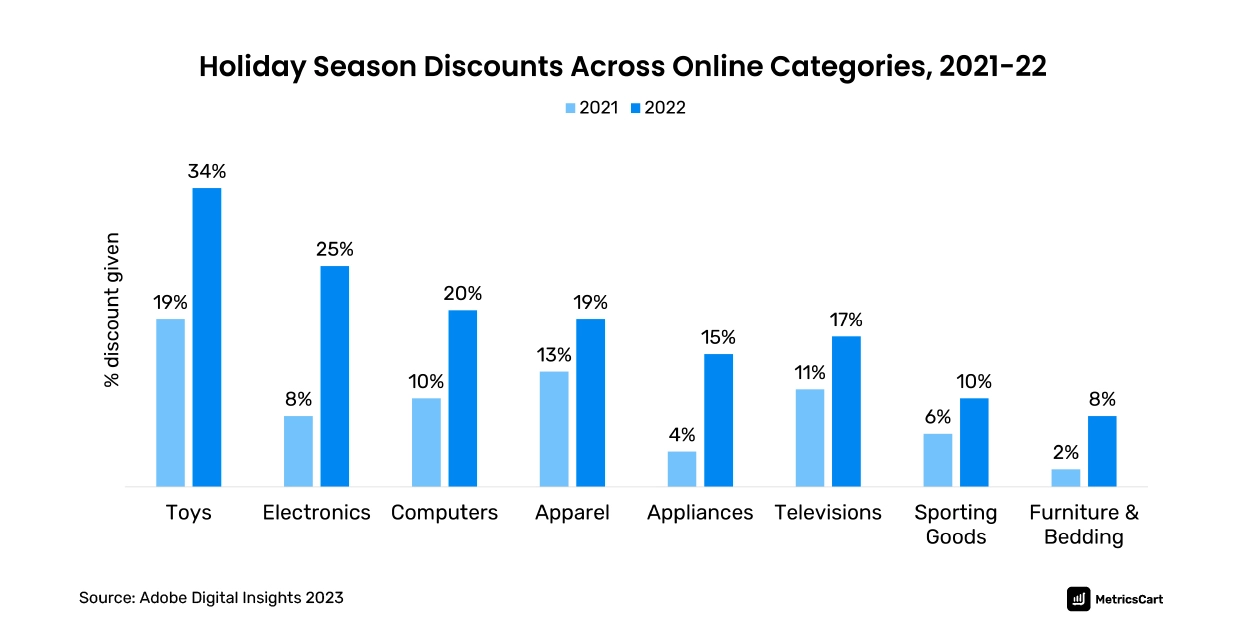 For seasonal demands, brands look at the season traffic trends. The Toy Association identified one of the hottest trends in 2022 was a new demography of 'kidults.' About 58% of the adults shopped for toys for themselves. This is a population above 12 years of age or older. Lego, Disney, and American Girl Cafe are a few of the brands hopping on this trend.
Read more: The US Online Toy Industry in 2022
Ensuring Product Visibility Through Category-Based Promotions
Category promotions usually involve paid and organic tactics to improve product visibility and conversion in a particular category. Let's take the example of an Amazon Best Seller under the Beauty category for sunscreen.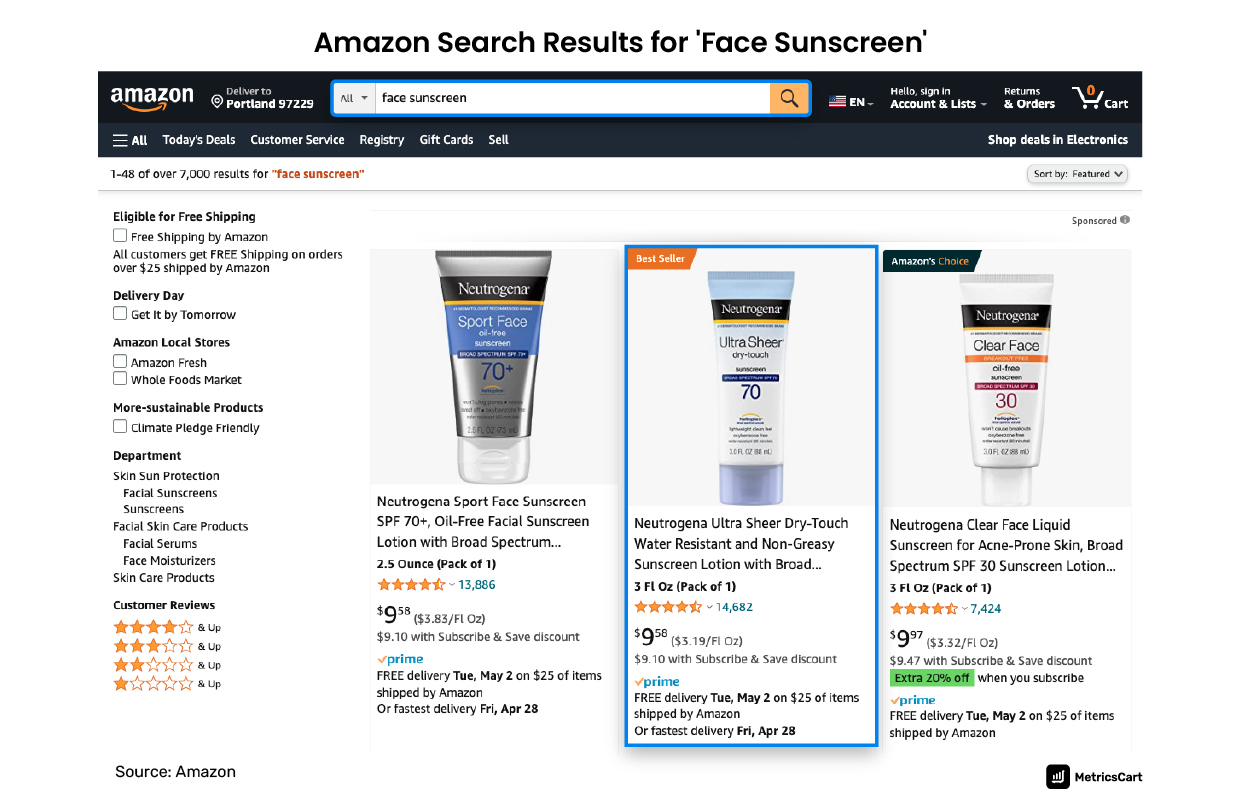 'Neutrogena Ultra Sheer Dry-Touch Sunscreen Lotion' pops up instantly in the first row for 'face sunscreen.' During the summer months, the demand for sunscreen is usually high. If the item is at a discounted price, the trade promotion coincides with the keywords used in the PDP. This leads to a win-win situation.
On the digital shelf, share of search solution helps to identify keyword gaps in PDPs in comparison with competitors. Also, the metric monitors featured and sponsored products across a brand's assortment in retail platforms.
Assess Trade Promotions With MetricsCart's Digital Shelf Insights
Every team, from sales to category managers to product managers, needs data insights to devise strategies. As brands and retailers level up this approach, they need advanced analytics. Regular updation of data points is time-consuming and demands more manpower.
In contrast, consumers expect personalized deals, greater on-shelf availability, and increased value. About 63% of shoppers look for the best deals as a top priority in their purchasing decision.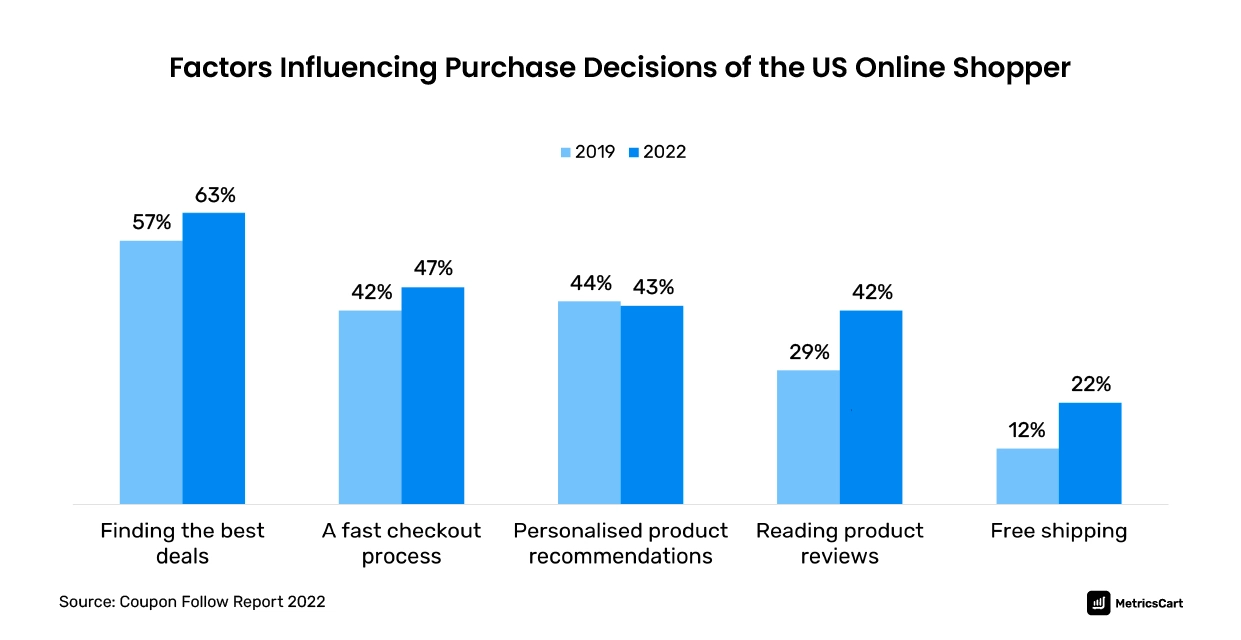 As an optimal solution, digital shelf solutions at MetricsCart help you capture, report and track data. We also are one of the few providers that allow you to get the raw data without being locked into our platform.
To generate some quick-hit ideas for free, our Amazon bestseller reports reveal top-performing brands, category ranks, and more. The data is provided for free with no annoying registration screens asking for your email.
Get in touch with our team to see how we can optimize your trade promotions through accurate data.