Promotional pricing isn't about slashing prices alone. The strategy achieves success when it aligns with the long-term objective of a brand or retailer.
Brands using promotional pricing to drive sales is not a new concept. However, in the present competitive retail scenario, e-commerce brands have to design an effective promotional pricing strategy to stand out. Using the insights provided by a competent digital shelf analytical service provider makes a brand achieve its goal much quicker.
Coca-Cola, one of the top renowned brands in the world is supposed to be the first to use coupon promotion. Back in 1886 when the brand was launched, none of the exhilarating advertisements was persuasive enough for customers to try the product. After two years, the brand gained popularity when Asa Griggs Candler bought the company and mailed out thousands of free coupons to customers who could avail of a free glass of the beverage.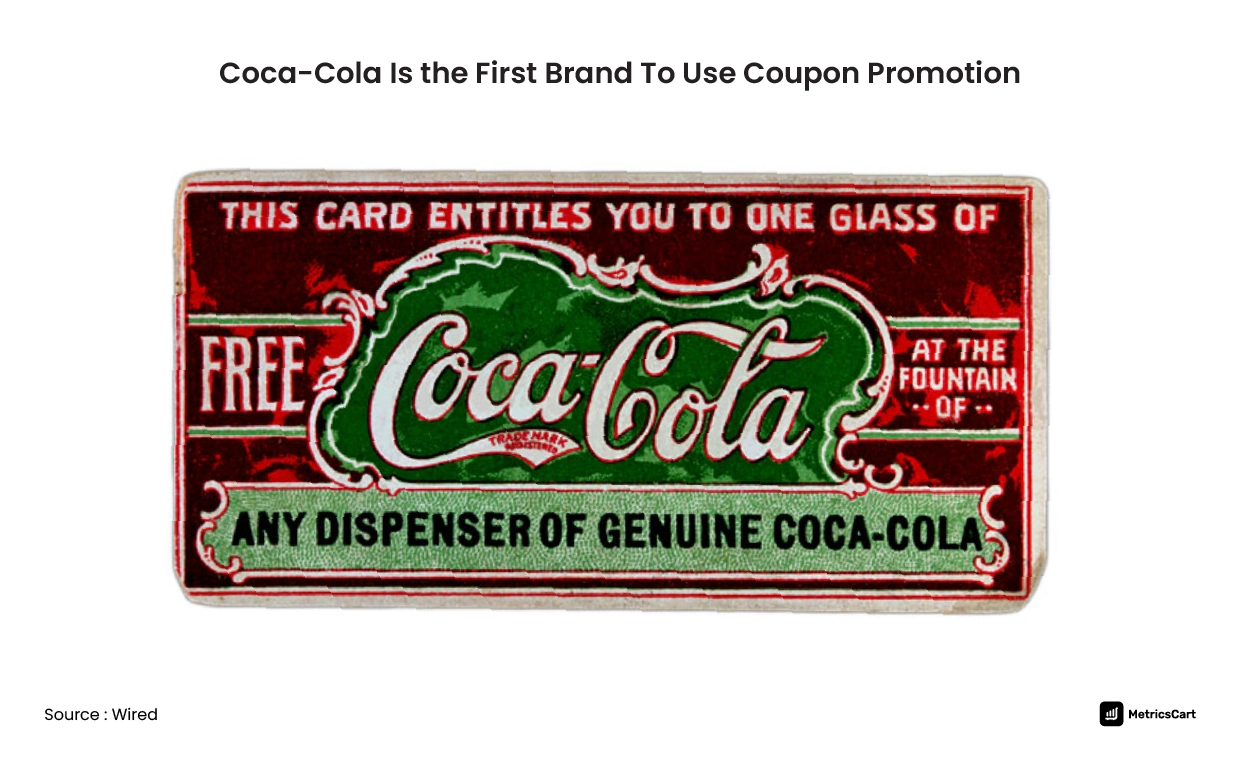 Following this promotion, in the same year on average, the company sold nine glasses of Coke per day. The rest is history! To date, promotional pricing excites consumers to buy a product. But if brands want to draw customers and earn profits too, promotions have to be deployed efficiently. The customer price sensitivity associated with different product categories is at various levels. Thus, the kind of promotion suitable for every category is different too. Brands can set an optimal discount price by linking price sensitivity and the right type of promotion. In this article, we take a closer look at 10 popular types of promotional pricing with examples that brands can choose depending on their purpose.
Types of Promotional Pricing and Their Potential Benefits
Promotional pricing is always a part of a brand's sales and marketing mix, and never a standalone approach. There are two main approaches to implementing promotional pricing:
In push strategy, brands incentivize distributors and retailers to sell their products to end consumers. If you want to delve deeper into the processes required for effective trade promotion, read our enriching article on the Role of Data-Driven Insights for Trade Promotion Optimization.
Brands attract customers by offering various incentives to stand out from competitors. The challenge is to create an impressive promotional campaign that sounds like a good deal to customers. Here we discuss the top 10 types of promotional pricing covered under the pull strategy.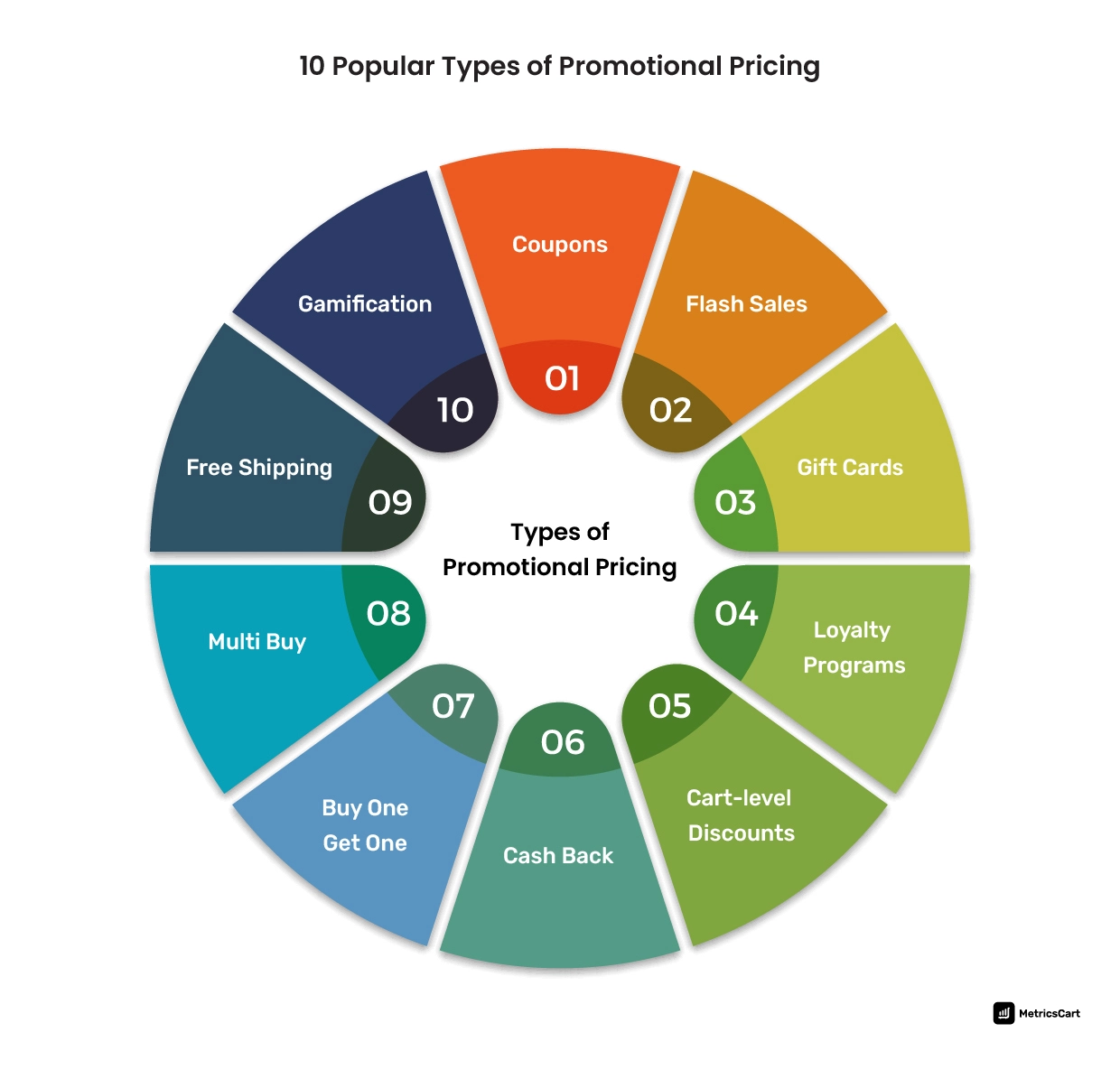 Coupons
The coupon campaign is a versatile medium for promotion.  It brings the convenience of an omnichannel experience as the promo codes can be used online or in-store. In a survey conducted by CouponFollow: a coupon code provider, the average American household had saved up to $1,465 in 2021 by leveraging online coupons.
40% of customers in the US said, in recent times, they felt encouraged to try a new product, service, or restaurant because of a coupon or a discount. The Valasis Marketing Solutions survey responses confirm that shoppers appreciate a good deal. Similarly, most businesses feel digital coupons are an excellent method to attract new and keep existing customers.
The data compiled by CouponFollow shows the average savings customers made per purchase when using coupons. Among the 11 product categories, the average savings per purchase using coupons is maximum when buying household items.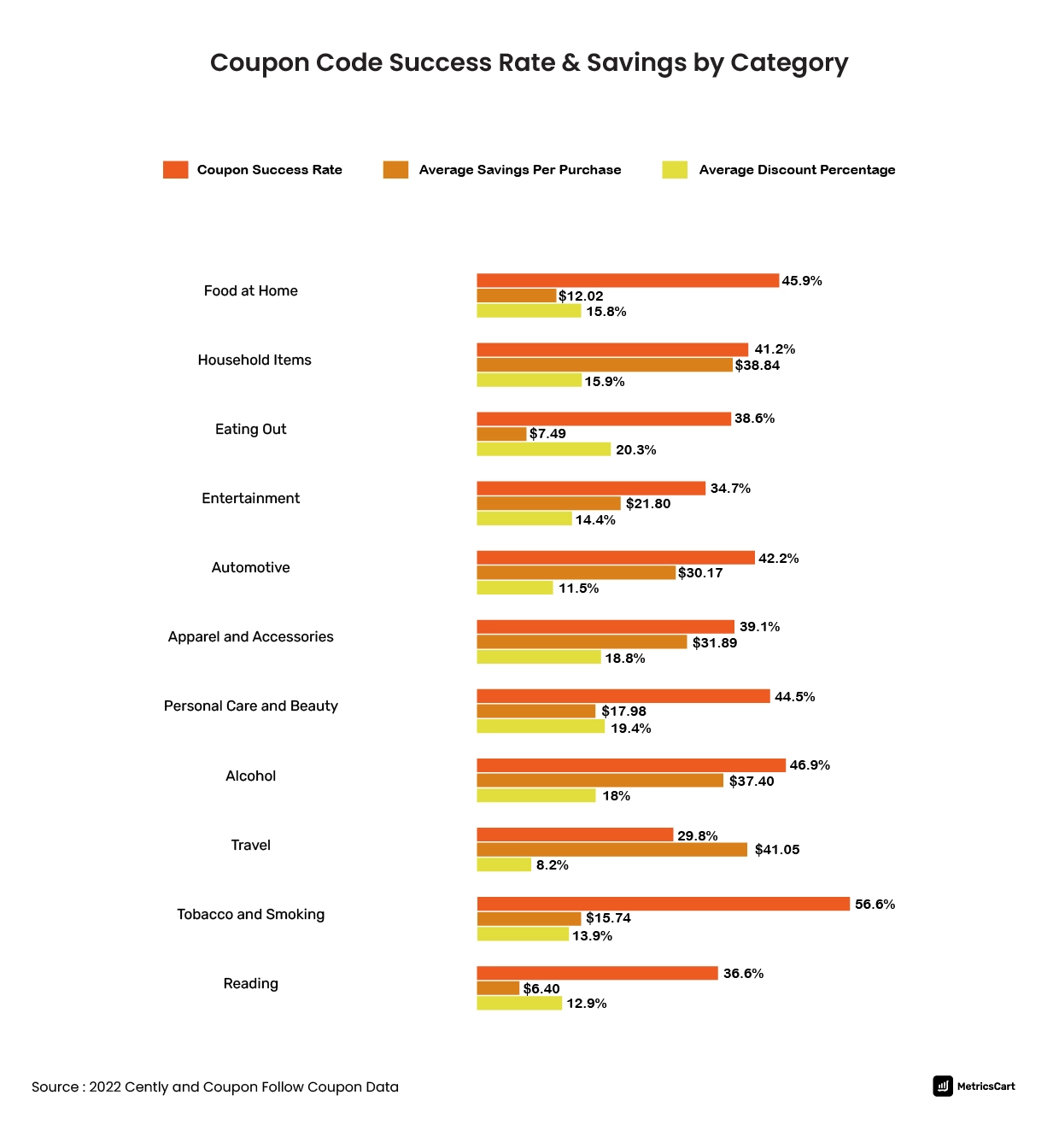 Flash Sale
During flash sales, brands slash their prices for a few hours. There is usually a countdown timer on the homepage or certain words such as Hurry! The offer ends at midnight, only for a limited time! This leads to impulse buying, creating a sense of urgency and a fear of losing opportunities among shoppers. It is an effective tactic to unload excess inventory or get new customers.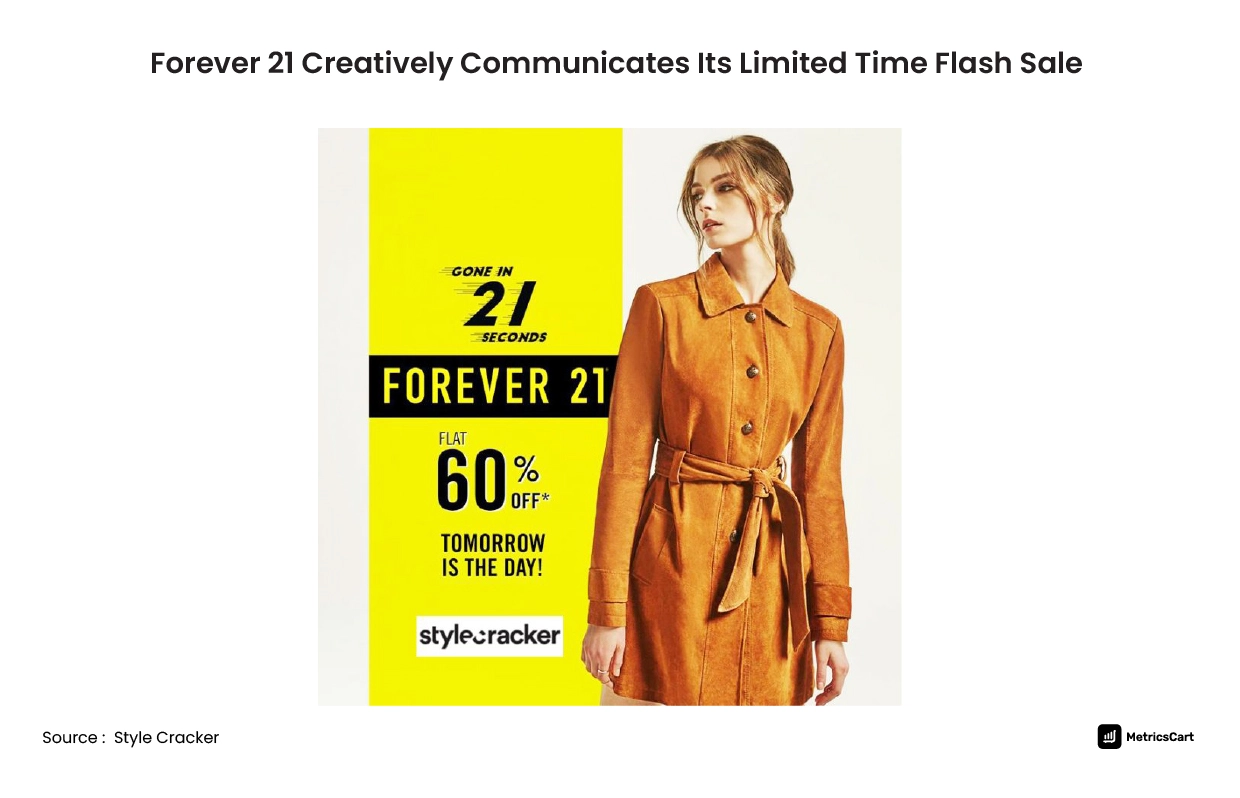 For instance, this 24-hour flash sale poster by Forever 21 builds excitement in customers to make purchases quickly. The words 'gone in 21 seconds' create a fear of losing out on the opportunity of low prices offered just for a day.
Gift cards
A gift card is a promotional technique to introduce a brand to a potential customer. Most customers who use gift cards spend more than the loaded balance. Even if the customer does not use the entire amount, it is a safe bet for retailers as it does not lead to any financial loss.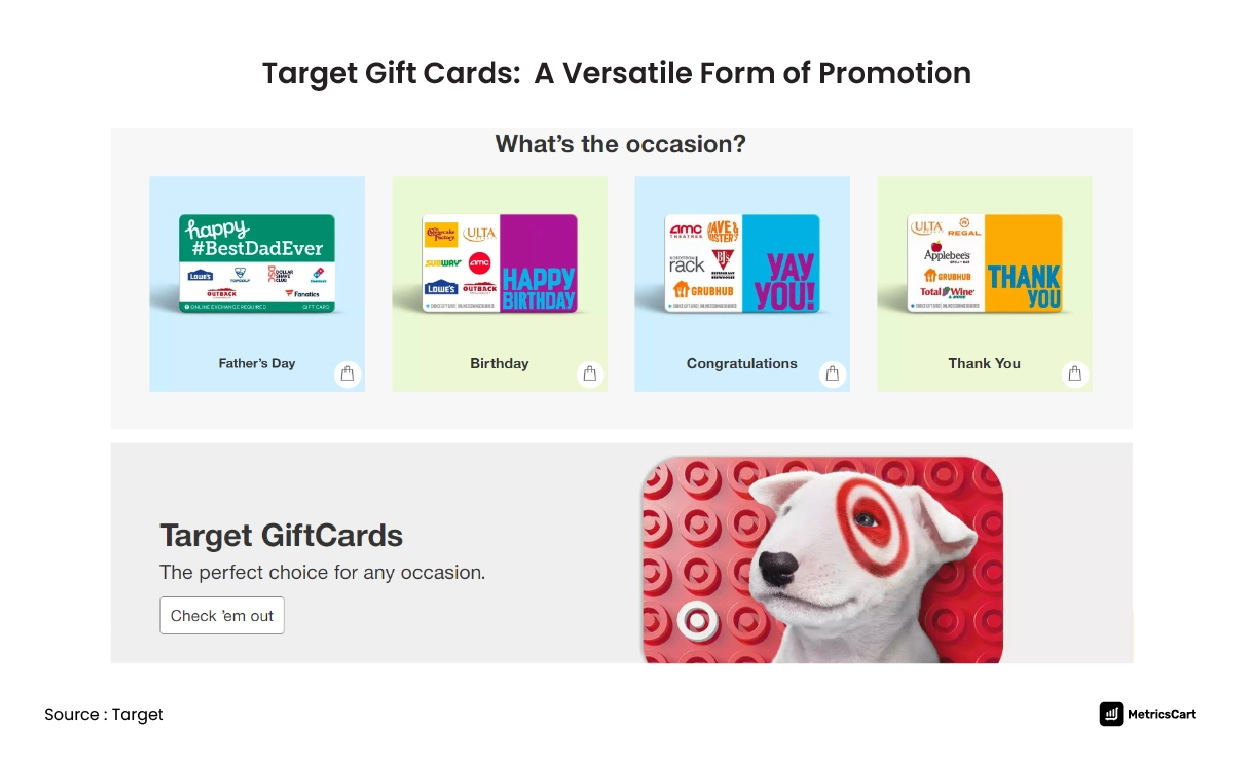 An example is Target's themed gift cards. One of the advantages of using a Target gift card is that it does not expire nor lose value. Apart from the Target store itself, customers can redeem the gift card at other partner retailers such as Starbucks, Disneyland, REI, Airbnb, and so on. Besides, once a year during the Cyber Monday shopping season, the retailer offers discounted gift cards to shoppers.
Loyalty program
A loyalty program is a reward program a company offers its customers who frequently make purchases. Since it costs more to acquire a new customer than it does to retain an existing one, a loyalty program is a popular type of promotion.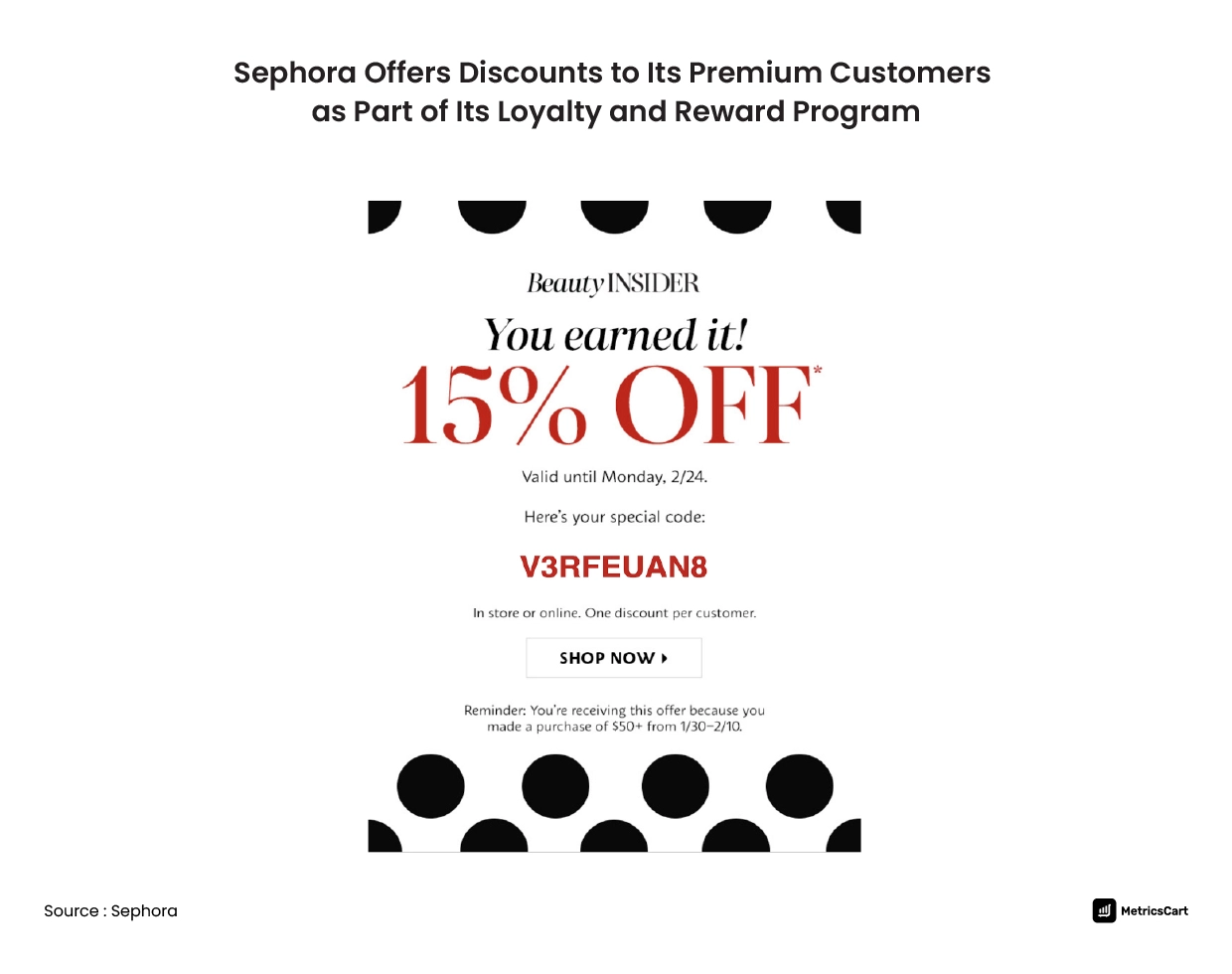 An example of such a promotion is Sephora: a beauty, cosmetics, and fragrance retailer. As seen in the image, the brand rewards a 15% discount exclusively to its Beauty Insider customers. Beauty Insider is a free-to-join loyalty program for Sephora shoppers in the U.S. and Canada. The seasonal events and different perks that members enjoy are based on the amount a customer spends at Sephora in a calendar year. The reminder toward the end of this poster gives the promotion an air of exclusivity to Sephora loyalty card members.
Cart-level Discounts
An enticing saving of a percentage discount on the usual price or savings in dollars at the point of purchase is the incentive customers receive when brands offer cart-level discounts.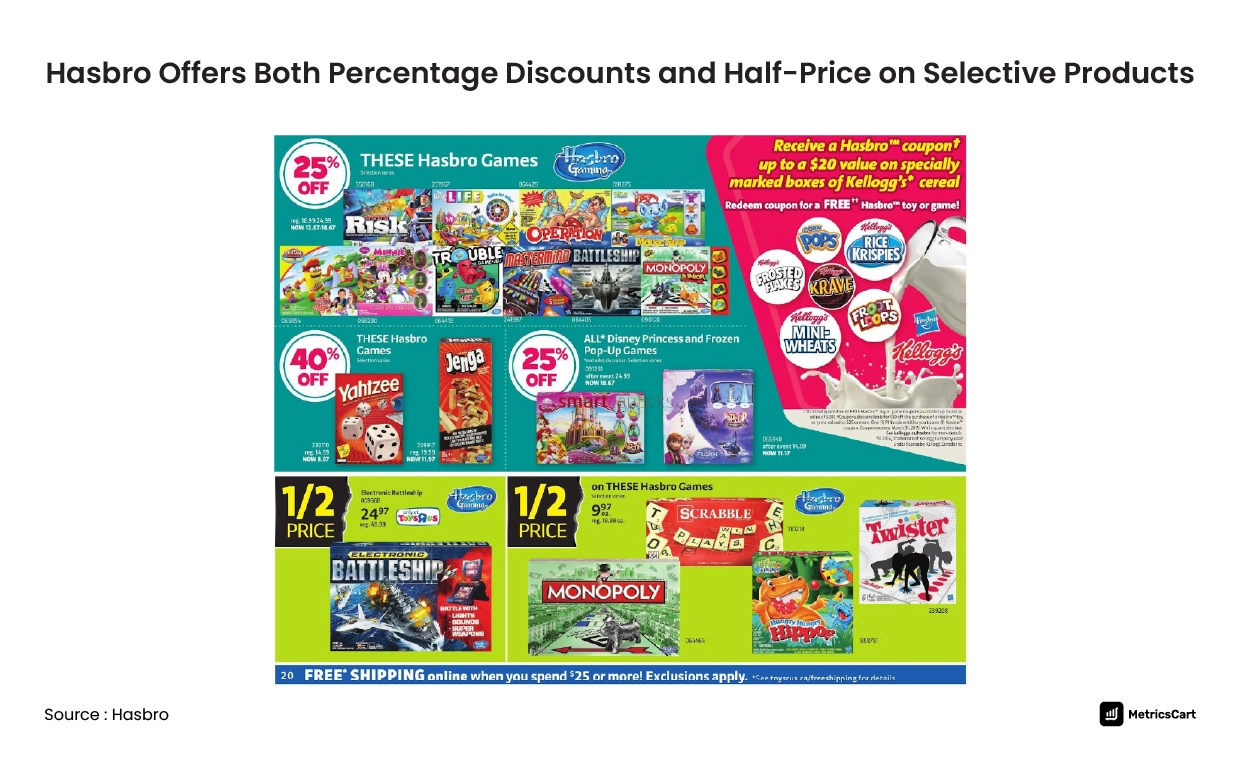 In the above example, Hasbro has chosen a percentage discount for a few products and ½ price discount for others. The brand is offering a 40% discount on the Jenga toy. We did the math for you. 40% off is the same as a discount of $8.  But the former flatter sounds like a greater saving. The conversion rate depends entirely on the customer's perceived value of the offer on a particular product. This is how the brand tempts the customers to increase the average order value to $25 or more to receive free shipping. It is a technique that pushes spontaneous shoppers to add more items to their carts, especially during flash sales.
Free shipping promotion
Making free shipping available on all orders for a limited time is a motivation for customers who are averse to paying for shipping costs. In extensive research by David Bell, a marketing professor at Wharton School of Business, he concluded that a free shipping offer that saves customers $6.99 is more appealing than a $10 discount on a product. Threshold-free shipping (TFS) policy where retailers bear the cost of shipping for orders exceeding a minimum purchase quantity is quite popular these days among e-tailers. This offer entices customers to add a few extra items to their shopping cart to reach the minimum purchase, thus increasing the average order value. A threshold price point varies for each brand. For arriving at a healthy threshold, brands take the average money customers spend with each purchase.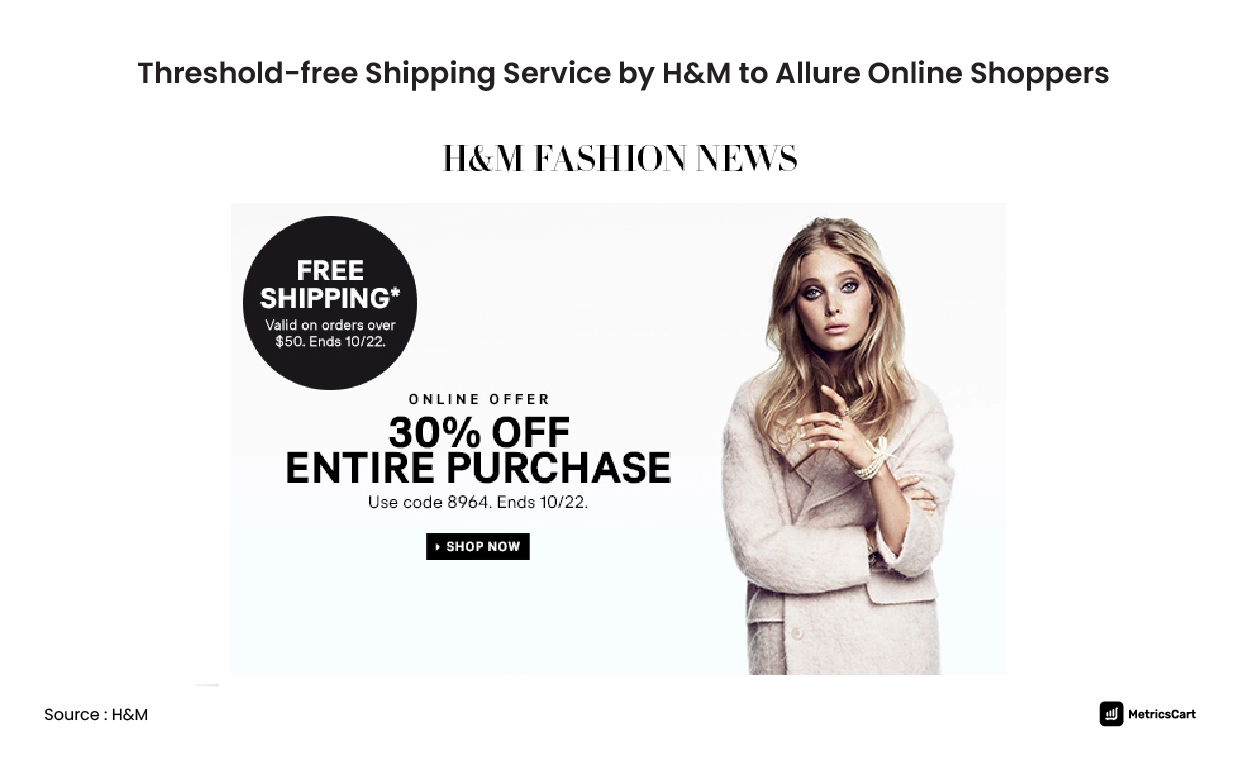 In the above example, H&M has limited-time free shipping on a shopping threshold of $50.
Cashback
As customers get a percentage back on their money spent, this promotion tactic works great on big-ticket items like jewelry, refinancing companies, credit card brands, etc.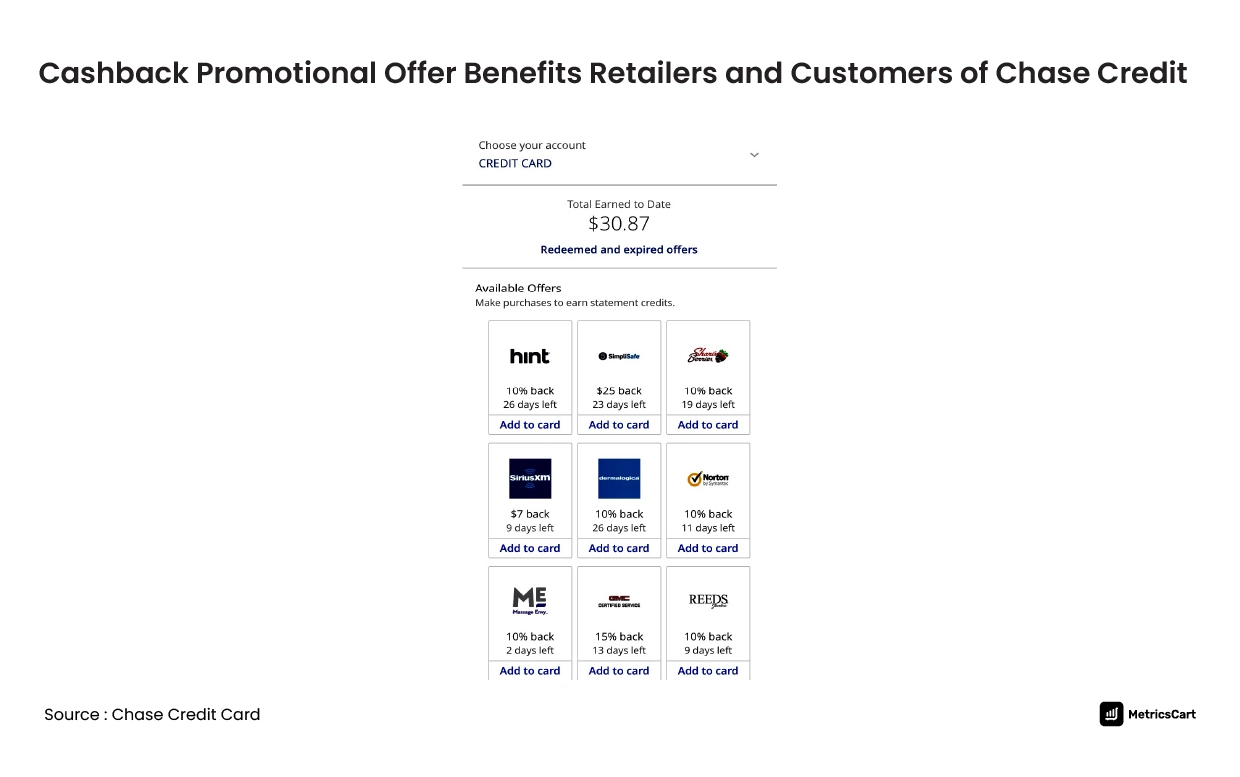 In the example above, customers who sign up for the Chase credit card receive cash back from e-commerce sites that have a tie-up with Chase. This promotion benefits the credit card company, the e-tailers who have a tie-up with them, and the customers.
Buy One, Get One (BOGO)
This promotion can be applied in various ways: buy one at full price and get one free, buy one get the 2nd item for a specific % discount, or as bundling. When individual products that can be sold separately are sold together to make customers believe that they are receiving value, it is called bundling. This is a tactic that helps retailers and brands clear stocks or make customers try a different product from the same brand.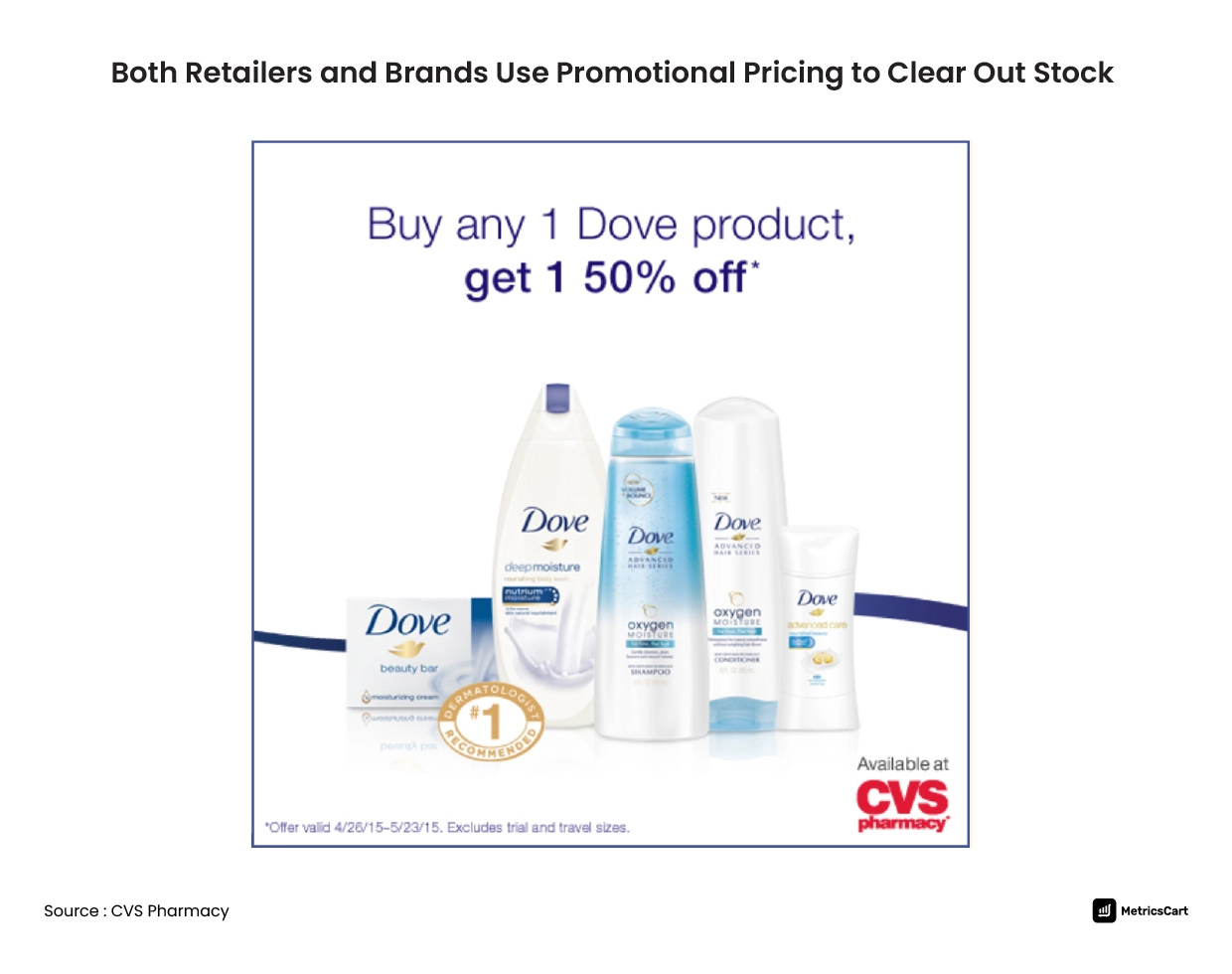 Here is a promotional poster of Dove promoted by CVS Pharmacy. A customer who usually uses Dove soap may find value in this offer as he can try any other Dove product for half-price or get another soap for a 50% discount.
 Multi-buy Promotion
Multi-buy is a variation of BOGO, that offers a promotion when the customer buys more items. This promotion does not add value for customers who need only one unit of an item.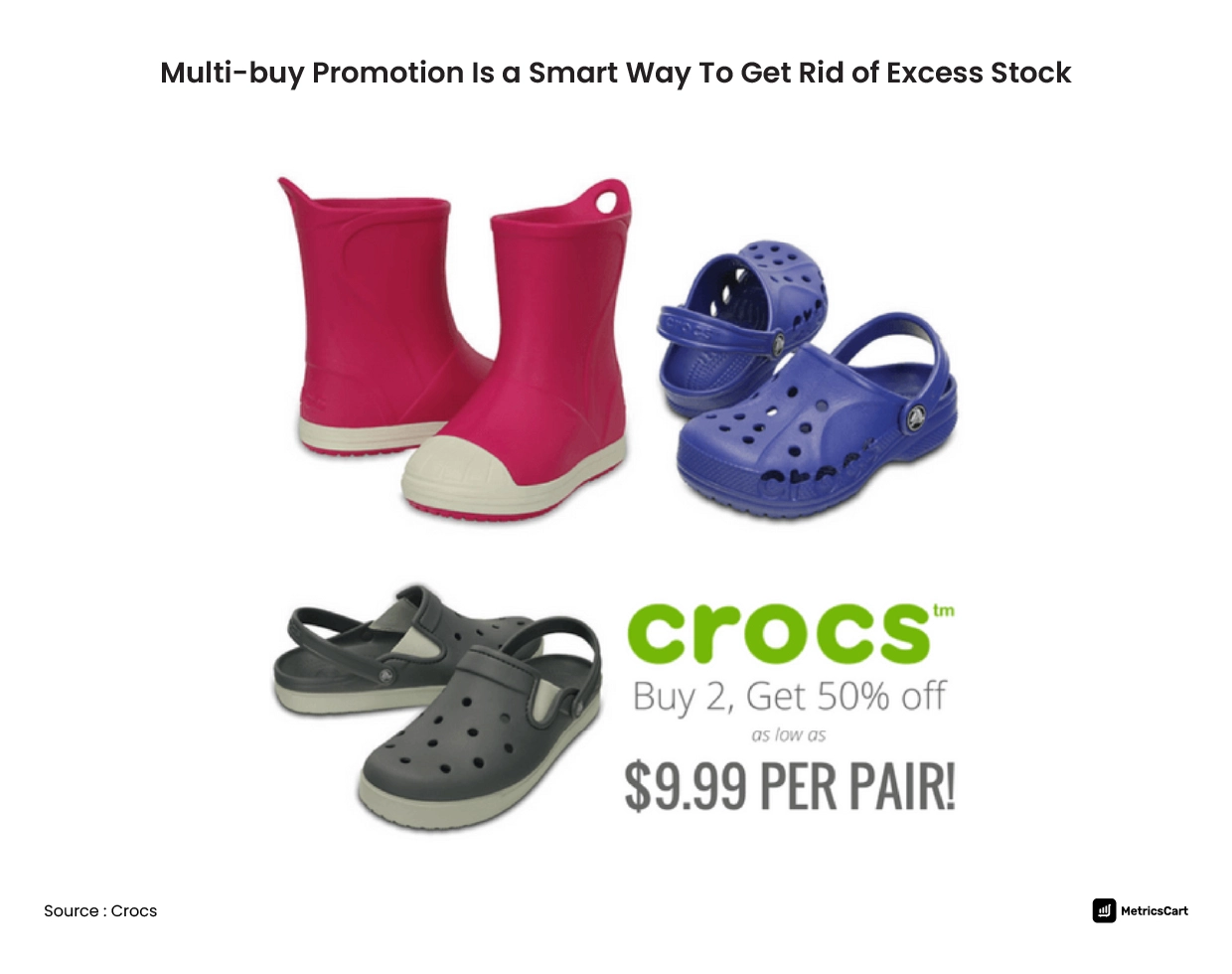 In the example above, a customer might feel tempted to buy an additional pair of Crocs for another house member as he has to pay just half the price when buying 2 items.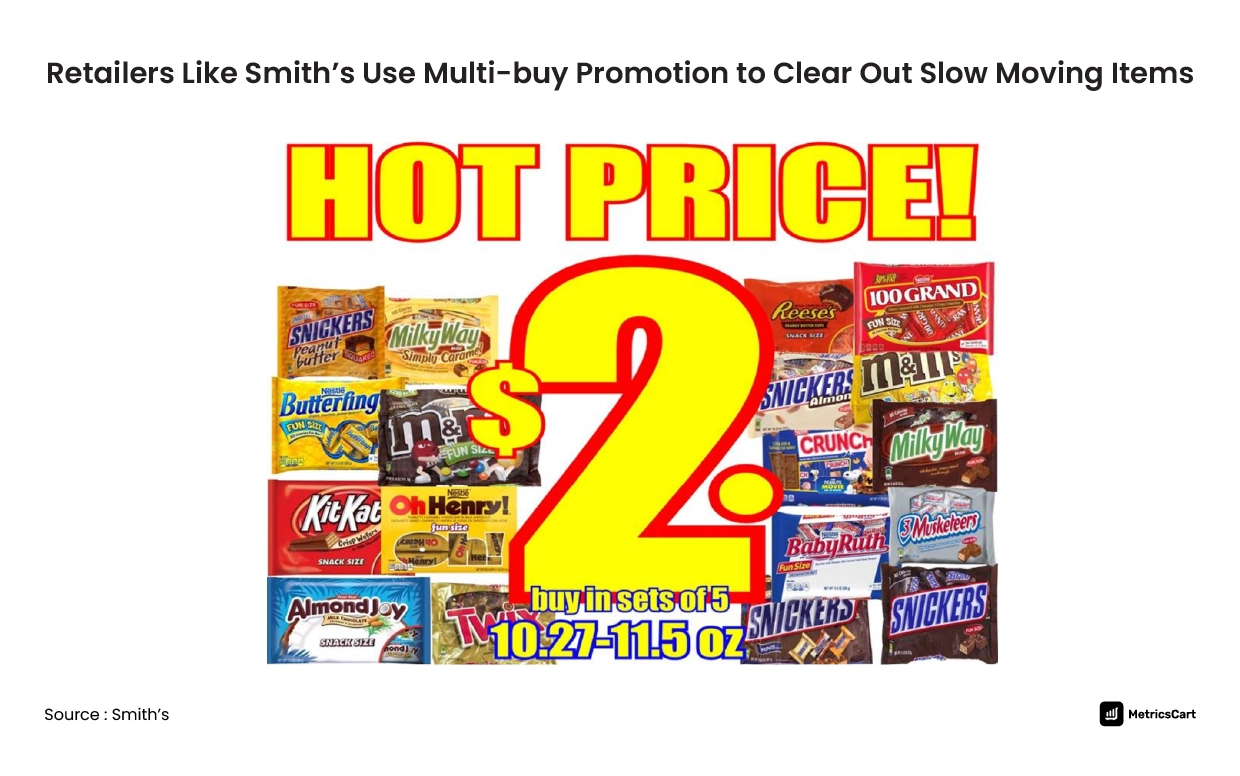 For example, there is a demand for candies and chocolates during the Halloween season. Smith's store offers Mars and Hershey's candy bags for an attractive price of $2 each if a customer buys a set of 5 packs. With this offer price, the retailer expects to sell more volume and clear the shelf of slow-moving items. As a result, a shopper who has never tried Oh Henry! or Almond Joy can try the product at a lower price.
Gamification
Customers' perceived value of luxury goods is associated with the prestige of owning them and not with their utility. Therefore, luxury brands are exploring creative methods to offer discounts without diluting their brand perception. Instead of offering blanket promotions, these brands use identity marketing to communicate with potential high-value customers. Bundling or a marginal discount strategy is a promotion method high-end brands use. These days, premium brands like Prada, Louis Vuitton, Burberry, American Eagle, and the like are using marketing techniques based on gamification. Gamified e-mail promotions, gaming apps, and animated text/videos are used to get across the news of discounts or the latest add-ons to their product line in a fun way.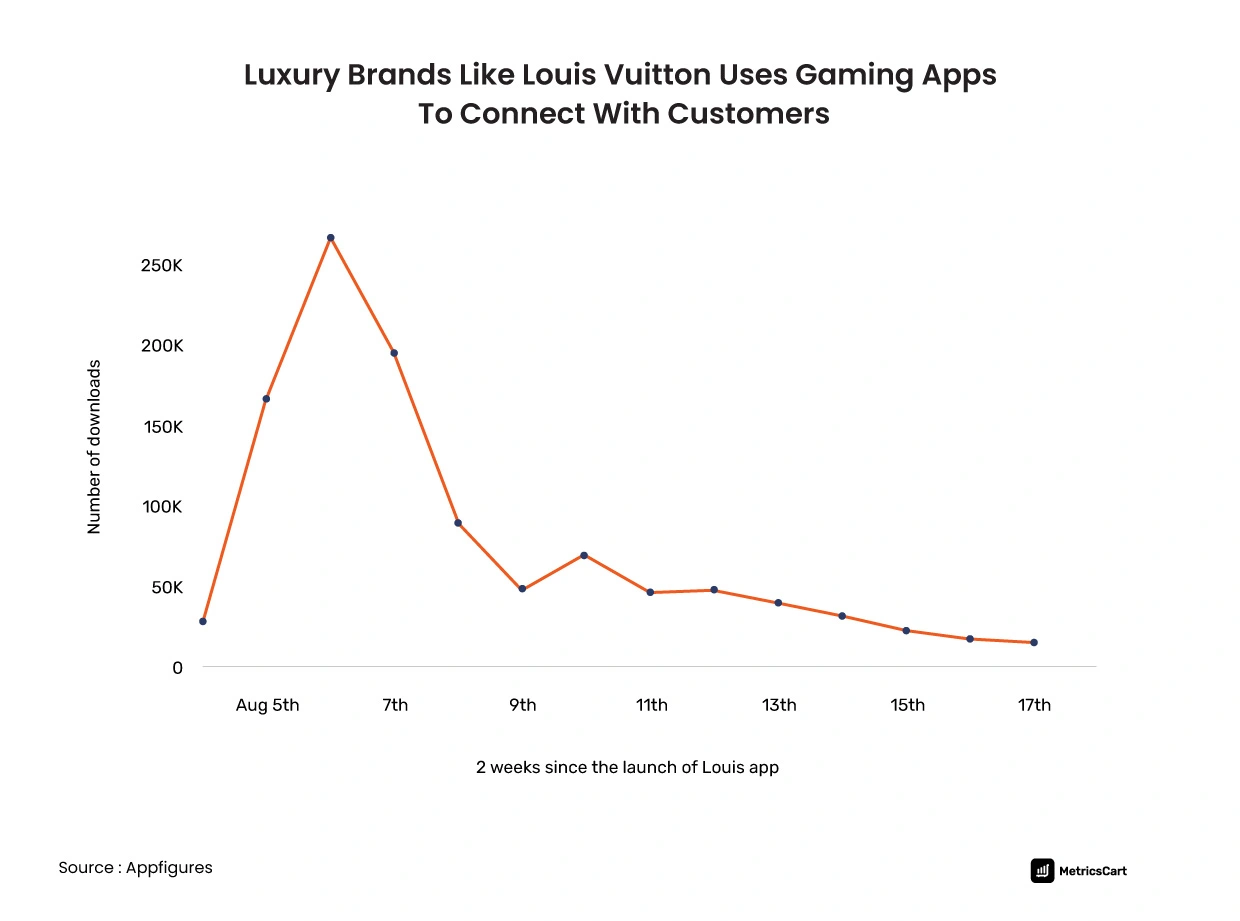 For example, Louis Vuitton (LV) is a heritage luxury brand that uses prestige pricing to cater to fashion-forward consumers. LV launched its mobile app Louis on 4th August 2021 to create personalized experiences for its target customers. Within two weeks of running the promotion, the game was downloaded more than a million times. When LV realized 85% of the downloads came from China, the game was fully localized into the Chinese language. This move attracted prospective customers with a social-share appeal. In one of the interactive games in the app, players who played the game to learn LV's history were incentivized with 30 free Non-Fungible Tokens (NFTs).
Key Takeaways on Promotional Pricing
Promotions shouldn't condition customers to expect discounts.
The success of promotion lies in attracting repeat buyers after a discount period. 
If brands run promotions frequently, they risk tarnishing their brand image.
Running price promotions strategically in doses helps to create a competitive edge.
If customers feel they are getting value from promotional pricing, selling in volume is possible.
When promotions align with the long-term marketing objective of a brand or retailer, it is likely to be successful.
Brands and retailers run promotions for various reasons. To know more on this subject, read our article Promotional Pricing and its Importance. 
Setting Promotional Prices for the Digital Shelf
When planning a promotion for an online store, brands need to understand
The customer demand for a product
The product's perceived value among customers
The discount offered by competitors for similar products
The expected profit margin, and
Check if the inventory levels can match the demand
Also, Read: Examples on Product mix Pricing 
Advanced Digital Shelf Analytic Solutions by MetricsCart
As a Digital Shelf Analytics (DSA) company, MetricsCart empowers businesses.
To offer an alluring promotional price, it is crucial to know the price your competitors are offering. Be it any brand selling online on any platform, we can share the prices they offer in real-time. Comparing your product prices with that of your competitors can help detect pricing conflicts. To avoid losses it is good to track if any resellers are MAP violators.

Systematic Shelf Analysis

We highlight items that are slow-moving and hot-selling items on your digital shelf in a geographical area. Make the most of promotions by making the products available at locations. With our real-time insights shift surplus items from one center to another where it is out of stock.

Tracking customer reviews can give a varied perspective about your products. You can arrive at better decisions with our attractively designed dashboard. We can provide you with the total reviews in a period, customer recommendations, and the average customer rating.

When brands sell through e-commerce sites such as Walmart or Amazon, the competition is fierce. Our share of search report includes information on the position of your product page in your category search results, the keywords that are working in your favor, and the ranking of your product in the best sellers list. This information can help you take the necessary steps to improve the sales of your brand.
Get in touch to give us a chance to introduce our digital shelf analytics services that might interest you.