When promotional pricing is applied, customers value the quality and the benefits that the products have to offer more than the number of items they receive on sale.
Amazon celebrated its 20th anniversary in 2015, with the first-ever Prime Day event. In the 24-hour flash sale, Amazon shook the retail industry with record-breaking sales. If the estimations are right, globally, 398 items were ordered on Amazon per second. Since then, every year the e-commerce giant continues to scale up the Prime Day event to new heights. The 2022 Prime Day sales were estimated to have hit $12.09 billion globally. That is the power of strategically planned promotional pricing!
Among all the tools in the marketing kit, probably promotional pricing is the easiest to implement. While offering discounts, there are certain aspects brands and retailers should not miss out on. In this blog, we mention those aspects and factors that influence the customer decision-making process, we explore the reasons for brands to offer promotional pricing and the benefits of planning out a price promotion as per the retail sales calendar.
What is Promotional Pricing?
When retailers and brands temporarily reduce the price of a product or a service to attract customers, it is called discount or promotional pricing. These days, brands are exploring interesting ways to reach the news of an upcoming promotion to their target audience.
Most customers see promotional prices as an opportunity to fulfill those long pending desires that they have been putting off for later. For the brands, a massive demand for their product during promotions boosts their confidence.
Why Do Brands Use Promotional Pricing?
Customer preferences and decision-making processes vary significantly from buyer to buyer. By offering discounts or free samples of a product or a service, brands try to influence consumer behavior. Here are more reasons why brands use promotional pricing:
To attract customers and extend reach to new markets
When a new product is introduced in a market with a promotional price, it creates a buzz and draws customers' attention. Research by Promotional Products Association International (PPAI) reveals 61% of customers have a closer look at an unknown brand when it runs a promotion.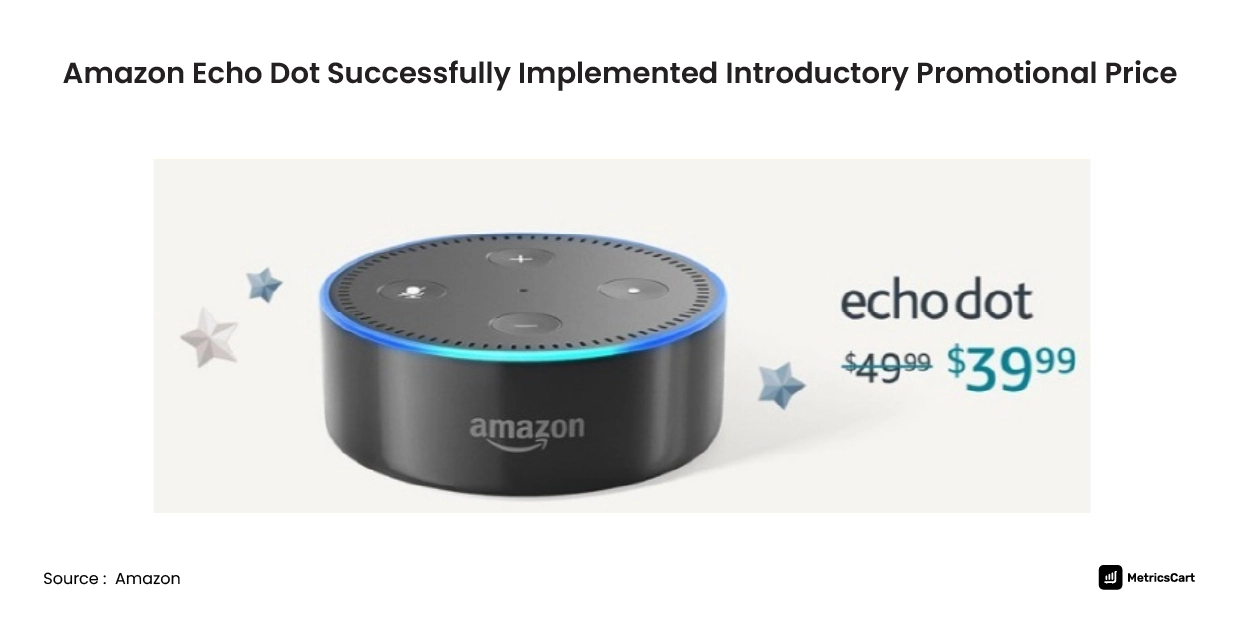 Launched in 2016, Amazon's smart speaker Echo Dot is a classic example of introductory promotional pricing. With a $10 discount, Echo Dot was one of the fastest-selling devices among all products on Amazon worldwide in the first year of its launch. Powered by Amazon's virtual assistant Alexa, Echo Dot has revolutionized the wireless speaker market.
To understand more about the pricing technique new brands use to capture a new market, read Penetration Pricing Examples.
To strengthen customer engagement and build followers
Usually, customers come back to buy a brand that is consistent in its quality, that provides customers with a fine experience and stays true to its brand value. Promotions are a great method to re-engage and honor these loyal customers. In PPAI-conducted research, 83% of participants responded that they experience a strengthened loyalty to a brand that offers promotional products.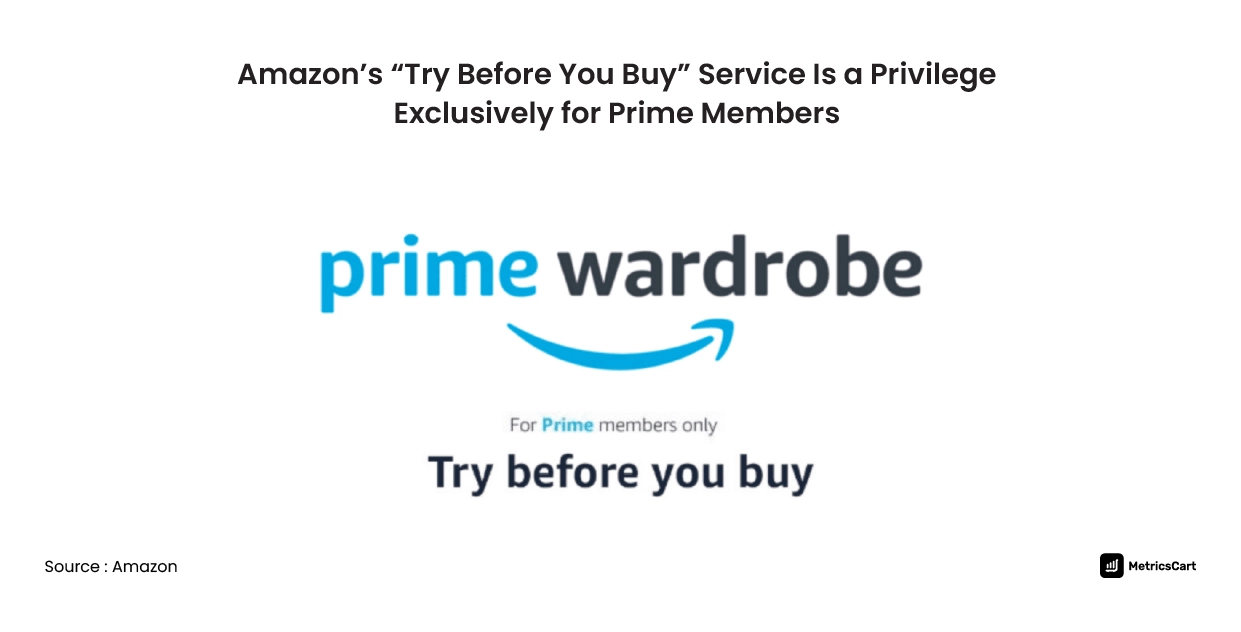 For example, Amazon pampers its Prime members with an exclusive preview of their lightning deals and the privilege to "Try Before You Buy" its apparel and accessories category.
To make room for new stock and increase customer traffic
Typically, at the end of every season, brands clear their shelves and make space for new stock to meet the latest demand of customers.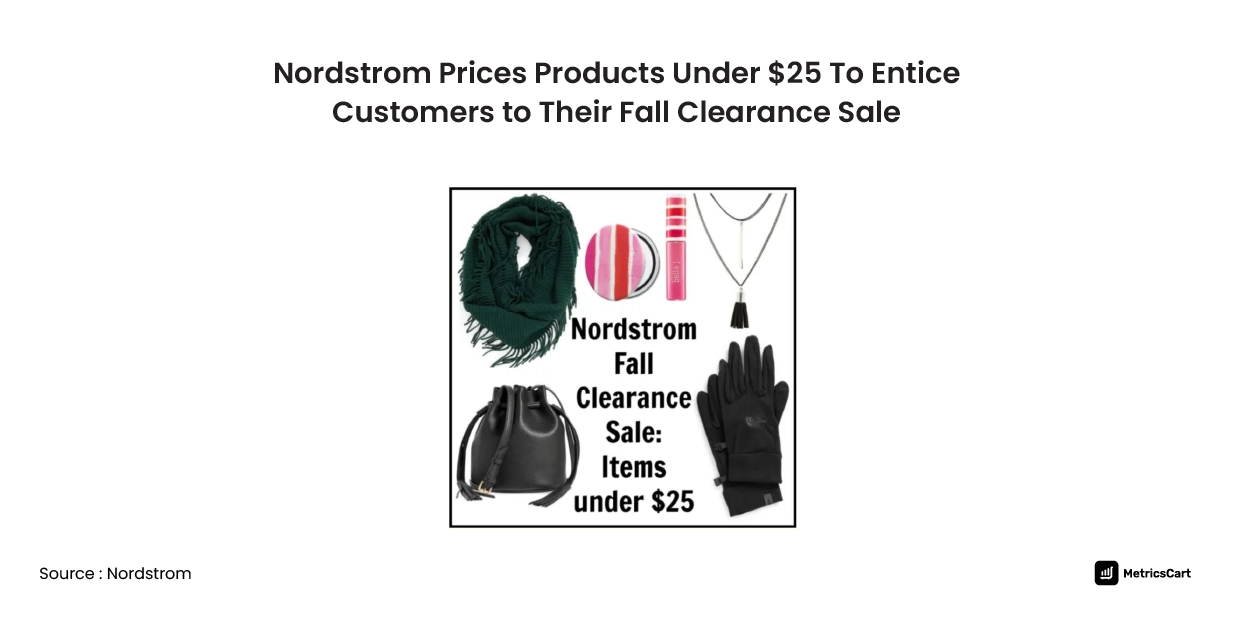 Multi-brand outlet Nordstrom offers discounts on various brands in-store after every season – winter, spring, summer, and fall to make room for the new season's collection. They offer free shipping and free returns to encourage customers to shop online or use their app.
To evaluate the effectiveness of promotion and customer behavior
Post-promotion, some brands calculate the effectiveness to:
Analyze the number of items sold with discounts
Identify the products popular among customers during promotions
To calculate the percentage increase in the company's revenue and profit margin
The difference in frequency of website visits by customers during and after promotions
To note customers' willingness to buy the product without a promotion
Using these valuable insights, some brands apply intelligent pricing strategies to create targeted promotions and personalized campaigns to encourage frequent online purchases.
Increase short-term revenue by offering discounts
PPAI conducted a survey to understand how people engage with promotional products. 59% of customers responded saying, the quality of items on promotion and the benefits they offer are more important to them than the number of items that they receive on sale.
In the discount period, the volume of sales goes up only if customers see they are receiving value for an attractive price. Else, offering discounts might end up eroding a brand's profit margins. Most successful brands attempt to find a balance between increased sales volume and sustainable profitability to effectively offer discounts. If promotional pricing is implemented well, brands can improve their revenue in the short term.
This can be explained with a case study on Toys 'R' Us. In the 1960s, the retailer gained popularity by taking a supermarket-style approach to selling toys.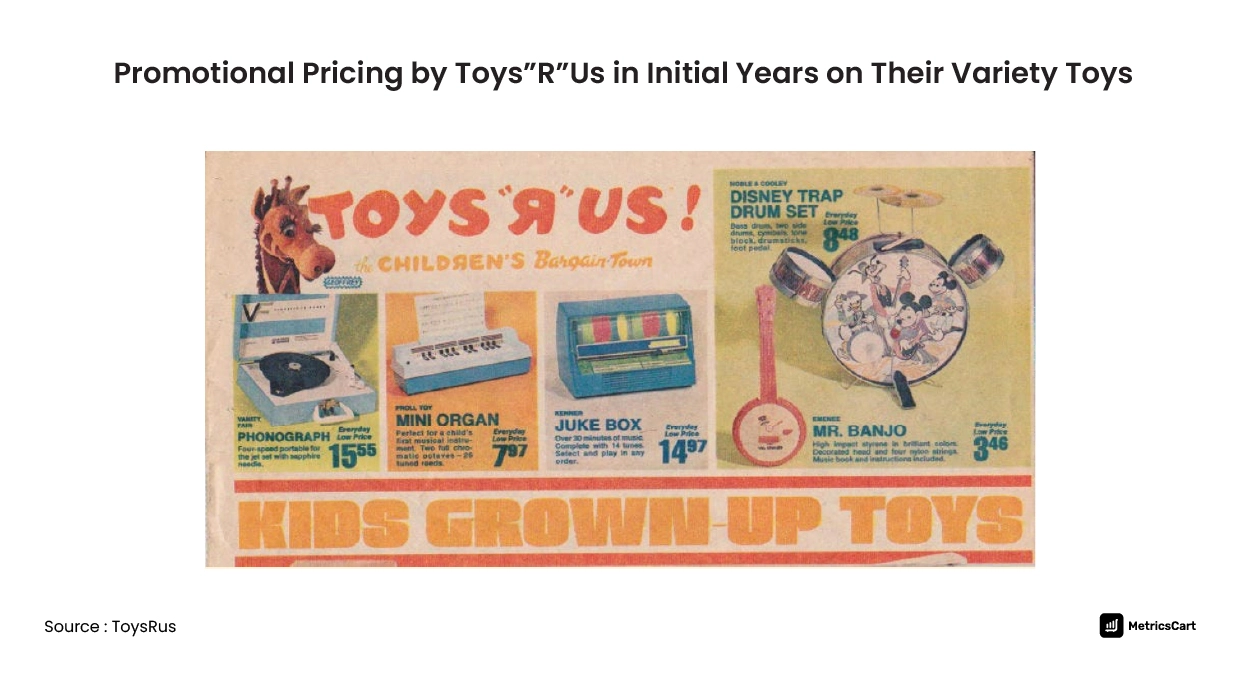 The sheer variety the store offered captivated its customers and elevated the retailer as a dominant player in the category, driving all its competitors to buckle up business. To encourage loyal customers, kids were given goodies or discount coupons after purchase. Not only were the promotions successful, but also there was a year-round demand for their toys.
Fast forwarding to the present times, things have taken a different turn. To compete with e-commerce players like Walmart and Target which sell toys at a much lower price, the store introduced The Every Day Low Pricing (EDLP) promotion.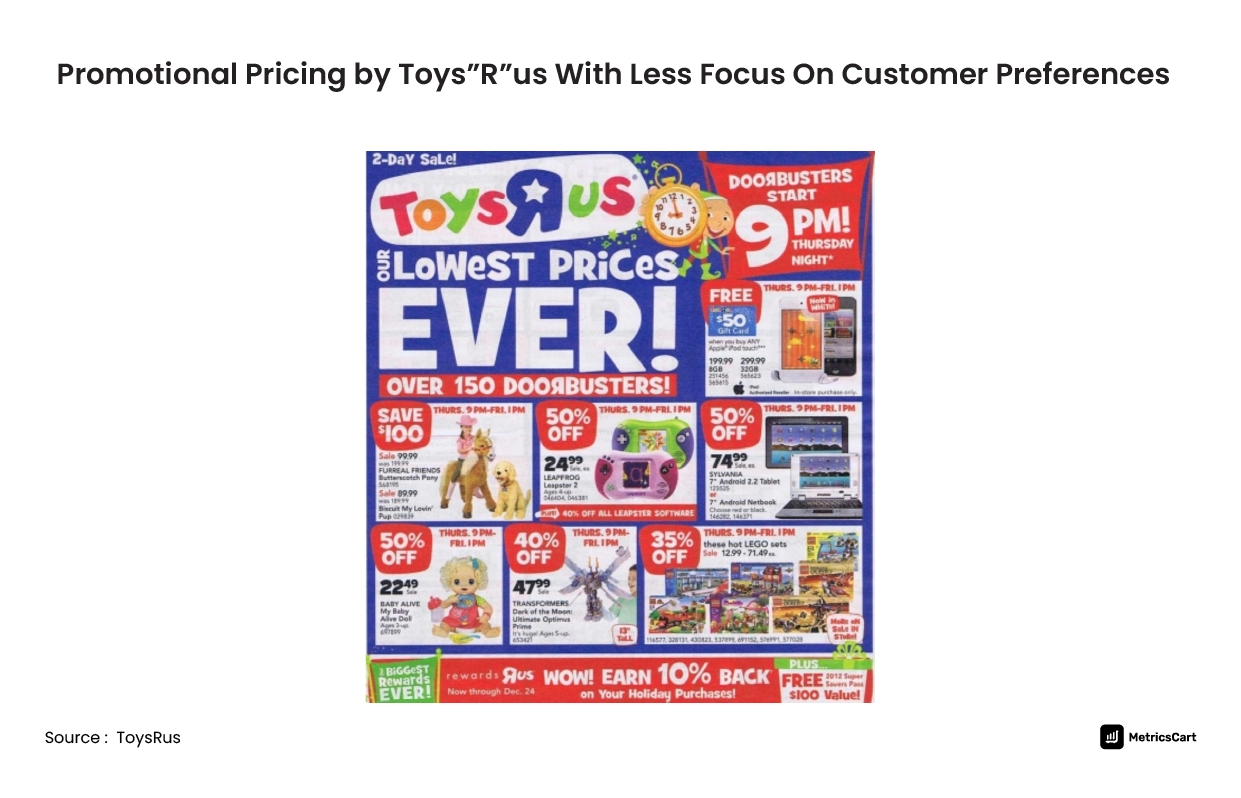 The retailer focused on slashing prices to pull the crowd but reduced the variety of toys in the store. This immensely impacted customer expectations, wiping out any potential gains and the promotion resulting in a net loss.
An Interesting Read on: Examples on Product Mix Pricing 
When is the Best Time to Offer a Discount?
Discount pricing is planned at any stage of the sales cycle. But the frequency of offering promotions vary from brand to brand depending upon:
The industry the product belongs to
The target market
The number of competitors
Here is a retail holiday calendar and the categories that offer deals at various times of the year. The percentage mentioned is the average discount the brands in a category usually offer during the sale.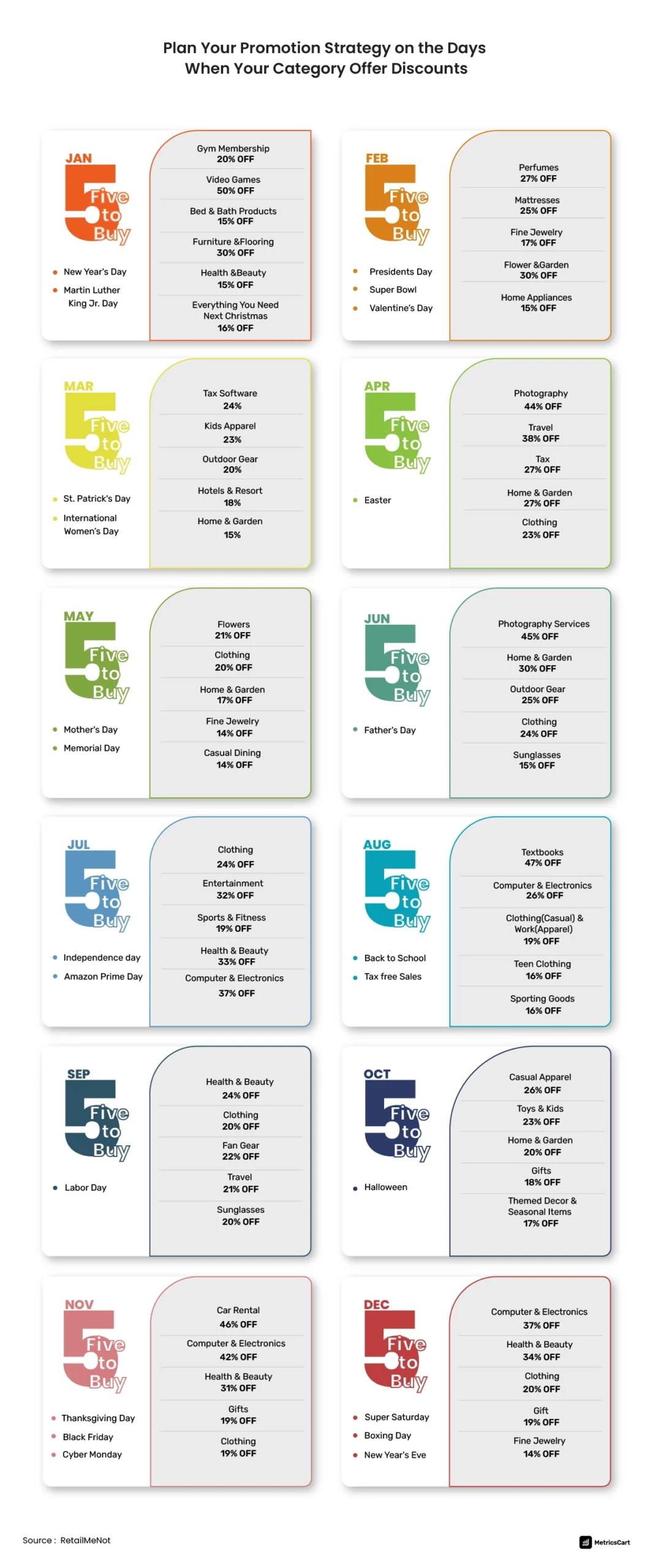 Promotions during long weekend holidays are convenient for customers.
The long holiday season around the Federal holidays is usually the most popular time for promotions. This is when people can leisurely shop. Historically, the biggest discounts are offered during November on account of Black Friday, Cyber Monday, and Super Saturday in December. On the negative side, this is the time when almost all brands offer some discount, making it difficult for brands to stand out from their competitors.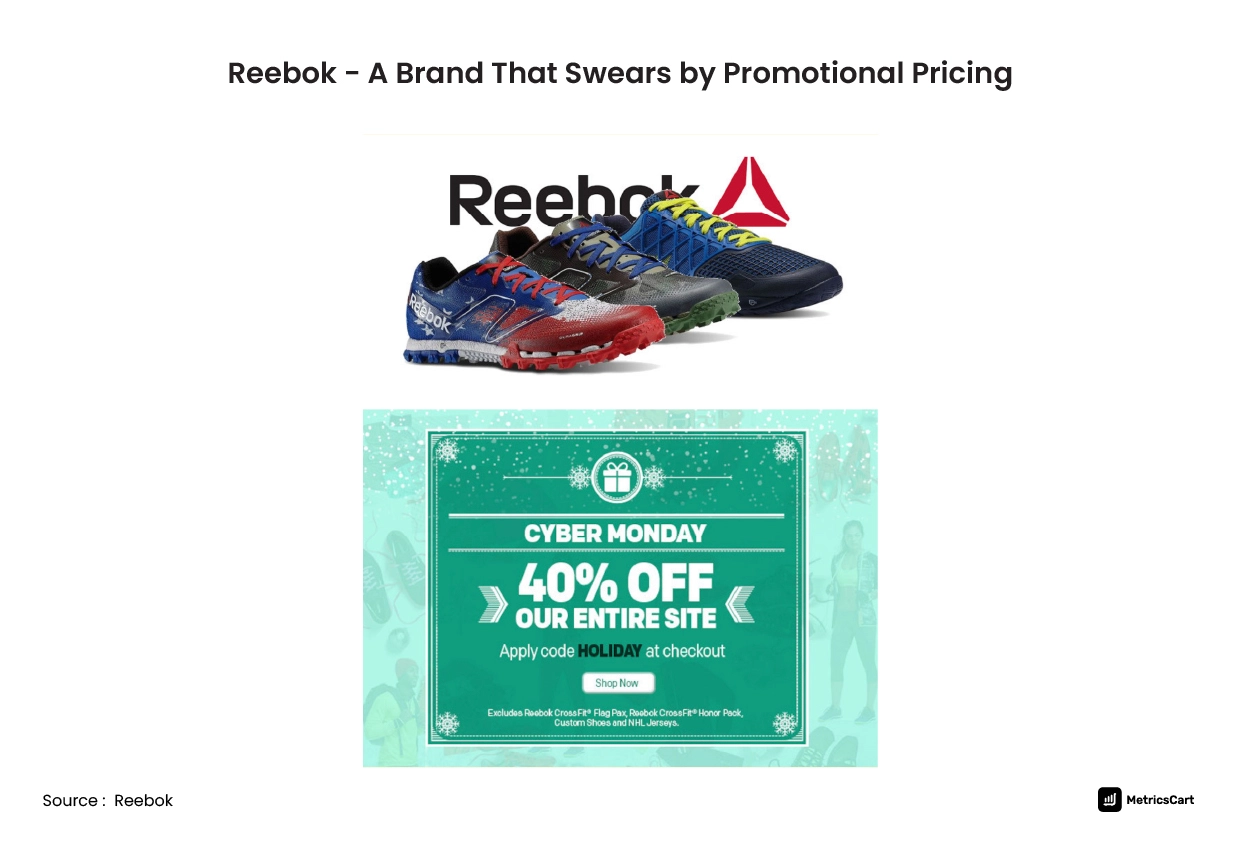 The above advertisement is Reebok's online price promotion on Cyber Monday. Reebok is quite active in offering price promotions. The brand's intention is to attract new shoppers and retain loyal customers. There are times when the brand offers seasonal sales and discounts targeting students and military personnel.
Discount on certain product categories is linked with a particular holiday.
In the US, besides the Black Friday and Thanksgiving holiday shopping season, there are other times of the year when brands choose to offer their annual discounts. For instance, mattresses go on sale in February for 3 days on account of President's Day and in May on Memorial Day. When customers are looking to buy an item, they tend to compare the prices and quality of products in a category. So, if there isn't any marked differentiating factor in a brand, it is wiser for all the brands belonging to a category (mattresses in this case) to offer discounts during this holiday period, not to lose out on their market share to competitors.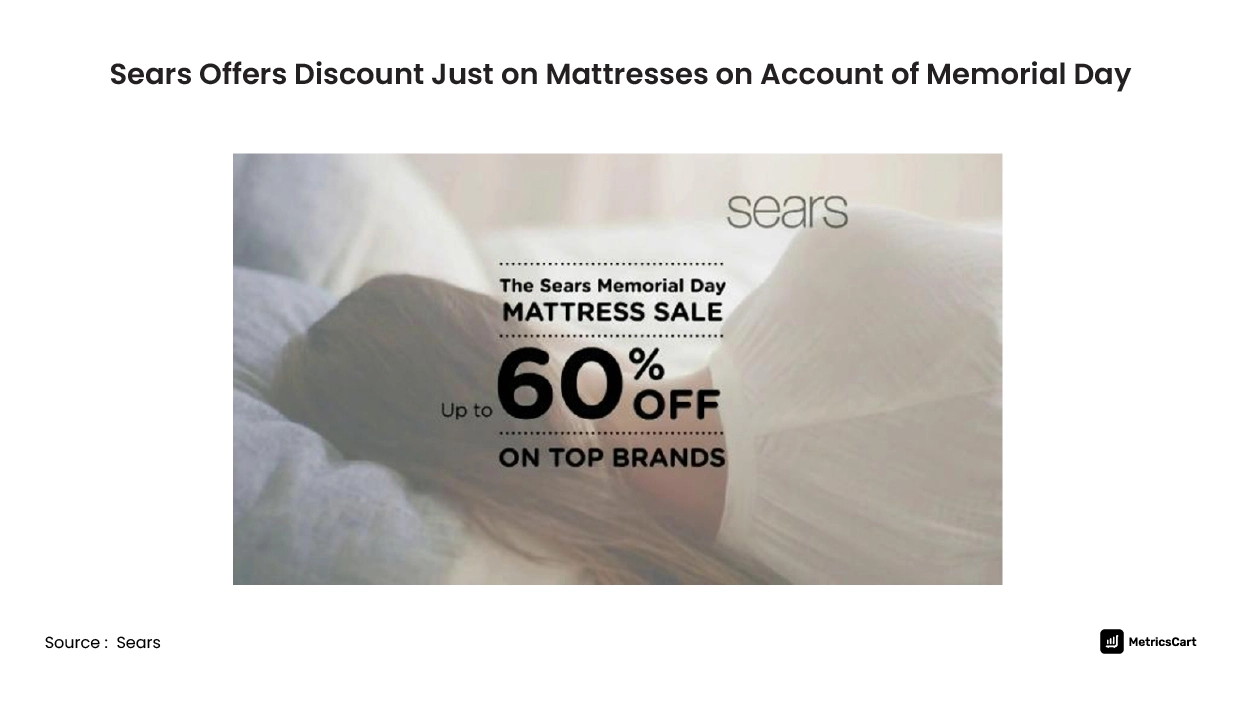 Though Sears is a general merchandise retailer, they are offering only mattresses at a discount on Memorial Day.
There are some brands and retailers that specially tailor-make their discounts on specific calendar days like Father's Day, Women's Day, Halloween, etc. targeting a group of people seeking discounts on these occasions.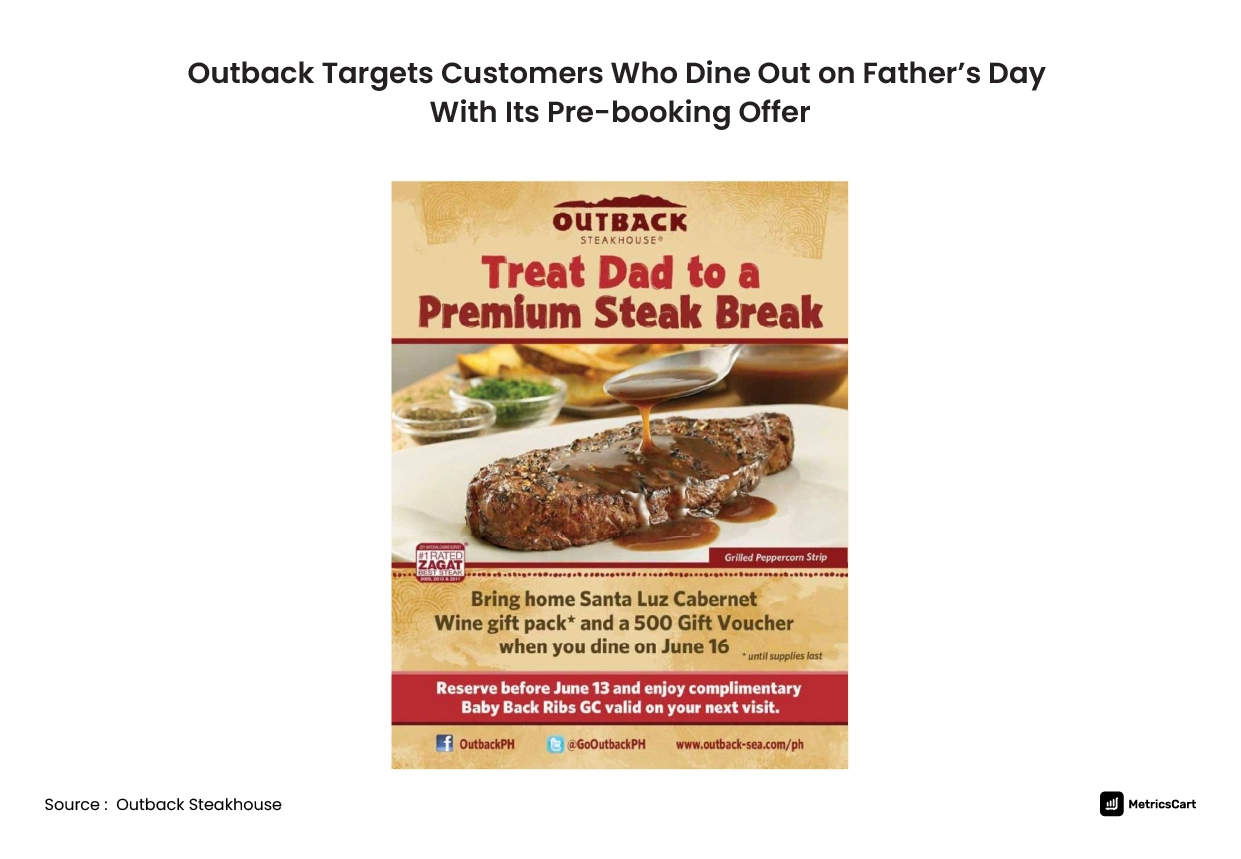 In the example above, Outback Steakhouse puts forward an enticing offer on pre-booking the table and dining at their restaurant on Father's Day.
Some product categories give early bird discounts for prior bookings.
In February, around Valentine's Day, or in May on Mother's Day, the prices of flowers shoot up. Around these months, there are flower delivery companies like The Whole Wheatery that entice early-bird shoppers to pre-order bouquets with them for a good deal.
This tactic ensures certainty in business, especially for brands dealing in perishable goods like flowers or food.
Promotional pricing help to maintain an ideal inventory turnaround ratio.
At times, brands surprise shoppers by selecting some special occasion for their annual sale. Here, in the example above, Aldo chooses Boxing Day for sale. During this sale period, it is more likely that Aldo will have a better sales share in its category than competitors.
Bargain hunters usually wait for mega discount sales.
Until Amazon Prime Day Sale started its mega sale in 2015, Black Friday was the most awaited sale in a year. Prime Day is the biggest reward Amazon gives its Prime members. In return, every year the number of Prime subscriptions goes up.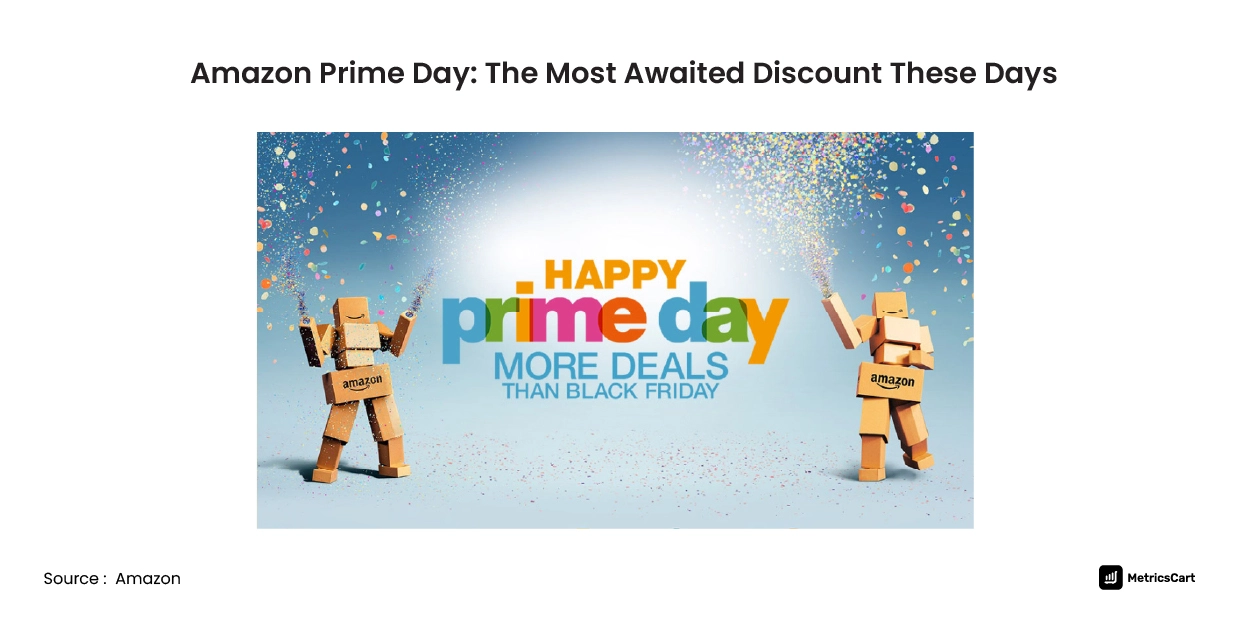 On June 21st, Amazon announced the date of Prime Day 2023. This year the 24-hour sale is set to kick off on July 11, a week after the Independence Day holiday weekend. Prime customers can expect fantastic deals, especially on Amazon brands of robot vacuums, Echo devices, Fire TVs, and much more.
Retailers run stock clearance sales soon after a fest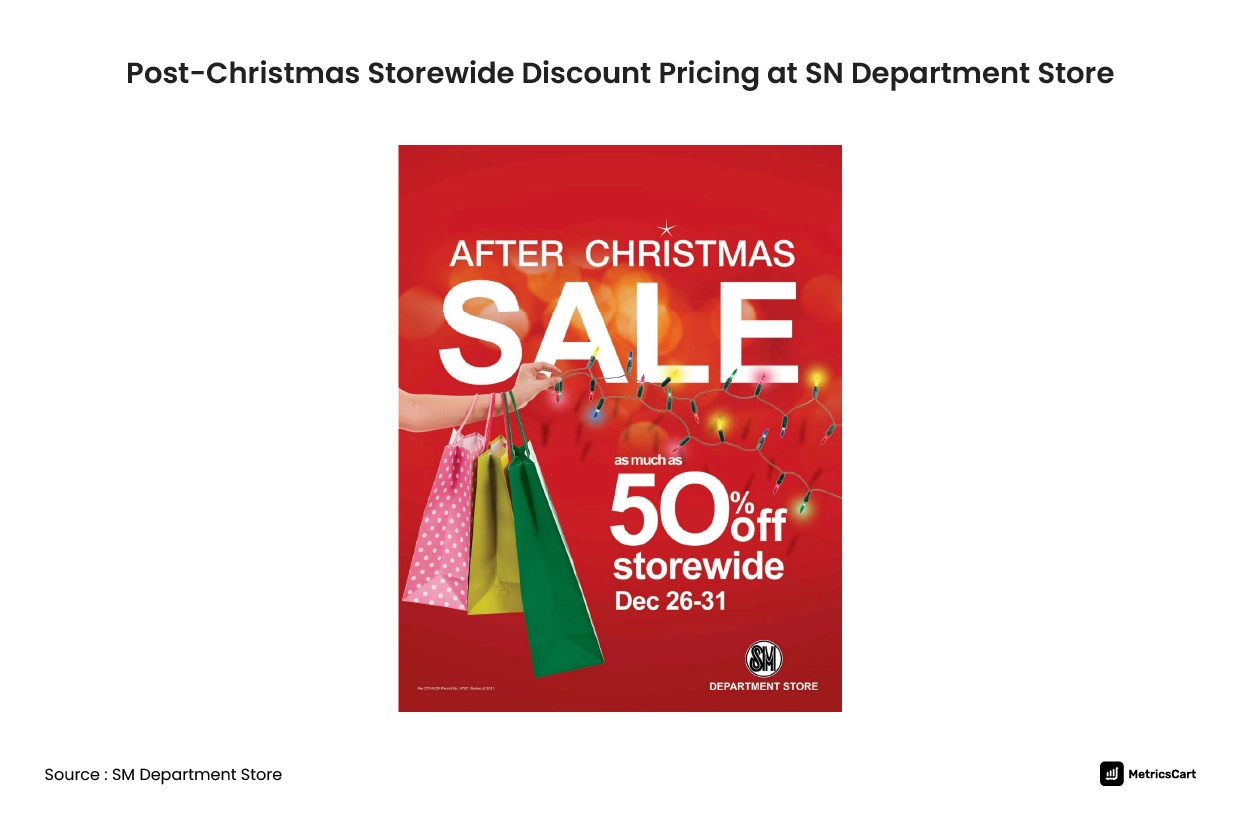 There are goods that are occasion-specific especially related to festivals like Easter, Christmas, or Halloween. Instead of wasting space to stock inventory, most retailers prefer to sell it off at a discount. In the above example, in January, the SM Department store offered a post-Christmas discount to all those bargain hunters who prefer shopping at lower prices and stocking for next Christmas.
Discounts at the end or beginning of a season
Most of the brands move the previous collection to the sales rack to bring the new season's collections to center stage. But there are a few brands like L'Oréal, which offer its fresh collection on sale.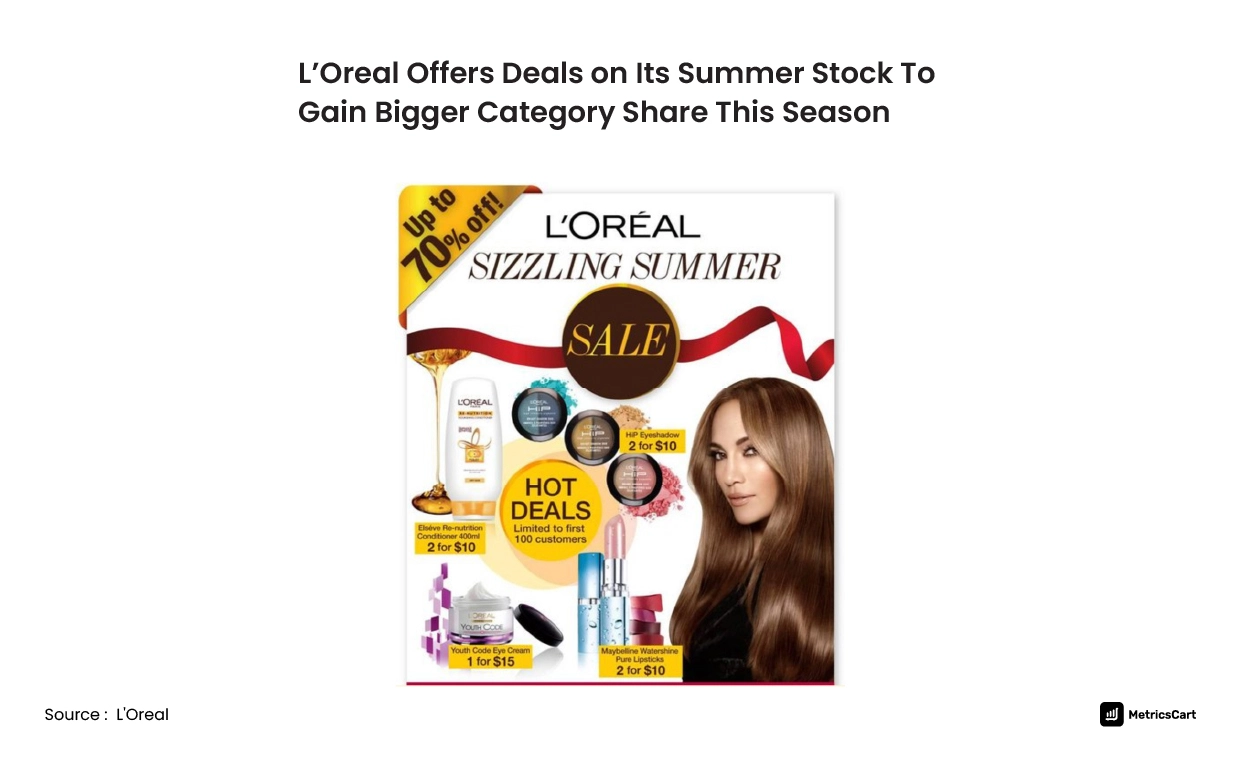 These days, as seen in other lifestyle-related product categories, beauty brands are keeping up with the trend to adapt their products to seasonal conditions. By offering hydrating products essential for hair and skin apt for the warm weather, L'Oréal expects to win a bigger share of the new season's shopping than their competitors.
Promotional sale during off-season
In a year, each category experiences a down period. Having sales during this period can give the brand a much-needed revenue boost.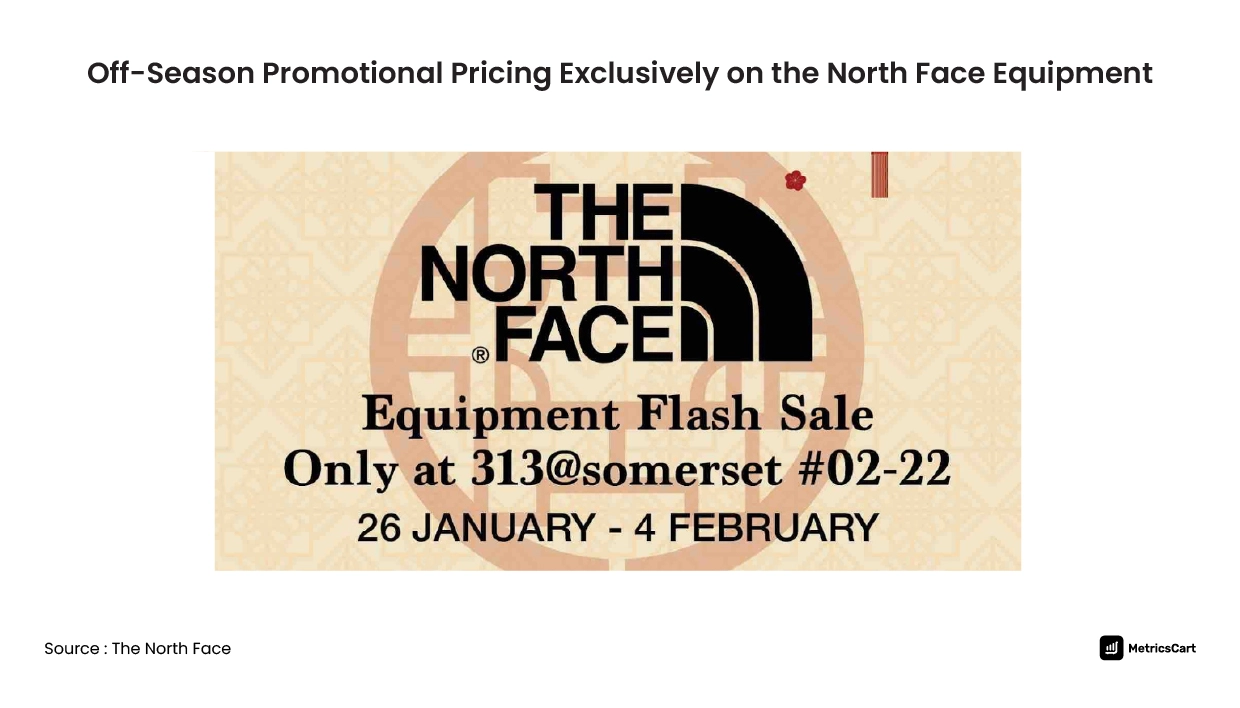 As seen in the promotional ad of The North Face, the brand is offering a sale exclusively on their equipment. This includes tents, sleeping bags, and backpacking bags.
Some brands choose a theme for their sale to attract shoppers.
The success of this promotion depends on the relevance of the theme to the target audience and the overall value proposition of the product offered under discount.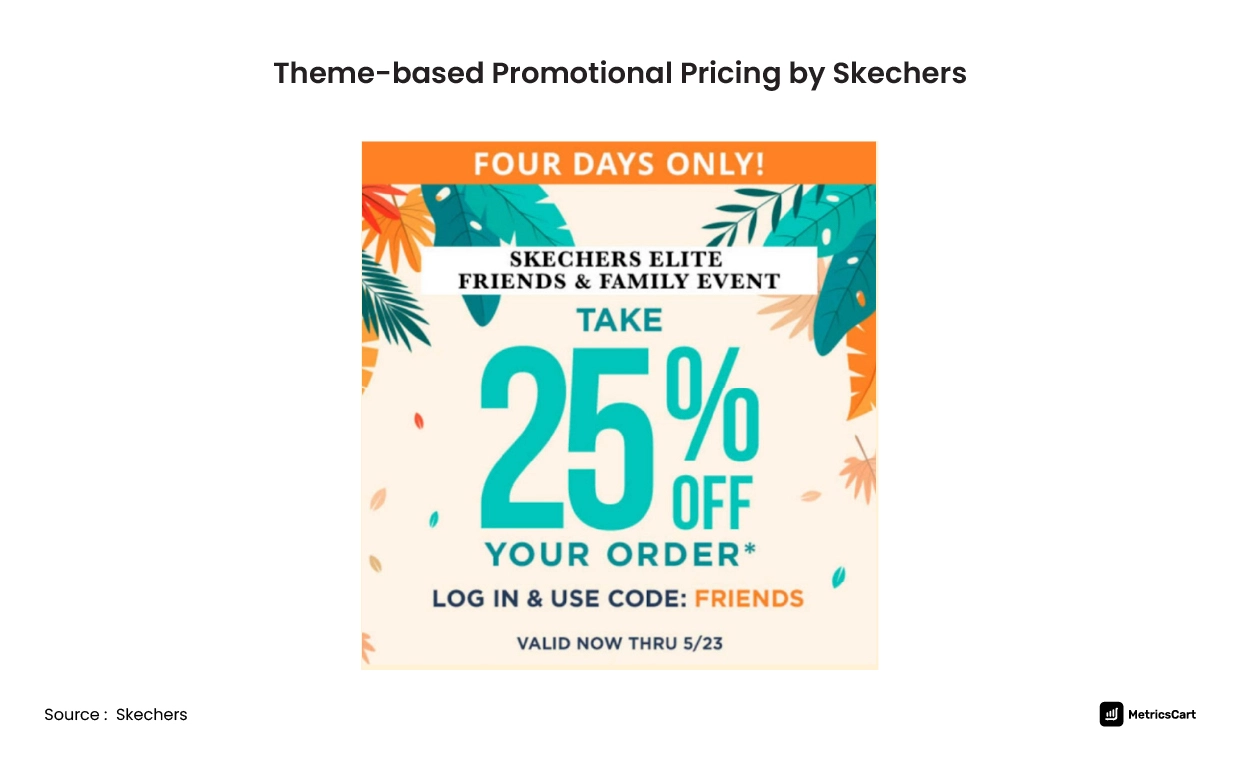 To sell a larger volume of their goods, in the example above, Skechers announces its limited-time discount for friends and family. Depending on the number of items that sell under a member's name, the higher the loyalty points customers earn.
Factors That Influence The Success of Promotional Pricing
Promotional pricing acts as a driving force for customers to shop. The effectiveness of promotional prices is based on:
Various market dynamics
Individual brand strategy
Consumer behavior
The demand for a product category
The volume of sales that a brand gathers depends on the number of customers who sees a perceived value in a brand. During shopping, there are other factors that influence customers' decision-making process besides Price. They are:
Convenience
Quality of items
Brand loyalty
Personal choices
Along with promotional pricing, brands that have a holistic marketing approach have a higher probability of success. Here are the characteristics of such brands:
Do not compromise on their product quality or brand reputation
Keeps the customers engaged, before and after promotions
Do not miss out on any opportunity to offer customer experiences
To understand the various methods of price promotion used by brands, read our article on Examples of Promotional Pricing.
Digital Shelf Analytics to Jazz Up Promotional Pricing
With the overwhelming number of brands in each product category, it is imperative for e-commerce brands to offer attractive promotional prices. To develop targeted promotions, it is necessary to access historical data and combine it with real-time insights.
As a Digital Shelf Analytics (DSA) company, MetricsCart helps brands and retailers track the following metrics on their digital shelves:
Price Monitoring of Competitors
Brands can compare prices of competitors' discounted products, to arrive at a promotional price that is at par with their offerings.
Product Assortment and Availability
Knowing about the products available in stock helps brands manage inventory and decide on an apt price.
Search Ranking Using Keywords
To reach the target audience, promotional deals must have the correct keywords. The 'Share of Search' feature lets brands know their ranking and make the required changes.
Track the MAP Violators
Map violations impact promotional pricing. To avoid huge losses, we help brands to spot map violators.
Connect with us today to manage your digital shelf efficiently across all online marketplaces.
Brands that tactically apply promotional pricing based on digital insights are more likely to succeed.