Forecasts indicate online grocery sales in the US will amount to nearly $41.2 billion by 2024.
In June 2017, the grocery industry was amazed when Amazon paid a whopping $13.7 billion to acquire the 40-year-old organic supermarket chain Whole Foods. Here we explore the outcome of the merger between Amazon Fresh vs. Whole Foods Market in terms of the prices, delivery methods, availability of brands, digital transformations, and how both retailers benefit from each other.
Whole Foods: A Brief Snapshot
Whole Foods Company is the first USDA-certified organic grocery chain in the US. In the 90s, Whole Foods' popularity peaked when it educated people to eat natural environment-friendly food. The private-label brands of Whole Foods Market include 365 (affordable) and Engine 2 (premium) plant-based products.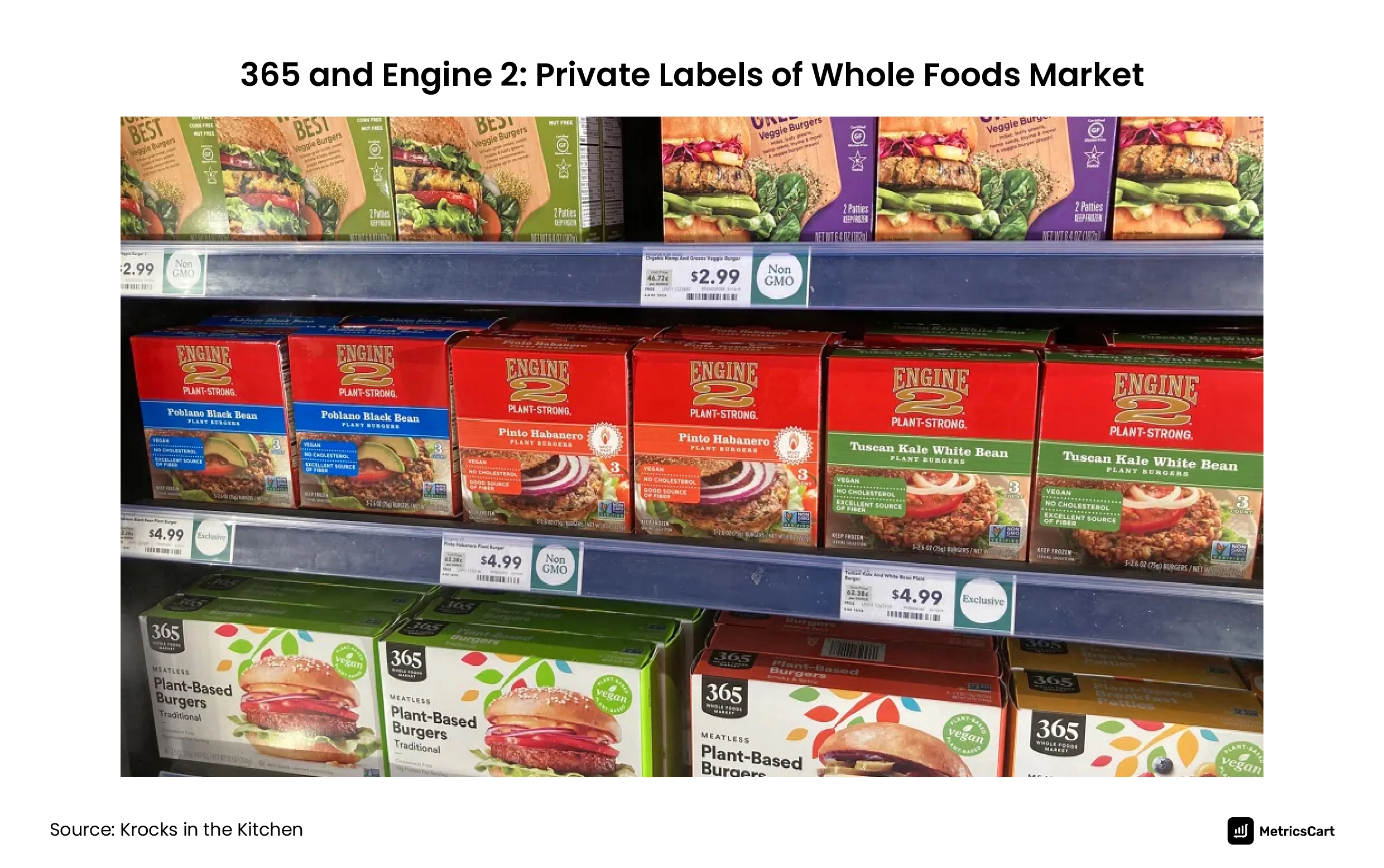 Since four decades, this retail brand has been selling exclusive products free from artificial flavors, colors, sweeteners, preservatives, and hydrogenated fats. For this reason, the products available here are expensive to such a degree that people nicknamed Whole Foods as "whole paycheck". Yet, they have a niche clientele willing to pay a premium for these organic high-quality groceries.
Amazon's Experiments in Grocery
Amazon has been ambitiously scaling up its grocery business over the years to overcome key competitors like Walmart, Kroger, Target, Trader Joe's, and Dollar Tree.
To begin with, the delivery of groceries by Amazon Fresh was a supplementary service for Amazon Prime members. A decade later in 2017, they introduced a curbside pick-up service for Prime subscribers. It was as late as 2020 that the e-commerce giant began opening up physical stores and extending services to non-Prime members to broaden its customer base. Presently, Amazon Fresh has a separate e-commerce site for grocery shoppers, 22 Amazon Go convenience stores, and about 40 Amazon Fresh full-size grocery stores that offer competitive pricing and same-day delivery.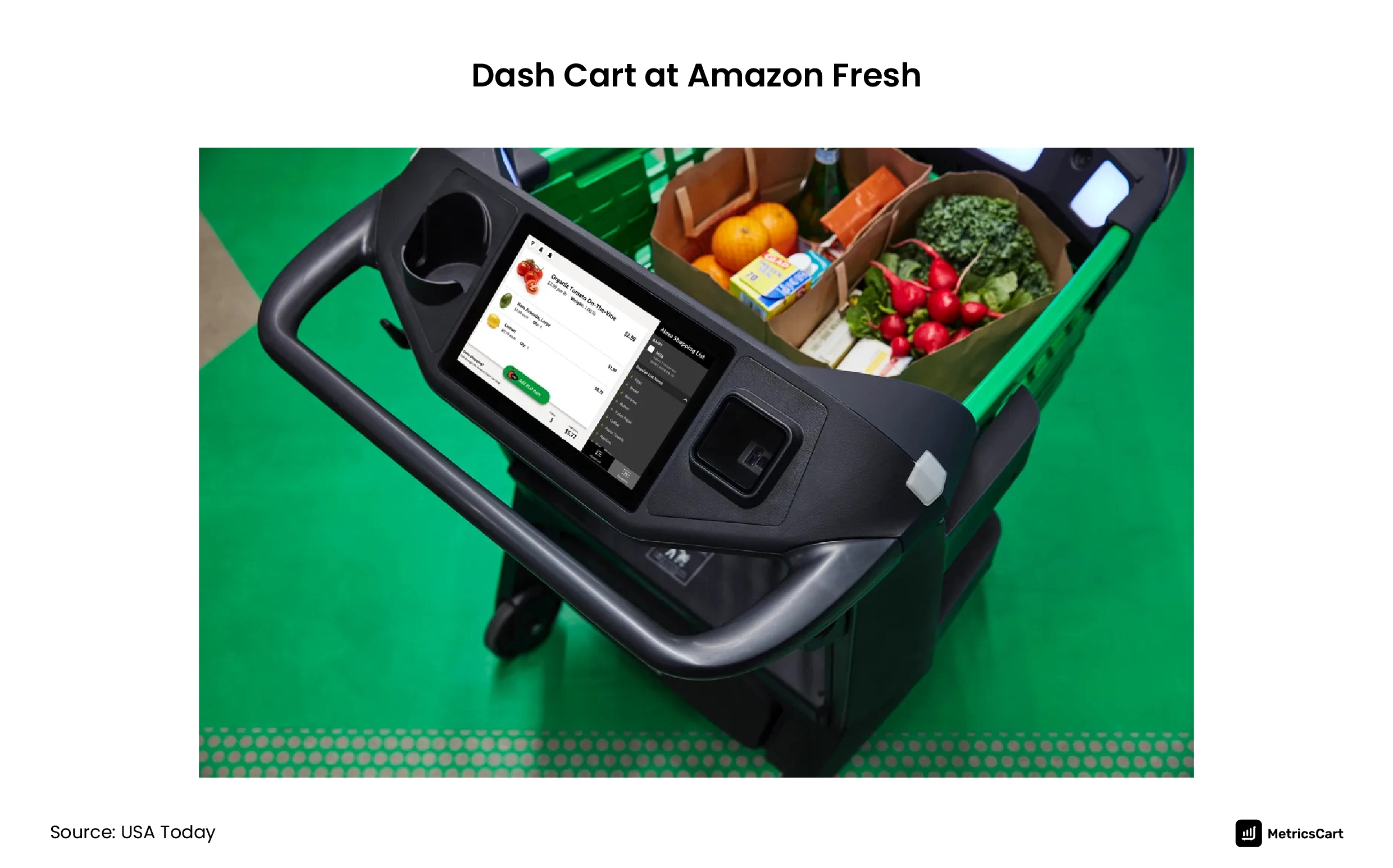 Advantages of Amazon-Whole Foods Partnership
Amazon bought Whole Foods when its sales were declining drastically. In business, if the partners are complementary and share a core value, the journey together to achieve the bigger goal is much smoother. In the case of Amazon and Whole Foods Market, both companies hold their customers in high regard. For Whole Foods, together they intend to make organic quality products affordable for everyone. For Amazon, to fulfill its dream to have a successful grocery business, it made sense for it to acquire a company like Whole Foods with warehouses equipped to handle food rather than starting from scratch. Though Amazon owns Whole Foods, both entities have a certain level of independence in their daily operations, they have different inventories and serve different customers.
How has Amazon Benefited by Acquiring Whole Foods?
Acquiring Whole Foods was a stepping stone for the expansion of Amazon's grocery business. Generally, people feel a little apprehensive regarding the freshness and quality of fruits and vegetables that are delivered online. However owing to the trust and confidence customers have in Whole Foods, the online sale of 365 has generated tens of millions in annual sales for the e-commerce giant. Amazon's goal to build a best-in-class grocery shopping experience is quickly turning into reality.
Amazon gained expertise in food procurement, a greater understanding of the nitty-gritty of organic food manufacturing, and access to Whole Foods suppliers.
The non-perishable items stocked at Amazon Fresh, Amazon Go, and Amazon Go Grocery outlets come from Amazon warehouses. But its perishable items come from the Whole Foods warehouse.
Amazon has access to 30 million plus high net-worth shoppers who are huge prospects for Prime membership.
Amazon received ownership rights to 463 Whole Foods stores, their strong network of warehouses, and food distribution centers in key US markets.
As customers place a higher level of trust in Whole Foods items, their association with Amazon has contributed to the latter's grocery sales.
Amazon Fresh has shifted its focus to in-person retail to serve more customers.
What are Whole Foods' Gains From Merging with Amazon?
When competitors like Fresh Market, Sprouts Farmers Market, or Trader Joe's offer equally good choices at lower prices, Whole Foods has lost much of its edge of exclusivity in the area of organics.  The market share of Whole Foods is just over 1% of the US grocery market.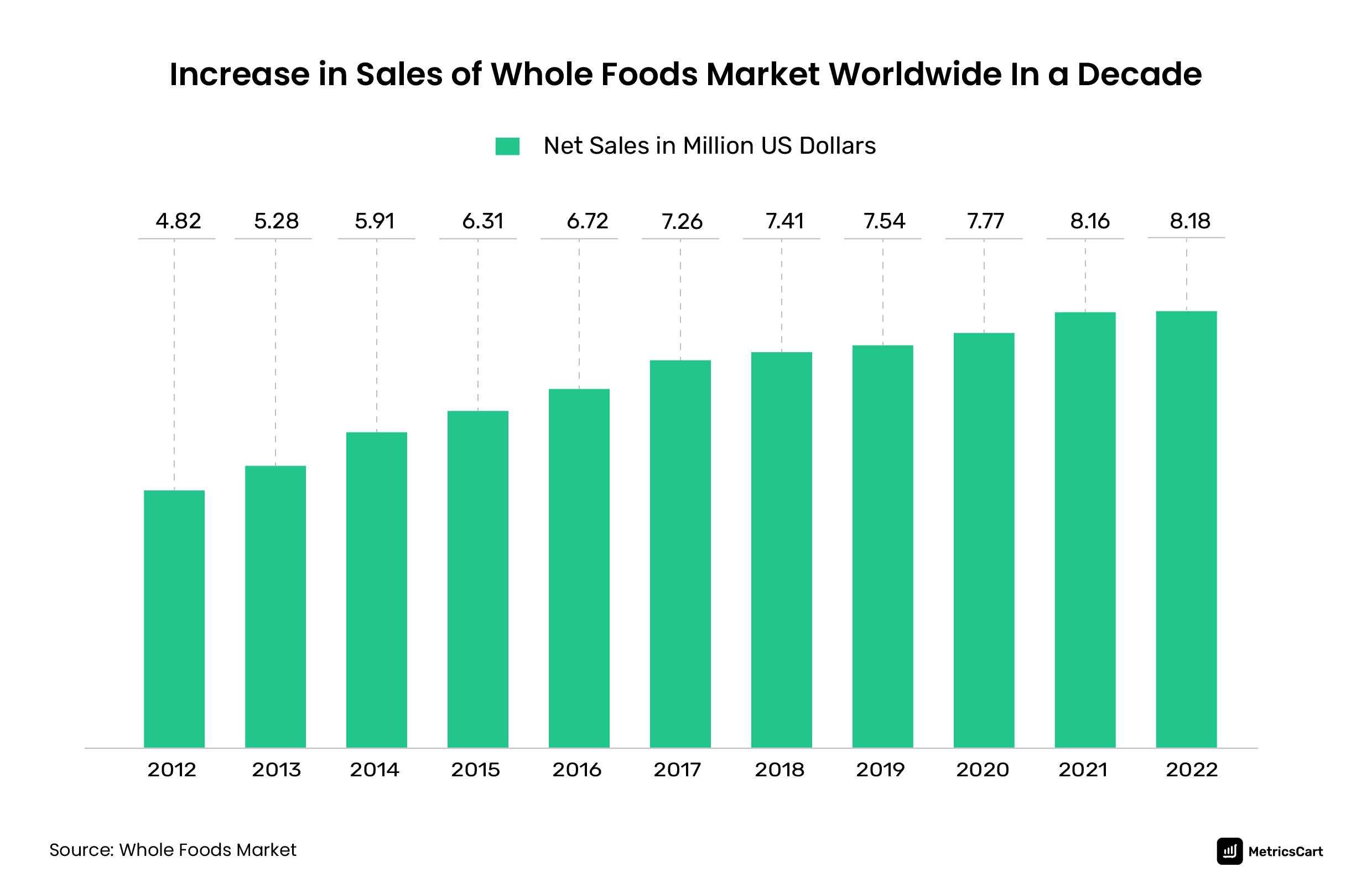 With Amazon's acquisition, Whole Foods could absorb Amazon's technology to modernize its stores. Its data tools help determine which brands get sold in which stores.
Amazon replaced some national products with Whole Foods' private-label brands. This move helped to bring down its operating costs and prices of goods in store and wipe off the reputation of Whole Foods as expensive. Click the link to learn more about the success behind Amazon's private labels.
The company has added 3,000 local brands. With personalized algorithms, the branches are restricting the supply of these brands based on their demand in each region.
365 are the small format stores of Whole Foods (named after its private label). The product mix at these stores is relatively affordable.
Amazon's powerful influence in vendor negotiations offers better rates for Whole Foods. Read our article comparison between the 1P vs. 3P seller model on Amazon.
Whole Foods has enhanced the quality standards for canned tuna, eggs, and chicken.
In 2019, Whole Foods was the first national grocer to ban plastic straws and introduce new types of produce bags and rotisserie chicken containers in its stores. This step helps reduce an estimated 800,000 pounds of plastic annually.
Palm-scanning payment at turnstiles, weighed shelves, and cameras make it possible for customers to walk out after shopping avoiding queuing up at the checkout counter.
Customers who sign up for Prime membership can enjoy free delivery on meeting a certain threshold.
What Does Amazon-Whole Foods Partnership Offer Customers?
Omnichannel presence is a necessity for retailers who wish to spread their reach far and wide. Some industry experts think the major investment should be set aside for "the last mile" to get the groceries as quickly as possible to the consumers while few others think a pleasing "first-mile" experience leads to repeat customers. But for indisputable success in the retail business, retailers may have to excel in all four factors as seen in the case of Amazon and Whole Foods Market.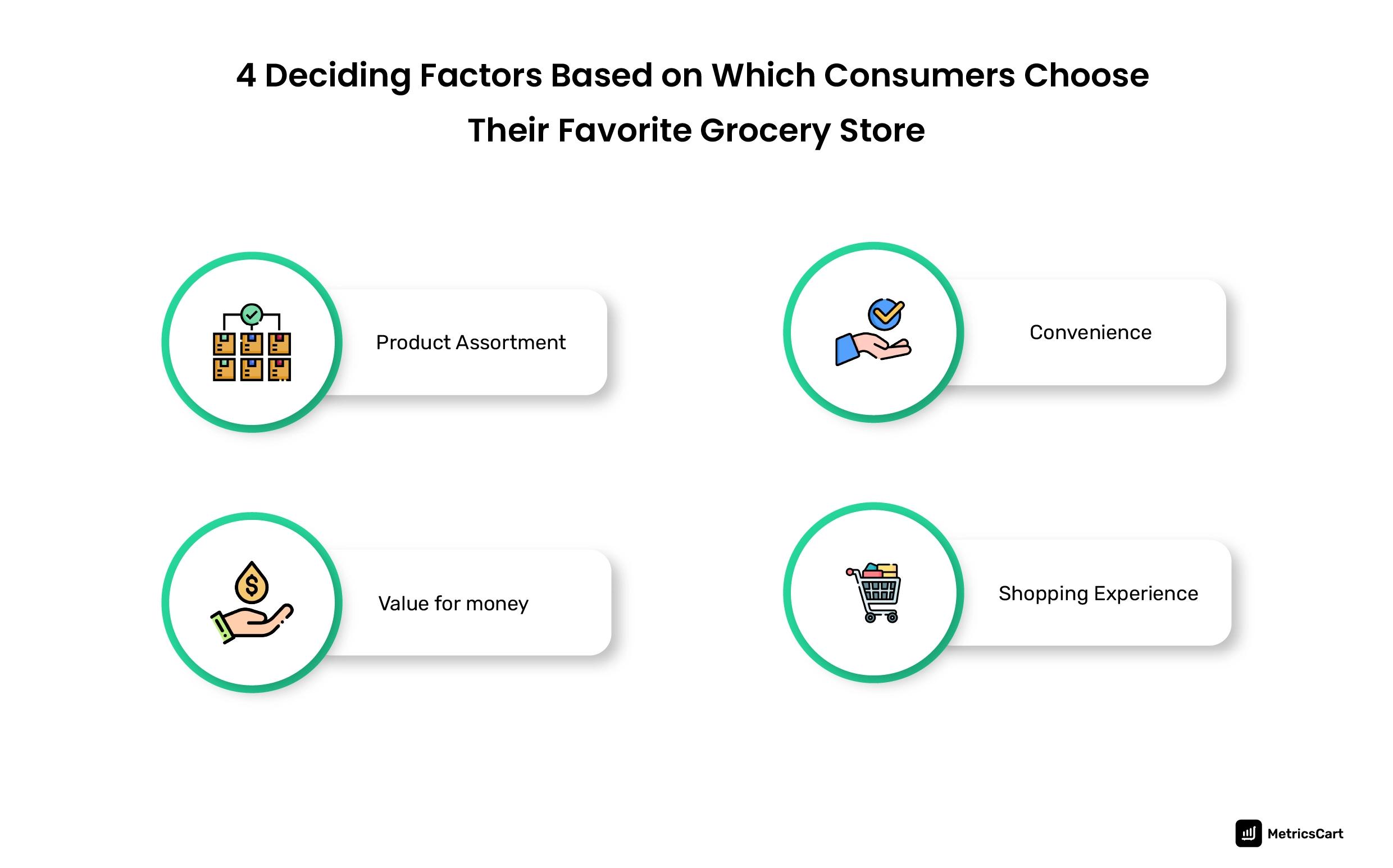 Product Assortment
Customers shopping at Amazon Fresh have a wide assortment of national brands, local brands, and value-for-money private labels such as Aplenty, Fresh, and 365 by Whole Foods at great prices.
Customers can grab freshly brewed coffee, snacks, or meal kits locally baked at the Amazon Go stores.
Value for Money
Shoppers enjoy deals on their favorite brands at Whole Foods and Amazon Fresh stores. By integrating Amazon Prime into the Whole Foods Market point-of-sale system, Amazon's Prime members save on delivery charges and essentials in-store. The key advantage that now differentiates Amazon Fresh for Prime members, versus Amazon Fresh for the rest, is a $4 savings. Depending on the size of the order, the delivery fee for non-primers ranges between $7.95-$13.95 as against a prime member fee of $3.95 to $9.95. For orders valued above $150, Prime members get free delivery.
The price of products available at Amazon Fresh is reasonable as it targets:

Value-price shoppers: people who cannot afford premium brands
Brand aspirants: people with low incomes but aspire to have quality products
Price-sensitive affluents: deal hunters
Convenience
Customers are given the flexibility to shop online or offline. They either pick up their order at designated locations or get home delivery.
To ensure a unified shopping experience, Whole Foods or Amazon stores offer free pickup and returns of  Amazon online packages
With a wider number of stores, same-day delivery option is possible at most locations.
As Amazon is integrated with Alexa, creating a shopping list on the app saves time.
Online customers have the convenience of home delivery, Buy Online Pickup In-Store (BOPIS), or curbside pick-up.
Shopping Experience
Many Amazon and Whole Foods stores have efficient shopping experiences like Amazon Dash Cart and Just Walk Out. Shoppers can skip the checkout process completely. Primarily customers have to download the Amazon Go app.  At the store, they walk in by scanning the code and add items to the cart. When customers walk out they again scan, Amazon deducts money from the linked account and a receipt is sent to the phone. This easy checkout is possible as the stores use computer vision, deep learning algorithms, and sensor fusion that monitor and update your virtual cart.  These stores have designated gates for traditional shoppers who prefer to go through checkout lanes.

Any grocer that exceeds customer expectations in the above four factors, will lead the grocery market.
The Grocery Market in the US
FMI and Nielson's research indicates every US household spends on average $850 annually towards purchasing food and beverage online. Every customer orders groceries at least once in two weeks. A retailer that manages to be on the top-of-the-mind recall of customers for groceries, is more likely to be remembered for other items too.
Though Amazon accounts for 39.5% of the entire US e-commerce market, the largest pie of the e-grocery segment (27.6 %) is controlled by Walmart, followed by Amazon at 21%. In 2022, Walmart's online grocery category has sold 7.8 billion units compared to 4 billion units by  Amazon. However, Amazon Fresh along with Whole Foods beat Walmart on e-grocery sales revenue totaling $40.6 billion since January 2020 to Walmart's $22.5 billion, according to the State of the Online Food & Grocery Industry report.
Click to read about The State of the Online Grocery Industry in the US in 2022
Trends Observed in the US Grocery Segment in 2023
A class of price-conscious consumers is opting for private labels, subscription services, online outlets, or dark stores for no-frill shopping.
A large number of consumers are opting for healthier eating habits.
There is a growing emphasis on sustainable foods. Consumers expect retailers to have ESG (environmental, social, and governance) information on the food packets. In June 2023, to minimize the slaughtering of animals, the US government approved the production and sale of lab-grown meat.
Retailers, including grocers, can no longer remain one-dimensional sellers. Consumers expect retailers to serve across omnichannel channels.
To keep pace with the changing customer preferences, grocers are investing in technology and analytics.
Amazon Fresh along with Whole Foods beat Walmart on e-grocery sales revenue totaling $40.6 billion.
The Way Forward for the Grocery Category
Forecasts indicate that online grocery sales in the US will amount to nearly $41.2 billion by 2024. As all retail chains are amping up the game of digital automation, what makes one store better than another is solely the consumers' choice.
To win the hearts of customers, retailers can minimize inventory inaccuracies in customer orders, keep up with marketplace price wars, help brands decide on the availability and assortment of products, and so on. For systematic digital shelf analytics of your e-commerce site, start a conversation with MetricsCart today.
We gather publicly available data pertaining to any industry at lightning speed. Our structured data insights help clients make better decisions in their organizations.