Matt Taddy, VP of Amazon Private Brands, believes in injecting technology in the form of data science to solve customer problems at Amazon.
In the US, month after month, the sale of private brands rose steadily throughout 2022. This resulted in a double-digit growth of private brands.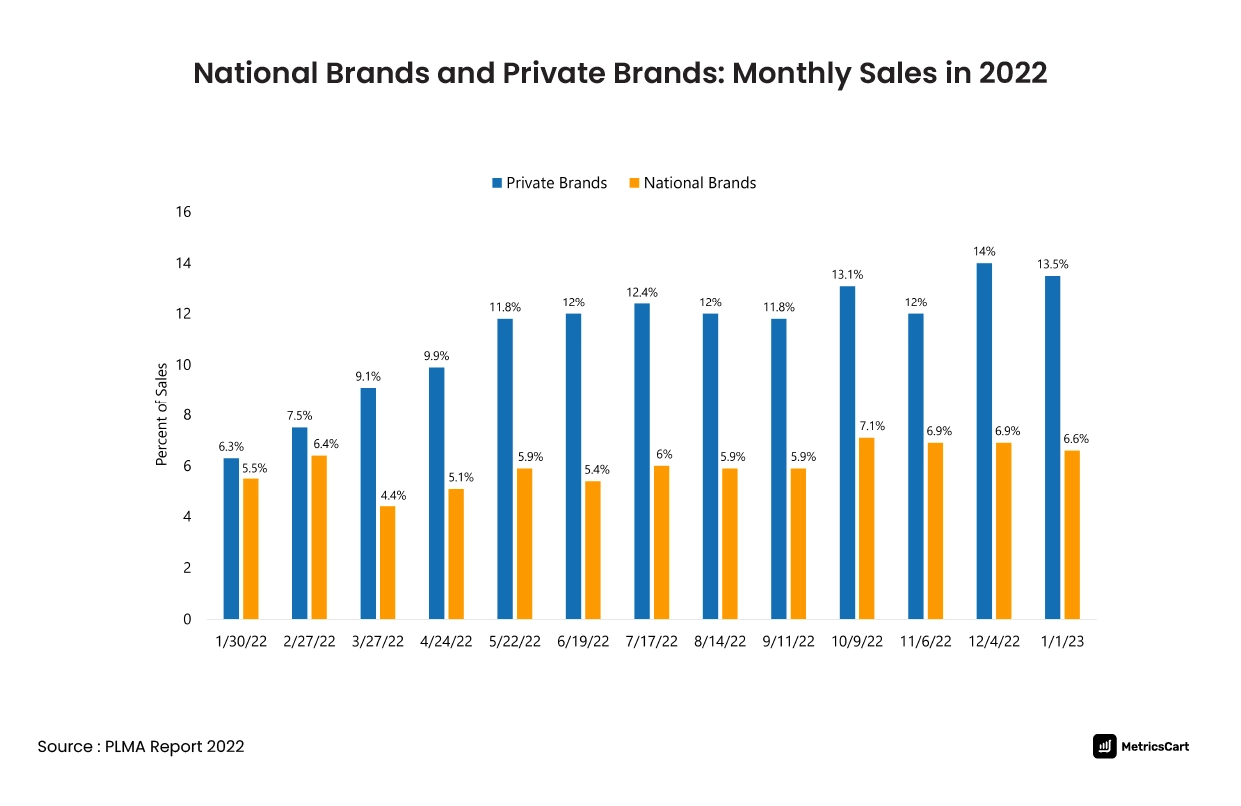 As the calendar flipped to January 2023, these private brands not only continued their impressive ascent but also outpaced their national counterparts, growing at a staggering rate twice as fast. This rapid expansion highlights the increasing trust consumers place in private labels over established national brands. When looking at the growth of private labels for a five-year period, there was a 40% growth in total sales.
Through our article, we explore private brands specific to Amazon and the market share of the e-commerce giant in the private brand segment.
Evolution of Amazon Private Brands
Amazon introduced its first range of private brands with Amazon Basics in 2009. The brand sells batteries, phone cables, and other staple items for which shoppers don't need a stronger brand preference. Back in the day, it was called 'everyday items…at a value.' Over time, Amazon Basics expanded its product range further to include office supplies, bath and bedding, luggage, patio essentials, and more.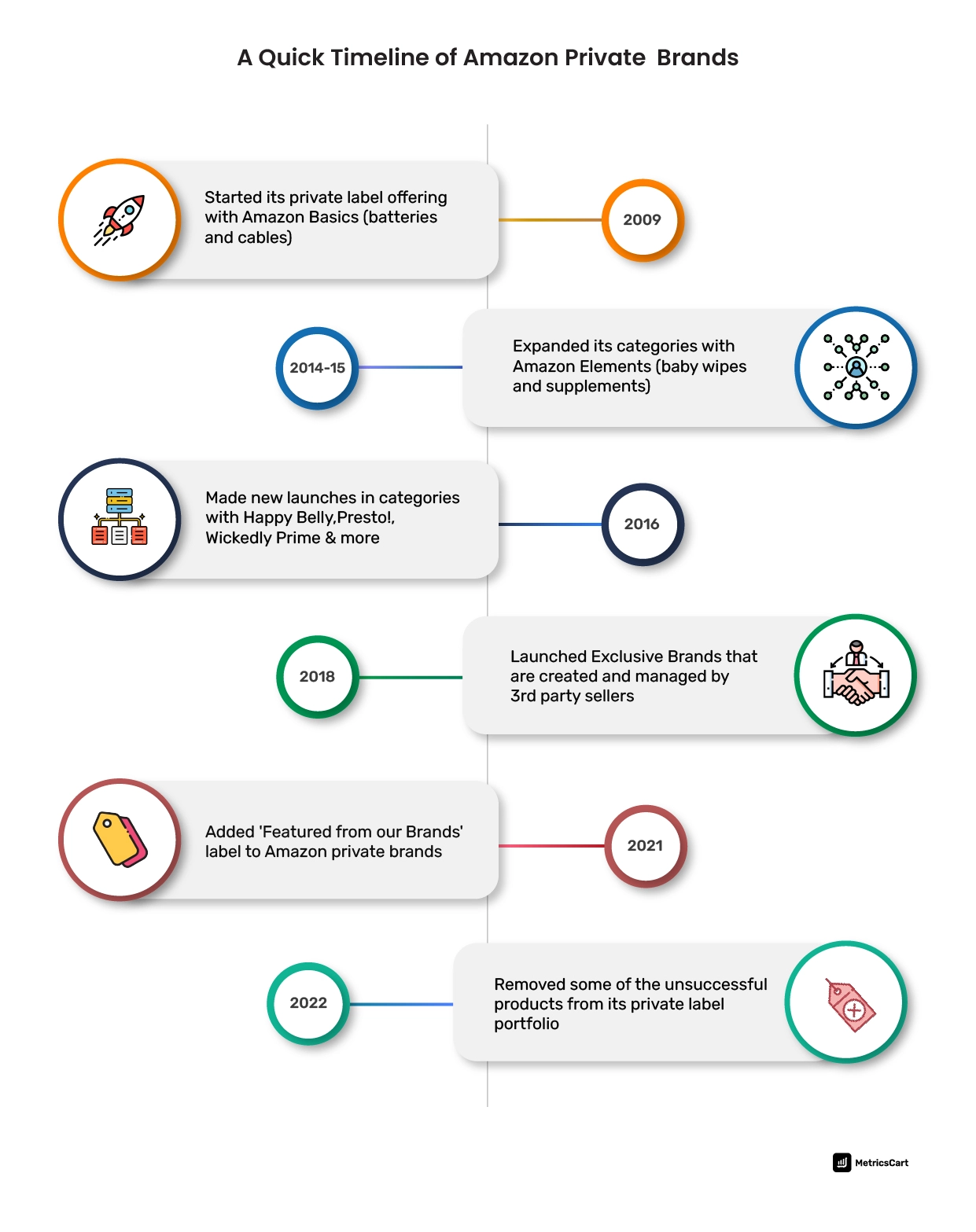 In 2014, Amazon took its category diversification to the next level by launching Amazon Elements, an exclusive line for Prime members. The brand caters to vitamins, supplements, and baby wipes.
Between 2015 and 2019, more food-based brands were quietly launched. Happy Belly! and Mama Bear baby products were some of them. In 2018, things took a different turn when Amazon Exclusive brands emerged. In 2017, with Amazon acquiring Whole Foods, Amazon replaced some national products with Whole Foods' private-label brands garnering more profits in the grocery division.
While Amazon's private brands are owned and managed entirely by Amazon, exclusive brands are made and managed by third-party sellers. These brands are exclusively sold only on Amazon. The sellers enjoy certain promotional benefits that assure enhanced brand visibility. Once the minimum advertised prices are set for the items, Amazon runs the display ads and puts up the brand on the Exclusives catalog and emails. Other benefits include expert help, brand protection, and access to FBA and Prime.
In 2021, Amazon introduced the "featured from our brands" label under product listings to specify it is their own brand. As opposed to advertising, the company described it as "merchandising placement".
In 2022, Amazon trimmed its private label product line to remove the unsuccessful products from its portfolio. Like Walmart and Target, Amazon has been refocusing on its most popular private-label products.
Interested to know about Walmart Private Brands?
Market Share of Amazon Private Brands
During the pandemic, Amazon's private labels were majorly promoted, and growth across categories was huge. Categories such as commercial supplies, including sanitizers and disinfectants, saw a 1587% year-over-year jump in growth.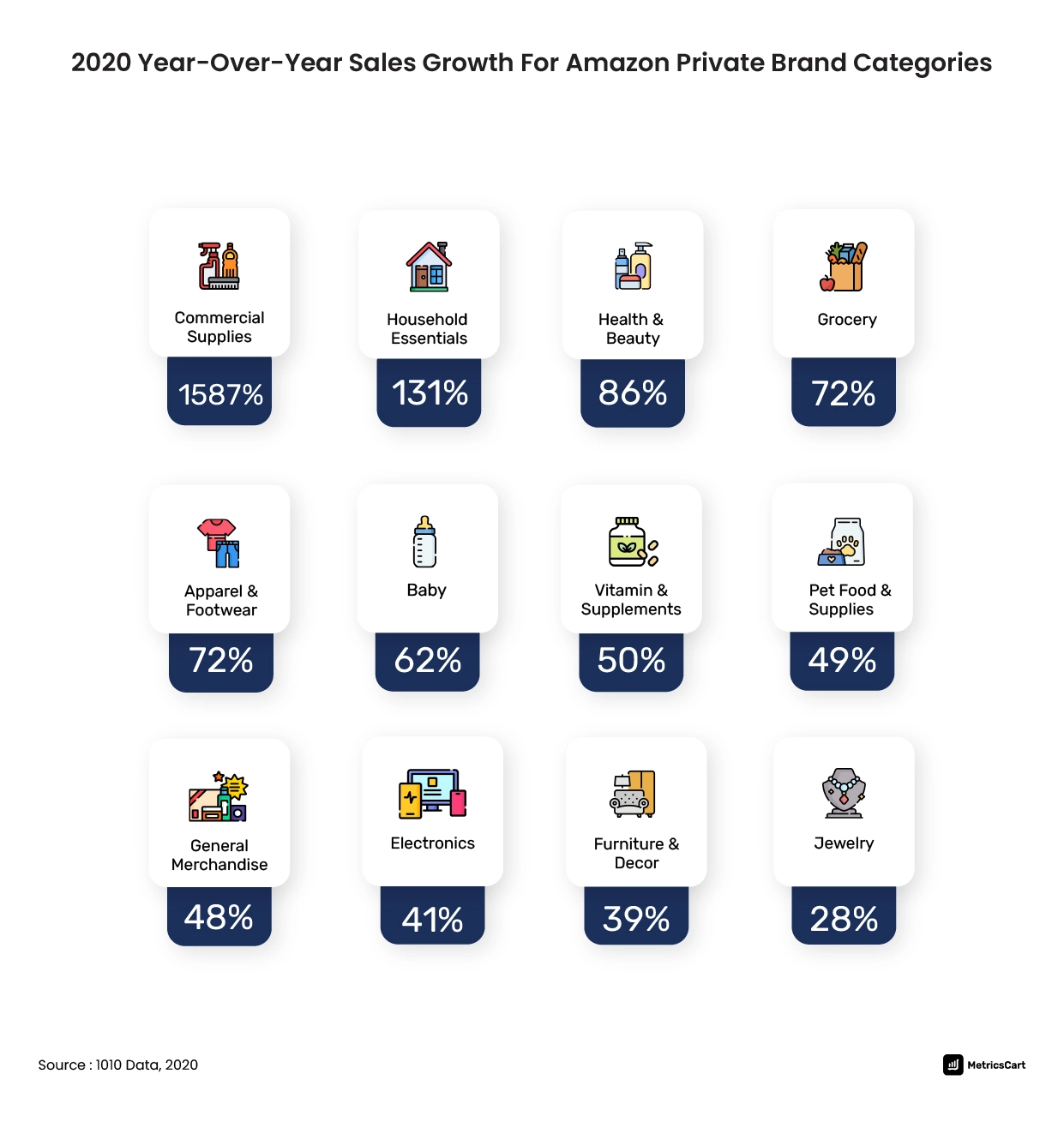 Additionally, a Marketplace Pulse research report from 2019 found that the top 10 successful Amazon private brands account for 81% of the total Amazon sales.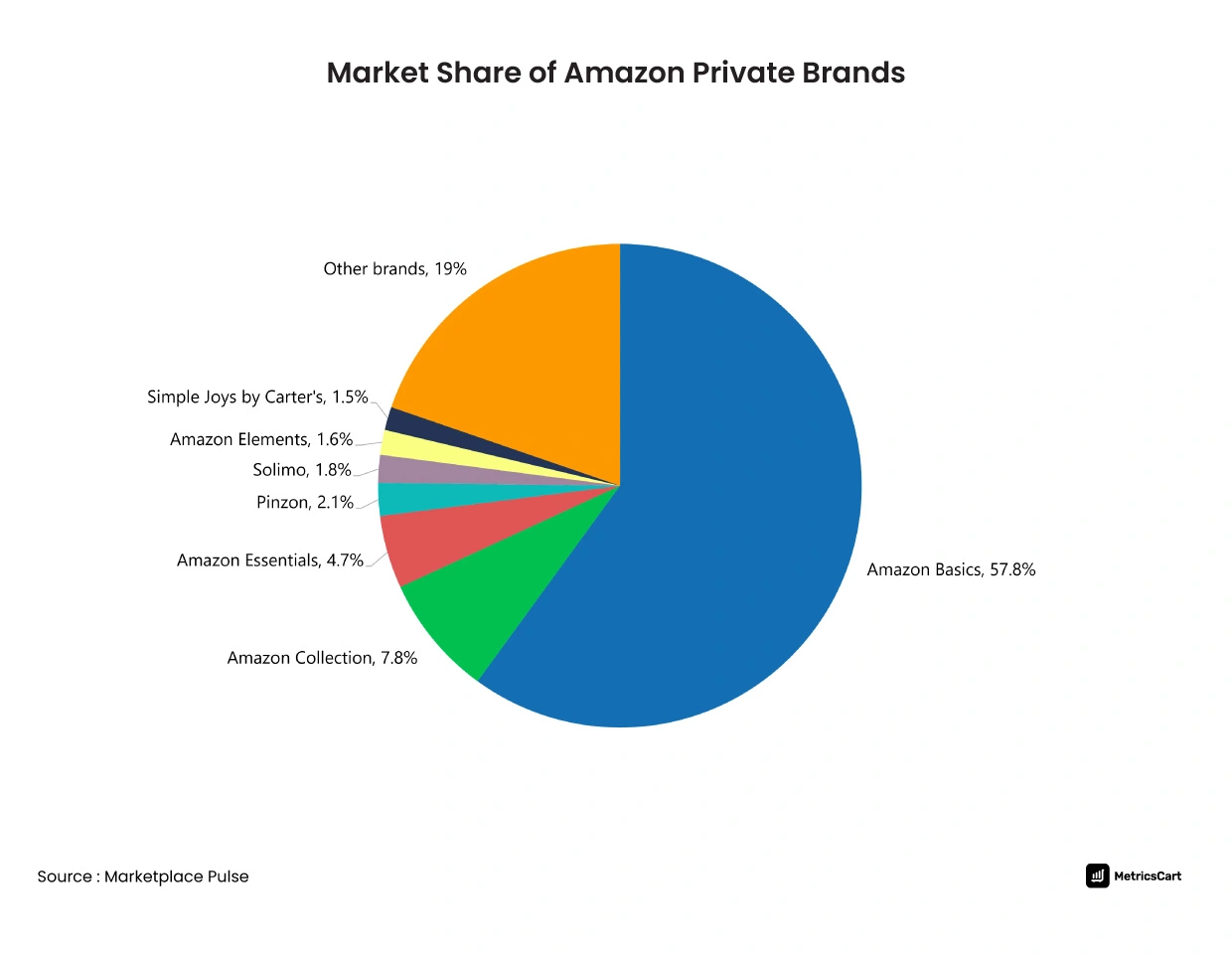 The market share distribution shows that household, electronics, jewelry, and apparel are the most-sold private brand categories on Amazon. The rise in inflation acts as a playground for retailers to invest heavily in private labels.
Why Amazon Has the Fastest-Growing Private Brands?
During the Amazon Business Reshape 2022 conference, Matt Taddy, VP of Amazon Private Brands, shared insights into how Amazon uses data science to solve customer problems. One notable example he discussed was the familiar practice of conducting regular price experiments on the platform. By introducing random price variations on a daily basis, Amazon obtains constant signals on how customers respond to price changes. Amazon calls this the active data generation strategy.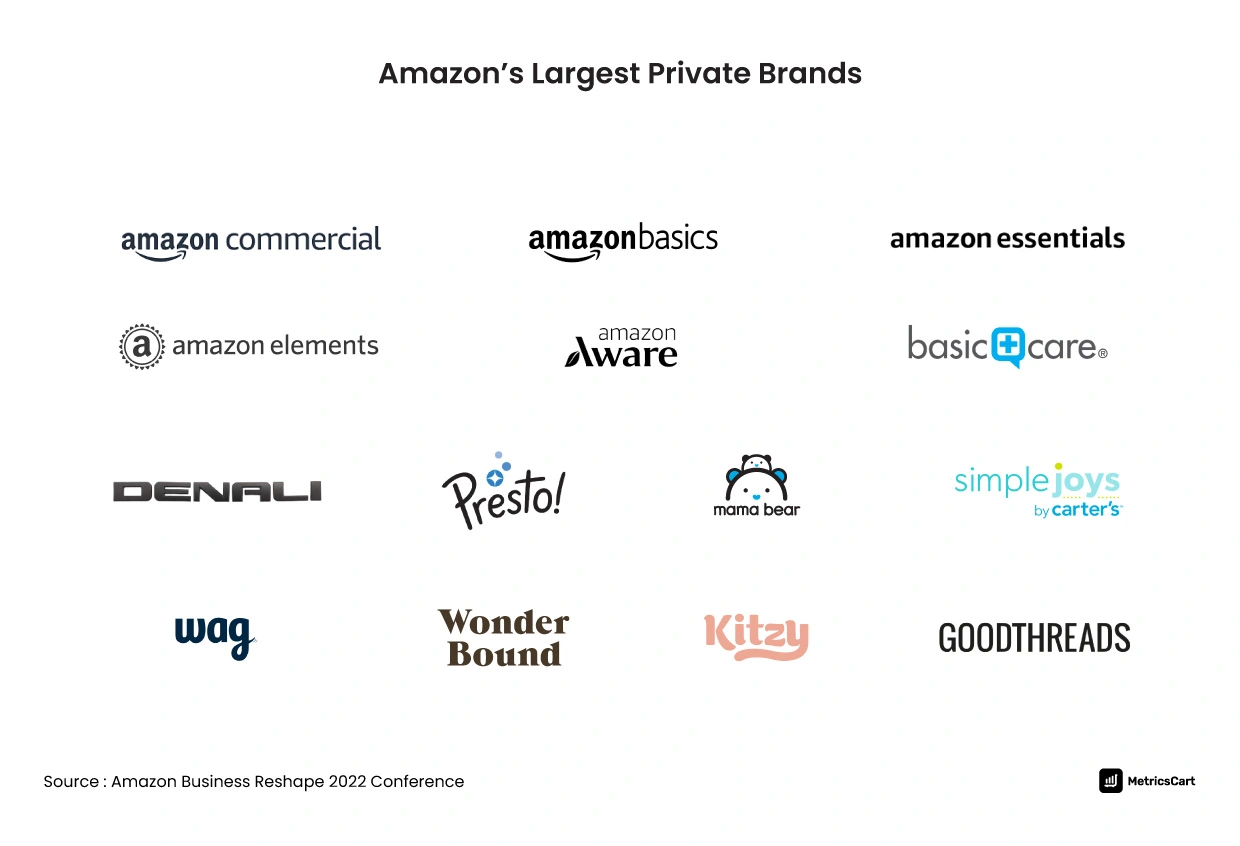 For Amazon Basics, Home and Kitchen, Office Products, Industrial and Scientific are the product categories with the most number of bestsellers in the first two quarters of 2023.
From setting sharp price points to positioning private brands, let's look at other ways Amazon's private brands emerge as the fastest-growing brands:
Outbidding Competition With the Top Spots on the Digital Shelf
A simple site search on Amazon for 'ground coffee' shows the following result.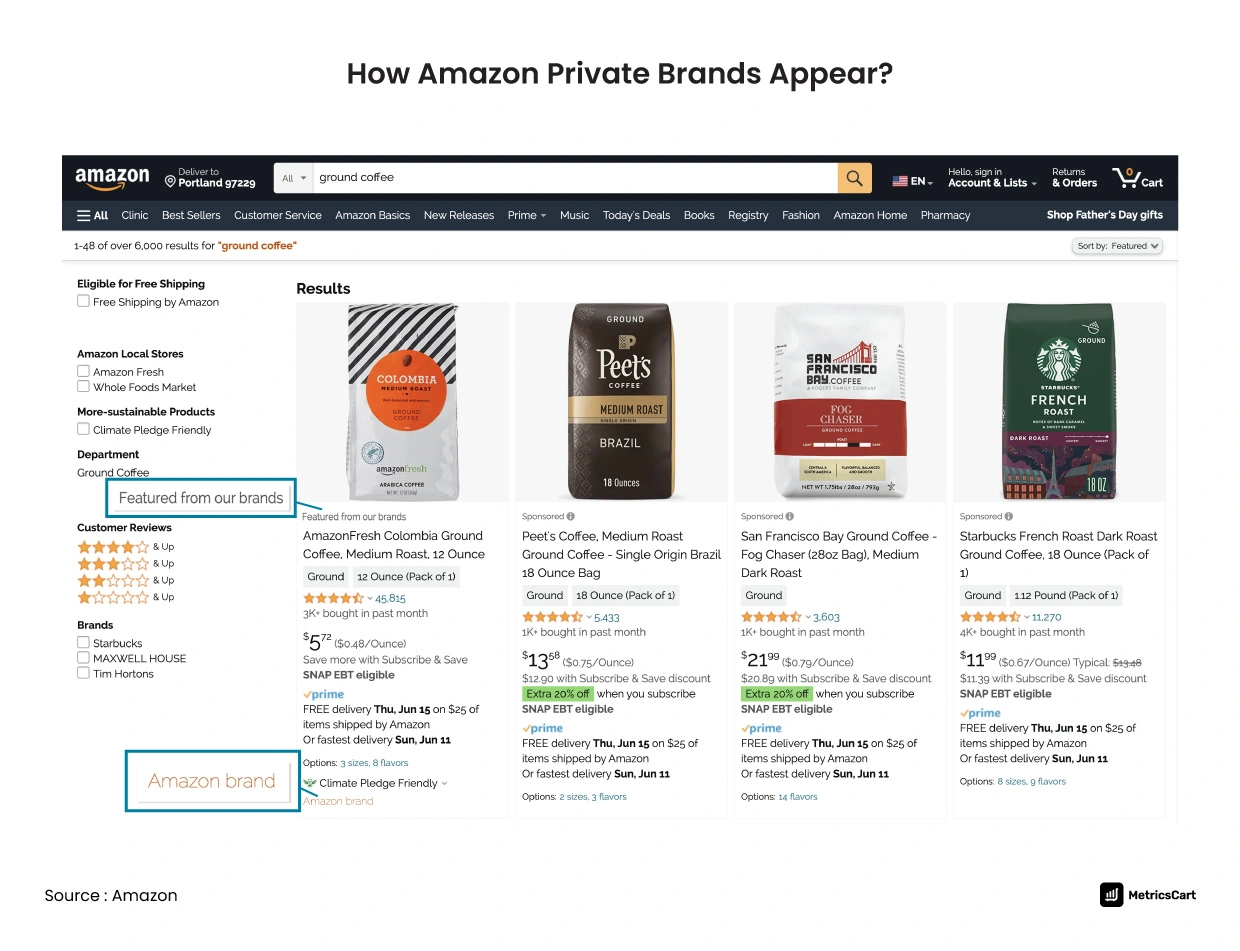 The first product on the digital shelf is Amazon Fresh Columbia Ground Coffee. Amazon's private brands appear with two labels: 'Featured from our brands' and 'Amazon Brand.' The company terms them as merchandising placement. Similarly, a search for mattresses, baby food, cat bed, or any product for that matter, would show up Amazon private label offerings at the top.
When these features were rolled out, an Amazon spokesperson clarified there is no digital shelf space exclusively reserved for Amazon brands. Instead, Amazon acquires a larger percentage of the share of search by trying to place items in a manner that will be most useful for their customers.
Read more: MetricsCart's Complete Guide on Share of Search
Adopting an Omnichannel Approach To Private-Label Offering
A McKinsey study shows that 71% of shoppers expect brands to offer personalized interactions.
Amazon promotes its grocery line of private brands on interactive displays at Amazon Fresh supermarkets. By blending physical and digital customer experiences, Amazon emphasizes the focus on private brands.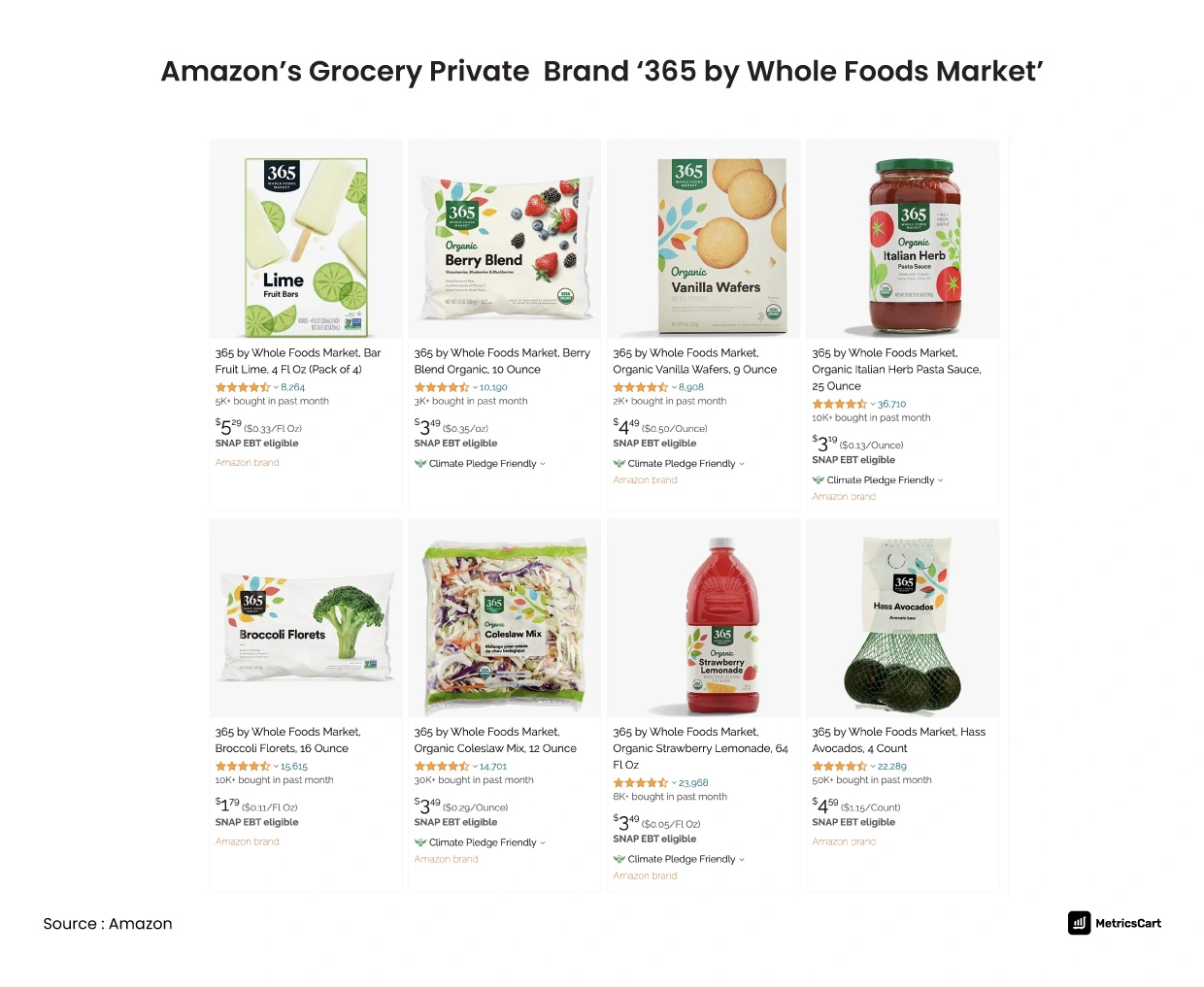 The private label assortment for supermarkets is sourced through private brands from Whole Foods (acquired by Amazon) and the Fresh brand itself. Amazon certainly has a cost advantage since it doesn't need to produce its products due to seamless sourcing.
Whole Foods offers more than 2400 private-label grocery products. Happy Belly! and Aplenty are some of the other private brands sold in Fresh stores.
Read more: Amazon Selling Strategies Explained with 1P vs. 3P
Offering Products at Reasonable Prices
Have you noticed how people search for generic items and not brands when shopping on Amazon? This is precisely where Amazon meets its customers. The retail giant creates private-label offerings for regular household items at a reasonable price. Let's take the example of Amazon Basics. Amazon calls it the 'highly rated products at lowest prices.'
In 2009, when Amazon Basics started out, it easily grabbed nearly a third of the market share for everyday items. The brand's batteries outsold main competitors like Duracell and Energizer.
Here's a price comparison of 20-count pack AA batteries from Amazon Basics and Duracell. As you can see above, the private brand sells for half the price of the national brand even today. Kusum Ailawadi, a Professor researching private brands for more than 25 years, shared with CNBC that Amazon private brands sell for an average of 25-40% less than the national brand. We took a sneak peek at the best-selling products of Amazon Basics.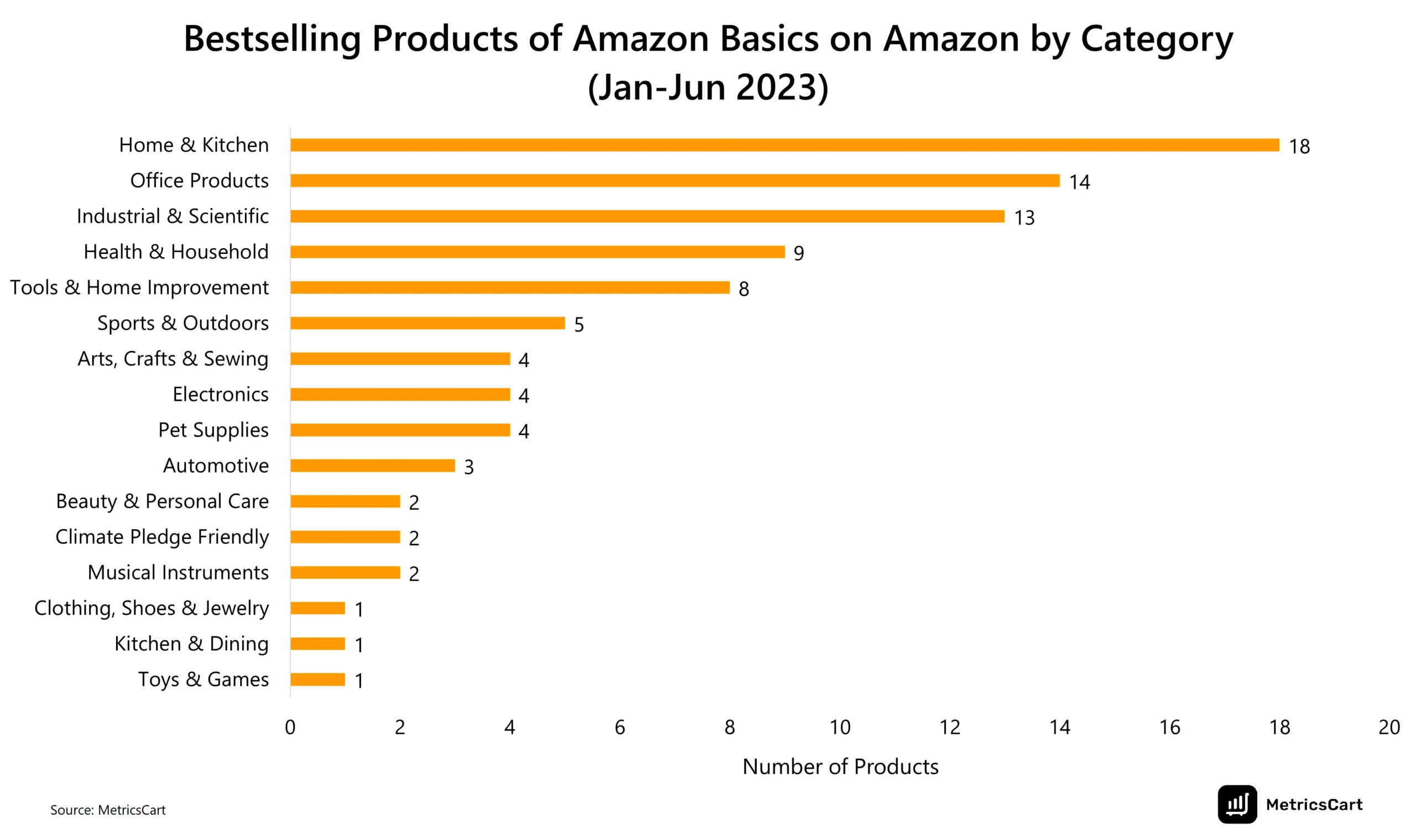 As you can see, Home and Kitchen, Office Products, Industrial and Scientific are the product categories with the most number of bestsellers in the first two quarters of 2023. It is key to understand that there is no unfair advantage for Amazon's private brands for getting Best Seller Ranks. As the items garner good reviews and sell cheaper than national brands, these brands easily win the Buy Boxes and rank up high.
Read more: Explore private label manufacturers across categories in the US
Selling at a Reliable Quality
A Kantar study confirms that 85% of the US population regularly purchases private-label products. There is a general myth about private brands that people opt for them for the low price. However, the same study shows that shoppers choose private-label products based on quality. The key differentiator for Amazon's private brands lies in its efficiency in closing the gap between customer feedback and quality engineering. This is made possible through Amazon's active data generation strategy mentioned earlier in this article.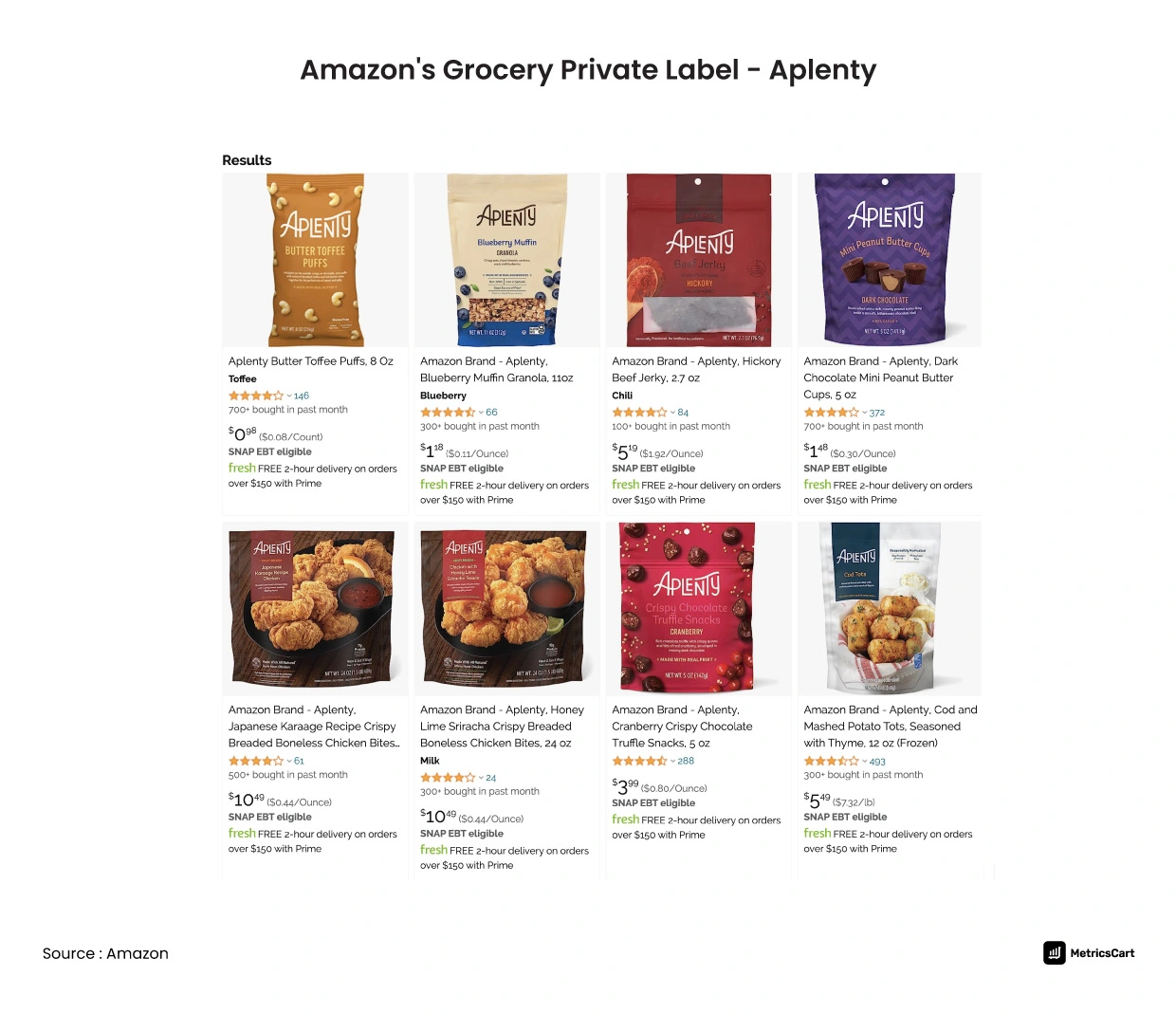 Launched in 2021, Aplenty is a private brand Amazon describes as high-quality recipes developed with high standards. The brand added more items in 2022, including apple pie granola clusters, pumpkin spice granola, and caramel pumpkin spice popcorn to name a few.
Moreover, on Amazon, product recommendations, search results, and reviews are some of the places customers look up to gauge the quality of the product before purchase. Most of the private label products have an average higher purchase rate, lower return rate, and higher customer rating.
Read more: A Guide to Private Label Brands
Using Elevated Product Attributes
Amazon is on a run to achieve its net-zero carbon goals 10 years ahead of the Paris Agreement. The sustainability efforts started in 2019 and are practiced across stores, supply chains, corporate offices, and fulfillment centers.
In the e-commerce channel, Climate Pledge certifications and sustainable packaging are seen along with product claims across its in-house brands.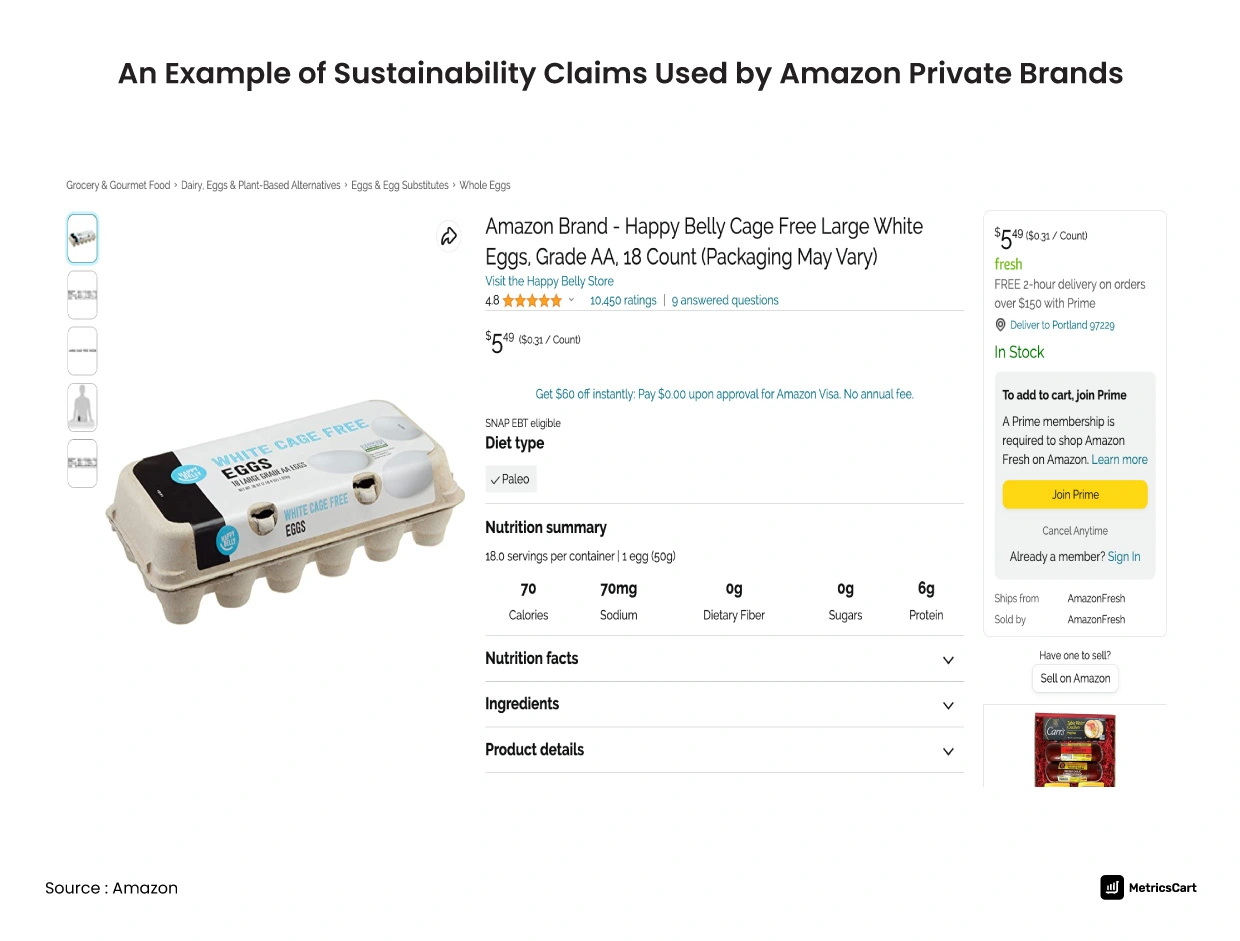 In 2022, Amazon made a big change to the eggs sold under the private label, Happy Belly! The brand started selling cage-free eggs. These eggs are laid by hens with access to water and food 24/7 and are not caged.
Product attributes such as organic, non-GMO, and plant-based are designed across categories through deep product audits. These audits analyze the environmental impact of each product using data at every stage from manufacturing to shipping. This in turn helps Amazon to keep up with up-market brands in product positioning.
Read more: An Analysis of Amazon Customer Buying Behavior
Creating Private Brands Through Brand Partnership and Acquisition
In 2017, the popular US children's clothing retailer, Carter's, joined forces with Amazon as Simple Joys by Carter's. The brand was in a similar partnership with Target and Walmart. Their target audience was Prime members and digital-savvy millennials.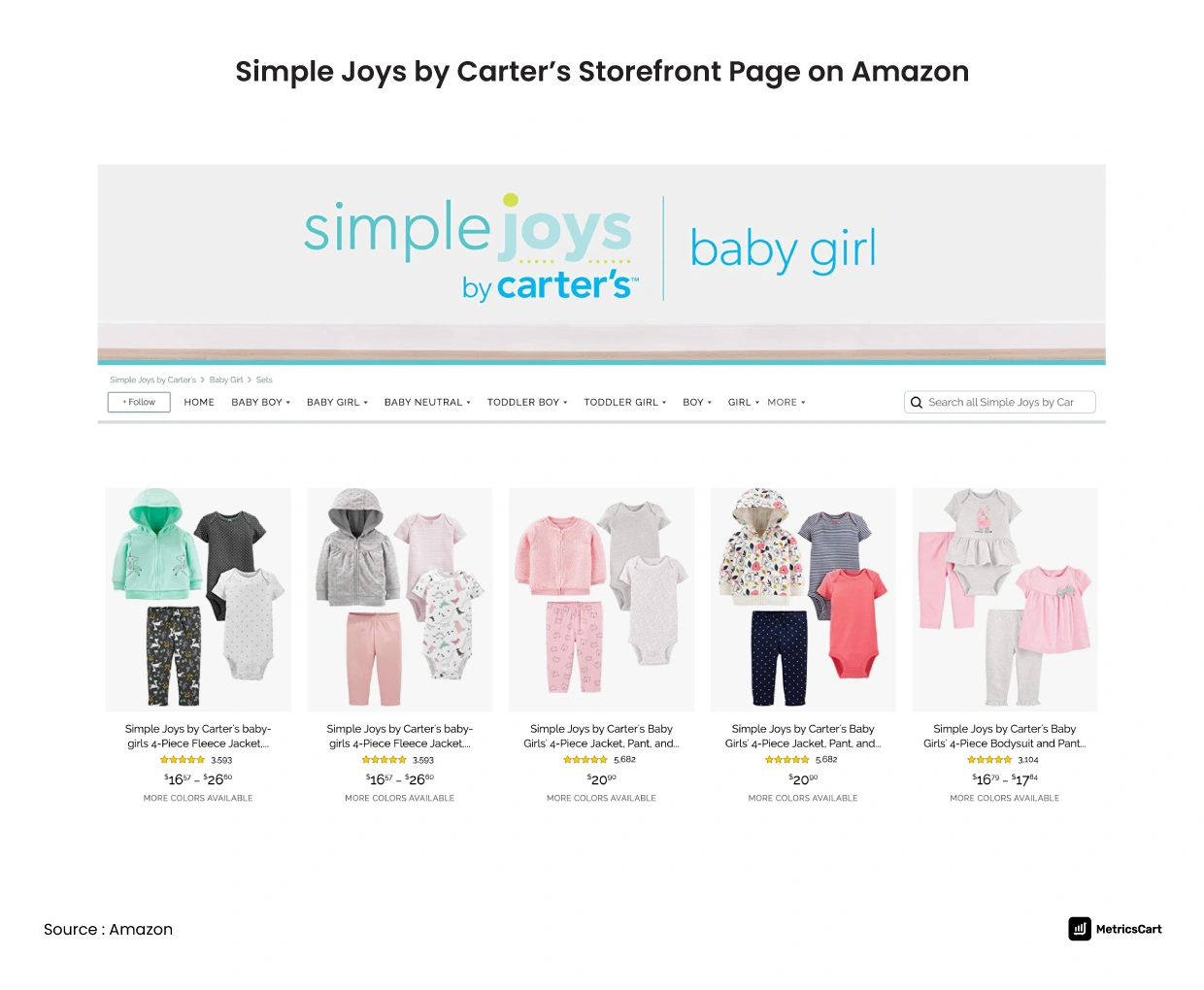 In the same year, Amazon acquired Blink and Ring. Both companies specialize in video doorbells and security cameras. MetricsCart Amazon Bestseller reports point out that both are the best ranked in the tools and home improvement category. However, this raises the question of why Amazon has brands that sell similar products. It's not alone Blink and Ring.
Take the case of Amazon Fresh, Pantry, and Whole Foods. The intent is quite simple: market segmentation. By dividing your target audience into groups with more options, you can sell more products to them.
Read more: Frequently Asked Questions About Amazon Buy Box
Giving Private Brand Products the Look and Feel of a National Brand
In 2018, Amazon expanded its private label offering to categories such as coffee pods and incontinence underwear for adults (now sold under Amazon Basics) through the brand: Solimo.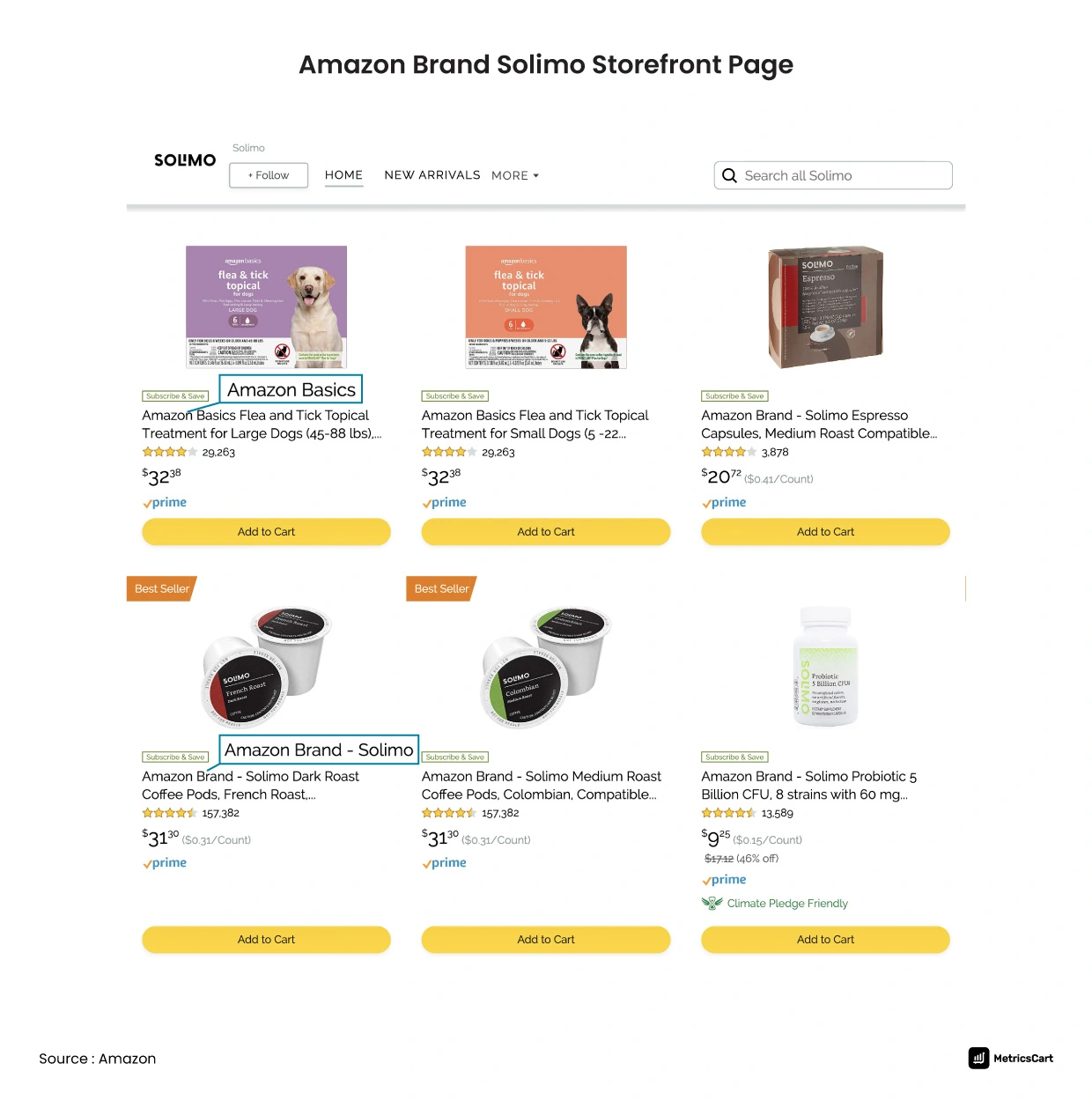 However, the private brand Solimo slowly took a different turn in category building. The brand decided to compete with the CPG national brands. Solimo introduced shampoos, razors, mouthwash, hand wash, and more. Presently, there is an overlap of Amazon Basics items within the Solimo store page when searching for Solimo products.
This also points to the fact that Amazon strategically focuses on launching a collection of products where the brand doesn't matter. Yet these products are placed next to a national brand on the digital shelf with a 'me-too packaging.'
Read more: Winning the Digital Shelf for CPG E-Commerce Acceleration
Using Digital Shelf Solutions for Competitive Advantage
Amazon offers brands an expansive customer base and shipping capabilities that cannot be easily found elsewhere. In 2023, retailers are planning to expand their private brand presence in grocery, health, and general merchandise categories. Market expansion plans need solid digital shelf analytics support be it any online marketplace.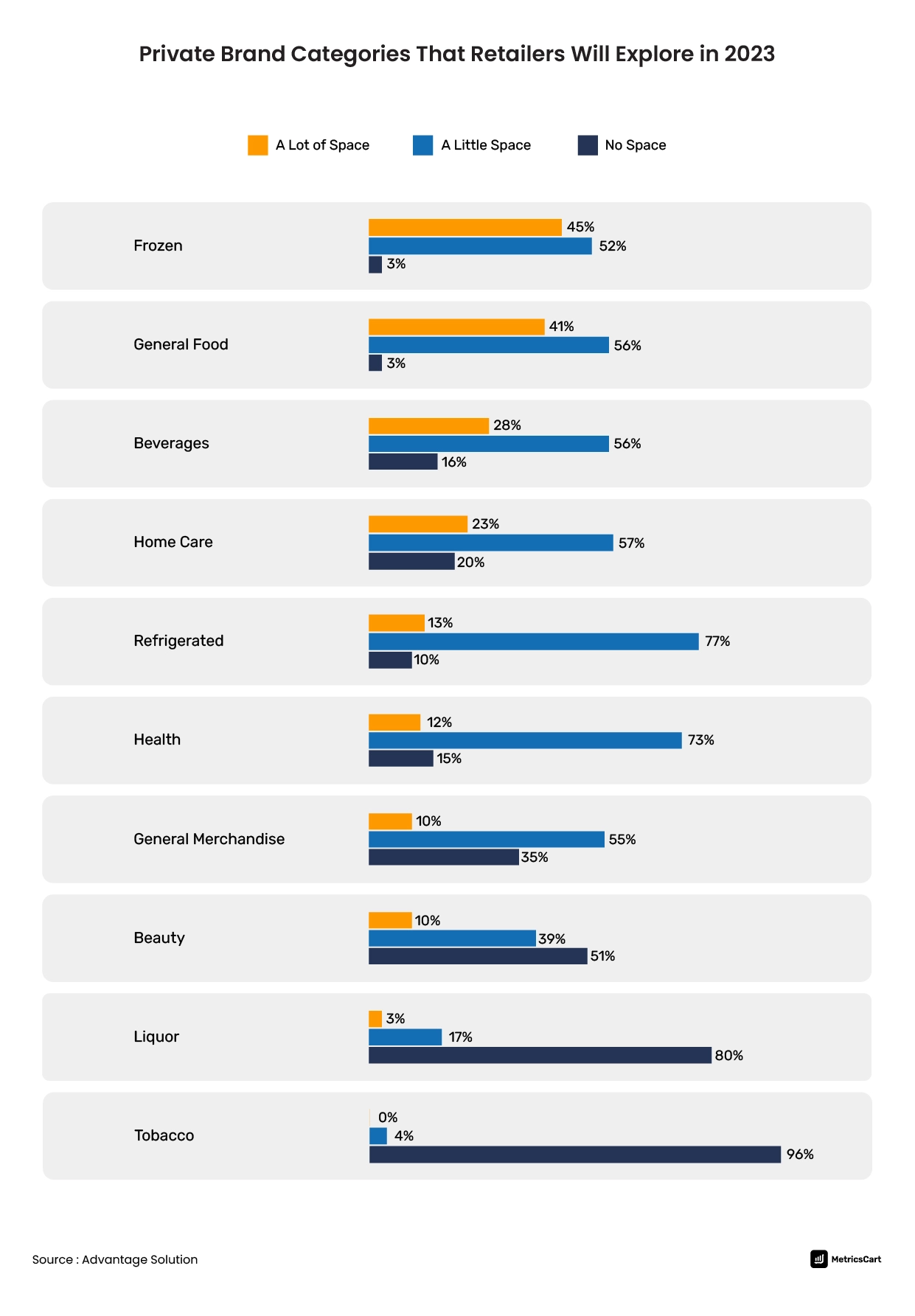 Are you looking for digital shelf assistance to position your brand for profitability? Do you want to know how you are standing out on Amazon's crowded digital shelves? Do you wish to sell products exclusively on Amazon?
MetricsCart's digital shelf solutions arms you with the monitoring resources for all your online marketplace metrics. Moreover, our Amazon Bestseller monthly reports give you free access to the best-ranked brands and categories.
Get in touch with us right away.