Today, the global beauty and personal care industry is a US $571.10 billion industry. The US is the leading market with an overall revenue of US $91.4 billion (2023). With an expected CAGR of 6.9% between 2023 and 2028, this industry has emerged as one of the most resilient in the face of a post-pandemic world.
This article examines the growth and market trends in the American online beauty industry. It outlines the significant shifts in consumer expectations from cosmetic products and concludes with insights on the bestselling products from the Beauty and Personal Care category on Amazon in 2023.
A Closer Look at the Industry
The beauty and personal care market encompasses 4 categories: Cosmetics, Fragrances, Personal care, and Skincare. Of these, Personal care products form the largest segment of the market with a total volume of US $40.83 billion.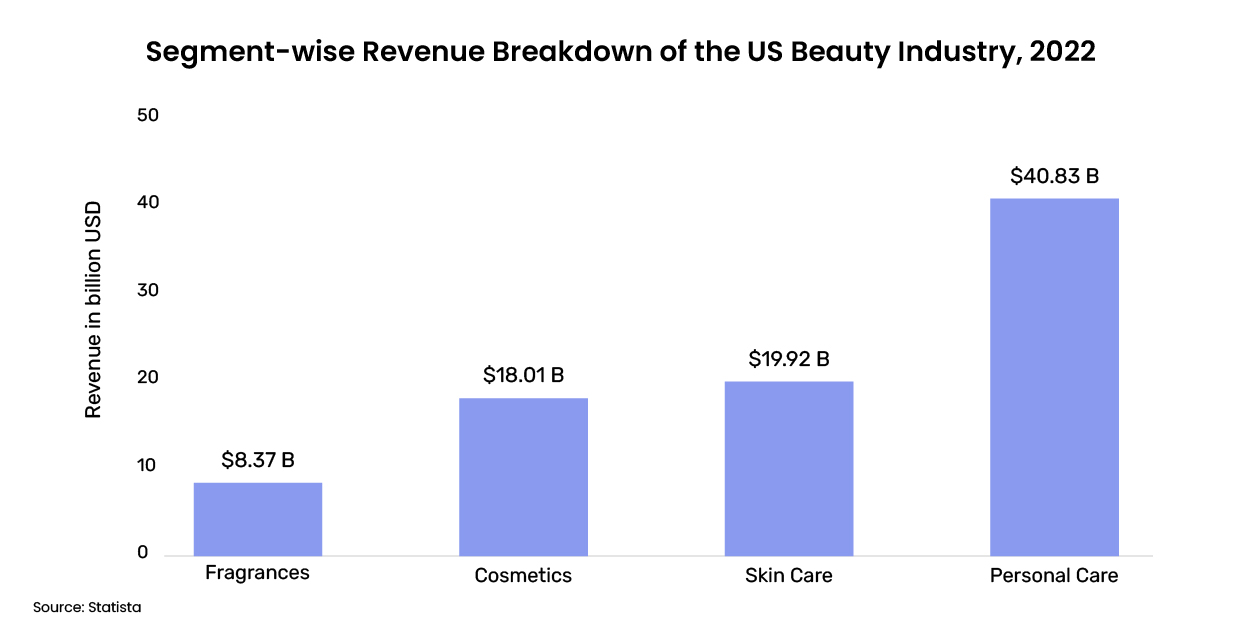 AI and Personalized Beauty
Green cosmetics, immersive beauty, and blockchain beauty are a few of the many popular beauty trends dominating the industry this year. Despite ever-evolving consumer expectations from beauty and personal care products, it is impressive how the industry transforms accordingly. From clean beauty ranges to hyper-personalized skincare products to AI-driven cosmetic solutions, brands are always looking for ways to adapt to evolving customer needs.
Neutrogena, a global skincare brand, has made significant strides when it comes to personalization and AI-based innovation. The company introduced MaskiD, a 3D-printed face mask that's tailored to individual skin needs based on data collected from selfies. Skin360, is another notable advancement in how customers approach skincare. Users need to simply fill out a basic questionnaire about their skin, and Neutrogena uses AI to find the best product for their needs.
La Roche-Posay, a global beauty and skincare company launched the My Skin Track pH patches. They are small, wearable sensors that use trace amounts of the user's sweat to detect accurate pH reading and prescribes the best suitable products. Although the device is still a prototype, it most certainly represents the future of this industry.
Read more: Exploring Phygital In E-commerce with Industry Examples
Booming Digital Landscape of the Beauty & Personal Care Industry
Over the past few years, beauty brands have taken the online stage and experienced tremendous growth. In 2023, 36.6% of the total revenue is expected to be generated through online sales. In 2022, the US e-commerce beauty & personal care industry generated $18.6 billion. Personal care products' online retail sales in the US hit US $54 billion and accounted for 11% of the total retail e-commerce revenue (2021).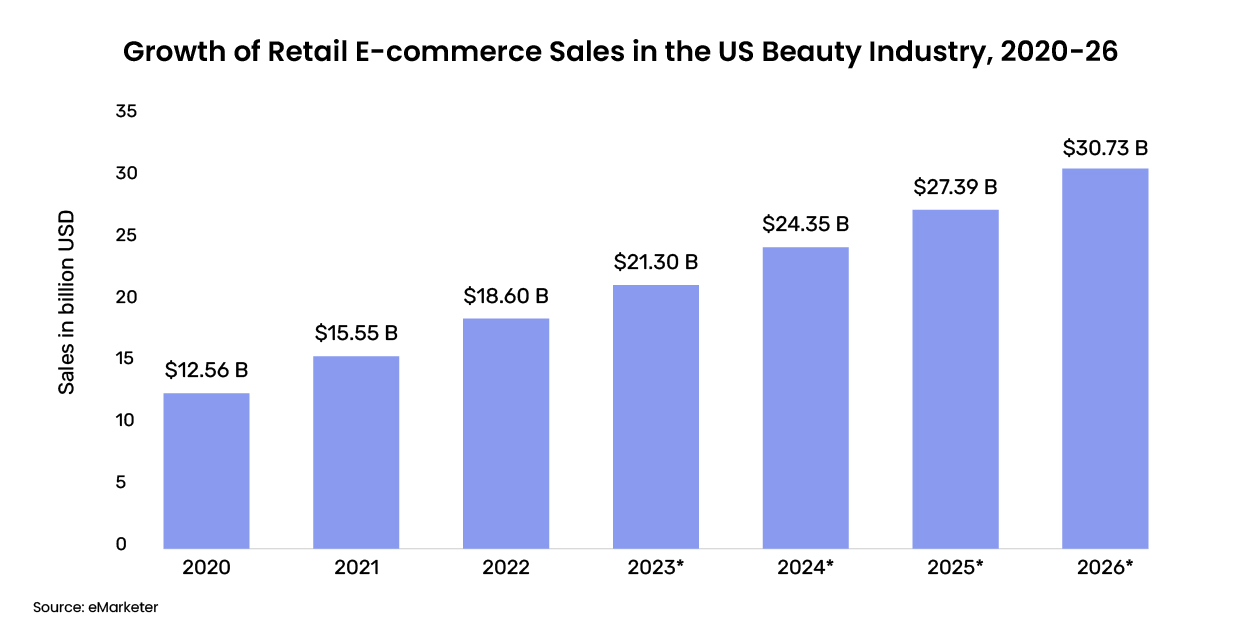 As of 2023, there are over 218 million online shoppers in the US with a spending average of $5,381 per person. Surveys show that 40% of consumers tend to favor online shopping for health and beauty products. End-to-end beauty shopping convenience, the ability to shop online anytime, and competitive pricing have turned web-based sales and shopping into a large and reliable stream of revenue for the industry.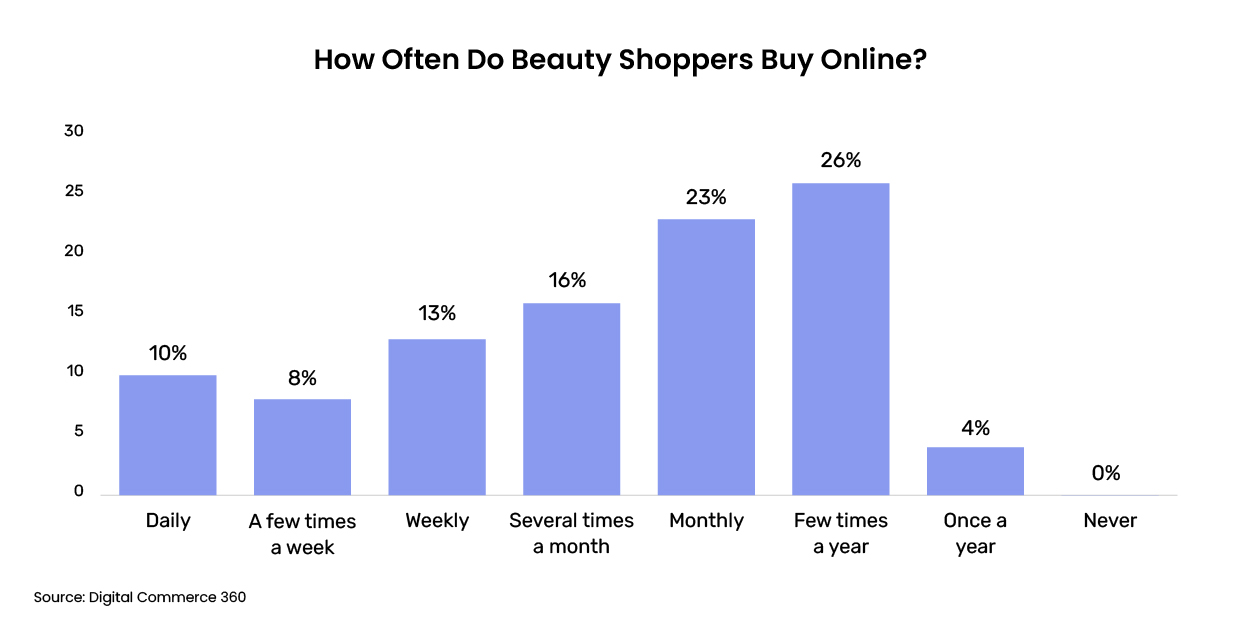 Read more: The Ultimate Guide to Competitive Pricing
Research shows that by 2026, e-commerce beauty sales are likely to account for nearly 1/3rd of the category's overall retail sales. The country's demographics also have a huge role to play here. As the majority of the (~70%) US population falls under the working age demographic, millennials and genZ have become the biggest drivers of sales. This is especially significant where consumers have above-average expenditures on personal care products, as against other geographies.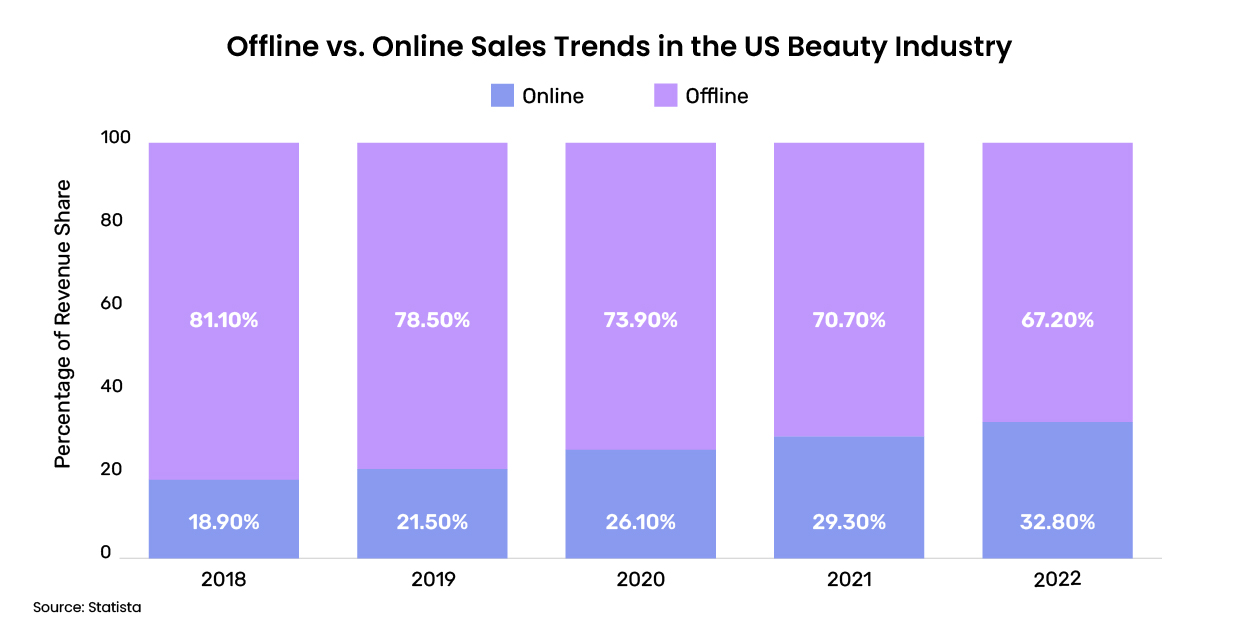 Pivotal Role of Social Media in Driving Sales
Two of the main factors influencing online sales include social media and the generational shift that comes with young consumers entering the market. Studies show that 29% of millennials make purchases based on what they see on social media or online reviews. Nearly 50% of US consumers aged between 18 and 29 years prefer to shop online for makeup.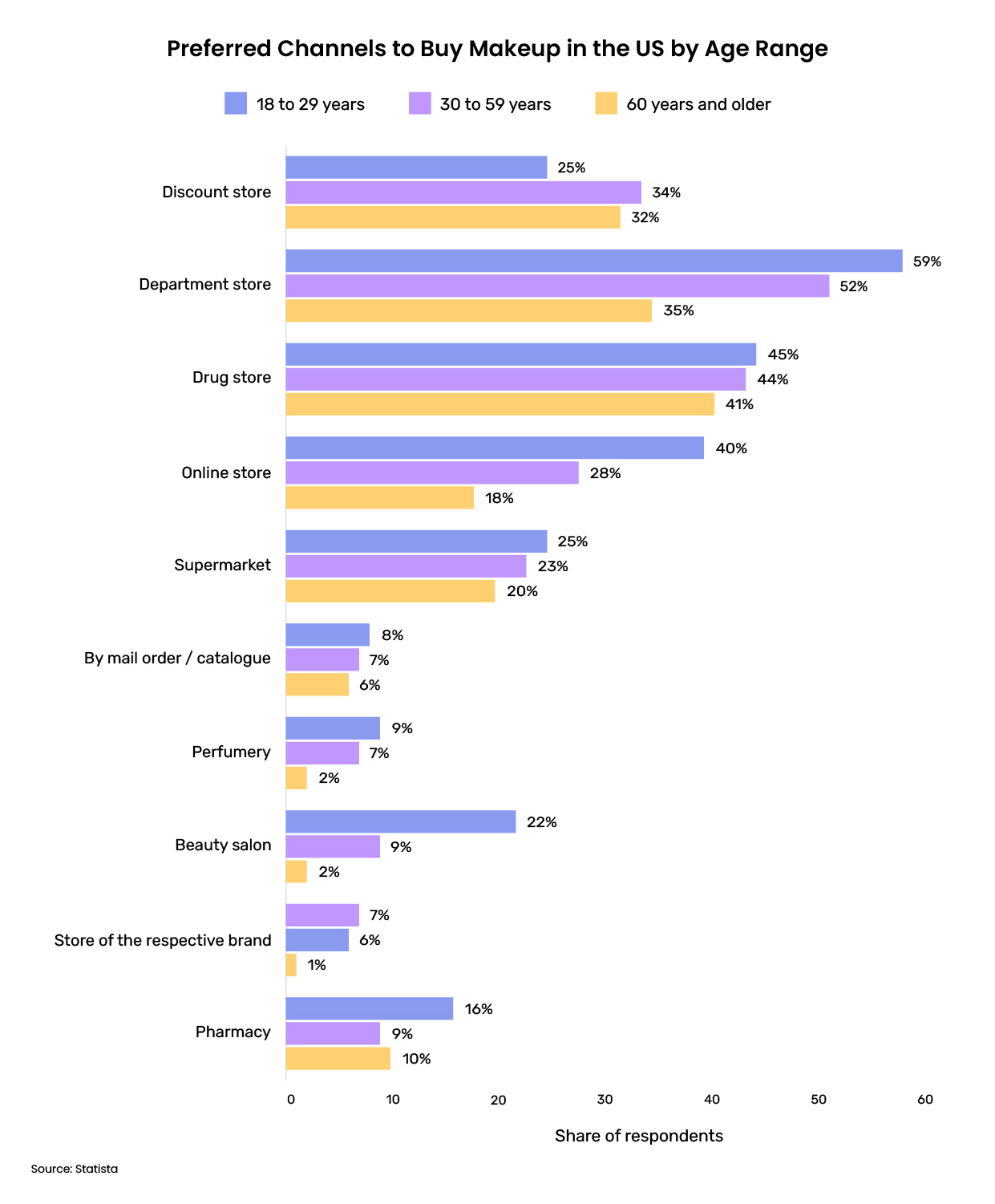 Social channels have eventually turned into conversational hubs where product information and experiences are shared between users and influencers. Understanding the brand sentiment is especially important for retailers in the beauty industry to engage with consumers and drive sales.
Read how Digital Shelf Analytics helps with sentiment analysis.
Surveys show that 7 out of 10 shoppers cited social media as a source of product and brand discovery. Millions of American consumers are turning to online platforms like Instagram, TikTok, and YouTube to explore the latest trends in the beauty world. Social channels seem to have a strong influence on US consumers' purchasing decisions irrespective of who's posting content – friends, family, or influencers.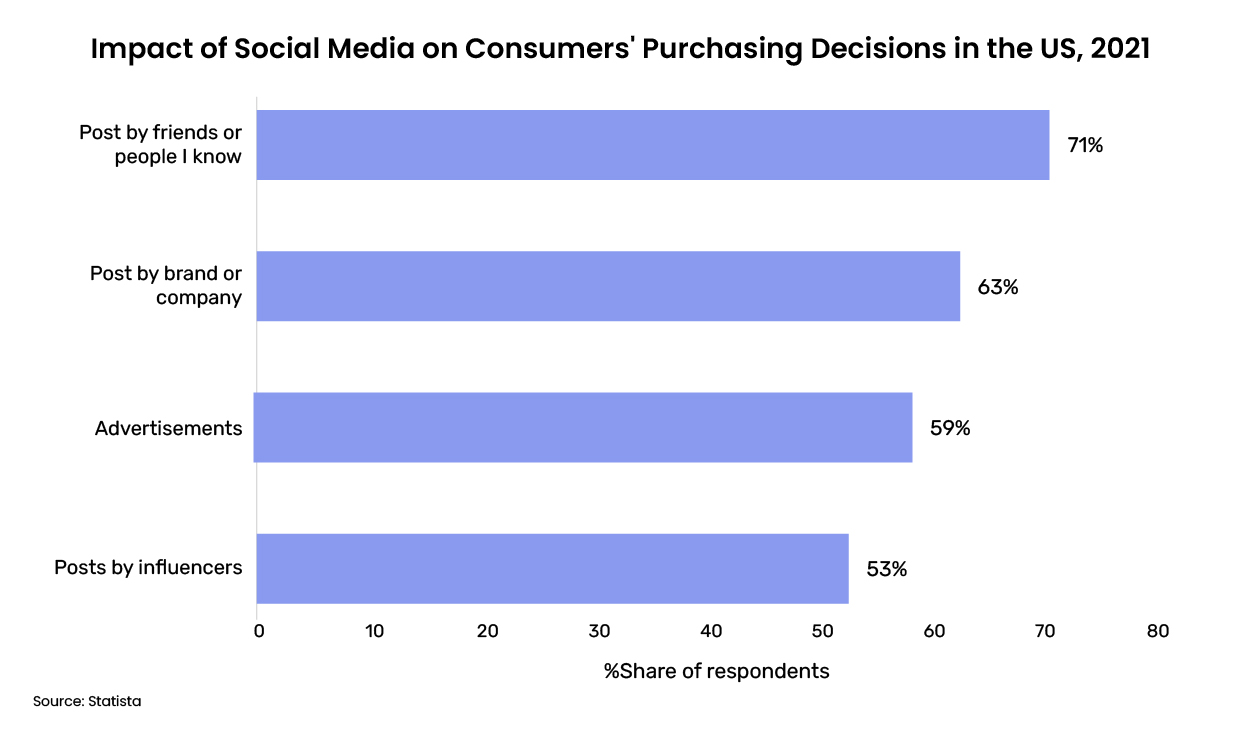 Kim Kardashian, a popular American social media personality, used social media to boost her beauty brand's image. She involved her followers in the making process before the launch of her new line of fragrances. Kim requested her social media audience choose colors that suit the range. This not only garnered consumer attention but also made them feel part of the product's creation. Today, KKW Beauty is a popular favorite in the US and is valued at $1 billion (2022).
A New Era of Beauty Shoppers
There is a seismic shift in how consumers are researching, recommending, and buying beauty products. Alongside ethical expectations, today's consumers expect brands to curate transparent and inclusive products.
From being women-centric to dismantling gender norms, beauty brands have come a long way. As beauty and personal care products become the epitome of uninhibited self-expression, gender-inclusive brands are taking center stage.
Ulta Beauty is a fantastic exhibit of this diversity. The company has expanded its product lines to meet the demand for different needs, which has in turn called for inclusive branded imagery in their marketing.
Brands are also trying to attract more male-identifying customers through gender-neutral packaging and advertisements. Notably, the global men's personal care products market is expected to grow at a CAGR of 9.1% by 2030. The third quarter of 2022 saw 22% of men shop online for beauty products as against 32% of women.
Key Players in the American Online Beauty & Personal Care Industry
The beauty & personal care industry is a highly competitive market where demand is mostly driven by consumer awareness. The most active companies in this domain include Procter & Gamble, Unilever, L'Oréal SA, Colgate-Palmolive Company, and The Estée Lauder Inc. These companies are embarking on merger and acquisition and product innovation as their key strategies to achieve consolidation and optimize offerings.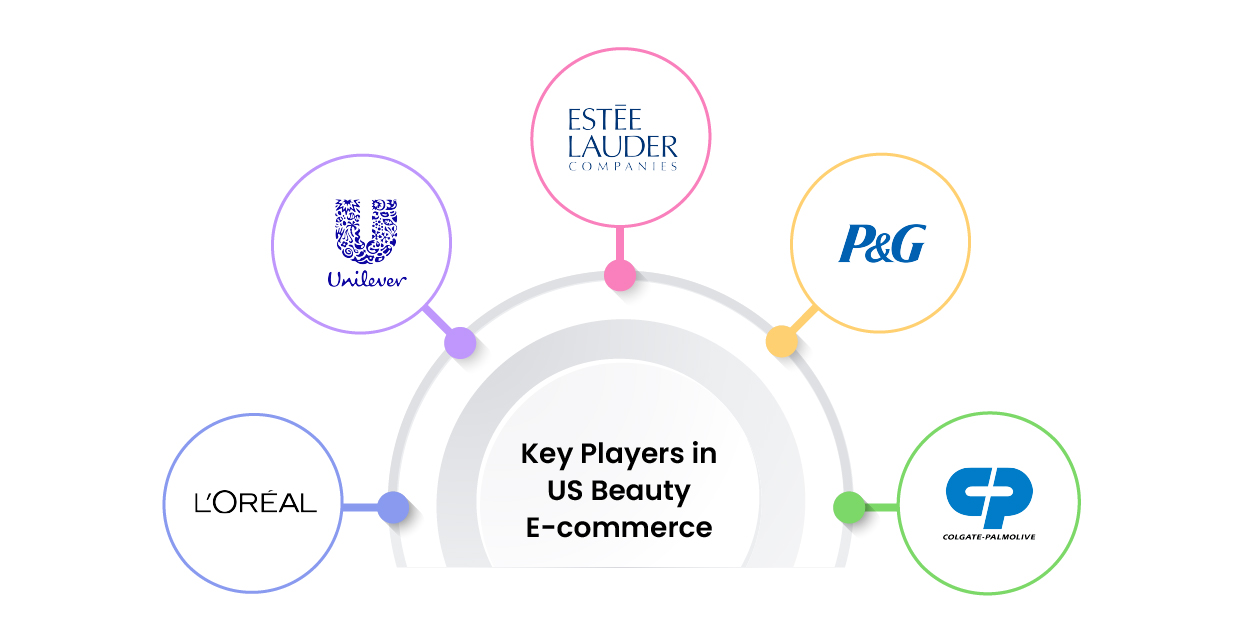 Sephora is one of the earliest e-commerce players in the American beauty industry. It emerged as the most popular online store for beauty products in the US, followed by ulta.com and bathandbodyworks.com.
However, recent surveys show that US beauty shoppers are increasingly preferring Amazon to shop online. One major contributing factor behind this may be that research and purchase go hand-in-hand on Amazon. According to the 'Stella Rising Glimmer Report – Searching for Beauty', nearly 60% of polled beauty shoppers cited that they use Amazon to search for specific brands and beauty categories.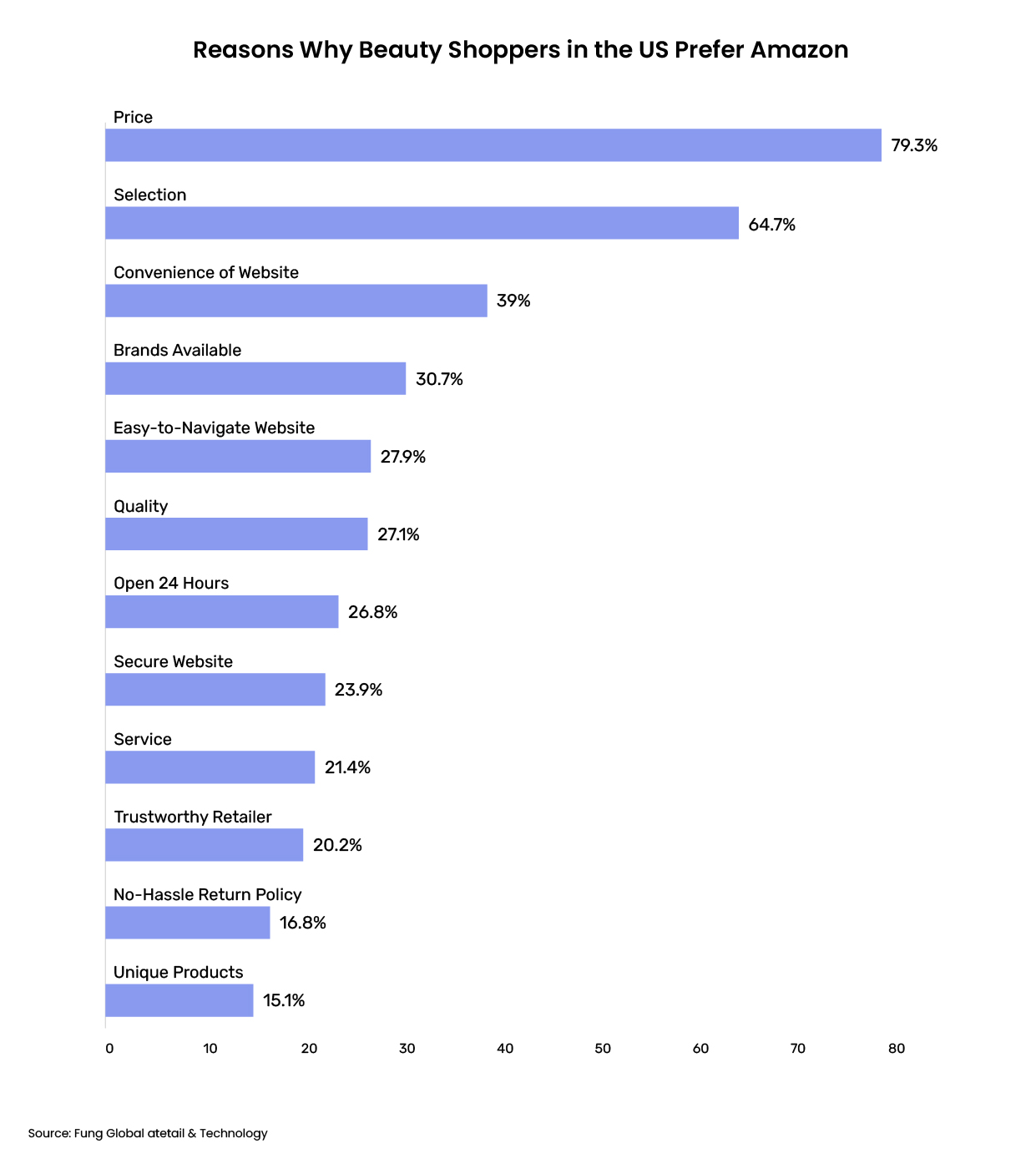 For more information on bestselling products on Amazon, detailed brand analysis, and much more, check out our free monthly report on Amazon's Beauty and Personal Care bestsellers.
Bestselling Beauty & Personal Care Brands on Amazon
215 products from 122 brands were listed under the Beauty & Personal Care category on Amazon in February 2023. Amongst these, L'Oréal Paris, Maybelline New York, and Revlon ranked at the top with the highest share.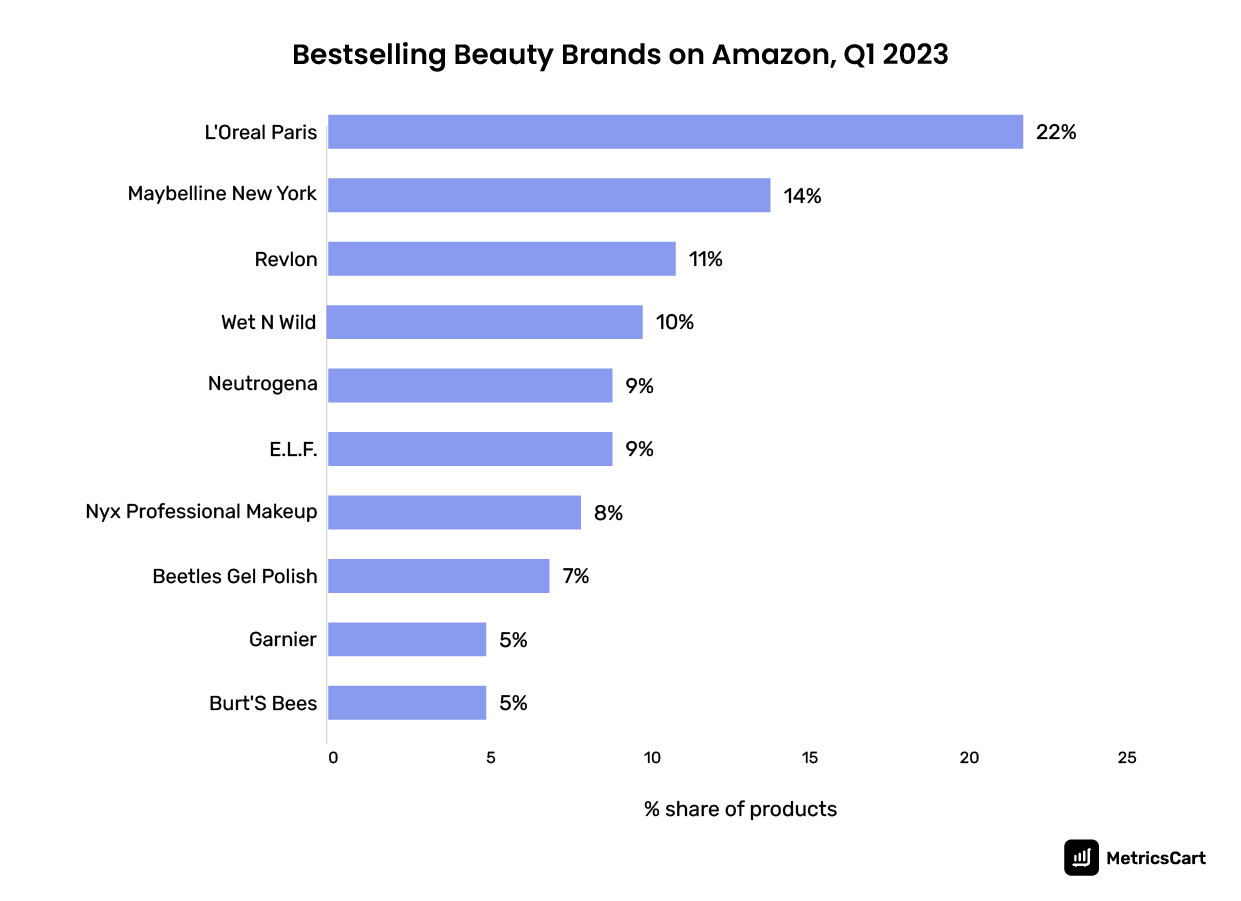 Our experts collated data from the first quarter of 2023 and analyzed 25 bestselling Beauty & Personal Care brands on Amazon. Skincare products made up 33% of all the sales, followed by Makeup (21%) and Beauty tools (18%).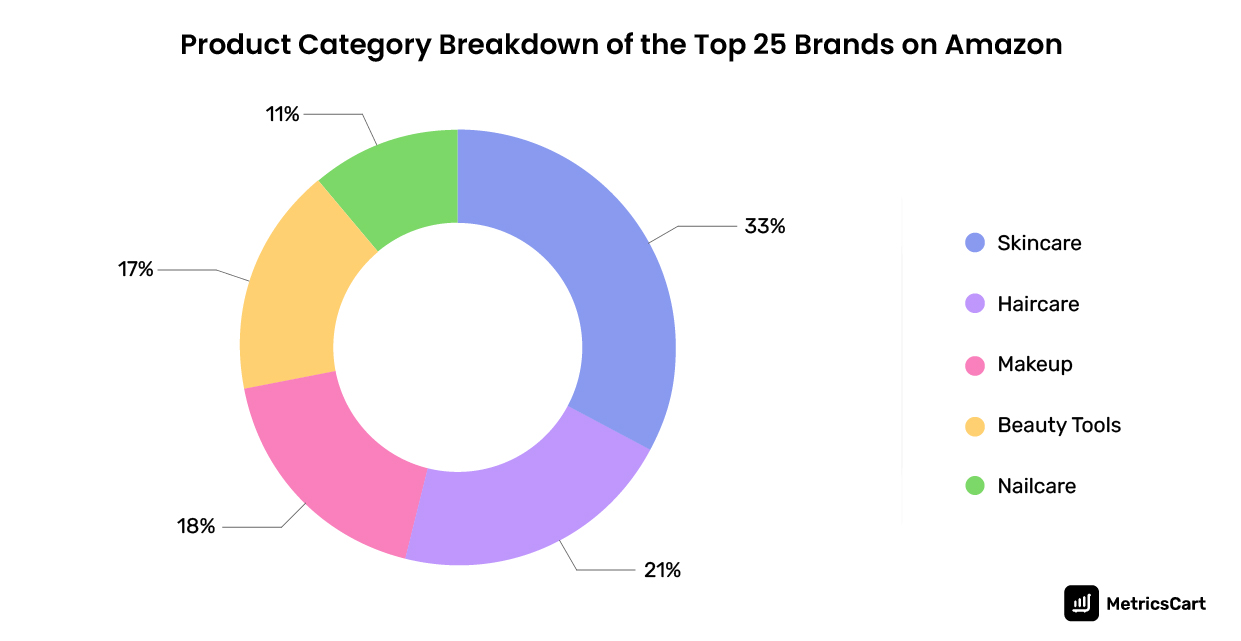 Diving deeper, we observed that the optimal price range for skincare products to be $1 – $10. 47% of the purchased skincare products fell under the $1-$10 price range, followed by those in the $11-$20 bracket.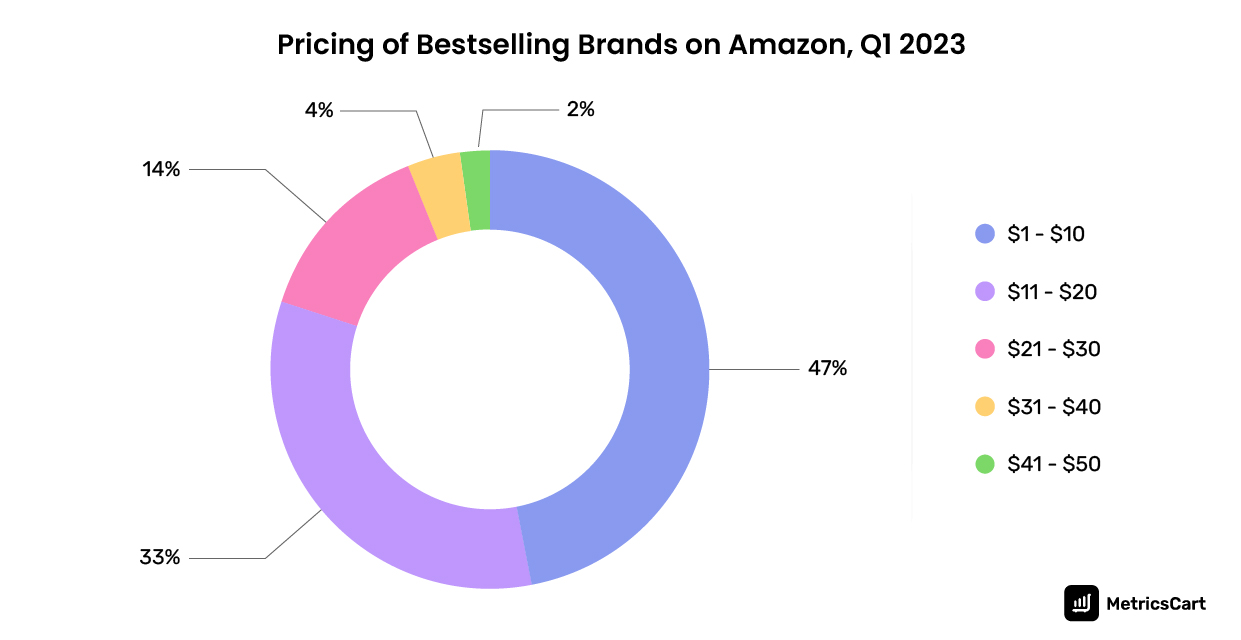 Interested to know more about top-ranked beauty brands? Check out our monthly report on the Bestselling Beauty & Personal Care Brands on Amazon.com here. You can access insights into bestselling products, average rankings of each product, and much more. Track all the products from the Beauty & Personal Care category on Amazon.com with a single click! Talk to our experts now.