With an ever-growing number of over 20 million e-commerce companies globally, online marketplaces have turned into war fronts. Brands constantly compete against each other for market share, sales, and search rankings. E-retail sales have surpassed 5.2 trillion USD worldwide and what's more? Surveys show that 0.56 of every dollar spent in a store is influenced by digital interactions.
Winning the e-commerce war involves deep market understanding, quick decision-making, and strategic implementation. Digital shelf analytics (DSA) offers some of the most effective war tactics to help brands race ahead of the competition.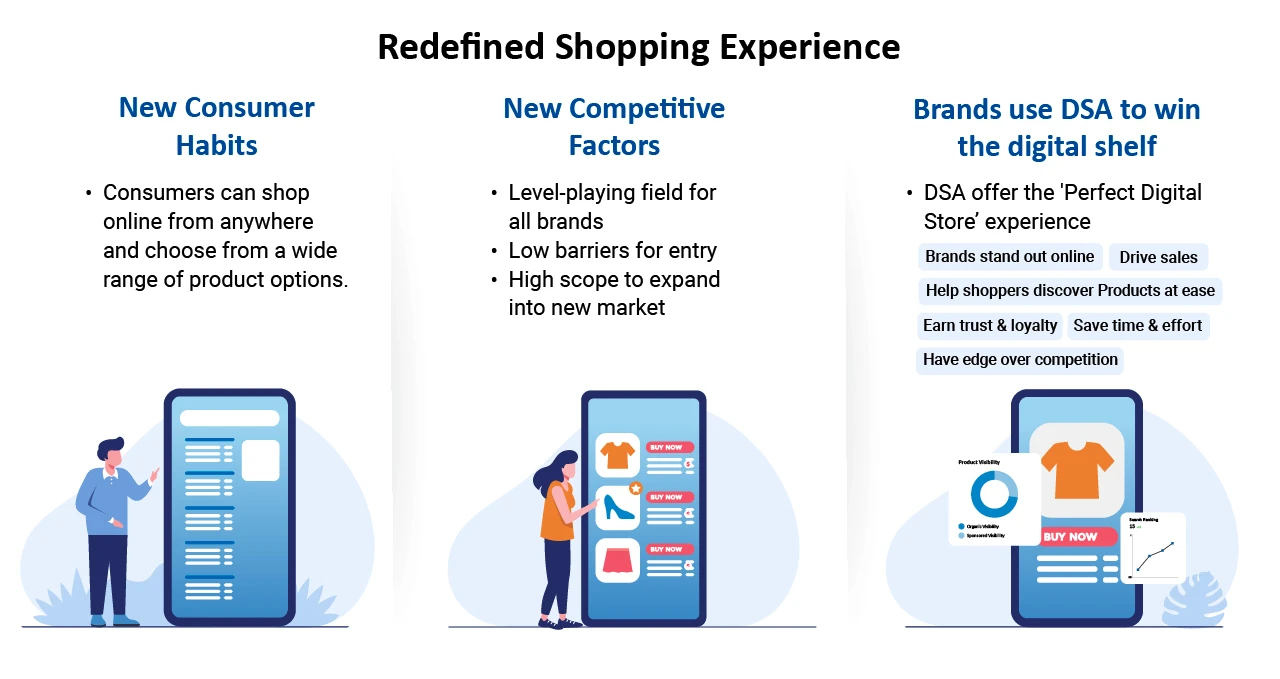 Here's all about how Digital Shelf Analytics can work wonders for your business. Let's get started!
Why Success on the Digital Shelf Is More Important Than Ever!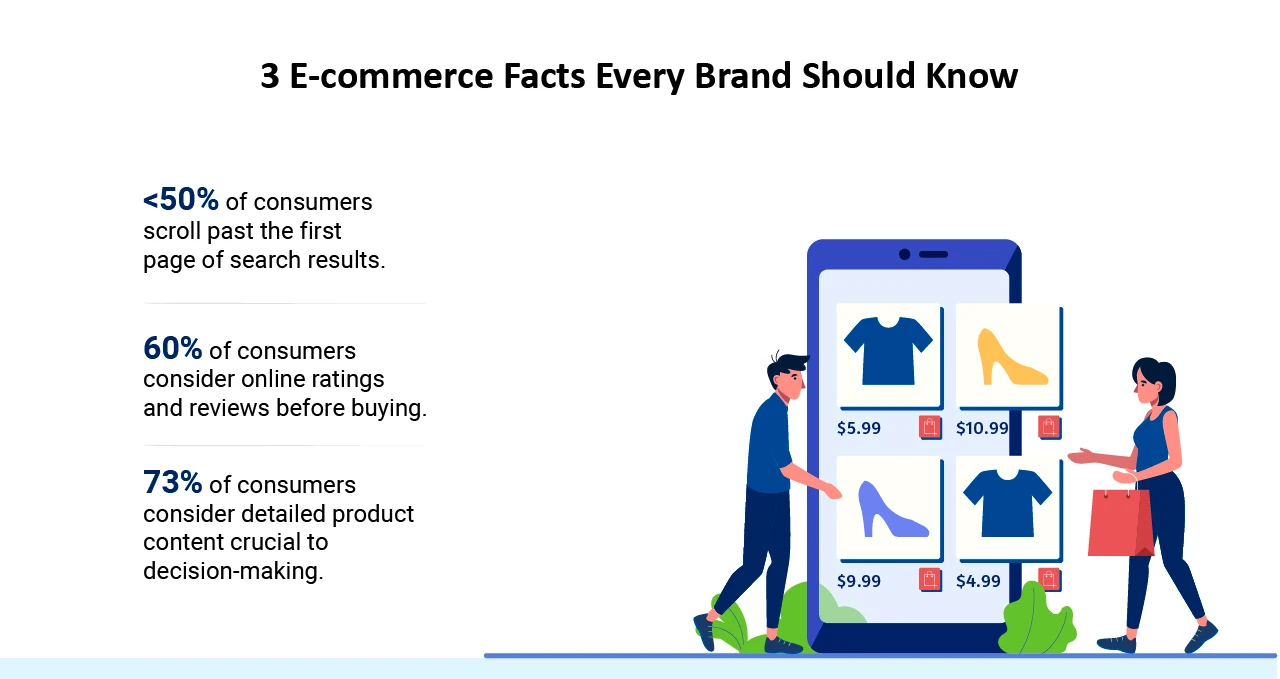 Your brand's online visibility can directly impact your sales. So, brands that focus on creating digital shelf strategies for their product range enjoy higher sales, profits, and overall brand reputation.
While this may seem challenging, MetricsCart makes it easy-peasy. Such an advanced Digital Shelf Analytics (DSA) platform can help with enhancing search rankings, building brand visibility, ensuring content compliance, and real-time price monitoring. Brands can explore competitors' performance, access data-driven insights, ably alter strategies, and deliver results.
Amp Up Your Business Performance With Digital Shelf Analytics
One of the biggest advantages of using Digital Shelf Analytics is that brands can impact consumers that prefer traditional shopping experiences as well. Irrespective of where consumers are in their buying journey, retailers can leverage DSA to make sales happen. Here's how: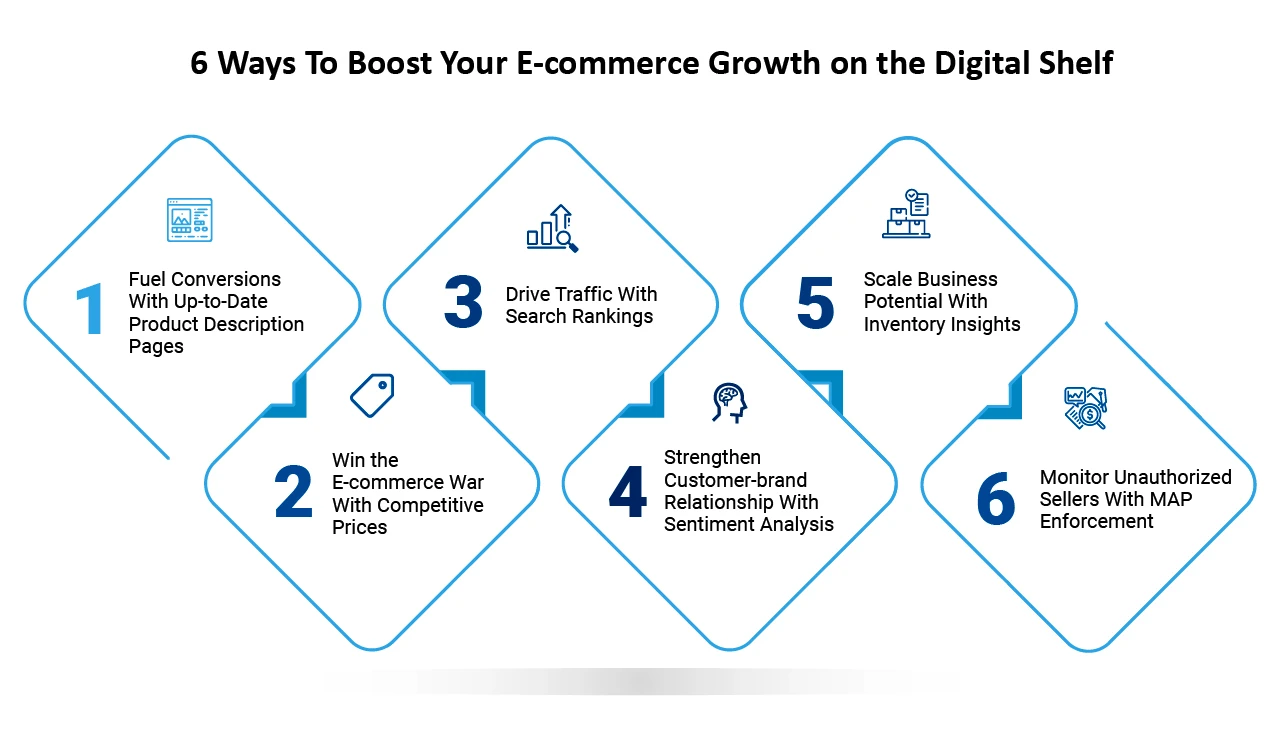 Fuel Conversions With Up-to-Date Product Detail Pages
Consumer behavior surveys show that about 81% of consumers go online to check the products before heading to a store. Naturally, online visibility is an essential aspect of your e-commerce strategy.
Digital shelf analytics lets you keep track of your products' search performance on e-commerce marketplaces by providing insights into whether they are gaining or losing visibility across online channels.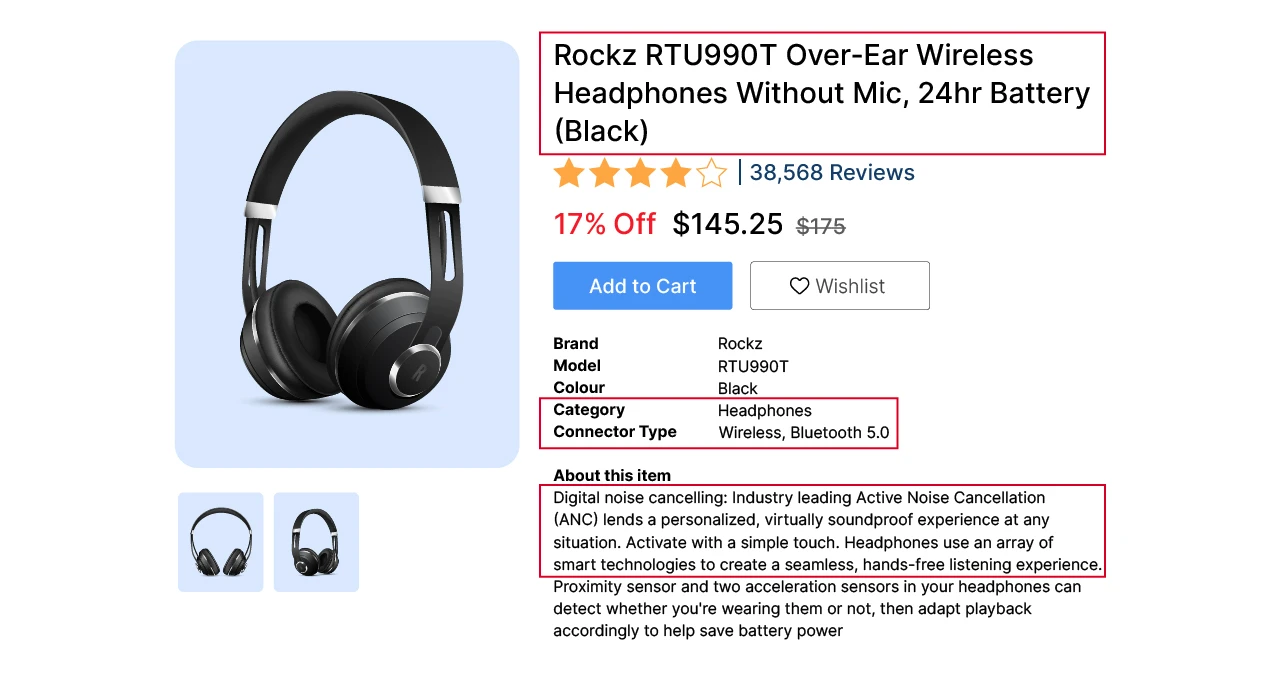 Consider the example of the product shown in the image above. In case the retailer doesn't add the highlighted keywords in the content, lists the product in the wrong category, or fails to add complete product detail pages, it is less likely to rank at the top. The product might even fail to appear when consumers use filters while searching.
86% of consumers are unlikely to repeat purchases from online retailers that provide inaccurate product information. A DSA software can help you with precise content compliance on all your product description pages. This way, your products can rank at the top when a customer searches for a keyword.
In addition, you can analyze top-performing keywords, track missing attributes, and inconsistencies, enrich product pages with images, keywords, and much more.
Win the E-commerce War With Competitive Prices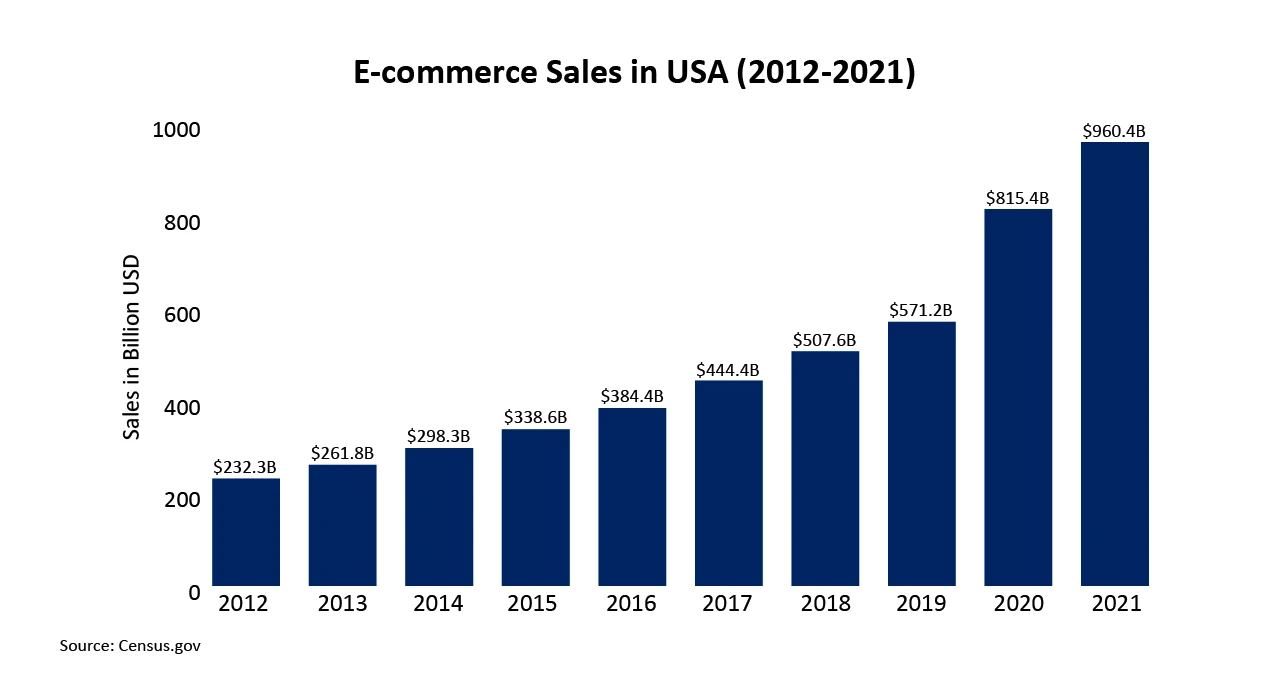 Did you know that the total e-commerce sales in the US reached 960.1 billion USD in 2021, an increase of 18.3 % from 2020? The chart above shows a steady year-on-year increase between 2012 and 2021.
Today, every minute on the Internet sees an expenditure of 1.6 million USD and there has never been a better time to invest in the digital shelf. However, winning the digital shelf is no longer just about having the best products. Well, here are two interesting observations:
As consumers are becoming savvier in their ability to discover the best deals, competitive prices are a must to improve digital shelf performance. A DSA platform helps you benchmark against matching products. This way you can instantly understand your competitors' pricing and promotions.
You can keep this in check by analyzing the inventory situation of your competitors in real-time with DSA, offering great deals and thereby strengthening your consumer base.
Read more: What are the different digital touchpoints in shopper's path to purchase?
Monitor Unauthorized Sellers With MAP Enforcement
Most consumers quote pricing to be one of the strongest motivating factors for online shopping. This can result in unwanted price slashes from online sellers to navigate the cut-throat competition in e-commerce marketplaces. When left unsupervised, such price deductions can impact the overall brand reputation.
With MetricsCart, you can track multiple sellers and distributors who violate MAP rules across the globe. Enforcing brand quality standards and guidelines is also one of the best ways to induce customer loyalty. What's more, you ask? You can go beyond MAP and build a legitimate sellers' network that lets you cut back on compliance costs.
Drive Traffic With Search Rankings
For any given keyword, studies show that 75% of users don't scroll past the first page of search results. And, 81% of consumers check the products online before heading to the store. Be it offline or online, ranking at the top of the search results page is crucial to driving traffic and making sales happen.
45% of US shoppers have cited making products easy to find as one of the most critical factors of the online shopping experience. It is interesting to note that search engines and e-commerce marketplaces favor listings with optimized product content, thereby providing higher product findability and conversion rates.
Given how shoppers are increasingly using sites like Amazon and Walmart for product research, losing the digital shelf battle from a search rank standpoint can be a costly mistake.
Advanced DSA software like MetricsCart helps boost your online visibility by analyzing the share of search, top-performing keywords, paid search campaigns of competitors, enhancing organic search rankings, and much more.
Read more: Everything You Need To Know About Share of Search
Further, online brand presence also engages your customers at different points along their buying journey, thereby building trust and loyalty.
Strengthen Customer-brand Relationship With Sentiment Analysis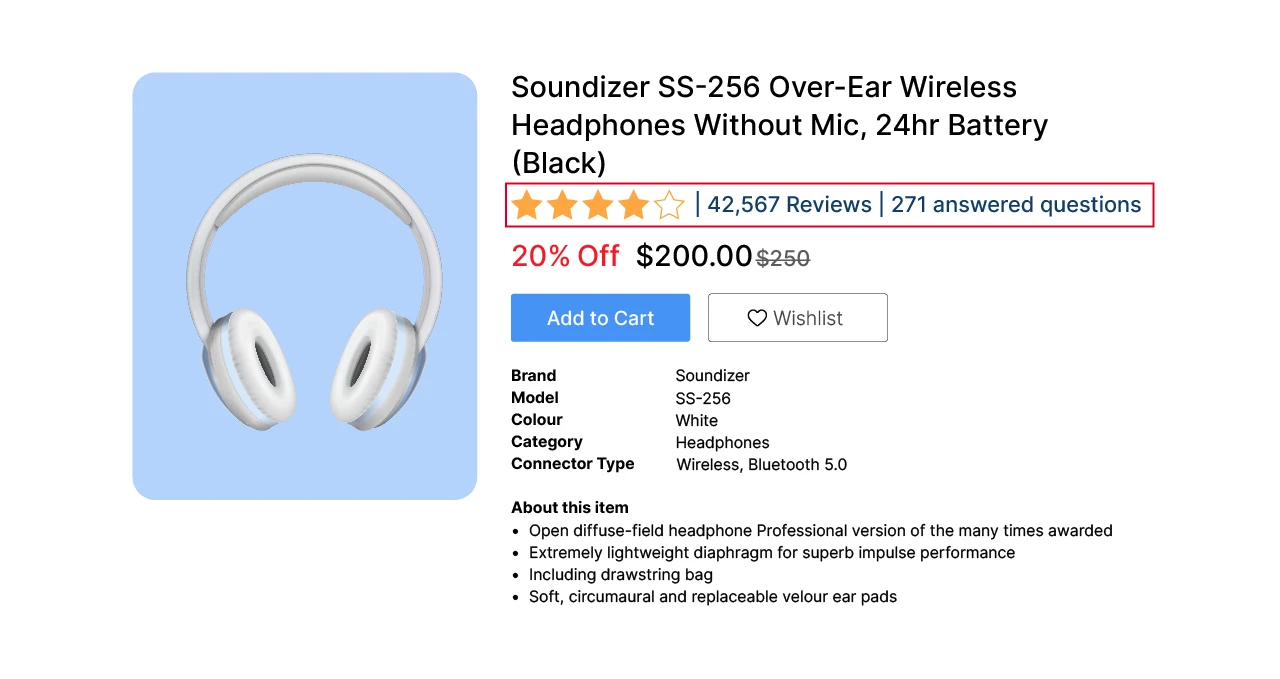 Ratings and reviews are crucial to your e-commerce business. They often contain a treasure of information about:
How your products are performing
What your customers like or dislike about your products
How your brand is being perceived
How to stand out from competitors
What your audience expects
How to convert a higher number of loyal customers and much more.
MetricsCart can gather data on customer sentiments and trending keywords that companies use to build brand integrity. Brands can perform sentiment analysis to get a stronger hold on customer reviews. We have added a sample sentiment analysis dashboard created by our experts at MetricsCart for your reference.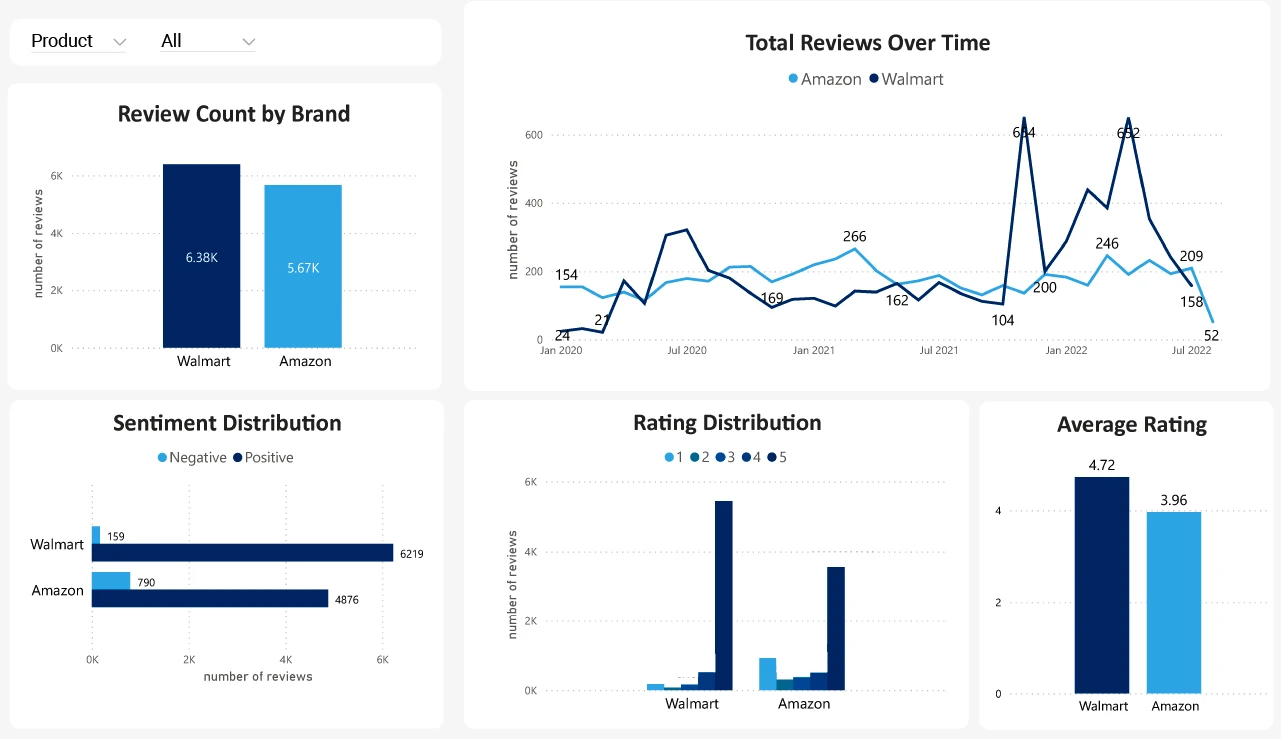 Are you aware that 82% of consumers specifically seek negative reviews? Companies that actively respond to negative reviews and address customer concerns improve their brand image significantly.  MetricsCart can also be used to release updated product information in real-time and incorporate keywords from positive reviews into your descriptions.
Scale Business Potential With Inventory Insights
One of the key things to keep in mind while expanding your business into new markets is product assortment and availability data. A Digital Shelf Analytics platform lets you take advantage of real-time inventory and assortment data. Knowledge of competitors' inventory data will be greatly helpful while curating business strategies.
Similarly, product assortment data can be coupled with competitive intelligence to create an infallible pricing strategy. Such data can also help your brand earn better returns, gain brand recognition, and make effective sales decisions.
Also see: The Ultimate Guide to Competitive Pricing
It also goes without saying that you don't need to spend hours manually researching the new market. From keywords to data on share of search, MetricsCart can be your go-to for digital shelf optimization.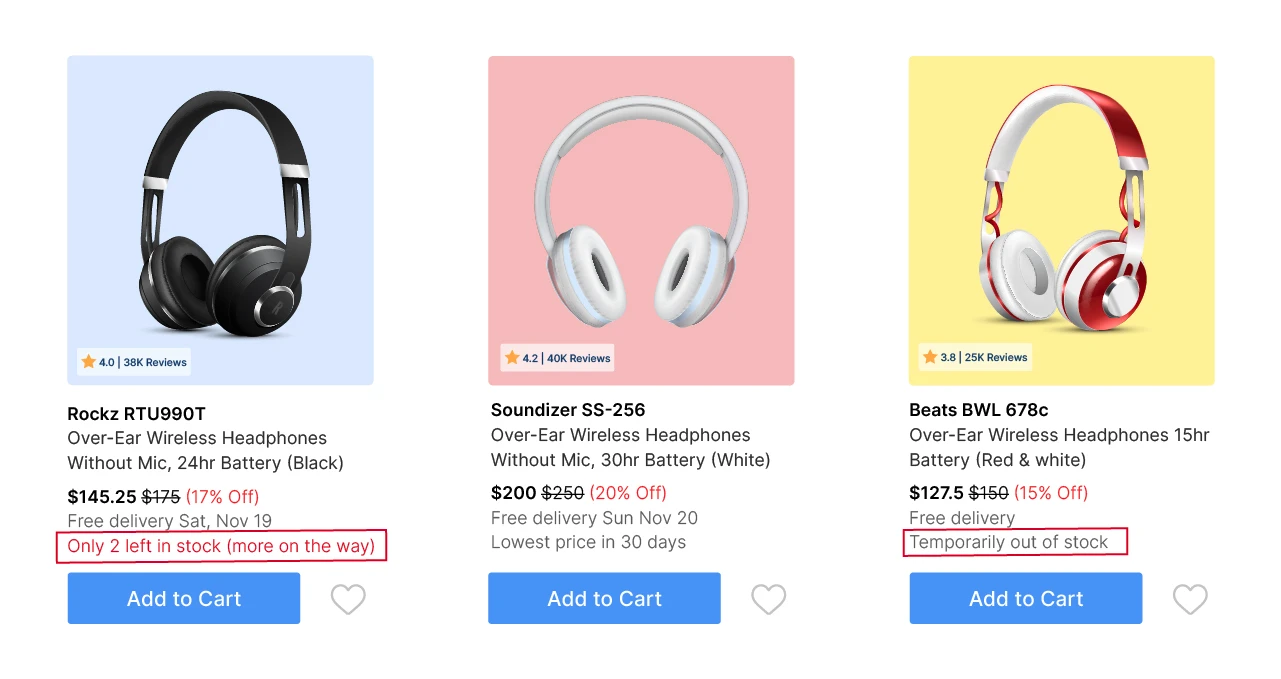 Leverage Digital Shelf Analytics For Enhanced Conversion Rates
Success in today's rapidly evolving e-commerce marketplace requires you to constantly adjust and tweak digital shelf strategies to beat the competition. Market intelligence is the best way to go about this. However, this can be super challenging if you have multiple product lines to manage.
MetricsCart offers quick resolution to such issues with digital shelf automation. You can spend your time strategizing your business while our team works on enhancing your brand's performance on the shelf. You can trust MetricsCart with geographic visibility, organic search analysis, assortment optimization, share of search data, and much more.