Competitive promotion monitoring allows brands to keep a close eye on their competitors' ongoing promotion.
About 84% of shoppers agree that promotions are a crucial part of their decision-making.
From managing promotion across retail channels to protecting margins, brand managers need to tackle many challenges to arrive at the right price-promotion mix.
It is often an ongoing process. Sometimes, the marketing budgets are overstretched and yield no results. To top it all, the competition is at an all-time high. When brands set aside a slice of the total revenue on promotions, it only makes sense to closely watch that they are getting what they paid for.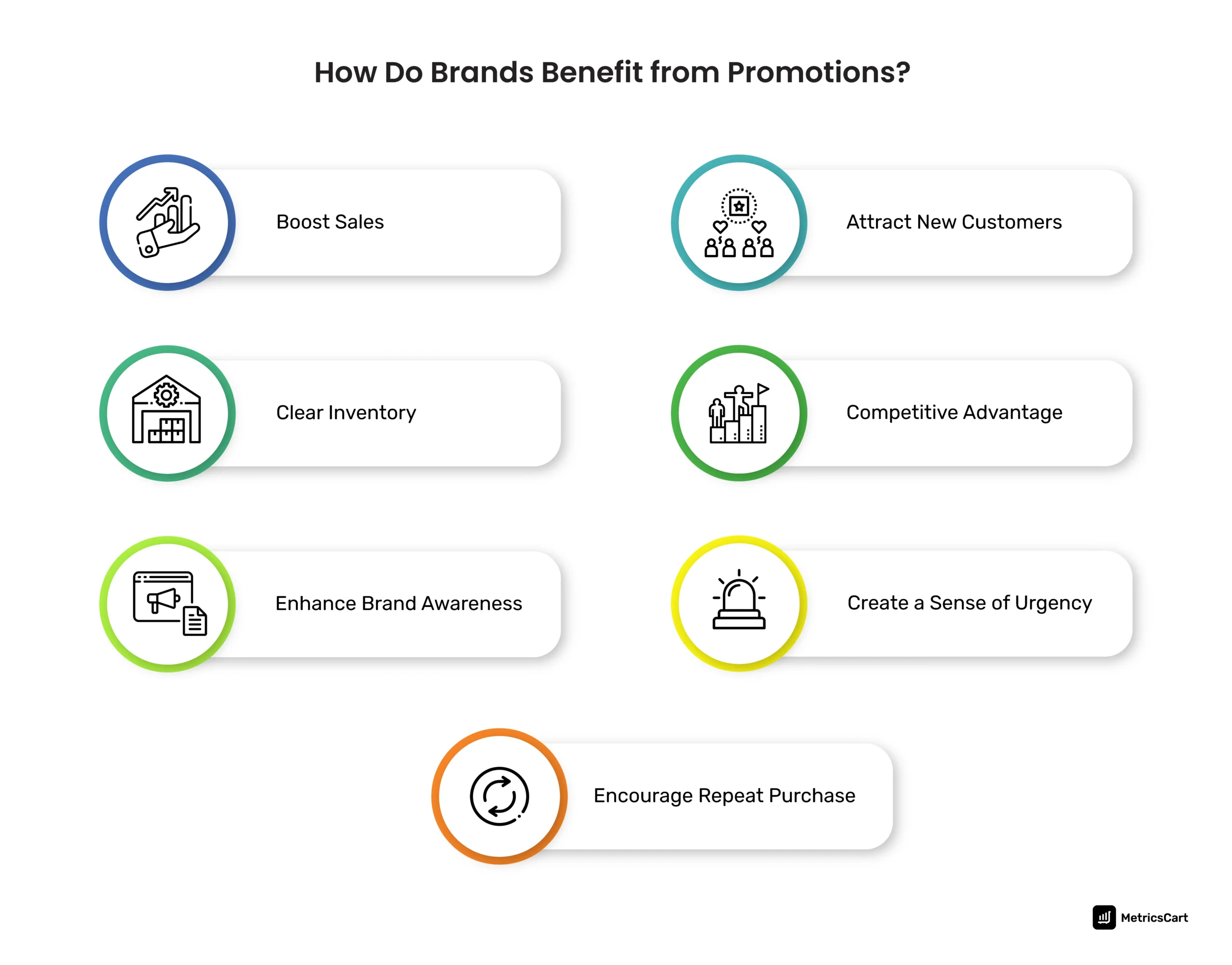 Through this article, we explore competitive promotion monitoring in detail to understand how it helps brands across online marketplaces.
What is Competitive Promotion Monitoring?
Competitive promotion monitoring is when brands are able to track and compare the ongoing and historic promotions of their competitors with that of their own. In simple words, promotion monitoring means the brand's promotion is up and running and its consumers are making the most of it.
With competitive promotion monitoring, brands get a single view of all the ongoing promotions across the territory and at the distributor level of their own and competitors' items.
6 Ways Competitive Promotion Monitoring Helps Brands
From understanding competitors' moves to optimizing pricing strategies, competitive promotion monitoring offers various advantages. Let's explore these benefits in detail:
Understand Competitors' Promotional Moves
Being able to track and assess competitors' promos provide valuable insights into appropriate pricing for a brand's product. If the current pricing is lower than industry standards, running a promotion may negatively impact the brand's business. Conversely, if pricing is significantly higher than competitors, a limited-time discount could enhance their competitiveness.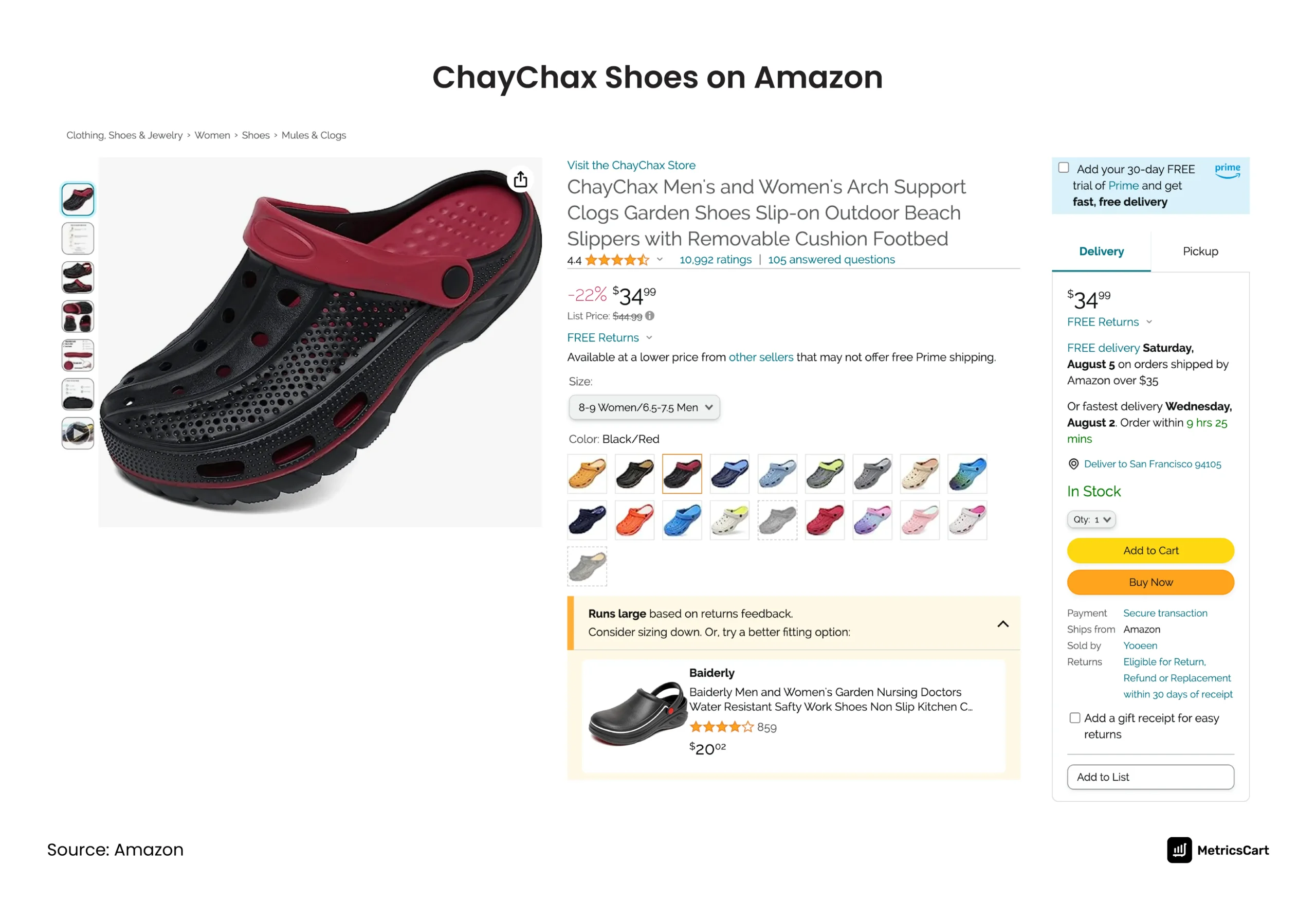 For instance, you are an outdoor shoe brand. ChayChax is your competitor. Understanding and receiving alerts on the ongoing promotions of the competitor across online marketplaces at any given point in time helps position the brand correctly.
Monitor the Availability of Competitors' Products in Promotions
While tracking competitors' promotions is crucial, it is equally important to keep an eye on the availability of their products during these promotions. For example, let's say your competitor, ChayChax, is offering a pair of clogs at a lower price at Walmart.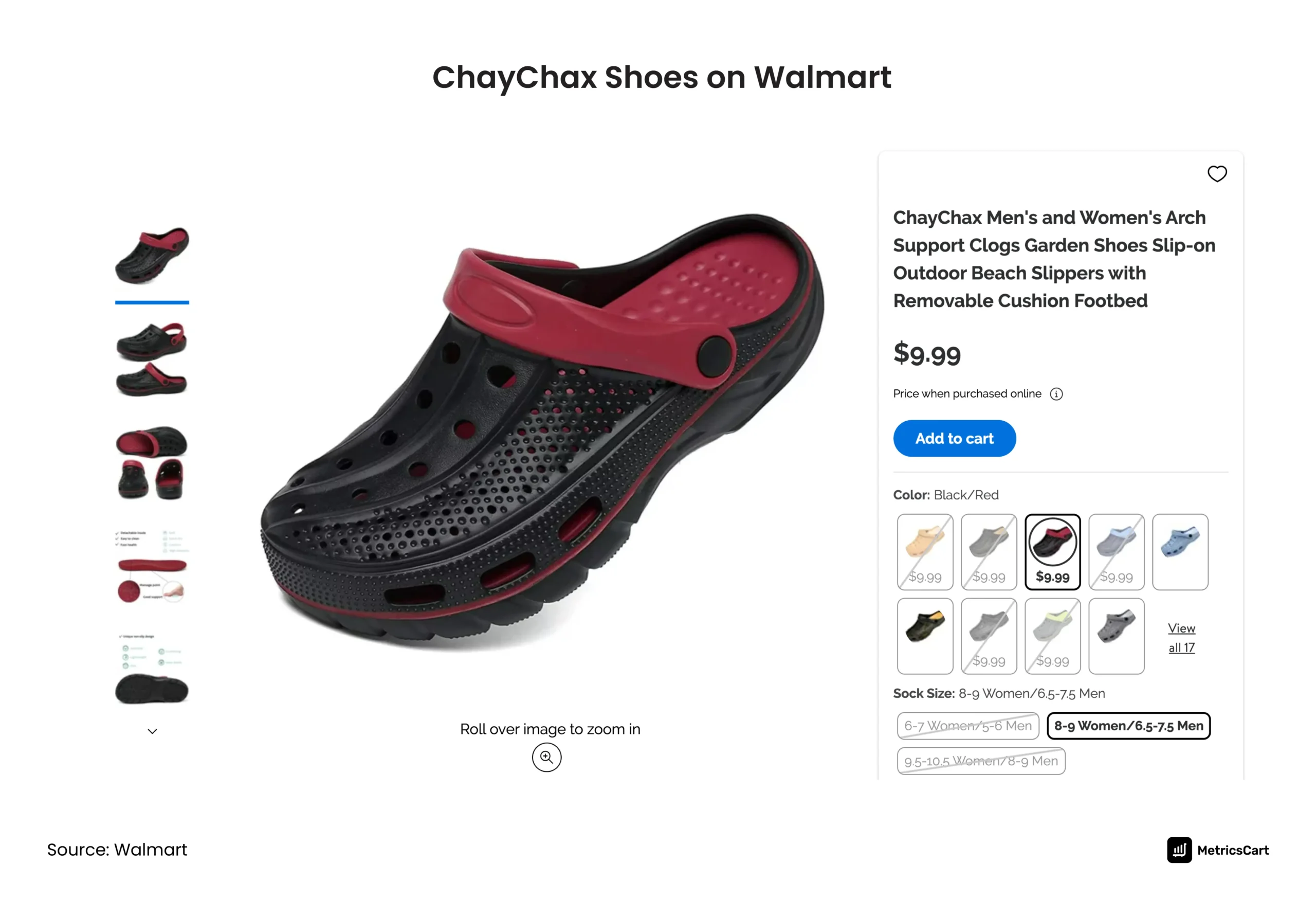 By monitoring their stock levels, brands can capitalize on opportunities where certain color options are out of stock and ensure that they are well-stocked to meet the increased demand across online marketplaces. This can help brands leverage the advantage of better promotional pricing and availability to attract customers.
In a nutshell, promotion monitoring helps brands anticipate spikes in demand during competitor promotions. This allows for better inventory management and optimization of the supply chain to meet increased demand efficiently.
Also read: What are the trends, segments and tech dominating in the US fashion e-commerce industry?
Assess Promotions All Year Round
In one of our previous articles on promotional pricing, we explored the annual retail calendar and the months each category runs promotions. For instance, for July, brands and retailers are pushing back-to-school offers.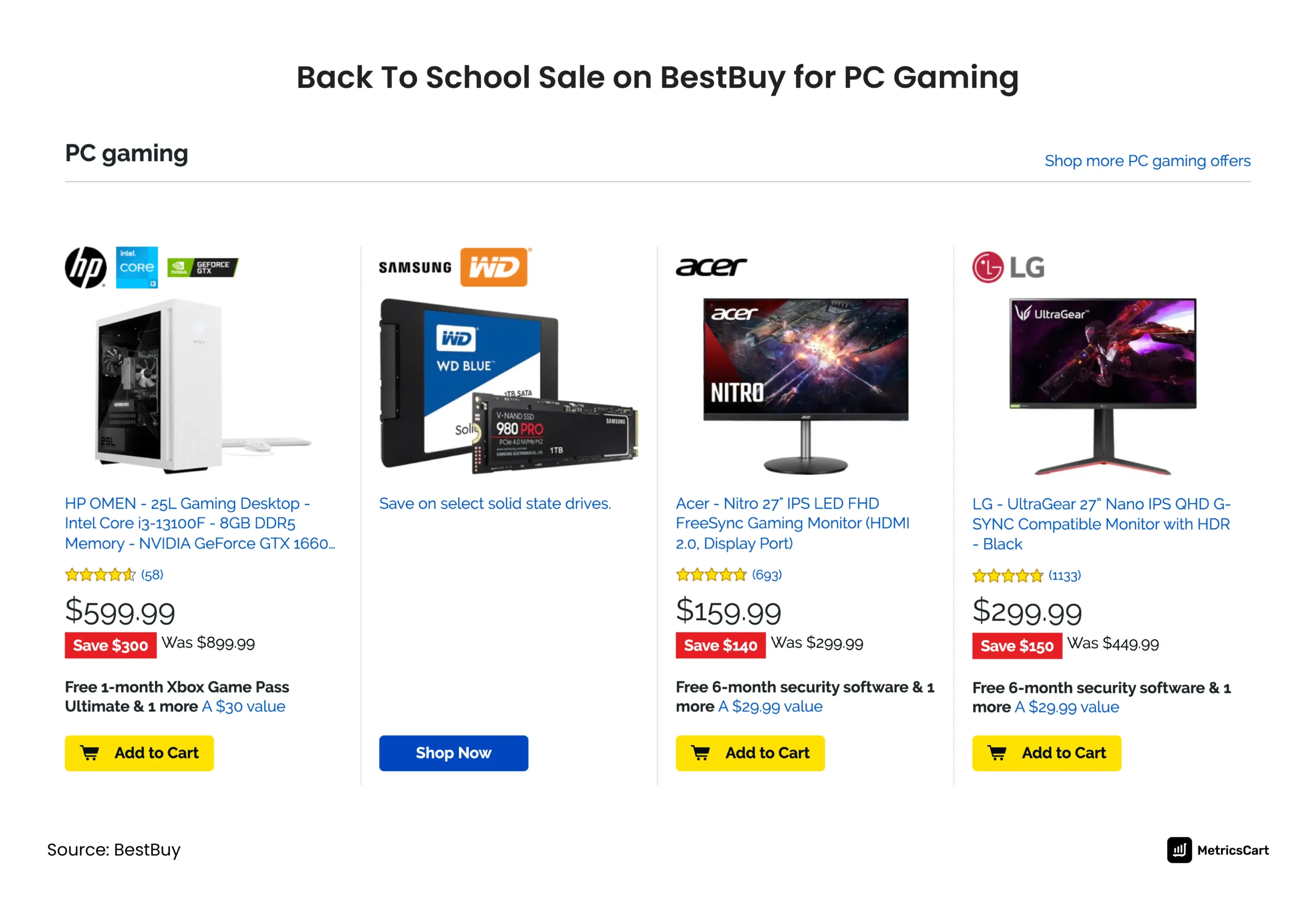 As you can see, Best Buy's 'Back to School' deals range across laptops, PC gaming, printers, headphones, and more. With competitive promotion monitoring, brands get to assess the competitors' retail calendars with historic data. A glance into competitors' promotional strategies for omnichannel and across online marketplaces helps brands move their marketing efforts in the right direction.
Know Return on Investment Through Promotion Monitoring
Once the promotions have been assessed over the course of the year, another vital aspect is to understand the return on investment (ROI) generated from each promotion. By employing competitive promotion monitoring, brands gain valuable insights into the effectiveness of their promotional strategies, empowering them to make data-driven decisions. This data-driven approach enables brands to optimize their promotional efforts and ensure they are getting the most out of their marketing investments.
In simple terms, competitive promotion monitoring lets brands compare the revenue they lost when they failed to spot a competitor's previous promotion to the present time when they could spot it right away. It also enables brands to measure extra revenue per promotion as well as spot ineffective promotions.
Taking a look at any benefits your competitors offer and how your brand might match those perks to compete could help.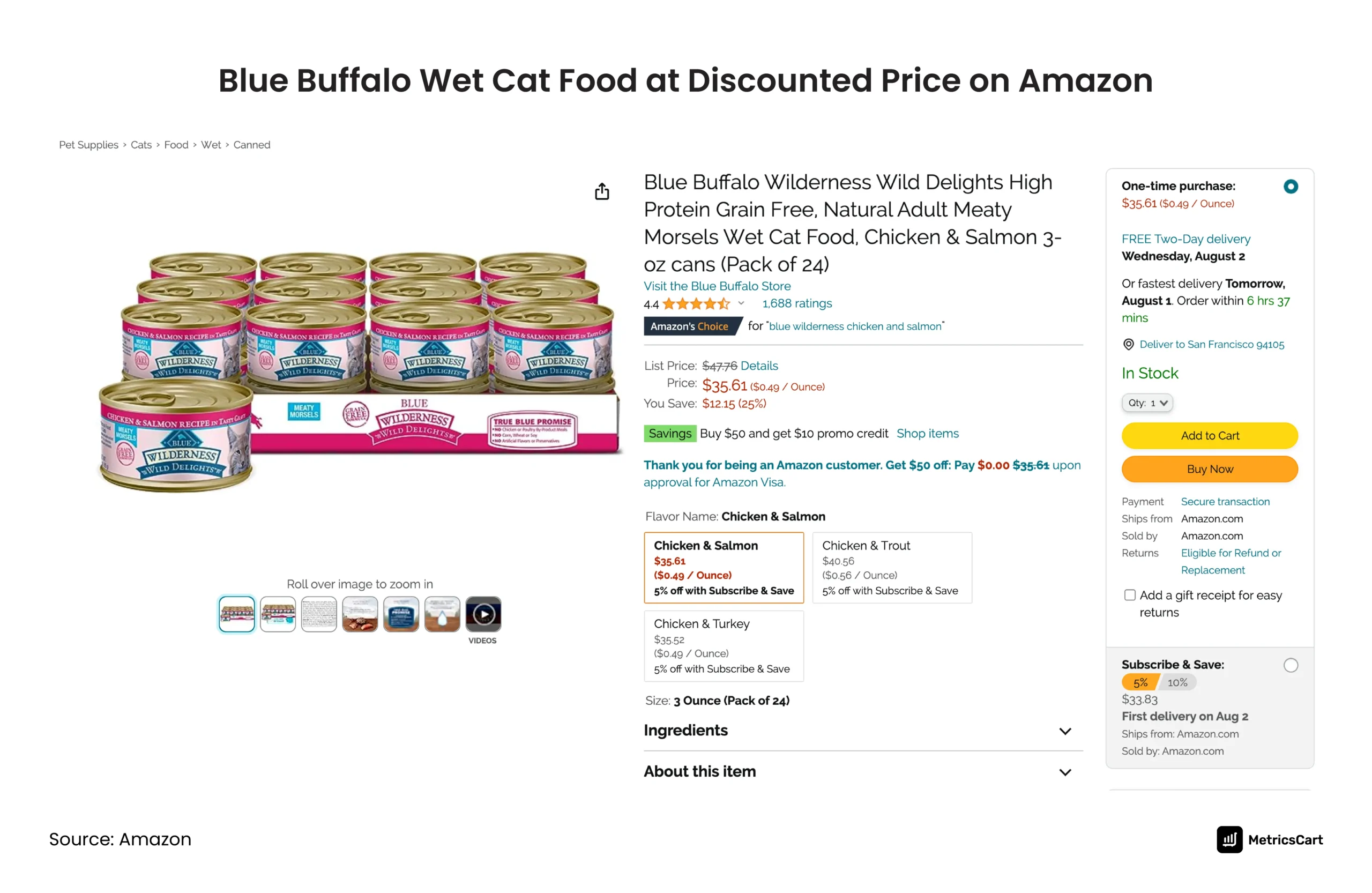 For instance, say you are a pet food brand. Your competitor, Blue Buffalo, offers a pack of 24 cans at a discounted price in the wet cat food category. Strategic assortment planning could be the key to preventing customer loss. If it aligns with your brand's vision, consider offering similar perks to match your competitors or providing unique benefits that they don't offer. This approach ensures that your customers receive comparable or exclusive advantages, boosting customer loyalty and attracting new ones.
Learn how brands can overcome assortment challenges with MetricsCart.
Lean On To Enhanced Marketing Planning
Monitoring promotion from the past campaign data helps in:
Spotting any hidden price reductions
Measuring the effectiveness of specific marketing activities
Improving the decision-making process for the next steps
Forming a broader view of market trends and consumer behavior
This information can be invaluable in shaping marketing and sales strategies to reach the target audience effectively.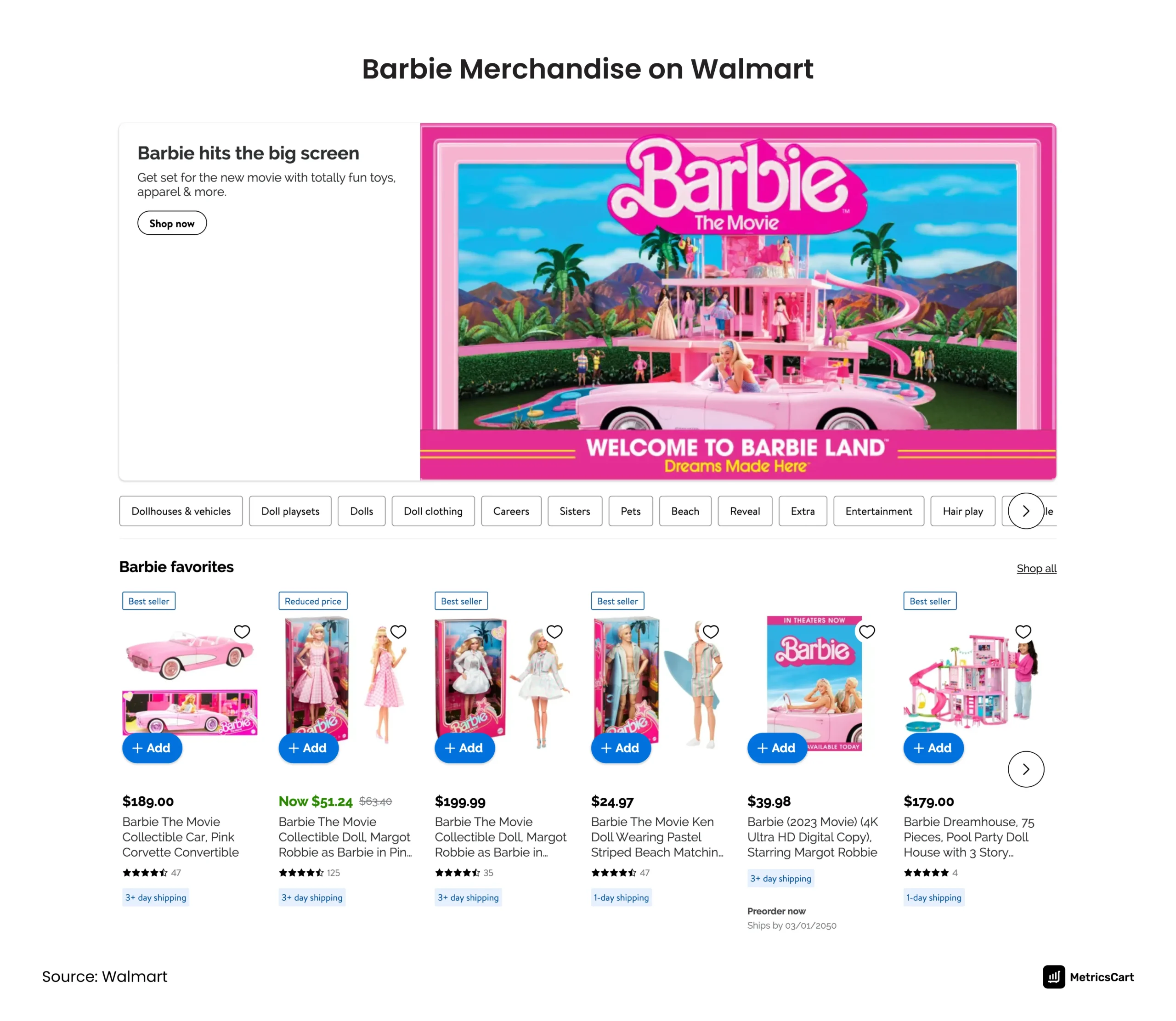 A great example of this is the movie Barbie's marketing campaign. The marketing spend for the movie amounted to $150 million. This included brand collaborations with Burger King pink burgers, making custom posters, and others. It started a year before the movie release where the marketing team revealed detail after detail until the release.
A week before the movie's release, there were multiple collaborations with online marketplaces with Barbie merchandise. Walmart created shoppable carts for the movie. The trend soon picked up among the audience. The search results started spiking. Similarly, a toy brand in the niche of making action icons can time its new launch with promotions and introductory offers.
Read more on introductory pricing vs. penetration pricing – what is best for your business?
Optimize Pricing Strategies
Let's take the example of Adidas here. The brand has higher perceived value due to its exclusivity, allowing resellers to charge higher prices. Adidas is an accurate case of prestige pricing.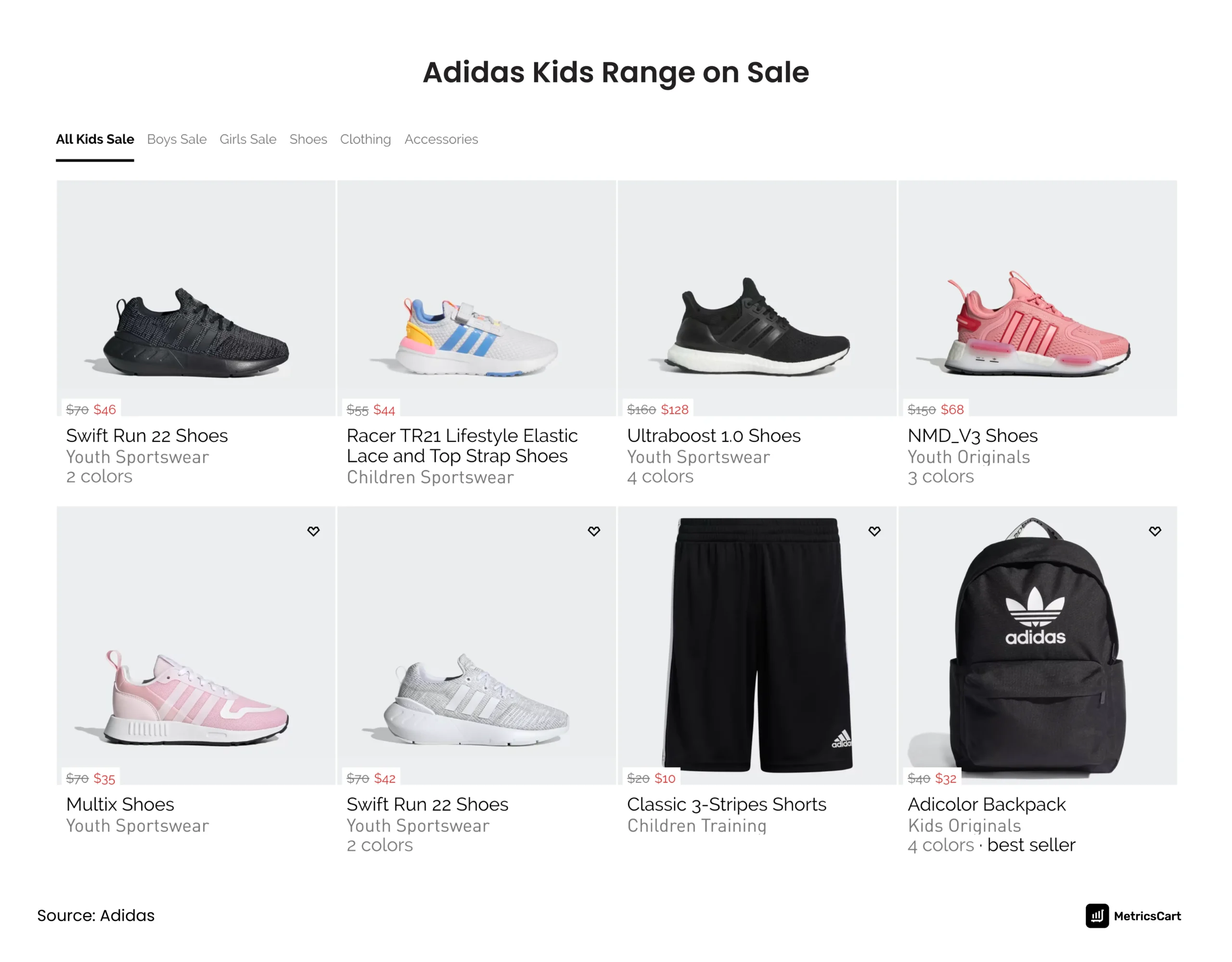 If you are a competitor to the brand, you get to closely monitor the promotional moves of Adidas. At the same time, you can identify if you have certain product claims or value that sets you apart and use them to your advantage for pricing.
Analyzing competitors' pricing during promotions can help brands optimize their own pricing strategies. Brands can adjust their prices to remain competitive, capitalize on pricing opportunities, and avoid price wars that may negatively impact profitability. Additionally, brands can take advantage of system-provided recommendations to determine real-world impact.
Read our extensive guide on prestige pricing.
In a nutshell, a comprehensive competitive promotion monitoring system allows brands to stay ahead of the competition by consistently implementing special offers, expanding the range of discounted products, and reducing prices on popular items that other market players rarely include in their promotions. This not only saves valuable time for marketers and key account managers but also enables brands to seize opportunities and maintain a competitive edge in the market.
Competitive Promotion Monitoring for Digital Shelf Success
The pandemic crisis led to inflation and supply chain shortages, among many others. While the road has been bumpy, most brands and retailers have adapted quickly to changing consumer trends. They have driven growth despite the hurdles, and are emerging stronger than ever.
One of the prime ways in which brands and retailers are figuring this out is by being digital-shelf aware. This includes monitoring and assessing the share of search, content, pricing, promotions, inventory, rating and reviews, and more. Through MetricsCart, you can gain real-time digital shelf insights and make informed decisions to move forward.
So, start implementing a comprehensive competitive promotion monitoring strategy today. Reach out to us now.