Valued at $308 billion, Walmart and Sam's Club are the largest grocers in the US.
It was Thanksgiving Day in 2022 when Walmart did something unusual. America's largest retailer sold Thanksgiving baskets of items at the previous year's price. Amidst rising prices, the retailer made significant investments to ensure customers can enjoy a traditional Thanksgiving meal without inflationary hikes. This shows Walmart's consistent commitment to offering entry-level price points for budget-conscious customers.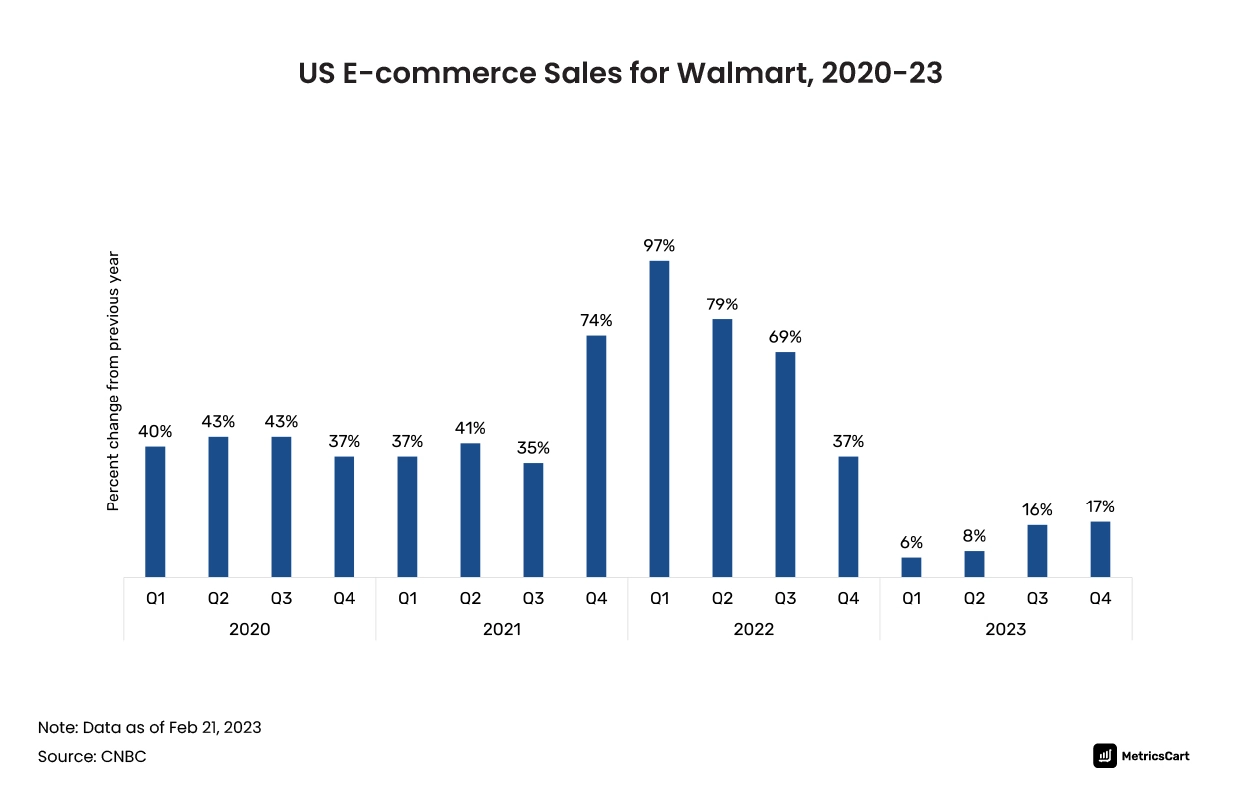 For the fiscal year ended Jan 2023, Walmart US year-over-year online sales rose by 17%. During the holiday quarter, most of its sales came from low and middle-income groups. This growth despite the inventory concerns was driven by strategic initiatives, including streamlined pickup and delivery services, along with targeted advertising.
Moreover, for Walmart+ Week which happened at the same time as Amazon Prime Day, the retailer offered competitive discounts on electronics and household categories. It also ran discounts in the range of 20-50% for its private label brands ranging from grocery, household supplies, personal care, and more.
This article will explore Walmart private label brands in different categories in depth.
What is Walmart's First Private Label Brand?
Let's go a bit back in time. Walmart entered the private label business in the early 1980s. The Walmart Digital Museum confirms that its oldest private label brand, Ol' Roy, was renamed in 1980 after the founder's bird dog. Initially, it appeared with plain white packaging with 'DOG FOOD' written in black letters.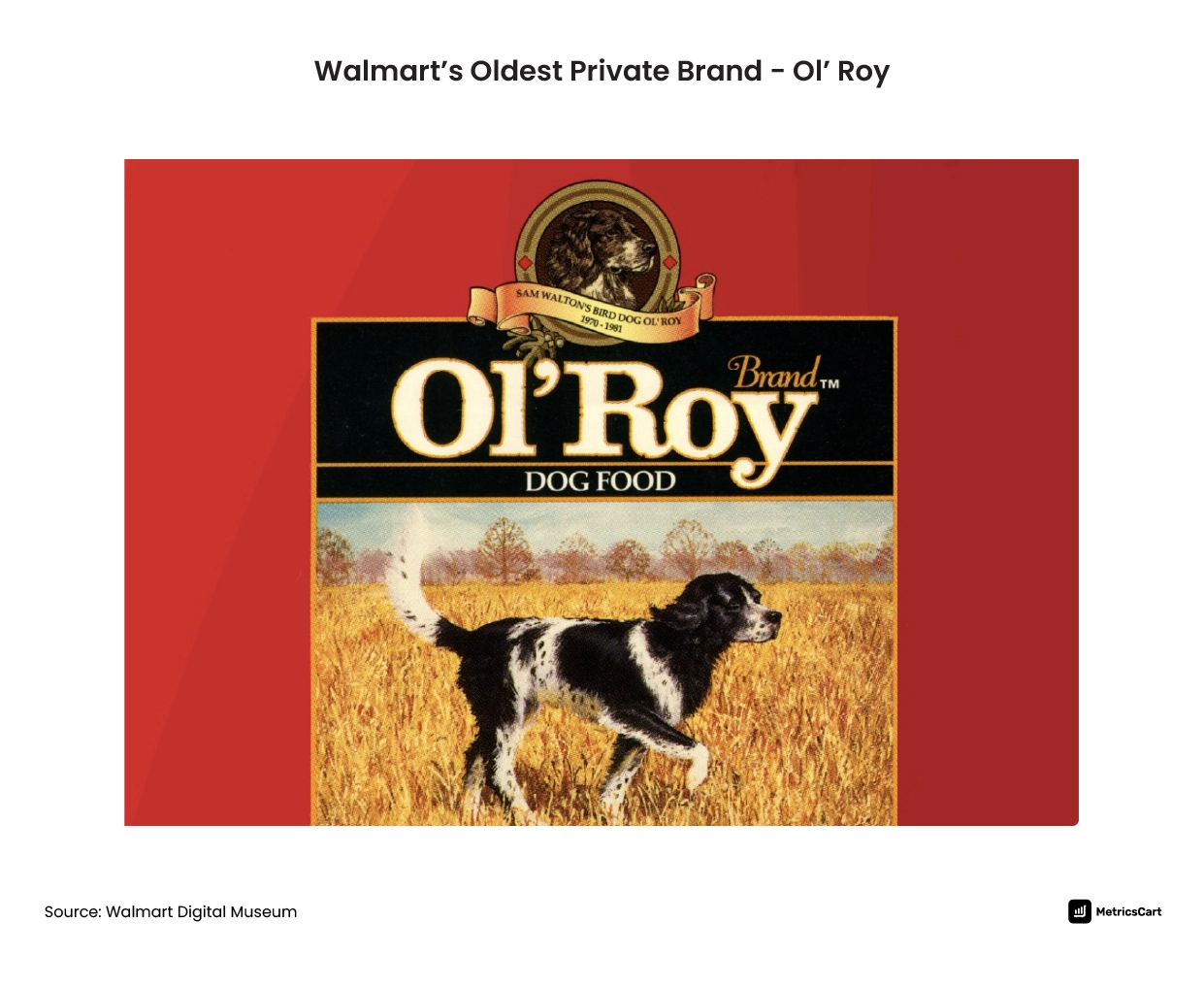 In the following decades, Ol' Roy became a bestseller, and other varieties and products were added. The brand grew to become a household name and a testament to the success of in-store brands.
Walmart's success in the private label reach mainly comes from its in-store presence.
Back in the 80s, Walmart made private brands matching the organoleptic attributes i.e. the taste, smell, and touch of the leading brands in a given category. The interesting part: there was no marketing and R&D cost involved. The promotional tactic was merely piling up packets and packets of their own brands in the stores. This led to Walmart's unaided brand awareness over time.
A 2022 Walmart Connect data shows that 82% of their customers shop in-store. While Walmart's private brands have been around since the 80s, other big-box retailers such as Amazon started selling private labels only in 2009.
In 2023, the company is experiencing significant growth in its private label sales, especially in the grocery segment.
Read more: Extensive guide on private label manufacturers in the US
Walmart's fastest-moving private brands are in the grocery segment.
Overall, Walmart and Sam's Club stand out as America's largest grocers. The grocery segment of Walmart is valued at $308 billion as of June 2023, according to Supermarket News.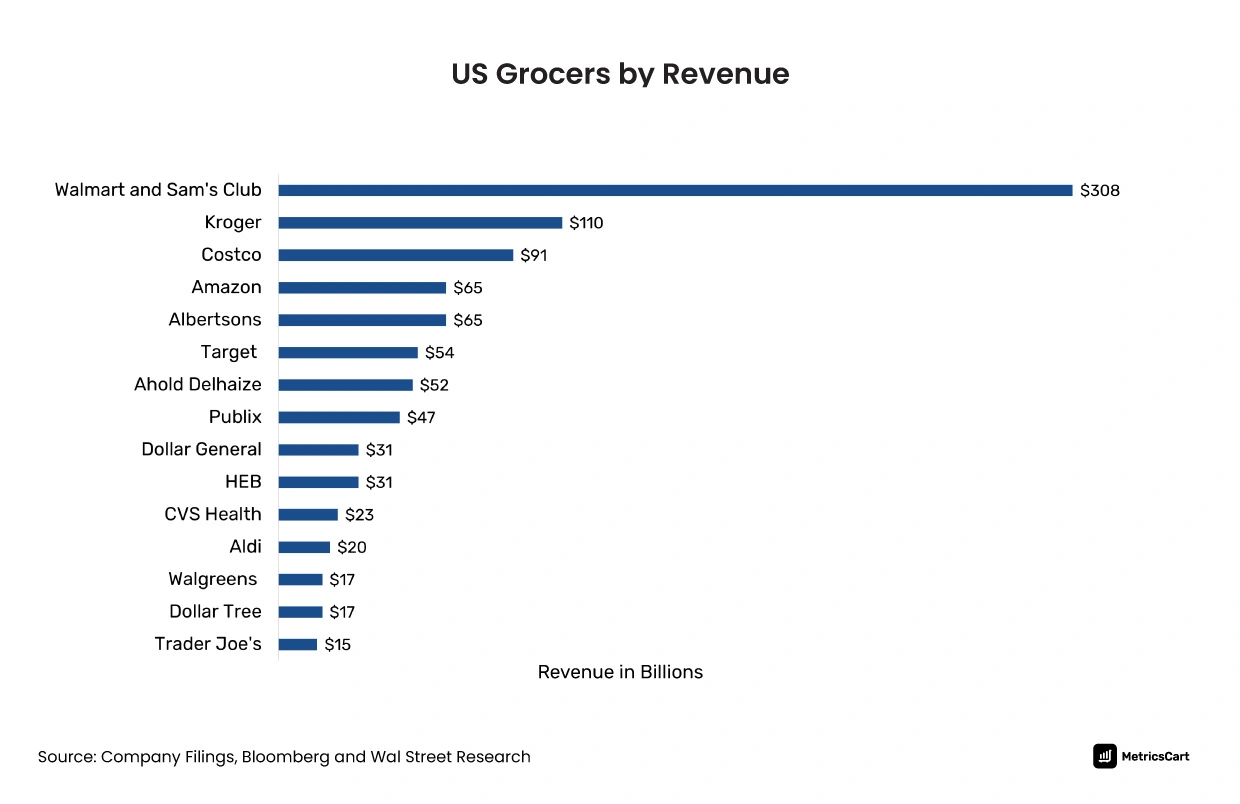 Walmart disclosed that approximately 75% of the market share gains in the food category came from households with an annual income exceeding $100,000.
Read to know: How Acquiring Whole Foods is helping Amazon to replace national brands with private labels
Walmart has the best pulse on American customer buying behavior.
John David Rainey, Walmart's CFO, revealed in a quarterly meeting that Walmart's shoppers had shown a growing preference for private-label products. The big-box retailer knows how and where the US shoppers are spending. Walmart uses its omnichannel insights to expand or introduce products into categories for targeted customers. This converts into high customer loyalty.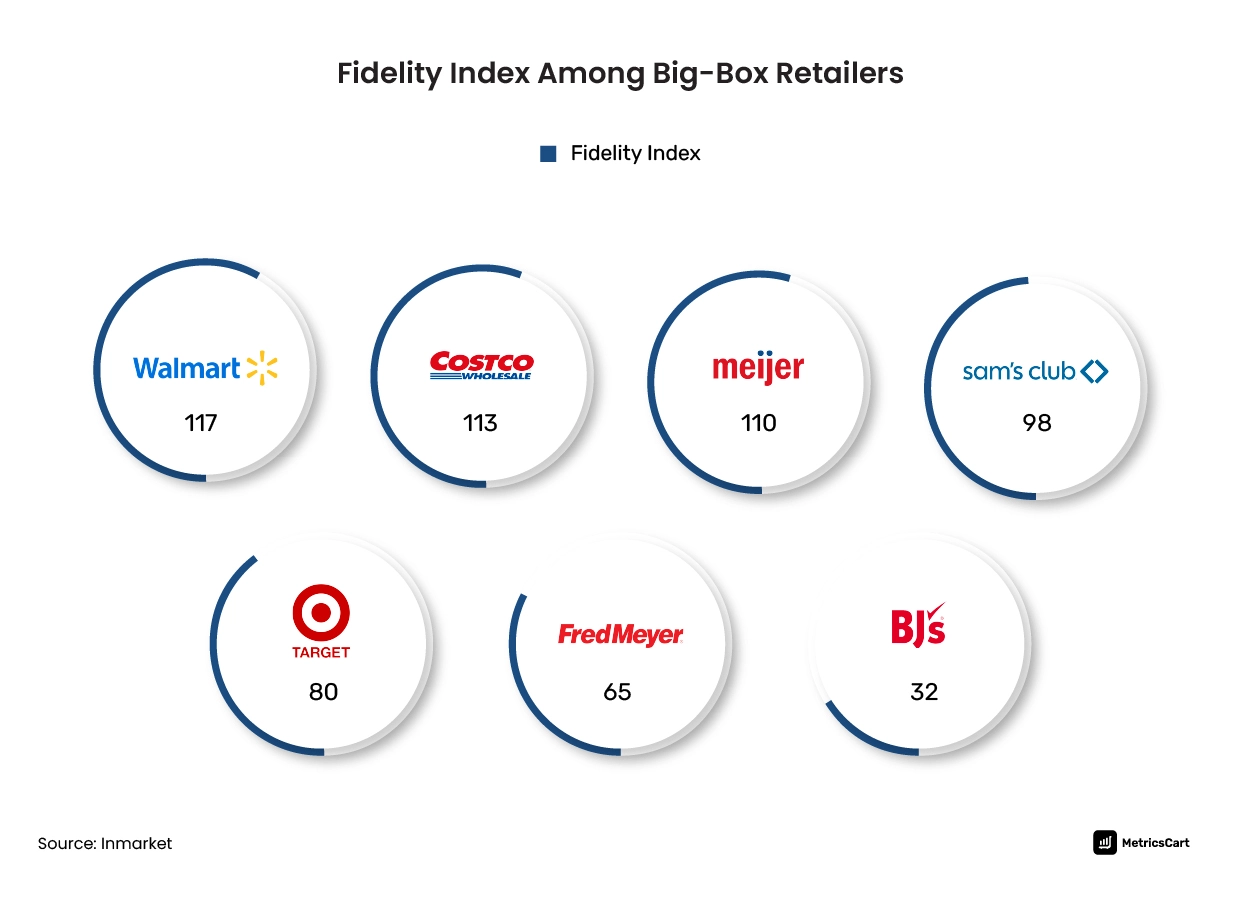 InMarket's Q1 2023 Fidelity Index shows Walmart tops the index ahead of Costco and Meijer. The Fidelity Index is the ratio of number of store visits to the number of stores.
Read more: What's the shopper buying behavior on Amazon?
Walmart is seeing an uptick in private label sales with its digital transformation and app redesigns.
Back in 2017, Walmart had only 27% private label reach on the e-commerce front. In a two-year time frame, Walmart took the lead in CPG e-commerce sales for private brands at 48%.
In 2020, the company introduced the Walmart+ membership program, similar to Amazon Prime subscription. Even though they introduced this program about 15 years later than Amazon Prime, currently, there are 20 million+ members i.e. one in six US households are Walmart+ members.
In 2022, Walmart rolled out new store designs in select regions, aiming to enhance the overall shopping experience. Walmart calls it 'Time Well Spent.' The new store designs focus mainly on apparel and furniture categories. Additionally, the retailer has invested in redesigning its mobile app, focusing on personalization to offer a tailored experience to each individual customer.
Read more: Explore How Phygital is Taking Over Retail
Top-Selling Walmart Private Label Brands in Different Categories
Over the years, the grocery segment of Walmart has been consistently growing. It was valued at $218 billion in 2022. General merchandise and health are the other categories doing well. The general category of Walmart accounted for 32% of net sales for the last four years in the US.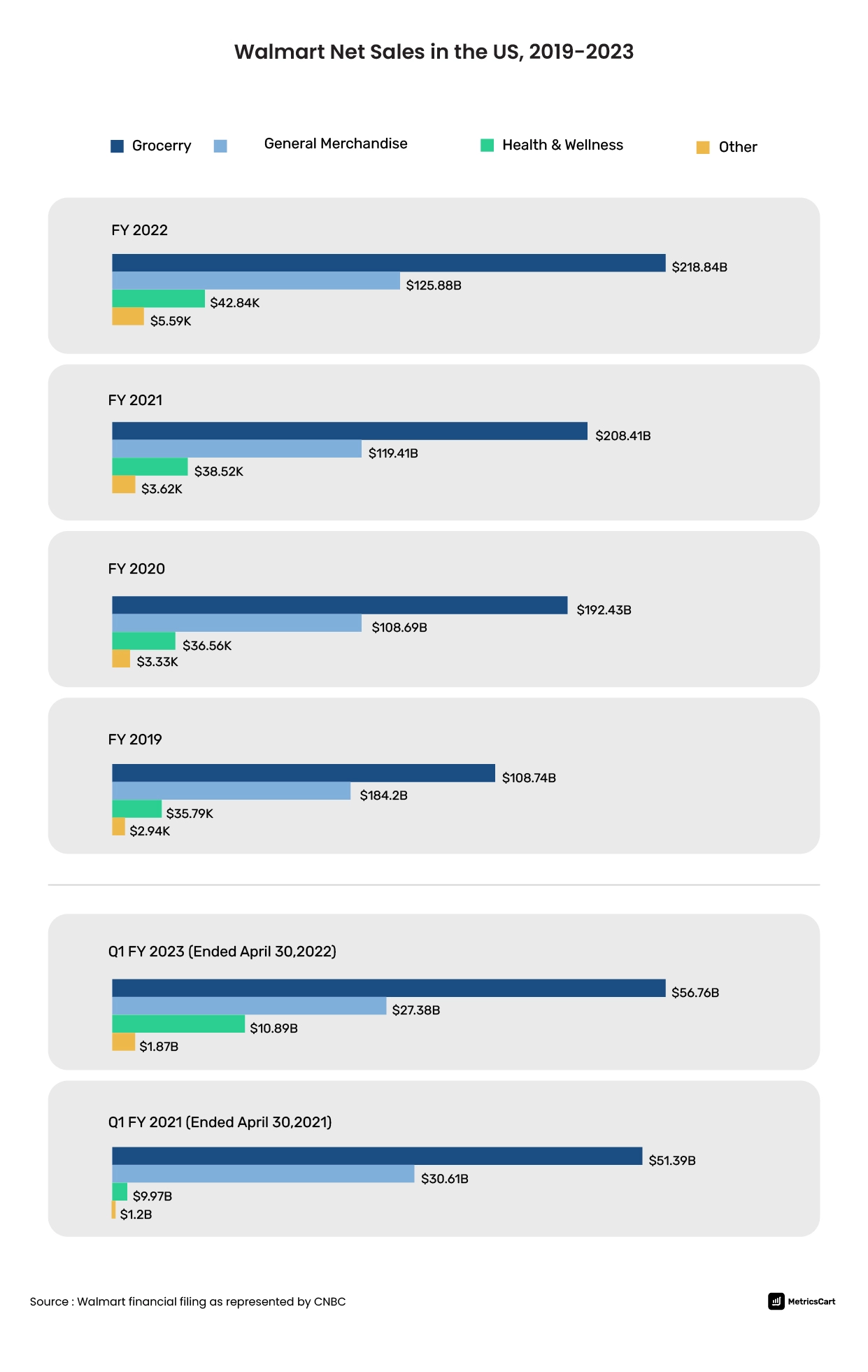 The other categories form a relatively smaller part of Walmart's net sales. We have divided the private brands based on categories into the following:
Grocery
Great Value is the only private brand in Morning Consult's Fastest Growing Brands Report among Meta, Crocs, and Beats by Dre.

Year of launch: 1993
Categories: Fresh & Frozen, Ice Cream, Pantry, Coffee, Bread and Bakery, Beverages, Household Chemicals, and more.
Morning Consult's Fastest Growing Brands 2022 Report shows Great Value in the eighth spot for cream cheese. It was the only private brand on the list. Meta, Crocs, and Beats by Dre topped the list. The report pointed out two key reasons for Great Value to be on the list.
Food and beverage brands were more on the list due to low price points.
The budget-friendly cheese option resonated with price-conscious consumers.
A quick price comparison of Great Value cream cheese with Philadelphia cream cheese on Walmart.com shows that the former is priced at 19.3 cents/ounce while the latter is at 34.1 cents/ounce.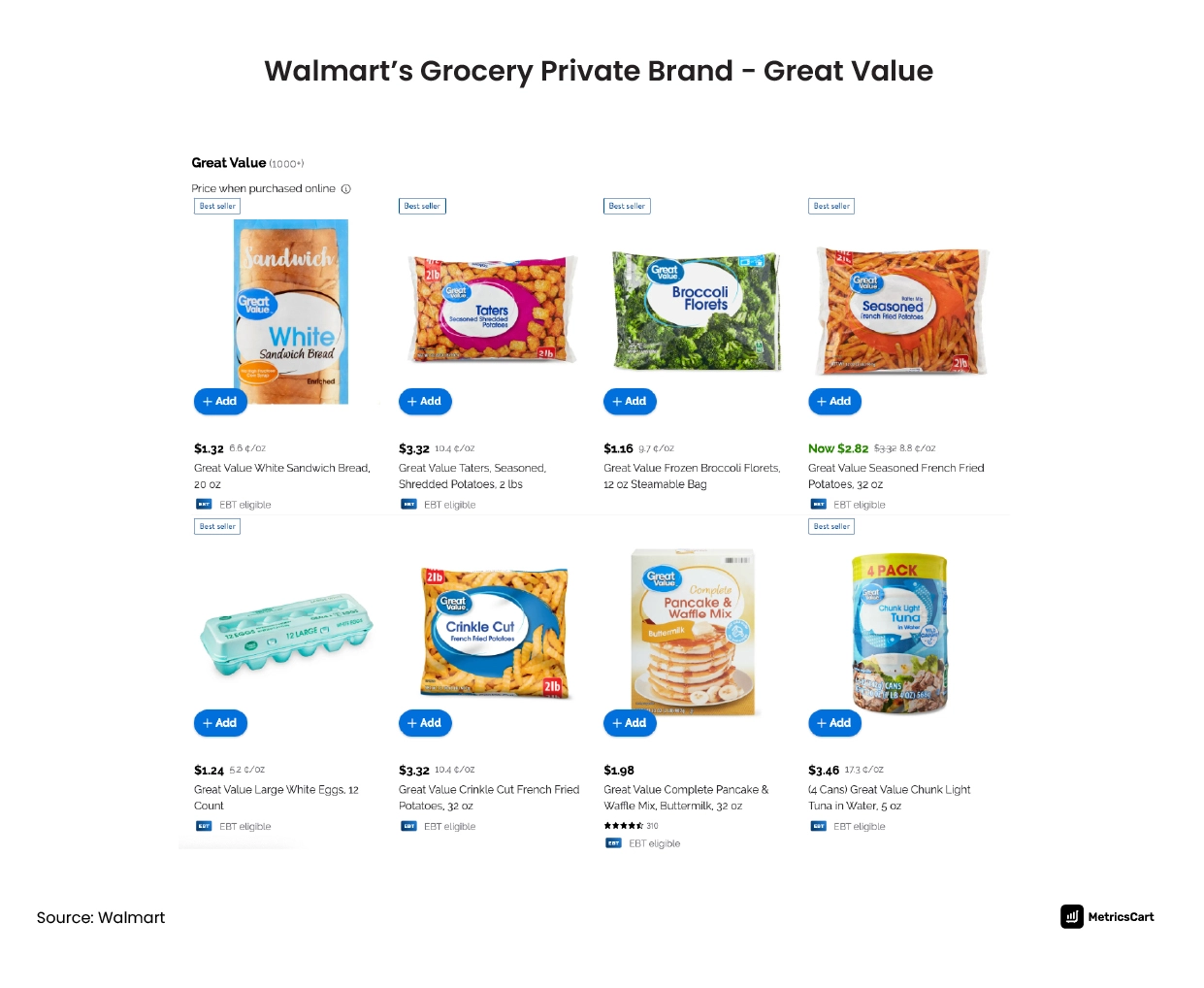 In 2020, Doug McMillon, the CEO of Walmart Inc., disclosed that Great Value boasted global sales of $27 billion. By offering competitive prices, maintaining quality standards, and meeting consumer demands, Great Value has carved a niche for itself in over 100 categories.

Year of launch: 2008
Categories: Pizza, Soups, Sausage, Vegetables, Salads, Cakes, Flatbreads, Lemonade, and more.
Marketside made its debut as a neighborhood supermarket with chef-inspired meals and fresh quality produce. However, the physical stores closed in 2011. The product range of the brand is still available online.
In 2022, Marketside Angus Beef Frank and Marketside Butter Cup Cookies made it to the PLMA Salute to Excellence Awards under the food category.

Year of launch: 1991
Categories: Fresh Breads, Cookies, Pastries, Cakes, and Cupcakes
Food Industry Association's In-store Bakery Report 2022 shows that the demand for in-store bakeries is on the rise. This is mainly due to impulse buying among shoppers.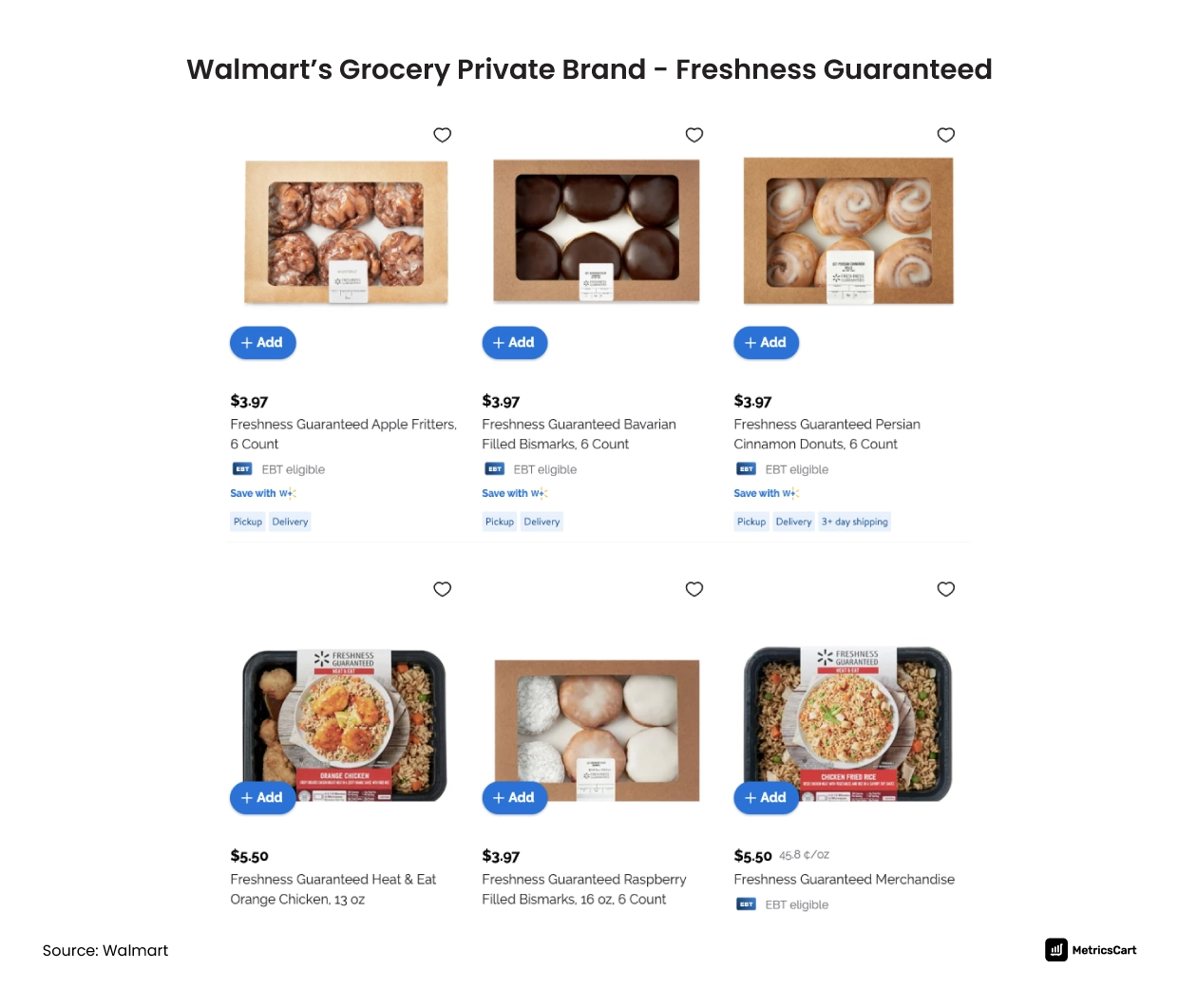 The report showed muffins, cupcakes, and cookies in high demand. Daily Meal, a food and beverage site, confirms that the brand offers gourmet muffins at an affordable price.
Health and Beauty

Year of launch: 1999
Categories: Personal Health, OTC Medicines, Vitamins, Weight Management, Home Health, and more.
Equate was an independent brand that was formerly sold in Walmart and Target. Walmart took over Equate in the late 90s.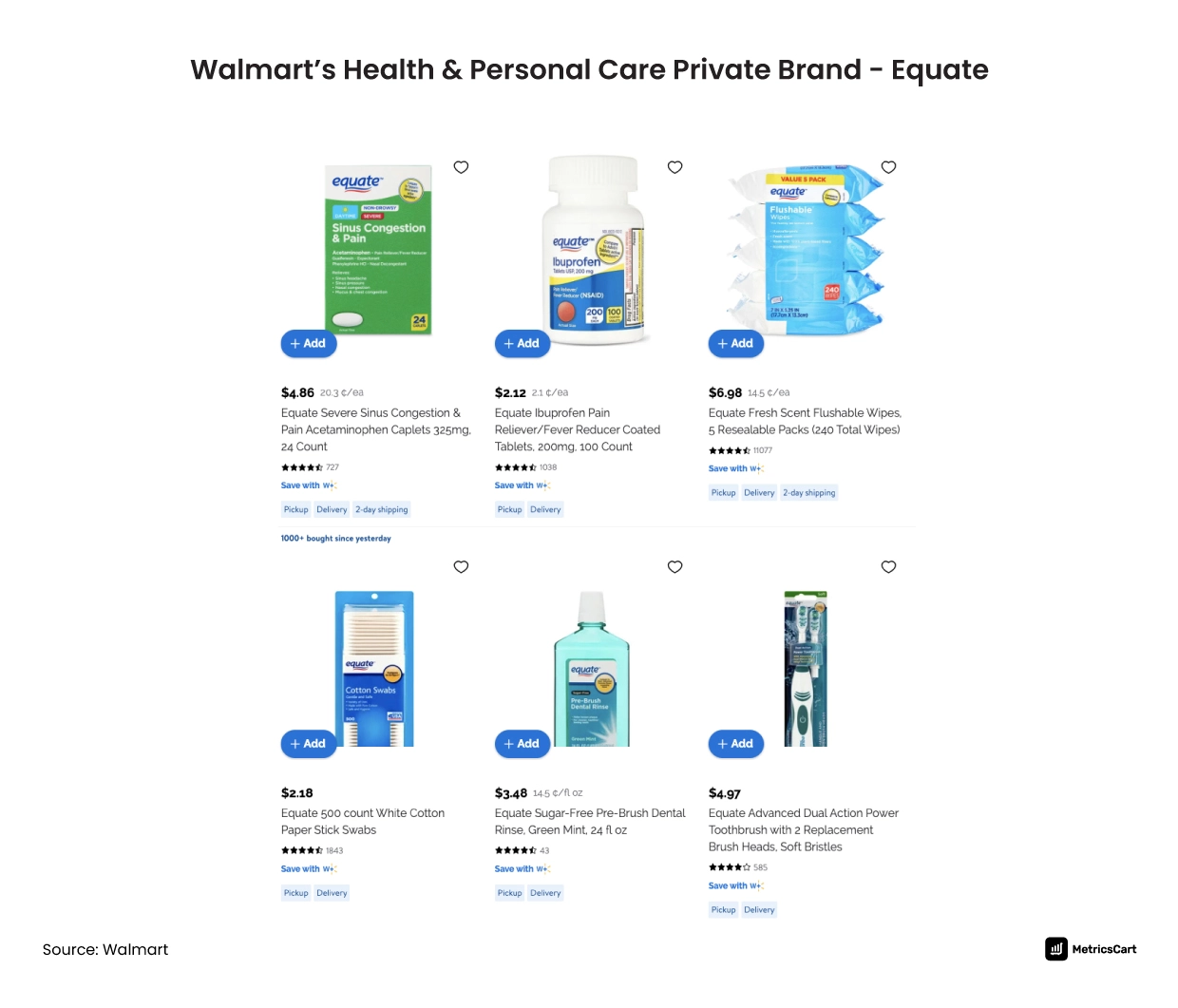 Equate products topping the PLMA 2022 Salute to Excellence Awards under the health category includes:
Equate Epsom Salt Soothing Lavender
Equate Island Coconut Shea Sugar Scrub
Equate HydroClean Cordless Water Flosser
Equate Ultra Light Broad Spectrum Sunscreen Lotion for All Skin Types, SPF 50

Year of launch: 1998
Categories: Diapers, Wipes, Bedding, Baby Food, Baby Care, Training Pants, and more.
When Parent's Choice was launched, it was only selling baby formula. In 2018, it relaunched the brand with 100 new items and a new logo.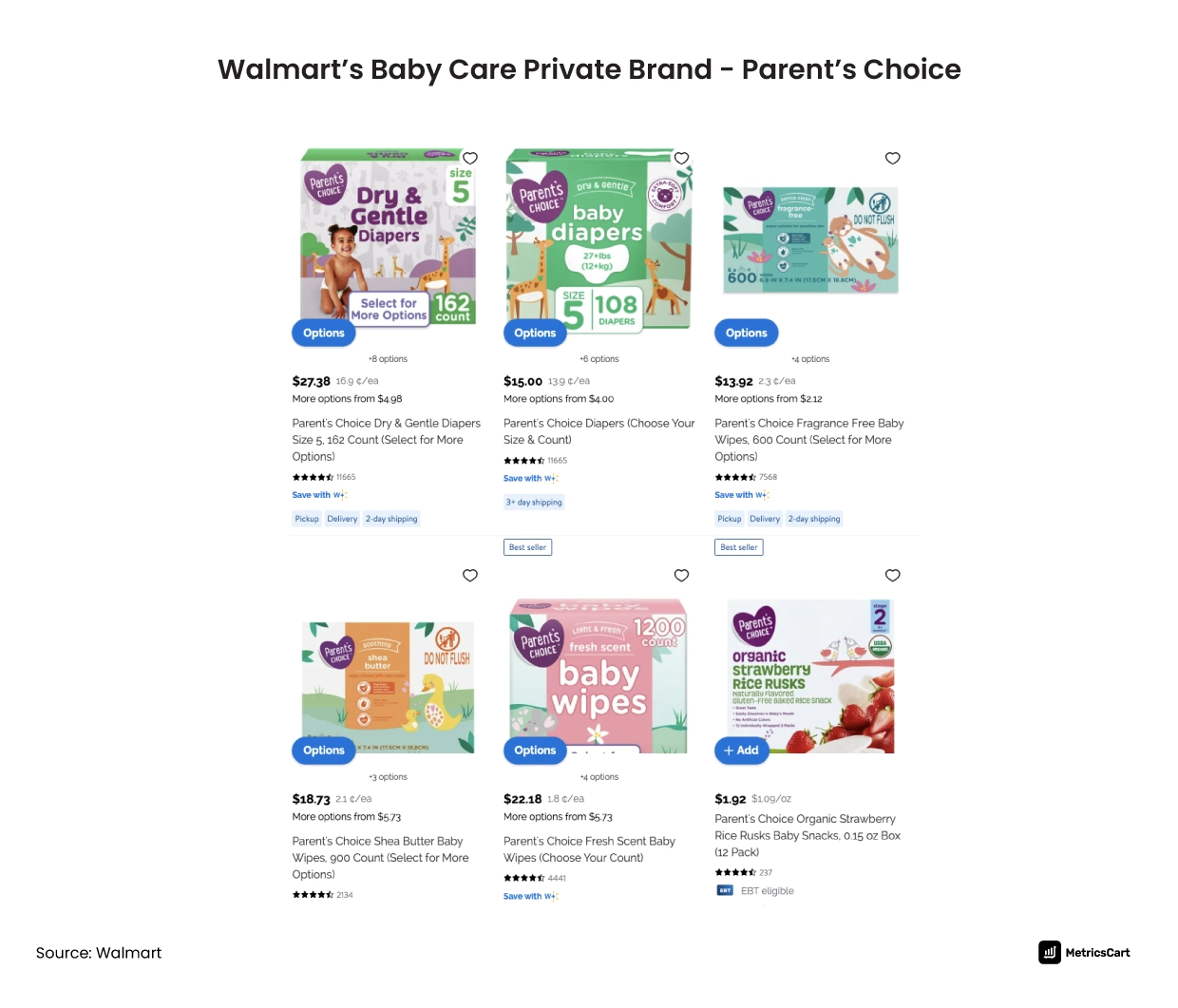 Tiara Rea-Palmer, a deal expert at CouponFollow, explains how the quality of the baby diapers from Parent's Choice matches that of a national brand. A quick price comparison shows that Parent's Choice diapers are sold at 18.4 cent/piece. On the other hand, Pampers diapers are sold at 36.8 cent/piece.

Year of launch: 2021
Categories: Blood Glucose Monitors, Blood Glucose Test Trips, Lancets and Lancing Devices, and more.
It is estimated that 1.2 million of America's diabetic population struggle to afford the insulin they need. A 2018 RAND study points out that consumers are paying four times more for insulin than those in other countries. Walmart launched the first private-label insulin, ReliOn, in partnership with Novo Nordisk.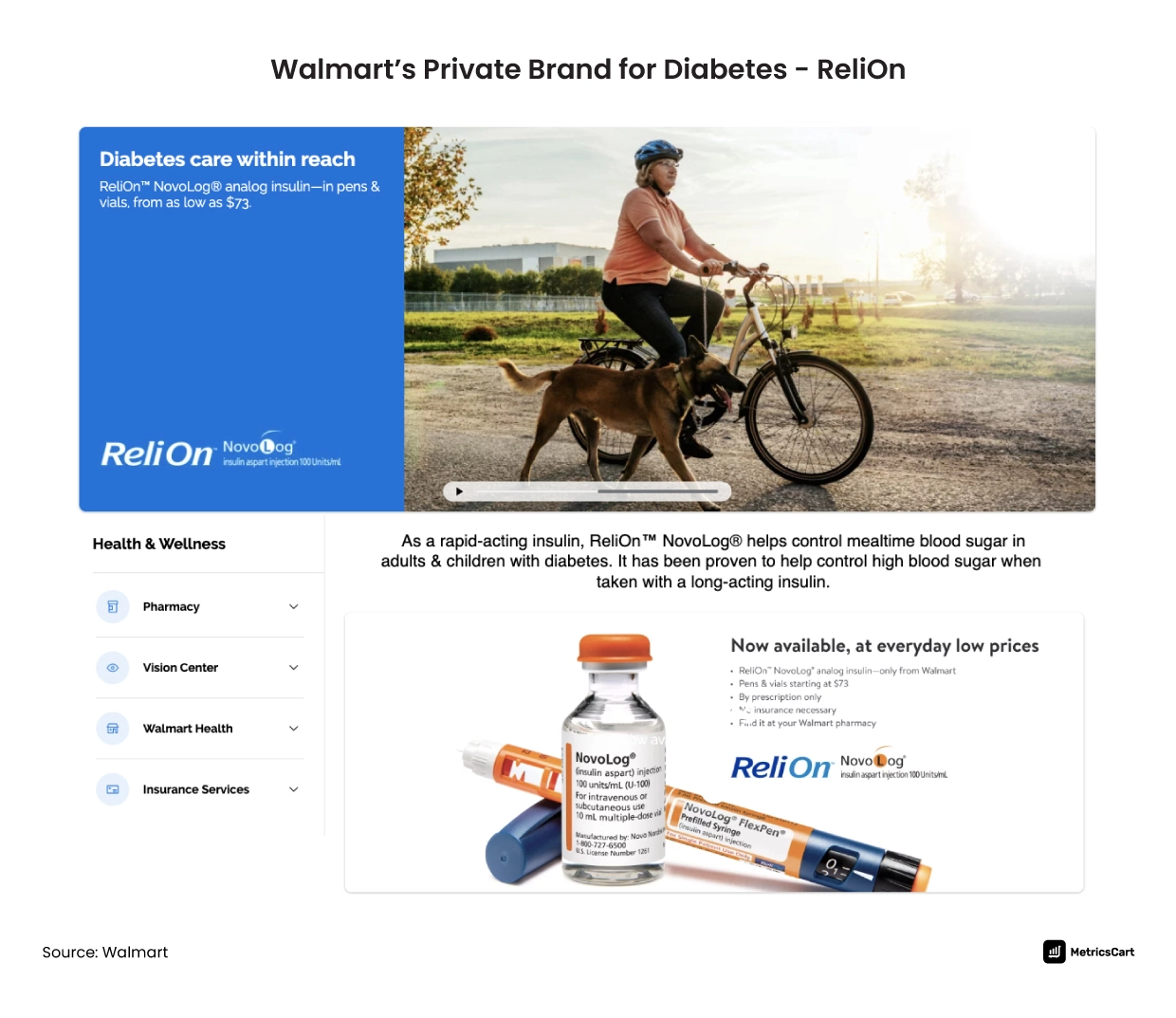 The retailer intends to make healthcare more accessible. With ReliOn, diabetic customers have saved more than $15 million so far.
Pet Food and Supplies

Year of launch: 1982
Categories: Dog Food and Treats
Ol' Roy is a budget-friendly dog food private brand of Walmart. The pet category, in general, is one category where consumers have not reduced their spending habits despite rising prices.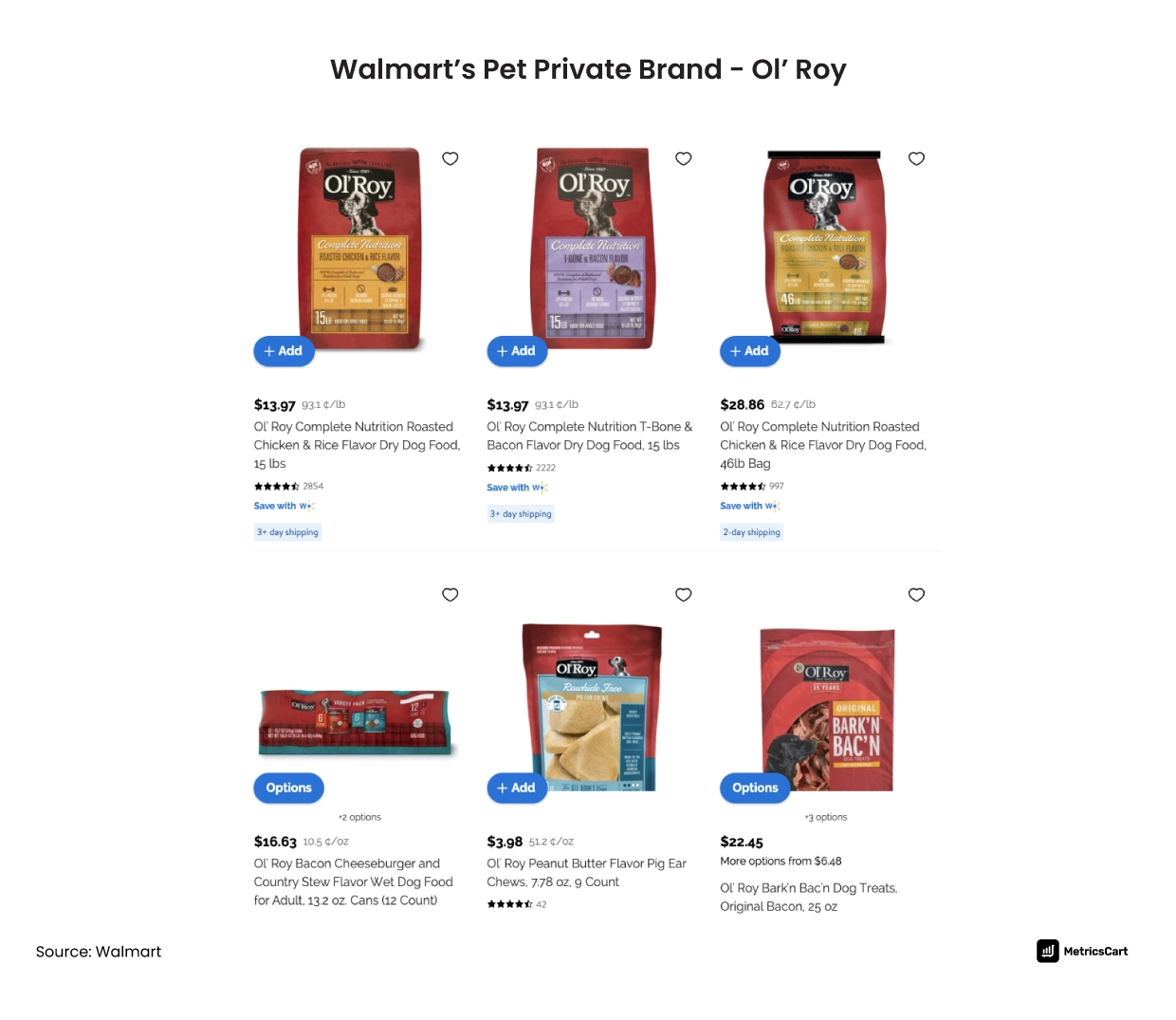 For Ol Roy, a price comparison of Chicken and Rice Dog food from 2020 and 2022 show that prices are up by 32%. At the same time, national brands such as Purina and Royal Canine, prices went up by 54%.

Year of launch: 1983
Categories: Cat Food and Cat Litter
Special Kitty was introduced at the same time when Ol' Roy started. The brand is designed for affordability. Private label sales were on the rise in the US between 1997 and 2002.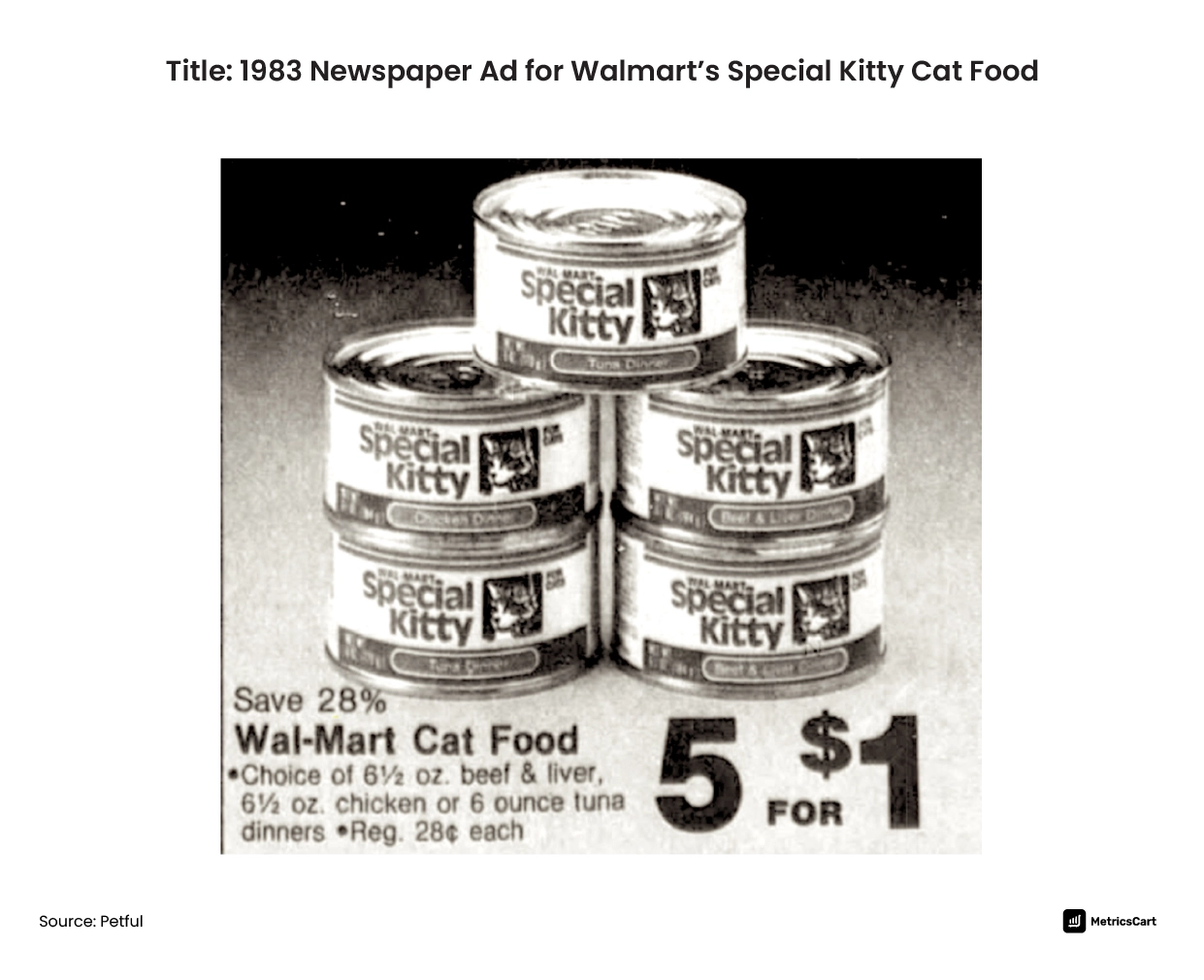 In 2005, Special Kitty had a 19% market share, outperforming competitors like Purina. This was primarily due to its retail locations and the super-low prices at Walmart. The brand is widely opted for by customers who feed cat colonies.

Year of launch: 2012
Categories: Dog Food and Cat Food
Pure Balance is Walmart's super premium brand for dogs and cats. A decade after the brand's launch, Pure Balance Pro was introduced on National Pet Month in 2021. The new brand offers vet-formulated recipes.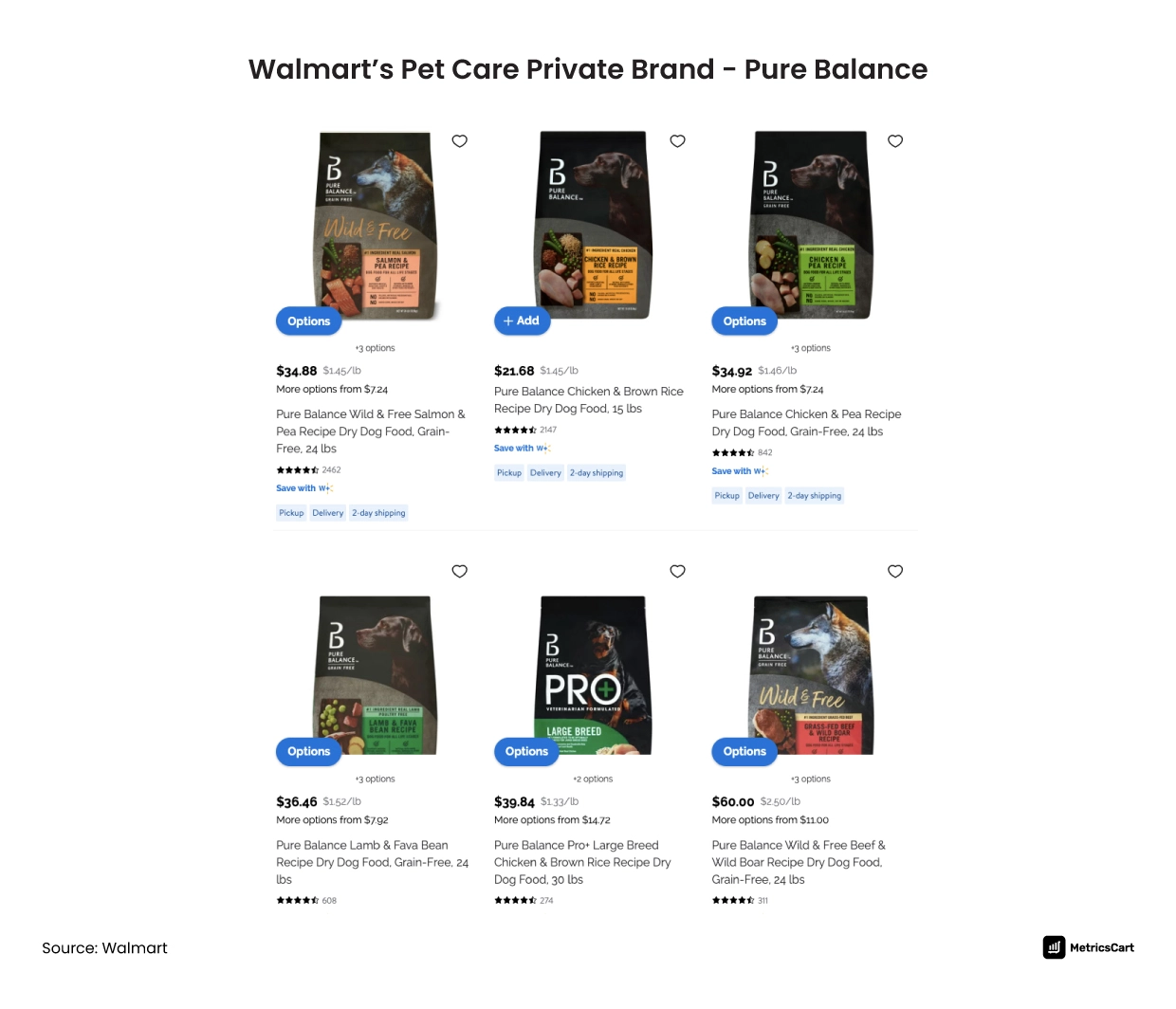 In 2022, both brands were on shelves with new packaging. Experts call it how Walmart leans toward the 'humanization of pets' trend. This trend is about how pets are like people and are treated as members of the family implying that they deserve the same level of nutrition as us.
Kitchen, Home, Furniture, and Outdoors and Pop Culture
Walmart has some OTT and TV show-inspired brands sold in stores and online. These are the exclusive brands of Walmart. For instance, The Home Edit organizers and storage systems inspired by the Netflix show The Home Edit. Another one is the Pioneer Woman line of clothing, kitchen, and furniture from Ree Drummond's food reality show.
Ozark, an outdoor-category private brand, sells camping and recreational products. Ozark's 30-ounce tumbler is sold at four times less than the price of the Yeti tumbler.
Mainstays has affordable picks of bedding, kitchen, storage, decor, furniture, and more.
MoDRN focuses on trend-driven designs and high-quality craftsmanship. This includes high-end performance leather upholstery fabrics, velvet, and Carrara marble at reasonable prices.
Apparel
Walmart has been introducing clothing lines in different categories to nudge its customers to buy more general merchandise.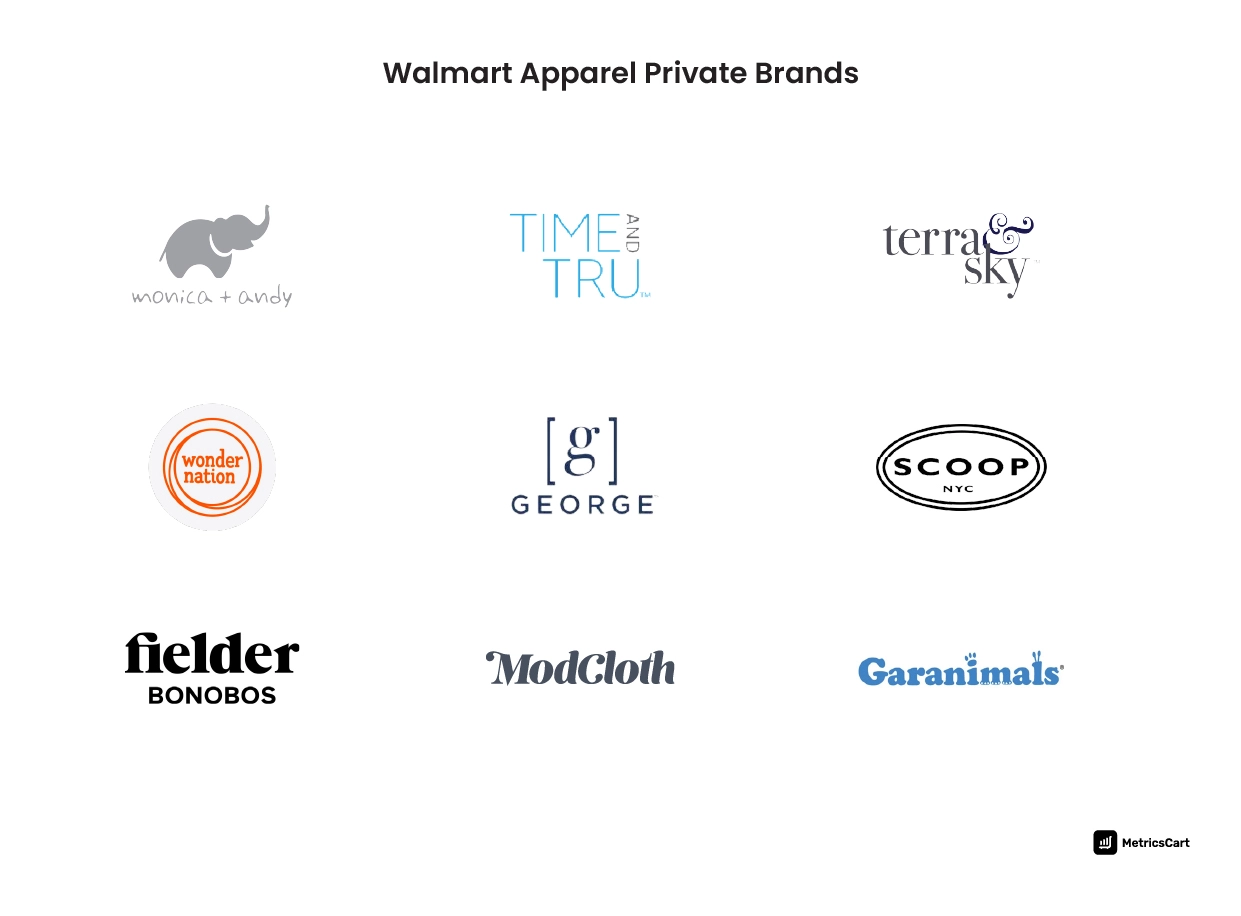 Some of Walmart's private apparel brands are in collaboration with celebrities to lure customers. For instance, a 2023 launch of baby organic clothes under the brand name, M + A by Monica + Andy.
Time and Tru, Terra & Sky, Wonder Nation, and George are some of the launches from the year 2018. These brands are designed for women, men, children, and plus sizes.
Some of the brands were launched and relaunched with a new look and feel. For instance, Scoop was relaunched in 2019 with value offerings for men, women, and children.
Walmart's e-commerce unit has certain brands sold at higher prices such as Bonobos and Mod Cloth.
Retail Dive confirms Walmart has more than 150 fashion brands as of 2019.
Walmart's 2000 Edition of its Annual Report states that the retailer's private brands are created with the intent to fill a pricing or value void for the shopper which is left by other brands. Lately, amidst inflation, Walmart private label brand prices have been kept low with regular discounts. CEO Doug McMillon justifies Walmart's move to push national brands to lower prices too. "We believe branded manufacturers and our suppliers of all types will have to respond to that market in time," said McMillon to CNBC.
Digital Shelf Solutions For Retailers and Brands
For retailers, private brands are a key component to success as it is the differentiated product that can only be found at that specific retailer.
Private label brands are very affordable, have great reviews, and consume a significant space in the 'Share of Search.' It is critical to have the private label data to build a strategy to compete with products that are offered as private labels.
Today's marketing landscape is constantly evolving. This makes it imperative for marketers to stretch every advertising dollar as far as possible. And while it's important to work with an efficient and effective market intelligence partner, the digital shelf remains key for any omnichannel strategy.
Get to know how MetricsCart can help you with Digital Shelf Analytics in the areas of search, ranking, pricing, promo, reviews, MAP, and more.
Our digital shelf solutions can help you monitor and assess your product listings across online marketplaces with our personalized, easy-to-use dashboard. Speak with our team of experts to know more.