By 2027, digitally influenced sales are expected to reach $3.8 trillion.
Most often, the customer journey is not linear. Brands need to ensure their brand experience extends beyond the digital storefronts. This involves giving due credit to the digital touchpoints which led the shopper ahead in the path to purchase.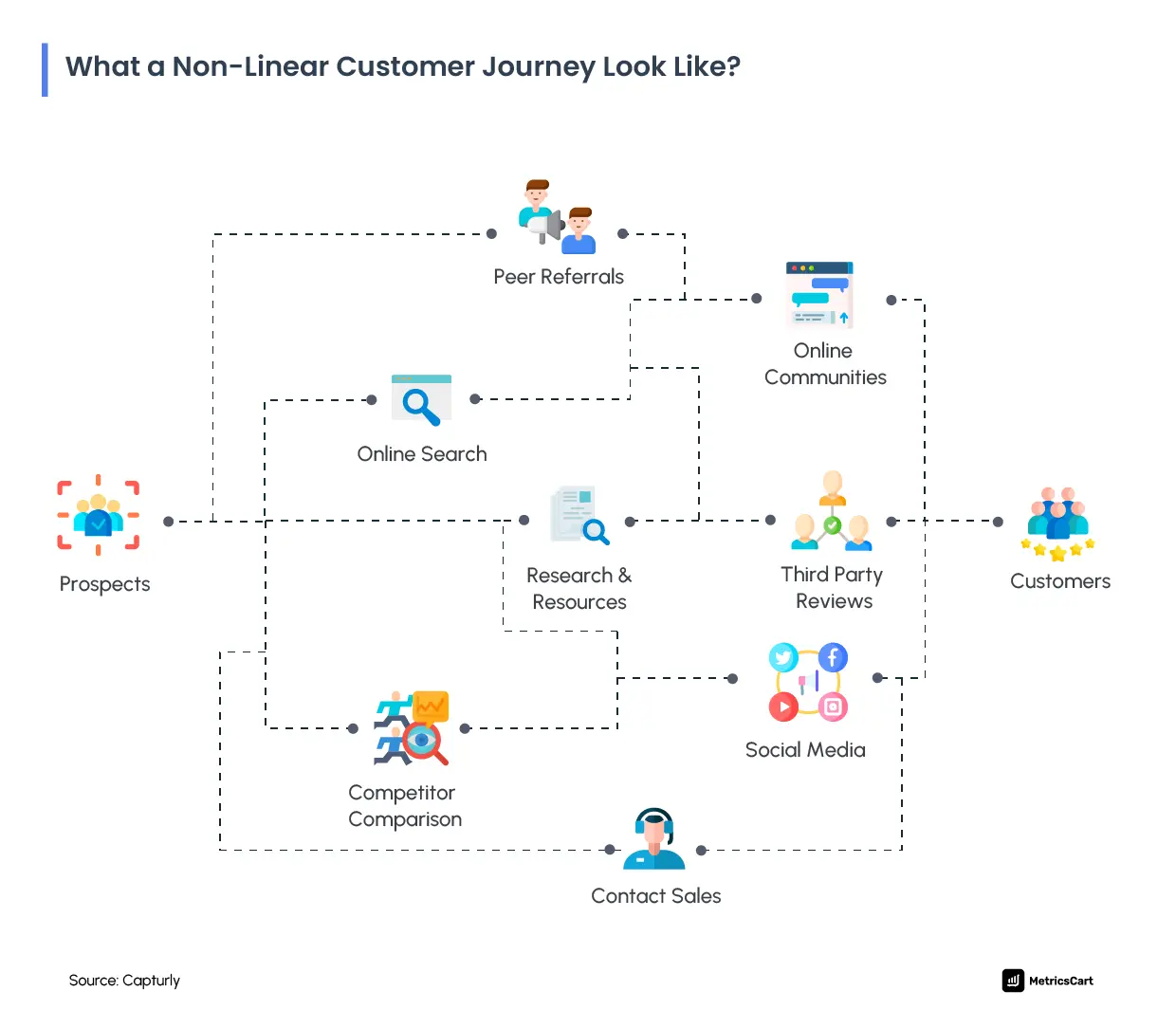 While e-commerce sales show online sales data, digitally influenced sales specifically look at digital footprints. The article explores the concept of digital influence in retail and its relevance in the omnichannel space.
Why Digital Influence in Retail Matters?
Digital influence in retail is expected to grow from $2.7 trillion in 2022 to $3.8 trillion in 2027.
In the 2023 Holiday Shopping Trends webinar, Brian Gleason from Criteo stressed how personal connections are everything. Identifying and being present at every touchpoint in a shopper's journey is key. A seamless transition from online to offline experiences is what enhances customer engagement.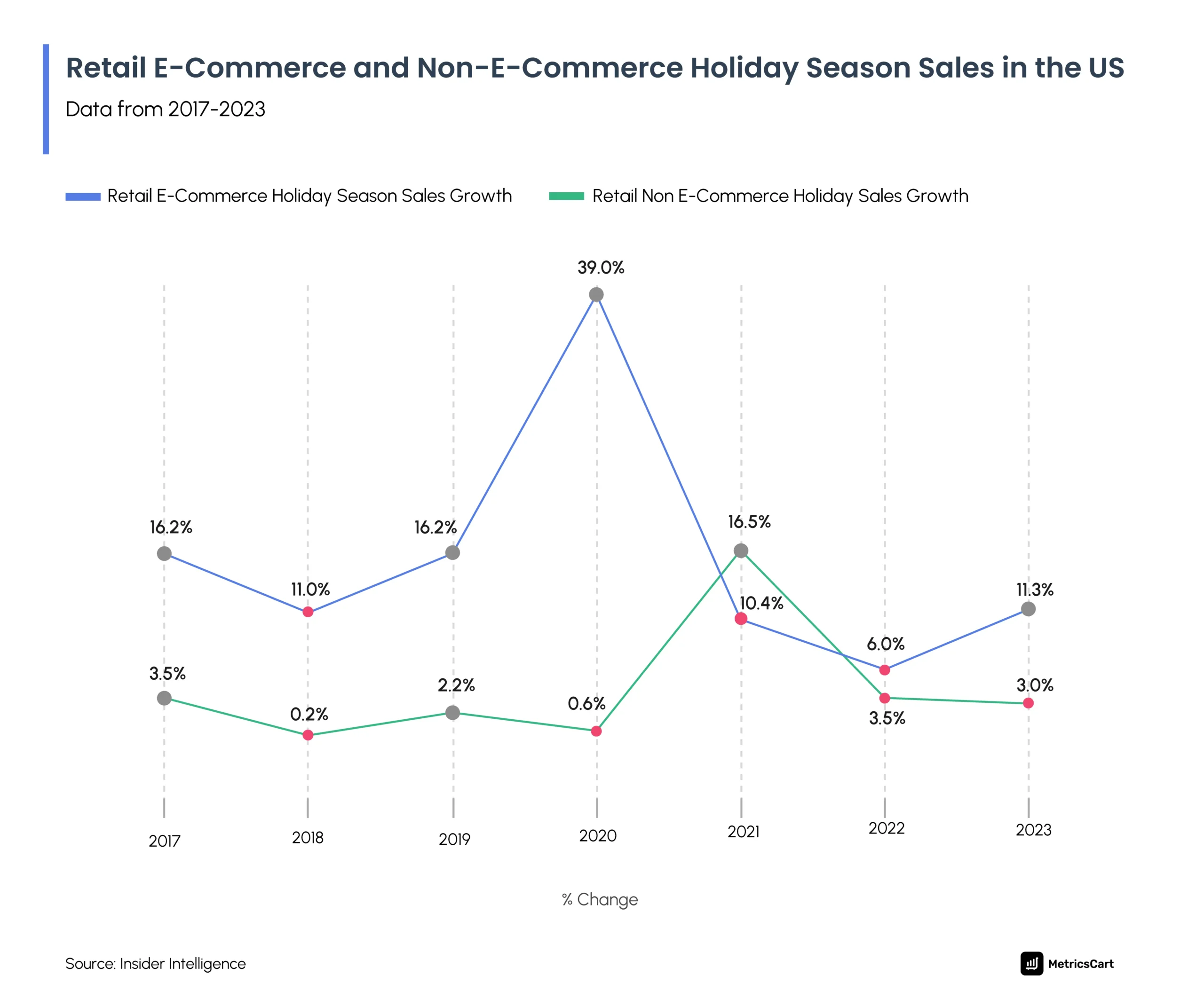 The holiday season predictions also state that the US e-commerce market may experience double-digit growth at 11.3% in 2023. However, in the past, inflationary trends have shaped how customers depend on digital touchpoints in their path to purchase.
Let's unpack how online channels aid digitally influenced sales.
Product Detail Pages
Adobe explains product detail pages of brands on online marketplaces as revenue-generating tools. These pages let shoppers evaluate a product and feel more confident in their buying decisions.
Product Pricing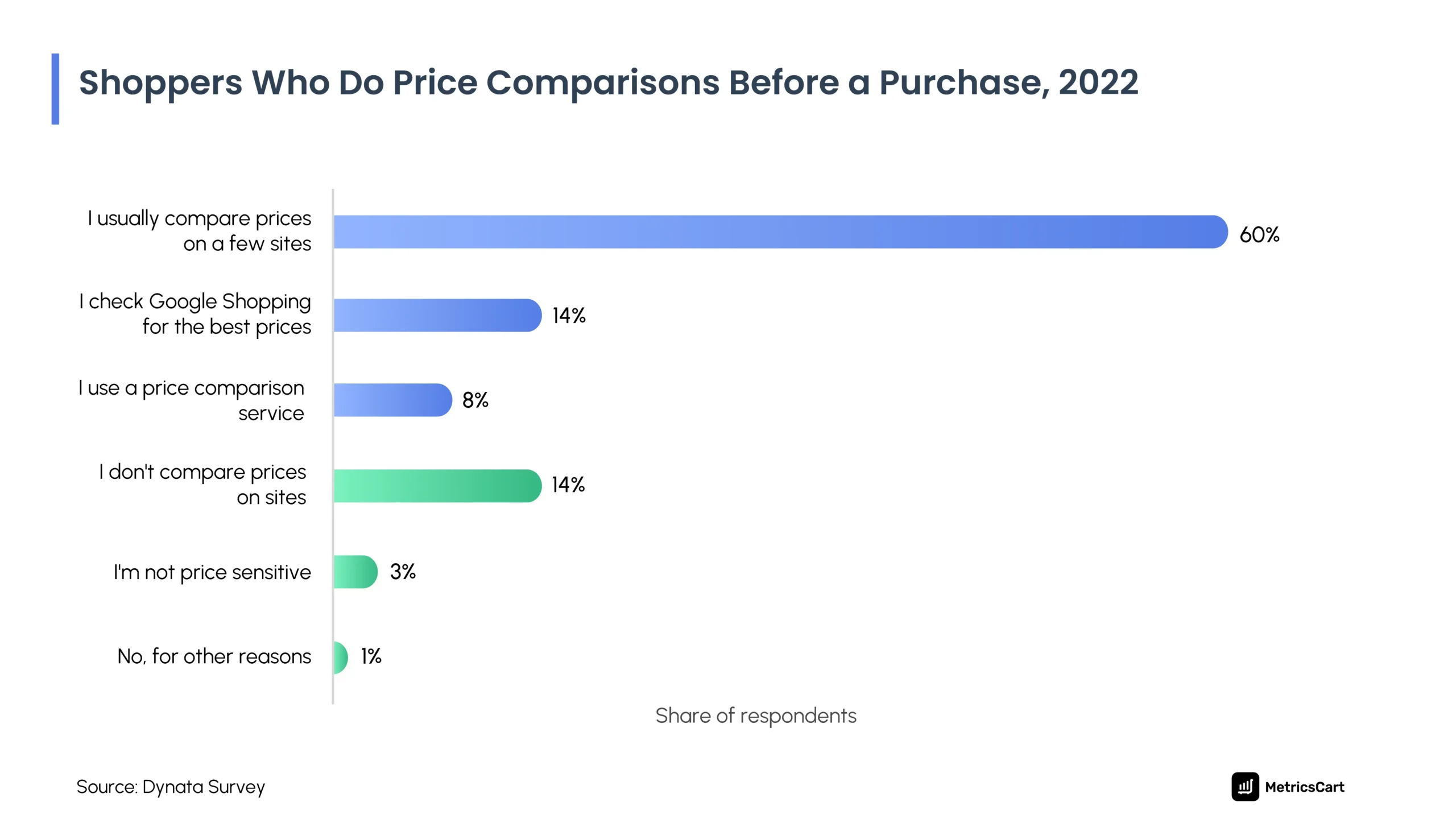 About 60% of shoppers compare prices across online marketplaces and Direct-to-Consumer (DTC) sites before making a purchase.
Product Search Terms
Another point of digital influence involves understanding the exact search terms and phrases customers use to explore a brand or product online.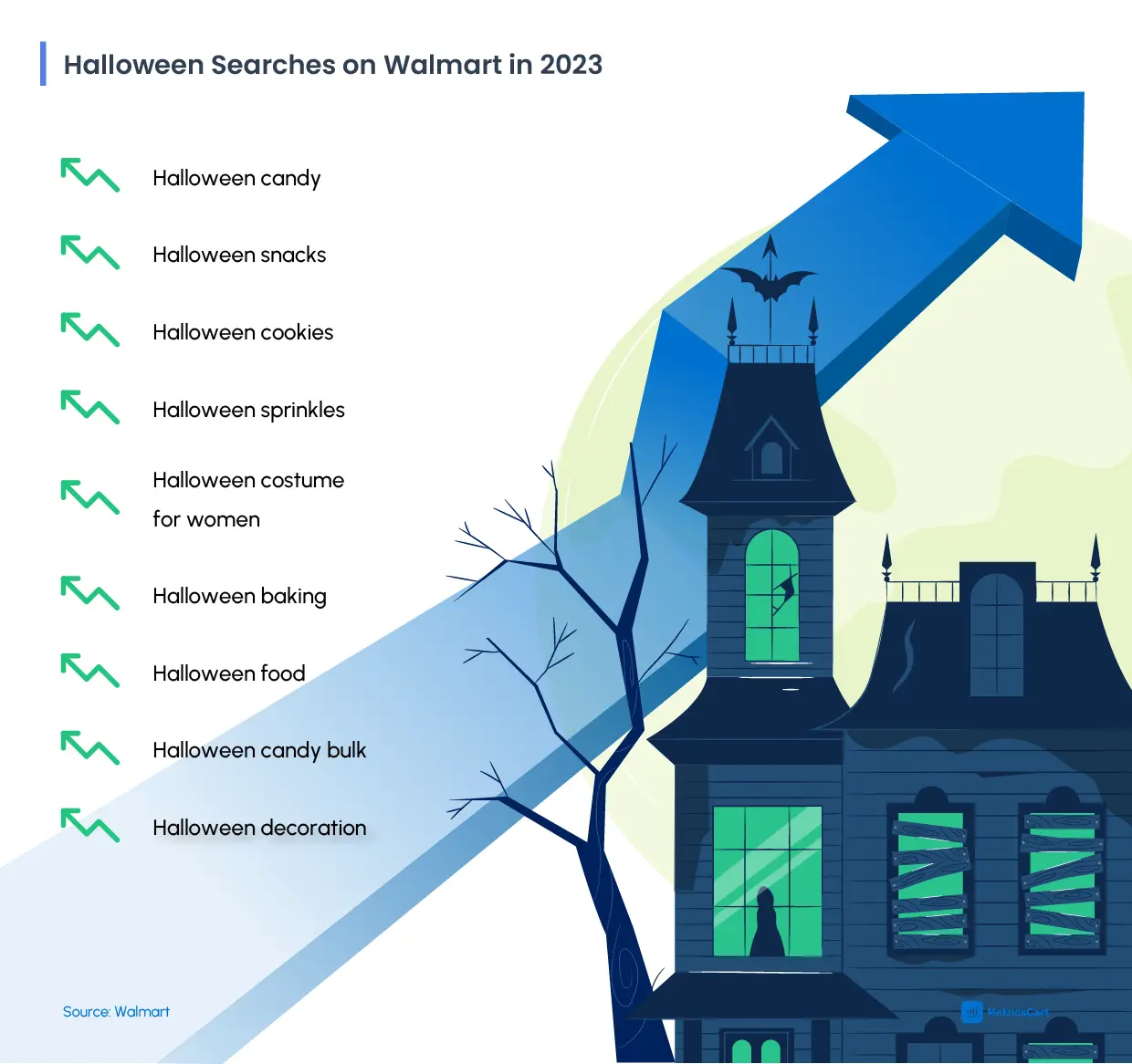 For instance, search results on Walmart during Halloween showed the following search terms commonly looked up by shoppers. This differs based on search volumes every day. Additionally, an interesting report from Firstmovr: Shedding corporate conformity in the age of e-commerce confirms that for brands to ace e-commerce, they must win on the digital shelf.
Mastering the digital shelf translates to winning on the physical shelf. Aligning different teams in an organization to adapt to digital shelf data and its use cases helps to drive omnichannel efforts.
Read more: Top Strategies to Master Digital Shelf Analytics
It's crucial to identify and be present at every touchpoint in a shopper's journey. 
How Convenience Impacts Digitally Influenced Sales?
Let's discuss where convenience fits in. A physical store's inventory accuracy is somewhere between 70-90%. However, for online stores, it is 99.5%! 
Creating hybrid systems by bringing digital convenience in in-person shopping and vice-versa is the way forward. To add to that, Katie Thomas, Lead at Kearney Consumer Institute, mapped how shoppers' time elasticity makes convenience revolves around three principles:
Access: Ensure that sellers offer consumers what they want in a way that serves the purpose.
Interface: A seller should be able to make a transaction as simple, intuitive, and frictionless as possible.
Expectations: Consumers expect clear differentiation and high value from offerings.
The concept of shopper marketing finds its origins in the realm of convenience.
Read more: Product Experience Management Explained With Case Studies
Digital Touchpoints in a Shopper's Journey
Shopper marketing is different from traditional advertising and promotion. These marketers focus on making last-minute appeals to shoppers at the very moment they're considering buying. This is also possibly the touchpoint where digitally influenced sales occur.
For instance, when a shopper shops for extra virgin olive oil, the digital shelf displays several brands. In the end, it's just oil, and the prices are nearly the same.
So, what makes shoppers pick up a specific olive oil brand to buy? In these moments, shopper marketers use a variety of tactics.
Awareness Through Online Research and Discovery
In the traditional sense, the shopper's journey often begins with online research. Consumers discover new products and services through digital touchpoints such as search engines, social media platforms, and e-commerce sites.
By optimizing their online presence and employing search engine optimization (SEO) techniques, businesses ensure visibility during this phase, making it easier for potential customers to find relevant information about products and services.
Online Marketplaces
Let's take Amazon as an example here. About 50% of the shoppers start their product search on Amazon.
The retail giant offers several ways for brands to build awareness. Some of the ways include:
Sponsored Display audience campaign
Sponsored Display contextual targeting campaign
Custom creative in Sponsored Display campaigns
Sponsored Brand video format ad campaign
Sponsored Brand campaign with a product collection
Similarly, online marketplaces such as Walmart, Kohl's, and others serve as awareness points for customers. Moreover, the way shoppers search for products on each of these platforms differs.
Social Media
Interestingly, social media influence is strongest among young consumers but affects all ages. The influence is most commonly experienced in the following categories:
Jewelry
Accessories
Fitness/sports
Cosmetics
About 57% of Gen Z have done product discovery through social media. Almost half of Gen Z consumers prefer to discover new products via Instagram stories.
Search Engine Ads
Search engine advertising is a strategy that helps brands increase the click-through rate.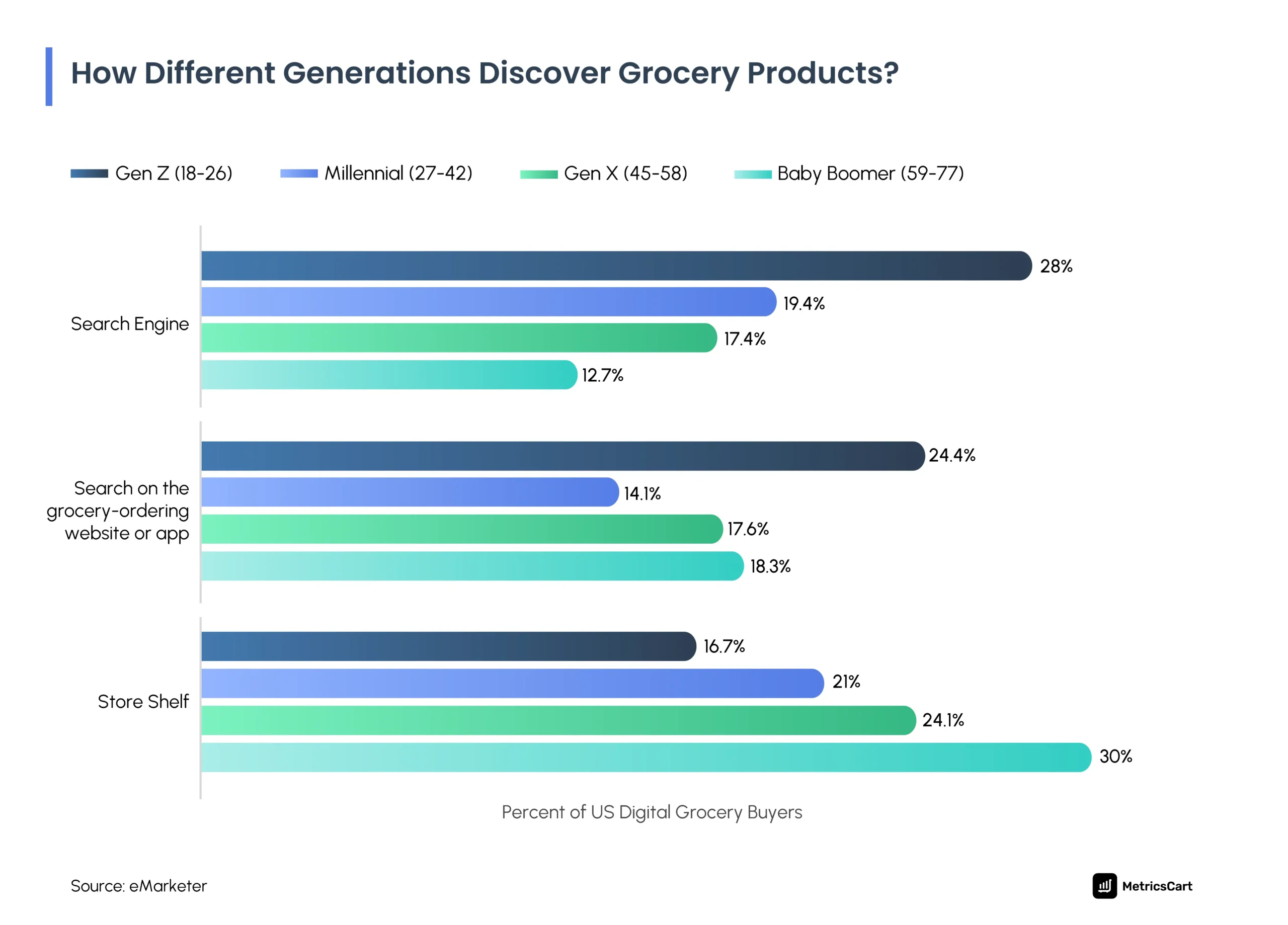 For instance, among different generations, Gen Z discovers grocery products through search engines the most. While baby boomers find them on store shelves.
Consideration Through Interactive Product Exploration
In consideration, the customers evaluate options based on in-depth product exploration and comparison of factors as discussed below.
Product Detail Pages on Marketplace Listings
Creating an e-commerce product detail page needs brands to think more of it as a guideline than a blueprint to customize. The product page requirements differ across online marketplaces.
When purchasing an item online, 87% of customers consider product content the most important factor since they cannot feel, touch, or smell it. Additionally, brand pages let shoppers explore the full range of products.
Read more: Why Product Content Monitoring Matters?
Personalized Recommendations
One of the advantages of digital touchpoints is the ability to deliver personalized recommendations.
By analyzing customer data and behavior, retailers suggest products tailored to individual preferences. To guide customers toward products that align with their interests and previous purchases, brands use:
Personalized emails
Product recommendations on websites
Targeted social media advertisements
Blogs
Influencers or thought leadership
Virtual Reality (VR) and Augmented Reality (AR)
VR and AR technologies have transformed the way consumers experience products before making a purchase.
Virtual try-on features for clothing and accessories, virtual home tours for real estate, and interactive product demonstrations provide customers with a more immersive and engaging shopping experience, increasing their confidence in purchasing.
Decision-Making Process of the Shopper
Decision-making is shaped by a multitude of factors ranging from customer support efficiency to the influence of shopper reviews.
Customer Support
When shoppers are in a hurry or only have a quick question for the brand's support team, they don't want to spend long minutes waiting on hold for a rep.
FAQs or quizzes are convenient forms of alternative customer support that certain brands extend to their potential customers to find solutions on their own. For instance, on Warby Parker's site, the shoppers can take the quiz to figure out the glasses of their liking.
Shopper Reviews
According to Global Newswire, 9 out of 10 times consumers read reviews before buying products. For instance, Rubie's Adult Original Inflatable Dinosaur Costume on Amazon has a 4.4 out of 5 rating. The reviews under the product listing with videos and photos show how people find the product.
If a shopper finds the item in a physical store, the online reviews help them make the final buying decision.
Read more: What are the benefits of monitoring ratings and reviews?
Retention of Shoppers
Rewards
A loyalty program is an important touch point to strengthen customer relationships and turn them into lifelong advocates. Incentivizing shoppers with exclusive rewards and discounts makes them more likely to share positive reviews about the brand.
For instance, Target Circle helps shoppers earn 1% every time they make an eligible purchase with a non-RedCard payment, which can be used at Target, in-store, or online. Customers can also get access to exclusive brand deals and discounts.
Subscriptions
Predictable and recurring revenue and a committed customer base are the strengths of a subscription-based business model. In e-commerce, types of subscriptions mostly include:
Replenishment subscriptions
Foodservice subscriptions
Perks subscriptions
Curated subscription boxes
According to the Recharge report on Subscription E-commerce 2023, promoting an easy initial subscription process enhances the retention rate of customers.
For instance, in the pet category on Walmart, Purina Friskies Shred has a subscribe to auto-delivery option. This feature helps customers to skip, cancel, or reschedule orders with ease, anytime.
Digital Shelf Analytics to Ace Digital Influence in Retail
Digital influence in retail and digital shelf analytics are inseparable partners in the modern e-commerce landscape.
By using the analytical power of digital shelf metrics, businesses can influence consumer preferences and ensure a seamless, engaging, and ultimately profitable online shopping journey. Get in touch with MetricsCart to gather digital shelf data that can deliver values specific to your brand's e-commerce requirements.