Did we already lose you? It is tough to gather and retain people's attention as the average attention span of digital consumers is down to 8 seconds today from 11 seconds in 2000.
With an ever-growing e-commerce spending power of 1.03 trillion USD in the US, every second counts in the race to persuade consumers. As such, marketers often need to reach beyond the traditional techniques to offer top-notch product experiences to convert customers.
Product experience management (PXM) is the art of delivering a compelling and consistent product experience at all times. It can prove instrumental to improve your target audience's omnichannel experience and drive sales. This article briefly outlines the key concepts and the role of product experience management in today's digital world.
Product experience management (PXM) is a multidimensional approach that coordinates product information, digital assets, and personalized interactions spanning diverse channels, languages, and touchpoints.
Features of a PXM Solution: Explained with Examples
PXM is not a specific tool or platform, rather it is an experience that surrounds a product. It is a comprehensive approach that enables brands to deliver contextualized product information based on the needs, channels, and locations of consumers. This data is managed within a Product Information Management (PIM) system.
According to Gartner, PXM is an extension of PIM systems in one or more of the following features:
Contextualization
Personalization
Product content analytics
Automation and optimization
Contextualization
Contextualization is when brands tailor the customer experience or product information based on where they may find the customers. Brands take factors such as user demographics, cultural influences, physical settings, and other specific use cases into consideration. Contextual commerce also requires an understanding of the customer's lifecycle phase, engagement, and interactions with other channels.
The partnership between Hilton and Uber serves as the perfect example of brands trying to use contextual data in optimizing customers' travel experiences. Hilton guests around the world can automate notifications on Uber which serve as 'Ride Reminders'. This feature reminds customers to request Uber rides to and from the hotel. Additionally, HHonors members have access to the top trending restaurants and nightlife spots that are designated as the most frequented destinations with Uber riders.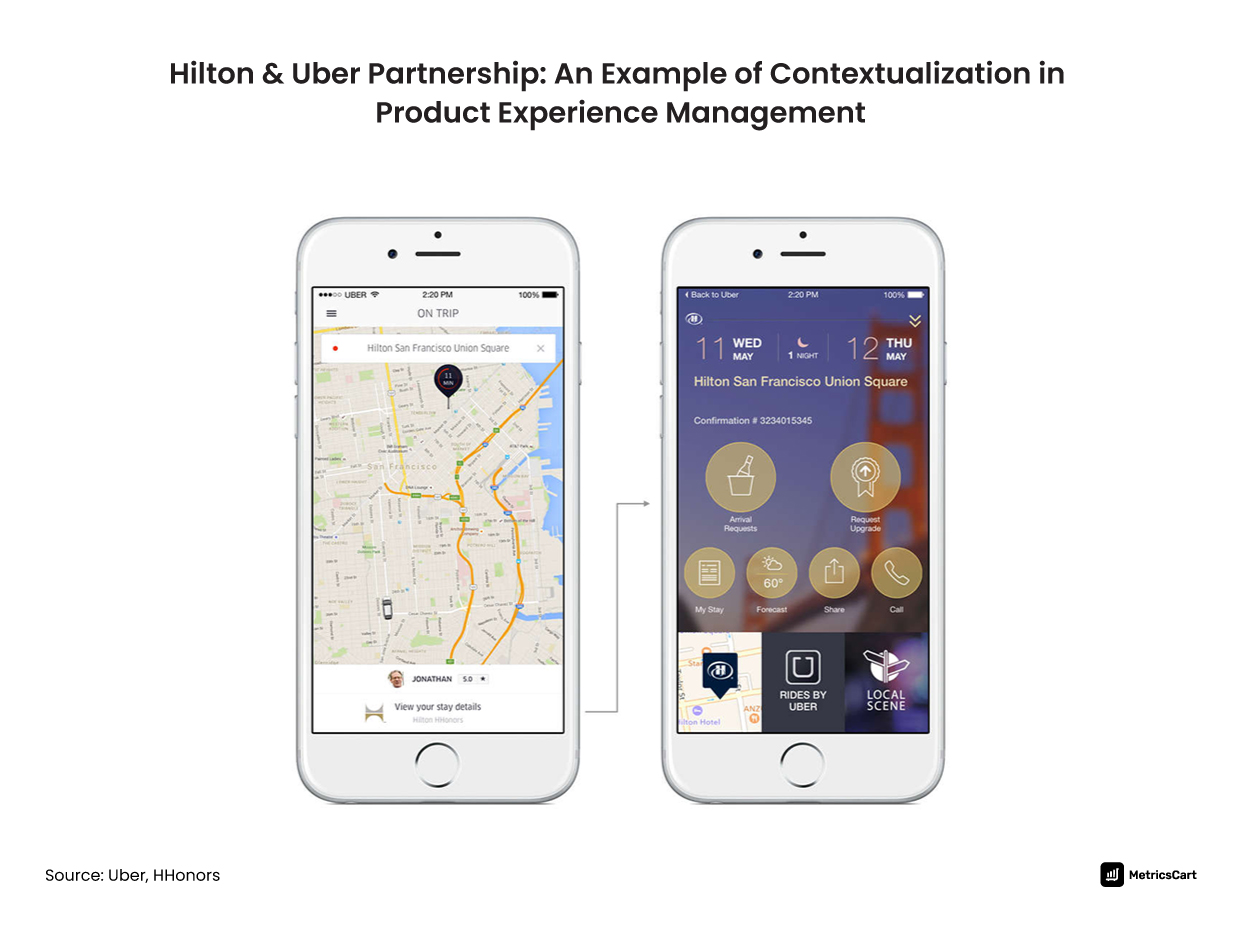 Personalization
This technique emerged as a game-changer in product experience management with 71% of consumers now expecting brands to deliver personalized interactions. Personalization occurs when brands tailor the customer experience or product information based on customer preferences, in addition to contextual information. This requires deep insights into individual needs, characteristics, past behaviors, etc. to create meaningful experiences.
Stitch Fix, one of America's most popular fashion companies collects and analyzes data on customers' styles and preferences through an extensive questionnaire. Customers are required to fill in their answers right after they sign up. Once Stitch Fix has all the information, it is then fed into styling algorithms and recommendation engines that help pick items based on customer preferences. These options are then verified by a human stylist before they are sent to the customer.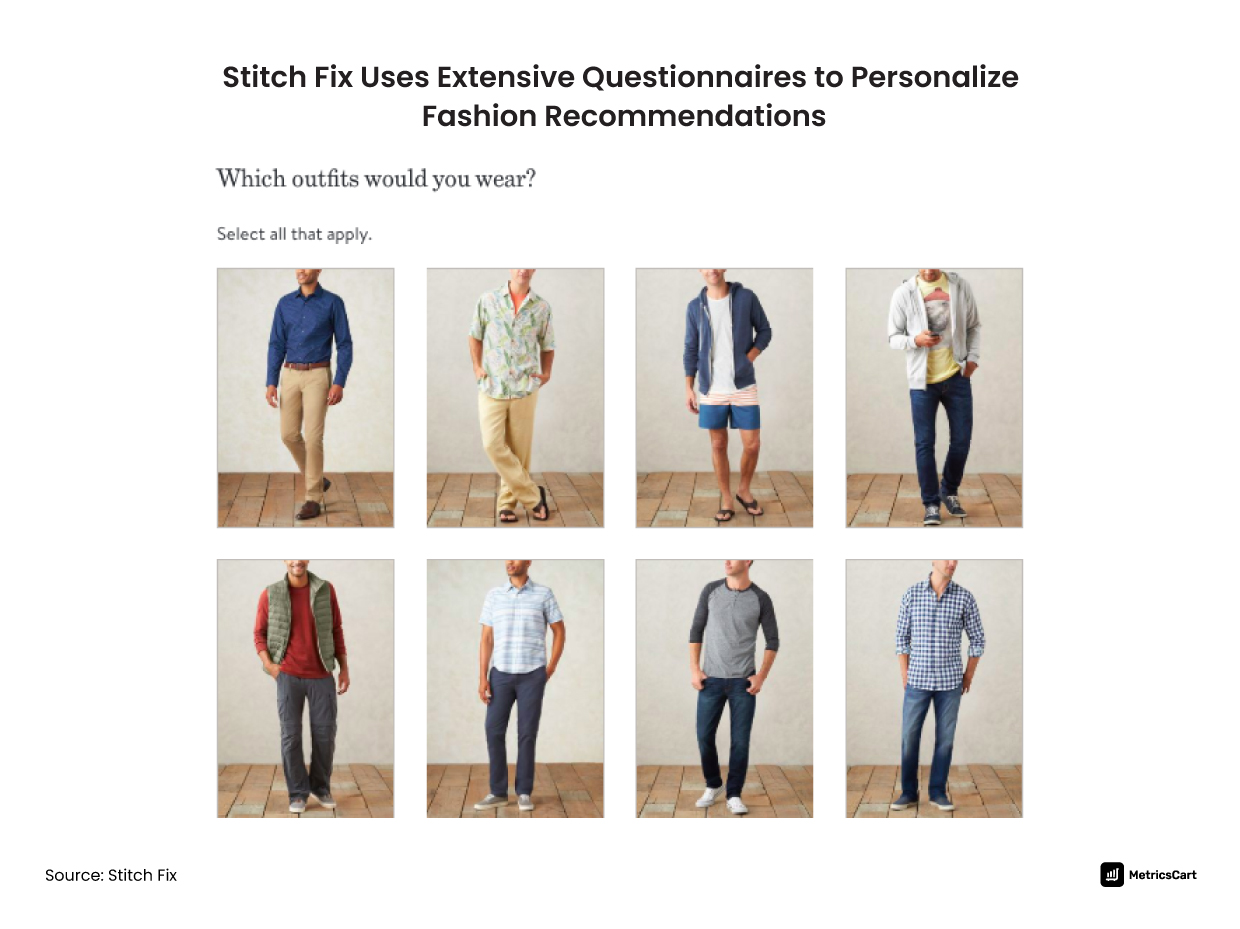 Product content analytics
Product content analytics provide deep insights into user behavior and summarizes user interactions. These insights can help understand how customers are resonating with product content, its performance and the overall product content experience. Product content includes all types of information like images, videos, user reviews, specifications, etc.
Etsy, one of America's most popular e-commerce sites known for selling unique, handmade products uses data analytics to drive impact and sales. "Data analysis is everywhere at Etsy; it's not the domain of any single group.", says Thomas, a senior manager at Etsy. He adds that they monitor and analyze product listings, engagement metrics, customer feedback, conversion rates, and much more as part of their daily site improvement efforts and understand the product roadmap better.
Automation and optimization
This refers to the use of algorithms and computational techniques to extract data patterns, analyze large amounts of data, and make predictions. Amazon, the world's biggest e-commerce company uses ML and AI algorithms to improve product experience management. These sophisticated algorithms have backed features like 'Customers who bought this item also bought', and Alexa's voice-powered shopping. Further, they also help streamline inventory management, automate product recommendations, personalize marketing campaigns, etc.
Read more: Decoding Customer Buying Behavior on Amazon in the US
Cornerstones of Product Experience Management
Product experience management facilitates sophisticated features with the help of four technical foundations:
Digital asset management
Product information system
Product content syndication system
Content management system.
Digital asset management solutions (DAM)
A DAM software organizes all your digital assets such as images, videos and documents in a centralized location. From metadata to graphics, everything can be stored and accessed by your team members, clients and other stakeholders. DAM is an important component of product experience management because it enables businesses to create rich, engaging product experiences by incorporating high-quality visual and multimedia content.
Product information management system (PIM)
A PIM software is the foundation of product experience management and is responsible for managing raw product data that contains all the essential information about your offerings. Product information management systems are used to collect, store and standardize product information. They basically act as a central repository of data. This data can be distributed to e-commerce websites, print catalogs and also used for multichannel marketing.
Product content syndication system (PCS)
A PCS software helps tweak and prepare raw data held in the PIM. PCS solutions are especially helpful for marketers as this internal data can be converted into customer insights. These insights further eases the process of structuring, optimizing and distributing product feeds to target customers.
Content Management System (CMS)
CMS helps manage and publish digital content, such as web pages, blog posts, and marketing materials. A CMS supports product experience and acts as an essential component of PXM.
8 Reasons Why Product Experience Management Matters
Taking a leaf out of Forrester's report on Top Technology Trends, "A great digital experience is no longer a nice-to-have; it's a make-or-break point for your business as we more fully enter the digital age."
Here are the top reasons why brands are considering product experience management today:
To create a single view of complete and accurate product information across all customer touchpoints
To enhance omnichannel customer experience and increase the effectiveness of digital marketing campaigns
To make meaningful and relevant product recommendations
To easily put together product bundles for promotional purposes
To optimize product cross-selling and upselling
To track and measure product performance, customer buying behavior, and other metrics
To enable personalized interactions across all channels and continuously drive performance on the digital shelf
To better manage supplier information
Read more: Product Experience Management Explained With Case Studies
Digital Shelf Analytics Solutions for Competitive Edge
Effective product experience management requires a balance between delivering personalized product recommendation insights, integrating with other systems, and crafting complete product experiences. This process ensures that shoppers see the information at the moment it matters most, i.e., at the time of purchase.
That said, winning the competition on the digital shelf requires the know-how and the right solutions like MetricsCart. MetricsCart helps to automate data collection, content compliance, MAP monitoring, and much more with a single tap! You can get all the digital shelf insights delivered straight to your inbox. What's more? Our monthly bestseller Amazon reports provide free access to best-ranked brands and categories.
Get in touch with us to make PXM work for you.