A broad selection of products. Super convenient delivery options. One-stop shop for all your needs. Amazon never ceases to obsess over its customers!
In late 1994, the retail giant started out as an online bookstore. After a three-decade run, it now sells more than 12 million products on the platform.
Amazon's success can be attributed to its customer-centric philosophy. It has more than 300 million active shoppers. But what is it that makes these shoppers choose Amazon again and again? What are they thinking when they shop? How do their preferences shift when they explore Amazon?
We have got you covered! In this article, we examine in detail the customer buying behavior on Amazon in the US.
Type of Consumers Who Shop Most on Amazon
From impulse buyers to need-based shoppers, Amazon has something for everyone.
Amazon's Prime customers make up a large portion of its customers. Priced at $139 annually, there are 76.6 million Amazon shoppers with Prime memberships as of 2022.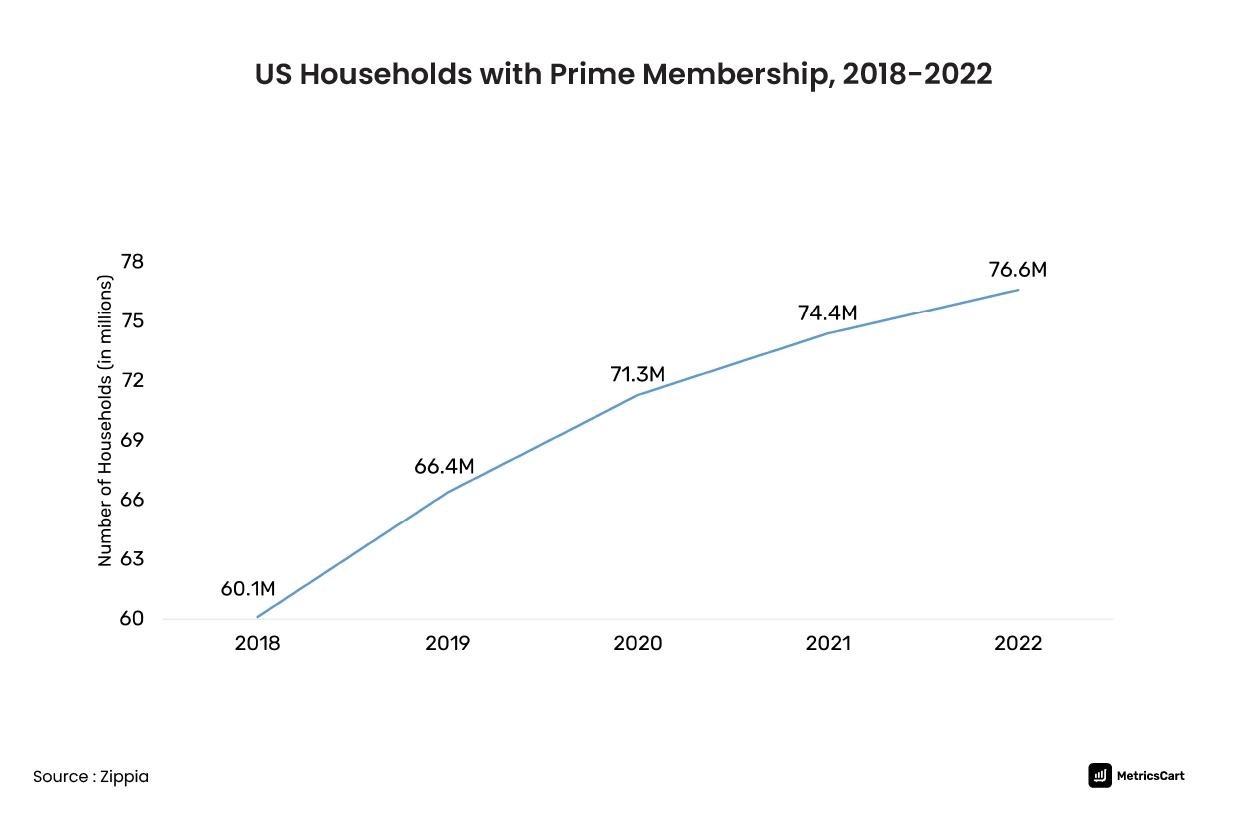 Early access to lightning deals, photo storage options, and 1-day delivery are a few of the many benefits that come with being a Prime member.
Men shop more frequently than women on Amazon.
About 74% of the 150k+ income groups make annual purchases on Amazon.
Lastly, older millennials prefer Amazon for shopping as they were 16-year-olds when Amazon started, making it their preferred online destination.
A Comprehensive Look at the US Customer Buying Behavior on Amazon
Grasping the intricacies of consumer psychology is paramount for brands to thrive in Amazon's competitive landscape. It empowers them to tailor their marketing strategies, work on customer-centricity and ultimately boost their chances of sales conversion.
Let's look at some of the common customer buying behavior on Amazon:
Customers Use Mental Shortcuts While Shopping Online
Using mental shortcuts while shopping is called the availability heuristic. Consumers tend to rely on the immediate examples that come to their minds when making a purchase decision. They even mistakenly assume these memories as representative samples of their reality.
For instance, Brady is searching for liquid laundry detergent on the Amazon mobile app. Without a second thought, she chooses Tide.
The brand being a household name, Brady developed a cognitive bias toward Tide. It became the go-to brand every time she needed a detergent refill.
Read more: Frequently Asked Questions on Amazon Buy Box
Customers Are Attracted to Amazon's Level of Hyper-Personalization
Ever wondered why is it so easy to shop on Amazon? The reason behind making shopping frictionless goes beyond great product assortment.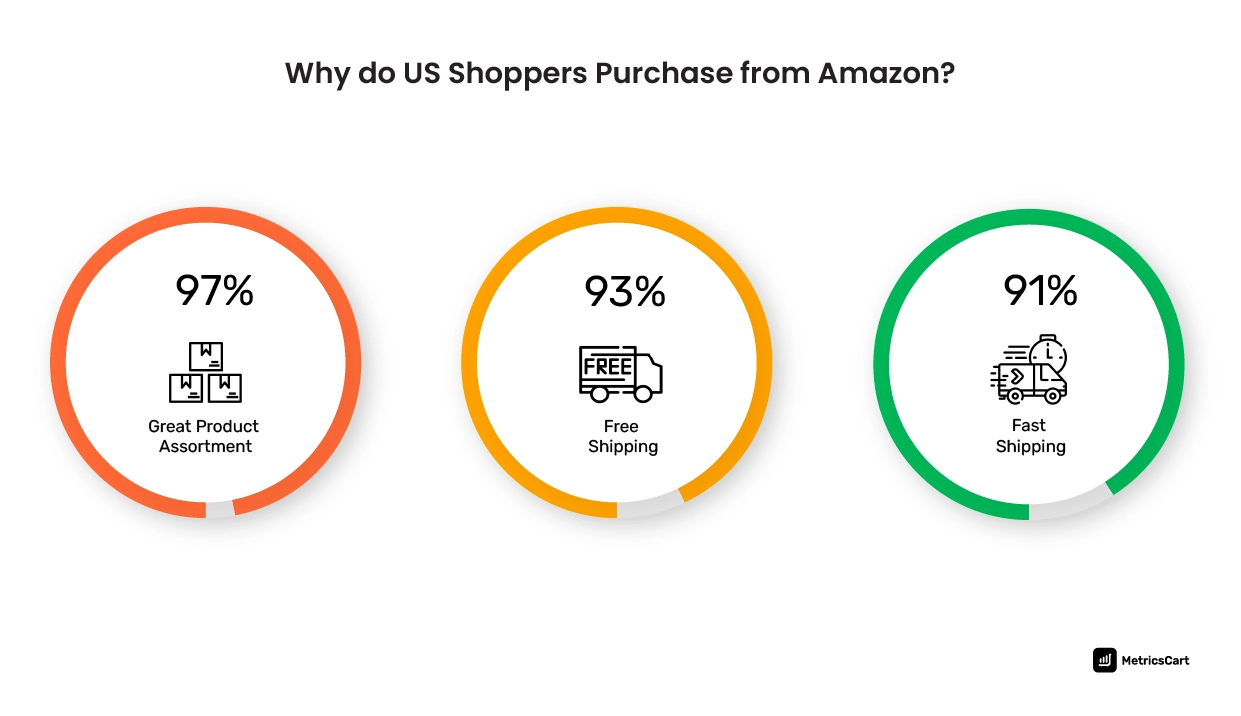 Amazon uses neuromarketing tactics to make shopping ultra-convenient. In simple terms, neuromarketing means cracking the consumer code of preferences, motivations, and decision-making to twin it with ad placements, pricing, and other incentive areas. These tactics manipulate what shoppers actually came to shop for and make them shop more.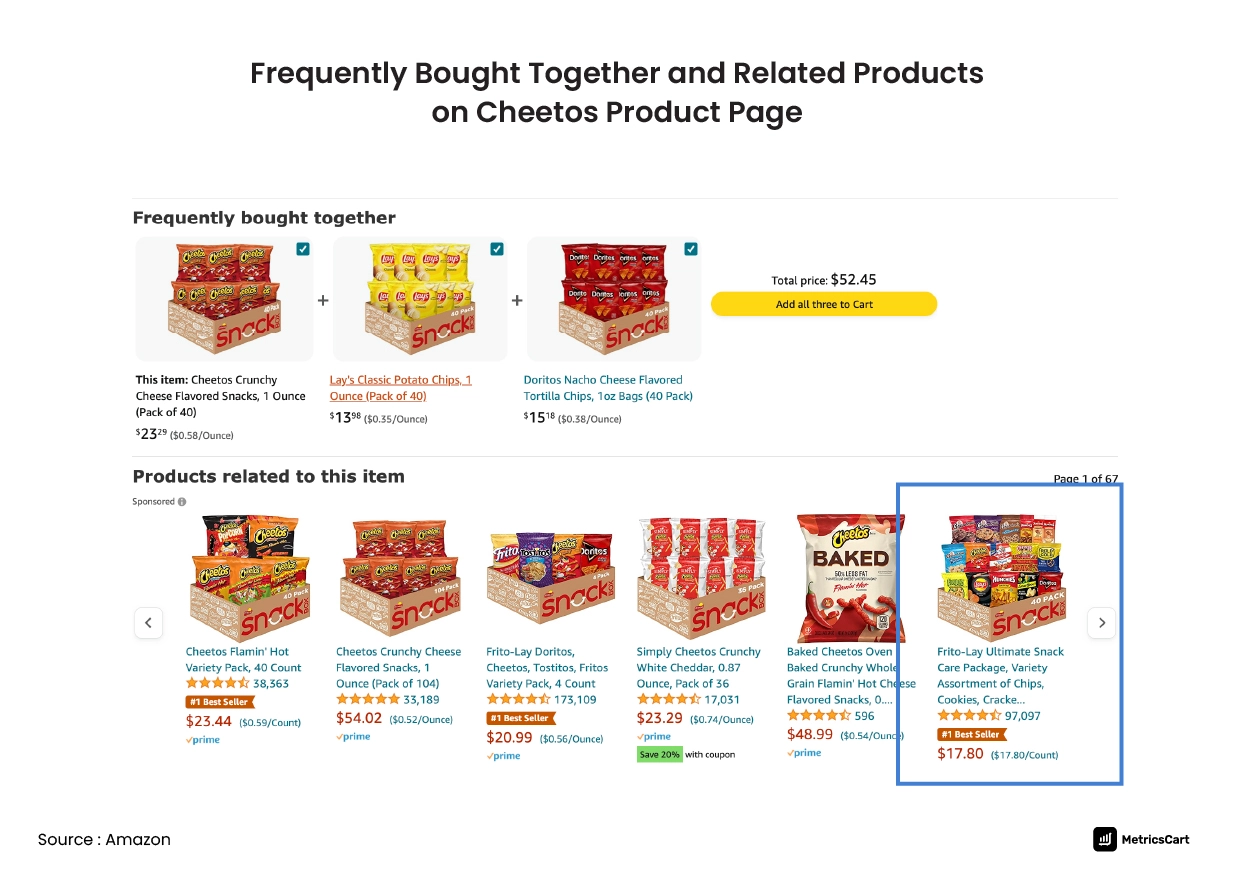 For instance, Tom decides to shop for Cheetos (Pack of 40 priced at $23) for a house party. But when Tom explores the frequently bought-together mixes and the related products while on the product page, his attention is diverted to more options. He changes his decision to buy the Frito Lay Ultimate Care Package (Pack of 40 priced at $17) which has an assortment of cookies, crackers, and chips. This will also help him host his guests with more options.
Read more: Overcoming Product Assortment Challenges in E-commerce
Additionally, color psychology, careful curation of ads on the home page, and personalized product recommendations are all forms of neuromarketing tactics that attract different types of online shoppers.
Read more: Product Experience Management Explained With Case Studies
Shoppers Enjoy the Convenience Amazon Offers.
Did you know that half of the US population starts their product search on Amazon? Yes, it's true! Consumers feel more comfortable purchasing from a trusted platform with a reputation for reliable shipping, secure payment processing, and 24/7 customer support.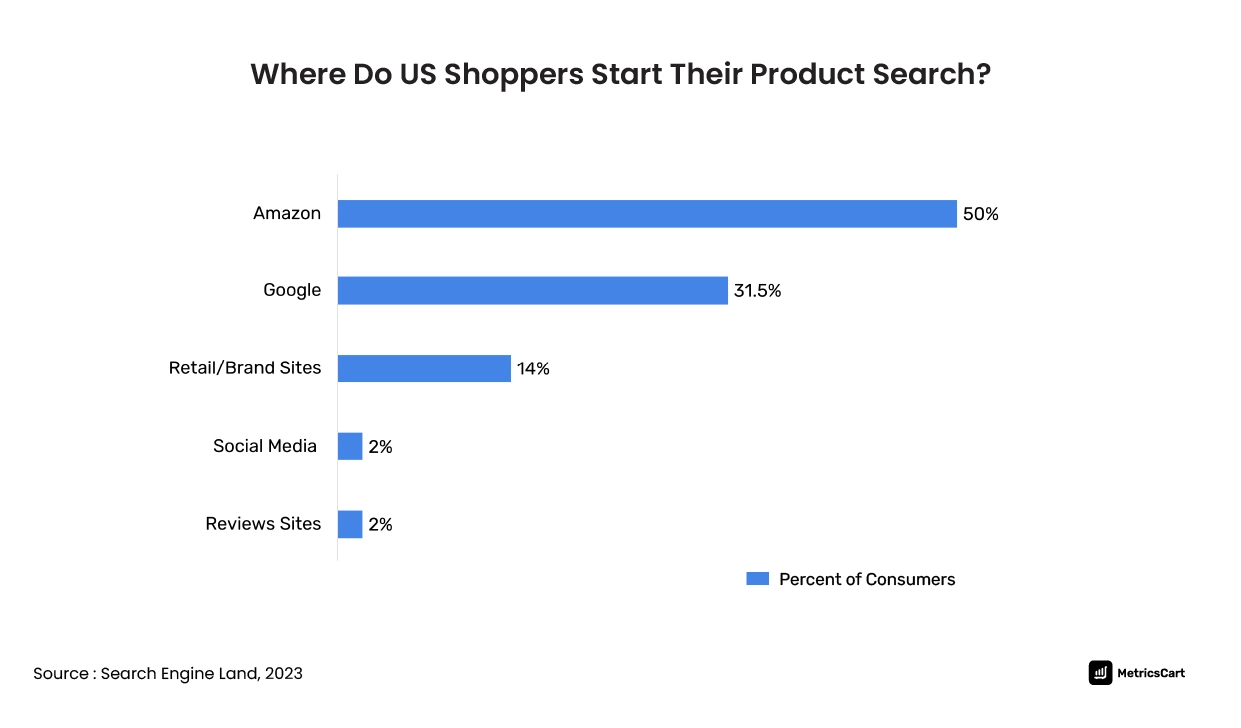 A 2022 report from Feedvisor shows how clothing, shoes, and jewelry top the list in the categories consumers search.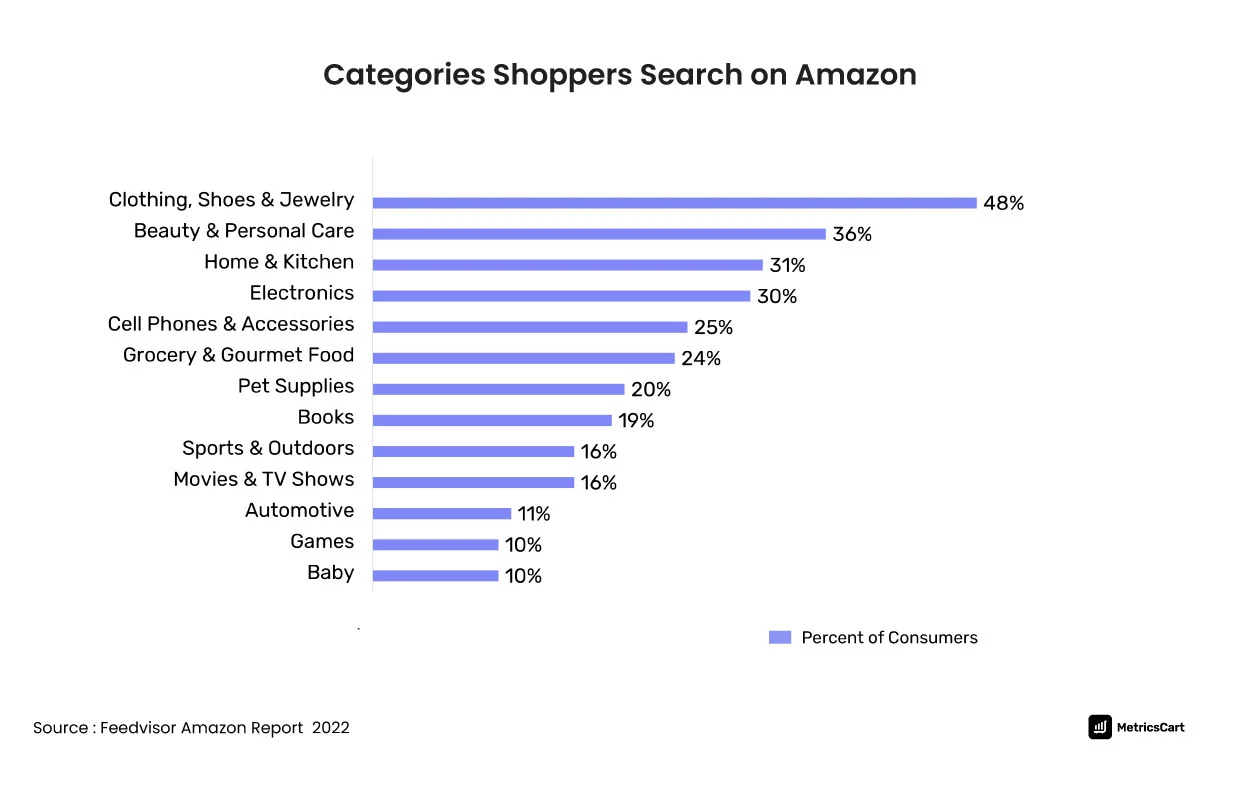 With Amazon's Prime-exclusive programs, like "Try Before You Buy" for clothing, shoes, and accessories, the shopping experience becomes even more convenient. Imagine being able to try out items for a whole 7-day free trial window before making a decision.
Read more: Everything You Need To Know About Share of Search
Shoppers Look for Social Proof Before Making a Purchase
Social proof in the form of ratings and reviews helps shoppers gain confidence in a brand's product. This is evident in how 94% of US consumers head to Amazon to read reviews before purchasing. The images and videos within reviews help consumers get a realistic view of product features and help them explore new products.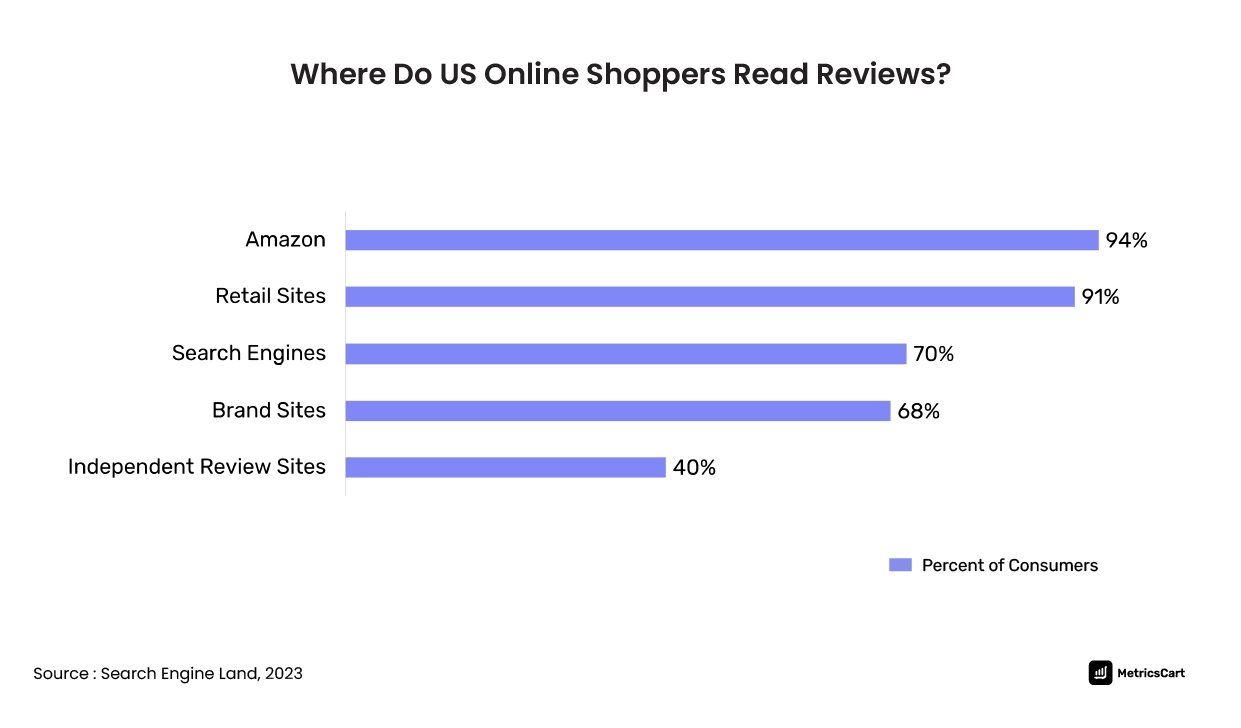 Moreover, ratings and reviews help shoppers in the product research, and in the process, understand the competitive advantage of the product. They also look for negative reviews to identify any potential issues with the product. Middle and low-income consumers keenly read product pages and reviews before they make an Amazon purchase.
From Amazon's point of view, ratings are strategically placed on the top below the product title. By hovering over the ratings, the shopper gets to view the percentage breakdown of 1-5 star ratings.
Lately, Amazon prioritizes recently received reviews over upvoted reviews. This means continued customer satisfaction becomes inevitable for brands. Investing in a solid rating and review monitoring solution for the digital shelf may help brands uncover customer perceptions with sentiment analysis, rebuild underperforming products, and much more.
Read more: Benefits of Tracking Online Ratings and Reviews
Shoppers Act Sooner When a Scarcity Impression Is Created Within Item Quantity
In her search to find the perfect evening dress on Amazon in size Large, Anna finds only 4 are left in stock.
Now this is a time-sensitive requirement for Anna. She has to shop right away or the item may run out of stock. When Only '4 left in stock' is displayed along with the fastest shipping options, it tricks the shopper to take action.
When retailers display scarcity in the number of items, it pushes shoppers to make quick purchases. Such information works best for certain categories such as perishables and limited editions. Research says that when such messaging is present for kitchenware or household products, it gives shoppers an impression of low quality.
Read more: What are Digitally Influenced Sales in the US?
Consumers Are Price-Sensitive in the Current Economic Times
Consumer buying behavior on Amazon takes multiple shifts during inflationary periods. To adapt to inflationary prices, consumers become cost-conscious. Some of the common changes in buying behavior include:
Switching to private label brands
Delaying purchases
Buying in small quantities
Opting more for 'Buy Now Pay Later'
Stocking up on items anticipating a price rise
Paying more attention to product pricing
Looking for discounts
In 2022, the No.1 reason why consumers chose a different product was due to better pricing. On Amazon, shoppers noticed a 55% price increase in the Beauty and Personal Care category in 2022. Fragrance, skincare, and shaving were the three most-impacted categories within beauty that saw a hike in price.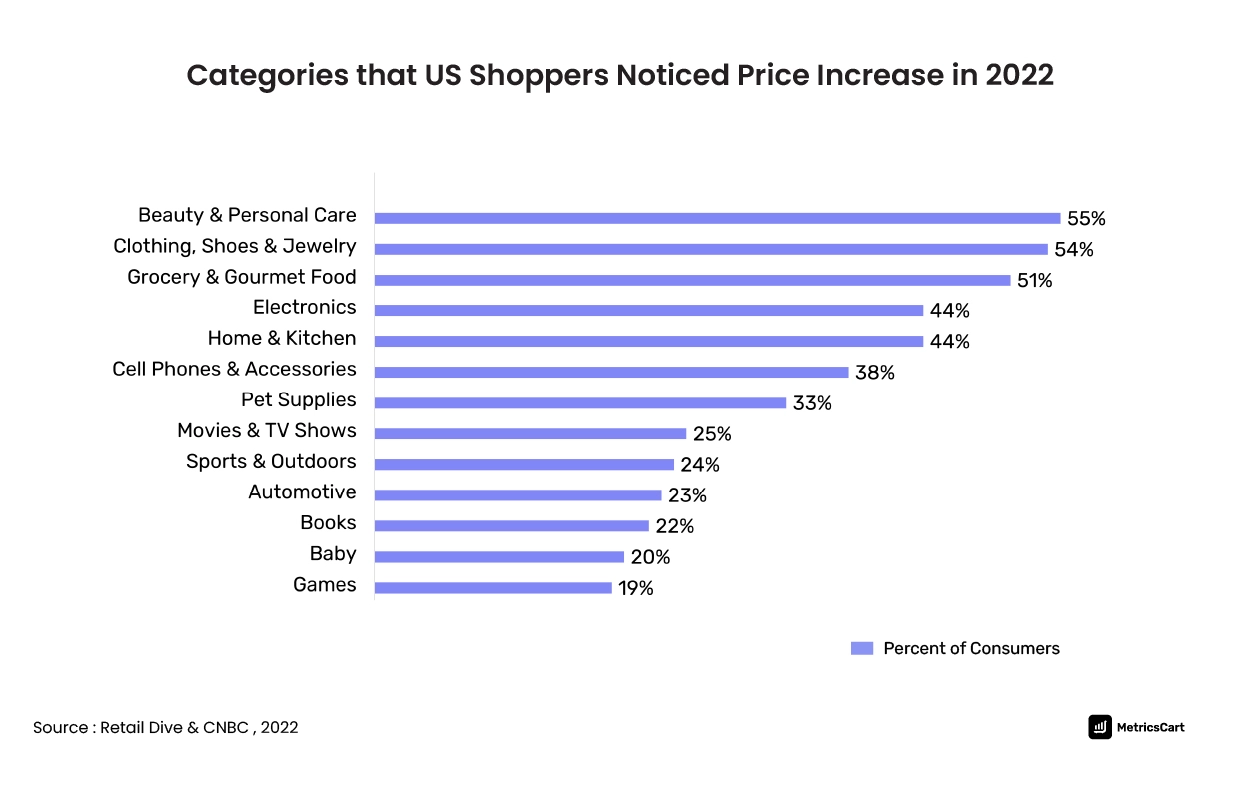 Moreover, an April 2023 report from PYMNTS shows that over 60% of the US population lives paycheck to paycheck due to the high cost of living. This means when brands sell their products on online marketplaces like Amazon, they need to take into account the spending power of the target shoppers.
Read more: Price Monitoring Solution For Brand Competitiveness
Discounts Tempt Shoppers to Shop More on Amazon
Lightning Deals! Countdown timers! Save up to 50%! Buy 1 Get 1 Free!
Some of the common promotion psychology of customers include:
One-time, limited, and seasonal deals create a sense of urgency and fear of missing out
BOGO (Buy One Get One) is perceived as receiving gifts
Knowing the reasons for discounting. For instance: a new store opening
Seeing what the actual price of the item was before discounting
Moreover, different generations perceive coupons, discounts, and deals based on their individual spending power and needs. 21-year-old Laura (a University student) may actively look for a discount on her PlayStation 5 purchase. On the other hand, 32-year-old Jonathan (a Software Engineer in the 150k+ income group) might opt for his credit card discounts.
For brands, being able to optimize trade promotions using data insights based on demographics, category, and seasonal demand becomes critical.
Customers Consciously Support Brands With a Moral Compass
Consumers are now actively choosing long-term sustainability over short-term gains. One significant move in customer buying behavior is by supporting brands with a moral compass. A 2023 GWI report shows that 39% of US consumers aim to be socially responsible.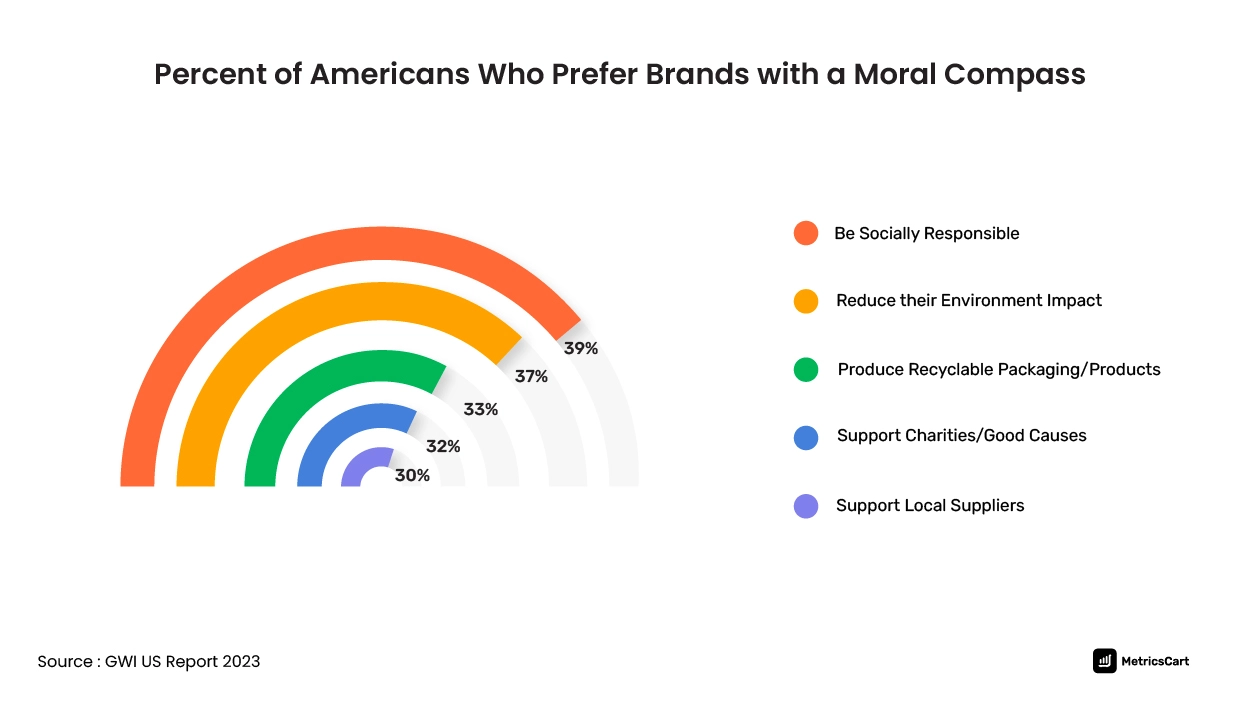 Some of the consumer preferences toward sustainability include:
Choosing products with Climate Pledge Friendly badges
Shopping on Amazon Renewed for refurbished and open-box products
Shopping on Amazon Launchpad
Shopping for brands with sustainable packaging
Reading product pages for sustainability and eco-conscious claims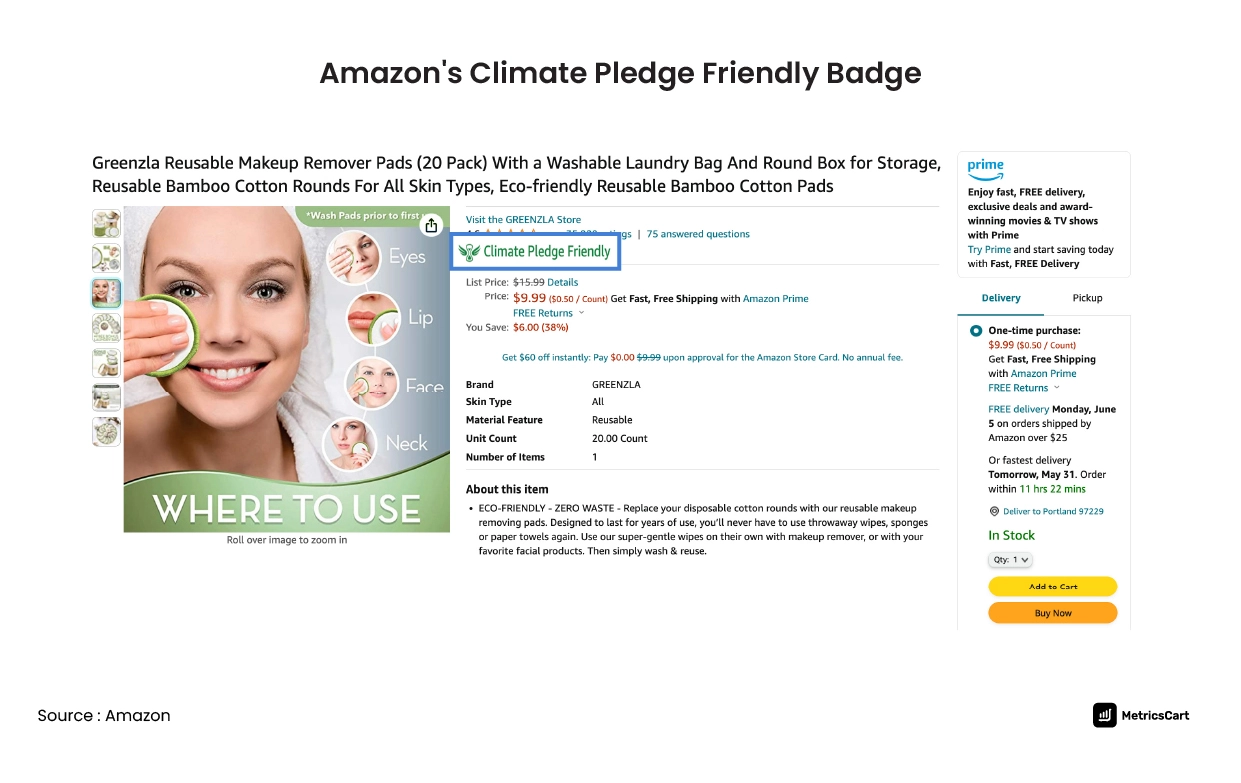 Amazon is on a mission to become Earth's most customer-centric company. The retail giant intends to empower its customers through clean energy transitions. On the digital shelves, comprehensive product descriptions are one of the ways brands work toward creating such a mental imprint in the customer's mind.
In a nutshell, it is important to understand that though Amazon uses various psychological tactics to keep shoppers hooked, the impact can vary depending on individual choices, cultural differences, and other contextual reasons.
Amp up Your Digital Shelf Metrics for Informed Decision Making
For every online customer need to be met, a Digital Shelf Analytics provider can assist brands with accurate data-fueled insights. MetricsCart's digital shelf solutions in the area of share of search, content, reviews, inventory, and others can help you save time on manual team efforts by automated monitoring.
Our Amazon bestseller reports also help you look at monthly data of top-performing brands, category ranks, and more. The data is provided for free with no registration screens asking for your email.
So what are you waiting for? Get started on receiving actionable insights for any e-commerce platform.