Humans digitally capture every experience with their phones. Todd Kaplan, Chief Marketing Officer at Pepsi, calls this observation "a rich human insight in itself that experiences are becoming increasingly "phygital" — blurring the lines between the physical and digital worlds in which we live."
This is true for brands and retailers alike. To achieve e-commerce profitability, CPGs (Consumer Packaged Goods) must keep up with ever-evolving shopper trends. To do so, the brands need access to real-time data visibility. A reliable digital shelf solution can provide insights to propel CPG growth on e-commerce channels to new heights.
Through this article, we explore how new and existing CPG brands in the US are using their digital capabilities to level up on the digital shelf.
E-Commerce Sales for CPGs in the US
2022 was a phenomenal year for US e-commerce as it crossed the 1 trillion mark for the first time. Grocery, baby, and pet categories hit $219 million in sales. For the consumer goods industry, e-commerce sales experienced a dip from 25.3% to 16% in the 4 weeks ending November 27.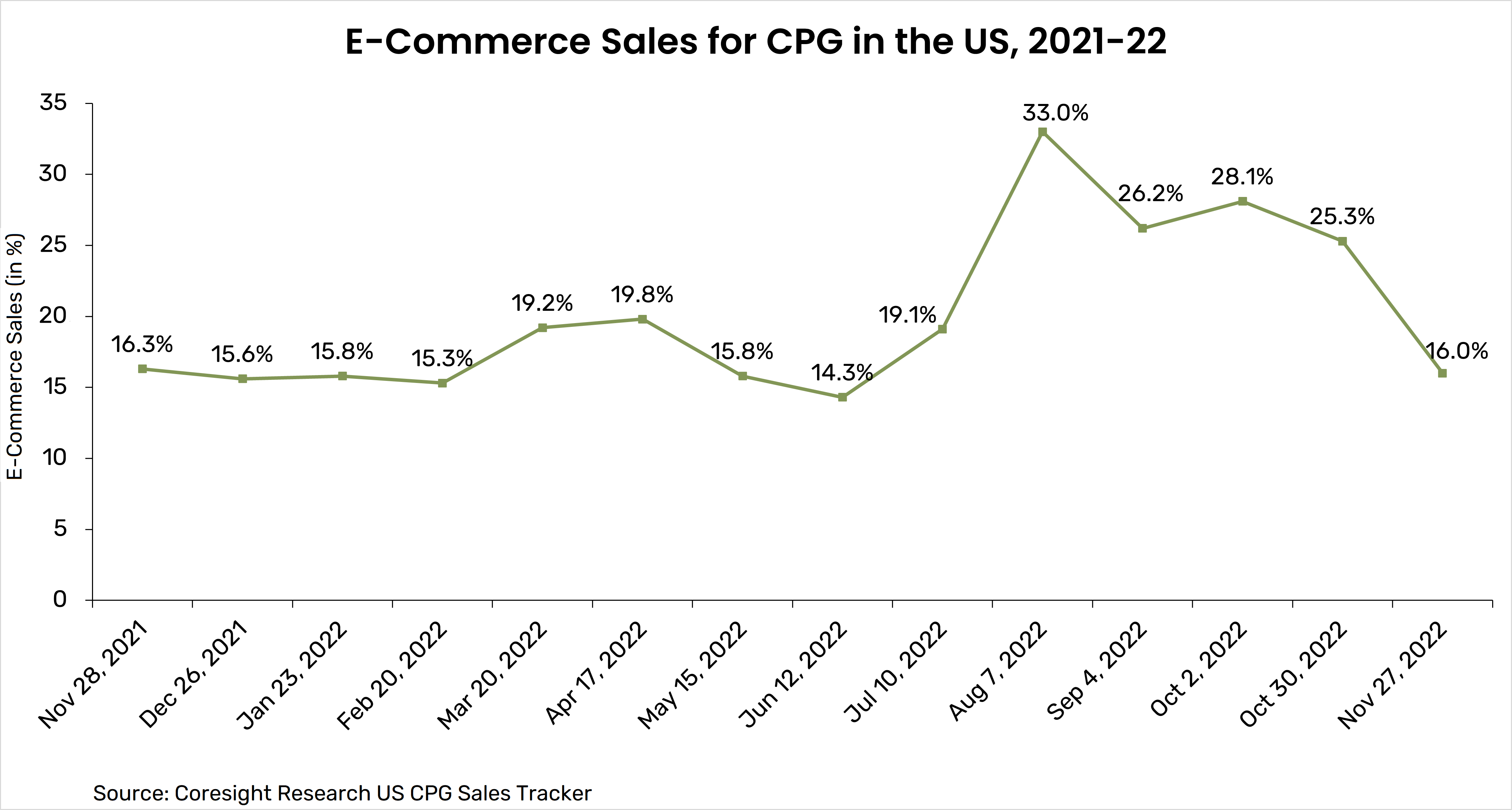 Under the food and beverage department, e-commerce sales recorded $6.7 billion in 2022. In the refrigerated category, cream cheese, butter blends, desserts, and whipped toppings sold the fastest.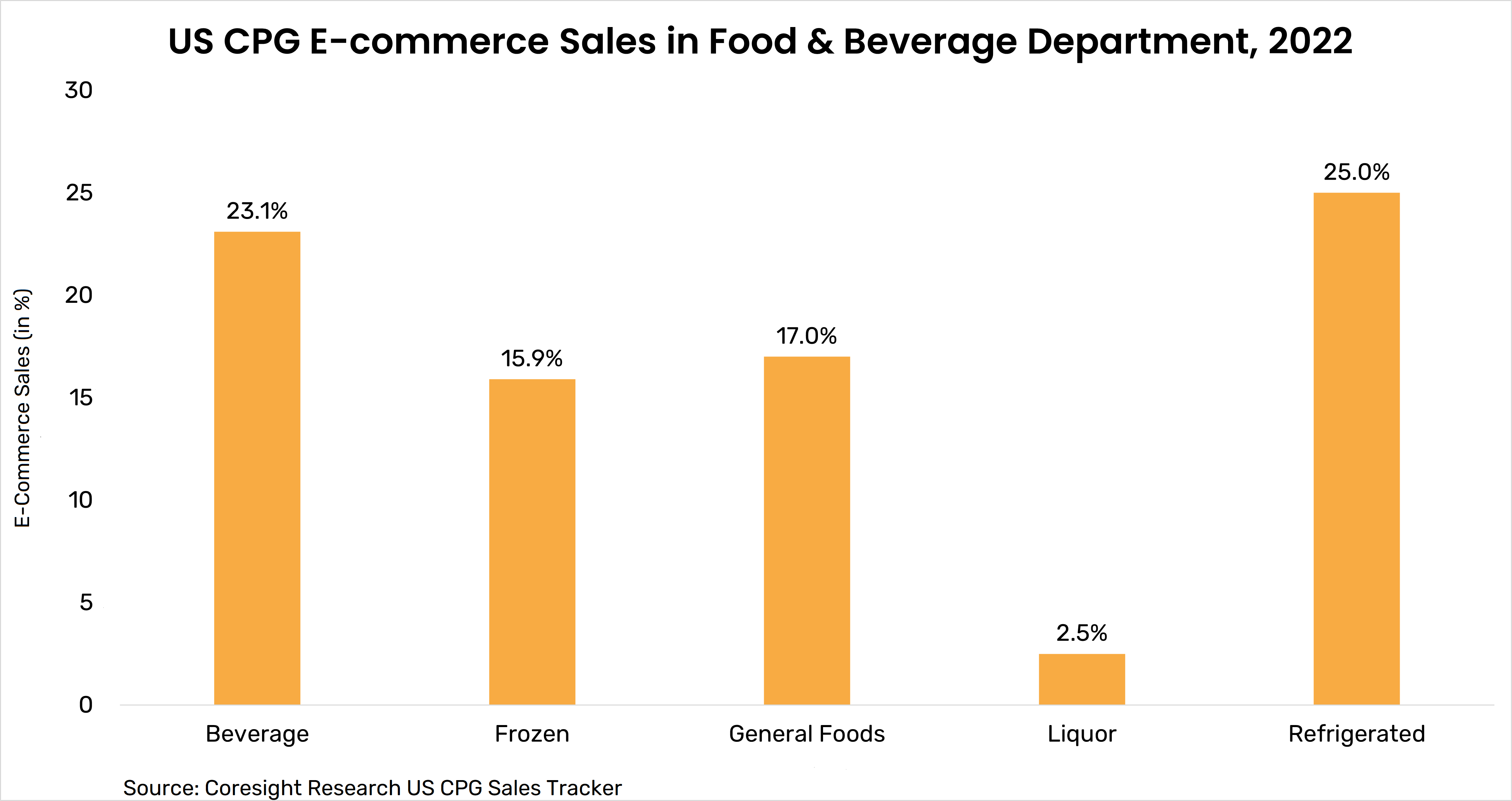 About 40% of the online growth in the general merchandise category under the nonfood department came from pet treats. Flashlights and light bulbs are the other two hot-selling items in the general category.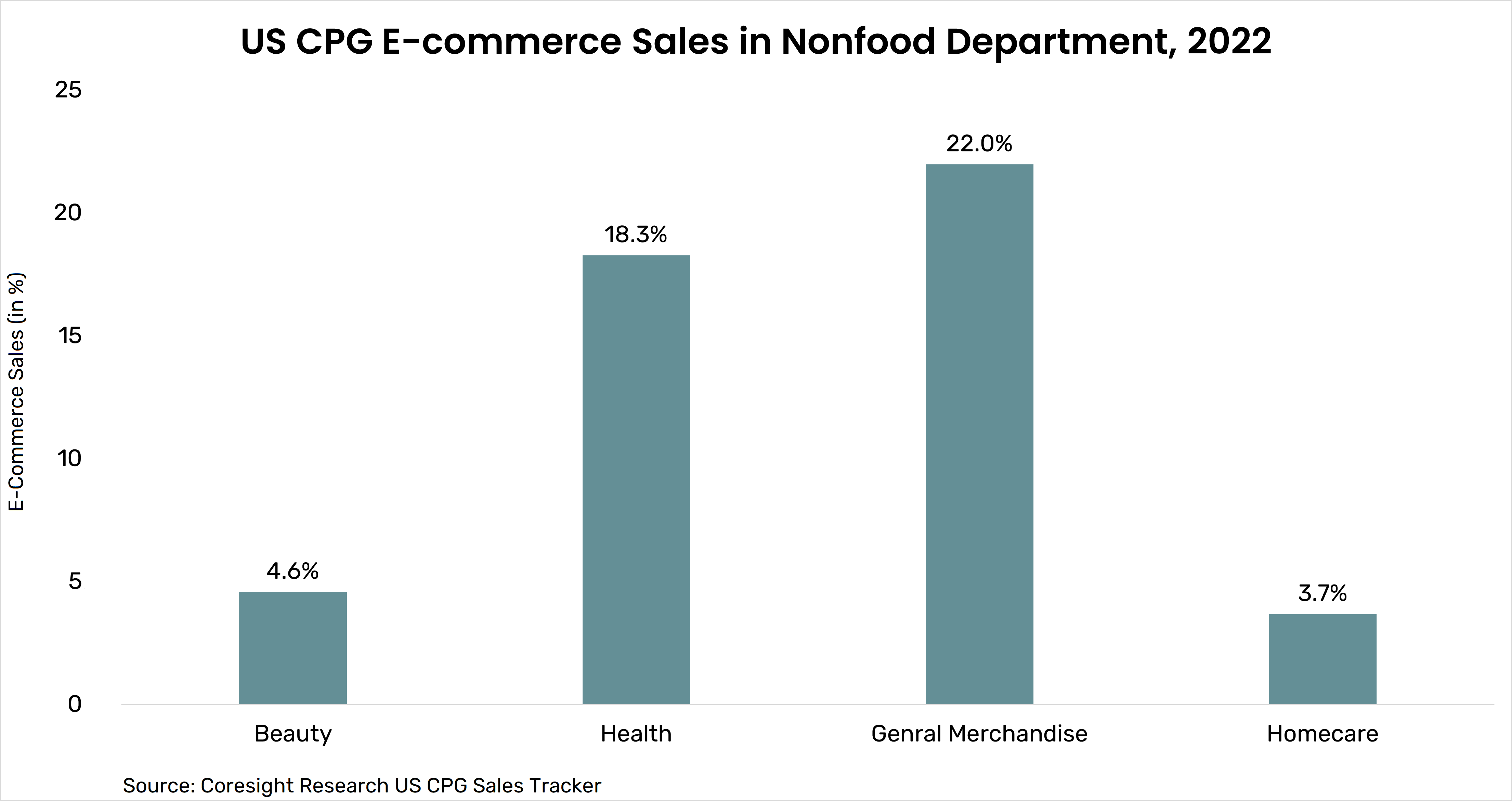 Foot care products, razors, and deodorants had flat to no demand in the e-commerce channels. To create more demand, one of the strategies used is bundling products of different sizes and purposes
Harry's, an American online brand, sells men's grooming products. The brand is known for its subscription service where shoppers receive bundles of razor blades, shaving cream, and other grooming products.
Major CPG Players on the Digital Shelf
According to the Digital Shelf for CPG Brands 2022 report, the right e-commerce channel is crucial to driving long-term market share.
Amazon tops as the starting point for online shopping amongst consumers. The e-commerce giant is often the first channel for every CPG brand seller.
Walmart has a competitive advantage over Amazon in the grocery e-commerce market share.
Instacart has more than 700 million product listings and delivers from more than 80000 stores.
Kroger, the nation's largest grocery chain, is a major digital shelf opportunity for food and beverage CPG brands.
Walgreens and CVS have a large digital audience for the drugstore category.
E-commerce Challenges for CPG Brands
From a macro perspective, inflationary pressures and COVID-triggered supply chain disruptions still persist. Deloitte's 2023 Consumer Product Industry Outlook survey states seven in 10 CPG executives feel that their job is more stressful now than ever before. However, we need to closely examine certain challenges that are specific to CPG brands.
Private label consumption among cost-conscious consumers is on the rise.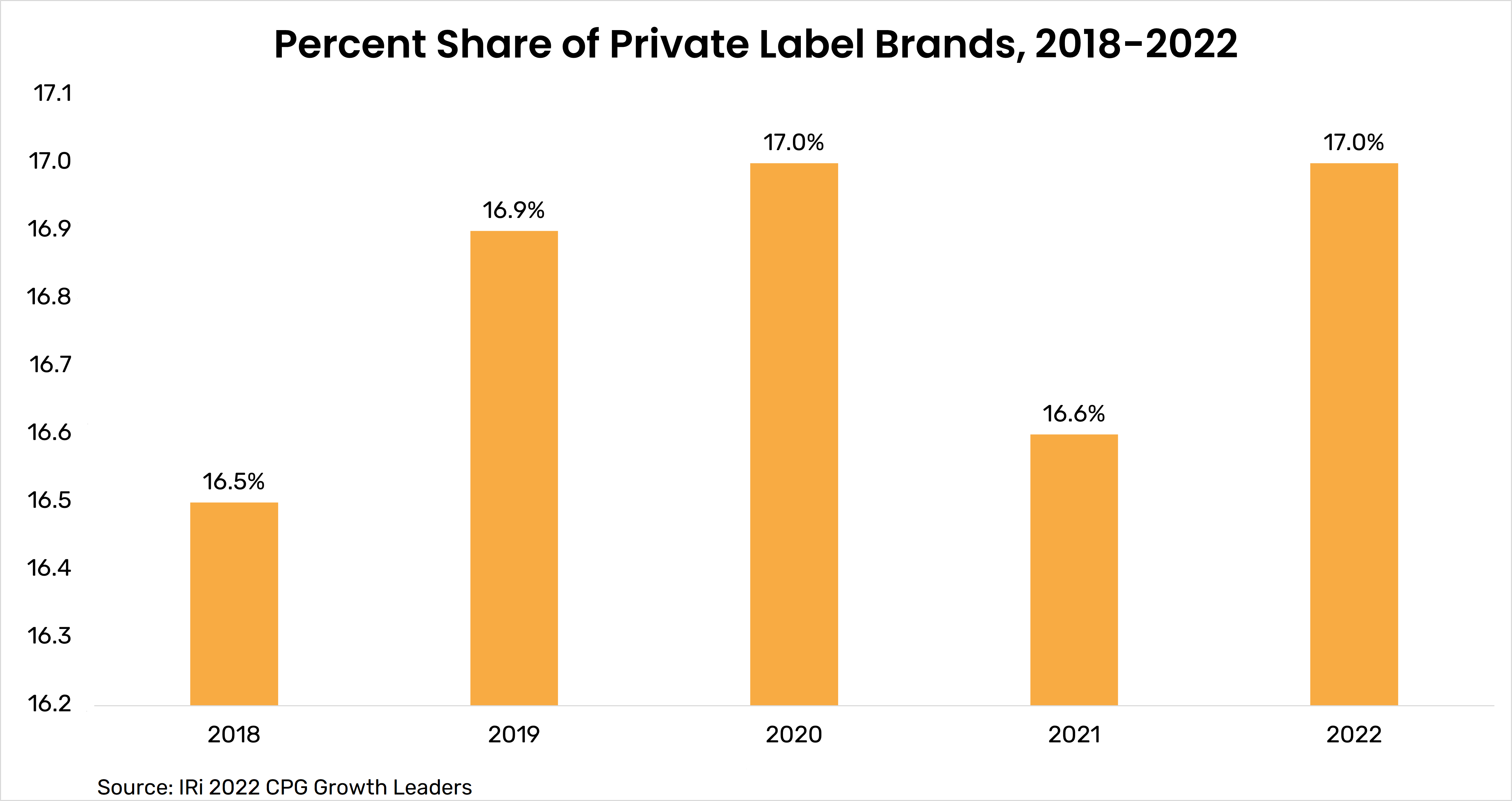 In 2022, private label brands alone dominated 17% of the market.
There is a vast pool of data available for CPG brands to monitor and draw insights.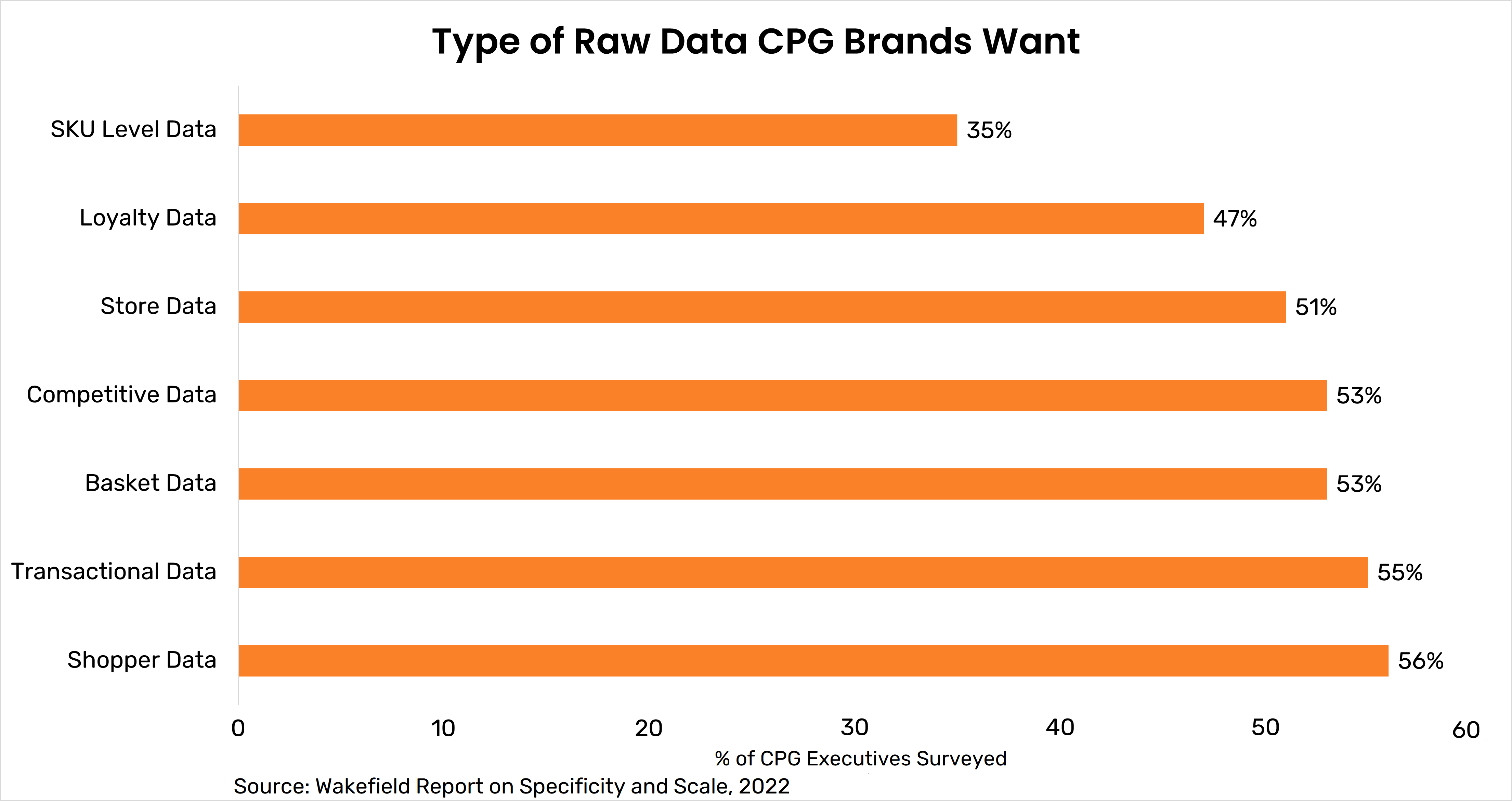 The challenge is to align the CPG metrics and data requirements. A well-integrated marketplace intelligence platform is then used to monitor the digital shelf.
The CPG market is intensely competitive. A Neilsen study confirms at least 30000 new CPG products get launched every year.
Shoppers are looking for ethical claims while shopping. Certain claims such as "sustainable", "organic," and "vegan" are on the rise among CPG brands.
About 65% of the US population is aged between 15 and 64. CPGs are working toward the right marketing messaging specific to age demographics across channels.
Winning the Digital Shelf for CPG E-Commerce Acceleration
CPG brands are adapting at the speed of digital to win at e-commerce. Let's look at how CPGs improve e-commerce profitability through the digital shelf.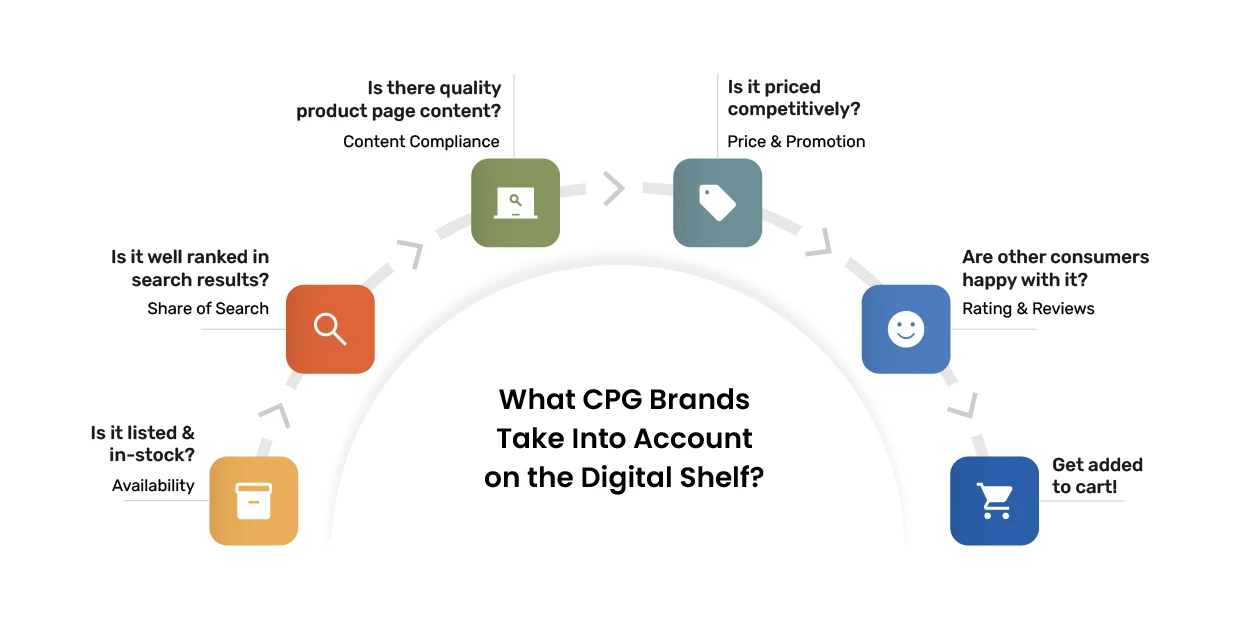 Making the Product Discoverable on the Shelf
Over the years, Amazon has evolved from focusing on product personalization and recommendations to a retail media network giant. In 2022, Amazon's ad revenue reached $37.7 billion.
For CPGs, this means seeking audience specificity and relying on digital shelf insights to ensure product visibility. However, retail media networks have limitations in offering data and insights. This is where share of search solutions come in.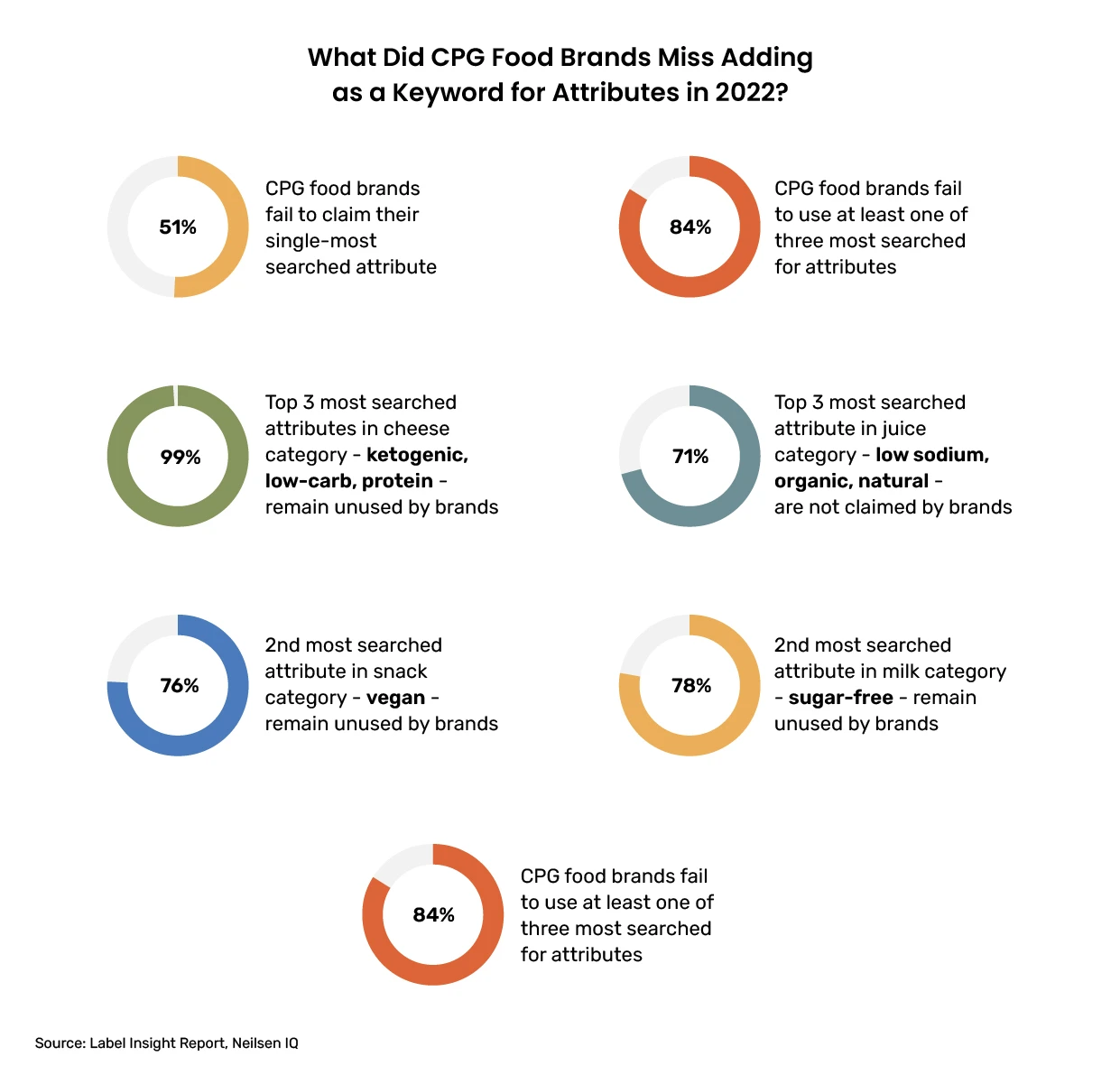 The digital ecosystem where consumers can search and find products online is growing large every single day. When shoppers are unable to find your product on Page 1 of the online marketplace, it counts as a missed revenue opportunity.
For instance, "vegan" is the second-most searched attribute for snacks, yet it is unclaimed 76% of the time. The question is, why?
Most sponsored products appearing in search results are unrelated to "vegan". In such scenarios, share of search solution equips grocery CPG brands to take action on keyword gaps and seamlessly compare sponsored and featured products in the competitive landscape.
Read more: Share of Search Solutions
Updating Product Content
A few years ago, a CPG brand's investment in product content involved merely checking the box for 'GDSN-type' content. The product descriptions and attribute elements were made only for Amazon and the same was replicated on other retailer sites.
However, content compliance now involves taking into account retailer best practices. It is backed by competitive research and using the right keywords in product descriptions and imagery.
The product detail page content demands regular updates to level up on the digital shelf.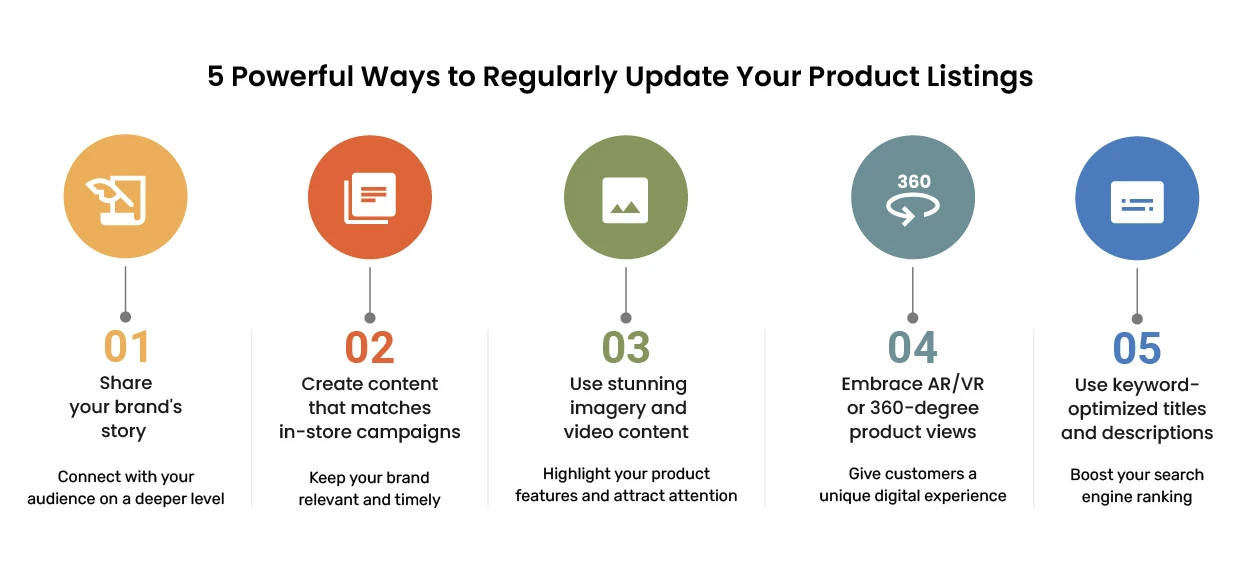 A strong visual engagement through thumbnail-sized images repeated many times across e-retail platforms is what results in brand resonance. CPG brands in the cough and cold medicine category that used cherry or grape imagery saw more conversions and outdid the competition.
Read more: Content Compliance on E-commerce Product Pages
Pricing the Product for the Current Times
With inflation, cost-conscious consumers often look for deals, shopping more frequently online and dining less outside. The frequency of price, pack, and promotional adjustments by CPG manufacturers tripled in 2022.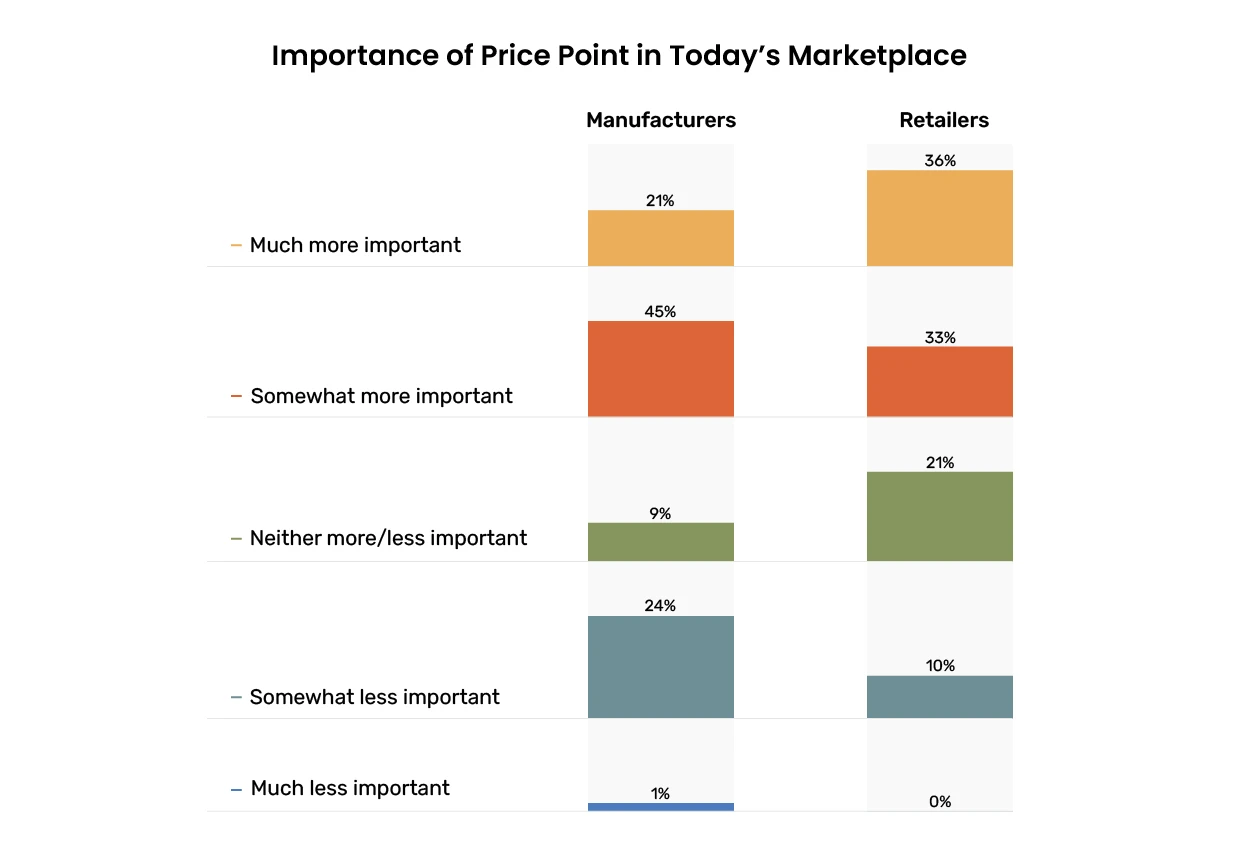 According to a recent survey by Advantage Sales, nearly 46% of the CPG manufacturers expect to increase their everyday prices in the first six months of 2023.
Getting a clear market overview and being able to track different product mixes and sizes comes as a competitive advantage for CPGs. For the same, the Digital Shelf Institute suggests CPG retailers plan their pricing strategies keeping in mind the effects of pricing algorithms at play.
Read more: Price Monitoring Solution For Brand Competitiveness
Utilizing Branding and Performance Ads
Improving the ad spends while taking into account the customers' buying inclinations is vital for CPG brands. Upper-funnel formats of retail media ads such as display, video, and CTV (Connected TV) are on the rise among the leaders in CPG.
To achieve consistent revenue growth, CPG manufacturers need analytical capabilities to optimize promotions using data infrastructure. From May 2021 to January 2022, Reckitt Benckiser, Kellogg's, and Mondelez collectively spent around $500 million on retail media. Additionally, CPG brands are investing in first-party data strategies to personalize the shopping experience for customers.
Also Read: Role of Data Insights in Trade Promotion Optimization Strategies
Understanding Customer Sentiment
The first surge in online reviews across e-retail platforms happened in 2020 when it rose 87% from 2019. From then, the quality of the product and the associated customer experience speaks more largely about brand credibility than ever before.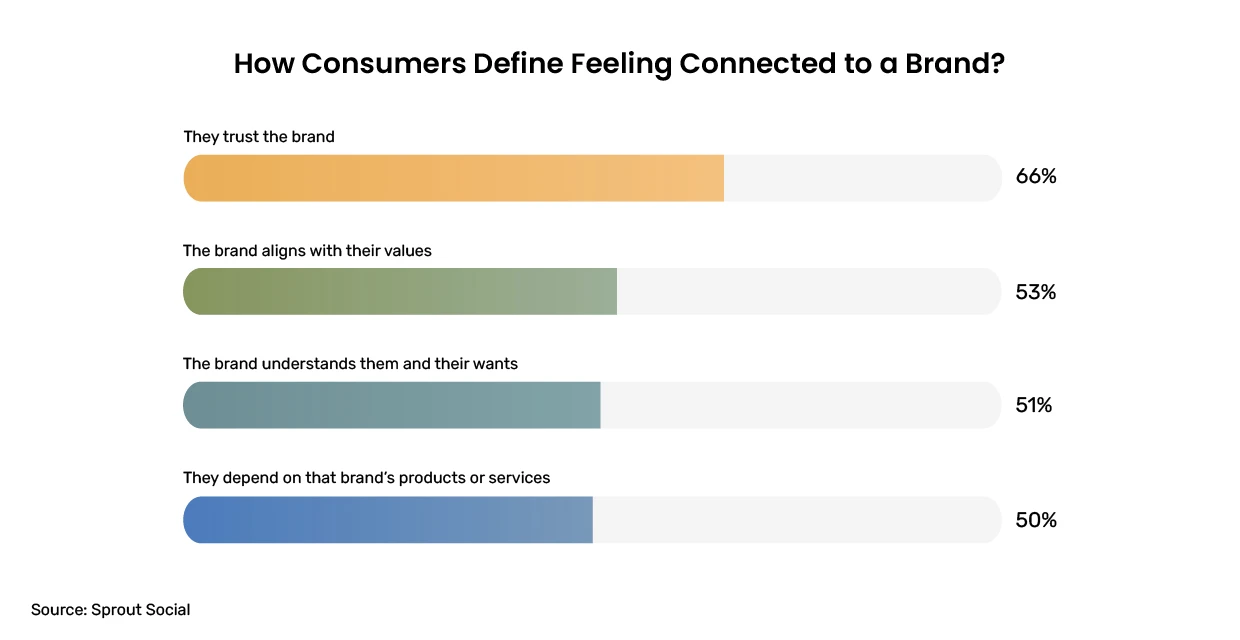 Rating and reviews stand out as one of the low-cost, competitive solutions for CPG brands. A McKinsey study states that even the slightest improvement in the star rating, say 0.2 stars results in higher sales.
As more and more CPG companies invest in their digital capabilities and data, mining value from consumer behavior is becoming key. On Amazon, brands join the Amazon Vine Program to gain reviews more quickly.
Read more: Benefits of Tracking Reviews & Ratings on Your Digital Shelf
Maintaining the Brand's Online Inventory Health
Nestle optimized their product listings and inventory on Amazon, leading to a 60% increase in sales and a 40% increase in conversion rates. In contrast, when Revlon couldn't meet its demand because of low inventory, it led the company to file for bankruptcy. Having proper visibility into inventory levels is a must for CPG brands.
Insights from the US Consumer Survey by SNIPP show that over half of those surveyed would choose a competitor's product when their favorite product is out of stock.
For brands, this could also point to their search ranking sinking low. Data analytics for CPG brands lets them manage inventory effectively across locations and improve focus on profitable items.
Getting the Product Mix Right
Coco Cola has been known for its product mix optimization for years now. The company ensures to get the right products to the right customers at the right time. A data-driven product mix strategy involves aligning the merchandising data, finance, sales, and marketing efforts. This implies asking a set of questions:
How many product lines are intended to be carried out this year?
How many SKUs are in each product line?
What's the pricing strategy for each product line and each SKU?
Is my product unique in the market?
How are we getting our product line in front of our target customers?
What is the average price a consumer is willing to pay for a product?
How to create demand for low-cost products?
How does the strategy shift if consumers reduce spending in a particular month?
Monitoring assortments and keeping a close eye on the category trees for product listing across marketplaces helps in the revenue growth management of CPG brands.
Read more: Overcoming Product Assortment Challenges in E-commerce
Get Digital Shelf Insights With MetricsCart
The digital shelf is ever-evolving for CPG manufacturers and marketplaces alike. What works for a brand doesn't assure e-commerce profitability for another brand. Moreover, the traditional success model for CPG may not work anymore.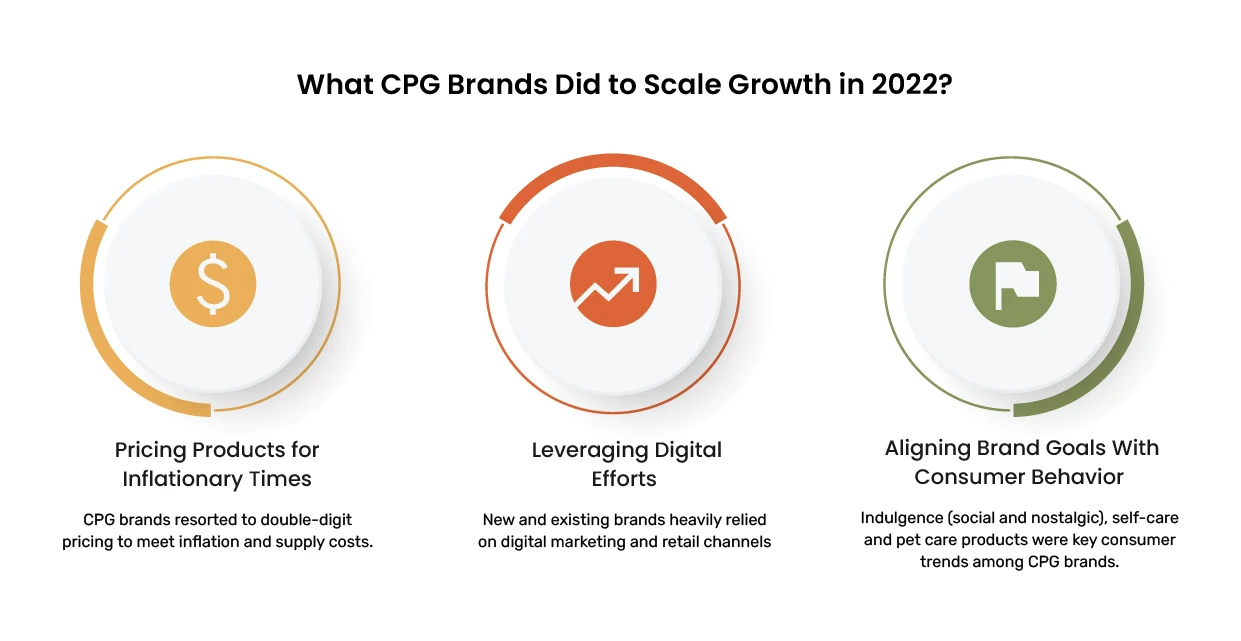 Winning CPG brands ensure digital shelf growth by leveraging a data-fueled insights engine.
Brands with centralized data management processes achieve better results.
Prioritized data recommendations and automation help drive action and organic growth.
To invest in a seamless omnichannel experience and create market-dominating strategies, e-commerce intelligence is critical.
MetricsCart is ready to assist you whenever you need it! We help you with share of search, content compliance, price monitoring, rating and review monitoring, and other digital shelf solutions. Get in touch with us right away.