In May 2022, Amazon had approximately 2.4 billion customers around the globe visiting its marketplace. Wondering what is the secret of Amazon's huge success? According to Amazon's founder Jeff Bezos, "The key to the company's success has been truly listening to our customers and continuously pushing the boundaries to provide them with what they are looking for." The 2023 statistics proclaim Amazon has the biggest market share in the US e-commerce sector. It is not surprising that every brand that wishes to expand its reach, and sellers who want to scale up their business prefer Amazon. But to achieve absolute success, sellers have to align with Amazon's customer-centric approach. In this article, we have attempted to find answers to some of the distinct questions related to Amazon Buy Box (Amazon Featured Offer).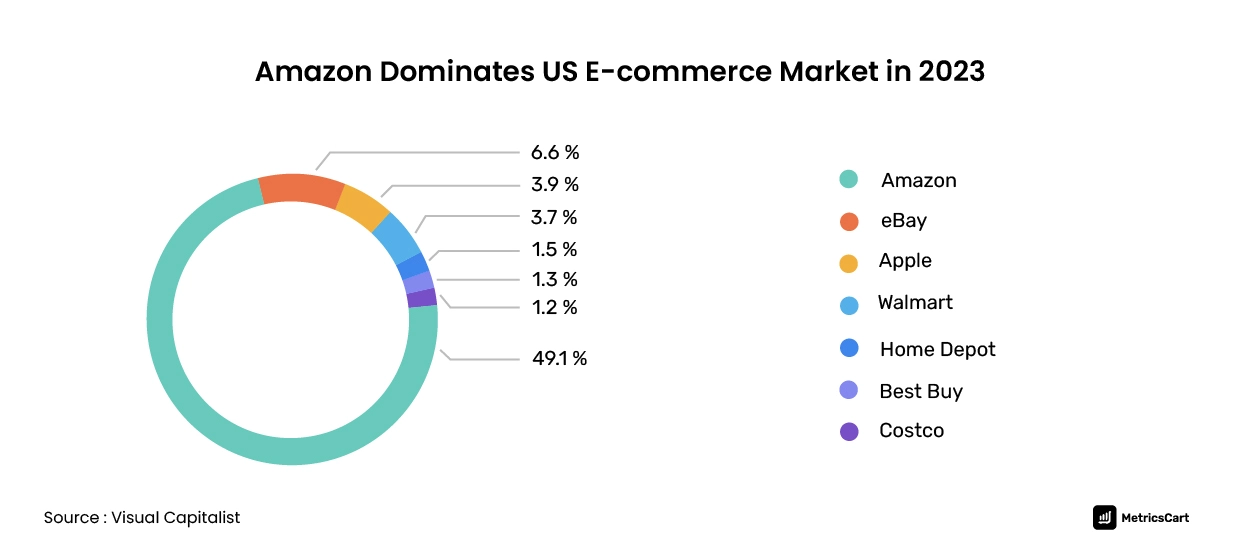 Buy Box (Featured Offer) is one of the most prominent conveniences Amazon provides to its shoppers and the most desirable feature for sellers to increase their sales.
What is the Amazon Buy Box?
Buy Box (Featured Offer) is the most desired widget on a product listing page that Amazon does not award to every seller. In a product listing, the Buy box is placed on the extreme right and includes information like the selling price, shipping details, seller name, availability of stock, and most importantly "Add to Cart" and "Buy Now" buttons where the purchasing decision happens.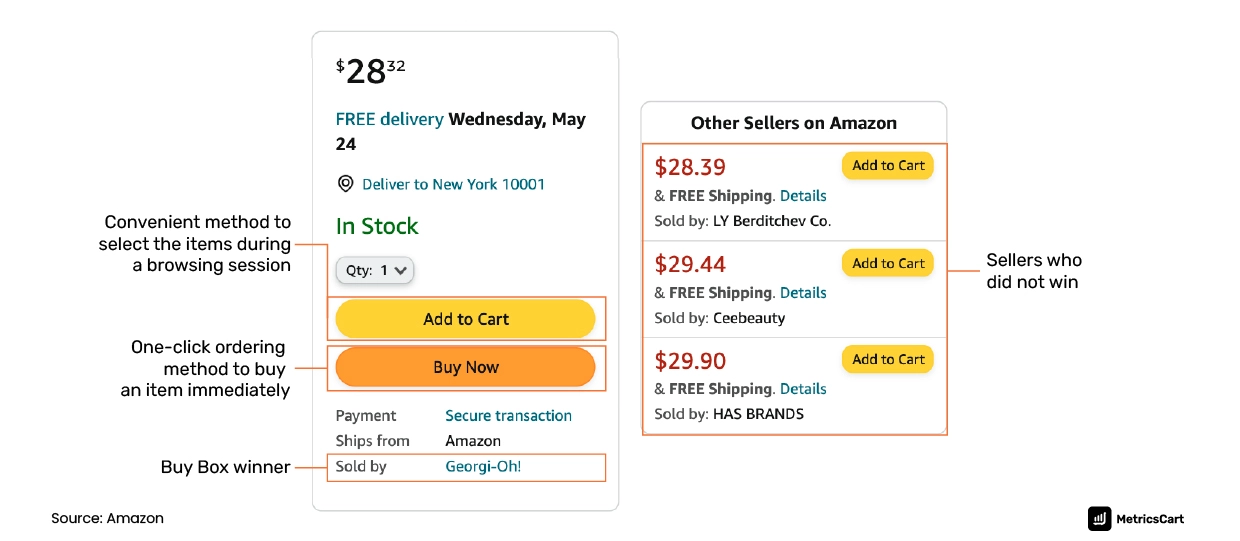 This one-click option makes the buying process much simpler. The Buy Box gains prime focus as almost 85% of sales on Amazon happen when shoppers click the "Add to Cart" or "Buy Now" button.
To be a successful seller on the Amazon marketplace, sellers must compete with each other and score high on various variables that add to customer satisfaction. Sellers who perform well on Amazon's customer metrics win the Buy Box and get more sales.
The two key advantages of Buy Box ( Featured Offer) are:
 It allows users to buy in one click.
Customers don't have to look around the Amazon marketplace for a good seller.   
Read more: Amazon 1P vs. 3P – Leveraging the Right Selling Model for Your Business
How Can Seller Central Dashboard Help Third-Party Sellers?
In the last five years, there has been a steady growth in the value of third-party seller services across Amazon's 18 marketplaces. Regular insights that sellers receive on their performance toward offering a positive customer experience have helped Amazon achieve this growth. These insights are available as reports in the Seller Central digital dashboard provided to every registered Amazon seller. The tools on this dashboard are used to list, price, fulfill, and promote their products; track account health, and maintain the minimum sales volume to compete for the Buy Box.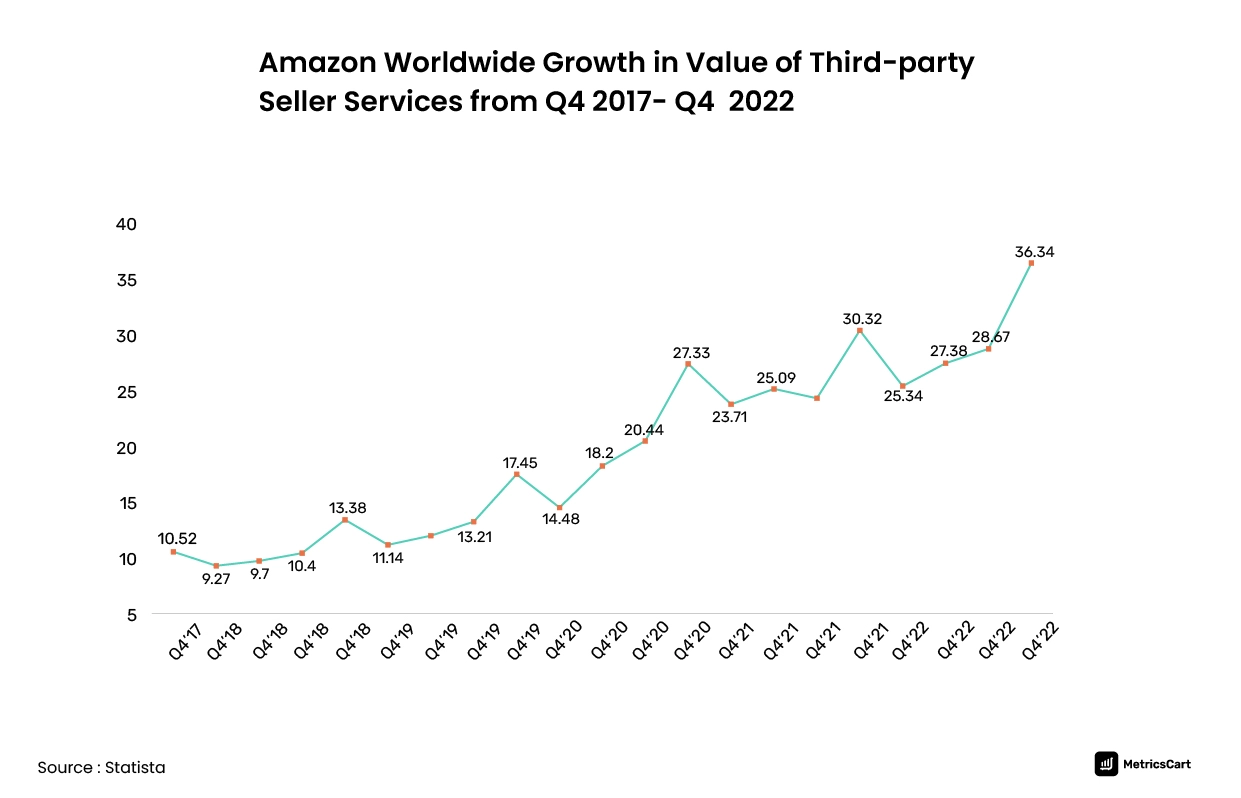 What's the Basic Eligibility to Compete for Amazon Buy Box (Featured Offer)?
 Create a Professional Seller Account
When creating a new seller account on Amazon, one has the choice to create an individual seller account or a professional seller account. Though an individual seller can sell his products, he cannot enjoy all the rich features that a professional seller can. Every professional seller on Amazon has to fight their way through to win the Buy Box.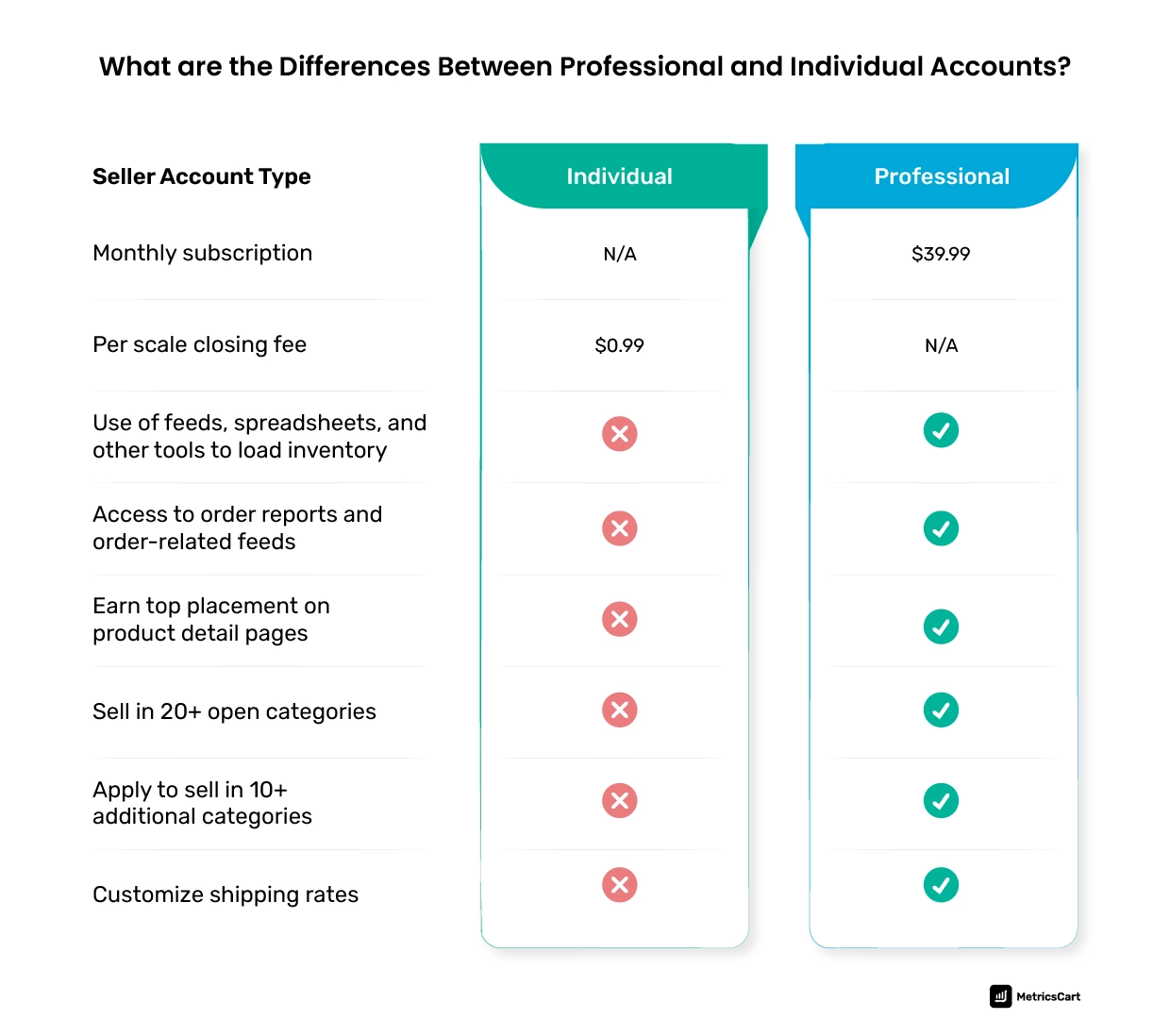 Choose the Products as Per Amazon's Regulation
Sellers selling exclusively new products stand a chance to compete for the Buy Box. There are certain products Amazon restricts from selling on their marketplace. Expired products, prescription drugs, testers, offensive items, false claims, and products that need certification from local bodies fall under this category. Any violation of Amazon's rules is a red flag for sellers to lose eligibility for the Buy Box.
What are the 5 Important Factors to Win the Buy Box (Amazon Featured Offer)?
In a scenario where many sellers are eligible for the buy box, the Amazon algorithm rotates the Buy Box among the qualifying sellers. Amazon has set a minimum threshold score for every metric that sellers have to achieve to increase their chances of winning the Buy Box (Featured Offer). Below given are the vital parameters based on which Amazon assigns points to sellers. The importance of these variables varies on the product category.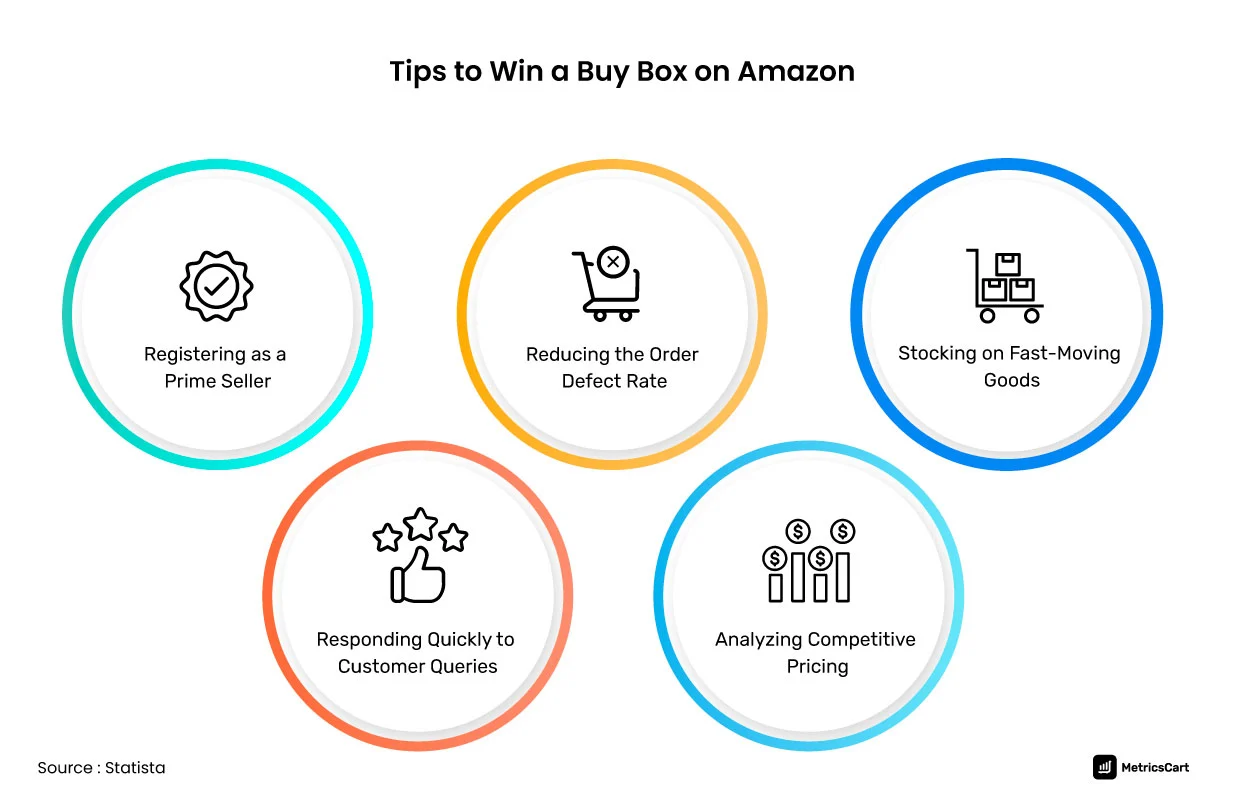 1. Registering as a Prime Seller
Amazon considers Fulfilled by Amazon (FBA) order fulfillment service far superior to merchant-fulfilled logistics services. FBA is a well-structured process that stores sellers' inventory, and as per the order, packs and ships the goods to customers on time to ensure high customer satisfaction. Having a Prime badge is another route to keep the listing competitive. Sellers should achieve 97% on-time delivery and valid tracking service of the shipment to qualify for the Buy Box.
If two sellers have equal scores on all parameters, the seller who has a Prime membership (FBA seller automatically gets a Prime badge) has the upper hand. In the example below, Apple AirPods (2nd generation) sold by Amazon for $99 is the winner of the Buy Box. On clicking the "More Buying Choices" button customers can view other listings that include used and new products sold by other sellers. The other seller has priced the same product unreasonably high.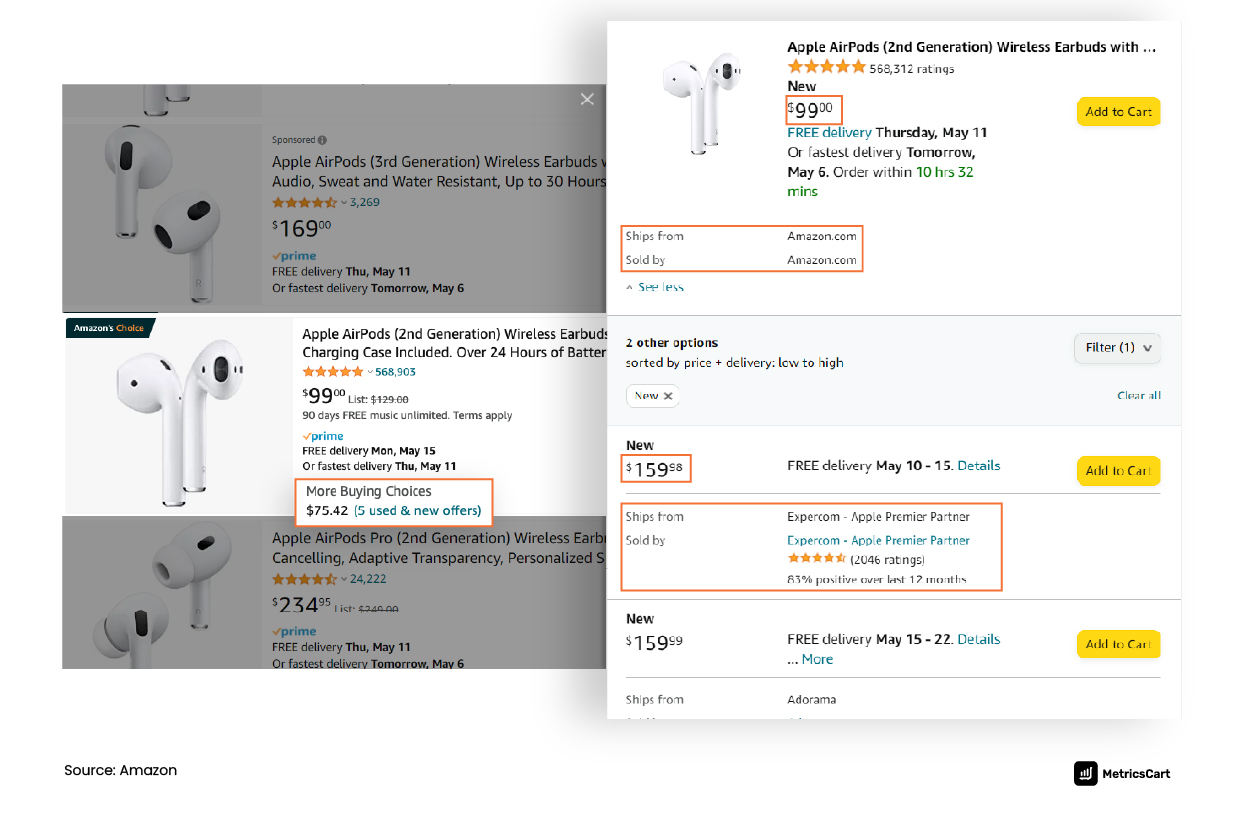 2. Responding Quickly to Customer Feedback
In the US, the majority of consumers check prices and product reviews on Amazon prior to making a purchase. Therefore, positive reviews matter to sellers. In case of unpleasant feedback, merchants can resolve the issue and request the customer to remove the negative review. Addressing customer queries the same day is a big determinant for Amazon to award the Buy Box. It gives the impression to customers that they are dealing with a trustworthy seller who values their time.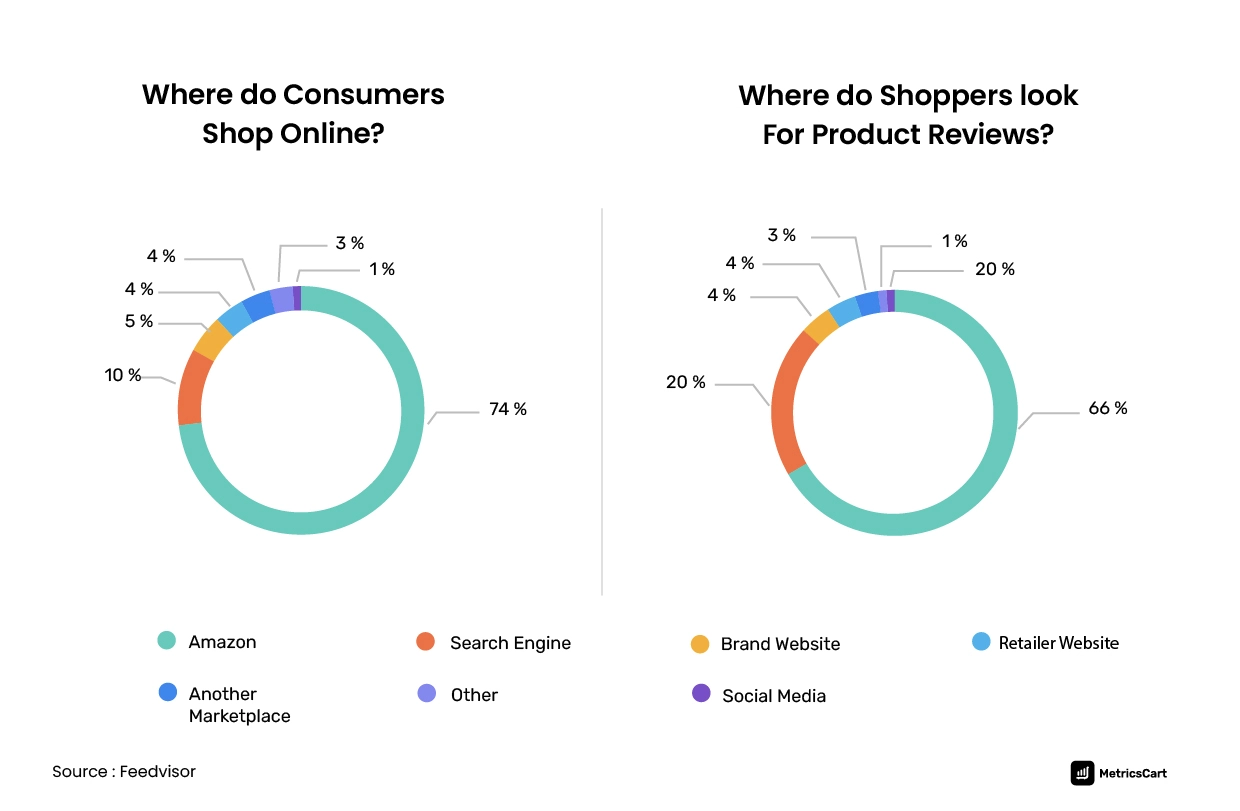 Read to know Amazon Customer Buying Behavior in the US
3. Reducing the Order Defect Rate
In online purchases, there are often cases when a buyer disputes a purchase charged to their credit card or not satisfied with the quality of their purchase. In these scenarios, Amazon expects merchants to resolve any dispute raised by their customers. Customers are more likely to purchase products from sellers with higher ratings and not many negative reviews. Sellers who can maintain an Order Defect Rate (ODR) that is less than 1%, fewer A-to-Z guarantee claim rates, and a low cancellation rate are eligible to compete for the buy box.
Read to know The Top Benefits of Tracking Ratings and Reviews on Your Digital Shelf
4. Analyzing Competitive Pricing
The lowest-priced product is not always the Buy Box winner. If two sellers have almost perfect customer metrics and one is offering a lower selling price and shipping cost than the other, the former seller has a better chance of winning the Buy Box. This is because Amazon wants its customers to get the best value for their money. Having said that, Amazon's A9 algorithm promoted products with low pricing; the latest algorithm A10 gives weightage to listing products that is more relevant to customer's search query than pricing. So, if a category has many competitors, to win the Buy Box, using a good price monitoring tool can help sellers automate prices according to market conditions.
Here is an example that shows Amazon does not necessarily award Buy Box to merchants with the lowest price. The seller who posted this Nike running shoe has priced the product at $78, which is the cheapest. Yet, this seller has not won the Buy Box. This product is not revealed unless the customer clicks on the "See All Buying Options" button below the Buy Box of the winner. The buy box winner has priced this product at $80.49.
Read our article Why Choosing the Right Pricing Strategy is Critical on Amazon?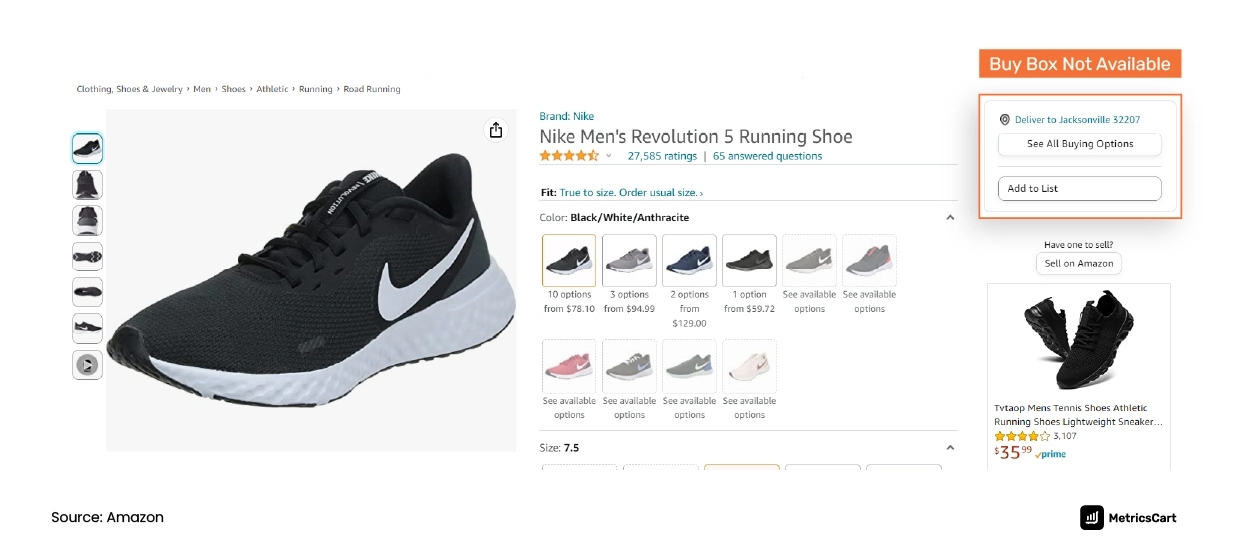 5. Stocking on Goods
An FBA seller who maintains a healthy ratio between the number of units sold over 90 days versus units in stock has a high chance of winning the Buy Box. The cancellation and refund rate by the seller should be below 2.5%.
The Inventory Performance Index (IPI) by Amazon is a built-in metric designed to help sellers gauge their inventory health over a period. As Amazon changes the IPI threshold often, a good guideline is to avoid overstocking to save on storage fees and maintain roughly 30-60 days' worth of supply to prevent stock-outs and stock on items based on seasonal demand.
Do you want to know How to Overcome Product Assortment Challenges?
What Happens to Sellers Who Don't Win the Buy Box?
Sellers who haven't performed well on customer experience metrics do not win the Buy Box. To see the product listings of these sellers, customers will have to click the 'More Buying Choices' button just below the winner's Buy Box. Moreover, sellers who don't have a Buy Box (Featured Offer) get less traffic to their listings as they are not shown in sponsored product ads.
As customers are accustomed to seeing an "Add to Cart" button while they shop, it is less likely that they will explore the "Other Buying Options" button. This is probably the reason non-Buy Box sellers experience fewer conversions. Nevertheless, customers who explore and take those extra steps can buy from sellers listed in this tab.
Look at this Lego toy example given below. Customers can understand the Buy Box winner is a prime seller with a good rating. It also has an active listing with 20K+ views in the past month and the item is shipped by Amazon so it will arrive on time. In the More Buying Choices, we can see there are 89 other sellers selling the same brand and some even offer the product for $20.52. This shows that Amazon awards the merchants who have the best balance between high-performance metrics and low prices.
Want to know more about Toy Industry Trends?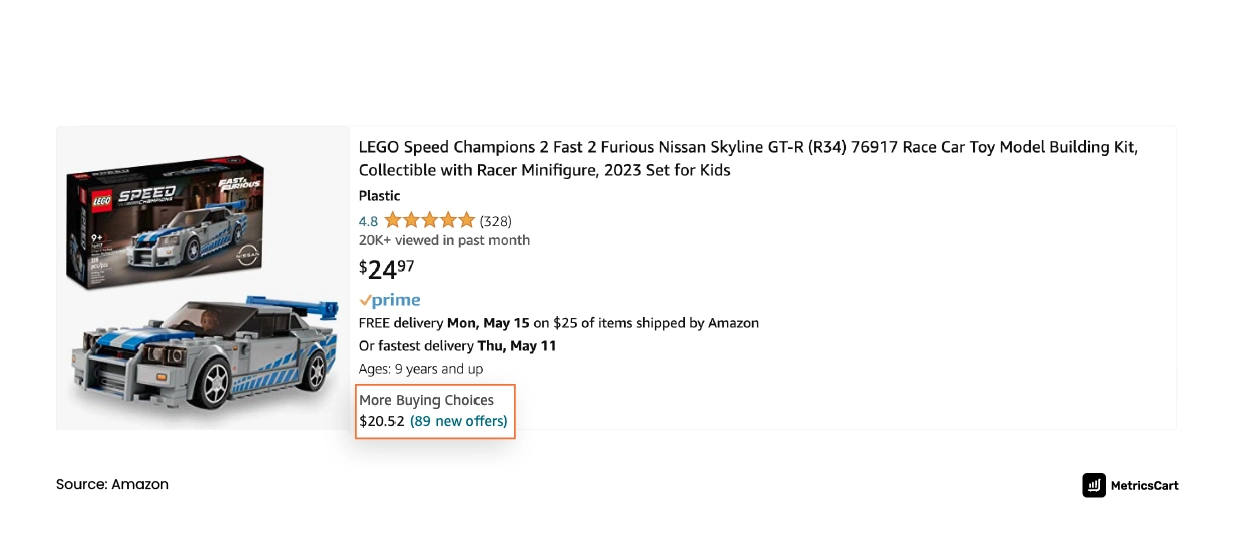 Why is Winning the Buy Box on Amazon Challenging?
Here are some of the major reasons that make selling on Amazon more challenging:
Besides providing a platform for third-party sellers, Amazon themselves have a retail division. It is not easy to compete with Amazon Retail as the platform is theirs. In almost all product categories, Amazon Retail has a better seller performance metrics score that helps them to maintain the Buy Box share. The statistics show Amazon has nearly twice the Buy Box share in comparison to third-party sellers.
Amazon has rigid performance expectations from third-party sellers, and there is no definite technique to win the Buy Box.
There is no restriction on the number of sellers and the products they can offer. Many sellers sell the same branded goods, increasing the competition among sellers.
Once a seller wins the Buy Box, it does not stay with them. Sellers have to be consistent in their performance to repeatedly win the Buy box.
Can a Seller Keep the Buy Box Permanently?
The winner of the Buy Box makes far more sales than any other seller in a product category. But when there are multiple high-performing sellers on the metrics in a product category, Amazon rotates the Buy Box among all these winners every 15 to 60 minutes. By using cookies, Amazon ensures every customer sees only one Buy Box winner per hour. The Buy Box share varies upon seller performance. Toppers could have 70% of the Buy Box, average sellers 20%, and a lower-performing seller just 10%. Sellers who offer their products to customers with the intention of giving all-round value for their money have a better chance to win the Buy Box time and again.

When Does Amazon Suppress a Buy Box?
It is really important to maintain good account health. Amazon suppresses the Buy Box (Featured Offer) and replaces it with the 'See All Buying Options' button if sellers don't continue to maintain it. The reason Amazon suppresses the Buy Box is to protect customers from having any negative experiences on Amazon. Here are some of the causes for Amazon to suppress a Buy Box:
If sellers sell the same item on any other e-commerce site for a lower price
If the order defect rate is more than 1%
If there are instances of delayed shipping
If items are out of stock most of the time
If sellers repeatedly take more than 24 hours to respond to customer queries
How MetricsCart Assist Brands to be Leaders in E-commerce Business?
To win the Buy Box (Featured Offer) and give a complete customer experience, sellers have to perform well in a combination of variables. There is no one-size-fits-all approach to achieving it.
As a digital shelf analyzer, MetricsCart can help sellers or brand strategists gather SKU-level data on competitors' pricing and the best-seller ranking of top brands on Amazon. With this information, you can make data-driven decisions to create strategies to repeatedly win the Buy Box on Amazon. So, get in touch with Metricscart today.