Your brand offers top-of-the-line 42″ QLED 4K Smart TVs across online marketplaces. You are well aware of the competitiveness of the market and how price impacts the purchasing decisions of consumers.
Your teams work hard to keep a close eye on your competitors' prices across marketplaces and strategize the pricing accordingly. You may wonder, is there a way to automate price monitoring?
There is, indeed! Automating price monitoring can open up a world of opportunities, from attracting cost-conscious consumers to selling off unsold inventory. With consumers seeking a personalized experience, the perfect combination of price and quality offered by your brand will make their purchasing journey a seamless one.
What's E-commerce Price Monitoring For?
An e-commerce price monitoring solution allows brands to track their prices across online marketplaces. This includes e-commerce websites like Amazon, Walmart, and other retailers. The solution essentially aids in comparing your brand's prices with your competitors. It can also help to improve the profitability of your business.
Automated price monitoring is a smart move for brands to stay competitive. When you monitor, you know how to put a price equating with the value of your product.
At Metricscart, Our E-Commerce Price Monitoring Solution Helps You:
Track prices of your own product listings;
Monitor both, your competitor's and your reseller's price points;
Receive alerts on competitor's price reductions, stockouts, and promotional activities;
Collect real-time data according to competitor price movements;
Customize your pricing dashboard for personalized reports; and
Receive demo sessions from our team when you get started.
How Can Price Monitoring Transform Your E-Commerce Business?
Pricing your product is an act of balance between the purchasing decision of your customer, the product value, and the margin you earn. Coming up with foolproof pricing strategies is far from simple.
Let's look at how price monitoring becomes indispensable for e-commerce businesses for a host of reasons.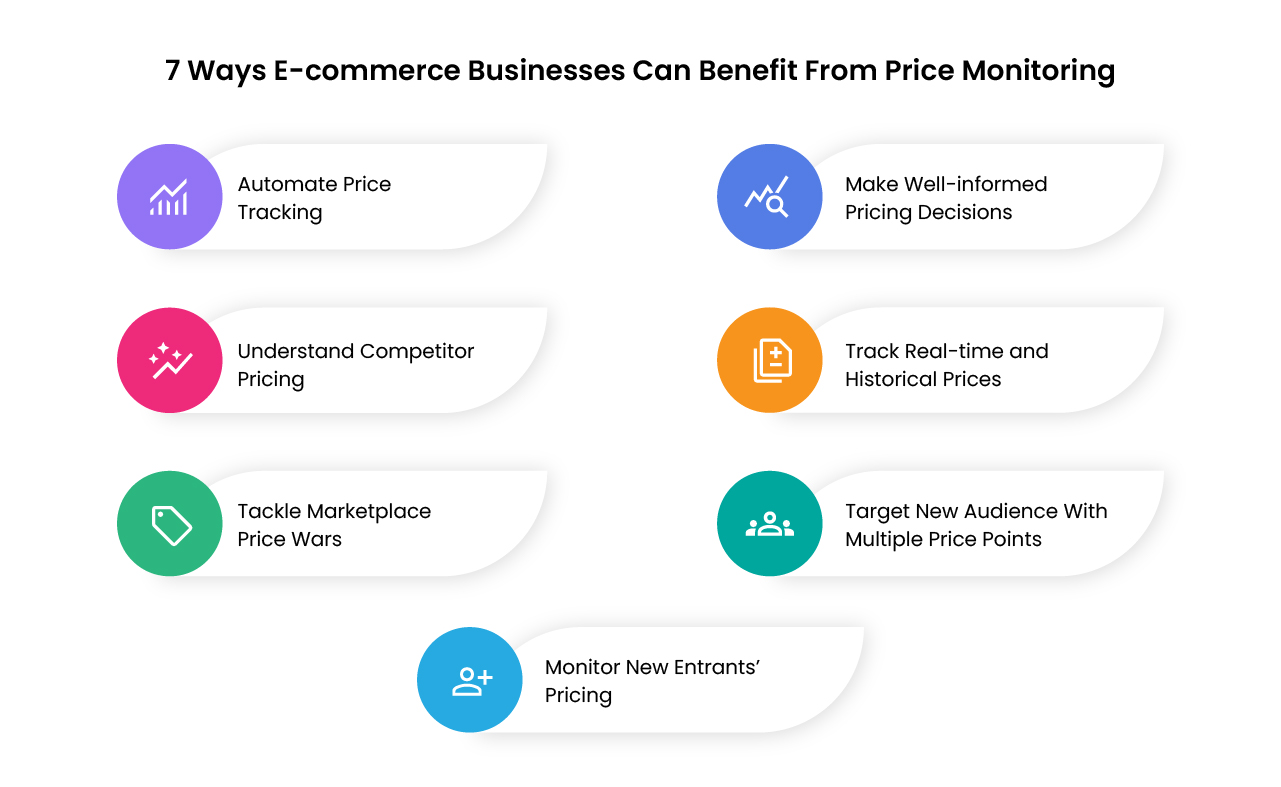 Free Your Teams From the Chaos of Manual Price Tracking
Imagine you're a brand in a fiercely competitive market. Every player is using advanced pricing solutions to stay ahead. With a vast product line, it's a challenge to keep up with market trends.
Now, a manual price monitoring process involves collecting and analyzing large amounts of data. On the other hand, a price monitoring system makes this process error-free. It lets your teams save time on gathering labor-intensive pricing data.
However, automating price monitoring is just one part. It is equally vital to have access to accurate and valid price points.
Monitor and Compare Your Product Pricing With That of Your Competitors
You know your customers are looking for the best price online but you are not quite sure how to position your price to their expectations.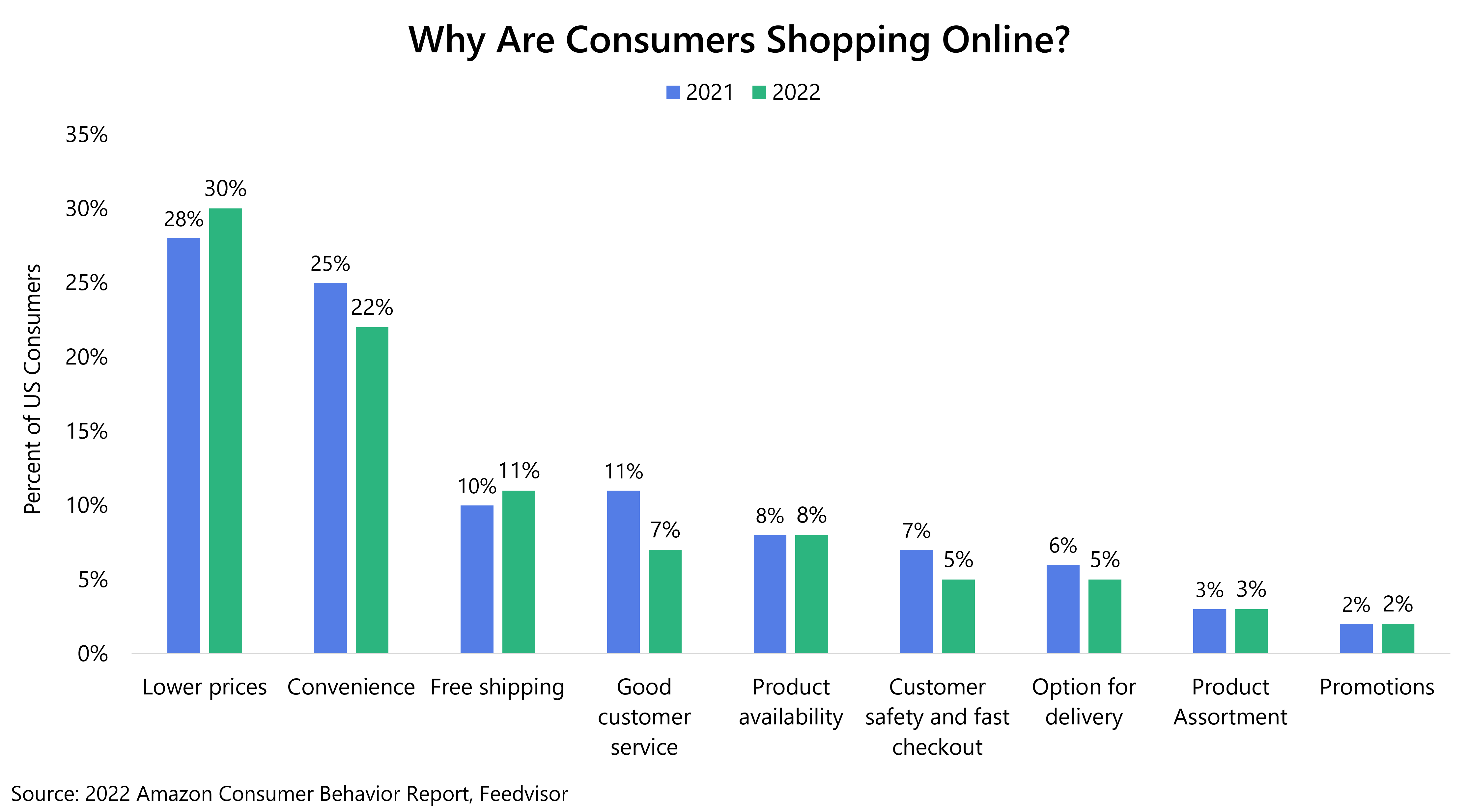 According to The 2022 Amazon Consumer Behavior Report by Feedvisor, 30% of consumers in the US lookout for lower prices as one of the prime reasons while shopping online. To keep your brand competitive, you need to know what your competitors are charging for similar products.
Alternatively, in an instance where your product offers more value to customers, you can set premium prices. The additional value could be in terms of quality, luxury, or the uniqueness of your product itself.
Read more: Prestige Pricing: 10 Best Examples of Brands Doing it Right!
Keep Up With Marketplace Price Wars and Enforce MAP pricing
When one retailer lowers the price and others follow suit. And it repeats again and again. This can turn into a price war.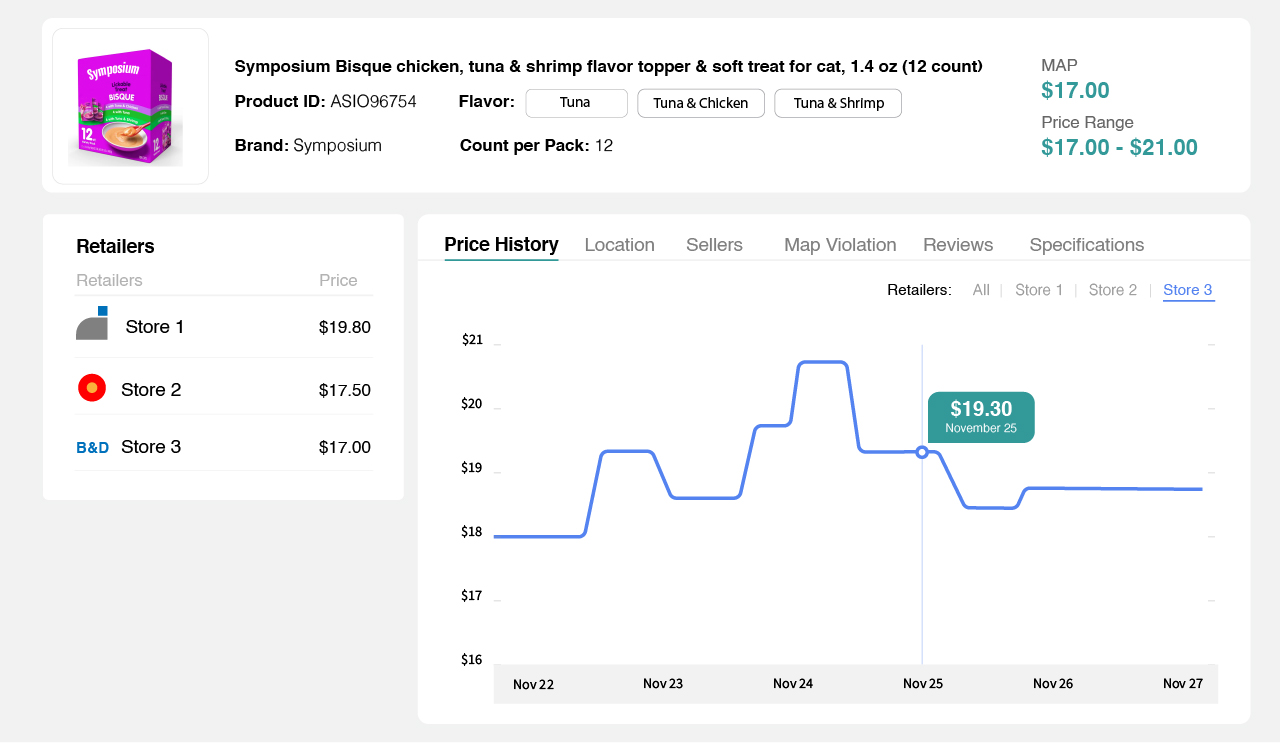 Such unhealthy price competition in online marketplaces can be a tricky loop. Consumers get confused and eventually, the product loses its value. It can make your product ineligible for advertising and impact your search ranking.
Read more: Everything you need to know about Share of Search
The optimal solution is to keep your product prices steady, rather than decrease them further. Enforce minimum advertised price (MAP) to prevent sellers from undercutting the prices across online marketplaces.
MetricsCart makes it easy to set the prices for your products with our customizable pricing rules. Keep an eye on your competitors and set minimum and maximum prices for your products on the MetricsCart dashboard. With this feature, you can ensure that your products are priced competitively and appeal to today's consumers. Protect your profits and give your customers what they want by using MetricsCart's pricing solutions.
Read more: MAP pricing
Build Concrete Pricing Strategies With Regular Price Monitoring
An e-commerce price monitoring solution gives you all the data you need to make informed decisions about pricing. You can use these insights you gain to set objectives for your pricing strategy.
Once you have the dashboard in place, it's a breeze for you to modify your pricing strategy and keep the pricing data relevant based on the dashboard insights. For instance, if a competitor's product is out of stock or discounted, this will point you to adjust product prices accordingly.
Read more: The Ultimate Guide to Competitive Pricing
Track Historical and Real-time Prices
According to the Consumer Price Index, prices for grocery items are up by 10.9% year over year. However, in the US, inflation, recession, and increasing prices have less impact on the wallet of the consumers.
Read more: How CPG Brands are Winning on the Digital Shelf?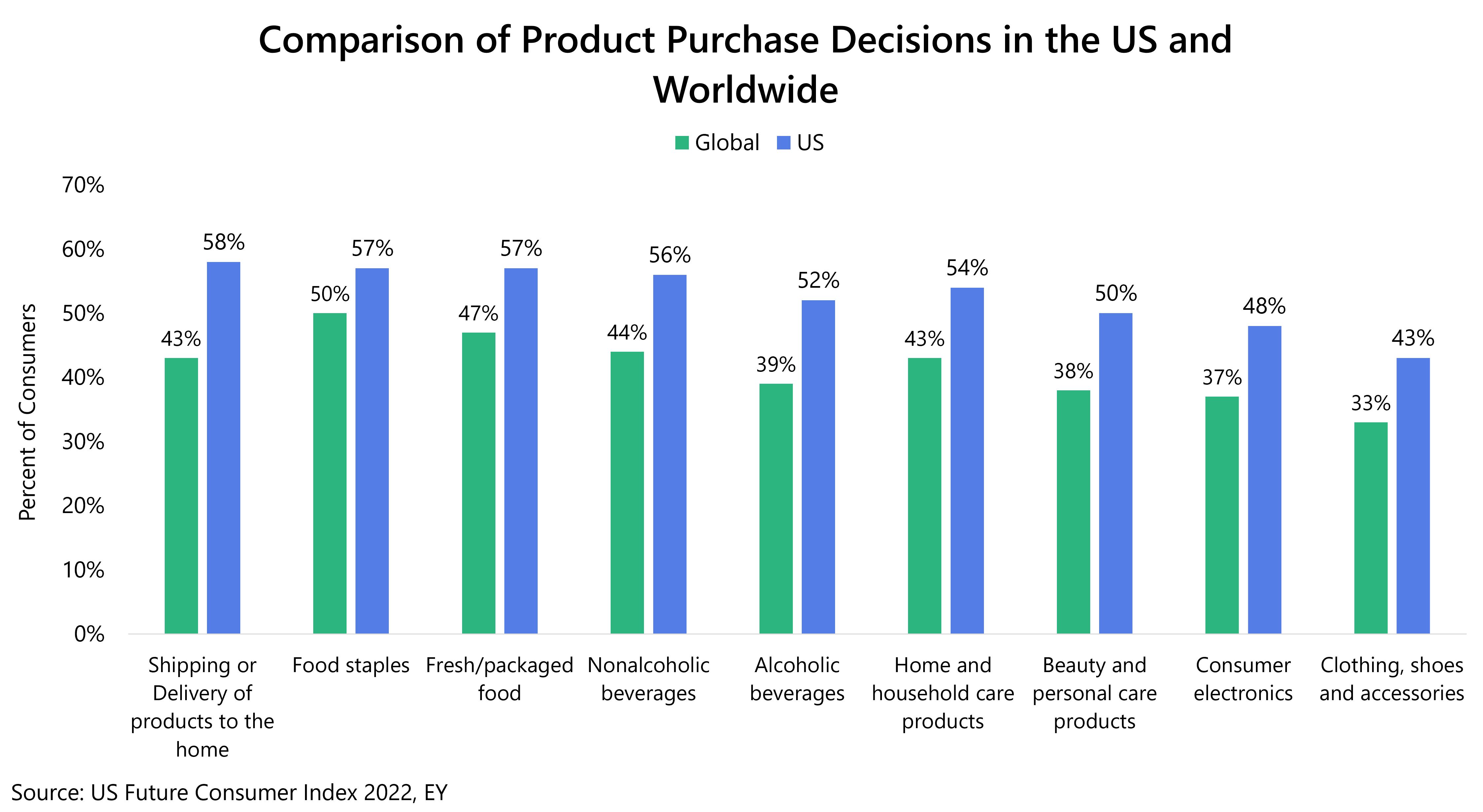 The US Future Consumer Index by EY in 2022 throws light on how the American consumer is ready to spend despite the economic challenges. This is just one of many evolving purchasing trends in the US. Online price monitoring can be your window to know about changing consumer preferences. The solution will assist you in price monitoring across channels, countries, and competitors.
Similarly, your brand can understand historical and real-time trends in competitor pricing. This will help to adjust prices during certain periods and plan on discounts and offers carefully.
If you are just getting started, our library of prebuilt components ensures a shorter development time for a custom pricing solution. Our Digital Shelf Analytics feature will arm you with better product performance across e-commerce sites.
Read more: Transforming E-commerce Business with Digital Shelf Analytics
Understand How New Entrants Price Their Products
As the first online supplier of specialized beef jerky in your target area, you had a unique advantage. However, as new competitors enter the market, the dynamics change.
Suddenly, there is more competition and you may need to work harder to stand out and differentiate your product from others. This could include offering unique flavors, improving your packaging and branding, or offering discounts.
Monitor new sellers as and when they enter and how they price their products. Track their product pricing and understand what they do differently to tap into opportunities for further market expansion.
Also Read: Competitive Promotion Monitoring for Brands
Target a Wider Group of Consumers Through Price Segmentation
The US Future Consumer Index highlights affordability as the first priority that consumers have for the future. Shoppers are looking for low-cost brand alternatives and turning to private label brands to save money.
Read more: Understanding the Potential of Private Label Brands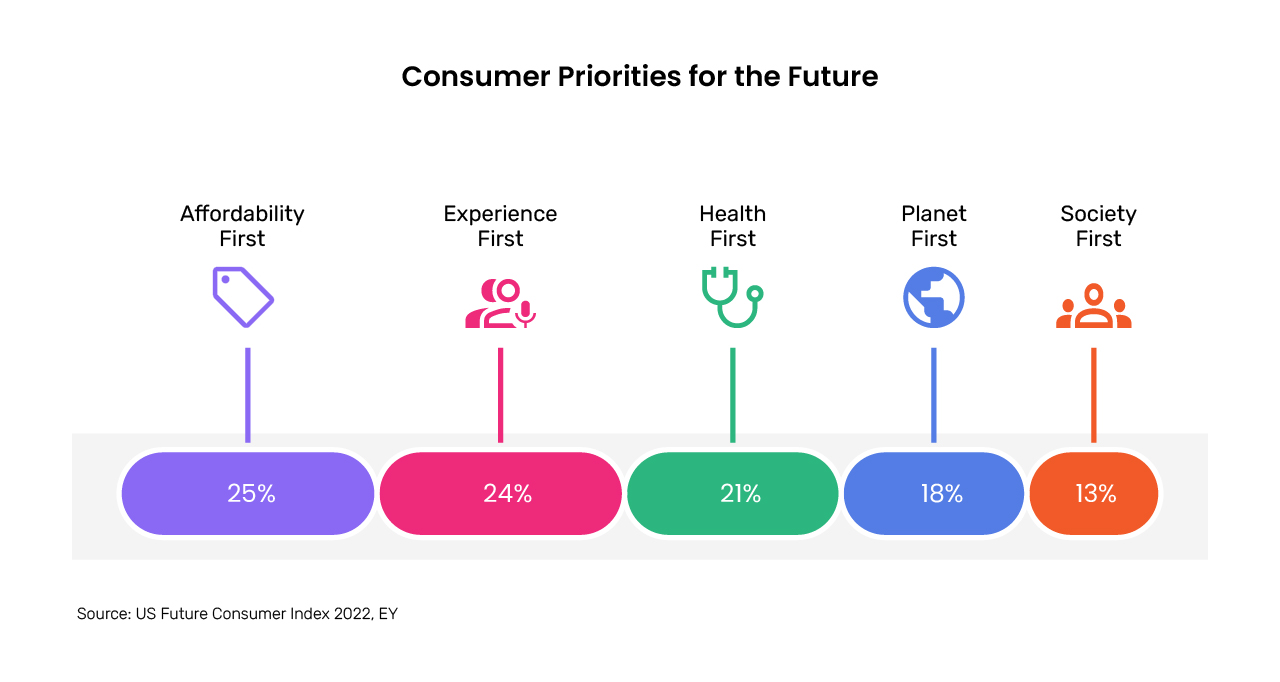 As a business, you can take advantage of this by offering segmented pricing for your products. This means dividing your target audience into smaller groups based on their willingness to pay, such as order size, consumer behavior, location, and more. When there are multiple price points, you are able to capture a larger target market.
For instance, a cereal brand offers a CEREAL10 coupon (10% off) to its first-time shoppers. The brand also bundles two different flavors together for those who want to try a new flavor. To add on, it offers monthly subscription packs at 5% off to its regular customers. This will translate into more revenue and more value in place of what only one price point can generate.
You can customize the pricing dashboard with multiple price points for different target groups and monitor them all in one place. This will help you to analyze each price segment better.
Start Your E-Commerce Price Monitoring At MetricsCart Today!
Some products undergo price changes several times a day. To keep up with the pricing algorithm of Amazon, Walmart, and other big retailers, daily updated pricing data lets you take immediate action and protect your brand.
Are you tired of manually monitoring prices and struggling to stay competitive in the market? Look no further! MetricsCart offers automated, hassle-free price monitoring solutions that will help your brand or retail business stay ahead of the game. Our services include geographic visibility, organic search analysis, assortment optimization, content compliance, and more. With MetricsCart, your teams can spend more time on their key-result areas while we take care of the price tracking for you. Don't wait any longer, try MetricsCart today and see the difference it can make for your business!